Best foldable phones 2023: the top folding smartphones right now
Best
Contributions from
published
The best foldable phones you can buy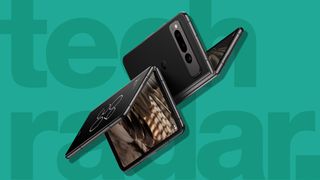 (Image credit: Future)
The best foldable phones are more than just a novelty, they give you two devices for the price of... well, two devices. For the premium, you get the coolest device around, a phone that can do what no iPhone can do. You get a phone and a tablet, or a compact communicator like nothing you've used before.
There are two types of foldable phones, the 'flip' and the 'fold.' It's not a coincidence that Samsung – the longest player in the foldable market – coined the names that set the stage for every folding phone to follow.
Samsung's latest foldable phones have finally arrived, and it's no surprise they deserve spots on our best foldables list. In fact, the Galaxy Z Fold 5 is such a strong performer, with blazing speed and the best software experience among any foldable phone, that we're naming it the best foldable phone you can buy.
For clamshell flip phones, the Galaxy Z Flip 5 is an excellent device, but we prefer the style and more versatile options of the Motorola Razr Plus. It's a close race, and both are great flip phone buys, so if you're curious about a compact and find a great deal, you can't go wrong with whichever you find appealing.
The Google Pixel Fold is also a great pick if you want a simpler Fold, or prefer Google's style of Android to Samsung's more flashy and feature-packed designs. It can't quite match Samsung's blazing speed and newly improved cameras on the Fold 5, but you get great images and wondrous photo editing on the Pixel Fold's big screen.
This list may be changing soon. We're expecting a new foldable phone from OnePlus, the so-called OnePlus Open, though rumors now suggest OnePlus may be holding the phone back to improve the display quality. No rush, the competition is tough and we only want to see the best foldable phones hit the market.
Editor's Note: December 2023
We've spent quality time with the latest Samsung foldable phones, the big Galaxy Z Fold 5 and the compact Galaxy Z Flip 5, and these phones are definitely winners. They may not look much different, but the design is more flat and sleek, the speed is blazing fast, and the durability has been improved this year on both models. In fact, we like the Galaxy Z Fold 5 so much, we're recommending it as the best foldable phone you can buy overall.
Philip Berne, Senior Editor, US Mobiles
Best foldable phones 2023
Why you can trust TechRadar We spend hours testing every product or service we review, so you can be sure you're buying the best. Find out more about how we test.
1. Samsung Galaxy Z Fold 5
The best foldable for power users
Specifications
Dimensions:
Open: 154.9 x 129.9 x 6.1mm / Folded: 154.9 x 67.1 x 13.4mm
OS:
One UI 5.1.1 with Android 13
Screen size:
6.2-inch / 7.6-inch
Resolution:
904 x 2316 / 1812 x 2176
Storage:
256GB / 512GB / 1TB
Rear camera:
50MP + 12MP + 10MP
Reasons to buy
+
Impressive main and cover screens
+
Optimized for multi-tasking
Reasons to avoid
-
Cameras still aren't Samsung's very best
-
Cover display is uncomfortably narrow
The Galaxy Z Fold 5 is in a class by itself, with huge power, a huge internal display, and more features than you'll know what to do with. Samsung has been making foldable phones longer than any other maker on this list, and it shows in the refinement and polish on the latest Fold 5.
The Samsung Galaxy Z Fold 5 stuns onlookers every time we unfurl the huge display within. That 7.6-inch span makes it more of a small tablet than a phone, and you'll probably use the big inside screen more than the narrow cover display. That's the whole idea of the foldable phone, and once you enjoy playing games or even writing notes on the inside screen, you won't go back to flat phones.
The Google Pixel Fold software is a bit more simple, but the Galaxy Z Fold 5 still holds its own with S Pen stylus support, better color options, and tons of Samsung additions like DeX, which lets you make your smartphone into a desktop computer with a keyboard, mouse and monitor.
The Z Fold 5 prioritizes being a tablet, so if you're looking for a big screen that you can carry anywhere, this is the phone for you.
Read our full Samsung Galaxy Z Fold 5 review