Why do phones fold? Because they can. The best foldable phones are the pinnacle of today's smartphone engineering, and if you want a handset that truly does something other phones can't do, you want a folding phone.
The good news is that we're generations past the days when foldable phones were for early adopters and wealthy Bitcoin miners. Companies like Samsung – with its Galaxy Z Fold 4 – and Motorola – with its throwback Razr 2022 – have been steadily refining and improving folding phones, making them more durable, reliable, and impressive.
Folding phones are still a small segment of the market, but there's clearly a future in bending glass. Samsung dedicates one of its two major annual phone events entirely to folding phones, and 2022's Galaxy Z Flip 4 stole the show as a refined, practical, and almost affordable example of what makes folding phones so cool. A concept that Oppo subsequently built upon with their first clamshell foldable – the Find N2 Flip.
Recently Google also got in on the act with the Google Pixel Fold, which is likely to be added to this list just as soon as we've put it through a full review, so check back soon to see if and where it lands.
Sadly, the US market gets left out of much of the foldable fun. While the Motorola Razr 2020 is available – a nice little update to the original Motorola folding smartphone – Motorola has skipped the States when it comes to the Motorola Razr 2022, and that's a shame. We subjected that phone to a thorough review, and you can find it on our list below.
Additionally, several alternatives to the big-screen Galaxy Z Fold 4 are also unavailable to anyone based in the US. The Huawei Mate XS 2 is a totally different take on the form – it literally folds in the other direction, wrapping its large screen around the front and back instead of hiding it inside the fold. Then there are more conventional alternatives to the Z Fold 4, like the Honor Magic Vs, Oppo Find N2 and the forthcoming OnePlus foldable.
Best foldable phones 2023
Why you can trust TechRadar We spend hours testing every product or service we review, so you can be sure you're buying the best. Find out more about how we test.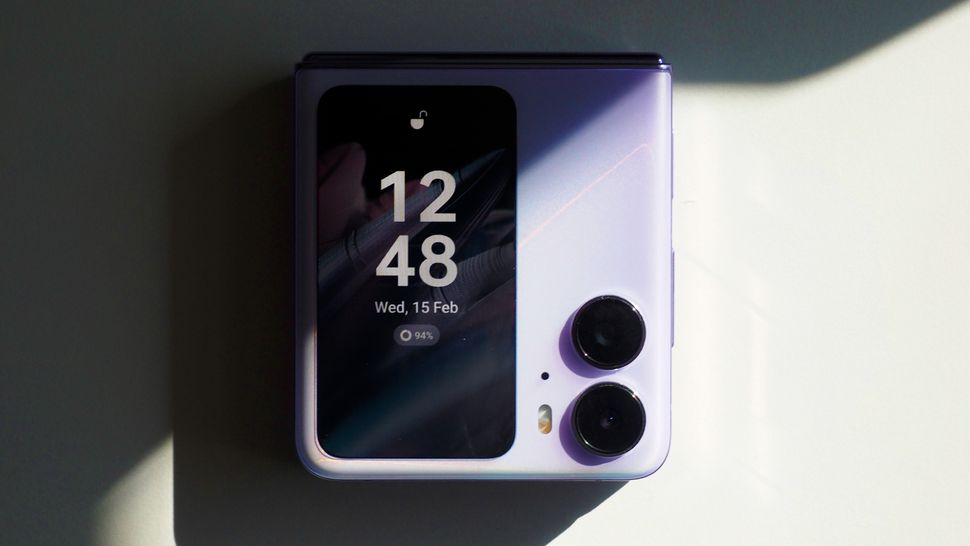 For the longest time, Samsung has sat relatively unchallenged in the foldable space and that's particularly true amidst the subset of clamshell foldables currently out there, with the Galaxy Z Flip 4 taking the crown over from its predecessors, right back to the start of the Flip series.
Even though Motorola has produced a few generations of revitalized Razr at this point, none have yet matched or surpassed their equivalent Galaxy Z Flip each year, leaving it to Oppo to decided enough was enough.

Six months on from the release of the Z Flip 4, the Chinese rival launched its first clamshell foldable internationally, in the Oppo Find N2 Flip; which seems purpose-built to trump the Z Flip 4 at almost every turn.

It packs a zero-gap folding design rated to withstand double the number of folds as Samsung's alternatives, a significantly larger battery with faster charging, a larger cover display, equivalent flagship performance and perhaps, most importantly, a lower starting price.
A capable pair of rear-facing cameras – fronted by a 50MP sensor – can be used for snapping selfies, thanks to the N2 Flip's huge 3.26-inch portrait cover display, while the 4,300mAh battery keeps the phone powered up for a day without worry and recharges rapidly thanks to 44W fast charging.
As well as undercutting Samsung on price, Oppo's debut clamshell foldable also matches its South Korean rival on an impressive four years of OS updates and five years of security updates.
Read our full Oppo Find N2 Flip review
It's not the biggest folding phone, or the most feature-packed, but the Galaxy Z Flip 4 completely changed our minds about the benefits of carrying a foldable. That's why the Galaxy Z Flip 4 ranks amongst the best foldable phones out there and, until recently, held the top spot.
When it's open, you get a super thin smartphone with a humongous display, backed by what is still one of the fastest mobile platforms you can pack into a flagship phone: the Snapdragon 8 Plus Gen 1. When it's closed, you get to take selfies with the main camera and use the colorful Cover Display as a viewfinder.
The magic happens in between. There's a unique feeling in closing the phone, hanging up on whatever distraction you were watching, and focusing on the people in front of you. That screen is well protected inside, and hidden from view.
Bend the phone a little to take selfies from unique angles you couldn't capture before. Give yourself video controls, or a trackpad on the bottom half. There are plenty of possibilities, but simply using this unique foldable is its own reward.
Read our full Samsung Galaxy Z Flip 4 review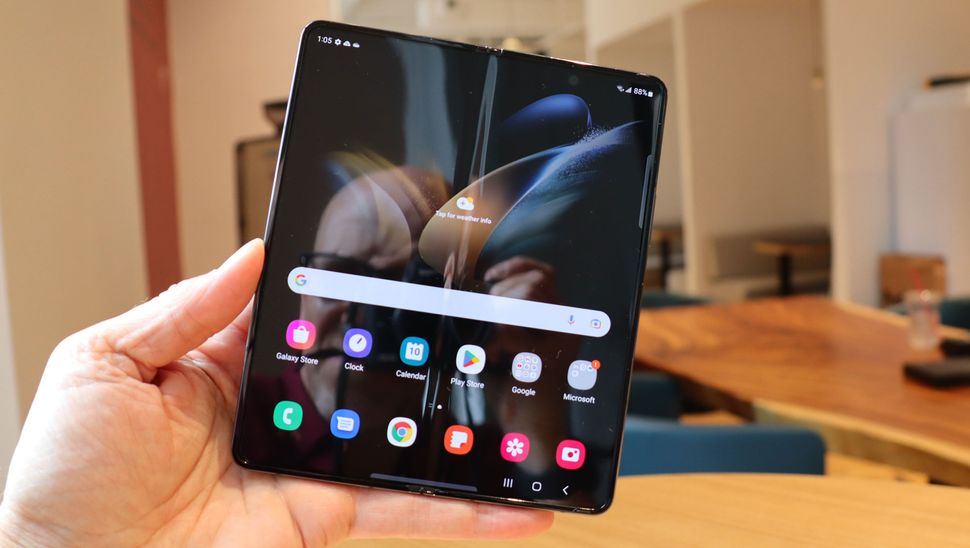 If the Flip amazed us with its compact portability, the Samsung Galaxy Z Fold 4 stuns onlookers every time we unfurl the huge display within. That 7.6-inch span makes it more of a small tablet than a phone, and that's the main reason we've bumped the Galaxy Z Fold 4 to beneath its clamshell counterpart.
The Z Fold 4 prioritizes being a tablet, so if you're looking for a big screen that you can carry anywhere, this is the phone for you. Unfortunately, the external display is so narrow that we always wanted to crack the phone open, but is that really a bad thing, or is that the point? We're saying it's the latter.
The Galaxy Z Fold 4 gives you better cameras than the Z Flip, but not the same array you'll find on the Galaxy S23 Ultra or even the S22 Ultra. You still get stylus support (use the special Z Fold S Pen or you'll scratch the screen), plus bragging rights over screen real estate.
Read our full Samsung Galaxy Z Fold 4 review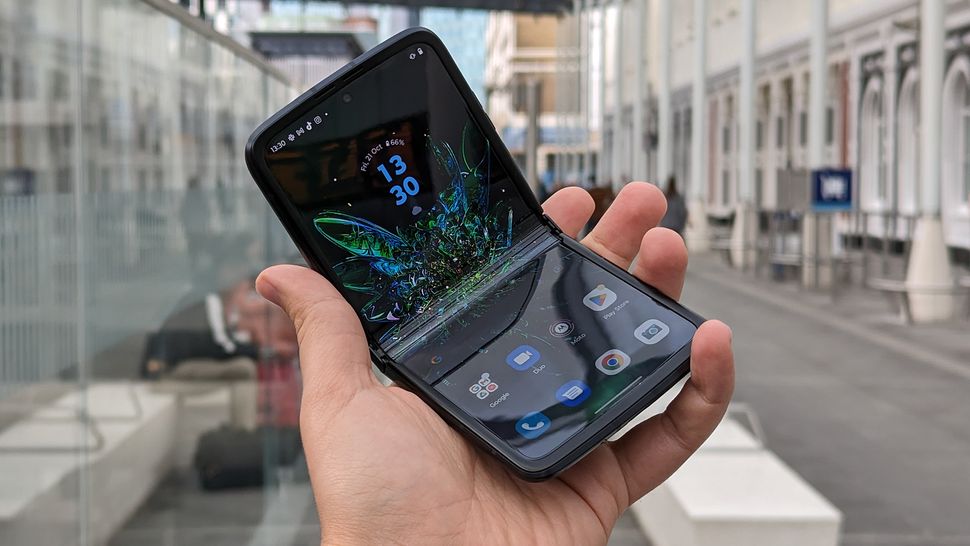 The Motorola Razr 2022 finally makes Motorola's foldable a worthy rival to the Samsung Galaxy Z Flip 4 and Oppo Find N2 Flip. This isn't the first foldable Razr, but it is the first great one, and it comes awfully close to matching the best Samsung and Oppo have to offer.
In fact, in some areas the Razr 2022 has its rivals beat, with a slightly higher 144Hz refresh rate, a larger 2.7-inch cover display the the Z Flip 4, and more pixels on its main camera sensor than Samsung's phone too. The Motorola Razr 2022 has just as much power as its closest rivals, and similar specs in many areas too.
The Motorola Razr 2022's battery life impressed us, along with a crease that's barely visible. That said, we found that despite packing what is still a powerful Snapdragon 8 Plus Gen 1 chipset, there would be occasional jumps and stutters. The camera is packed with megapixels, but its photography performance is far from perfect.
The biggest flaw of all? You cannot buy the Motorola Razr 2022 in the US. Only the minor Razr update from 2020 is available. We've asked Motorola to explain, but they have dodged the question. We'd recommend against importing an international unit as the warranty may not hold, and you definitely want a warranty on a folding phone.
If Motorola eventually decides to launch this phone Stateside, it will be a great competitor for Samsung's clamshell foldable supremacy in the region.
Read our full Motorola Razr 2022 review
Motorola rebooted its Razr brand of flip phones with the Motorola Razr, a clamshell folding phone that combined novel tech with a nostalgic look that hearkened to the Motorola Razr V3, the flip phone that took the world by storm back in 2004.
The refined Motorola Razr 2020 (called the Motorola Razr 5G) has ironed out a lot of its predecessor's problems, but still offers novelty rather than must-have design. The price has come down considerably since launch, but that only makes us want the far-superior Motorola Razr 2022 even more.
The Razr 2022 looks good, and that 2.7-inch display on the outside is larger than you'll find on the Samsung Galaxy Z Flip series. The Razr 2020 cover display allows you to text and preview selfies. Being able to take selfies with the main 48MP camera is fantastic, much better than using a selfie cam.
Flipping open the phone with a satisfying 'snap' is half the fun. Unlike the Samsung or Oppo, you can't keep the Motorola Razr 2020 perched partway – it's either fully closed or flipped all the way open. That's a big miss, especially for selfies.
The Razr 2020 has gotten a big price cut in the US, since we haven't gotten the latest Razr 2022. It launched with a $1,399 price tag, but now costs less than half that, at $599.99 in the US.
If you want to relive Razr's heyday or just want a phone that slips into small pockets or purses, though, the Razr 2020 could be your foldable of choice.
Read our full Motorola Razr 2020 review
Is Apple making an iPhone Flip folding phone? We've collected everything we know about the rumored foldable from Apple