Best Oppo phone 2023: the top Find X, N or Reno for you
The best Oppo phones to consider, right now
(Image credit: TechRadar / Oppo)
Each of the best Oppo phones stands out thanks to their vibrant use of color and considered functionality. These range from great battery life to reliable cameras, excellent performance and head-turning design.
Combining style and substance, figuring out which is the best Oppo phone for you isn't always simple; thanks in part to the company's unusual naming system. That's why we're here, testing and ranking every Oppo phone worth your time and money.
Up top you'll find the Oppo Find X5 Pro, but the standard Find X5 and the latest Reno 8 and Reno 8 Pro have also made the list, while the Oppo Find N2 Flip – the company's first clamshell and one of the best foldable phones on the market – is a real head-turner worth considering too.
Keep reading and you can take in a quick overview of each of the best Oppo phones, along with pros and cons, and a link to the full review in each case to learn more.
If you're not sure if you want an Oppo phone, we also have guides to the best smartphones in general, best Android phones, best iPhones and best cheap phones to check out, among others.
Best Oppo phones 2023
Why you can trust TechRadar We spend hours testing every product or service we review, so you can be sure you're buying the best. Find out more about how we test.
A remarkable flagship phone with plenty to love
Specifications
Dimensions:
163.7 x 73.9 x 8.8mm
Rear camera:
50MP + 13MP + 50MP
Reasons to buy
+
Great main camera
+
Super-fast charging
Reasons to avoid
-
Weak zoom camera
-
Buggy software
The Oppo Find X5 Pro isn't perfect but it's easily the best Oppo phone thanks to an attractive display, fast performance, and a great main camera. 80W wired charging means it takes less than half an hour to recharge, which is remarkable too.
Its 6.7-inch AMOLED panel looks great, with a decent refresh rate of 120Hz and maximum brightness of 1,300 nits. Camera-wise, you get a 50MP f/1.7 lens for the primary sensor, along with another 50MP f/2.2 snapper for the ultrawide, boasting a 110-degree field of view. There's a 13MP f/2.4 telephoto camera too with 2x optical zoom, purpose-built for portrait shooting, while the phone's design is among the best in the industry.
Throw in speedy performance and extensive customization options from the Color OS user experience, and the Oppo Find X5 Pro is a great all-rounder.
Read our in-depth Oppo Find X5 Pro review.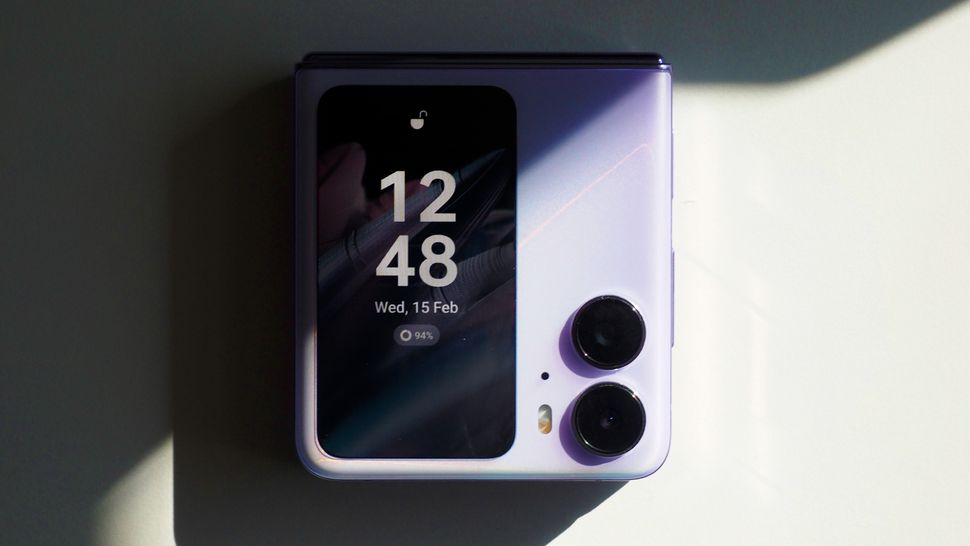 Built to better the Z Flip 4
Specifications
Release date:
February 2023
Dimensions:
85.5 x 75.2 x 16.02mm / 166.2 x 75.2 x 7.45mm
Screen size:
3.26-inch / 6.8-inch
Resolution:
720 x 382 / 2520 x 1080
CPU:
MediaTek Dimensity 9000 Plus
Rear camera:
50MP (main) + 8MP (ultrawide)
Reasons to buy
+
No gap and almost no display crease
+
Undercuts Z Flip 4 on price
+
Plenty of power
Reasons to avoid
-
Cover display could do more
-
No wireless charging
-
No IP rating
Aside from IP-certification, the Oppo Find N2 Flip looks as though it was purpose-built to thwart Samsung's Galaxy Z Flip 4 at every turn.
A zero-gap folding design capable of withstanding double the number of folds as the Flip 4 leads the charge, a larger cover display than any other clamshell foldable on the market expands functionality beyond what's possible by its competitors and it's more affordable than even the baseline Galaxy Z Flip 4, despite packing in comparable performance, twice the storage and a much larger battery.
Speaking of battery, the Find N2 Flip boasts the largest (4,300mAh) and the fastest charging (44W) of any clamshell foldable, at the time of writing.
There are a capable pair of rear-facing cameras – a 50MP main and an 8MP ultrawide sensor – which, thanks to the N2 Flip's huge 3.26-inch portrait cover display, can be used to snap high-quality selfies and video, with ease.
The N2 Flip is also one of the company's first phones to boast a Samsung-matching four years of OS updates and five years of security updates.
Read our full Oppo Find N2 Flip review
The new best Oppo phone
Specifications
Dimensions:
160.3 x 72.6 x 8.7mm
Rear camera:
50MP + 13MP + 50MP
Reasons to buy
+
Bright and vivid screen
+
Good battery life
Reasons to avoid
-
Little expensive
-
No waterproofing
The Oppo Find X5 offers a high-quality experience at a premium mid-range price (which continues to drop). With a great look that's rarely troubled by fingerprints (especially in black), it looks sleek and appealing. That comes at a price with no waterproofing but providing you're careful, it's worth it.
A gorgeous 6.55-inch AMOLED panel with a refresh rate of up to 120Hz means this is a great phone to look at, while a triple-lens rear camera means photos look pretty great too. Even in low-light conditions, you're guaranteed superb shots, although don't rely on the 2x optical zoom for anything more than portrait-mode shots.
Speedy performance and 5G support round off a remarkable phone that packs a lot in for a more reasonable price than you would expect.
Read our in-depth Oppo Find X5 review.
Great quality all-rounder
Specifications
Dimensions:
161.2 x 74.2 x 7.3mm
CPU:
MediaTek Dimension 8100-Max
Rear camera:
50MP + 8MP + 2MP
Reasons to buy
+
Great performance for the price
+
Good-looking display
Reasons to avoid
-
Awkward design
-
Weak secondary cameras
With a 6.7-inch AMOLED panel sporting a 120Hz refresh rate, the Oppo Reno 8 Pro immediately looks attractive for anyone wanting to watch movies on the move or play games. Embedded within that display is a reliably speedy fingerprint scanner.
Speed is certainly the Oppo Reno 8 Pro's strong point. Using the MediaTek Dimensity 8100 MAX, there's high-end performance that's not quite as speedy as the Snapdragon 8 Plus Gen 1, but still more than good enough. 256GB of storage is a useful touch and the main camera uses the 50MP Sony IMX766 sensor well; even if its other cameras are a little weak.
Throw in speedy 80W fast charging and there's a lot to like about the Oppo Reno 8 Pro.
Read our full Oppo Reno 8 Pro review