Oppo Find N2 Flip: Two-minute review
Although Oppo has held a small presence in the foldable space for years, the newly-launched Oppo Find N2 Flip is the company's first true global foldable, arriving in markets beyond China; including the UK and Europe.
Not only has the N2 Flip got its sights set on new regions, as Oppo's first clamshell it's hoping to appeal to a different crowd than the company's previous foldable offerings.
While the Oppo Find N and Oppo Find N2 are primarily built for productivity – with vertical hinges and squared main displays – the proposition of a clamshell folding phone is a little different. A clamshell prioritizes compactness and style.
That's the narrative for the Find N2 Flip, just as it was with Samsung's Galaxy Z Flip 4 in 2022 and, in truth, it looks as though the N2 Flip has been specifically engineered to outdo the Z Flip 4.
The design centers around a 6.8-inch 120Hz 21:9 folding AMOLED display, in a body that's 7.45mm thin and weighs 191 grams (that's a little bigger, thicker and heavier than a Z Flip 4).
Oppo has paid special attention to the Flexion Hinge running across the N2 Flip's midriff. It offers one of the least noticeable creases in a folding display to date – both to the eye and under-finger – while allowing the phone to fold closed without a gap (unlike Samsung's best foldables). The N2 Flip also has a wonderfully satisfying feel when being opened and closed, thanks to the cam mechanism in the hinge's construction.
The external cover screen, meanwhile, dwarves even the Motorola Razr 2022's outer Quick View display, with a 3.26-inch 17:9 AMOLED panel that naturally sits in a portrait orientation, next to the phone's main 50MP and secondary 8MP ultrawide cameras.
As you'd expect, it can be used as a viewfinder when snapping stills, videos and portrait shots with the phone's most powerful camera. It can be used to access quick settings and check notifications, view the weather or your calendar. The display also allows for instant access to timers and even a virtual pet, Tamagotchi-style, but there's potential for it to do so much more, and Oppo hasn't realized that functionality... yet.
Oppo has augmented the ColorOS 13 user experience on the N2 Flip with what it calls 'FlexForm Mode.' When the phone is folded between 45- and 110-degrees, you can leverage the cameras for everything from time lapse recording to video calls, without the need for a tripod.
On the inside, MediaTek's Dimensity 9000 Plus chipset serves up plenty of power (having already proven its worth in one of the best gaming phones out there – the Asus ROG Phone 6D Ultimate).
It's a shame that, outside of its home market, the Find N2 is only available in a single memory and storage configuration: 8GB RAM / 256GB. In China, the phone can also be had with 12GB RAM and the same storage or a whopping 16GB RAM and 512GB of storage.
There's also a colorway called Flowing Gold that isn't part of the device's international release. Instead, most consumers will have the option of either Astral Black or Moonlit Purple – creating a decidedly similar look to the Galaxy Z Flip 4's iconic purple finish.
Oppo launched the phone internationally on February 15, going on sale in various markets (including the UK) on March 2, for £849 (approximately $1,020) and Australia on March 16 for AU$1,499.
With the moves Oppo has made with the Find N2 Flip, it's clear that the Samsung Galaxy Z Flip 5 has its work cut out.
Oppo Find N2 Flip review: Price and availability
Priced at £849 / €1,199.99 / AU$1,499
Unconfirmed for the US
Pre-order from February 15 (March 2, Australia), on sale March 2 (March 16, Australia)
Oppo launched the Find N2 Flip internationally on February 15, taking pre-orders the same day. In the UK, the phone is priced at £849 (approximately $1,020), going on sale on March 2. European pricing clocks in significantly higher, at €1,199.99.
Australians are also be able to get their hands on the Find N2 Flip for AU$1,499, with pre-orders from March 2 ahead of a March 16 release.
For comparison, the Samsung Galaxy Z Flip 4 – with a base configuration of 8GB RAM and 128GB of storage – cost $999.99 / £999 / AU$1,499, at launch. This renders Oppo's new clamshell a comparative steal, as it not only undercuts the Flip 4's base price by £150 in the UK but if you compare pricing between equivalent 256GB models, the Find N2 Flip actually comes in at £210 cheaper (the 256GB Z Flip 4 cost $1,059.99 / £1,059 / AU$1,649, at launch).
One area where the Find N2 Flip can't compete against the Flip 4 is in the US. Oppo's new phone has no expected presence in one of Samsung's biggest international markets.
Oppo Find N2 Flip review: Specs
With the new year, we're seeing devices (like the Samsung Galaxy S23 series and Xiaomi 13 series), with faster and more power efficient LPDDR5X RAM and UFS 4.0 storage. Since the Find N2 Flip originally launched in China in late 2022, concurrent with the Z Flip 4, the Find N2 Flip sports slightly older LPDDR5 RAM and UFS 3.1 storage.
Swipe to scroll horizontally
Oppo Find N2 Flip specs

| | Header Cell - Column 1 |
| --- | --- |
| Dimensions (folded): | 85.5 x 75.2 x 16.02mm |
| Dimensions (unfolded): | 166.2 x 75.2 x 7.45mm |
| Weight: | 191 grams |
| Main display: | 6.8-inch 21:9 (2520 x 1080) 120Hz LTPO E6 AMOLED, protected by UTG |
| Cover display:: | 3.26-inch 17:9 (720 x 382) 60Hz AMOLED, protected by Gorilla Glass 5 |
| Chipset: | MediaTek Dimensity 9000 Plus |
| RAM: | 8GB (LPDDR5) |
| Storage: | 256GB (UFS 3.1) |
| OS: | Android 13 w/ ColorOS 13 |
| Primary camera: | 50MP, f/1.8, 23mm, 86° FoV (Sony IMX890) |
| Ultrawide camera: | 8MP, f/2.2, 16mm, 112° FoV (Sony IMX355) |
| Front Camera: | 32MP, f/2.4, 21mm, 90° FoV (Sony IMX709) |
| Battery: | 4,300mAh |
| Charging: | 44W (wired) |
| Colors: | Astral Black, Moonlit Purple |
Oppo Find N2 Flip review: Design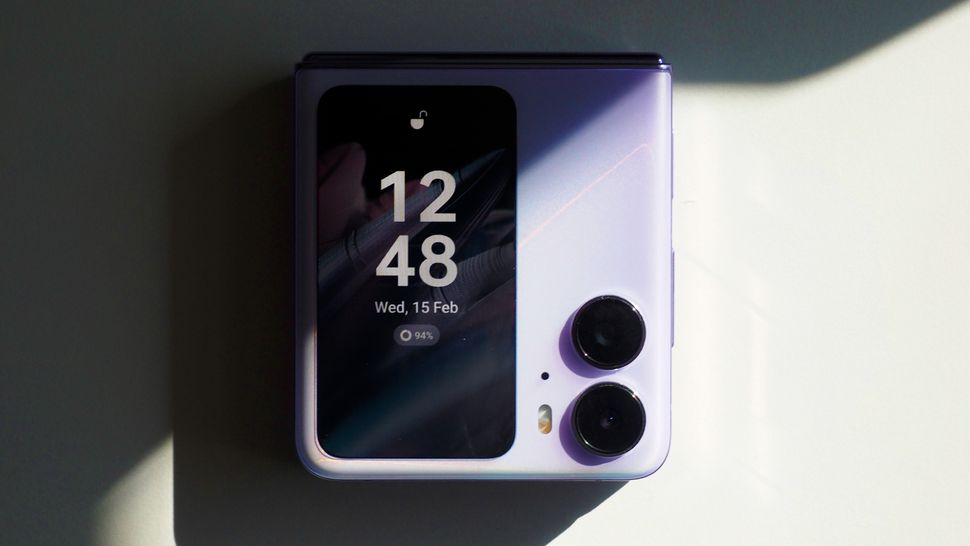 First clamshell foldable from Oppo
Satisfying and sturdy hinge mechanism
Gapless folding design
You can't evaluate a foldable without talking about the hinge mechanism that underpins its construction and Oppo's done a great job with the Find N2 Flip. The phone's latest-generation 'Flexion Hinge' features a system of cams to serve up an incredibly satisfying movement when you fold the phone open and shut, and the whole construction feels impressively solid.
Oppo had the hinge independently tested and, as such, it's verified by TÜV Rhineland to withstand some 400,000 cycles (opening once and closing once equates to one cycle). This translates to 100 cycles per day for over ten years – that's twice the stress-test figure that Samsung quotes for the Galaxy Z Fold 4 and Flip 4.
The N2 Flip lacks any sort of formal IP-certified water or dust resistance, compared to the Galaxy Z Flip 4's IP68 rating against both, which means it can withstand full submersion in up to a meter of fresh water. Even so, Oppo insists that the N2 Flip's 'gapless folding design' keeps particles out and the mechanism safe, which in practice seems to ring true. Even after hours in a jeans pocket day after day, while the phone took on smears and smudges, I only once had to pull a hair that had got caught in the hinge system and it was barely able to make its way in beyond the surface.
There's some nice detail work throughout the Find N2 Flip's design, with two colorways launching internationally: textured Astral Black and glossy Moonlit Purple (pictured). Flowing Gold remains a China-exclusive colorway and any additional colors in the future seem unlikely, as I was told by Oppo EU's Head of Product Management, Arne Herkelmann, at the phone's international launch event in London.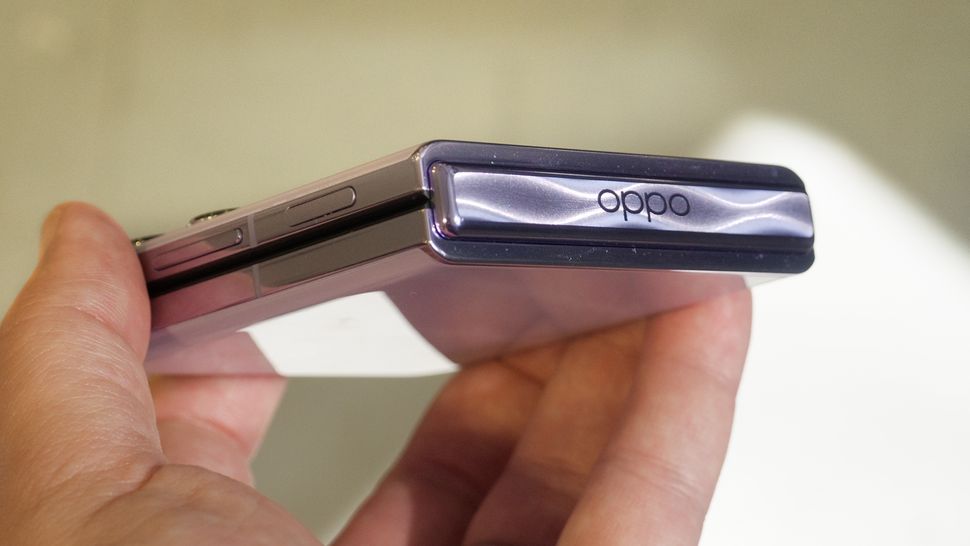 There's a wave-style pattern etched into the outer face of the hinge when the phone is folded shut that catches the light and adds extra interest, showcasing a level of polish and attention to detail that most devices lack.
At 191 grams and 7.45mm thin, the N2 Flip is a little bigger, heavier and thicker than its most obvious rival, but for that additional heft you get a larger display and battery compared to Samsung's current clamshell.
Oppo Find N2 Flip review: Display
6.8-inch 21:9 1Hz to 120Hz AMOLED main display
3.26-inch 17:9 30Hz to 60Hz AMOLED cover display
Largest cover display of any clamshell foldable
Perhaps one of the most striking things about the Find N2 Flip compared to its clamshell folding rivals is its crease, or rather... lack of one.
Part of the phone's Flexion Hinge is an equally flamboyant-sounding element called the Reticular Matrix Plate. When the phone is closed, the plate slides out of the way to allow the display itself to bunch up inside in a waterdrop shape – similar to the Motorola Razr 2022's folding design.
When the N2 Flip is opened back up, the plate slides back and locks into place, creating what is empirically the smallest display crease in any clamshell foldable, for now. I commended the Razr 2022 for having "one of the least-visible creases on an inward-folding phone screen" when I put it through it's review paces late last year, but the Find N2 Flip's is another degree beyond what Motorola was able to muster.
Oppo says the crease is half the depth of the the N2 Flip's "main competitor" and I can attest to how impressively unobtrusive it looks and feels. It's a clear indictor of progress when it comes to the technology and engineering needed to create a phone with a folding display, and suggests we'll soon have foldables with no visual or tactile interruption.
As for the viewing experience, the 6.8-inch 20:9 Full HD+ panel's use of LTPO E6 AMOLED tech ensures sharp and vibrant visuals, with minimal brightness drop-off or color distortion when viewed off-axis, as well as support for a variable refresh rate from 1Hz to 120Hz, for greater power efficiency than a fixed-refresh rate panel.
The display manages a peak brightness of 1,600 nits. It's great for enjoying media (helped by minimal bezels) and offers one of the nicest viewing experiences of any clamshell foldable display currently out there.
That TÜV Rhineland certification doesn't just cover the hinge for 400,000 folding cycles but the display itself too, with multi-layered construction that features an anti-reflective film Oppo claims is five times less reflective than competing foldable displays, which sounds impressive on paper but in practice doesn't stop the screen from catching reflections (or smudges, for that matter).
Then, of course, there's the cover display: bigger than any other clamshell foldable and brimming with features. It can handle obvious tasks – like acting as a viewfinder when snapping selfies with the phone's primary camera – to more obscure ones.
There's the option of one of five interactive pet clocks the serve up a Tamagotchi-like experience, for an added layer of character and fun, although in practice there's a lot more that could be done with these.
While the out-of-box feature set is a solid start, third-party additions would make for a welcome upgrade. At present, Spotify media controls can be accessed from the cover display, and the promise of Google Assistant interaction while the phone is closed is reportedly in the works too, but there's potential for so much more, if Oppo were to open up an SDK for developers.
Oppo Find N2 Flip review: Software
ColorOS 13 atop Android 13 at launch
An almost overwhelming amount of functionality
Four years OS updates + five years security updates
The Find N2 Flip arrives on the latest Android 13, dressed in Oppo's own ColorOS 13 user experience.
Not unlike Samsung's One UI, it's a departure from stock Android in a few key areas and includes some first-party Oppo apps that echo some of Google's native apps (like a web browser and app store). Additions like quick access to split-screen multitasking via a three-finger swipe gesture, a universally-accessible Smart Sidebar and floating window functionality all serve the display's tall aspect ratio well and bolster the phone's productivity chops.
At the same time, there's almost too much functionality. Many users will likely never venture to uncover what the O1 Ultra Vision Engine is, learn the difference between Oppo Share and Nearby Share, or discover the freedom of Zen Mode (it locks the phone down for a set period of time to give you an enforced break from your device).
The Find N2 Flip does represent one notable positive shift in Oppo's wider mobile strategy, by matching Samsung's commitment to updates. The N2 Flip benefits from four years of OS updates and five years of security updates, just like the new Samsung Galaxy S23 Ultra. The hope is that this promise starts making its way to other Oppo devices going forward too, and not just its high-end handsets.
Oppo Find N2 Flip review: Camera
50MP primary + 8MP ultrawide
32MP selfie camera
FlexForm Mode camera features
You'll find a trio of cameras across the Find N2 Flip's body, a 50MP primary and 8MP secondary ultrawide on the back, alongside a 32MP punch-hole front-facer, set into the top of the phone's main display.
The Sony IMX890 sensor that leads the N2 Flip's camera system is the same sensor you'll find in OnePlus' latest flagship, the OnePlus 11, although here it's supported by Oppo's dedicated MariSilicon X imaging NPU for image processing. There doesn't appear to be any optical image stabilization on offer, however Oppo's camera wizardry has rendered its absence nearly unnoticeable, even in side-by-side comparison test stills and video with the Galaxy Z Flip 4.
Oppo Find N2 Flip camera samples
Image processing may be handled by the MariSilicon X chip, but tuning of the color science, through Oppo's ongoing partnership with famed camera brand Hasselblad, defines the overall look of the results out of the Find N2 Flip's camera.
There are also the unique benefits of that clamshell form factor to consider, with regards to photography. That large cover display makes it quick and easy to snap selfies, portrait shots or shoot video using the phone's primary sensors and without having to open the phone up. Conversely, you can be snapping normally but give your subject an idea of the final image you're capturing, with the cover screen preview feature.
As part of that all-important hinge's ability to hold its position between 45 and 110 degrees, the phone's FlexForm Mode is most obviously beneficial when snapping pictures, letting you shift the camera UI to either half of the partially folded display as needed, while angling the camera through that defined range of motion allows for easier hands-free capture, too.
There's also a mode called Camcorder Capture that acts an awful lot like the Galaxy Z Flip 4's FlexCam mode, where you hold the phone sideways while it's folded to 90-degrees to emulate the feel and hand position of a 90s camcorder when capturing video. It was novel, but seldom saw use when I reviewed the Z Flip 4, and the same is true here.
Oppo Find N2 Flip review: Performance
MediaTek Dimensity 9000 Plus chipset
Single memory / storage configuration on international model
Continuing the partnership that the company struck up with MediaTek for the Oppo Reno 8 series, the N2 Flip instead runs on a Dimensity 9000 Plus SoC, unlike the Snapdragon 8 Plus Gen 1 that we toyed with in our hands-on Oppo Find N2 review.

Although MediaTek's high-end silicon isn't as established as Qualcomm's, the 9000 Plus has already proven its worth inside our best gaming phone of the moment – the Asus ROG Phone 6D Ultimate. As such, there's plenty of power on hand for everything from multitasking to gaming.
Depending on what you're asking of the Find N2 Flip, if you're looking for like-for-like benchmarking scores to equivalent Snapdragon 8 Plus Gen 1-powered phones, you'll have to dip into the phone's settings and manually enable 'high performance mode'. Otherwise, its default, more balanced performance profile produces more modest numbers. However, the difference between the two profiles isn't vast, so I'd recommend leaving the power profile well alone most of the time.
Colors aside, there's only one configuration of the Find N2 Flip to worry about internationally, with 8GB of LPDDR5 RAM and 256GB of UFS 3.1 storage on hand, which most users should find more than adequate. In China, the phone can be had with up to 16GB of RAM and 512GB of storage. Oppo's Peter Lee – head of the Find product line – told me that this is born out of higher demands that Chinese consumers expect from their devices.
One area where Oppo has tried to tailor the experience to the unique qualities of a foldable like the Find N2 Flip is connectivity. As well as a strong foundation brought about by Bluetooth 5.3 and WiFi 6, the N2 Flip also supports eSIM with simultaneous dual 5G SIM support, while a 360-degree antenna array means NFC should work with the phone held in any orientation, regardless of whether it's opened or closed; ideal for contactless payments on public transport and the like.
Performance score: 4.5 / 5
Oppo Find N2 Flip review: Battery
4,300mAh battery
Supports 44W SuperVOOC charging
Largest battery and fastest charging in a clamshell foldable
One of the big wins that the Oppo Find N2 Flip lordes over its clamshell compatriots is with its battery and charging credentials. While the Motorola Razr 2022, Galaxy Z Flip 4 and Huawei P50 Pocket possess 3,500mAh, 3,700mAh and 4,000mAh capacity batteries respectively, the Oppo barges in with a bombastic 4,300mAh cell that trounces the Z Flip 4 when it comes to real-world screen-on time (6.5-hours compared to just four), matching that of its other clamshell folding rival, the current Razr.
It's a similar story with charging speeds, too, with the Samsung, Motorola and Huawei supporting 25W, 30W and 40W wired charging, respectively. The Find N2 Flip, meanwhile, tops the list at 44W (although you'll find a 67W SuperVOOC charger in-box).
Oppo quotes 50% charge in 23 minutes and 100% in under an hour, as well as over 11 hours of video playback, claiming that the Z Flip 4's self-developed high density cells offer up 10% more power from the same capacity battery in an equivalent device.
In testing, Oppo's figures for the most part rang true, with the Find N2 Flip reaching over 30% charge in just 15 minutes and almost 60% charge in 30. However, a full charge usually took an hour or just over to reach, never under.
Should you buy the Oppo Find N2 Flip?
Swipe to scroll horizontally
Oppo Find N2 Flip score card

| Attributes | Notes | Rating |
| --- | --- | --- |
| Value | The best value clamshell foldable on the market undercuts its rivals but remains pricey overall. | 4.5 / 5 |
| Design | A clean design with a sturdy hinge and nice details. Oppo hasn't matched Samsung's ingress protection, though. | 4 / 5 |
| Display | Sure, the main screen could be sharper and Oppo could have done more with the cover display's functionality, but they still make for the best display experience on a clamshell foldable right now. | 4.5 / 5 |
| Software | A feature-packed user experience may have a little too much bloat for some, but the extended software update support is a net win. | 4 / 5 |
| Camera | A capable all-round camera phone augmented by FlexForm functionality and impressive digital stabilization. | 4 / 5 |
| Performance | Plenty of power to deliver everyday flagship performance and the strongest clamshell foldable to date. | 4.5 / 5 |
| Battery | The largest battery and fastest charging in a clamshell foldable. Oppo's claims held up to testing too. | 4.5 / 5 |
Buy it if...
You want the best clamshell foldable out there
While Samsung's Galaxy Z Flip 4 may have more mass appeal and wider availability, if you can get it, the Find N2 Flip realizes Oppo's goal of dethroning Samsung's Flip as the clamshell king.
You want a stylish, compact phone
Despite being bigger and heavier than the Galaxy Z Flip 4, that doesn't detract from the Find N2 Flip's comparatively compact form-factor compared to your average 6.8-inch screened phone. It looks great too.
You want a foldable with a great battery
While battery longevity proved comparable to its rival from Motorola, the Find N2 Flip wins out in this department overall by also integrating the fastest charging on the form factor right now.
Don't buy it if...
You're accident prone
There's no denying that the Find N2 Flip's hinge mechanism has been built and independently verified to withstand some punishment, but with no IP protection against dust or water ingress, it's only blind faith in Oppo's tight tolerances that ensure the phone will stand up to the elements over time.
You need a lot of storage
With only a single 8GB RAM / 256GB storage SKU in most markets, you need to be sure that that's enough space for your apps and media, as there's no room to add more down the line or pick up a device with any more from the get-go.
You hate ColorOS
Oppo's take on Android isn't for everyone; it's brimming with functionality but for some, may come across as overwhelming. What's more, there are a number of duplicate apps that may never see use and just take up space.
Oppo Find N2 Flip review: Also consider
Oppo clearly wanted the Find N2 Flip to out-flip the Galaxy Z Flip 4, and I'd say the phone achieves its goal by delivering greater performance and functionality for less cash. But, if for whatever reason, you don't like Oppo's particular take on the clamshell, here are a handful of alternatives to consider.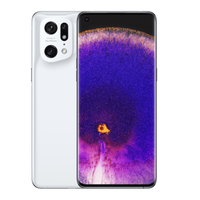 (opens in new tab)
If you don't need your Find to fold, then the company's current flagship may be a better fit: top-tier internals and killer Hasselblad-supported cameras in one of the best-looking smartphone designs in recent memory. At this point in its lifecycle, the Find X5 Pro should be even better value too.
(opens in new tab)
The Find N2 Flip is framed as a Galaxy Z Flip 4 killer, but that also makes Samsung's clamshell a wonderfully like-minded alternative. You trade a gapless folding design for the added benefit of IP-certified dust and water resistance, as well as customizable color options and availability in more markets.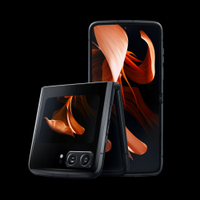 (opens in new tab)
Looking for a clamshell that isn't made by Oppo or Samsung? Your best bet right now is Motorola's latest Razr – the 2022 model. A huge leap in performance and value compared to its predecessors, and with a crease that's less obtrusive than the Z Flip 4's.
Swipe to scroll horizontally
| | Oppo Find X5 Pro | Samsung Galaxy Z Flip 4 | Motorola Razr 2022 |
| --- | --- | --- | --- |
| Price (from): | £1,049 / AU$1,799 | $999.99 / £999 / AU$1,499 | £949.99 / AU$1,599 |
| Dimensions: | 163.7 x 73.9 x 8.5mm | 165.2 x 71.9 x 6.9mm | 167.0 x 79.8 x7.6 mm |
| Weight: | 195g | 187g | 200g |
| OS (at launch): | Android 12 | Android 12 | Android 12 |
| Screen Size: | 6.7-inch | 6.7-inch | 6.7-inch |
| Resolution: | 3216x1440 | 2640x1080 | 2400x1080 |
| CPU: | Snapdragon 8 Gen 1 | Snapdragon 8 Plus Gen 1 | Snapdragon 8 Plus Gen 1 |
| RAM: | 8 / 12GB | 8GB | 8 / 12GB |
| Storage (from): | 256GB | 128 / 256 / 512GB | 128 / 256 / 512GB |
| Battery: | 5,000mAh | 3,700mAh | 3,500mAh |
| Rear Cameras: | 50MP Wide, 50MP ultrawide, 13MP telephoto (2x) | 12MP wide, 12MP ultrawide | 50MP main, 13MP ultrawide |
| Front camera: | 32MP | 10MP | 32MP |
How I tested the Oppo Find N2 Flip
Review test period = 5.5 weeks
Testing included = Everyday usage, web browsing, social media, photography, video calling, gaming
Tools used = Geekbench 5, Geekbench 6, Geekbench ML, GFXBench, native Android stats
Oppo was able to get a device to me ahead of launch, meaning I was able to live with the Find N2 Flip for just shy of a month and a half, over the course of the review period. That meant I was able to cycle the battery from daily use multiple times, check and recheck benchmark scores and other metrics, and generally sink my teeth into the Find N2 Flip to gain a deeper understanding of how the phone behaves and what it's actually like to live with.
Benchmarks placed it just where I'd expected it, on or a fraction behind equivalent Snapdragon 8 Plus Gen 1-powered phones, without leaning on the phone's high-performance mode – hidden away in the settings so as not to inadvertently besmirch the good name of the phone's promised (as realized) long battery life.
The Find N2 Flip's review period overlapped with Primate Labs' release of Geekbench 6, meaning I tested the phone's Dimensity 9000 Plus chipset with both Geekbench 5 (single-core scores of 891 or 1332 with high-performance mode and multi-core scores of 3164 or 4270 with high-performance mode on), as well as Geekbench 6 (single-core scores of 1110 or 1787 with high-performance mode and multi-core scores of 3224 or 4522 with high-performance mode on).
Geekbench ML was used to quantify the phone's machine learning prowess, however, like the only other Dimensity 9000 Plus phone we've tested with this app (the ROG 6D Ultimate), the benchmark was never able to complete, for some unknown compatibility reason.
I bring 12 years of industry experience to my role as Senior Phones Editor here at TechRadar. With a focus on phones, tablets and wearables in the consumer space, I'm well versed in what the market has to offer and how to assess a device like the Oppo Find N2 Flip, having also been the one to review its most obvious rivals, the Samsung Galaxy Z Flip 4 and Motorola Razr 2022, as well as its sibling, the standard Oppo Find N2.
First reviewed February 2023