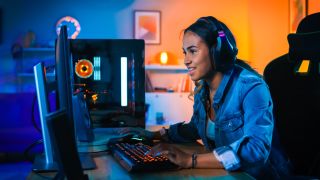 (Image credit: Micron)
As any competitive gamer will know - especially those who value fast reactions and a zero-latency gameplay experience for titles like Valorant, CS:GO, or Apex Legends - having a cutting-edge SSD can virtually eliminate any risk of your SSD slowing you down in the heat of battle.
Getting that competitive edge can be the difference between a victory and a loss, so it's wise to make sure your hardware is up to the task. If you've ever played a game like Rainbow Six Siege, you've probably seen people complaining about that one player with slow storage holding up the match as their PC struggles to load between rounds. Don't be that player.
If you're a serious PC gamer, chances are that you've built your own system at some point - or at least upgraded one you bought previously. It's the great strength of PC gaming; no need to buy a new console every few years; just swap out some components for next-gen upgrades every now and then, and you're good to go.
Every PC gamer knows that your GPU is the most important part of your rig, but that doesn't mean you should overlook the other aspects of your build. Plenty of gamers are out there with RGB-laden systems packed with powerful graphics cards and plenty of RAM, but still rocking outdated storage.
This brings us to the Crucial T700 Gen5 NVMe SSD. The 5th generation of PCIe SSDs is finally here, and it's turning the dial to 11 - 11.8GB/s, to be exact, since that's how fast it can write data, with read speeds even faster at 12.4GB/s. If you're looking for an SSD for your new PC build - or perhaps you're just upgrading your system - this is the one to pick.
The power of PCIe Gen5
Those are some big numbers when it comes to transfer speeds, and we could wax lyrical about the RDN4K read speeds or the Micron 232-layer TLC NAND that provides the foundation for Crucial T700 SSDs, but we're not going to do that here.
We'd rather focus on the practical applications, specifically for gamers. When you're playing PC games - especially online multiplayer games - your SSD is in near-constant use, feeding data from the game's files stored on it so that you can enjoy whatever you're playing.
That means the quality and speed of your SSD affect a whole lot of stuff: load times are often cited as the biggest factor, with a faster drive meaning less texture pop-in and less time waiting in front of a loading screen, but a high-speed SSD also helps to cut down latency - helping you ensure your split-second shots in an intense match don't have any input delay.
Upgrades, people, upgrades
Picking a cutting-edge SSD like the T700 helps to future-proof your build, too, since the PCIe Gen5 storage standard is the new kid on the block right now. You're not just getting turbo-charged speeds here; you get reliability, longevity, and Micron's decades of experience in the SSD industry.
If you want to upgrade your storage but can't afford to buy a whole new motherboard (and potentially a new processor and RAM to accompany it) at the same time as a new SSD, then have no fear: the T700 is backward-compatible with PCIe 3.0 and 4.0 boards, so you can get the best out of your existing motherboard and then upgrade freely when you're able to.
The bottom line here is that this is the SSD to buy if you want the very best for your gaming PC. The T700 is almost twice as fast as Crucial's own Gen4 drive, and more than 22 times the speed of a conventional SATA SSD. So if you never want to be the person holding up your team between rounds - get a T700.
Sign up to receive daily breaking news, reviews, opinion, analysis, deals and more from the world of tech.