Editor's note: June 2023
We've got a new Wi-Fi extender sitting in our top spot so instead of you spending more than $200/£200 on one, you're getting an affordable option that not only does the job but also offers Wi-Fi 6 support.
The TP-Link RE700X is a sub-$100/£100 option that is fantastic at covering all the dead spots in your home or office. And, it's easy to set up.
It's a whole new year, which means we'll be testing a slew of new Wi-Fi extenders. You should, therefore, see new entries on this guide in the next few weeks.
Michelle Rae Uy, Buying Guides Editor
The best Wi-Fi extenders boosts your router's signal in order to extend its reach and give you better Wi-Fi coverage. One of these range extenders can be a cost-effective network solution if you're dealing with poor network coverage or dead spots in certain areas of your home or office.
Even the best wireless routers have their limitations, and unless you have one of the best mesh Wi-Fi systems, which you can strategically place around your space for the optimal network coverage, you might have to deal with connectivity issues especially if your coverage area is massive. But, it doesn't automatically mean that you should be upgrading your router. That's where a Wi-Fi extender comes in handy – not to mention, generally cheaper than your router.
Also call Wi-Fi boosters, Wi-Fi extenders extend or boost your Wi-Fi signal beyond your existing router's reaches to ensure that that internet signal is more robust in areas where the connection was previously spotty. What's more, they are incredibly simple to setup, with some offering step-by-step instructions via an app, and shouldn't get in the way your network's connectivity.
Don't worry if you don't know much about Wi-Fi extenders, however. We've tested and reviewed a lot of Wi-Fi boosters, so we can steer you towards the best options out there in this guide. Here are the best Wi-Fi extenders for home and office to set you on a path to a better internet connection, along with the best Wi-Fi extender deals out there to help save you money.
We also answered some of the most commonly asked Wi-Fi extender questions below so you know what you're getting into. And, if you can't decide whether it's an extender or a mesh system you require, our Wi-Fi extender vs mesh router piece should help with that.
The best Wi-Fi extenders 2023
Why you can trust TechRadar We spend hours testing every product or service we review, so you can be sure you're buying the best. Find out more about how we test.
The TP-Link RE700X is proof that you do not need to spend a lot of money to get great Wi-Fi coverage in every corner of your home. While many Wi-Fi extenders are trying to charge consumers enough money you might as well get a mesh system, this one keeps its price inexpensive by keeping things simple and offering Wi-Fi 6 connectivity on top of it.
Though not loaded up on features, this Wi-Fi 6 support is certainly more than enough when combined with just how effective it is at covering dead spots. Nicknamed the "dead-zone killer," it certainly delivered during testing, covering an area in our space where the weak Wi-Fi signal normally forces us to rely on PowerLine adaptors.
It's also easy and simple to set up, making it a great option for most people, including those who have never even seen a range extender before. You can spend a lot of money on an intimidating range extender, or you can make things easy for your self and your wallet with the TP-Link RE700X.
Read our full TP-Link RE700X review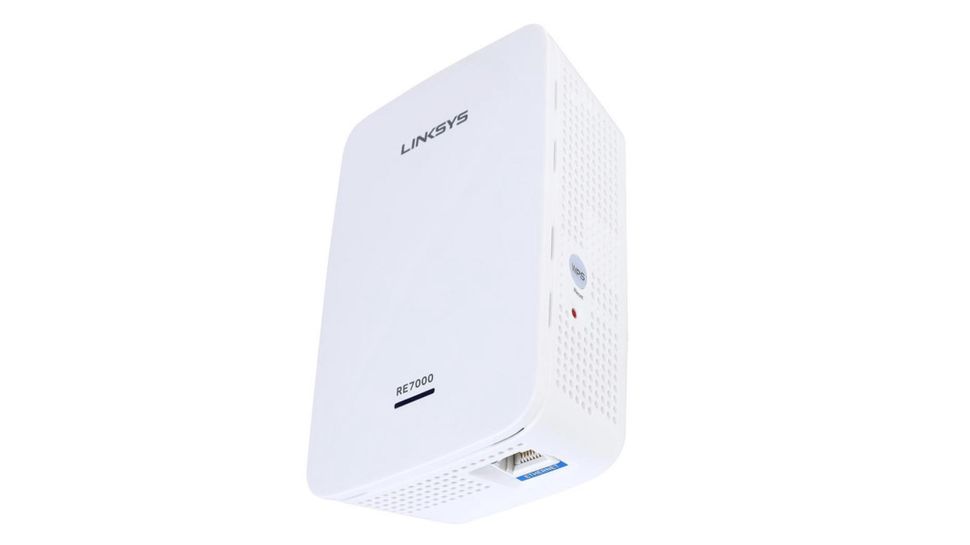 If you want a small, discrete Wi-Fi extender that will reliably spread the coverage of your network throughout your home or office, then the Linksys RE7000 Max-Stream AC1900+ Wi-Fi Range Extender is a great affordable choice.
It's small enough that it won't block other power outlets unlike other larger Wi-Fi extenders, but it also offers pretty good performance and a 2,500-square-foot range for a nice low price. And, if you've got a household dominated by gaming and streaming, it's got MU-MIMO technology to ensure that it's got the capacity and efficiency to tackle those network-intensive workloads. If you're the type to move around the house, it comes with seamless roaming that automatically switches your device's connection to the strongest Wi-Fi signal depending on your current location.
Best of all, it comes with a 'dead spot' finder that allows you to locate where your network strength is the weakest. By installing it there, you should see a nice boost to your Wi-Fi.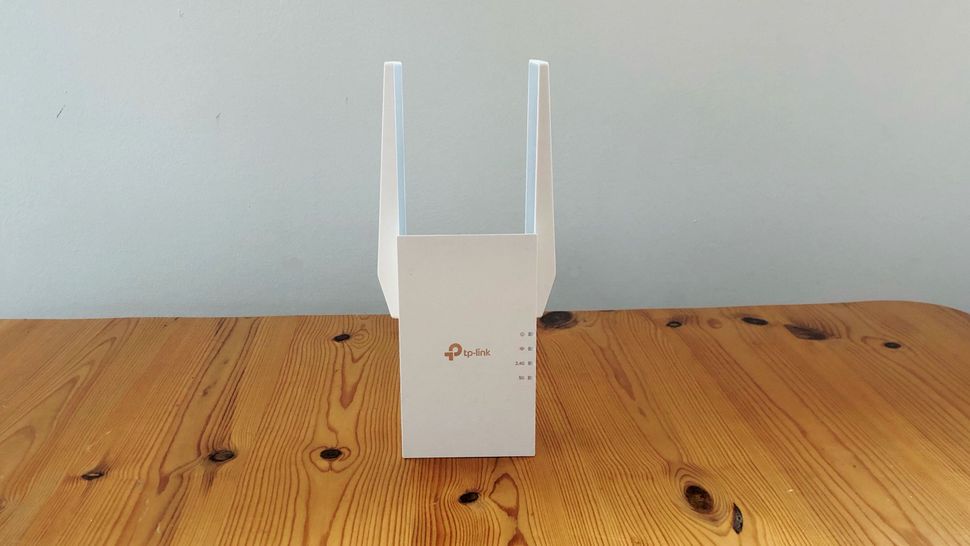 If you're looking to extend your newly-minted Wi-Fi 6 network to all four corners of your home, TP-Link's RE605X WiFi 6 Range Extender is worth taking a look. It's as affordable and as easy to set up as the RE650 extender while being backwards compatible with older Wi-Fi 5 routers.
We found during testing that TP-Link's Tether app does a good job of keeping setting up simple, making this a great option for Wi-Fi extender newbies. It isn't just for the less savvy users, however. The RE605X also provides a web browser interface for more experienced users who want more control over their network settings.
It's also proven to deliver noticeable improvement in Wi-Fi performance. On test, it boosted our router's speed to 100Mbps from 34Mbps on the 2.4GHz and from 85Mbps on the 5.0GHz bands in the poorly connected part of our space. Our stream downloads saw a marked improvement as well.
Read the full TP-Link RE605X WiFi 6 Range Extender review
The Netgear Nighthawk AX8 (EAX80) may be a little older, but with Wi-Fi 6 capabilities and an impressive range, it certainly deserves a spot in this best Wi-Fi extenders list. It's a little on the pricey end, but it's not really for people who are on the budget anyway, as it's more of an investment for those who require top-notch performance and massive coverage.
It boasts some features you typically see in actual routers such as four Gigabit Ethernet ports for connecting a games console and a USB 3.0 port for connecting a hard drive to provide network storage. It also has mesh extender capabilities, which means you can buy additional EAX80 extenders and link them together to create an enormous mesh network.
On test, its performance will blow you away. Performance on the slower 2.4GHz band jumped from our usual 18Mbps to 21Mbps. Meanwhile, the faster 5.0GHz band really got a shake-up, leaping from just 60Mbps to 342Mbps. This isn't going to be the best Wi-Fi extender for most people, but it's amazing for those with massive homes and offices to cover.
Read our full Netgear Nighthawk AX8 (EAX80) review
TP-Link is a Chinese networking company that has been steadily gaining popularity in the west, and for good reason. With devices like the TP-Link RE650 AC2600 Wi-Fi Range extender, it's easy to get why: this extender – among the best Wi-Fi extenders you can buy right now – does the job well, and it's affordable.
With this reasonably-price Wi-Fi booster option, you might not get that convenience of having the same Wi-Fi name and network throughout your space. But, we found during testing that TP-Link's Tether app and the LED signal indicator on the front at least make the installation a breeze. So creating your own Wi-Fi network shouldn't be as daunting as it sounds if you're a newbie.
We found that it delivers on Wi-Fi performance as well, helping the Wi-Fi speed in the less accessible part of our space jump up to a healthy range. It's not going to be the fastest Wi-Fi extender out there, but with the range this extender provides at the price it's available at, it's a steal.
Read the full TP-Link RE650 AC2600 Wi-Fi Range Extender review
Extend your network through thick walls and into the furthest corners of your space with the Devolo Mesh WiFi 2. Boasting both mesh Wi-Fi features and versatile powerline connectivity, this device can even follow you and your mobile devices around, automatically switching you to the closest adaptor and the fastest Wi-Fi band.
For a starter kit, you can get one with two identical adaptors or one with three, ideal for covering larger spaces and three-story buildings. And, each adaptor comes with two Gigabit Ethernet ports for faster wired connections.
Supporting dual-band Wi-Fi 6 with a top speed of 1800Mbps, this may not be the fastest on the market. But on test, it's proven to meet the needs of most home broadband services, especially in maintaining that solid, consistent Wi-Fi signal throughout your space. This is the best Wi-Fi extender for games consoles, smart-TVs and other devices that work best with wired connections.
Read the full Devolo Magic 2 Wi-Fi 6 Mesh review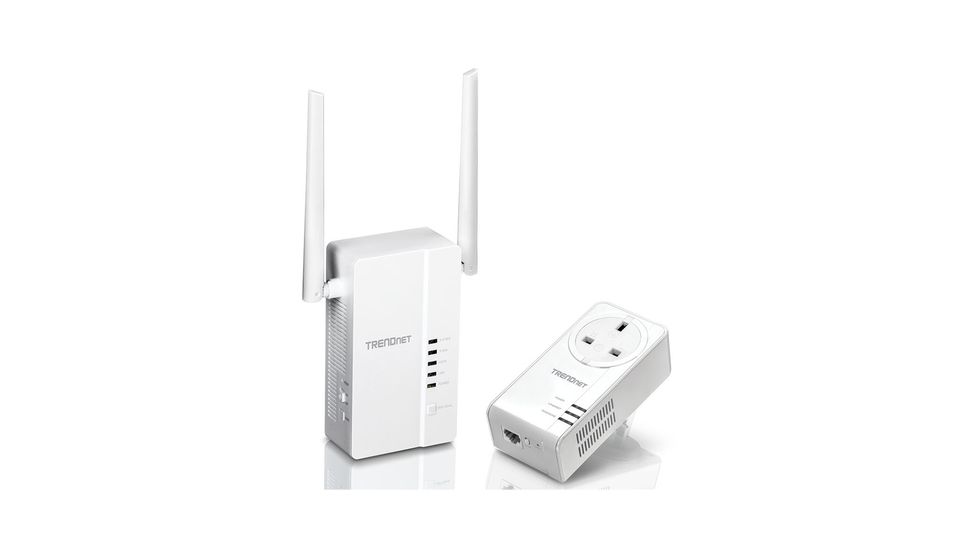 If you need a great way to upgrade your network so you can have fantastic coverage anywhere in your house, a powerline adapter is a remarkable option. Not only do they offer the same functionality as the best Wi-Fi extenders, but the Trendnet Wi-Fi Everywhere Powerline might just be a dream come true. That's especially because it's in the mid-range in terms of pricing, and a little cheaper now.
It's not exactly visually pleasing. However, this unit more than makes up for those issues in great performance. During testing, we typically got about 300-400Mbps in the same room, 150Mbps between floors and 100Mbps further away. And, unlike other powerline adapters, the Trendnet Wi-Fi Everywhere features a clone button that will clone the SSID and WPA key of your network so that it can double as a Wi-Fi extender.
Read the full Trendnet Wi-Fi Everywhere powerline 1200 AV2 review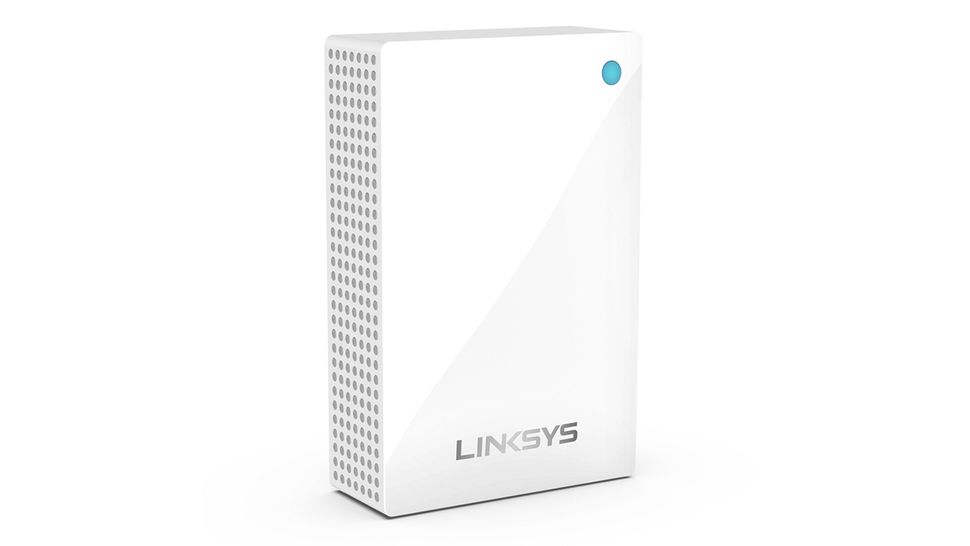 The Linksys Velop offers a solid argument for a wireless mesh network's ease of setup. But, its mesh Wi-Fi extender also makes a compelling case if you don't want go to with nodes and want something that might be a little subtle. Instead of getting a node, you can get this one to connect to and extend your Linksys Velop Intelligent Mesh Wi-Fi router's reach instead.
This plug-in extender is easy to set up, doesn't require any cables or cords unlike regular nodes, and can fit most wall sockets, which means you can spread that signal in your space wherever there's a good outlet available. It's just a more seamless, minimalist solution to your existing Velop system. Of course, that also means that you should have a Velop system. Unfortunately, this won't work with other routers.
How to choose the best WiFi extender for you
You want to make sure that your Wi-Fi extender is speedy enough to give you the kind of solid connection you need. That means at least a wireless standard of 802.11ac, the default on most current routers. And, if you want to future-proof, consider one with Wi-Fi 6, the successor to 802.11ac that is slowly taking over.
Installation and setup is always a concern so look for one that's easy to connect to your existing network. And, make sure that it has the ports you need if you're hoping to connect something that needs a physical connection like an older computer.
If you plan on expanding beyond one extender – maybe you need it for a large business – then consider a mesh extender as you can add additional units that will automatically find the best signal route for you. On that note, consider your budget. Mesh Wi-Fi systems are expensive. But, if you need more than one extender or need to replace the router as well, getting a Mesh Wi-Fi router will be more cost effective in the long run.
What's the difference between a WiFi booster and a WiFi extender?
Wi-Fi extenders, also known as Wi-Fi boosters or repeaters, are largely the same thing under a different name. If you have areas of your home where your current wireless internet cannot reach, they're the perfect piece of kit to boost your existing signal.
They're typically easy to use and set up, with most simply plugging into an available AC outlet in your wall, though some can resemble a stand-alone router.
Naming conventions appear to be a branding decision, but there are a few different ways that Wi-Fi extenders work. The most common is that your booster or extender houses two wireless routers, much like the wireless router you already have at home, or in your place of work. One of these wireless routers picks up the existing Wi-Fi network and then passes that to the secondary router which transmits the boosted signal.
It's worth noting that many Wi-Fi extenders broadcast on a new Wi-Fi network with its own name, so you'll need to connect to a different Wi-Fi signal depending on where you are in your home. As most devices will automatically connect to a trusted signal, this isn't likely to cause too much of an issue.
How do I know if I need a range extender or a router?
There are a few things to consider when trying to diagnose your internet woes and deciding between replacing your router or simply adding an extender. If you're having trouble with getting a solid connection regardless of how close you are to the router or how many devices are connected to it, chances are adding an extender won't help. That poor quality connection won't get any better; it just will have a larger range.
Getting a newer wireless router is a must in that case since the connection itself will only improve with a better device at the heart of your network. Upgrading the router to a newer one that can handle more devices or has Wi-Fi 6 support will also be the better way to go if you have a slow connection.
So, when should you buy a Wi-Fi extender? If your router is capable enough and is just not reaching where you want it to, a Wi-Fi extender is a great solution. A connectivity issue within your home or office that's related to the router's actual reach might be better resolved with one of the best Wi-Fi extenders because it's more cost-effective than replacing your whole router.
In other words, if some of your devices are getting a good connection or the internet gets better the closer you are to the router, save some money and add an extender. Maybe you want your network to cover a couple of floors of a house or building, but some rooms are just not getting a signal. An extender is the perfect solution as it will take the existing signal, strengthen it and extend its reach so that you can access it or get a better connection where you couldn't before.
It's also important to consider the price. Wi-Fi extenders can get pricey if you want some of the newest models, especially those that offer Wi-Fi 6 technology. However, companies like Netgear and TP-Link offer very affordable Wi-Fi extenders to help increase coverage across whatever area you need a boost in. The cheaper options obviously won't have as many bells and whistles but will work great for streaming content or loading webpages.
How do we test WiFi extenders
TechRadar tests Wi-Fi extenders in a variety of ways, from how easy they are to connect and setup, what apps or software they might come with, and of course, how much increase you get to the range of your wireless internet.
Features will be noted, we check to see if Wi-Fi 6 is supported, as well as if they're able to connect to any existing router and if the products are Dual-band or Tri-band compatible. As a Wi-Fi extender is designed to support an existing router, and not act as a dedicated router in itself, you'll likely want to check if your wireless router isn't up to scratch before you spend serious money on an extender.
A series of benchmarks are used to determine how effective a Wi-Fi extender is, using applications like the Ookla Speed test and the Steam game download client to test how many megabytes per second of data is achievable in different locations of a home, such as right beside the extender itself and behind partition walls that could block a signal.