Apple HomePod 2: Two-minute review
The HomePod 2 is a surprising relaunch for Apple's smart speaker, because at first glance, it doesn't appear to offer much that's different to the original model. And after taking a much deeper glance (and listen), I can report that it does not, in fact, offer much that's different to the original.
The HomePod 2 is a fairly compact speaker (smaller than most of the best wireless speakers, though obviously larger than the dinky HomePod mini) with a lot of speaker power built in – and you can hear it. It's energetic, bursting with detail, dynamic, and underlined with natural and resonant bass. For its price, no single speaker sounds quite as good – and combining two in a stereo system makes for even bigger and bolder sound.
But access to this power is frustratingly limited. The only ways to play audio are through the Siri voice assistant, or the Apple AirPlay 2 system via Wi-Fi. There's no Bluetooth, no Chromecast, no Spotify Connect, and no aux-in. The only way to send audio to the speaker is from Apple devices, so if anyone in your house doesn't have one, you'll have to decide if you're okay with excluding them from being able to use the speaker in the same way that others can.
Siri can work with multiple music services now, and can connect to your Apple account to do things like add calendar entries; but it's not as smart as Alexa or Google Assistant for generally interpreting your questions well, so if you're looking for one of the best smart speakers, it may not be top of your list.
However, if you sit in the sweet-spot demographic for the HomePod – an all-Apple house, with Apple Music to take advantage of its upgraded Dolby Atmos skills – the HomePod 2 is perhaps the best-value speaker out there. It's cheaper than what you get from the hardcore hi-fi brands (such as the Naim Mu-so Qb 2), and with a more full sound than the Sonos One can deliver.
And its new smart-home skills are welcome too, though we'd flag them as 'nice bonuses' rather than 'reasons to buy in the first place'.
Apple HomePod 2 review: Price & release date
The HomePod 2 is released on Friday February 3, 2022.
It costs $299 / £299 / AU$479, which is pretty much what the previous model cost by the time it was discontinued. It's the same price in the US, while it's slightly more expensive in the UK, but that's no surprise given recent currency exchange rates; it's AU$10 more expensive in Australia.
The price is high compared to most of the best smart speakers – even the Amazon Echo Studio, the most expensive Alexa speaker, is nearly half the price. The Sonos One is also much cheaper.
However, there are plenty of much more expensive wireless speakers, including the likes of the Bowers & Wilkins Zeppelin (2021) or the mighty Naim Mu-So Qb 2nd Gen.
So the HomePod is in the middle of the market overall – it's just definitely beyond the high end of what most people will pay for something like this. But then, the HomePod mini covers the more affordable end.
Apple HomePod 2 review: Specs
Swipe to scroll horizontally
| | | |
| --- | --- | --- |
| Dimensions: | 5.6 x 6.6 x 5.6 inches / 142 x 168 x 142 mm | Row 0 - Cell 2 |
| Weight: | 5.16 lbs / 2.3kg | Row 1 - Cell 2 |
| Speakers: | 4-inch woofer, five tweeters | Row 2 - Cell 2 |
| Connectivity: | Wi-Fi 802.11n, Bluetooth 5.0 (smart home control only) | Row 3 - Cell 2 |
| Streaming support: | Apple AirPlay 2 | Row 4 - Cell 2 |
| Voice Assistant support: | Siri | Row 5 - Cell 2 |
| Smart home features: | Thread/Matter, Apple HomeKit, temperature sensor, humidity sensor | Row 6 - Cell 2 |
Apple HomePod 2 review: Features
Uses Siri and AirPlay 2 to provide music
Dolby Atmos support, including from Apple TV 4K
Matter smart home support, with temperature and humidity sensors built in
The features of the new HomePod are very close to the original. It's a Wi-Fi-connected smart speaker based on Apple's Siri assistant, with the ability to also send music to it over Apple's AirPlay 2.
That means it's geared towards music in the Apple ecosystem very heavily. You can use Siri to request songs from Apple Music, though Siri now works with some other music services too. And while you can send music (or any other audio) to it over AirPlay 2 from Apple devices, there's no Bluetooth, or aux-in, or other way to get audio into it – that means Android devices are left in the cold with the HomePod, as is your turntable.
If you're in an all-Apple house and have no plans to change this in the future, then that's okay. But if one of your two kids uses Android when everyone else uses iPhones, it makes the HomePod 2 a poor investment. There are lots of other speakers that support AirPlay and have options for Android – from the likes of Sonos, Audio Pro, Bowers & Wilkins, and Naim (see our guide to the best AirPlay speakers). If you're in a mixed-device house, you should think very hard whether HomePods are the best option for you, especially at this price.
The HomePod 2 works as part of AirPlay multi-room systems, naturally, and you can use one HomePod on its own, or two in a pair.
The new HomePod is geared up for Dolby Atmos music support from Apple Music, including Spatial Audio – it will bounce sounds off your walls to try to create the feeling of the music being separated into different angles, elements and layers.
And these Dolby Atmos skills will come in useful if you own an Apple TV, because you can use two new HomePods as an alternative to one of the best soundbars – the Apple TV can send all of its sound to the HomePod, including Dolby Atmos 3D audio.
The HomePod 2 also supports lossless audio from Apple Music, for higher-quality audio overall, if you're signed up for that service. This is the only way it support Hi-Res music, though – Apple AirPlay 2 tech doesn't currently transmit it, so it's no good for playing stored FLAC files or anything.
The HomePod 2 has an ultra-wideband chip built-in, which means it can detect when an iPhone 11 or later is close to it, making it easy to beam music from your phone to the HomePod (or vice versa) by just bringing it close.
This also makes setup very easy – turn on the HomePod 2, and bring your iPhone nearby. A pop-up will appear, asking you to bring the top of the HomePod into view of your phone's camera. Then the HomePod will play a sound to identify itself to the iPhone, and that'll be it. It'll be connected to your iCloud account, gaining access to your Apple Music subscriptions.
For smart home lovers, the HomePod 2 is even better now. It supports Thread and Matter, which are the next-gen protocols that work with more accessories than ever – as well as Apple HomeKit – and it can trigger automations in your smart home when you're not there.
It also has built-in temperature and humidity sensors, which are useful for climate-control smart home gear, or just for checking on your home's status. Open Apple's Home app and you can see this info in the 'Climate' option at the top, though during my time with the HomePod the temperature always showed as being within a range (for example, 17-19°C) which is a bit odd. Sometimes the range is as low as 1.5°C, sometimes it was 3°C. It's not a huge deal, but it's unusual to see imprecision in temperature reporting. The humidity also tends to be in a range, but it was of just two percent in my experience (ie, 63-64%), which is close enough to not bother me.
It's easy to build these into an automation – you could trigger one of the best smart plugs connected to a dehumidifier to turn on if the humidity passes a certain point, for example – from the Automation tab in the Home app.
As for Siri – it works well technically here, being very quick and accurate to pick up commands, and answers from the internet come rapidly. But it still gives some strange responses to even pretty basic music queries, and that's supposed to be its raison d'être here. I asked it to "play Blue Monday". "Playing Blue Monday," Siri responded instantly. I was expecting New Order, but figured I'd maybe get a cover. Instead, I got a song called Here By the Grace of God by Greg Hester, from an album called American Story. This segued into a Bob Dylan song. I'm guessing it found me a playlist called 'Blue Monday'? But there's no way of knowing that for sure – I can see on my iPhone what is playing, but not why.
I asked Siri what the weather will be tomorrow, and it said that Location Services hadn't been activated yet (they had, but only a few minutes earlier, so we'll forgive that to a syncing issue), so it asked me where I wanted to hear the weather for. I told it my home city's name. It read me some facts about my home city and then asked me if I wanted to hear more. Yes! The weather!
Siri is good at taking very clear commands within certain structures. It can take requests to send messages and you can ask it to add basic calendar entries (and it can differentiate voices, if you choose to set that feature up). You can also ask it for basic factual information. But it's alarming just how often it stumbles. It simply hasn't made the same progress that other smart assistants have, and should be thought of as a simple voice remote control for your speaker rather than a smart voice interface. And I'm fine with that personally, because audio quality is the draw here for me – if it's the smart part of smart speakers that interests you, look elsewhere.
Apple HomePod 2 review: Sound quality
Better suited to acoustic/classical than the original thanks to greater upper-mid clarity
Very full and well-balanced sound overall (but slightly slimmer bass than original)
Dolby Atmos is much more pronounced and effective, especially in a pair
Let's get something out of the way for people who used the original HomePod: the new version is not as loud as the original. I tested it directly against the original model, and the HomePod 2 at about 50% of maximum volume was equivalent to the original being at roughly 33%. Now, that's not really a problem, because it's still capable of going far beyond filling the average room in a house even with just one HomePod, let alone a pair – but still.
I've already mentioned several times that the audio quality is fantastic for the price. The high-end pops and hits with great clarity, the mid-range is fulsome and expressive, and bass is weighty yet controlled.
So to dig deeper into it, I'm going to compare it to the original HomePod directly. The first thing I noticed was that the top-end feels brighter, which is driven most by more pronounced upper-mids than the original. This is especially clear in higher-pitched vocals in songs like Foxes Gentleman and Haim's Don't Save Me, and in trumpets in Holst's The Planets. The vocals are lifted clearer of the rest of the mix, and it's also easier for denser collections of instruments at the top end to show you every detail.
At the other end, the bass is a little more resonant, but slightly less punchy. In M83's Midnight City, each synth bass beat rolls off slightly slower and feels more dispersed, which is great, but it also doesn't feel like it's hitting as hard – just a little less deep and guttural. Of note, though, is that when I tried it on one of my shelves, the new HomePods produced fewer vibrations into other objects on the shelf.
In South's Paint the Silence, which starts with strummed guitars and a bass line, the guitar pops out more and feels more natural in the new HomePod; but the bass line drops deeper and has more definition from the old HomePod. I would say the elevation of the guitar is more prominent, but I definitely noticed the difference in the bass.
In the mid-range, individual instruments get a little more room to breathe during especially dense moments. Not every song benefits from this, but it was fairly clear when one did – there's definitely more to chew on from the new model.
The sound is a little more forward and aggressive than from the original, which is energising, but also makes it feel more like it's coming from a small point. The original disperses stereo sound a little more, so it feels like it's coming from a corner of the room; the new one feels more like it's being delivered to you from a single unit. I found this clear listening to Dancing in the Dark – the original gave me a whole gritty wall of Bruce's voice hanging out at the back of the room, and the new one felt like the singing was directed right towards me.
This all comes together in The Prodigy's Firestarter in interesting ways. The piercing sounds at the start explode from the new HomePod 2 to grab your attention by the… ears far more than they do from the original HomePod. But then the new version's bass is relatively tame, and it's the original that can bang its head that little bit harder. And the heavily twisted and distorted guitars spread out more in a way that's interesting and enveloping from the original – again, it sounds more dispersed. They lash out excitingly from the new model, but I'm more into the what the original does with them.
I go back and forth on which I prefer when it's one single speaker against the other, basically on a song-by-song basis, and sometimes within the same song. Which is obviously not a problem in itself, but I had hoped for an AirPods Pro 2-style leap forward in audio quality.
However, that's all with stereo music (in Lossless or Hi-Res Lossless, from Apple Music). Switching to Dolby Atmos music allows the new HomePod 2 to reveal its real sound dispersal skills… depending on your positioning.
A single original HomePod doesn't do a ton with Atmos – but the new one is clearly positioning sounds in the mix. In Sweet Child O' Mine, the iconic guitar riff comes from the center, but when Axel Rose's voice is layered over itself, it's clearly coming from more than one angle. Lady Gaga's Chromatica album is a Dolby Atmos playground, and it's the same thing here – the HomePod 2 is able to steer sounds around in the mix in a way that's totally different to what you get from a stereo setup, and more than the original can.
However, Dolby Atmos music doesn't sound as natural as regular music from the HomePod 2. Ironically, adding more spreadable sound makes the sound feel boxier – a little more clipped, a little harder.
Stepping up to a pair of HomePod 2 units combined into a stereo set gives the system an extra boost with all kinds of music. The forward-ness of the sound doesn't matter, because things are spread between the two anyway. And it feels like the bass gets to go a bit harder – I can't tell if that's just my perception or a freeing up of the system because one unit isn't trying to handle everything at once. Either way, I'm loving them as a pair even more than I liked using the originals in a pair.
And in Dolby Atmos, it's a totally different thing with two HomePod 2s. With them positioned in stereo in front of you, and in a room that's conducive towards sound being bounced around (ie, with walls not too far to the side of you), they can do some pretty incredible things with audio positioning. Instruments come from the side or even slightly behind you, which is a feat that even some of the best Dolby Atmos soundbars can't manage convincingly without actual rear speakers. It's a little spooky, and quite convincing. The joy of Dolby Atmos music is that it makes your favorite tracks a surprise again, and you can really get that with a pair of HomePod 2 speakers.
This largely follows through to using a pair with an Apple TV 4K as Dolby Atmos speakers for movies – an alternative to a soundbar. The HomePods are great at adding height in terms of positioning sounds to match the action on the screen (even a 65-inch screen), though they can't quite manage the exact 'above you' Dolby Atmos height that the best soundbars can produce. There's not a lot of precision to it – just sort of generically high. It's the same with a lot of side or rear effects – they don't sound very precise from movies. Yes, it's clear there's width and that you're being roughly 'surrounded', but without the precision that would make it totally convincing.
Where it can't get behind you, though, it often does a great job with layering the sound instead. In BlacKkKlansman, responses to Brother Kwame's speech echo around, clearly coming from a different source to his words – without real rear speakers, this is as good as you can do, and it works well.
The problem is that the HomePods are so damn tall. Unless you have space to place them past each end of your TV (which I don't, personally), or on a bench under a wall-mounted TV, they will absolutely block part of the screen.
I tried a direct comparison with a Sonos Beam 2nd Gen, which costs around 75% of the price of two HomePod 2s. I would say that the HomePods were marginally superior – the width of their sound expanded further past the edges of the screen, they had more pronounced height, and they're a little more dynamic – but when it came to the core positioning of sounds to the screen, vocal clarity and general sound balance, I think the Sonos delivered 90% of the HomePod 2s' performance… for movies. For music, the HomePods were the winner, especially with Dolby Atmos music.
Going back to looking at the HomePod as just a single standalone unit, and speaking of Sonos… compared to the Sonos One – our other favorite small wireless speaker that goes in an easy multi-room setup – the HomePod 2 remains a clear step up in vibrancy, dynamic range, richness around the mid, and especially in bass. But then, you can get two Sonos One SL units for a little more than one HomePod 2, and (as with the Beam) as an individual speaker you're definitely getting more than half the performance.
And compared to the HomePod mini, it's obviously a big step-up here, too, in every conceivable way. More volume, more clarity, more range… the HomePod Mini is really good for a smaller room, but for anything larger, the HomePod 2 really comes into its own.
Sound quality score: 4.5/5
Apple HomePod 2 review: Design
Lovely fabric exterior in Midnight (black) or white
Swirling lights on top are fun
Short cable (five feet), but you can swap it
The new HomePod 2 looks almost the same as the original HomePod, with its round shape and fabric-covered exterior. I like this design a lot – it looks nice when you focus on it, but it's also great at just blending into the background when you're not, because it feels very neutral. The fabric looks nicer than plastic or a similar finish, and doesn't reflect light. The black (sorry, 'Midnight') and white finishes are lovely and neutral, though I would've liked to see some funky colors like the HomePod mini has.
On top, there's a swirling colored 'screen' (it doesn't show info, it just shows when Siri or music is active). On the original HomePod, this was just a small dot in the center, but now it's the whole top, just like on the HomePod mini. The top is also sunken slightly 'into' the fabric.
The new model is the same diameter as the original at 5.6 inches / 142mm, and is nearly the same height – it's imperceptibly shorter at 6.6 inches / 168mm rather than 6.8 inches / 173mm.
One useful change is that the power cable isn't permanently attached any more – you can just pull it out the back, which can help with installing it on a set of shelves or something. Even more usefully, it means you could swap the annoying short included five-foot cable out for a longer one, because it's a standard figure-eight connector (though you'd need to make sure that the one you buy will fit in Apple's hole).
The inside of the HomePod 2 is very different, even though a lot of the principles are the same. For example, there's still a big four-inch high-excursion woofer at the top to handle mid-range and bass. Being 'high-excursion' means the driver moves especially far forward and back (20mm, in this case), so it can displace more air and produce a bigger, deeper sound.
And there's still a ring of higher-frequency tweeters underneath the woofer, but now there are five tweeters instead of the seven in the original HomePod, and they're placed at the bottom of the unit and angle upwards, to help avoid audio reflections from the surface the HomePod is placed on.
Apple HomePod 2 review: Value
Sound quality for the price is excellent
Limited inputs harm overall value
It'll depend partly on how Apple-mad you are
I am the perfect target for the HomePod 2. I use Apple Music as my main music source. I use Apple TV 4K for movies. Everyone in my household has an iPhone. I don't need a single set of speakers to be able to connect to a turntable or other more traditional music source. And I don't have a lot of spare space – for me, their mix of big sound from a small package is ideal. I think they're a great value in my situation, even if I think Siri is practically a bit vestigial at this point (I do use it to request music, but that's pretty much it, and I've been using HomePods since 2018).
However, despite offering me a huge amount of options and nice features, the HomePod 2's inflexibility outside of that can't be ignored. I think of the Apple TV 4K (2022), which is really popular with people who have no other Apple products, because it's simply the best streaming device on the planet, and doesn't require other Apple devices to function. With Bluetooth and/or an aux-in, the HomePod 2 could be the same for music – the best-sounding speaker for those who want more than they can get from the best Bluetooth speakers, but without spending serious hi-fi money.
As it is, its value is a bit all-or-nothing. It's either a great buy for all-in Apple users, or a poor buy for everyone else. So the score below is for the people who actually should consider buying it – it's great value, but it'd be even better with some extra options.
Should you buy the HomePod 2?
Swipe to scroll horizontally
Apple HomePod 2

| | | |
| --- | --- | --- |
| Features | No Bluetooth and no aux-in. Good for Apple-led features, but Siri is weak. | 3/5 |
| Sound quality | Big, expressive, detailed, and full from top to bottom. Even better in a pair. | 4.5/5 |
| Design | Small and good-looking, in a neutral kind of way. More colors and a longer cable would be welcome. | 4/5 |
| Value | If you're the right kind of Apple user, its sound quality makes it a great buy. | 4/5 |
Buy it if…
You want to make the most of Apple Music
With Siri, lossless support and Dolby Atmos, the HomePod is made to take advantage of what Apple Music can do. If you're a subscriber, it's a great pairing.
You want big sound, but don't have much space
The HomePod 2 is pretty small compared to super-serious speakers, but packs a huge amount of power and clarity. Ideal for design-led homes, or just compact living.
You're all in on Apple
Because Apple AirPlay 2 and Siri are the only ways to play music on it, it's really best in an all-Apple household.
Don't buy it if…
You need to connect over Bluetooth or a cable
Not an option! There's no workaround. Go AirPlay or go home – so this rules out Android, Windows laptops, Chromebooks, hi-fi, music streaming servers…
You want a smart assistant that's smart
Siri is not as clever or flexible as Alexa or Google Assistant, and it's been stagnating for a while. If you want something your kid can chat to, or that you can add new powers to easily, this isn't it.
Apple HomePod 2 review: Also consider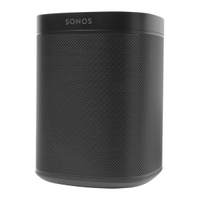 (opens in new tab)
Sonos One
The most direct rival here. The Sonos One is marginally smaller, and much cheaper – and works wirelessly with Android as well as iPhone. The sound isn't as full as the HomePod 2, but you do get support for both Google Assistant and Alexa.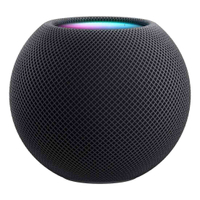 (opens in new tab)
Apple HomePod mini
Like the HomePod 2's Siri support, smart home features and Apple connectivity? The HomePod mini does it all for a third of the price! And a much smaller size. Obviously, it's nowhere near as impactful for sound, and it doesn't support lossless or Dolby Atmos, but it's the best-sound speaker of its size.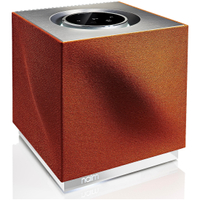 (opens in new tab)
Naim Mu-So Qb 2nd Gen
Elite audio company Naim makes this box, which is a bit bigger than the HomePod, a bit over double the price, and delivers massive, glorious sound with all the flexibility the HomePod lacks. There's AirPlay 2, Chromecast, Spotify Connect, Bluetooth and more via Naim's app… and cabled connections, of course.
How I tested the HomePod 2
I listened to the HomePod 2 for about 12 hours overall
I listened mainly to music from Apple Music, and movies from Apple TV 4K
I tested and reviewed it as a single unit mainly, but also tested it in a stereo pair
I tested the HomePod 2 at home, where I've used other wireless speakers including the original HomePod, HomePod mini and Sonos One. To prepare my HomePod 2 units for testing and let them run in, I allowed them to play music for about 12 hours before I listened with any judgment.
While testing, I switched between multiple genres of music, and primarily listened through Apple Music, because it provides lossless audio as well as Dolby Atmos support (and, y'know, it's what the HomePod 2 is built to work with).
I compared it directly with the original HomePod for some forensic level analysis, placing both speakers next to each other, and playing the same track on both, switching between them. For most of my listening time, the HomePods were placed on a wood-fibre shelving unit, to avoid vibrations.
For testing their movie skills, I used them with an Apple TV 4K (2021), playing movies from Apple's own store that included Dolby Atmos soundtracks. To compare with the Sonos Beam, I connected the Sonos Beam to my TV over HDMI eARC, and played the exact same movies via the Apple TV.
First reviewed: January 2022