Editor's note: June 2023
We've searched far and wide, but the Sonos One remains our favorite smart speaker as we head into fall 2022. The audio quality is a cut above the competition, and you get both Alexa and Google Assistant support. We're also excited to review the new Amazon Echo Dot, unveiled in September 2022 that offers an audio upgrade and could soon be the best smart speaker option for those on a budget.
Matt Bolton - Senior Editor, TV & Audio
The best smart speakers enable you to use your voice to control many of the mundane parts of your day. And, it might just be one of the most useful gadgets you can own. In addition to playing your favourite music from your chosen music streaming services, it'll also let you set timers, help you with your shopping list, have intercom in your home, and even ask about the latest news headlines or sports scores.
Smart speakers can also control your smart home devices without you needing to reach for your smartphone . Using just one command, you can ensure your smart lights illuminate to the right brightness for the time of day, or lamps connected to a smart plug or switch turn on to create a cozy ambience.
They can even double as a chime for the best video doorbells or home security cameras, playing a tone to alert you that motion has been detected or the doorbell has been pressed. Although, if you want to view a live feed from your camera, you should invest in one of the best smart displays.
When choosing the best smart speaker for you, keep in mind that smart speakers manufactured by the brand behind the relevant voice assistant – Apple for Siri, Amazon for Alexa, Google for Google Assistant – will only come with their own virtual helper installed. If you want one that support multiple digital assistants, consider getting one from third-party names such as Bose or Sonos instead.
There's a wide array of smart speakers to choose from. Lucky for you, we've tested all the best models to assess their audio quality, style, and their voice-assistant smarts. So, we put together this smart speaker guide to to make it easy for you to choose. After all, when it comes to the best smart speaker, it's more than just about picking the best-sounding or the best-looking one.
With Black Friday just around the corner, we've also included the best smart speaker deals. This way, you'll see the best ones as soon as they go live.
The best smart speaker 2022
Why you can trust TechRadar We spend hours testing every product or service we review, so you can be sure you're buying the best. Find out more about how we test.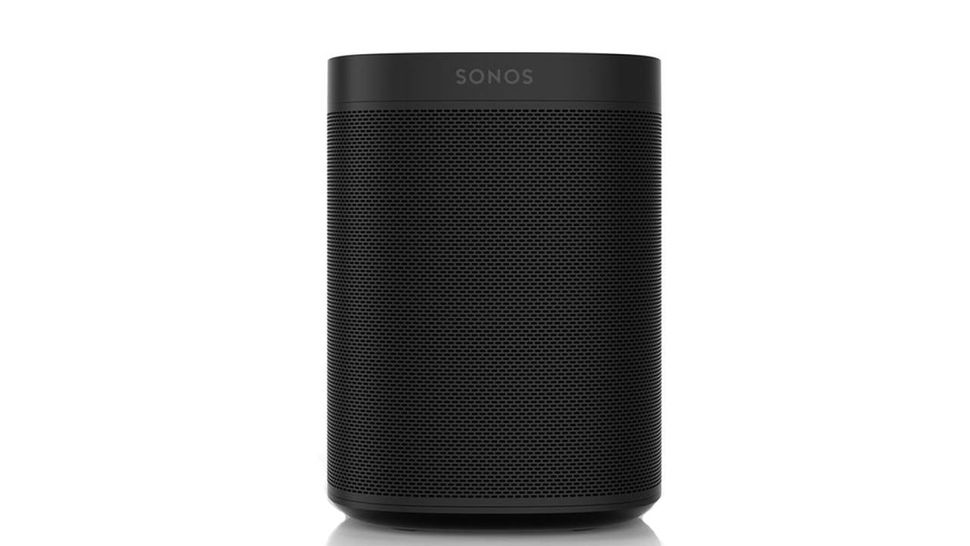 Sonos' debut smart speaker is the best you can buy right now, delivering the perfect mix of features and sound quality. It's not the cheapest smart speaker we've tested, but we love the way it sounds and we were also very impressed by the mic array: unlike some rivals it heard us perfectly and consistently even when we were on the other side of the room.
The Sonos One is a cleanly designed, feature-rich and great-sounding device. It's sociable, too: you can use it with either Alexa or Google Assistant and it also has AirPlay 2. That means the Sonos One can talk to Siri and be part of a multi-room system with the Apple HomePod or Apple HomePod Mini.
If you like the Sonos sound but need something portable, check out the Sonos Move and the Sonos Roam. They're both excellent options for those that want to take their tunes on the move.
Read our full Sonos One review
The Amazon Echo Dot has always been the best option for those who aren't sure about smart home tech and want to take the first step. It provides a place for Alexa to live inside your home and is loud enough to fill a room. And with discounting often taking it below its already low $50 / £50 / AU$80 price, it's easy to see why it's long been one of the most popular smart speakers on the market.
The Dot has the same space-age aesthetic as its bigger brother, the Amazon Echo (2020), so it looks stylish and once again is quite a change from the previous Echo Dot design. In our tests we found it extremely easy to set up and use, although its small speaker means the sound lacks the depth and punch of its larger siblings. There's no Zigbee hub here either. It's a great way to add Alexa to your home but if you're like us you'll probably want to upgrade to something more powerful for regular music listening.
Read more: Amazon Echo Dot (2020) review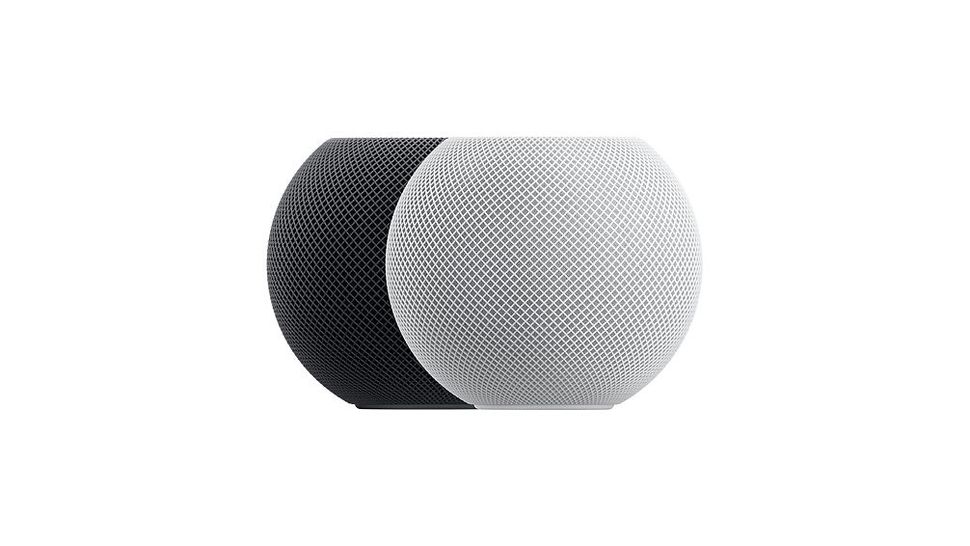 Since Apple discontinued its original, amazing and rather expensive HomePods, this smaller version is the only Apple-made smart speaker in town – or at least it is for now, as we're hearing rumours of a larger version coming soon. Despite their small size these smart speakers pack a powerful punch: if you're committed to Apple's ecosystem and services such as Apple Music, you'll love the way these speakers sound – and their comparatively low price.
We've tested these speakers over a very long time and while we love their sound, we don't love everything. Siri isn't as good as other digital assistants and seems rather buggy too: we've slept late a few times because alarms we asked Siri to set, and which Siri confirmed setting, didn't go off. Siri also seems to struggle with accents. And if you don't have Apple Music, you're quite limited in what you can listen to. You can't ask the HomePod mini to play anything through Spotify – that can only be enabled through AirPlay, and requires using your phone rather than the simpler method of asking Siri to play tunes with your voice. There's also a much smaller number of compatible smart home devices that work with the smart speaker, compared to the range available for Alexa and Google Assistant-enabled smart speakers.
For us, the audio performance is the key reason to buy the HomePod mini. It's excellent for a speaker that's so small, and it really feels like the right mix of price and sound quality. The bass isn't too heavy, vocals aren't lost in the mix, and when you pair two minis the stereo experience is really immersive. It's just a shame that Siri feels like it's lagging behind rival assistants.
Read our full Apple HomePod mini review
If you're looking for a smart speaker with Google Assistant built-in, the Google Nest Audio is currently the best Google-manufactured smart speaker you can buy; we liked the Google Home Max speaker, but Google has stopped making it.
We found that the Nest audio picked up our commands with ease, and Google Assistant is quick to respond as well as loud and clear. The subtle and unassuming design should blend in well with any home decor, and in addition to its audio skills it's also a surprisingly intelligent smart home hub. It hooks into some of the largest platforms now available by including Nest, Philips, and Samsung's SmartThings – although there's no built-in Zigbee hub as with the latest Amazon Echo.
The smart bit of this smart speaker is very smart, but the speaker itself is a little disappointing: the sound quality didn't live up to our expectations. It sounds just fine with uncomplicated pop music, but other genres reveal a lack of detail in the treble and mids that makes tracks lack sparkle and sound a little muffled.
Read our full Google Nest Audio review
The latest, spherical Amazon Echo is a complete revamp of the company's flagship smart speaker. The new shape is only part of it: there's seriously improved sound quality, a built-in Zigbee smart home hub and a new AZ1 neural edge processor that reduces the time it takes for Alexa to respond to commands. So this is a big step forward for Amazon's smart speaker.
It isn't perfect. When we tested the Echo we felt it could have been a bit louder, especially compared to larger rivals such as the Apple HomePod and Google Home Max; Amazon does have a much louder Echo, the Echo Studio, which you'll find elsewhere in this guide. Amazon tends to do things its own way, so you can't use Google Cast to send audio from your phone like you can with a Google Nest Audio device and you can't add your Echo to an Apple HomeKit network – although many HomeKit devices are also Alexa-compatible.
Read our full Amazon Echo (2020) review
We think Amazon's first high-end smart speaker for home cinemas is the best-sounding Echo we've tested. With 330W it's one of the most powerful speakers you can get for this price, and if you buy two Amazon Echo Studio speakers you can set them up in the Alexa app to create an immersive home cinema system. We've tested that configuration too, and while it's not as immersive as a dedicated surround sound system it's still very impressive as well as impressively loud.
It's a powerful speaker and it doubles as a Zigbee hub too. But to get the best from it you'll need to subscribe to Amazon Music HD and its large size won't suit all. That said, you get a lot of speaker for your money and this is a much more affordable option than similar speakers from rivals such as Sonos.
Read our full Amazon Echo Studio review
If you're searching for the best-sounding smart speaker, this is it. And with Google Assistant and Amazon Alexa built-in, the sleek anodized aluminum Smart Speaker 500 has the smarts to match its room-filling sound and an elegant design.
We found that the eight microphone array, designed for near and far-field listening, enabled us to talk to Alexa or Google Assistant even when our music was playing loud, and we loved the preset buttons that offer one-touch access to your favorite playlists, radio stations or albums. But in our tests we found that setting the speaker up on a Wi-Fi network using the Bose Music app is harder than it should be, and we can't ignore the fact that it's one of the most expensive smart speakers on the market. If you're an audiophile, though, we think you'll find it worth every penny.
Read our full Bose Smart Speaker 500 review
The Denon Home 150 is a capable smart speaker that might look a bit boring but offers a bunch of smart listening options all packed into a compact design—perfect if you're tight on space. It keeps things varied and useful, making it easy to listen to streaming services right down to the collection on your network drive. Via the HEOS app, you can connect quickly to Spotify, TuneIn Radio, Amazon Music, Deezer, Napster, Soundcloud, Tidal and other services, with the app adjusting according to your location.
Neat touches come from the ability to set up playlists across all sources, as well as to use Google Assistant or Alexa to control things using your voice. The app is a little simplistic looks-wise, but it has all the essentials and its aesthetic makes its features more easily accessible – including EQ settings and other customization tools.
It's not the best-sounding device on this list—take a look at the Bose Smart Speaker 500 for top audio quality—but the Denon Home 150 offers more bass than you'd expect for its size. This means it'll delight those who don't have room in their home for a subwoofer—if you're all about that bass, but you live in a small place. For a tech fan, slightly weaker sound quality in exchange for so much tweaking and app potential means the Denon Home 150 is a great alternative.
Read our full Denon Home 150 review
This re-imagining of the iconic minimalist LE1 speaker from 1959 may offer retro styling but it also sounds great and has Google Assistant built-in too, so it's very much a modern smart speaker. It's simple to use, it has both AirPlay 2 and built-in Chromecast so you can stream from Apple or Android in excellent quality, and it looks fantastic.
It's also quite expensive, and we found that while the sound quality is good it's not quite as good as we'd expect from a speaker in this price bracket. The app's very basic and there's no HDMI or optical audio, so you can't connect it to your TV. But if you want a speaker that's seriously stylish, the LE01 should be on your shortlist.
Read our full Braun LE01 wireless speaker review
How we test smart speakers
To discover the best smart speakers on the market, we assess the the sound quality of the speaker and how effective the built-in voice assistant is at controlling playback for you; from selecting specific playlists, albums and tracks to adjusting the volume, skipping tracks and even the number of streaming service its compatible with.
We also evaluate each model on its ability to pick up your voice when issuing commands to the voice assistant, privacy features that help ensure the smart speaker isn't constantly watching and listening, and the smart home devices it's compatible with, as well as how compact and durable the design is.
How to choose the best smart speaker for you
When it comes to choosing the right smart speaker for you, there are a number of factors to consider.
Start by working out which voice assistant you want your smart speaker to offer access to. If you already use a voice assistant on your smartphone or tablet, or have existing smart speakers or smart displays in your home, it makes sense to plump for a smart speaker that has the same assistant baked in. However, if you've yet to settle on the voice assistant for you, Alexa vs Google Assistant can help you decide.
Next, consider where you intend to locate the smart speaker; smaller, more compact smart speakers are best suited to bedrooms and kitchens, for setting timers when cooking, while larger smart speakers work in rooms with bigger footprints such as a lounge or dinning room.
If you intend to use the smart speaker as your main listening device, make sure you consider the number of speakers, and the sound output and quality they offer. Those with smaller speakers are best suited to background music, while larger smart speakers will offer a louder, more room-filling sound. Also look for models that can be paired together to create stereo sound if you're planning to use a smart speaker as part of your home cinema set-up.
If you have an iPhone or an iPad, it might also be worth checking out the best AirPlay speakers, which allow you to stream music from your devices to your speaker. Many of these also come with your favorite smart assistant on-board.
What is a smart speaker used for?
As we've already mentioned, a smart speaker can do more than just offer a way to listen to your favorite music streaming service, or the albums and tracks stored on your smartphone. The built-in voice assistant can control the playback of your music for you; adjusting the volume, skipping tracks and even selecting a specific song, album or playlist for you, leaving your hands-free.
It can also provide a weather report, offer an audible summary of the day's headlines, and answer your burning questions; whether that's 'what is the tallest mountain in the world' or simply 'who is the Queen of England'.
Smart Speakers can even be used for light entertainment in the form of jokes and games and also allow you to stay in touch with friends and family by making audio calls through the device.
If that wasn't enough, a smart speaker can also control compatible smart home devices; for example it can dim or brighten any smart lights you have in your home, turn the temperature up or down if you have a smart thermostat and let you converse with anyone at your doorstep by connecting to your video doorbell.
Which voice assistant is best?
On the whole that's subjective. Some people have always liked Apple products the best and stay loyal to Siri. Others really like Alexa after snapping up an Echo as soon as the smart speaker was first launched.
The general consensus seems to be that Google Assistant is, largely, the most accurate voice assistant. If you've got a lot of Apple products, of course Siri is the best and for overall compatibility, you're best opting for Alexa. But they're not hard and fast rules.
Is Alexa better than Google?
For starters, the choice might depend on which speaker you like the look of the most. Sure Amazon's Echo range is very similar to the Google Home, but the Show, Spot, and Dot look quite different – check out our guide to the best Alexa speakers for more information.
When it comes to the smart assistants within the speakers, they're both extremely capable. Amazon's Alexa has many, many Skills, which set it apart from the rest. But Google has been a leader in the AI game for a long time now, well before the smart speaker market emerged. It's a lot harder to change Alexa's voice, too.