The Sonos Era 300 creates more space in your music than anything else I've heard for the same price or size. It gives you a real feeling of sounds being positioned with Dolby Atmos tracks, and even stereo gets more width than you'd think possible. It's not one for those who like it quiet, and we'd love a little more bass extension, but it's still one of the most exciting speakers you can buy today.
Pros
+

Impressive stereo and Dolby Atmos effects

+

Very detailed and rich

+

3.5mm line-in option and Bluetooth
Cons
-

Bass could be deeper

-

Unforgiving with flawed recordings

-

Dolby Atmos music is still limited
Why you can trust TechRadar We spend hours testing every product or service we review, so you can be sure you're buying the best. Find out more about how we test.
Sonos Era 300: Two-minute review
The Sonos Era 300 is the first speaker (not soundbar) from the company with Dolby Atmos support, complete with up- and side-firing speakers to create spatial audio. It's much bigger than the Sonos Era 100, and notably smaller than the Sonos Five – it fits between the two in most ways, but it stands on its own when it comes to providing spatial audio.
The Sonos Era 300 is a premium speaker at $449 / £449 / AU$749, no question, but there are plenty of options in our list of the best wireless speakers that hit your wallet even more heavily, and having tested a load myself, I think the Era is actually a really good value. Thanks to its array of drivers and processing skills, it delivers more expansive sound than any one-box speaker I've heard to date – even with just stereo music, there's such a clear sense of left and right channels feeling separate and distinct.
And with Dolby Atmos music, the Sonos Era 300 takes it all to a new level. Sounds steer wiiiiiide to the left and right, they get height, and they can move around the speaker itself, freed from the box without getting outlandish. None of this would matter if it didn't sound generally good, of course, and it sounds great. Detail is sharper than a diamond-edged scalpel, and there's a clear focus on accuracy overall – though it doesn't really like being quiet, I wish it had a little more low-end extension, and with such an eye on detail, it can also get a little harsh with music that hasn't been created well.
And the addition of Bluetooth works well and makes it more accessible to more devices, while Hi-Res support from compatible services is also a great addition. Bluetooth worked totally seamlessly for me. Hold button, blue light flashes on front, connect from your device. Done!
If you're not going to listen in Dolby Atmos, I think there's a question of whether it's really worth such a step up in price over the Sonos Era 100 – for me it is, thanks to the general expansiveness and additional control in its sound. If you want big sound that fills a room not just with volume, but by steering sound around to really make use of a room, from a single box, the Era 300 is excellent.
Sonos Era 300 review: Price & release date
Released on March 28th, 2023
Priced at $449 / £449 / AU$749
Cheaper than the Sonos Five
The Sonos Era 300's $449 / £449 / AU$749 price is far from cheap – it's beyond even the Apple HomePod 2, which is similarly designed for Dolby Atmos thrills. But it's actually cheaper than the Sonos Five (which is sticking around in Sonos' line-up as the more hi-fi-focused option), and is much less expensive than the likes of the Naim Mu-so Qb 2nd Gen.
And I gotta tell you, compared to what I describe in my Sonos Era 100 review, the Era 300 is really on a whole new level in terms of dispersing the sound, providing clarity and positioning of instruments, and delivering more detailed bass. Whatever your plans, see what Sonos promo codes are out there for cutting the cost.
Sonos Era 300 review: Specs
Swipe to scroll horizontally
| | |
| --- | --- |
| Speaker drivers | 4x tweeters, 2x woofers |
| Amplification | 6x Class D amps |
| Dimensions | 6.30 x 10.24 x 7.28 in (160 x 260 x 185 mm) |
| Connectivity | Wi-Fi 6, Bluetooth 5.0, USB-C (3.5mm line-in and Ethernet via adapter) |
| Streaming support | Sonos app, Apple AirPlay 2 |
| Voice assistant support | Alexa, Sonos Voice Control |
| Other features | Dolby Atmos support, Sonos multi-room control, Sonos home theater option, stereo pair option |
Sonos Era 300 review: Features
Upfiring and side-firing drivers for Dolby Atmos
Bluetooth and 3.5mm line-in support
Creates 7.1.4 system with Sonos Arc
Let's start with the speakers in the Sonos Era 300. Interestingly, Sonos has gone for compression drivers for the most part, which are much harder to integrate well into small home-friendly speakers than standard dynamic drivers (because they require an extra structure to shape and amplify their sound) – but they can be more efficient, easier to steer for directional sound, and lower-distortion when done right.
Here, there's a forward-firing compression driver, then one upfiring driver at roughly a 10-degree angle, and two side-firing drivers (one left, one right) also at around 10 degrees.
And then there are two side-firing woofers, facing left and right, in a force-opposing configuration. This means they play the same audio, and can be driven hard for rich bass without vibrating such a small speaker right off the shelf – the vibrations of the two drivers cancel each other out. Don't get me wrong, you can still feel this thing putting some energy into a table when you put your hand on it, but it won't make things buzz too much when you crank up the volume.
A processing platform with 4GB of RAM powers the Era 300, helping to get the Dolby Atmos positional effects from the drivers, and being future-proofed for upgrades in the years to come, apparently.
You've also got Bluetooth 5.0 (Sonos says this is intended to be updated to Bluetooth 5.2 in the future, which could means some useful extra features) and a USB-C port, and you can connect an adapter to the latter that enables 3.5mm line-in or Ethernet. Wi-Fi 6 is here too.
To get Dolby Atmos, you'll need to use a compatible music streaming service in the Sonos app – you can't send it over AirPlay or Bluetooth. Right now, that means Amazon Music Unlimited or Apple Music. Apple Music is set to be added on the day of release – I couldn't test it with my pre-release sample, so I stuck with Amazon Music Unlimited. Amazon is also the only service to support Hi-Res on the Era 300 right now, but I expect that will change over time.
There's one problem with Amazon taking the lead here: its integration with the Sonos app is hot garbage. You can barely browse music, and it doesn't tell you at all whether something is available in Dolby Atmos or higher quality. Basically, you need to use the Amazon Music Unlimited app to do any curation and find Atmos tracks, save them to a playlist or other easily found area of your personal library, then dig them out in the Amazon part of the Sonos app. It also just decided near the end of my testing that I was playing music on another speaker, and refused to play anything through the Sonos app. Reader, I was not doing that.
The Era 300 is a smart speaker too, with Amazon Alexa or Sonos Voice Control on board – the latter of which basically only does music, and processes everything on the device, so is designed for people who want to ask for tracks, but not have their privacy invaded. You don't need to use either, and there's a physical switch on the back to disconnect the mic if you prefer.
I tested a single Sonos Era 300 for this review, but two can be paired into a more elaborate spatial audio system – or even more excitingly, you can use them as the rear speakers in a Sonos home theater setup. This creates Sonos' most elaborate surround system yet, with 7.1.4 channels – that's seven surround channels, four height channels, and one subwoofer channel if you use it with a Sonos Sub or Sub Mini.
I wasn't able to test this setup for this review, but I'll update when I'm able to get hold of a second Era 300. However, I have heard this system in action in a demo, and I'll cover that in the next section.
The Sonos Era 300 supports a new type of 'TruePlay' room tuning – a 'quick' version that's available on both iOS and Android for the first time (previously, TruePlay was iOS-only). The quick version plays a sound from your phone, which the speaker listens to and adjusts itself for your room. The 'classic' TruePlay tuning is still available, and Sonos says this gets the best results still – during my review time, this is all the app offered me, so is what I used.
Sonos Era 300 review: Sound quality
Meaningful stereo sound from a single box
Stunning Dolby Atmos sound positioning
Quite unforgiving, and a tad light on bass
The Sonos Era 300 is absolutely overflowing with detail in music, and elevates voices in the mix better than anything else I've heard at this size or price. It can pick up on the small background sounds and give them clearer prominence without upsetting the intended balance at all – it's just capable of juggling more balls at once than most options.
And as I've alluded to before, this is all happening in what may be the most well-dispersed soundstage I've heard from a single speaker, regardless of whether your music is in Dolby Atmos or not. There's a clear sense of stereo separation with standard tracks when you're facing the Era 300 that's a major step beyond anything else the same size. When listening to Welcome to the Machine, the pounding mechanical noises are definitely coming from spaces to the sides of the speaker. In Mr Brightside's opening, harmonic guitars come clearly from your left, then drums kick on obviously to the right, with the voice spread across the middle, larger than just the speaker.
And with Dolby Atmos, it all goes up several notches. The sound dispersion is definitely bigger and wider than anything from a single speaker I've tested before, though how wild it gets is up to the song – the Era 300 itself is quite flexible. In its more subtle moments, it can just do something like keep two voices in a duet separate, as it does with Elton John and Dua Lipa in Cold Heart. Both voices are coming from the center overall, but from different spaces around the speaker, giving each the room to breathe.
Sometimes it's a bigger effect, like the drum beats going for a lengthy walk away from the speaker during Come Together, or the way voices are layered with a sense of depth across Lady Gaga's Chromatica album.
Dolby Atmos tracks also tend to sound punchier than their stereo versions, stepping up the dynamic attack in songs. This is often the case in other ways to listen to Dolby Atmos, including with AirPods Pro 2, so it's likely a factor of the mixing as well as the processing.
However, I wouldn't say the sound is quite perfect, for something that certainly isn't cheap. The bass is very well controlled and balanced nicely, but doesn't hit quite as deep as I'd like – the HomePod 2 can hit harder, and this gives more fun to stuff like dance music, but also provides extra resonance for acoustic instruments, including piano.
The bass gets proportionally better at higher volumes, though – in general, the Sonos Era 300 wants to be at 30% volume at the least, I would say. As you drop below that, its balance gets notably weaker. The Era 300 is like a husky that needs a suitable way to run off all its energy.
The detail being sharp as a scalpel means that it's also quite unforgiving with any flaws in a recording. It's not common to encounter this with the stuff on streaming sites, but it's around – and if you were to play lower-quality stuff from YouTube on it, you'll notice even more. When this happened, it put my teeth on edge – the speaker doesn't paper over any cracks at all.
And while Sonos likes to say that it provides music without a 'sweet spot', the sound quality does subtly drop off when you go too far to the side. There's roughly a 90-degree angle from the front where you get the full beans, and if you step further round than that, a layer of texture is lost. It's not like when you step to the side of a TV and you can't see anything properly anymore – it's fine during parties. It's just that if you're listening for the quality of the music, you want to stay central.
In comparison with a single HomePod 2, which is one of the biggest rivals for this speaker but costs a lot less (and is less than half the size), I would say the HomePod actually has a marginally better audio balance, thanks to its deeper bass. But it sounds smaller in comparison, in more ways than one. The Era 300 can go a LOT louder than a HomePod 2, but its expansiveness means music sounds much more free – and that's before you get to the strength of its stereo and Dolby Atmos. Switching between the two, I really missed what the Sonos could do when I moved away from it.
However, two HomePod 2 units in a stereo pair deliver better Dolby Atmos and stereo sound than the Era 300, but cost more. So there's a pretty clear hierarchy there.
Compared to the Sonos Era 100, the simplest way to describe it is that you just get more. The Era 100 offers a similar kind of soundstage and dispersed audio, but its stereo effect is much less pronounced, its bass is less well-controlled, and it sounds more confined to a single box. If you want your music to be expressive, that's what you get from paying the extra for the Era 300. And Dolby Atmos, of course.
I wasn't able to test a pair of Era 300 speakers in a home theater configuration for this review – we'll aim to bring you our verdict on that as soon as we can. However, I have heard this system in use – a Sonos Arc, Sonos Sub and two Era 300s at the rear – and my initial verdict is that's a game-changer for anyone with a Sonos Arc.
Sonos describes this as a 7.1.4 system, whereas every previous Sonos surround system has been 5.1.2 at most – but I think that undersells it. I use a Sonos Arc with Sonos One rear speakers regularly, and the transformation here compared to that is just astounding.
The biggest issue with the Sonos Arc compared to the very best Dolby Atmos soundbars is that its height effect isn't that impressive, but when you add the two extra upfiring speakers from the Era 300, that changes. During a demo hosted by Sonos, the height effect was clear and dynamic, shifting forward and back, or side to side as the film needed.
And the movement of sounds around the rear channels is a dramatic change too. Individual parts of the audio steer so much more neatly and precisely between the two rear speakers, but the rears also hand sounds back and forth with the Arc soundbar more seamlessly, creating something much closer to the feeling of being surrounded by speakers on all sides, rather than having one in front and two behind.
Sound quality score: 4.5/5
Sonos Era 300 review: Design
Not small, but not too large
Angled design is a little divisive
Available in black or white
The Era 300's shape is determined by its need to have multiple angled speakers, and horn shapes for its compression drivers. The resulting hourglass-on-its-side look is still as classic and neutral as you expect from Sonos overall, though while I think it stands out more than I'd like as being 'techy', others I've shown it to have just found it funky. It's not egregious either way – but some will prefer the more 'classic' look of the Sonos Five.
The thing about this speaker array and design, though, is that you can't be putting this on a set of shelves where it's covered above and to the sides, like many of the best stereo speakers can. It needs to be out on the open, with room to blast soundwaves up and to the sides.
There are connections on the rear for power and USB-C input, and you'll find the Bluetooth control button and the switch to cut the microphone here.
On top, you've got a series of touch controls – track skipping, play/pause, and volume (in a separate little concave). There's also the microphone here for voice control.
It comes in black or white, as is usual with Sonos. The grille is all hard material, making it fairly easy to dust.
Sonos also says that the Era speakers are much easier to disassemble and repair than most of its models, so there's a sustainability and longevity aspect to its design too.
Sonos Era 300 review: Value
The Sonos Era 300 is not cheap, but as I've mentioned before, it's far from the most expensive wireless speaker around. I think in terms of sound quality, it lands exactly where it's supposed to: it offers audio prowess that those in the $200/£200 to $350/£350 range just can't match, but there's no question that there's some room for even more expensive models to deliver even more bass extension, for example.
What strikes me most is that it offers the most expansive audio from a small speaker that I've heard, so if you're someone who really values having broad, natural music where you can hear the stereo separation, but you just don't have the space for separate units, it could be the best-value buy for you.
And the addition of Bluetooth only adds to its value, though it's worth noting that unlike the Sonos Five, you need to buy an extra cable to attach a 3.5mm source.
Should you buy the Sonos Era 300?
Swipe to scroll horizontally
| | | |
| --- | --- | --- |
| Features | Wi-Fi, Bluetooth, Dolby Atmos, line-in option, voice control… it's all here. | 5/5 |
| Sound quality | Incredible at stereo or Dolby Atmos sound positioning, and supremely detailed. | 4.5/5 |
| Design | Simple and classy, though the angles are unusual. | 4/5 |
| Value | The best at what it does for the price – but it's not cheap. | 4/5 |
Buy it if…
You want a high-quality, super-flexible speaker
Sonos app support for different streamers, AirPlay 2, Bluetooth, line-in (via adapter), Dolby Atmos, Hi-Res… and all from an impressive speaker array.
You want to get on the Dolby Atmos train
From a single speaker, this is the best spatial audio I've heard – and the best stereo, for that matter.
You want the best Sonos surround system
We haven't done a long-term test of a pair of Sonos Era 300 units with a Sonos Arc in a surround setup, but we have heard it, and the difference is huge compared to a pair of Sonos Ones.
Don't buy it if…
Total audio fidelity is what you want
The Sonos Five remains Sonos' main speaker targeted at those who want to focus on sheer hi-fi sound. This is high-quality, but hits a little differently.
You want something to hum quietly in the background
The Sonos Era 300 is like a sports car that doesn't run properly until it's over 60mph. It wants be at 30% volume at a minimum to hit its peak sound balance – and it can go loud.
Sonos Era 300 review: Also consider
Swipe to scroll horizontally
Sonos Era 300 competitors

| | Sonos Era 300 | Apple HomePod 2 | Sonos Five |
| --- | --- | --- | --- |
| Price | $449 / £449 / AU$749 | $299 / £299 / AU$479 | $549 / £499 / AU$799 |
| Speaker drivers | 4x tweeters, 2x woofers | 5x tweeters, 1x woofer | 3x tweeters, 3x midwoofers |
| Amplification | 6x Class D amps | Not listed | 6x Class D amps |
| Dimensions | 6.30 x 10.24 x 7.28 in / 160 x 260 x 185 mm | 5.6 x 6.6 x 5.6 in / 142 x 168 x 142 mm | 8.03 x 14.33 x 6.06 in / 203 x 364 x 154 mm |
| Connectivity | Wi-Fi 6, Bluetooth 5.0, USB-C (3.5mm line-in and Ethernet via adapter) | Wi-Fi (802.11n), Bluetooth 5.0 (not audio) | Wi-Fi (802.11n), Ethernet, 3.5mm line-in |
| Streaming support | Sonos app, Apple AirPlay 2 | Apple AirPlay 2 | Sonos app, Apple AirPlay 2 |
| Voice assistant support | Alexa, Sonos Voice Control | Siri | Alexa, Google Assistant, Sonos Voice Control |
| Other features | Dolby Atmos support, Sonos multi-room control, Sonos home theater option, stereo pair option | Dolby Atmos support, Thread/HomeKit smart home hub, auto-calibration, stereo pairing option, Apple TV home theater option | Sonos multi-room control, stereo pairing option, Sonos home theater option |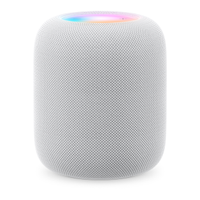 Apple HomePod 2
This is only if you're already in the Apple ecosystem, because it doesn't work with other devices. But this is the other big Dolby Atmos speaker, and it's the best-sounding speaker of its size (which is much smaller than the Era 300). One on its own is much less expansive than the Era, but it also costs a lot less – though two of these in a stereo pair is a hell of a system. Here's our full HomePod 2 review.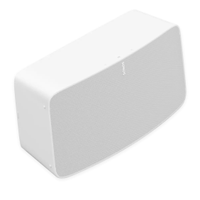 Sonos Five
Look, the other big competition to the Era 300 is its own antecedent, the Sonos Five. It has the same number of drivers as the Era 300, but arranged differently: three smaller tweeters and three big woofers, all facing forward. It's about just getting the biggest, clearest sound from whatever you put into it, and not worrying about the spatial effects. And it sounds daaaaaaamn good, as our Sonos Five review explains.
Sonos Era 300 review: How I tested
Tracks from Amazon Music Unlimited used to test Dolby Atmos and hi-res support
Used at home, in the same environment as compared speakers
Tested over a week, listened to for around 12 hours total
I used the Sonos Era 300 over a week for this review, and I ran it in (meaning playing music to ensure the drivers working right before judging it) for about 15 hours.
I played music on it through the Sonos app, including tracks from Amazon Music Unlimited for Dolby Atmos and high-quality streaming – during my review period, the Apple Music integration wasn't available yet. I also streamed sound to it from various sources over AirPlay 2 from my iPhone and iPad. For testing the Bluetooth connection, I paired it with my laptop.
I had the HomePod 2, Sonos One and Sonos Era 100 in the room at my home for the testing period, and I ran direct comparisons between them of the same tracks.
You can read TechRadar's review guarantee here.
First reviewed: March 2023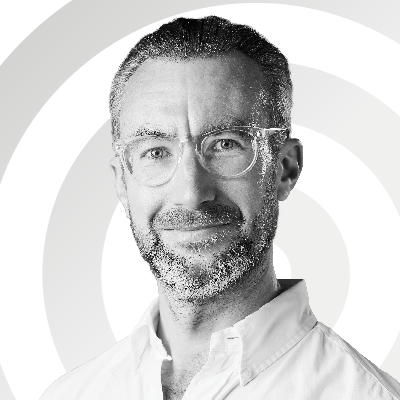 Managing Editor, Entertainment
Matt is TechRadar's Managing Editor for Entertainment, meaning he's in charge of persuading our team of writers and reviewers to watch the latest TV shows and movies on gorgeous TVs and listen to fantastic speakers and headphones. It's a tough task, as you can imagine. Matt has over a decade of experience in tech publishing, and previously ran the TV & audio coverage for our colleagues at T3.com, and before that he edited T3 magazine. During his career, he's also contributed to places as varied as Creative Bloq, PC Gamer, PetsRadar, MacLife, and Edge. TV and movie nerdism is his speciality, and he goes to the cinema three times a week. He's always happy to explain the virtues of Dolby Vision over a drink, but he might need to use props, like he's explaining the offside rule.