The Sonos Roam is our pick for the best portable speaker on the planet, with a powerful sound, rugged design, excellent connectivity features, and smart home control. A bass-heavy audio performance makes it ideal for use outdoors, while a clever Automatic Switching feature means it's easily used indoors, too – though audiophiles may dislike the overwhelming low frequencies and rhythmic handling.
Pros
+

Powerful audio performance

+

Easily portable design

+

Excellent connectivity

+

Google Assistant and Alexa support
Cons
-

Fairly pricey

-

Bass can be overwhelming
Why you can trust TechRadar We spend hours testing every product or service we review, so you can be sure you're buying the best. Find out more about how we test.
Two-minute review
Originally voted Best Bluetooth Speaker at the TechRadar Choice Awards 2021, the Sonos Roam has retained the title for the TechRadar Choice Awards 2022.
The Sonos Roam is the latest portable wireless speaker from the multi-room audio company, and the brand's CEO Patrick Spence calls it "the smartest speaker we have ever built."
Following in the footsteps of the larger Sonos Move, the Roam comes with both Bluetooth and Wi-Fi connectivity, which means it can work as a portable speaker as well as part of your wider multi-room Sonos system – and with Google Assistant and Alexa onboard, it doubles up a smart speaker too.
At $179 / £179 / AU$299, it's the cheapest and smallest Sonos speaker to date, and therefore the most affordable entry point into the brand's multi-room audio ecosystem. For the avoidance of confusion, the Sonos Ray is a newer product from Sonos, arriving on June 7, 2022, ($279 / £279 / AU$399) but the Ray is a demure plug-n-play soundbar, rather than this portable Bluetooth beauty.
Back to the Roam then, and in spite of its (relatively) low price you're getting a lot for your money here. Its slick design means the Sonos Roam won't look out of place in your home, while a rugged, waterproof and dustproof build and a decent battery life make it ideal for listening to music outdoors. It also comes with Google Assistant / Alexa support, so you can control it with your voice alone, and use it to control your other smart devices.
If the idea of a Bluetooth speaker with built-in microphones makes you feel uneasy, Sonos also offers a version of the Roam that comes without them – the Sonos Roam SL is also slightly cheaper owing to the omission of mics, in a similar vein to the Sonos One and Sonos One SL speakers.
To make that transition from indoors to outdoors as seamless as possible, the Sonos Roam comes with a host of cool features. The first of these is Sound Swap – simply hold down the play button and the Sonos Roam will 'throw' your audio to the nearest other Sonos speaker available.
Another, Automatic Switching between Bluetooth and Wi-Fi connections, means you can simply walk into your home and the Sonos Roam, having previously been paired with your Bluetooth device, will connect to your Wi-Fi, without the need to set it up and reconnect manually.
Finally, the Auto TruePlay feature first introduced with the Sonos Move has been upgraded here, so the Roam will automatically tune its soundstage to your environment, whether you're on Bluetooth or Wi-Fi.
Of course, all these flashy features would be pointless if the Sonos Roam didn't sound great – but we're happy to report that, despite its small stature, the Roam delivers a powerful sonic performance, with remarkably prominent bass, even if it does lack the rhythmic accuracy you'd expect from an audiophile speaker. If you do count yourself among the audiophiles of the world, you may find the bass to be slightly overpowering – though those forceful low frequencies work well outdoors, where there are no walls for the sound to bounce off.
The Sonos Roam's combination of class-leading connectivity features, powerful sound, and excellent design means it's our pick for the best portable speaker of 2021 and 2022, though take note: it doesn't beat the seriously talented Sonos One in terms of audio quality.
In any case, we think Sonos has achieved its aims of creating the smartest Sonos speaker to date, and for that reason, we'd absolutely recommend buying it if you're looking for a portable speaker that can slot into your existing home audio system as easily as it can provide tunes around a campfire or at the beach.
And Sonos isn't one for resting on its laurels either. In September 2021, the Sonos Roam got even better thanks to an upgrade that brought improvements to connectivity and battery life. Downloading the update via the Sonos S2 app improved the Roam's power management to help extend the Roam's battery life when not actively being used. Neat!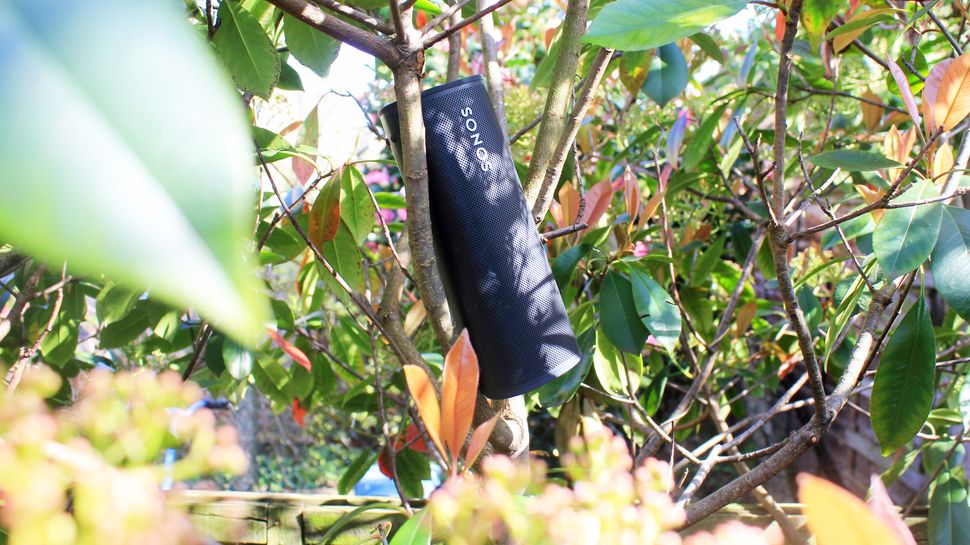 Sonos Roam: price and availability
Available to buy now
$179 / £179 / AU$299
Cheapest Sonos speaker to date
The Sonos Roam is available to buy for $179 / £179 / AU$299; that's $20 / £20 / AU$20 more than its original launch price in April 2021, after Sonos announced a nearly product-wide price hike.
That price tag makes it the level-cheapest Sonos speaker to date in the US and UK, equalling the Sonos One SL, which also costs $179 / £179 (although it gets a bit confusing in Australia, because here the One SL costs AU$269). It's also cheaper than Sonos' first portable smart speaker, the Sonos Move, which costs $399 / £399 / AU$649 – a price that puts that speaker firmly at the top end of the Bluetooth speaker market, although it earns that price tag thanks to its array of Sonos smarts and powerful audio.
It's still not cheap by any means though; one of our favorite Bluetooth speakers, the UE Boom 3, costs $129.99 / £129.99 / AU$199.95, and the cheap and cheerful Tribit Stormbox Blast is only $199 (which is around £163 or AU$290, where sold) – although of course, neither come with the smart assistant compatibility of Sonos' latest device.
If you don't want your Roam to come with voice assistant capabilities, you can save money on the new Sonos Roam SL. It's available for $159 / £159/ AU$269.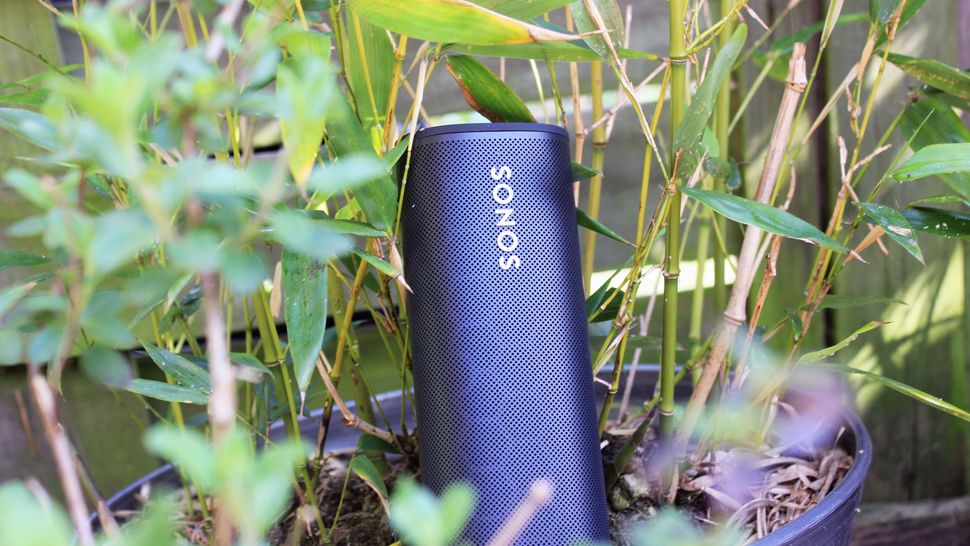 Sonos Roam: design
IP67 water-and-dust-resistance rating
0.95lbs / 0.43kg
Rugged build
While the Sonos Roam retains the minimalist aesthetic of the brand's previous devices, its design is still quite the departure for the audio company, with a focus on ruggedness and portability.
It's longer and thinner than the comparatively squat Sonos Move, and is similar in size to a water bottle – or the newer Cleer Scene (which is very similar in shape to the splendid JBL Flip 6). It's far lighter than the Move too, weighing in at 0.95lbs / 0.43kg, and you can easily hold it in your hand or sling it in a bag when on the move.
That light build, combined with an IP67 water-and-dust-resistance rating, makes it more easily portable than its predecessor, and rugged enough to withstand the elements. In fact, Sonos says it can survive being three feet underwater for 30 minutes.
On the front of the speaker is an embossed Sonos logo in white; above this, is an LED that indicates the speaker's connection status, while an LED on the opposite end indicates battery life.
The control buttons are on the left end of the speaker when it's placed horizontally – you can also orient the speaker vertically, with the buttons on the top. There are volume up and down buttons, a play/pause button, and a button for turning the microphone on and off. The play/pause button can be double-pressed to skip to the next track, or triple-pressed to go back to the previous track.
To pair the Roam with other Sonos products, you need to press and hold the play/pause button; keeping the button pressed for longer will activate the aforementioned 'throw' feature, switching your audio to the nearest other Sonos speaker. Slightly embossed, the buttons feel more tactile and easier to use compared to the touch-sensitive buttons on top of the Sonos Move – and they're more accessible for those with visual impairments.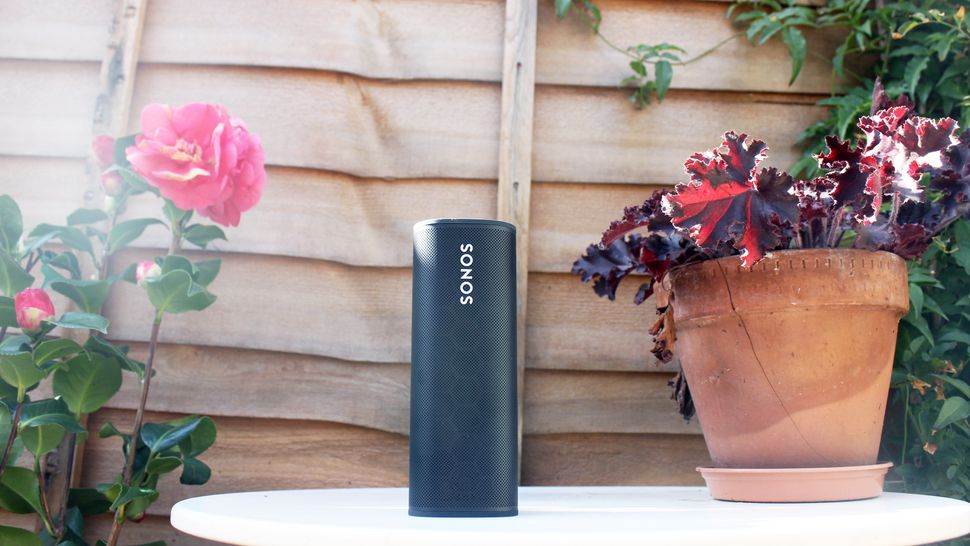 On the back of the speaker is the power button – you need to press and hold this until you hear the pairing tone to connect the Sonos Roam to a Bluetooth device. Beneath the button is a USB-C port for charging – you get a USB-A to USB-C connector in the box, but you'll have to use your own adapter.
The ends of the speaker are slightly concave, which Sonos says increases its drop-resistance, and helps to prevent accidental button presses, so you don't jack the volume up to 11 every time you brush past it.
The buttons themselves are described by Sonos as "tactile and slightly embossed", with the raised design making it easy to hit play or change the volume. They're very responsive, and we didn't experience any lag in between hitting the button and the resulting action; the Sonos Move's buttons are touch-sensitive, so the ability to feel the buttons will likely be a welcome feature for anyone with visual impairments.
Coming in 'Shadow' black and 'Lunar' white, the Sonos Roam boasts a "precision-engineered" honeycomb grille – it's not a wraparound grille though, so don't expect true 360-degree sound.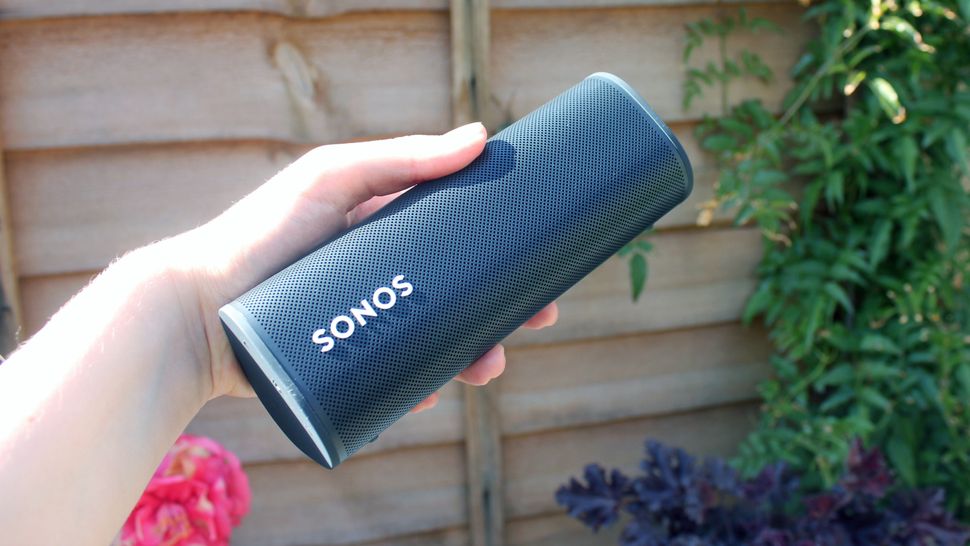 You have some flexibility when it comes to placing the speaker – the Roam can be positioned horizontally for stability on uneven ground, or vertically for a smaller footprint, with its triangular shape funneling sound upwards. If you do place the Roam horizontally on a flat surface like a table, small feet on what is, in this orientation, the bottom of the speaker help to keep it stable.
If you wish, you can buy a $49 / £44 / AU$79 wireless charging stand for the Roam. Simply place the speaker on the stand and it'll snap into place with magnets, giving the Roam a permanent home inside yours.
Overall, we think the design of the Sonos Roam is really attractive. While many of the best portable waterproof speakers are finished with garish colors and functional materials, the Roam retains the slick aesthetic of the brand's home speakers, and its light and compact build makes it ideal for listening to music on the go.
If Sonos' goal was to make a speaker that works just as well indoors as it does outdoors, it has succeeded.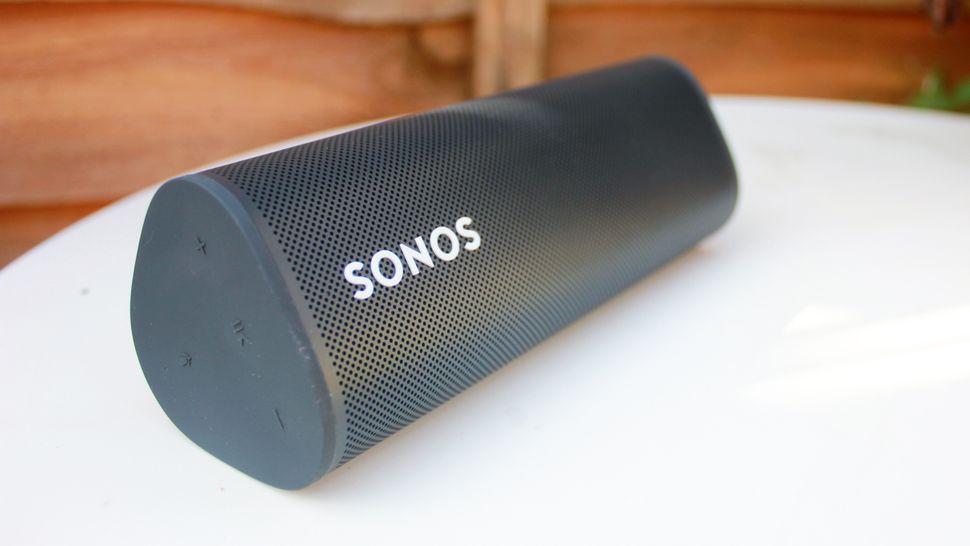 Sonos Roam: audio performance
Powerful sound
Bass can be overwhelming indoors
Comprehensive support for streaming services
In spite of its small size, the Sonos Roam delivers a powerful sonic performance with remarkably prominent bass. Inside the speaker are two class-H amplifiers, with a high-efficiency motor that Sonos says increases the power and range of the audio output, as well as a custom racetrack mid-woofer, and a tweeter.
While the sound isn't as room-filling as that provided by the larger Sonos Move, the Roam comes pretty close, thanks to some clever design choices when it comes to the transducer.
Key specs
Weight: 0.95 pounds (0.43 kg)
Battery life: 10 hours
Connectivity: Wi-Fi and Bluetooth 5
Drivers: One tweeter, one mid-woofer
NFC: Yes
Aux-in: No
The transducer transforms the electric signal into wave-shaped changes in air pressure – the sound you hear – and for that it needs space to move, as well as space within the speaker to pack in as much air as possible.
As Sara Morris, Principal Product Manager at Sonos explains, the team managed to keep the size down by making the transducer part of the housing itself, allowing the Sonos Roam to be "smaller, lighter, and still have a really good sound."
Sonos has certainly succeeded in that regard. Listening to Childish Gambino's Feels Like Summer, thumping bass lines drive the smooth synths, while the clear and rich falsetto vocals soar above the mix.
If we're nit-picking, we'd like to hear a little more from the mids and lower trebles, as some of the detail is lost amid that powerful bass; in fact, if you're using the Roam inside, you may want to adjust the EQ settings to increase the treble frequencies. Those powerful low frequencies work very well outside, where there are no walls for the sound to bounce off, but inside, it can be slightly overpowering.
Listening to Gorillaz' Glitter Freeze, and the whining synths sound clear without being overly harsh, while the driving bass lines are powerful. The Sonos Roam lacks the kind of rhythmic accuracy and dexterity of audiophile speakers, but for a speaker of this size, we weren't disappointed by the overall presentation of our music.
As for support for music services, there's support for AirPlay 2 on Apple devices with iOS 11.4 and later, Spotify, Apple Music, Deezer, Tidal, YouTube Music, 7Digital, Sonos Radio, and more via the Sonos S2 app.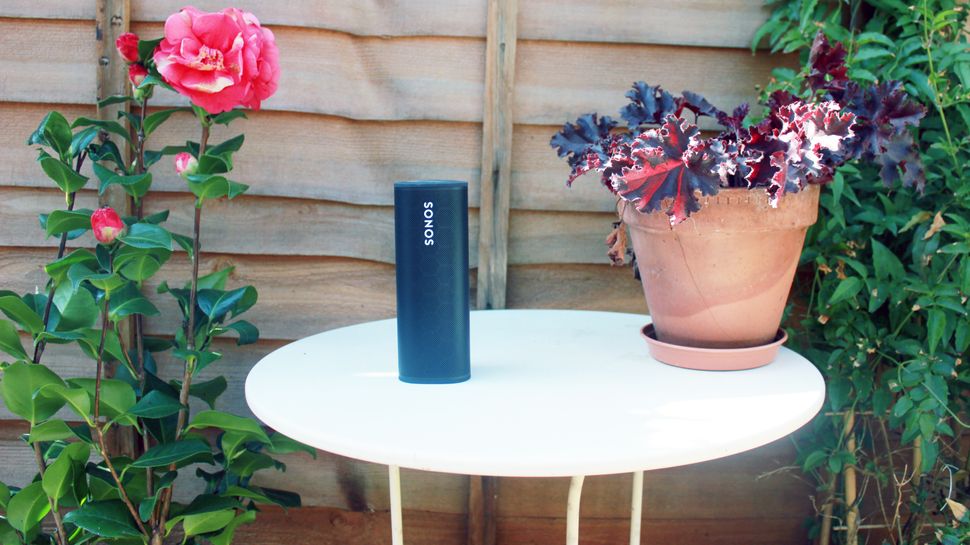 Sonos Roam: Sound Swap
Throws sound from your Roam to another Sonos speaker
Works in reverse
Sound Swap is one of the best features on the Sonos Roam, allowing you to 'throw' the music from your Sonos Roam to the nearest Sonos speaker available, and vice versa.
All you need to do is hold down the play/pause button until you hear the third tone (one more than if you were pairing two speakers), while holding the Sonos Roam close to the other speaker. Your music should then begin playing from the second speaker – or if you're casting to a Sonos system, the full speaker setup.
We tried Sound Swap with our home cinema system, comprising a Sonos Arc, two Sonos One SL rear speakers, and the Sonos Sub, and it worked seamlessly. Being able to bring the Sonos Roam in from the kitchen to our living room and continue listening to our music on a surround sound system without messing around with our phone was wonderful.

As mentioned this feature also works in reverse, so holding down the play/pause button will cause the Roam to pick up audio that's playing on another speaker or setup – handy when you're taking the Roam out into the garden for example.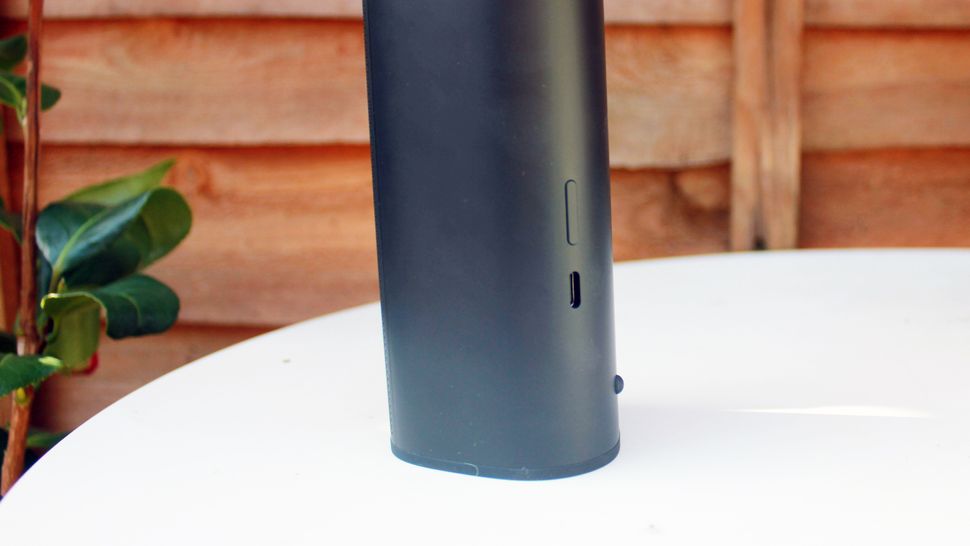 Sonos Roam: connectivity
Easy setup
Bluetooth and Wi-Fi connectivity
Automatic Switching
In spite of its focus on portability, the Roam is very much part of the Sonos ecosystem, which means you can use it as part of a wider multi-room audio setup, or pair two speakers for stereo sound. Pairing the Sonos Roam with other Sonos speakers can be done by simply holding down the play/pause button.
Unfortunately, though, you can't use two Sonos Roams as a pair of rear channels for your home cinema system. We expected this to be the case, as the same is true for the Sonos Move – the company puts this down to sync issues, and the potential for a directional soundtrack to lose its focus if a speaker isn't optimally positioned in a room.
The Roam works with both Wi-Fi and Bluetooth 5, so you can use it in the home or on the move, and the new Automatic Switching feature makes this transition more seamless than ever, with the speaker automatically connecting to your Wi-Fi network when in range, and re-pairing with your phone when you're out and about.
To start using the Sonos Roam you'll need to connect it to your Wi-Fi network via the Sonos S2 app – this isn't super-clear from the instruction leaflet included in the box, but you won't be able to pair via Bluetooth without doing this first.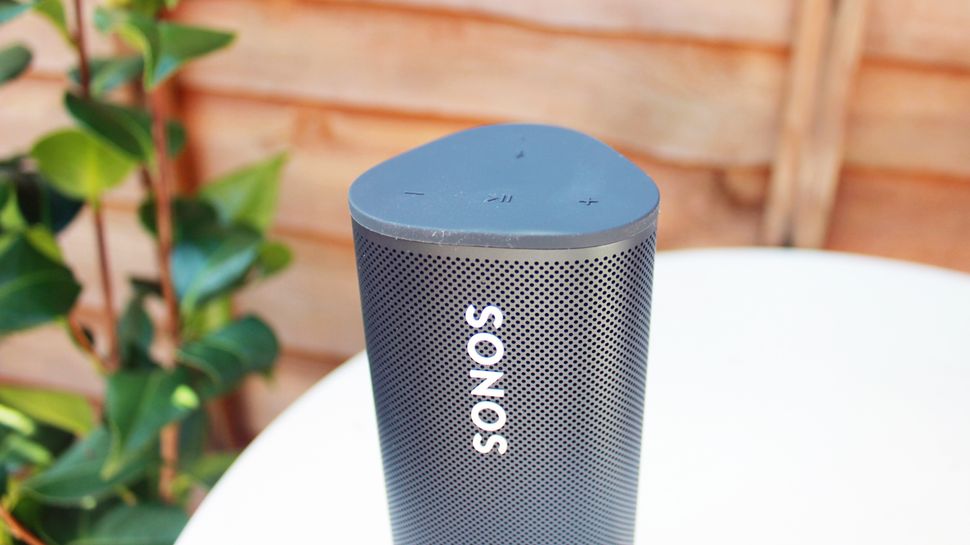 Setting up the Sonos Roam took us just a few minutes. To get started, you'll need to download the Sonos app if you don't have it already, and then tap Settings > System > Add Product.
When you begin connecting the Sonos Roam to your network, you'll be prompted to enter an 8-digit code that you'll find on the bottom of the speaker – this can either be entered manually, or automatically using NFC.
Once you've done this, you'll hear a chime to let you know that the code has been entered successfully, and the speaker will begin connecting to your Wi-Fi network. You may also have to wait for the Roam to update, if an update is available.
Once connected, you can turn on Auto Trueplay, add your voice assistant of choice (Google Assistant or Alexa) and toggle other settings. There's also a 'product tour' within the app, to help you get to know the Sonos Roam's controls and features – it's a neat touch that makes the setup process feel really easy.
Sonos Roam: voice assistant
Google Assistant or Alexa
Smart home control
Requires Wi-Fi
Both Google Assistant and Alexa are onboard, and you can use your voice assistant of choice to control the speaker hands-free, control your other smart home devices, check your calendar, ask questions, and more – you will need to be connected to Wi-Fi to take advantage of these features.
Setting up the Sonos Roam with Google Assistant is super easy, with the Sonos app directing you to the Google Home app to configure your settings. We found the microphones were able to pick up our voice pretty clearly, even with music playing at a medium volume.
It's a shame that you can't call on the voice assistant while using Bluetooth, but it's certainly not a dealbreaker – and we daresay the experience of using Google Assistant over Bluetooth would be more frustrating than helpful.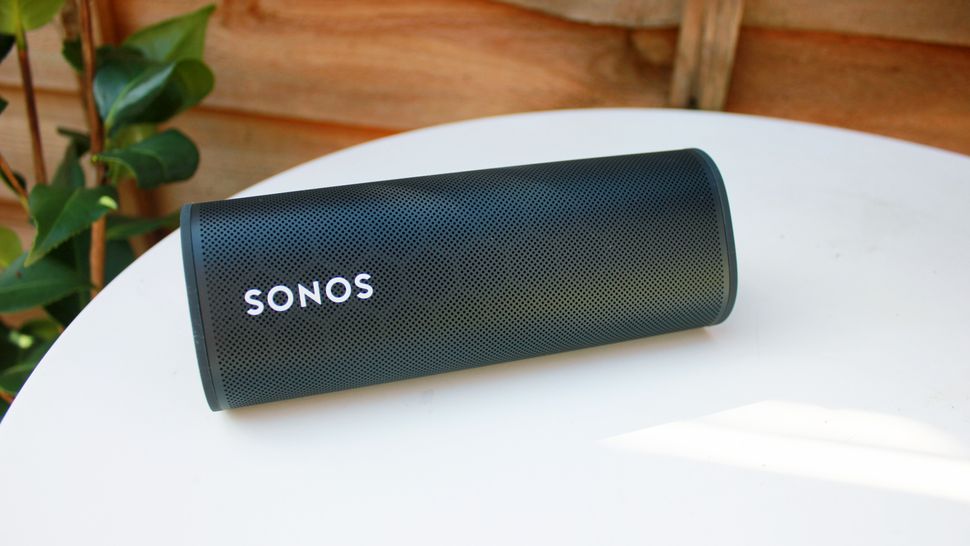 Sonos Roam: battery life
10-hour battery life
10 days in sleep mode
Supports wireless charging
The claimed battery life of the Sonos Roam is 10 hours, though we found that this came in at around nine hours while playing at a medium volume, and the company says the speaker can last for up to 10 days in sleep mode – it'll automatically go into sleep mode when you stop playing music.
That battery life almost matches the Sonos Move's 11 hours, and that of most decent portable speakers on the market.
You can charge the Sonos Roam with any Qi-certified charging device, but if you want to keep it in the family, Sonos sells a dedicated wireless charging stand for $49 / £44 / AU$79, which features magnets to hold the speaker in place. You also get a USB-A to USB-C connector in the box, so you can use your own adapter.
Should I buy the Sonos Roam?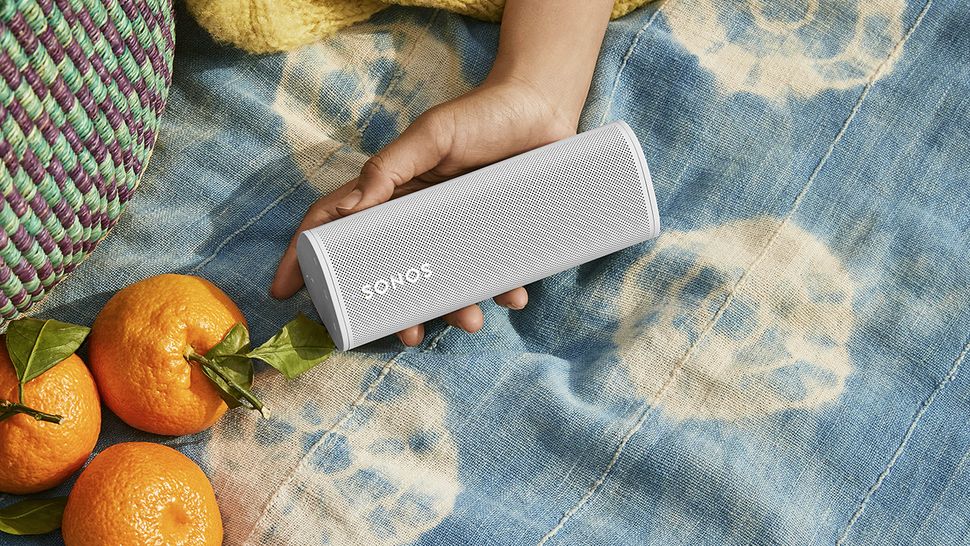 Buy it if...
You already have Sonos speakers at home
The Sonos Roam is easily integrated into an existing Sonos system, letting you take your tunes on the go as well as listening at home – and features like Automatic Switching and Sound Swap make the transition super easy.
You want a classy portable speaker
Some portable speakers can look a little garish, but the Sonos Roam retains the company's understated design aesthetic.
You love powerful bass
There's no shortage of powerful bass frequencies with the Sonos Roam, making it ideal for listening outside.
Don't buy it if...
You're on a strict budget
The Sonos Roam may be the cheapest Sonos speaker to date, but it's still pricier than many of the best portable speakers you can buy today.
You want audiophile sound
The Sonos Roam's audio performance isn't bad by any means, but the bass frequencies can be overwhelming, and it doesn't have the rhythmic dexterity of audiophile speakers.
You want to use a voice assistant over Bluetooth
Google Assistant or Alexa can only be summoned over a Wi-Fi connection, so you won't be able to tap into those smart home features while on Bluetooth.
Also consider
Not convinced by our Sonos Roam review? We've picked out three more Bluetooth speakers for you to consider below: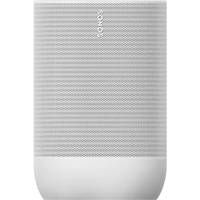 Sonos Move
Need something a little more powerful, or want to use your speaker at home? Try the Sonos Move, which delivers a bigger sound than the Roam.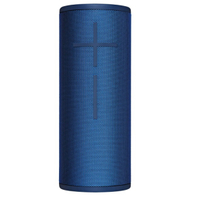 UE Boom 3
The UE Boom 3 is a little more rugged than the Sonos Roam, with an IP67 rating - and it comes in lot of cool colors.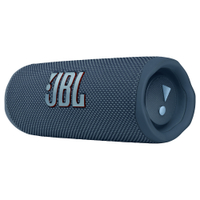 JBL Flip 6
If you want a simple, no-fuss Bluetooth speaker that'll sound good, the Flip 6 is a great choice. There's no Wi-Fi or voice assistant, but it plays music loud and has a great battery life.
First reviewed: April 2021
Olivia was previously TechRadar's Senior Editor - Home Entertainment, covering everything from headphones to TVs. Based in London, she's a popular music graduate who worked in the music industry before finding her calling in journalism. She's previously been interviewed on BBC Radio 5 Live on the subject of multi-room audio, chaired panel discussions on diversity in music festival lineups, and her bylines include T3, Stereoboard, What to Watch, Top Ten Reviews, Creative Bloq, and Croco Magazine. Olivia now has a career in PR.