Sennheiser Ambeo Soundbar Plus: Two-minute review
The Sennheiser Ambeo Soundbar Plus is an all-in-one soundbar (meaning it's a single unit), that's designed to deliver a huge home theater audio without multiple boxes dominating your room. It's a clear contender for one of the best soundbars on the market today… but getting there has meant it comes at a high price.
Coming a couple of years after the slightly-too-large, slightly-too-expensive Sennheiser Ambeo Soundbar Max, this step-down model captures the same dynamic audio in a more reasonable shape, size and pricing category.
Despite being a single box, it claims to deliver 7.1.4 channels of detailed Dolby Atmos sound system, thanks to virtualization tech – no other single-unit soundbar makes such loft claims. This is paired with a thorough feature set to ensure you can utilize the premium formats and music streaming services common to any audiophile.
Costing well into four figures, the Ambeo Soundbar Plus still isn't cheap – but it offers excellent audio performance, with the finesse and control needed to ensure the sound never overpowers you. We have a couple of questions about its user interface capabilities (why don't those buttons click?) but the Ambeo Soundbar Plus excels where it matters: with its sound.
While you'll need Sennheiser's separate subs to get a fully fleshed-out home theater experience, the soundbar alone is still a quality piece of audio gear, and should elevate any TV setup with aplomb – especially if what you want is big cinematic sound from a single, simple box.
Of course, you won't get the same truly behind-you rear sound that you'd get from the Samsung HW-Q990B, which is a similar price. And if you want something like this, but the price puts you off, the Sonos Arc will save you a lot.
Sennheiser Ambeo Soundbar Plus review: Price and release date
The Sennheiser Ambeo Soundbar Plus retails for $1,499 / £1,299 / AU$2,399, and was released in late 2022.
It's a little pricier than a lot of other high-spec soundbars – in our guide to the best soundbars, only the Samsung HW-Q990B matches it for price, though that specific model includes a few separates alongside the base soundbar (two rear speakers and a subwoofer). The Ambeo Soundbar Plus is a premium all-in-one model, then, though it backs up its price tag with quality performance, as we'll detail below.
Sennheiser Ambeo Soundbar Plus review: Features
You get a single HDMI 2.1 port, to connect to a TV with eARC, alongside two additional HDMI 2.0 ports for connecting additional media players or game consoles to your television – so there's no passing through of 4K 120Hz video from a console. That's a bit of a shame at this price, but won't affect everyone. 4K HDR Dolby Vision is passed through just fine, though.
Dolby Atmos, DTS:X and Sony 360 Reality Audio are all supported here for spatial sound – so whatever you listen through, you can get the full effect.
The soundbar supports most important wireless connection standards, including Bluetooth 5.0, Apple AirPlay 2, Spotify Connect, TIDAL Connect, and Chromecast.
While this is a single-unit soundbar as sold (and as we're reviewing it here), you can purchase and wirelessly connect standalone Sennheiser subwoofers (up to four at a time) to get more low-end performance, which we'll talk a little about later. Uniquely, you can add up to four of them for distributed bass.
Sennheiser Ambeo Soundbar Plus review: Audio performance
The Ambeo Soundbar Plus deftly navigates frequencies both high and low, with none of the sudden contrasts of cheaper soundbars, where the bass seems to come from an entirely different source from the higher frequencies.
The bass performance can, in fact, be so subtle that it's hard to notice at all at lower volumes – though it will arrive with force when needed, thanks to a pair of upward-firing subwoofers. It's a soundbar that prefers to be driven hard.
Watching HBO's The Last of Us, the full range of frequencies on offer are on full show. The Ambeo Soundbar Plus can draw out incredibly complex instrumentals, each pluck of a guitar vibrating and fading out in turn; but when hushed voices are replaced by the crash of a truck into a building's brick wall, the Ambeo's quietly rumbling engine comes into focus. This is a soundbar that excels at weaving between different acoustic demands in a continuous and dynamic way.
Sennheiser boasts that the Ambeo Soundbar Plus can output "thundering bass" as low as 38Hz, and it's certainly no slouch in this department – if a little more controlled than some listeners may be used to. The higher-end Ambeo Soundbar Max should reach a little lower, starting at a 30Hz bass response, but given that model is almost twice the price, there's not much reason to opt for it (it lacks the Ambeo Plus' voice assistant support too).
A host of audio modes help matters further, for Music, Movies, Sport, News, and the like. The Voice Enhancement mode is brilliant for verbal clarity, bringing voices to the forefront of the soundstage, and I found myself using it constantly; Sennheiser's AMBEO mode also creates that four-channel virtual height elevation to make sound output more immersive and three-dimensional, aided by the upward-firing bass drivers. The difference with the AMBEO mode on is stark, and certainly worth trying out, even if you prefer the sound balance in other modes overall.
One thing to note is the ability to add external subwoofers – up to four of them. We're not counting this towards the sound score in this review, because it's not something you can do out of the box. However, we've tried it, and using more than two subwoofers is a game-changer for cinematic bass.
Audio performance score: 5/5
Sennheiser Ambeo Soundbar Plus review: Design
Measuring 1050 x 75 x 120mm, and weighing 6.3kg, it's not the smallest soundbar, but a simple matt black finish and mesh detailing makes it pretty innocuous next to a decently-sized TV – 55 inches and up is ideal.
The remote is a sleek affair – a boxy rectangle with a subtle incline on the uppermost side to improve ergonomics. Its soft rubber buttons are a delight to touch – with inputs for switching source, altering volume, and switching between key audio modes such as Movie, Music, Voice enhancement, and Night – though there's no backlighting to help out in the dark. (Just make sure you follow the setup instructions, as you'll need to twist the battery cover before activating the remote for the first time.)
Sennheiser Ambeo Soundbar Plus review: Setup and usability
At setup, the Ambeo Plus runs through an automatic calibration system, which involves a lot of loud noises (we wouldn't do this around a toddler or pet if possible). This allows the soundbar to virtually map the acoustic landscape of your room and calibrate its output in response – with Sennheiser advising you to repeat this process if you move any furniture around or implement new surfaces, such as curtains on the windows. It's a little irritating on the third go, but will be fine for more static homes.
The companion Smart Control app is brilliantly done, with easy nudges towards connecting important streaming services (or the Alexa / Google Assistant capability) and ticking them off as you go. Between the remote, this mobile app, the built-in controls, and support for voice assistants, there's plenty of leeway to interact with the Ambeo Plus however you want.
There are inputs on the upper side of the soundbar itself, with a dynamic LED bar that lights up when in use – blue for Bluetooth, green for Spotify Connect, white for volume, and the like. These inputs don't click inwards, though, so it's hard to tell immediately whether an input has been registered.
Setup and usability score: 4.5/5
Sennheiser Ambeo Soundbar Plus review: Value
Though it's obviously expensive, it's very hard to fault the value of the Ambeo Plus, because its sound is so rich, so dynamic, and so big for a relatively compact bar. It's a lot more expensive than something like the Sonos Arc, which is already pretty premium, but it also brings lots more features than the Arc – as well as delivering even more convincing spatial audio.
Now, I said it's "hard" to fault the Ambeo Plus, but there is one obvious omission: no HDMI 2.1 passthrough. The (slightly cheaper) Sony HT-A7000 offers this, and is also an all-in-one unit, so games using a TV with a limited number of HDMI 2.1 ports might be better off with that.
Should I buy the Sennheiser Ambeo Soundbar Plus?
Swipe to scroll horizontally
| | | |
| --- | --- | --- |
| Features | Great wireless connectivity and 3D sound support. Just lacking HDMI 2.1 passthrough. | 4.5/5 |
| Audio performance | Fantastic Dolby Atmos perfomance, impressive range, and wonderfully dynamic. | 5/5 |
| Design | Sensible, subtle, and well thought-out. | 4/5 |
| Setup and usability | Auto-calibration is loud buy good, and the app is excellent. | 4.5/5 |
| Value | Expensive, but absolutely worth it for the sound quality. | 4/5 |
Buy it if…
You want an all-in-one speaker – with the option to expand
While you can connect additional subs here, the big appeal of the Ambeo Soundbar Plus is that it contains a surprisingly convincing 7.1.4 sound system in a single unit, without the suspect upmixing that cheaper all-in-one soundbars can make do with.
You watch a variety of content
The Ambeo Soundbar Plus isn't just a bass-heavy party speaker, nor is it simply a high-frequency speaker for capturing dialogue and instrumental. This is a soundbar that's able to deftly handle frequencies high and low, and caters to a versatile quantity of content because of it. A variety of sound modes helps, too.
Don't buy it if...
You're on a tight budget
The Sennheiser Ambeo Soundbar Plus is pricey, and despite its sonic charms, you can get a pretty impressive Sonos alternative for a few hundred less.
You're all about that bass
While the Ambeo's bass response is capable, it lacks the power you'd get with a series of external subwoofers, or a soundbar a little more focused on the lower end of the frequency range. For blockbuster movie nuts, there may be some higher-impact models out there.
Sennheiser Ambeo Soundbar Plus review: Also consider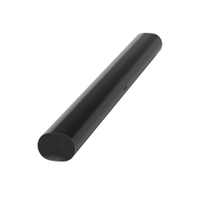 Sonos Arc
Same idea, but much cheaper – an all-in-one soundbar with a focus on dynamic sound and audio precision, from a reliable audio name. But it has no HDMI passthrough at all, no DTS:X, no Bluetooth, and more limited Wi-Fi streaming options. So you get more from the Sennheiser by paying more. Here's our full Sonos Arc review.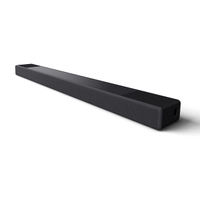 Sony HT-A7000
Another all-in-one soundbar that delivers on its aspirations of excellent Atmos and rich bass. This one has HDMI 2.1 passthrough, though, so may be better for gamers who want that 4K 120fps framerate. Read our full Sony HT-A7000 review for more.