The Sennheiser Ambeo Mini is ideal in many ways. It's usefully small, but sounds much bigger than it looks. It has punch to go with its sonic precision, it has a full suite of excellent control options, and it looks and feels like a quality item. It's even pretty good at opening up non-spatial audio soundtracks. If it just sounded a little taller, or cost a little less, it could be 'ideal' full stop.
Pros
+

Big, organized and detailed sound

+

Unlikely bass presence and substance

+

Excellent control options
Cons
-

Limited sensation of sonic 'height'

-

No HDMI passthrough port

-

More expensive than competition
Why you can trust TechRadar We spend hours testing every product or service we review, so you can be sure you're buying the best. Find out more about how we test.
Sennheiser Ambeo Mini: Two-minute review
The Sennheiser Ambeo Mini arrives as the smallest, most affordable member of what is now a three-strong family of Sennheiser Ambeo soundbars. What it lacks in stature, though, it makes up for in asking price – this is not an especially budget-conscious option, especially when you consider how much the best of its size-comparable rivals cost.
The Sennheiser Ambeo Mini goes a long way to justifying its asking price even before you hear it, though. Its six-driver speaker array is powered by 250 watts, has the grunt to reach down to a claimed 43Hz at the bottom of the frequency range without a subwoofer, and is subject to some very thorough virtualization technology in an effort to extract a true sense of Dolby Atmos spatial audio from a soundbar with no dedicated upfiring drivers. And all this is concealed inside a discreet, well-made cabinet that's never going to draw attention to itself.
And there's the choice of control options. Between the Smart Control app, the full-size remote control handset, built-in Amazon Alexa voice-control and some integrated touch controls, you're not short of options here – and they're all beautifully realized and eminently usable in a way that not all of the best soundbars manage.
Performance, though, is where a product like this lives or dies – and in almost every respect, the Sennheiser Ambeo Mini is alive and kicking. Literally kicking where bass response is concerned; the amount of drive and punch it can summon is remarkable given the compact proportions of its cabinet. It creates a big, open soundstage, piles on the details at every point, and is able to project dialogue to the front without it ever sounding remote or estranged.
It's even pretty adept at generating an impression of spatial audio from 5.1 or even two-channel movie content when Dolby Atmos isn't available, although trying to pretend a stereo music file consists of 12 channels proves a bridge too far.
Only the rather modest sensation of true "height" to its soundstage prevents the Sennheiser Ambeo Mini waltzing off with full marks. Or, rather, it's the combination of this slight reticence along with pricing that suggests it should nail every area that holds it back just a little. If it sounded just a little taller, or if it were just a little less expensive, the Ambeo Mini would be approaching "no-brainer" status. As it is, if you have a TV of 40 inches to 55 inches, and the budget, it should be a seriously tempting option.
As it is, you've got an interesting choice of small subwoofer-free soundbars between this, the Sonos Beam Gen 2 if you want great fidelity for a lower price (and an even less wide size), or the Bose Smart Soundbar 600 if you want real Dolby Atmos height from a small soundbar, though without the bass of the Ambeo.
Sennheiser Ambeo Mini review: Price & release date
Release date: 1 September 2023
Price: $799 / £699 / AU$1,299
The Sennheiser Ambeo Mini is on sale across the world from 1st September 2023. In the United Kingdom it sells for £699, while in the United States the going rate is $799. Customers in Australia will need to part with AU$1299 to acquire one.
Yes, this is the most affordable of Sennheiser's three-strong Ambeo range of soundbars – but that's not the same thing as being fully affordable, not really. This pricing puts the Ambeo Mini notably above the likes of the compact Sonos Beam Gen 2 or Bose Smart Soundbar 600, and pushes it nearly into competition with the likes of the Sonos Arc, which is much bigger and even better equipped for spatial sound. But if you wanted big, you probably wouldn't be looking at the Mini, right?
Sennheiser Ambeo Mini review: Specs
Swipe to scroll horizontally
| | |
| --- | --- |
| Dimensions | 700 x 65 x 100mm / 27.6 x 2.6 x 3.9in (WxHxD) |
| Speaker channels | 7.1.4 |
| Connections | HDMI eARC, Wi-Fi, Bluetooth 5.0, USB-A |
| Dolby Atmos/DTS:X | Yes/Yes |
| Sub included | No |
| Rear speakers included | No |
| Features | Automatic system calibration, 360 Reality Audio, adaptive Ambeo sound mode |
Sennheiser Ambeo Mini review: Features
250 watts, 43Hz - 20kHz frequency response
7.1.4-channel virtualized sound
Only one HDMI port
It's not, strictly speaking, a feature but more of an ambition: the Sennheiser Ambeo Mini intends to create an impression of 7.1.4 -channel spatial audio using just six speaker drivers and a whole lot of complicated virtualization technology developed in conjunction with Fraunhofer. And that means every worthwhile spatial audio standard out there, too – the Ambeo Mini is compatible with Dolby Atmos, DTS:X, MPEG-H and 360 Reality Audio.
Two of the six drivers are upward-facing 102mm (four-inch) bass drivers that offer low-frequency extension down to a claimed 43Hz. The other four are 38mm (1.5-inch) full-range affairs – there is one at either end of the chassis, positioned to create some sonic width, and two more fire forwards. All six drivers are made of cellulose, and all six contribute to the virtualized "top" effects that ought to allow the Ambeo Mini to create a sensation of height to its presentation.
Class D amplification supplies the power, and there's a total of 250 watts on tap. Sennheiser isn't saying exactly how it's divided, but then again, Sonos doesn't even like to say how much power is on board its soundbars, so I guess we should be grateful for any information that Sennheiser supplies…
As far as connectivity is concerned, the Ambeo Mini has ample wireless options, and just the essentials as far as physical connections go. An HDMI eARC and a USB-A slot sit alongside a power socket, a 'reset' button and a 'setup' button in a recess on the rear of the chassis – and that's it in terms of the physical stuff. The lack of HDMI passthrough may conceivably be a deal-breaker for some people, especially as quite a few similarly priced alternatives include it – and the kinds of smaller TV that this is aimed at are more likely to have fewer HDMI ports.
Wi-Fi and Bluetooth 5.0 (with SBC and AAC codec compatibility) cover off the bulk of the wireless stuff, and there is compatibility with UPnP, the Spotify Connect, Tidal Connect, Apple AirPlay 2 and Google Chromecast. The last couple mean that the Ambeo Mini can easily become part of a multi-room audio system.
Sennheiser Ambeo Mini review: Audio performance
Remarkable low-frequency presence and control
Sound is far bigger than the product's physical dimensions
Not the most spatial of spatial audio presentations
The Ambeo Mini wastes no time in calibrating itself to your specific environment, and once it's done so there are numerous positives about the way it goes about churning out the sound of movies and music alike.
It goes without saying that the best results come from the best sources – and when given the Dolby Atmos soundtrack to a UHD 4K Blu-ray disc of Dune to deal with, you'll quite quickly forget the "mini" aspect of the Ambeo Mini and concentrate on the mightiness of its presentation.
Most immediately, its low-frequency punch and presence is almost startling. 43Hz is deep, sure – but the bass the Sennheiser generates is so solid, so controlled and so full of variation that it sounds even deeper, somehow. Sennheiser is pleased with the fact that you can connect as many as four optional wireless Ambeo subwoofers to the Mini (and in our experience with the Sennheiser Ambeo Plus, using three subs can be an amazing time), but unless you are setting up your soundbar in a big, vaulted space I'd seriously question whether you need even one, let alone four.
Mid-range fidelity is impressive – the center channel of audio information is always the most critical, and the Ambeo Mini delivers it with authority, packing voices with detail and character. It projects well, even when the low end is strutting its stuff, and is able to retain plenty of information about tone and texture even when the soundtrack is at its most bullish. And despite the lack of dedicated tweeters here, the Sennheiser has ample bite and brilliance at the top of the frequency range, along with the requisite levels of detail.
The whole of the frequency range hands together well and, although the Ambeo Mini is undoubtedly working its socks off to create what says is a facsimile of 12 channels of information using just six drivers, there's a coherence to the way it delivers the Dolby Atmos soundtrack. The soundstage it creates is way bigger than the soundbar from which it emanates, and long-travel effects move around the stage in pretty convincing fashion.
What there isn't a huge amount of, though, is sonic height to the sound. Yes, the Sennheiser can put sound upwards with reasonable success – but even when accompanying a 48-inch OLED TV (for which the Ambeo Mini is the perfect size to fit between its feet), sound never really gets above the television's top bezel. This slight lack of upward projection will be familiar to anyone who's heard the (similarly sized, much more affordable) Sonos Beam Gen 2.
In every other respect, though, the Ambeo Mini has the better of the size-comparable Sonos. It's more dynamic, and able to make you jump when the hissed exposition switches suddenly to almighty action sequence. It's more open, able to create greater width across the front of the soundstage and position effects more precisely. And it's more punchy, too. Quite a lot more punchy.
Watching soccer highlights over streaming, Sennheiser's Ambeo virtualization technology does impressive work in hacking even a mild sensation of spatial audio from a stereo source. The stage is still big, detail levels are still high, and the "smack" as boot addresses ball is profound. Switch off the Ambeo processing and the sensation of scale pretty much disappears – although this is still a fuller and more enjoyable sound than most TVs have a hope of delivering by themselves.
Using Tidal Connect to stream a Dolby Atmos file of You Ain't No Celebrity by Jungle featuring Roots Manuva lets the Ambeo Mini once again demonstrate its powers of resolution, of even-handed frequency response, of prodigious low-end presence and control, and of simple scale. The sound is open and well-separated, but unified and focused at the same time – and the virtualization technology does good work in summoning up authentic width and a degree of height to the sound.
Use Bluetooth to stream a two-channel file of Grouper's Alien Observer and the Ambeo technology can't prevent a little vagueness creeping into the presentation as it attempts to open the recording up and out as much as possible. Ultimately, it's better – or, more accurately, more convincing – to leave stereo music unvirtualized. You miss out on sheer size, but the sound has greater accuracy.
Sound quality score: 4.5/5
Sennheiser Ambeo Mini review: Design
Mostly plastic and cloth construction
Slightly wider than Sonos Beam
Suitable for TVs of 40 inches and up
If you're even remotely familiar with Sennheiser's recent Ambeo Plus soundbar or the Sonos Beam Gen 2, you already have a good idea of what the Ambeo Mini is like in terms of design.
In its cloth-wrapped plastic construction and its slanted top panel, the Ambeo Mini looks just like – hey! – a miniature version of the Ambeo Plus. And its dimensions are very similar to those of the Sonos Gen 2, though it's slightly wider and slightly shorter, both of which are fine in our book.
As you might imagine, the quality of build and finish here is basically impeccable. Everything is put together flawlessly, and the Ambeo Mini is made from materials that are durable and even quite tactile. There's nothing luxurious about the Ambeo Mini, and it's hard to make a product as functional as a soundbar stand out in design terms… but nevertheless there's something quite appealing about its combination of discretion and purposefulness.
Some may wish for more than one choice of finish, of course – but Sennheiser has long been of the opinion that Henry "any color you like as long as it's black" Ford was onto something.
Sennheiser Ambeo Mini review: Setup & usability
Automatic room calibration
Voice, app and remote control
Numerous listening modes
Credit where credit is due: Sennheiser has made setting up the Ambeo Mini about as straightforward and painless as is realistically possible.
Put the soundbar in position. Make your power connection and hook the HDMI eARC socket to the corresponding connection on your TV – and you're all set. Then it's simply a question of opening the Smart Control app and letting the automatic room calibration routine do its thing. A fairly brief selection of test tones plays while the app assures you that all is well, and then the Ambeo Mini is optimized for the position in which it finds itself. And it's easy to recalibrate should the need arise.
Once the Ambeo Mini is set up, controlling it is equally straightforward no matter which of the numerous interaction options you prefer. The control app itself is typically Sennheiser, in as much as it's flawlessly realized, clear and logical, and covers every realistic eventuality.
As well as the ability to switch the Ambeo virtualization technology on or off, there are six EQ settings (from "adaptive" to "neutral" via "music" and "movie"), a "night mode" that squashes dynamic response and "voice enhancement" that pushes the center channel information forward. Input selection, software updates and all the rest are available here too.
There's a brief selection of capacitive touch controls on the slanted top of the soundbar which cover most major functions – and there's a mute button to disable the four in-built mics. As well as calibration, these mics handle voice control, so if you want to use your Ambeo Mini simply by talking to it, Amazon Alexa is built in and Google Assistant is also available if you've appropriate speakers on a common network.
Or you may prefer the old-school charms of a remote-control handset. The wand supplied with the Ambeo Mini is tactile and angular, and covers more-or-less everything in terms of day-to-day control of the soundbar. Its labels could be larger, sure, and some backlighting wouldn't go amiss… but it's fair to say that some more expensive soundbars are supplied with much less satisfactory remote controls.
Sennheiser Ambeo Mini review: Value
Big, authoritative sound with no need for a subwoofer
Exemplary build and finish, great control options
Cannot help but seem just a little too expensive
The Sennheiser Ambeo Mini seems just a little expensive. A small part of that is down to the sheer size of the product – because for all that it is beautifully built and finished from materials that seem durable, and has several well-realized control options, perceived wisdom is that soundbars this small don't cost this much money and/or soundbars costing this much money are bigger than this.
Of course, there's nothing wrong with paying a premium price for a more manageably sized soundbar, especially if you don't have that big a room to fill with sound and if you don't want a separate subwoofer – but it still needs to outperform more affordable alternatives in every department.
As it is, though, the Sennheiser Ambeo Mini outperforms its more affordable alternatives in almost every department – if it could just summon a little more sonic height when it's doing its Ambeo thing, the value for money here would be excellent. Instead, it's merely good value – which is not a problem at all, if it's within your budget.
Should I buy the Sennheiser Ambeo Mini?
Swipe to scroll horizontally
| Section | Notes | Score |
| --- | --- | --- |
| Features | Fantastic power and audio format support, and useful app options. Just lacking HDMI passthrough. | 4.5/5 |
| Audio performance | Wonderful scale and dynamic range for the size, but lacking real height for Atmos. | 4.5/5 |
| Design | Smart cloth and super-solid build quality. Nicely recessed ports for cable management. | 4.5/5 |
| Setup & usability | Plug and play, but any advanced options are very easy to access. | 5/5 |
| Value | Does things that cheaper rivals don't, but at a significant price premium. | 3.5/5 |
Buy it if...
You know small is beautiful
Getting big, bold audio performance shouldn't automatically mean a big, bold loudspeaker – and the Ambeo Mini sounds a lot bigger than it looks
You're bass-happy
The low-end out of the box is a cut above any small soundbar rival, and while the ability to connect as many as four subwoofers might seem like overkill, to some it will seem like the greatest idea you ever heard.
You admire ergonomic good sense
From the quality of its control app to the quality of its remote control, via its exemplary automated room calibration, the Ambeo Mini is an ergonomic masterclass
Don't buy it if...
Your home theater is the size of a theater
The Ambeo Mini sounds bigger than it looks, sure, but there are limits to its powers. That's physics for you…
You're expecting overhead sound
The Sennheiser can create a much bigger soundstage than might seem feasible, but it struggles to put sound up above the top of your TV screen.
Sennheiser Ambeo Mini review: Also consider
Swipe to scroll horizontally
| Header Cell - Column 0 | Sennheiser Ambeo Mini | Bose Smart Soundbar 600 | Sonos Beam Gen 2 |
| --- | --- | --- | --- |
| Dimensions | 700 x 65 x 100mm / 27.6 x 2.6 x 3.9in (WxHxD) | 694 x 56 x 104 mm / 27.3 x 2.2 x 4.1in (WxHxD) | 651 x 68.6 x 100 mm / 25.6 x 2.7 x 3.9in (HxWxD) |
| Speaker channels | 7.1.4 | 3.0.2 | Not listed |
| Connections | HDMI eARC, Wi-Fi, Bluetooth 5.0, USB-A | HDMI eARC, optical, Wi-Fi, Bluetooth 4.2 | HDMI eARC, optical (via adapter), Wi-Fi |
| Dolby Atmos/DTS:X | Yes/Yes | Yes/No | Yes/No |
| Sub included | No | No | No |
| Rear speakers included | No | No | No |
| Features | Automatic system calibration, 360 Reality Audio, adaptive Ambeo sound mode | Bose music app support | Sonos app support |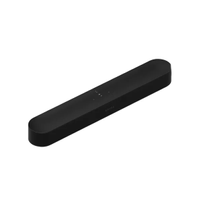 Sonos Beam Gen 2
The Sonos Beam Gen 2 strikes a great balance between size, performance and asking price. Like the Ambeo Mini, it uses digital sound processing to create a sensation of spatial audio – and like the Sennheiser, it's pretty good at it. You won't get such impactful bass from it, though, and there's no DTS support. Here our full Sonos Beam Gen 2 review.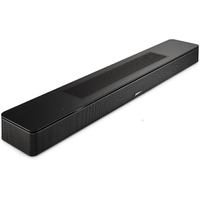 Bose Smart Soundbar 600
Another compact speaker without a sub, but this is the only one we've mentioned with real upfiring drivers for actually convincing height. The trade-off compared to the Sennheiser is the lack of bass, but some may be quite happy with that. Here's our in-depth Bose Smart Soundbar 600 review.
How I tested the Sennheiser Ambeo Mini
Tested for over a week
Tested with Blu-ray and streaming
Reviewed in a standard living space
The Sennheiser Ambeo Mini has been positioned between the feet of a 48-inch Philips OLED TV for over a week, and it's been used for at least a few hours every day – some of that is critical listening, some is simply sitting down in front of the TV to unwind. The room is open-plan, which means side boundaries are fairly distant, but the ceiling is not especially high – so the fact the Ambeo Mini can create plenty of sonic width is particularly commendable, while the relative lack of sonic height isn't.
Content of all kinds has been through the Sennheiser, from native uncompressed Dolby Atmos tracks via a UHD 4K Blu-ray player, to more compressed Atmos from Netflix and Disney Plus. Music has come in high-end form from Tidal Connect, and I've watched broadcast TV or streaming services for standard stereo viewing.
First reviewed August 2023
Simon Lucas is a senior editorial professional with deep experience of print/digital publishing and the consumer electronics landscape. Based in Brighton, Simon worked at TechRadar's sister site What HiFi? for a number of years, as both a features editor and a digital editor, before embarking on a career in freelance consultancy, content creation, and journalism for some of the biggest brands and publications in the world.
With enormous expertise in all things home entertainment, Simon reviews everything from turntables to soundbars for TechRadar, and also likes to dip his toes into longform features and buying guides. His bylines include GQ, The Guardian, Hi-Fi+, Metro, The Observer, Pocket Lint, Shortlist, Stuff T3, Tom's Guide, Trusted Reviews, and more.