Best monitors for Mac Studio for 2023: so many choices
Your Mac Studio will love any of these monitors
VERDICT
REASONS TO BUY
REASONS TO AVOID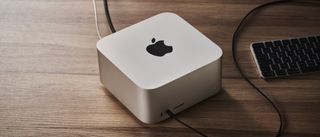 (Image credit: Future)
Apple recently introduced the second-generation Mac Studio. Featuring the M2 Max or M2 Ultra, the powerful desktop computer is similar to the Mac mini in that it doesn't come with a monitor or other accessories.
If you're new to the Mac Studio or are thinking of upgrading your current monitor, there are several factors to consider before making a purchase. There's a vast array of monitors available at different price points, but it's crucial to select one that complements the advantages of owning a Mac Studio.
To assist you in making an informed decision, we have compiled a guide that features a range of potential options, sorted into categories based on their suitability for everything from "top picks" irrespective of budget to those ideal for gaming. The list also includes more affordable options.
You should also check out the top keyboards for typing and gaming and the top computer mice for work and play.
The Mac Studio (M2, 2023) can support up to eight 4K displays, six 6K displays, or three 8K displays. The older model, released in 2022, still packs a punch. It can work with up to four Pro Display XDRs and one 4K display. The list below focuses on monitors that offer a resolution of 4K or higher.
Check out the best 5K and 8K monitors report.
Our team has extensive experience with various types of monitors, including those used for Mac Studios. Although not all the products on our list have been tested in our labs, we have researched and gathered recommendations based on our experts' opinions, online reviews, brand reputation, product capabilities, and unique features.
Best monitors for Mac Studio
Why you can trust TechRadar We spend hours testing every product or service we review, so you can be sure you're buying the best. Find out more about how we test.
Best of the best
When money is no object, you'll want to consider a monitor with all the bells and whistles the Mac Studio can support. Two of our picks are from Apple, but they aren't the only company making great monitors, so others are included here. Each of these options at least includes a 4K resolution.
Apple Studio Display (5K)
Apple synergy
+ The one Apple wants you to buy
+ Various standing options
- Better value monitors out there
You can buy this Apple monitor with either a tilt-adjustable stand, tilt- and height-adjustable stand, or a VESA mount adapter, depending on your preferences. You can also choose between standard or Nano-Texture glass. This amazing 27-inch 5K monitor offers 600 nits of brightness, a 12MP Ultra Wide camera with Apple Center Stage, and many other great features.
Amazon review rating: 4.5/5
Apple Pro Display XDR (6K)
A giant leap
+ 6K!
+ Excellent peak brightness
- Pricey, somewhat dated
This 32-inch monitor boasts a stunning 6K display and is available with either standard or Nano-texture glass, as well as various stands to suit your preferences. With a peak brightness of 1600 nits, it's brighter than most other monitors on the market. However, it's worth noting that it doesn't come equipped with a camera or speaker system. It's also possible that Apple may release a newer model to replace this one, as it's been on the market for some time now.
Amazon review rating: 4.0/5
Great options
+ Two size options
+ Sleek design with thin bezels and an adjustable stand
- Expensive compared to other 4K monitors on the market
This well received 4K monitor is offered in two sizes: 27 inches and 32 inches. It offers a 95% P3 and 100% sRGB color coverage with Delta E ≤ 3. You can use it with a wall mount or stationary. The peak brightness is only 400 nits, which could be a problem for some.
Amazon review rating: 4.3/5
For pros, worth considering
+ Excellent multipurpose display
+ Thunderbolt 4 connection
+ Beautiful 6K display
This well-reviewed Dell monitor, which connects via USB Type-C, may be a better option than the Apple Pro Display XDR — and it costs much less. It boasts a 31.5-inch viewable screen size and 450 nit brightness, making it perfect for viewing action films, sports, or gaming. Additionally, it has an excellent response time.
Dell UltraSharp UP3218K (8K)
Simply brilliant
+ 8K resolution is stunning
+ The specs photographers need
- As expected, expensive
Another winner from Dell, this 32-inch 8K meets major industry standards, including 100% Adobe, 100% RGB, 100% rec. 709, and 98% DCI-P3. The result is immaculate, unwavering colors. It's compatible with multiple stands and mounts (including VESA). Supports up to 400 maximum nits.
Terrific price
+ Good nits
+ Excellent price point
+ Lots of extras
This 5K LG monitor boasts a 27-inch display with DCI-P3 99% Color Gamut, delivering excellent response time and 500 nits of brightness. Additionally, it includes three USB Type-C ports, built-in speakers, a camera, and a microphone.
Amazon review rating: 4.4/5
Best large screen
If you desire a larger display, it may be worthwhile to consider a curved one. Not only does it offer a bigger screen, but it can also alleviate eye fatigue. Furthermore, the immersive experience it provides is ideal for gaming and movie-watching. Additionally, in certain cases, the reduced distortion of a curved monitor can result in superior image quality compared to a flat one.
Philips Brilliance 499P9H (5K)
Nicely done
+ Lots of extras
+ Good LCD panel quality
- Too big for some desk spaces
This impressive 49-inch display boasts outstanding color accuracy, covering 91% of Adobe RGB and 103% of NTSC color gamut. It also has a maximum brightness of 450 nits and comes equipped with multiple ports, a webcam, and built-in speakers.
Amazon review rating: 4.1/5
Some benefits
+ Strong feature set
+ High-quality chassis
- Limited image fidelity
This mostly good LG widescreen 5K display is worth considering. It comes equipped with stereo speakers that provide rich bass, and the stand supports height and tilt adjustments, as well as swivel. A USB Type-C cable is included. The monitor boasts a peak brightness of 350cd/m2, but there is no local dimming feature.
Dell UltraSharp U4021QW (5K)
Another alternative
+ Gorgeous display
+ Feature rich
- Weak maximum brightness
The Dell UltraSharp U4021QW is a 40-inch monitor that features a curved screen, providing an immersive viewing experience. Its resolution is 5K (5120 x 2160) with a 16:9 aspect ratio and 1000R curvature. The monitor supports 99% sRGB and 95% DCI-P3 color gamut, but has a peak brightness of only 300 nits.
Amazon review rating: 3.9/5
Best for Gaming
If you intend to use your Mac Studio for gaming, it is important to consider specific features when selecting a monitor. In addition to high resolution, the monitor should have a superior refresh rate and response time. A higher refresh rate ensures smoother and more responsive gameplay, while a lower response time reduces motion blur and ghosting.
Excellently priced
+ Quick and responsive
+ Good value
- No HDR support
This amazing 31.5-inch curved gaming monitor boasts a 165Hz refresh rate and 1ms response time, perfect for an immersive gaming experience. It also features a 99% sRGB color gamut and comes with AMD FreeSync Premium Adaptive-Sync Technology.
Amazon review rating: 4.5/5
Fun option
+ Good price
+ Quick and responsive
- sRGB mode oversaturated
This option is cost-effective and highly responsive, offering superb HDR with a wide and precise color range. It is also compatible with FreeSync & G-Sync.
It's so big!
+ Large display
+ Good price
+ Lots of extra features
This gaming monitor boasts a sizable 48-inch display and comes at a great price. With a 120Hz refresh rate, 1ms response time, and FreeSync Premium support, it delivers smooth and seamless gameplay. Additionally, the monitor produces vivid and accurate colors, thanks to its 10-bit color depth, 98% DCI-P3 color gamut, and 130% sRGB coverage.
Amazon review rating: 4.4/5
When it comes to monitors for your Mac Studio, there are a variety of styles to choose from that can meet different preferences and budgets. While some monitors are tailored towards specific activities like gaming, most will suffice for everyday tasks. To avoid the hassle and expense of returning a monitor, it's important to review its specifications and ensure they align with your expectations. Keep in mind that sending a monitor back to the manufacturer or retailer can be a costly process.
Are you a pro? Subscribe to our newsletter
Sign up to the TechRadar Pro newsletter to get all the top news, opinion, features and guidance your business needs to succeed!
Bryan M. Wolfe is a staff writer at TechRadar, iMore, and wherever Future can use him. Though his passion is Apple-based products, he doesn't have a problem using Windows and Android. Bryan's a single father of a 15-year-old daughter and a puppy, Isabelle. Thanks for reading!