The best portable projectors allow you to watch TV shows, movies and sports wherever you want without the constraints of a TV display.
We've reviewed many different projectors, from compact beamers to high-end models packed with features, and know the key things to consider if you're looking for a top portable projector, like connectivity, battery life, picture quality and price.
Portable projectors can be used in all kinds of environments, in dorms if students want to watch a movie together, at conferences or on any huge wall if you don't want to commit to a massive TV. But many of the best projectors are designed specifically for outdoor viewing, transforming your backyard into an outdoor cinema.
This is why many of the top projectors are portable, light and streamlined, allowing for wireless connections from other devices so they're fast and simple to use.
If you don't need a portable projector, take a look at our best 4K projector guide instead for the ultimate home theater experience. Otherwise, read on for our pick of the best portable projectors you can buy in 2022.
Best portable projectors of 2022 in full:
Everything about Samsung's The Freestyle projector is geared towards ease of use. Starting with its streamlined setup process, which we found a breeze to use as it had us up and running in moments.
This Samsung projector keeps its approachability up by offering a suite of built-in smart features and streaming apps. It's like a Samsung TV OS that you can take with you.
Speaking of taking it with you, during our testing we were surprised by just how portable this projector is. It weighs just 0.8kg, and at 95.2 x 171.4 x 95.2mm, it's roughly the size of a can of dog food, which means you can easily pick it up and throw it in your backpack.
Add to this its impressive (if somewhat fussy) auto-levelling functionality, its excellent Full HD picture quality and its surprisingly loud built-in 360° speaker, and The Freestyle is easily our pick for the best portable projector you can buy right now.
Sure, it isn't the cheapest option on this list — take a look at the Anker Nebula Solar Portable below for a budget alternative — but it's definitely the most polished and covers all of the bases. In our review of the Samsung The Freestyle projector, we wrote: "Compact, portable and with a built-in suite of apps, The Freestyle is a projector that offers everything you need in one place." All you need to do is provide a blank surface to project onto.
Read our Samsung The Freestyle review
---
The Anker Nebula Solar Portable is a compact and stylish mini projector that we enjoyed testing because it delivers in almost every area at an affordable price.
It sports a sleek design and will look great on a shelf in your living room between uses. But measuring 19.2 x 19.22 x 5.45cm and weighing only 2.38kg, it's small enough to fit easily into a drawer, or even a backpack or tote bag for taking outside.
We found the battery will last about three hours, which is decent for such a small, portable projector and should be good for getting in a film when you're not close to a plug socket. However, its USB-C power port means you should also be able to link up a portable power bank for multiple uses.
The Bluetooth speaker functionality is a great addition to the Solar Portable's feature set, effectively delivering two devices in one: a Bluetooth speaker and a projector.
While the picture quality is pretty adequate for the price and form factor, during our testing we were disappointed to find the projector was a letdown on the brightness front. The listed 400 lumens brightness means the Nebula Solar Portable will struggle to remain visible in bright environments, while dark scenes are difficult to make out even in ideal viewing conditions.
If you're looking for a decent projector, it's a good choice. But we think that if you want a bright and impressive picture, you'll need to upgrade to one of Anker's more high-end models, like the Anker Nebula Cosmos Laser 4K below.
Read our Anker Nebula Solar Portable projector review
---
The Anker Nebula Cosmos Laser 4K is not your average compact projector. It's packing in some considerable brightness, peaking out at 2,400 Lumens, which we found to be sufficiently bright for a semi-light-controlled environment during our testing, and its laser lamp makes for a high-quality image.
It's more than capable enough of being your go-to projector and staying put in your living room — it looks great, too. But its form factor at 26.4 x 22 x 15.5 cm and weighing 4.8kg means we had no trouble packing it up and carrying it from room to room when we were reviewing it.
However, there's a big problem when it comes to the Cosmos Laser 4K's portability: there's no on-board battery. In the review we wrote: "Without battery power, the Anker Nebula Cosmos Laser 4K isn't exactly portable. It's easy to bring from place to place, but you'll still need AC power to use it." Bear that in mind if you're looking for a projector to take outdoors or far from home. Check out the Anker Nebula Solar Portable above if you're looking for on-board battery instead.
With built-in speakers and an included streaming stick that stashes away behind a cover, it even has the skill to power the entire entertainment setup for whatever space you bring it into. That's not a bad offer for a $2,199 / £1,740 / AU$3,055 device.
The Anker Nebula Cosmos Laser 4K has plenty of competition, but if you want a projector that will regularly work in a lot of different places around your home rather than outside it, there are few options that will do it as well and as easily as this one.
Read our Anker Nebula Cosmos Laser 4K review
---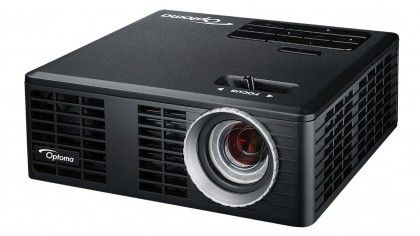 The Optoma ML750e is a versatile and powerful projector but weighing in at just 0.4kg and measuring only 10.4 x 10.5 x 3.9 it it has a n incredibly small footprint that literally fit in the palm of our hand during testing. This makes it easy to carry around and more than worthy of our best portable projectors guide.
Brightness-wise, the ML750e boasts a 700 Lumens lamp that lets you present in rooms that aren't completely darkened. This is good news if you want to use it outside in the evening, too.
Size and picture aside, the Optoma ML750e is also one of the best portable projectors in the world thanks to its impressive range of ports. It comes with one MHL-ready HDMI input, a USB 2.0 slot for thumbdrives, a universal I/O slot, and a microSD card slot.
During testing, the ML550 handled our 90-inch test screen with impressive results, and peaked at a 60-inch-or-so size. However, it's worth mentioning that you do need to buy a dongle for Wi-Fi access. That's the only significant drawback we've found.
---
The ViewSonic M1 is small, measuring in at just 14.6 x 4.0 x 12.6 cm, but it's versatile and has a decent selection of ports despite its size.
This makes it easy to hook up the M1 to a range of different devices and means it's easy to carry this projector around with you.
The price isn't bad either. However, the relatively low resolution at 854 x 480 pixels means image quality isn't quite as good as some of its competitors. Check out the Optoma ML750e or the Anker Nebula Solar Portable for projectors that are just as portable with a better picture.
What's more, the max brightness is a bit too low at 250 lumens. which means that images can look washed-out when you're using it in bright environments. Still, it's a great portable projector, especially for work presentations or for carrying around on holidays if you don't want to spend much.
It's worth mentioning there are a few newer versions of this projector available to buy. Take a look at our Viewsonic M1+ mini projector review, which we found still had poor brightness but did offer 1080p Full HD resolution. We called it: "A solid portable projector for first-time buyers."
---
The Asus ZenBeam E1 is a projector that's so beautifully-designed it's won awards. We love that it's small enough to pop in your pocket, measuring in at only 8.3 x 2.9 x 11 cm and weighing a super light 307g.
Its teeny tiny dimensions make it ideal for carrying around with you, whether you want to watch movies while you travel or you need an easy way of sharing presentations during meetings or work-related trips.
What's important here is that, despite its small size, it can project images that are up to 120 inches in size with a decent 150 lumen Eco-LED light source.
It has a built-in 6,000mAh battery that can power the projector for up to 5 hours, which makes it rather flexible, as you don't have to worry about finding a plug socket to power the device to get you through a movie — or even two.
In a rather nice touch, the projector can also double as a power bank for other mobile devices as well.
Granted, the Asus ZenBeam E1 isn't the most powerful portable projector in this guide — take a look at the Samsung The Freestyle for more oomph — but its versatility, ease of setup and eye catching design makes it ideal for travel.
How to choose the best portable projector for you
It's important to know what to look for when you're buying a portable projector.
By considering how you're going to use it, you'll get the right mix of features. We asked Luke Chen, senior business line manager at Viewsonic Europe, a display and projector specialist for his point of view (no pun intended).
First off, you need to think about the situations you're going to be using your projector in and find one that fits your requirements. Taking your smart projector on-the-go? Consider how well the projector achieves a portable design. Does it come with a carry handle? Or can it fold into a travel-ready container? If your projector is going to sit on your coffee table, make sure it says it's a "short throw."
Think about durability, LED technology avoids dimming projector issues, allowing smart projectors to shine brightly for up to 30,000 hours. LED light sources run much cooler than bulb-based light sources (meaning less fan noise). "Lamp-Free" is what to look for. It means you no longer have to rely on bulbs, which need to be replaced over time. They're eco-friendly, too. Lamp Free means no glass bulb is needed, which means no mercury.
Something else to consider is resolution. Smart projectors are much smaller than standard projectors, this makes resolution the first thing to go. For those who enjoy camping, and just want some form of entertainment next to the campfire, a lower resolution works. Mini projectors have the hardest time with resolution. But, not all smart projectors suffer from poor resolution. 4K Smart LED projectors are now on the market. If home entertainment is your preferred use, opt for 4K resolution. The highest-end smart projectors will call themselves "True 4K" projectors.
Next, up, apps. Your projector is only as smart as the apps running on it. So, it makes sense to have an app store enabled on your projector. Does the projector you're looking at come with app store integration? To work with apps, enable voice commands, and stream movies (all at the same time) look for a smart projector with ample processors, memory, and storage.
Most smart projectors have to compromise on sound. This is the only way to fit all the components into such a small size. If you don't already have a premium sound system integrated into your home theatre, opt for premium speakers. In short, there's no such thing as a one-size-fits-all projector.
How we tested the best portable projectors
We've tested many different types of projectors over the years, but when we were looking for the best portable projector, there were a few key considerations we needed to see.
The most obvious is portability. This means different things to different people. In the guide above we've made it clear that some designs are portable because you can move them from room to room, like the Anker Nebula Cosmos Laser 4K. Whereas others are pocket-sized, like the ASUS ZenBeam E1 Portable LED Projector. Both are, technically, 'portable' but to varying degrees and we've made that clear in the guide.
Usability is key with projectors. There's no point carrying one with you if it's a pain to set-up. So while we were testing these best portable projectors, we made sure that you can get up-and-running quickly, even if you've not had much experience with projectors in the past.
Brightness and picture quality varies in our guide above, but all are more than capable of projecting TV shows and movies at a decent quality. We were especially looking for projectors that offered a decent amount of brightness and resolution for their size and value for money, too. We've made it clear when you're likely going to get a dimmer experience, but in a tiny and affordable package, which might be more of a priority for some people.