The best cameras for vlogging 2023: top choices for every budget
Best
Contributions from
last updated
The best cameras for vlogging, whatever your budget
Whether you're creating content for YouTube, TikTok or Instagram, the best vlogging cameras make it easy to record high-quality vlogs for your audience. We've put together this expert guide to help you find the perfect tool for your vlogging needs and budget.
We think the best vlogging camera for most people right now is the Sony ZV-E1. It's a compact yet powerful tool for vlogging on the go, with an impressive 1-inch sensor and excellent autofocus for capturing crisp 4K video. If you need a more affordable option, we think the DJI Pocket 2 is the best budget shooting tool, with its three-axis gimbal head.
We've extensively tested all of the best vlogging cameras on the market, including the latest releases. In our expert reviews, we comprehensively assess the key features that matter when vlogging. That includes how well a camera's autofocus system detects and tracks subjects, and how effectively its image stabilization can smooth video when shooting handheld. We also check how easy each camera is to operate when vlogging in the real world, including the usability of touchscreen interfaces and accessory mounts.
Based on these objective assessments, we've ranked our favorite vlogging cameras below. Each entry has been included because it's the best option for a certain type of vlogger. Whether you're a seasoned vlogger or just starting out, our guide will help you find your ideal choice. If you're looking to shoot more than vlogs, be sure to check out our guide for the best video cameras.
The quick list
Short on buying time? Use our summary round-up as a shortcut to the best vlogging cameras for every need and budget. When you find one that fits your requirements, use the links beneath each entry to jump straight down to our in-depth explainers.
The best vlogging cameras in 2023
The best vlogging camera overall
Compact and powerful, we think the Sony ZV-1 nails what most people want from a small vlogging camera. Its compact packaging gives it excellent versatility, as do its hotshoe, mic port and fully articulating touchscreen. In testing, we found its real-time tracking and Eye AF to be the class of the field, while the 1-inch sensor was capable of producing crisp, detailed 4K/30p video.
Our review also confirmed that the ZV-1 offers a huge amount of depth for a compact camera, with a built-in ND filter and profiles like S-Log2 for those who want to embrace color grading. While the newer Sony ZV-1F offers a wider 20mm lens and smartphone-style interface for a lower price, its older contrast AF system and coldshoe mount mean it can't oust the original from the top spot. Nor can the Sony ZV-1 II, the pricier successor to the ZV-1 that features a wider lens but we don't feel does quite enough to merit the extra outlay. Sony is continuing to sell the ZV-1, and you won't find a finer compact vlogging camera right now.
Read our in-depth Sony ZV-1 review
The best budget vlogging camera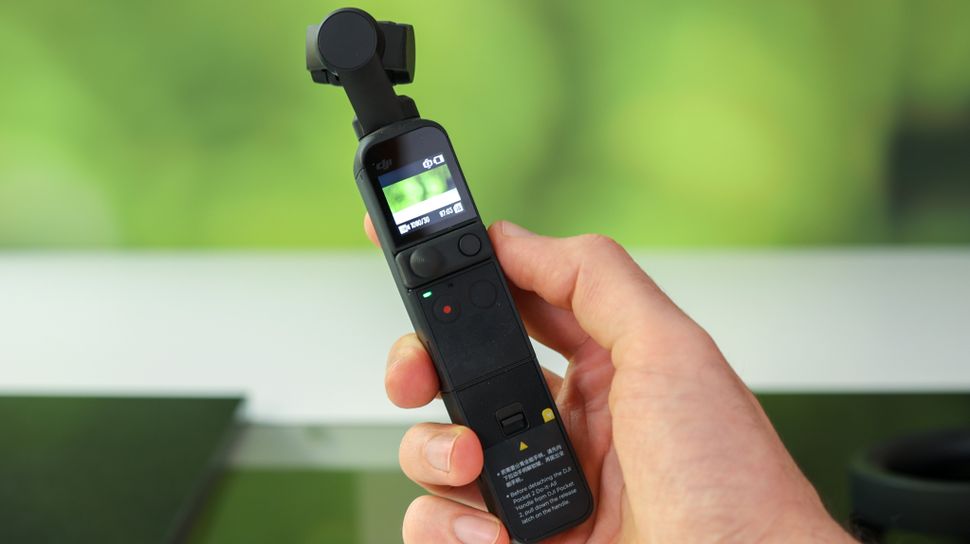 We were big fans of the original DJI Osmo Pocket. This sequel fixes a lot of its limitations and makes it the best compact option around for solo filmmakers. The Sony ZV-1 (above) trumps it for outright video quality, but if you tend to shoot a lot of walk-and-talk style clips, then the Pocket 2's combination of a three-axis gimbal and solid face-tracking could make it more appealing.
Compared to the Osmo Pocket (which remains on sale as a more affordable alternative), the DJI Pocket 2 brings a new larger sensor, a brighter lens, improved microphones and wider field of view, which means you don't have to hold it out at arm's length when talking to camera.
Plonk it down on a tripod base or surface, and it'll turn to keep you in shot as you walk around in front of it. Despite its larger sensor, we found in our review that the Pocket 2 still isn't an ideal camera for low light situations or high contrast scenes. That said, it's still a very nice upgrade versus using your phone in a gimbal. We also found that its improved four-mic audio setup means you get decent sound quality to match.
Read our in-depth DJI Pocket 2 review
The best premium vlogging camera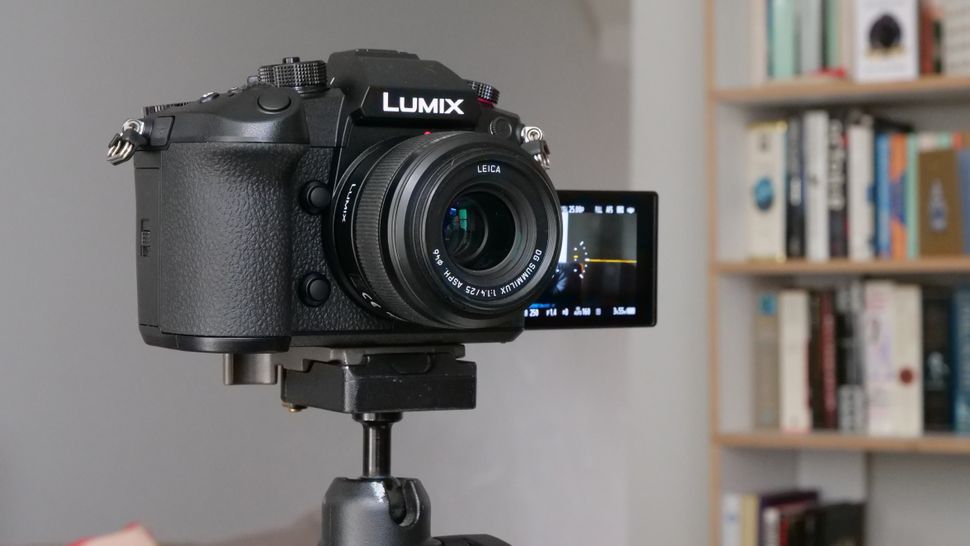 Panasonic's GH5 II was one of our favorite cameras for vloggers, offering plenty of creative potential in compact packaging. The GH6 tops it on almost every metric: equipped with a sharper 25.2MP Micro Four Thirds sensor, it can shoot 5.7K footage at 60fps. It also offers a massive arsenal of formats, frame rates and resolutions – including a larger catalogue of 10-bit modes – while forced-fan cooling means limitless recording times.
While it's marginally larger than the GH5 Mark II, it still retains a relatively portable form factor. Its robust build is complemented by familiar controls and new tally lights front and back. The 3-inch rear touchscreen flips, twists and tilts, while a second video record button on the front now makes it easier for vloggers to start rolling.
Connectivity options are comprehensive, although the GH6 does lack the live-streaming capabilities of the GH5 Mark II. There's still no phase detection AF either, although contrast-based autofocus performance does seem improved from the GH5 Mark II. Stabilization is superior too, courtesy of an algorithmic upgrade that makes the GH6 one of the best cameras for smoothing out walking motion in a natural way.
Read our in-depth Panasonic Lumix GH6 review
The best hybrid vlogging camera
The Fujifilm X-S20 takes everything that made the X-S10 one of our favorite vlogging cameras and introduces features that make it feel like a more user-friendly option for fledgling content creators. Inheriting the well-balanced body of the X-S10 means the X-S20 sits very comfortably in the hand, while our first impressions in testing found that simplified dials on the top plate make it easier to get to grips with what is quite an advanced shooting tool.
It also inherits the same 26.1MP X-Trans CMOS 4 sensor as the X-S10 and X-T4, which we already know from our previous tests is a top performer. The X-S20 boosts things further by offering 6K/30p 4:2:2 10-bit internal recording, which is close to overkill. Improved in-body image stabilization also worked well in testing. With a bigger battery on-board, we think this all adds up to a great mirrorless all-rounder.
Its price hike will be a drawback for many beginners, while the lack of weather sealing is a broader disappointment. The older X-S10 is still available at a lower price, but features such as a dedicated Vlog mode – which puts neat creative settings a tap away – make the X-S20 the more tempting proposition for vloggers.
Read our in-depth Fujifilm X-S20 review
The best full-frame vlogging camera
A good vlogging camera should be compact and easy to operate, boxes both ticked by the Sony ZV-E1. As the smallest, lightest full-frame camera with image stabilization, we found it a winner for solo vlogging. The ZV-E10 is even more portable, but you won't get the same video quality from its smaller APS-C sensor.
Our tests found the ZV-E1 capable of capturing crisp 4K 60p footage in all lighting conditions, thanks to a full-frame sensor borrowed from the revered A7S III. We were also impressed by its in-body image stabilization, which produced superbly smooth handheld footage that almost makes a gimbal unnecessary. Cutting-edge AI smarts also leave very little to fix after the fact: Auto Framing reliably tracks subjects across the image, which we think is a big win when you're recording alone.
It's not perfect for heavy use, with no cooling vents and just one card slot. We also found it tricky to pick out details on the vari-angle touchscreen when working outdoors. But if you're a content creator operating solo, we still think the ZV-E1 is the ultimate full-frame choice for 4K vlogging.
Read our in-depth Sony ZV-E1 review
The best beginner vlogging camera
The Nikon Z30 is a compact APS-C camera pitched squarely at vlogging beginners. With no viewfinder, it goes all in on a vari-angle touchscreen. Strikingly similar to the Sony ZV-E10, that setup makes it Nikon's smallest and cheapest APS-C mirrorless camera yet.
Despite its compact proportions, our tests found that a generous grip made the Z30 comfortable to handle, even when self-shooting. The 3.0-inch display was also intuitive to use. Flip it for vlogging and the camera switches to selfie mode, reliably tracking your face with sticky autofocus. What you can't do in selfie mode is visually check sound levels. With no headphone jack, this leaves audio monitoring to guesswork.
Nikon's APS-C lens range remains limited, but the 16-50mm kit glass is impressively sharp. And because the Z30 records using the whole width of the sensor, you can utilise the lens' full field of view. Electronic vibration reduction also stabilizes handheld vlogging, although its 1.3x crop is restrictive at arm's length. But with EV-R disabled, the Z30 can shoot uncropped 4K/30p and HD 120p video. Together with a range of color profiles and neat touches like a tally lamp, the Z30 shapes up as a competent offering for fledgling creators.
Read our in-depth Nikon Z30 review
The best mid-range vlogging camera
A full-frame camera will be overkill for most vloggers, but if you want to record vlogs using a larger sensor, we think the Panasonic S5 II is a good bet. It's lighter than the Panasonic GH5 (above), yet still feels solid in the hand. A tally light would be handy when working solo, but we otherwise found its controls intuitive in testing, with an articulating display that's crisp and useful for framing.
In our review, we found that the S5 II excels when shooting video. It produced excellent 6K/30p footage, with rich colors and wide dynamic range. Helpfully, it can record uncropped video using the full 3:2 aspect ratio of the sensor, which means you can easily crop content for different social platforms.
Panasonic has finally embraced phase detection AF for video on the S5 II. Paired with effective image stabilization, the result is dreamy smooth video even when shooting handheld. Depending on your lens choice, some vloggers will find the 1.5x crop on 4K/60p video limiting, while you'll need the premium S5 IIX for features like wireless IP streaming. Still, we think the S5 II is a compelling hybrid package for vloggers, especially with the excellent 20-60mm kit lens.
Read our in-depth Panasonic S5 II review
The best purpose-built vlogging camera
Purpose-built for vlogging, the Canon Powershot V10 is the first of a new breed designed to rival the phone in your pocket. To that end, it uses the same 1-inch sensor as the Powershot G7 X III from 2019, but optimised to work with a fixed 18mm F2.8 lens to rival the Sony ZV-1F. While dated in some ways, it has a natural advantage over most smartphones, producing sharp, detailed results in bright conditions, aided by subject-tracking that proved reliably sticky in testing.
We found its form factor curious during our review, with room for a few design improvements, but it handles well on the whole. Though it would benefit from better front-on visibility, the 2-inch flip-up touchscreen is useful for framing, while the simple control setup – including a big record button – proved pretty foolproof. We also found that its built-in stand makes life easier when working solo.
Digital image stabilization is a little jittery when smoothing footsteps, but this will likely improve with future firmware updates. Straightforward wireless live-streaming also enhances the camera's vlogging chops. So while it can't compete with the latest alternatives, the Powershot V10 makes sense as a pared-back choice for vloggers who want point-and-shoot simplicity.
Read our in-depth Canon Powershot V10
Also consider...
The best action camera for vlogging
If your vlogs are more adventurous, we think the GoPro Hero 11 Black is the best action cam for vlogging. It's physically the same as the GoPro Hero 10 Black, but internal upgrades include a larger Enduro battery as standard, so you can record for longer. Its new sensor also has an 8:9 aspect ratio, which unlocks the option to reframe footage for different channels without losing quality.
In our review, we found the updated user interface makes it easier to use, with 'Easy' and 'Pro' modes to suit your shooting skills. We also found that Horizon Lock and HyperSmooth 5.0 do a remarkable job of keeping videos perfectly level when vlogging handheld, letting you create content that you couldn't replicate with a smartphone.
Underwhelming low light performance means it isn't the perfect vlogging tool. Audio options are also limited, although the optional Creator Edition addresses this by bundling GoPro's Volta battery grip with Media and Light Mods for a more complete vlogging setup. You'll find better value from budget alternatives like the DJI Pocket 2, but the Hero 11 Black is a solid choice if you want a compact vlogging camera with rugged credentials.
Read our in-depth GoPro Hero 11 Black review
The best miniature vlogging camera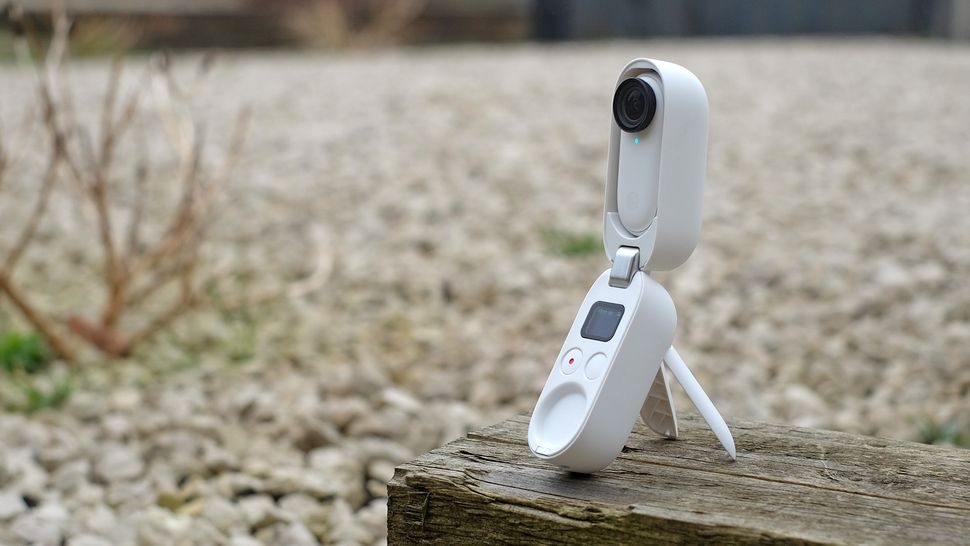 Few cameras offer the vlogging portability of the Insta360 Go 2. Hitting the scales at a mere 26.5g, the camera itself is a tiny, pared-back pebble that's capable of capturing detailed and dynamic 1440p footage at up to 50fps. In our review, we found its stabilization isn't up to GoPro standards, but the FlowState software does a reasonable job of mitigating walking motion, especially if you process video with your laptop rather than the Insta360 app. There's no display on the camera itself, which will be a dealbreaker for some, but the app can be used for a wireless video preview.
We did find the protective charging case very useful in testing: home to two buttons and an OLED readout, the controls and camera face the user when the Insta360 Go 2 is docked, making it an ideal handheld vlogging setup. The case also features fold-out legs for tripod duties and works as a remote for wireless camera control. At 30 minutes, battery life isn't the best, but with a single microphone that renders vocals with decent punch and clarity, the Insta360 Go 2 is an easy, properly pocketable option for recording quick clips and vlogs on the go.
Read our in-depth Insta360 Go 2 review
The best smartphone gimbal for vlogging
Today's smartphones are already excellent vlogging tools, but DJI's stabilized handles are a great way to add to your mobile's video skills. With a smaller battery than previous editions, the latest model also sacrifices power bank functionality in favor of a more refined, compact design.
In testing, we thought the OM 5 felt more elegant and premium than previous editions. We also felt that the option to extend it into a selfie stick added useful creative scope, even if it proved a little fiddly – and offered a less versatile roll range than the OM 4 before it. We found that the 3-axis gimbal still did a great job of keeping footage smooth and steady. Improved active tracking and ShotGuides in the Memo app were also a hit in testing. If you're happy to have a grip attached to your phone, this tool will transform it into a clever videography combo.
Read our in-depth DJI OM 5 review
How to choose the best vlogging camera
From premium webcams to mirrorless models, the best vlogging cameras come in a range of shapes and sizes. The features you need will vary depending on what and how you like to shoot.
If you're a solo filmmaker, for example, you'll probably want a camera with an articulating touchscreen which makes it much easier to frame shots when working by yourself. Equally, if a lot of your content involves speaking to the camera, you'll need an external microphone input to ensure you capture top-notch audio for your audience. Reliable face-tracking autofocus will also mean that your subject stays sharp, even if they move within the frame.
A lot of vloggers like to walk and talk at the same time. If this is your style, you should consider a camera with in-body image stabilization. This will help to smooth out any shaky motion caused by your footsteps and make footage much more watchable. Some cameras go a step further with an integrated gimbal which counteracts motion on several axes to stay level, like the DJI Pocket 2.
Almost all of the best vlogging cameras can now shoot in 4K resolution as standard. But it's important to look beyond resolution alone. High frame rates of 120fps and above will allow you to shoot stunning slow-motion footage, for example. And if post-processing is part of your workflow, 10-bit color depth will give you greater flexibility in the editing room.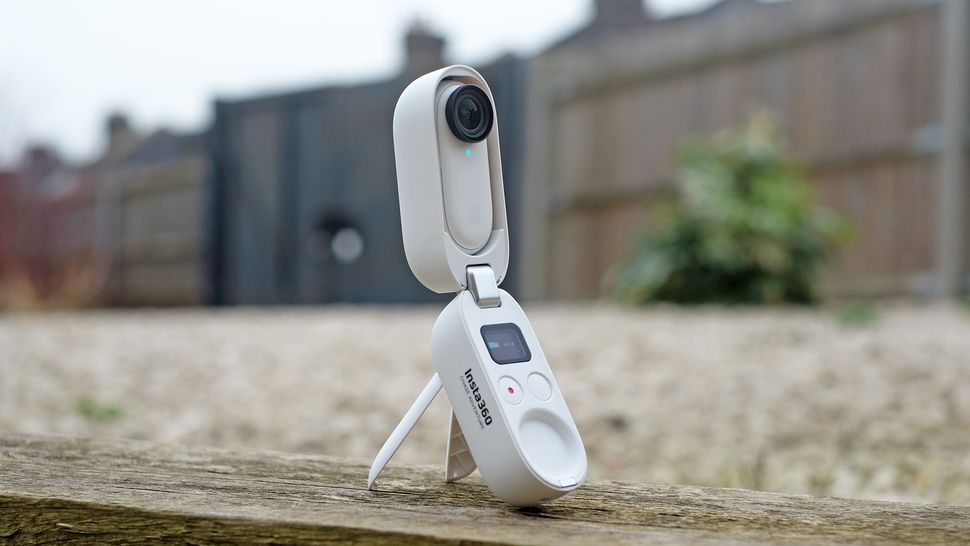 What kind of camera do vloggers use?
As you can tell from the buying advice above, vloggers use a wide range of different cameras depending on their specific needs.
Many vloggers favor mirrorless models for their combination of image quality, performance and flexibility. The best mirrorless vlogging cameras feature high-resolution sensors, in-body image stabilization for smoother footage, plus the option to swap lenses to suit different shooting scenarios – all in packages that are relatively portable. Mirrorless cameras are also more likely to feature ports for connecting external accessories, such as microphones, headphones and hot-shoe lights.
That said, some vloggers prefer to prioritize portability. Truly tiny cameras like the Insta360 Go 2 sacrifice total creative control in favor of quick, simple accessibility for capturing off-the-cuff footage. Compact cameras like the Sony ZV-1 can represent a good middle ground for a lot of vloggers, offering solid image quality and manual control options, yet still in a form factor that can comfortably slip into a pocket.
Other vloggers choose cameras which are specifically suited to their shooting needs. Rugged models like the GoPro Hero 10 Black, for example, offer advanced connectivity and live-streaming options, plus plenty of creative modes, in a sturdy package that makes it easy to shoot vlogs even in extreme weather conditions.
Vloggers who stream from a seated position will often favor a premium webcam like the Razer Kiyo Pro, which deftly fills a unique niche. Equally, those who want a dedicated tool to record while they walk-and-talk might use something like DJI's Pocket 2.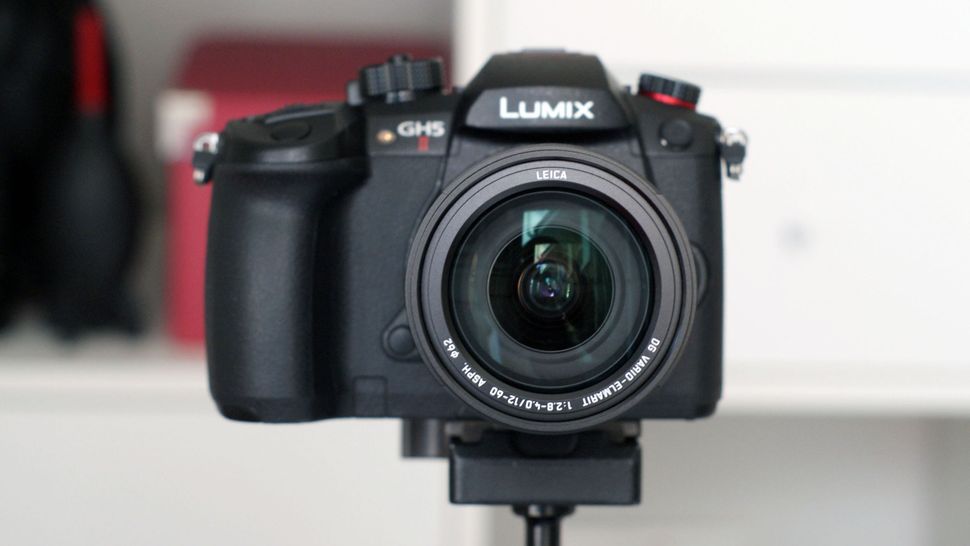 How we test vlogging cameras
The most important features for a vlogging camera are its video quality, autofocus, in-body image stabilization and audio options, so those are the main areas our tests focus on.
To review the video quality, we shoot at the camera's highest resolution and frame-rate in a variety of handheld scenes, including the popular walk-and-talk style, to see how it handles colors, skin tones, detail and rolling shutter. We also include high-contrast scenes to test how well the auto-exposure and white balance adapt to changes in lighting.
These tests are also a good opportunity to the test the vlogging camera's Face and Eye tracking autofocus, along with the quality of its stabilization (both electronic and mechanical, if available). Another thing we test in these scenes is an oft-overlooked part of the vlogging equation, the built-in microphones. If the camera has a microphone input, we'll also use it with an external lav mic to see how the quality compares to its internal audio.
Many of the latest vlogging cameras include additional features like flat color profiles, articulating touchscreens, built-in ND filters and, in Sony's case, a 'product showcase' feature that's ideal for those who run a YouTube channel from home. If available, we test all of these functions to see how they fare compared to their closest rivals, then wrap up our conclusions based on our various impressions of the camera's build quality, design, video quality, audio quality and features.