The Fujifilm X-S10 is one of the best small, mid-range mirrorless cameras you can buy. It packs much of the Fujifilm X-T4's shooting power into a smaller body with IBIS and great handling. It's a shame there's no official weather-proofing and the tracking autofocus is edged out by its Sony rivals, but those are the only weaknesses of an otherwise near-faultless performer. If you're looking for your first mirrorless camera or are considering switching from a DSLR, the X-S10 should be at the top of your shortlist.
Pros
+

Proven APS-C sensor

+

IBIS in a small body

+

Large grip and great handling

+

Strong video specs
Cons
-

No weather-proofing

-

Minor control annoyances

-

Limited touchscreen menu system
Why you can trust TechRadar We spend hours testing every product or service we review, so you can be sure you're buying the best. Find out more about how we test.
Two-minute review
The Fujifilm X-S10 is a bold new step in the company's quest to make the ultimate mid-range mirrorless camera. By taking many of the highlights from its flagship Fujifilm X-T4, including in-body image stabilization (IBIS), and shoehorning them into a smaller, cheaper body, it's made one of the best cameras so far for beginners and hobbyist shooters.
Until now, the role of deputy to Fujifilm's X-T flagships has been filled by excellent little cameras like the Fujifilm X-T30. The X-S10 isn't a replacement for that model, but instead an attempt to win over new fans who have so far been resistant to Fujifilm's charms.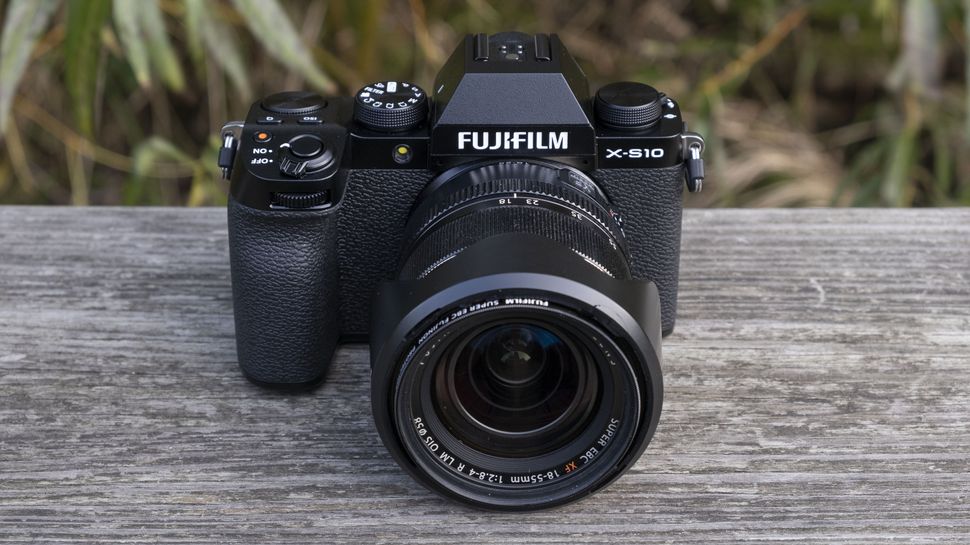 Like the X-T4, the Fujifilm X-S10 has been built as a true all-rounder that's as comfortable shooting video as it is stills. You get the tried-and-tested combination of the 26.1MP X-Trans CMOS 4 sensor and X-Processor 4, plus the ability to shoot uncropped 4K/30p video.
A slightly uncharacteristic change of tack, though, can be found in the X-S10's handling and controls. Rather than Fujifilm's signature array of manual dials, you get a PASM (Program, Aperture, Shutter Speed, Manual) dial and a chunky handgrip that are more reminiscent of classic DSLRs.
In short, if you have an older Canon or Nikon DSLR, and fancy trading it in for something smaller and more modern, you'll feel right at home with the X-S10.
How does the X-S10 perform compared to its rivals? Overall, very well. Stills image quality is identical to the Fujifilm X-T4, a camera that's currently second in our guide to the best cameras for photography. The quality and flexibility of the X-S10's 4K video is also right up there with rivals like the Nikon Z50 and Sony A6600, making it one of the best YouTube cameras.
Perhaps the X-S10's only real weakness is its autofocus. Its AF performance is still impressive in most situations, but the subject-tracking isn't quite as advanced as the Sony system seen on cameras like the Sony A6600.
Still, while it might not be the first choice for action shooters, the X-S10's IBIS system is a real bonus for such a small camera. If you do a lot of handheld shooting, this can help you preserve image quality by letting you use longer shutter speeds. This feature alone gives it a big edge over the Nikon Z50, Fujifilm X-T30 and even the Fujifilm X-T3.
When you combine this sensor-based stabilization with the Fujfilm X-S10's other charms – retro styling, a great grip, excellent image and video quality – you have one of the best mirrorless cameras available at this price, and for those who want maximum flexibility, it's also one of the best travel cameras. The lack of weather-proofing and slightly inferior autofocus are the only black marks on an otherwise superb camera.
Fujifilm X-S10 release date and price
The Fujifilm X-S10 is available to buy now for a pretty reasonable $999 / £949 / AU$1,699, and in various kit lens bundles too.
The XC15-45mm kit bundle, which isn't available in the US, costs £999 / AU$1,849. If you can, we'd recommend getting the XF18-55mm kit lens bundle for $1,399 / £1,299 / AU$2,099.95 over that XC kit lens. And if you need an even more versatile lens, the X-S10 will also be available with the newer XF16-80mm for $1,499.95 / £1,399 / AU$2,499.
This pricing is pretty reasonable considering the Fujifilm X-S10's range of skills. At launch, the Fujifilm X-T4 cost $1,699 / £1,549 / AU$2,999 (body-only).
With the X-S10 packing the same sensor and processor as the latter, it's a great alternative for anyone who's been put off by the X-T4's size, complexity and price. Though that depends a little on whether you'll be okay with its quirks and limitations...
Design and handling
The Fujifilm X-S10's design is simultaneously vintage Fujifilm and a big change from its other mirrorless cameras.
At first glance, it looks like a slightly smaller Fujifilm X-T4 with a larger, deeper grip. Because of that grip, the size difference isn't, in practical terms, much different from the X-T4. You won't be slipping the X-S10 into your pocket, but it is noticeably lighter than its sibling at 465g (making it about three quarters the weight of the X-T4). A magnesium alloy build also gives it a more premium feel than cheaper models like the Fujifilm X-T200.
It's only really when you come to use the X-S10 that you notice the big changes from the rest of the X-series. Fujifilm cameras are renowned for their dial-heavy approach to controls, with most offering a triplet of wheels for tweaking your shutter speed, ISO and exposure compensation.
Those are (gasp) not on the X-S10.
Image 1 of 3
Instead, you get the PASM dial (Program, Aperture, Shutter Speed, Manual) approach favored by most other cameras manufacturers. The reason for this, Fujifilm told us, is because it found that many people were put off from switching to X-Series cameras purely because they found its usual dials too confusing.
Neither approach is objectively better than the other, just like Apple and Android's differing takes on the smartphone homescreen. But it's fair to say that while the Fujifilm purists might not be impressed, anyone coming from the likes of Sony or Nikon will feel instantly at home with the X-S10.
Not that the X-S10 is a complete ergonomic success. We found its power button to be too slippery for our liking, making it hard to turn the camera on quickly without looking. This is probably the result of its close proximity to the front command dial, but it was a slight annoyance.
The lack of a d-pad on the back of the X-S10 also makes it a trickier to cycle through its menus than on higher-end X-series cameras, with the small AF joystick instead taking on these duties. Still, we're glad to see an AF joystick included for choosing autofocus points, and the X-S10 is otherwise a very enjoyable camera to shoot with.
Image 1 of 3
That generous grip is a real bonus for an otherwise small mirrorless camera. Of course, this means it's nowhere near as compact as the Fujifilm X-T30, which can slip into pockets when paired with a pancake lens. But simply being able to hold the X-S10 one-handed by its grip was a real joy, and the grip also helped to balance out longer lenses like the XF50-140mm. This alone makes it a great alternative to the Nikon Z50 and Sony A6600.
The X-S10's viewfinder (a 2.36m-dot affair with a maximum 100fps refresh rate) is solid rather than spectacular, while its vari-angle touchscreen (which flips round 180-degrees to the front) makes it versatile for both video and stills. Photographers may prefer the tilting screen seen on stills-focused cameras like the X-T30, but this screen's flexibility is definitely a bonus for solo videographers or vloggers.
Those vlogging credentials are strengthened by the inclusion of a 3.5mm mic input for using external microphones. This sits above a USB-C port (which can double as a headphone port via an optional adaptor) and a Micro HDMI port, which lets you output 10-bit 4:2:2 video to an external recorder.
Take a closer look at these ports, though, and you'll discover the Fujifilm X-S10's main design weakness when compared to pricier cameras – there's no weather-proofing at all. If you shoot regularly in unpredictable weather, that may push you back towards the weather-sealed Nikon Z50.
Specs and features
The Fujifilm X-S10 certainly packs a lot of power and features into its relatively compact body – and the most notable of these is in-body image stabilization (IBIS).
We've seen small, APS-C cameras with IBIS before – the Sony A6600, for example – but none that are as affordable as the X-S10. The most obvious rival at this price point is the Olympus OM-D E-M5 Mark III, which has superb stabilization but a smaller Four Thirds sensor. There are also question marks over the longevity of cameras like the E-M5 series, given Olympus' decision to exit the camera business.
Image 1 of 3
IBIS systems are useful for shooting both video and stills – they can counteract handheld jitters and preserve photo quality by letting you shoot at longer shutter speeds and lower ISOs. But they're not all made equal. The X-S10's five-axis IBIS system is 30% smaller and lighter than the one in the Fujifilm X-T4, and slightly less effective.
Still, there isn't much in it, with the X-S10 managing a maximum of six stops of compensation when paired with most X-series lenses, compared to the X-T4's 6.5 stops. You can read more about the X-S10's stabilization in the 'performance' section below, but broadly speaking it's not dissimilar to the X-T4. We found the latter's stabilization claims to be a little overstated in practice and there's no doubt that you'll still need a gimbal for truly smooth walking video footage.
The inclusion of IBIS is a huge boost for anyone who has (or is considering buying) non-stabilized prime lenses like the XF90mm f/2. Fujifilm has also included a few digital stabilization options to bolster the X-S10's sensor-based stabilization. If you don't mind your footage being cropped by 10%, these will add an additional smoothness to your videos.
Image 1 of 3
How does the Fujifilm X-S10 stack up in other areas? It's a mid-range camera, so performance is naturally a notch below flagship level, but features like continuous shooting and video are in the 'good enough' zone for most people.
The X-S10 can shoot at 8fps in burst mode (using the mechanical shutter). That's some way short of the Fujifilm X-T4's 15fps maximum, but if you switch to the electronic shutter (which can create issues like rolling shutter with fast-moving objects or panning) it can reach 20fps without any crop.
It's also a very capable little camera for video and vlogging. Like the Nikon Z50, it can shoot uncropped 4K/30p video and Full HD at up to 240p for a 10x slow motion effect.
Unlike its Nikon rival, though, the X-S10 does also offer F-Log recording (for preserving more dynamic range than compressed formats) and the option of outputting 4:2:2 10-bit video via its micro HDMI port. Throw IBIS into the equation, and there's no doubt the X-S10 is one of the most powerful video cameras at this size and price.
The X-S10 is also one of Fujifilm's most user-friendly cameras so far. The X-S10's 'auto' mode is now much more powerful – it lets you shoot raw photos (alongside the usual JPEGs), and there's now the option of choosing from three different AF modes.
Fujifilm has also added an 'auto' film simulations option to the camera's 'auto' mode, which sees the camera choose between 'Provia', 'Velvia' and 'Astia', depending on what suits the scene best. If you're not familiar with Fuji's film simulations, they're essentially subtle filters that recall the look of certain types of film, and are one of the main reasons why the X-Series make such great point-and-shoot cameras.
Adding an 'auto' mode to these makes sense, but it's pretty easy to choose from the much broader range of 18 film simulations by turning the camera's Function dial.
Performance
The X-S10 is a great little all-rounder on paper, but how does it perform in the real world? Overall, it's very competitive with rivals at this price and size. The real star is its IBIS system, but the X-S10's autofocus, burst shooting and battery life are all more mid-range than high-end – hence the price tag.
For general shooting, the X-S10's autofocus is very reliable and on a par with the X-T4. While the performance naturally varies depending on which lens you're using, its Face and Eye detection AF was very reliable – even when used with lenses like the XF 50mm f/1.0 WR.
Slightly less impressive was the tracking autofocus. Like the X-T4 (and now the X-T3, thanks to its recent firmware upgrade), you now get a little box in 'wide/tracking' AF mode that lets you pick a subject in the frame to lock onto as you recompose. In our tests, this worked fine when the subject was close and contrasted well against the background, but more slightly distant subjects – for example, ducks on the water – proved too difficult to track.
Image 1 of 5
Fujifilm's autofocus systems have certainly come a long way. But in demanding situations they still lag behind class-leading systems like Sony's Real-time tracking AF. You also don't get bonuses like Animal Eye AF, which can be found on higher-end cameras. Still, for general shooting, the X-S10's autofocus is more than good enough for most situations.
One of the biggest performance differences between the X-S10 and X-T4 is burst shooting. The X-S10's fairly average max of 8fps (with the mechanical shutter) and limited buffer means it isn't the most powerful tool when it comes to shooting sports and action scenes. At 8fps, the buffer hits its limit after only 23 raw files (about three seconds of shooting) or 105 JPEGs. While it's possible to shoot at 20fps using the electronic shutter, you then only get 17 raw files or 32 JPEGs.
To be fair, cameras at the size and price aren't professional sports cameras. But this performance does lag behind rivals like the Sony A6600 and, if you do shoot a lot of action scenes at high frame-rates, then it's worth spending more on the likes of the Fujifilm X-T4.
The X-T4 almost doubles the X-S10's buffer depth when shooting at 8fps and can rattle off frames at an impressive 15fps using the mechanical shutter. The X-T4 also has a superior battery that lasts almost twice as long as the X-S10's fairly average 325-shot life.
Still, the X-S10 does have one important trump card over its rivals – a very impressive and useful IBIS system. This five-axis affair is only slightly less powerful than the X-T4's IBIS (by around half a stop) and we found it performed similarly.
This means we didn't quite get the claimed 5.5 stops of stabilization on lenses like the Fujifilm XF18-55mm f/2.8-4, with the X-S10 more reliably giving us around four stops of compensation. That's still very useful and means you can get very usable handhold shots at shutter speeds as low as 1/5th second.
Considering some rivals like the Canon EOS M6 Mark II and the Nikon Z50 don't even have an IBIS system, this is a big boon and is very helpful for smoothing out handheld jitters in video too.
Image and video quality
The X-S10 uses the same 26.1MP back-illuminated sensor as the Fujifilm X-T4 and Fujifilm X-T30 – it's a tried-and-tested performer that's still the best of its kind.
Of course, you won't get quite the same level of raw editing flexibility as you might with a full-frame camera, but the inclusion of IBIS helps preserve image quality in challenging conditions.
One of the benefits of X-series cameras is their ability to produce great out-of-camera JPEGs – whether or not you use the 18 Film Simulations, that continues to be the case here.
Image 1 of 6
The native ISO range is 160-12,800, and we had no issues shooting at ISO 6400. In fact, even ISO 12800 is perfectly clean and usable, despite some luminance noise. Dynamic range is also very impressive, particularly when you take advantage of the built-in 'DR' options in the image quality menu.
We really like the Fujifilm 'color science' and photos have a nice amount of detail, too. If you like playing around with colors without doing long editing sessions at your computer, then those Film Simulations are a real bonus.
Based on Fujifilm's film stock, the simulations are great for giving your snaps some atmosphere or character, without overdoing the effect. We enjoyed shooting with Velvia for an extra pop of color on grey days, while Eterna is another great option for stills and video. Like shooting in black-and-white? You're covered here too, thanks to Acros or the standard Monochrome mode.
Image 1 of 18
This impressive image quality extends to video, too. You get a lot of control over your video recording, which now has a dedicated menu system, and the X-S10 shoots uncropped 4K/30p video or Full HD at up to 240p, which produces noisy but usable slo-mo. Unlike the Fujifilm X-T30, you can also shoot 4K for up to 30 minutes uninterrupted (compared to ten minutes on the X-T30).
It's a shame that full subject tracking isn't available in video, but you do get Face and Eye Detection AF, which is pretty reliable (again, as long as your subject is fairly close). The X-S10 records 8-bit 4:2:0 internally, but advanced video shooters also get the option of outputting a 10-bit 4:2:2 signal via the HDMI port.
Overall, the Fujifilm X-S10 is one of the best video cameras you can buy at this price (with perhaps only the pricier Sony A6600 coming close) and is a very good option for vloggers who want to shoot a generous side of high-quality stills.
Should I buy the Fujifilm X-S10?
Buy it if...
You want an affordable mirrorless all-rounder
Okay, the Fujifilm X-S10 isn't exactly a budget camera, but we'd say it's pound-for-pound the best all-rounder you can buy at this price. Considering you get a premium body, IBIS, a versatile screen, impressive image quality and a lovely retro design, it offers a lot for the money. The only downside is the amount you'll be tempted into spending on prime lenses.
You mainly shoot handheld rather than on tripods
The combination of the X-S10's large grip and IBIS system makes it a joy to shoot with handheld. Unless you want a pocketable camera, this makes it a better option than the older Fujifilm X-T30. It's helpful for ironing out jitter when shooting video too, though if you do a lot of vlogging you may still want to consider using it with a gimbal.
You're coming from an older Canon or Nikon DSLR
The X-S10 is unusual for Fujifilm because it uses the 'PASM' dial seen on DSLRs from the likes of Canon and Nikon, instead of the company's usual array of manual dials. While this confuse Fujifilm traditionalists, it does make the X-S10 a good option for those coming from other camera systems.
Don't buy it if...
You mainly shoot action and sports
The X-S10 isn't a bad camera for shooting speedy subjects and is perfectly up to family pet portraits. But compared to rivals like the Sony A6600, its 8fps continuous shooting and relatively limited buffer mean it isn't the best option for rattling off bursts at fast-moving sportspeople.
You want class-leading autofocus
Fujifilm's autofocus is much-improved from a few years ago and you get pretty reliable Face/Eye detection AF here. But its subject-tracking isn't always rock-solid and at this price it's edged out by the likes of the Sony A6600 and Nikon Z50, which now has Animal Detection AF.
You're a Fujifilm traditionalist who needs weather-proofing
The flipside of the X-S10's courting of non-Fujifilm users with that PASM control dial is that fans of the company's traditional manual dials might be put off. If you need a dedicated ISO dial and weather-proofing, see if you can stretch to the Fujifilm X-T4 instead.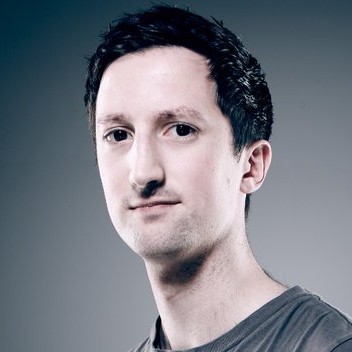 Mark is TechRadar's Senior news editor. Having worked in tech journalism for a ludicrous 17 years, Mark is now attempting to break the world record for the number of camera bags hoarded by one person. He was previously Cameras Editor at Trusted Reviews, Acting editor on Stuff.tv, as well as Features editor and Reviews editor on Stuff magazine. As a freelancer, he's contributed to titles including The Sunday Times, FourFourTwo and Arena. And in a former life, he also won The Daily Telegraph's Young Sportswriter of the Year. But that was before he discovered the strange joys of getting up at 4am for a photo shoot in London's Square Mile.