The best camera for photography 2023: top picks for every budget
Best
Contributions from
last updated
The best camera for photography, whatever your budget
VERDICT
REASONS TO BUY
REASONS TO AVOID
QUICK MENU
1. The list in brief
2. Best overall
3. Best for pro stills
4. Best for beginners
5. Best APS-C
6. Best Micro Four Thirds
7. Best for Canon fans
8. Best for Nikon fans
9. Best premium compact
10. Best beginner DSLR
11. Best instant camera
12. Best high-res full-frame
13. Best sports hybrid
14. Best for image quality
15. How to choose
16. How we test
Whether you're a new enthusiast or experienced shooter, the best cameras for photography have the skills to upgrade your stills game. We've extensively tested the top options from the biggest names in photography, including Canon, Nikon, Sony, Fujifilm, Panasonic and more. You'll find our favorites ranked in the list below, spanning a range of budgets.
We think the best camera for photography overall is the Sony A7 IV. With an impressive full-frame sensor and top-spec autofocus, it's a powerful all-rounder that can tackle almost any kind of photography. If that's beyond your budget, the Canon EOS R10 is our favorite entry-level option. Though it lacks the features of a premium model, its compact build and modern autofocus abilities make it the best beginner camera you can buy.
From premium compacts to full-frame flagships, our guide covers the top photography cameras in every genre, divided by skill level: enthusiast, novice and advanced. Each entry has been thoroughly reviewed to check how it performs in the real world. Our expert testers go beyond the specs to assess every camera in depth. Besides overall image quality, we see how cameras feel in the hand, how well they perform in different shooting conditions, and whether their promised features actually deliver.
Whatever your expectations, our comprehensive guide narrows down the options to help make your decision easier. We've highlighted the benefits and drawbacks of every camera, and offered expert answers to common queries. We've also included direct links to the best deals available right now.
Written by
Tim is TechRadar's Cameras editor, with over 15 years in the photo video industry and most of those in the world of tech journalism, Tim has developed a deeply technical knowledge and practical experience with all things camera related. He notes, "it's not been easy to curate this guide because, there are so many incredible options out there, but we've put together options for all levels and for particular kinds of photography. A huge part of the enthusiast and advanced camera market is hybrid now, so if you're only interested in photography you might be able to save yourself a bit of money by opting for a photo-oriented camera."
The quick list
If you're looking for a shortcut to the best camera, the quick round-up below will give you an instant overview of the top options. When you find one that suits your needs and budget, use the links to jump to an in-depth summary.
Best overall
The best full-frame hybrid overall
With excellent autofocus, image quality and video features, the Sony A7 IV is every bit the modern mirrorless hybrid.
Best for pros
The best professional camera for stills
A versatile photography tool with powerful autofocus and a proven form factor, the EOS R5 is Canon's best stills camera to date.
Best for beginners
The best camera for beginners
With a compact build, good handling and modern autofocus, the Canon EOS R10 represents excellent value for beginners.
Best APS-C
The best APS-C camera for enthusiasts
Majoring on resolution, the Fujifilm X-T5 is the ideal crop-sensor flagship for those who favor detail over outright performance.
Best Micro Four Thirds
The best Micro Four Thirds camera
Lovely in the hand and versatile to shoot with, the OM System OM-1 delivers solid performance with its 20MP stacked sensor.
Best for Canon fans
The best for Canon fans
Best-in-class autofocus, excellent stabilization and rapid burst speeds make this the best stills camera for Canon enthusiasts.
Load the next 7 products...
Best for Nikon fans
The best for Nikon enthusiasts
Polished handling, rapid burst speeds and top build quality help the Nikon Z6 II improve on one of our favorite mirrorless cameras.
Best premium compact
The best premium compact
With a fixed focal length that's perfect for street photography, the Fujifilm X100V is a premium compact with plenty of retro style.
Best beginner DSLR
The best beginner DSLR
Excellent image quality, superb battery life and an intuitive interface mean the Nikon D3500 is still a fantastic value option for novices.
Best instant camera
10. Fujifilm Instax Mini 12
The best instant camera
If you want an instant camera that's easy to use, cheap to refill and capable of producing vibrant prints, the Instax Mini 12 is it.
Best high-res full-frame
The best high-res full-frame camera
With a huge pixel count and superb autofocus, the Sony A7R V delivers outstanding stills when paired with a top-tier lens.
Best sports hybrid
The best pro hybrid for sports and wildlife
Built like a rugged DSLR, the Z9 is Nikon's most powerful camera ever, complete with an electronic-only shutter and 8K video.
Best for image quality
The best for outright image quality
Setting a new benchmark for medium format cameras, the X2D 100C is Hasselblad's most versatile model yet.
The best camera for photography 2023
Why you can trust TechRadar We spend hours testing every product or service we review, so you can be sure you're buying the best. Find out more about how we test.
Below you'll find full write-ups for each of the best cameras in our list. We've tested each one extensively, so you can be sure that our recommendations can be trusted.
The best full-frame hybrid overall
The best full-frame hybrid for enthusiasts
Specifications
Monitor:
3.0-inch vari-angle touchscreen, 1,037K dots
Maximum continuous shooting rate:
10fps
Reasons to buy
+
Impressive 33MP sensor
+
Class-leading autofocus
+
Vari-angle screen
Reasons to avoid
-
Heavily cropped 4K footage
-
Complex for beginners
Buy it if:
✅ You need an all-rounder for stills and video: There are better specialist cameras out there, but as an all-rounder the A7 IV is the best mirrorless camera you can buy.
✅ Your Sony A7 III is starting to feel its age: The A7 IV is a big upgrade on the A7 III in almost every respect, including resolution, autofocus, usability and video.
Don't buy it if:
❌ You mostly shoot sports and action: While the Sony A7 IV is by no means a slow coach, there are better cameras out there for pro sports performance.
❌ Value is your main priority: You'll get more bang for your buck with a more specialist camera and an extra lens or two with the money saved.
Following Sony's fantastic A7 III was never going to be easy, but the A7 IV is a worthy successor. Equipped with a new 33MP sensor that's solid for both stills and video, it's a compelling mirrorless option for hybrid shooters. In our review, we called it a "brilliant blend of photographic power and video versatility".
A price hike does mean it's no longer an entry-level full-frame camera like its forebear, but a Bionz XR processor powers solid performance that broadly justifies the extra expenditure.
The A7 IV also benefits from Sony's class-leading autofocus skills, plus upgrades like 10-bit video support and a seemingly endless buffer depth with a CFexpress card. Our tests found this buffer to be more generous than most photographers will need, with image quality leaning more towards resolution than low-light performance.
No hybrid camera comes without compromise: there is a heavy crop on 4K footage and it isn't the simplest camera for beginners to use. The Canon EOS R6 also offers faster burst speeds for a similar price. But considering its powerful versatility and higher resolution, the Sony A7 IV deservedly takes our number one spot.
Read our in-depth Sony A7 IV review
---
The best pro camera for stills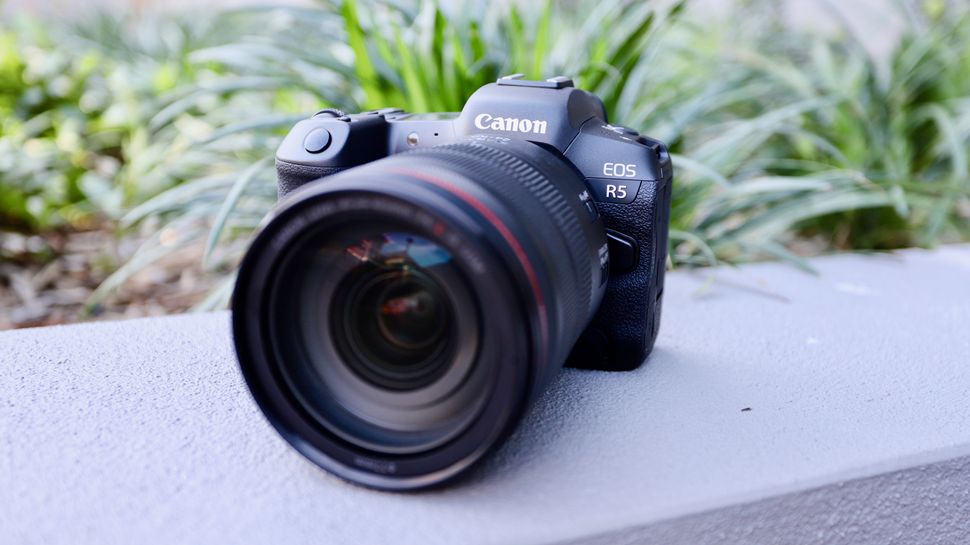 The best stills camera Canon has ever made
Specifications
Screen type:
3.15-inch tilting touchscreen, 2.1m-dots
Continuous shooting speed:
20fps
User level:
Enthusiast / expert