Two-minute review
The Sony A7 IV is the best mirrorless all-rounder you can buy right now. It isn't as powerful as the Sony A1, as fast as the Canon EOS R6, or as affordable as the Fujifilm X-T4, but it does offer a brilliant blend of photographic power and video versatility. By effectively combining two cameras in one, it's the best example so far of the hybrid convenience that modern mirrorless cameras can offer.
Three years on from the classic A7 III, the A7 IV brings improvements across the board, including a new 33MP sensor, Bionz XR processor and significantly upgraded video skills.
Its autofocus system may have now been trumped by the AI-powered tracking of the Sony A7R V, but it still offers some of the best AF skills we've seen outside of professional sports cameras. Whether you're shooting photos or video, the Sony A7 IV does an unerringly good job of sticking to your chosen subject and, in the case of people and animals, locking focus onto their eyes.
With a cropped 4K/60p mode and rolling shutter issues, it isn't quite the perfect video camera. But with support for 10-bit video, no recording limits and new tricks like focus breathing compensation, it does offer more than enough quality and flexibility for photographers who are increasingly looking to shoot an equivalent amount of video.
As always with all-rounder cameras, there are some small compromises on the A7 IV. Its outright image quality isn't actually a big jump up from the Sony A7 III, with the extra detail from that resolution boost somewhat counter-balanced by some understandable noise at higher ISOs. This means that you may well want to look out for discounts on the A7 III in the Black Friday camera deals, as well as E-mount lenses in the Black Friday deals.
The A7 IV's battery life, in-body image stabilization and burst shooting speeds are also merely average rather than class-leading. This also isn't exactly a discreet camera for travel or street shooting either, nor a light one for long landscape hikes. If that's important to you, we'd recommend checking out APS-C cameras like the Fujifilm X-T4 (and imminent Fujifilm X-T5).
Sony A7 IV specs
Sensor: 33MP full-frame
AF points: 759-point hybrid phase/contrast-detect
Video: 4K/30p, or 4K/60p with Super35 crop
Viewfinder: 3.69 million-dot Quad VGA EVF
Memory cards: 1x CFexpress Type A/SD UHS-II, 1x SD UHS-II
LCD: 3-inch fully articulating touchscreen, 1.04m dots
Max burst: 10fps, up to 828 raw+JPEG (with CFexpress Type A card)
Connectivity: Wi-Fi, Bluetooth
Size: 131.3 x 96.4 x 79.8mm
Weight: 658g (with card and battery)
And then there's the price tag. At $2,499 / £2,400 / AU$$4,299 (body only), it's moved into another bracket compared to the entry-level A7 III. For those who are new to full-frame cameras, it's arguably overkill when you consider the existence of the Nikon Z5 ($1,699 / £1,719 / AU$3,099) and Panasonic Lumix S5 ($1,999 / £1,799 / AU$3,199). That spare change could buy you a very nice lens to support your preferred style of photography or video.
But if you do shoot a fairly balanced mix of photos and video, and need a powerful hybrid camera that'll last you for years, then the Sony A7 IV should be right at the top of your shopping list.
With Sony's latest G Master lenses on hand to make the most of that 33MP resolution, it offers pro-level quality that just about gives it the edge over the Canon EOS R5 and Canon EOS R6, even if those cameras do offer superior burst-shooting speeds. It's undoubtedly one of the best cameras for photography, and a fine choice for video, too. Read on for our full Sony A7 IV review.
Sony A7 IV release date and price
Available to buy now for $2,499 / £2,400 / AU$$4,299
A price jump from the Sony A7 III
Similar price to the Canon EOS R6
The Sony A7 IV went on sale in December 2021 for $2,499 / £2,400 / AU$$4,299. Early stock levels were quite low, but at the time of writing those issues have now eased and the camera is widely available.
The A7 IV's price is a hike of around 20%-30% over the Sony A7 III, depending on which region you're in – this pushes the A7 IV away from its 'entry-level' full-frame heritage, though it remains a more affordable all-rounder than the Sony A1 and new high-resolution Sony A7R V.
This premium may lead many photographers and videographers to think twice before hitting the 'buy' button, particularly as lower-powered but impressive alternatives like the Nikon Z5 are less than half the price.
But when you consider the A7 IV's across-the-board upgrades, and its impressive hybrid power, that price tag isn't too excessive compared to the competition. Its closest rival is the Canon EOS R6 ($2,499 / £2,499 / AU$4,499), which is lower-resolution at 20MP, but offers faster 20fps burst speeds.
Sony A7 IV review: design
Modern 3.69-million dot electronic viewfinder
Useful vari-angle touchscreen with Sony's latest UI
Takes CFexpress Type A cards, which are rarer than Type B
The Sony A7 IV might look like a clone of its predecessor, but there are quite a few subtle upgrades that collectively make it a much more enjoyable camera to use.
On the top you'll find an improved electronic viewfinder (EVF) with a 3.69-million dot resolution and 120fps refresh rate. While this is now fairly standard at this price – you'll find an almost identical viewfinder on the Canon EOS R6 – it is a much-needed upgrade and performs particularly well when you're trying to track moving subjects.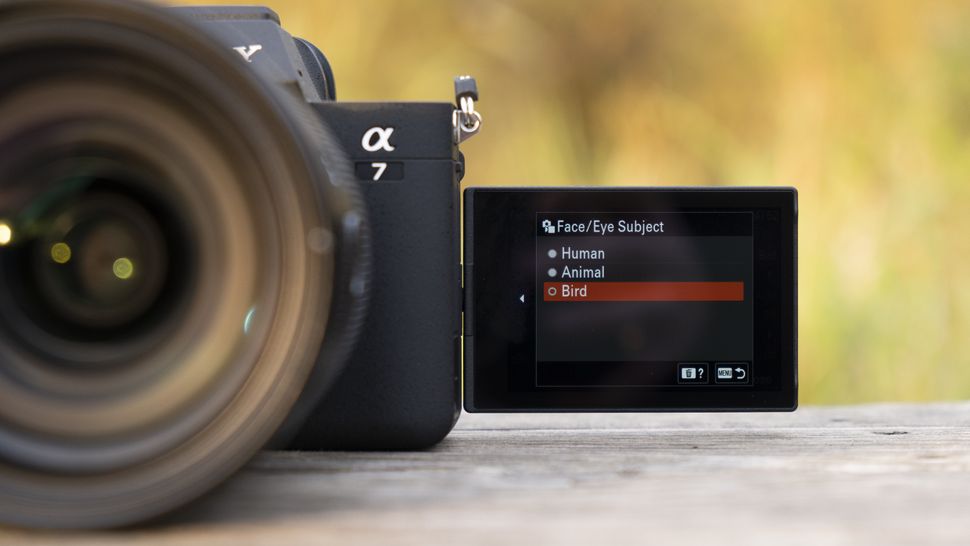 Below the EVF there's a new vari-angle touchscreen. This can swivel around to face the direction you're shooting in, which is a big bonus for solo video shooters. Photographers may prefer the more old-school tilt-screen found on the Sony A1, though.
Delve into the menus on this screen and you'll find they also have Sony's latest UI, first seen on the Sony A7S III. These are a major improvement on the labyrinthine menus seen on older Sony Alpha cameras and respond to touch.
In the hand, the A7 IV's grip feels more substantial than its predecessor, but otherwise it'll be comfortably familiar to anyone who's used an Alpha camera before. Beneath the mode dial, there's a new ring that lets you flick between stills, movies and 'S&Q' mode (for recording slow-mo footage and timelapses). There's also a new dedicated red 'record' button for shooting video and a lockable exposure compensation dial.
Elsewhere, everything is where you'd expect to find it, with a nicely-balanced joystick for choosing AF points, a pronounced AF-On button for back-button focusing, and a rear scroll wheel that has a useful resistance to stop you from accidentally changing your shutter speed.
One additional bonus on top of the A7 IV is Sony's Multi-Interface hotshoe. This means you can plug in external microphones like Sony's ECM-B1M and ECM-W2BT without needing any extra cables or a power source. It's another big string to the A7 IV's video-shooting bow, compared to its predecessor.
But the news is slightly more mixed when it comes to the A7 IV's card slots. Unlike the Sony A7 III, it does now have a CFexpress Type A slot. These newer cards give you write speeds of up to 700MB/s, which effectively gives you an unlimited buffer during continuously shooting.
But CFexpress Type A cards are also rarer and pricier than the Type B cards favored by Nikon, Canon and Panasonic, so you'll have to weigh up whether you really need them. Speedy UHS-II SD cards may well be enough for you, and A7 IV's second card slot does only support SD cards.
Sony A7 IV review: features and autofocus
The Sony A7 IV isn't quite the game-changer that its predecessor was for full-frame mirrorless cameras, but its upgrades bring it close to the Canon EOS R6 – which means it's a fine choice for everyone from wildlife shooters to wedding photographers.
The key to these performance boosts is the Bionz XR processor, which is the same as the one in the Sony A1. Unlike the Sony A1, the Sony A7 IV doesn't have a stacked sensor, so it can't quite unlock the same burst-shooting performance. But the two obvious improvements this processor brings are Sony's latest autofocus smarts, and a much-improved buffer depth when burst-shooting.
Because the Sony A7 IV has now jumped up to a 33MP resolution, its top burst-shooting speed (10fps) is actually the same as the A7 III. If you want to shoot lossless raw files, this falls to only 5fps or 6fps. This makes it significantly slower than the Canon EOS R6, which can hit top speeds of 20fps when you use its electronic shutter. But the A7 IV's autofocus speeds and buffer do a lot to compensate for this.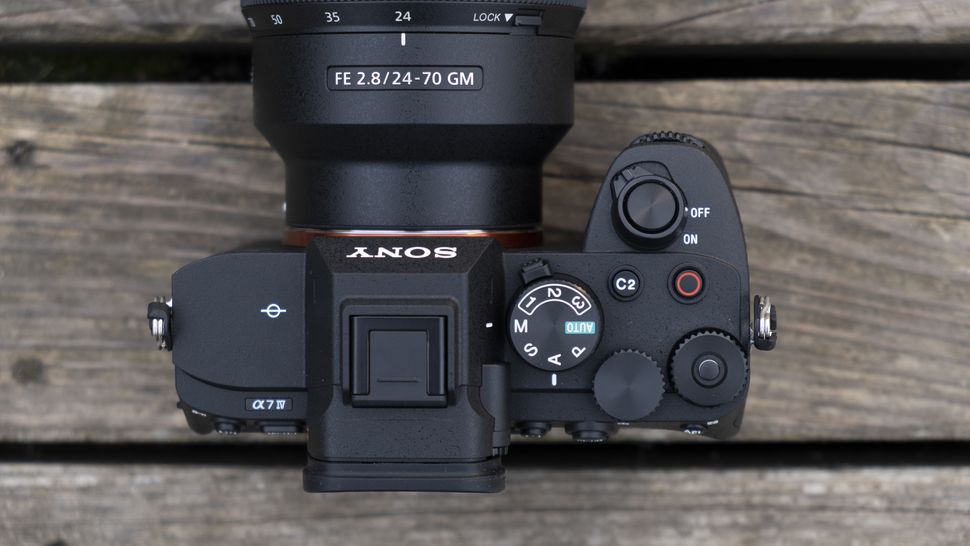 We tested its burst shooting skills with a UHS-II card and the buffer is more generous than most people will need. When shooting JPEGs, the A7 IV consistently hit speeds of 9fps for over a minute. It also managed the same speeds with raw files for the first eight seconds, dropping down to a still-decent 6-7fps after eight seconds. In both cases, it was heading towards Sony's claimed 828 shots (for CFExpress cards) before our memory card filled up.
In all likelihood, you won't need to shoot continuously for that long, because the A7 IV's autofocus skills ensure a very good hit-rate. It has Sony's latest AF system, which means you get Eye AF for humans, animals and birds, in both stills and video. This is a big upgrade from the A7 III and is the most reliable AF system you'll find in any camera, even if the Canon EOS R6 isn't too far behind. It sticks to subjects like glue, even with distracting foregrounds.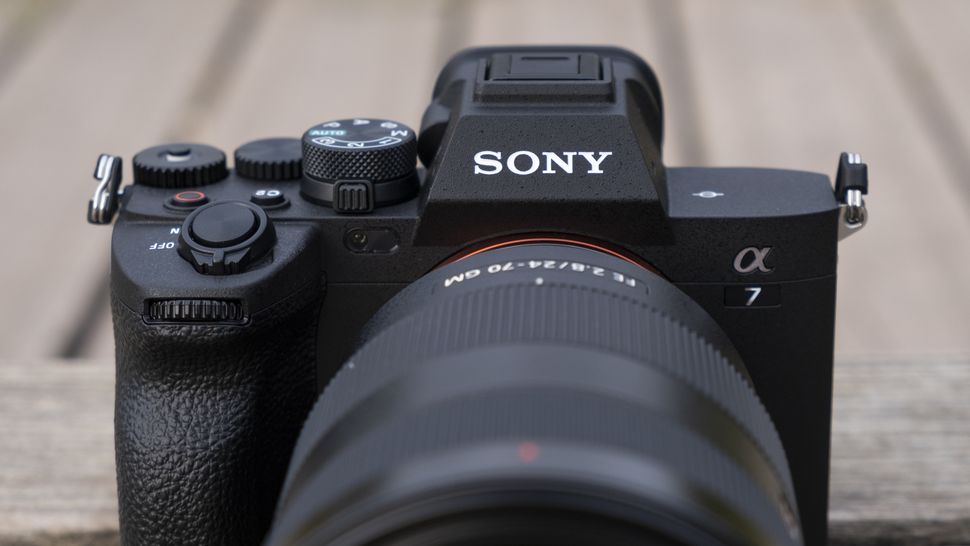 The A7 IV is clearly a very capable stills camera, but what about video? It makes even bigger leaps here. For filmmakers who like to color-grade their videos, the jump to 10-bit 4:2:2 color sampling (from 8-bit on the A7 III) is a big one. The maximum video bit-rate has also jumped from 100Mbps to 600Mbps, and you can shoot 4K/30p video using the full width of the sensor.
Perhaps the only slight disappointment is that the A7 IV's 4K/60p mode is only available with a 'Super 35' crop (which is similar in size to an APS-C sensor). Naturally, Sony wants video shooters to upgrade to cameras like the Sony A7S III, but that might still be a slight disappointment to those who were hoping for a completely uncompromising hybrid camera.
To sweeten the video deal, Sony has included a host of other bonuses on the A7 IV, including a 'Focus Map' (similar to focus peaking, only it uses colored blocks to show you what's in focus) and the popular S-Cinetone picture profile, which mimics the look of Sony's cinema cameras. Like all great hybrid cameras, the Sony A7 IV is just as comfortable shooting videos as it is stills.
Sony A7 IV review: performance
Generous buffer for burst shooting
Moderate burst-shooting speeds of 10fps (compressed raw)
Battery rating of 520 shots (CIPA rating)
As we discovered in the features section above, the Sony A7 IV isn't a true speed demon when it comes to burst shooting. Sony's decision to boost its resolution to 33MP has effectively cancelled out any power gains of its new processor, which means its offers the same 10fps top speed as the A7 III (and that's with compressed raw files).
Still, while the Canon EOS R6 is likely a better choice if you spend a lot of time holding down the shutter and shooting speeding objects, the A7 IV is still more than good enough for wildlife shooting.
It's also worth factoring in the benefits of its class-leading autofocus system and deep buffer – when a camera so consistently nails focus, you don't necessarily need to rattle off frames at 20fps to capture a moment. Thanks to a firmware update in September 2022, you can also now choose 'S' and 'M' file sizes (in addition to 'L') when shooting lossless compress raw files.
Other areas where the Sony A7 IV achieves 'good enough' status are in-body image stabilization (IBIS) and battery life. Its Active Stabilization mode, which adds a steadying electronic hand to its mechanical IBIS, is certainly decent and helpful for handheld shooting or vlogging. We managed to go down to shutter speeds of around 1/20s, before our micro-jitters started obscuring fine details.
That's by no means class-leading, though, and it certainly won't replace either a tripod or a gimbal if you want clean shots or smooth video in challenging conditions. Sony's Active Stabilization mode also incurs a crop of around 15%, creating a much narrower field of view. A good alternative is applying stabilization in post-production using Sony's Catalyst Browse software, which uses the camera's gyroscopic data to smooth out your footage.
This works particularly well for more challenging scenarios like walk-and-talk vlogging, and can also help suppress one of the Sony A7 IV's other weaknesses: rolling shutter. Because the camera lacks a stacked sensor, its read-out speeds aren't as fast as the Sony A1's – which means quick panning motions can lead to warped verticals in video or stills, if you're using the electronic shutter (like in our sample video below). This is unlikely to be a huge issue for most shooters, though.
Battery life is, again, solid rather than spectacular. The official CIPA rating is 520 shots per charge (when using the electronic viewfinder). While that's actually a 15% drop from the Sony A7 III, we found that estimate to be a little conservative and it can shoot 4K video for around two hours. In our tests, it managed to shoot 4K/60p for two hours and 20 minutes with no overheating, and a few minutes longer in 4K/24p mode before the battery died.
Sony A7 IV review: image and video quality
Image quality isn't a dramatic step up from Sony A7 III
Excellent oversampled 4K/30p video quality with 10-bit 4:2:2 option
S-Log 3 and S-Cinetone profiles for video editors
If you'd hoped the Sony A7 IV's new 33MP sensor might dramatically improve its image quality from the A7 III, you may be disappointed.
That extra resolution is handy for those who like to regularly crop into their photos, but in general the A7 IV's improvements are geared more towards versatility rather than absolute image quality.
More megapixels means smaller photosites on the A7 IV's sensor, so Sony has used image processing to help in areas like low-light performance.
As you'd hope, it produces clean results low ISOs, but noise becomes fairly prevalent from ISO 6400 upwards. That's understandable for a relatively high-megapixel sensor, but it's fair to say that the Sony A7 IV leans more towards capturing detail than being a low-light monster.
Still, the impressive dynamic range gives you plenty of leeway when it comes to boosting shadows in raw files, even if this can reveal some noise in gloomier scenes. And we also found the straight out-of-camera JPEGs to have pleasing, true-to-life colors and nicely-rendered skin tones.
The bigger step up from the Sony A7 III, though, is undoubtedly the A7 IV's video quality. Because it oversamples its 4K/30p video from the sensor's 7K resolution, you get an impressively sharp, noise-free image even up to ISO 12800. The ability to shoot 4K in 10-bit 4:2:2 also gives color graders much more flexibility than on the Sony A7 III.
To really squeeze the best video quality out of the Sony A7S III, you'll want to shoot in the flat S-Log3 profile, as that provides the most dynamic range. But a quicker alternative is the S-Cinetone profile, which comes with much of the saturation and contrast baked in. It's worth familiarizing yourself with the quirks of these two profiles, as both have different dual native ISOs – for S-Log3 they're at ISO 800 and ISO 3200, while the ones for S-Cinetone are much lower at ISO 125 and ISO 500.
This gives the Sony A7 IV a lot of flexibility and depth for different shooting situations, marking it out as a true hybrid camera that's pretty much the equal of the Sony A7S III if you don't need high frame-rate modes. But if you're relatively new to video, the excellent autofocus means it's also easy to shoot some excellent video without delving into any color grading, like the sample clips above.
The A7 IV's in-body image stabilization (IBIS), which now claims up to 5.5-stops of compensation, also lets you shoot with shutter speeds as low as 1/10sec and still get pretty sharp results. This is also a potential bonus for those who regularly use polarizing filters, because it allows you to handhold the camera rather than reach for the tripod.
Should I buy the Sony A7 IV?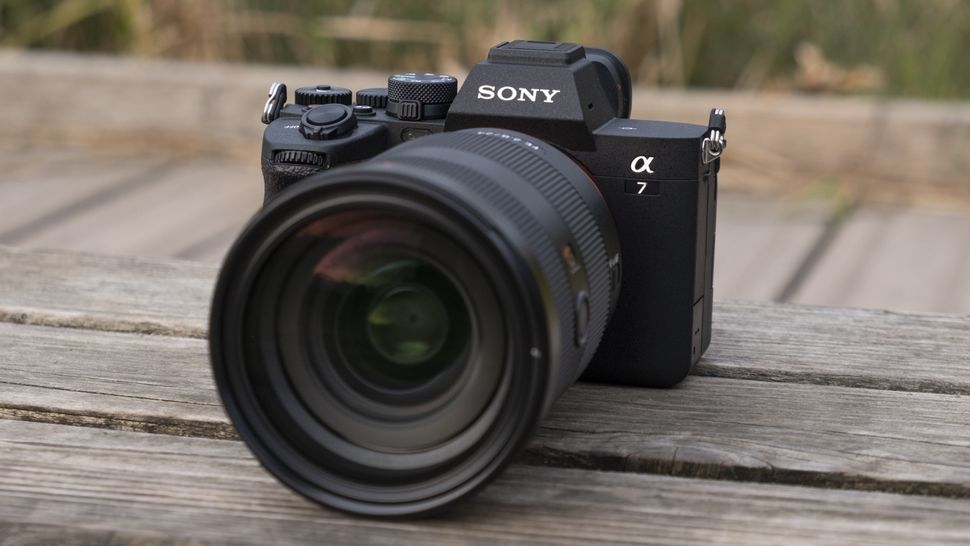 Buy it if...
You need an all-rounder for stills and video
There are better specialist cameras out there, but as an all-rounder the A7 IV is the best mirrorless camera you can buy. If you tend a shoot a balanced mix of portraits, weddings, wildlife and video, then you'll really appreciate its versatility, features and lens choices.
You're upgrading from a full-frame DSLR
The latest mirrorless cameras have now evolved to an extent that they're now a big upgrade from most DSLRs. The A7 IV is a great example, thanks to its class-leading autofocus, hugely impressive video skills and modern shooting experience. If you've been patiently waiting the make the leap, now is the time.
Your Sony A7 III is starting to feel its age
It's quite rare for new cameras to make significantly leaps over their predecessors these days, given how mature camera tech is. But the A7 IV is a big upgrade on the A7 III in almost every respect, including resolution, autofocus, usability and video. It comes with a price premium, but one that will be justified for most people.
Don't buy it if...
You need something discreet for travel or street shoots
The A7 IV is undeniably powerful, but its sizable grip and 658g weight mean it's also a fairly big lump compared to other mirrorless cameras. If you mainly shoot travel or street photography, you'll likely be better off with something smaller like the Fujifilm X-S10 or Olympus OM-D E-M10 Mark IV.
You mostly shoot sports and action
While the Sony A7 IV is by no means a slow coach, there are better cameras out there for pro sports performance. Sony's own A9 II and A1 offer far superior burst performance, while the Canon EOS R6 can hit 20fps with similar autofocus performance to the A7 IV for a similar price.
Value is your main priority
As tempting as the Sony A7 IV is, it is also likely overkill for many amateur photographers. If you don't shoot much video, or tend to specialize in one particular style, then you'll get more bang for your buck with a more specialist camera and an extra lens or two with the money saved.
Also consider
If our Sony A7 IV review has you wondering about alternatives, here are three rivals to consider.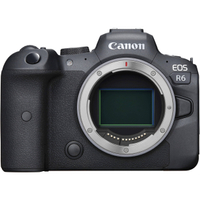 Canon EOS R6
With a similar price to the Sony A7 IV, the EOS R6 is its closest rival. The main difference between the two is burst shooting speeds, with the EOS R6 hitting speedy 20fps top speeds. That said, the A7 IV offers a 33MP resolution that's better for cropping than the 20MP EOS R6.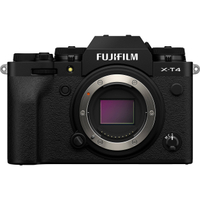 Fujifilm X-T4
If you need a smaller and more affordable alternative to the A7 IV, then the Fujifilm X-T4 is a fine choice. It has a smaller 26MP APS-C sensor, but offers similar features with a fully-articulating touchscreen, image stabilization and speedy 15fps burst shooting. Its autofocus isn't quite up to Sony's level, though.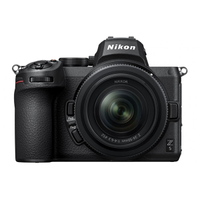 Nikon Z5
If you have your heart set on a full-frame camera but can't quite justify the Sony A7 IV, then the Nikon Z5 is an excellent alternative. Its 4.5fps burst-shooting speeds and cropped video aren't in the A7 IV's class, but it offers a comfortable grip, solid build, image stabilization and fine image quality.

First reviewed: March 2022