A bit like Coen brothers movies, Sony cameras can be good and then great, alternating between the two. But with the A7R V, it's safe to say that it's in the 'great' category, and maintains the position of the highest-resolution full-frame mirrorless camera available. However, while some features are geared towards sport and wildlife, it doesn't offer the burst rates of the A9 II, and video is good, but not as good as what you get with the A7S III. So the A7R V appears to be a jack of all trades, but only a master of some.
Pros
+

Excellent autofocus

+

Impressive ISO handling

+

Versatile 4-axis touchscreen
Cons
-

It's expensive

-

Requires high-quality optics

-

4K video only up to 60fps
Why you can trust TechRadar We spend hours testing every product or service we review, so you can be sure you're buying the best. Find out more about how we test.
Two-minute review
Sony released the first high-resolution full-frame mirrorless camera – the A7R back in 2013 – and we've had an updated model every couple of years since, culminating in the fifth iteration of the series, the A7R V. A lot has changed in the cameras since then in terms of the ergonomics, handling and, of course, the technology employed. But with more rivals on the scene now, the A7R V is up against some stiff competition from the likes of the Canon EOS R5 and Nikon Z 7II.
Being the newest model on the block, and offering some impressive specs, the A7R V ultimately has little to worry about, despite not providing the highest performance in all areas. Features include a new 61MP sensor and Bionz XR processing engine, up to eight stops of in-body image stabilization, increased burst shooting and AI-powered subject recognition to improve autofocus. Then there's video capture up to 8K at 24fps and 4K up to 60fps.
Sony A7R V specs
Sensor: 61MP BSI full-frame CMOS
Processor: Bionz XR (with AI processing unit)
Autofocus: 693-point phase-detection
AF subject recognition: human, animal, bird, insects, car, train, automobile
EVF: 9.44-million dot Quad XGA
In-body stabilization: up to eight stops
Continuous shooting: 10fps
Continuous shooting buffer: 184 raw (compressed)
Video: 8K/24p, 4K/60p, 10-bit 4:2:2
Image quality is, as you'd hope, excellent for both photos and video. But with the high-resolution sensor, you'll need to use Sony's best lenses in the G and GM ranges with the resolving power to complement the camera. It's unlikely that you'd be using lower-end lenses if you're prepared to pay approximately $3,900 / £4,000 / AU$5,900 for a camera body so it shouldn't be a problem, but if you're upgrading from a lower-resolution A7 model and already have some cheaper lenses, it's certainly something to bear in mind.
Sony A7R V: Release date and price
Went on sale in December 2022
Launched with a list price of approximately $3,900 / £4,000 / AU$5,900
Price close to medium format
The A7R V was announced in October 2022, and was available to buy from December 2022, costing approximately $3,900 / £4,000 / AU$5,900. We might have expected a slightly higher price given the launch price of the A7R IV and the consequent rise in camera prices over the last year or two.
That said, the cost of the camera is getting close to that of medium-format models. For instance, the Fujifilm GFX 100S costs approximately $6,000 / £4,800 / AU$9,300 body-only. Those shooting faster subjects such as sport and wildlife, and/or video, the A7R V is undoubtedly the better option, but landscape, portrait and studio photographers could benefit from the larger sensor (1.7x) and higher 100MP resolution of the GFX 100S.
Sony A7R V: design
Versatile 4-axis articulating touchscreen
Moderate 10fps continuous shooting
Dual SD/CFexpress Type A card slots
The overall design of the A7R V is extremely similar to that of previous models, with most innovations occurring under the hood, although there are a few design tweaks that improve upon the A7R IV. Current Sony users will almost certainly feel at home, and newcomers should be able to navigate the main settings with little to no problems.
On the back of the camera is a new 4-axis 3.2-inch articulating touchscreen, which allows the screen to be tilted and flipped out sideways, and twisted to face forwards; perfect for both stills photography and video. This makes the screen slightly bulkier than on the previous two models, which only had a tilting screen, but this doesn't impact overall handling. The electronic viewfinder is the same one as on the A7S III, and features an excellent 9.44-million dot resolution with 0.9x magnification.
Image 1 of 3
Moving up to the top of the camera, the exposure compensation dial is now unmarked, and like most of the buttons and dials it can be set to perform another function if users wish, although having it set to exposure compensation is the most convenient option, despite the almost infinite ways in which you can customize Sony cameras.
Just like previous A7R models, there are two card slots on the side of the grip that can be set to record in several different ways when two cards are installed. On the A7R V, the card slots can take both SD and CFexpress Type A cards, with the latter being the faster of the two options. This is great if you prefer the cost and capacity benefits of SD cards, but to realize the full speed potential of the camera, considerably more expensive CFexpress Type A cards are a must
Shooting speed has also been improved, and the buffer is also larger, with a continuous shooting speed of 10fps available. Sony claims that up to 583 compressed raw images can be captured in Hi+ mode with compressed raw files. For testing, we used a 128GB Kingston Canvas React Plus SD card with transfer speeds of up to 300MB/s. This allowed us to separately shoot 170 JPEGs in Fine quality, 100 Compressed raw files and 50 uncompressed raw files before the camera began to stutter. It's a far cry from the claimed buffer performance, but is still respectable, and more than most photographers would ever need.
This card was absolutely fine for shooting 8K video, and the camera was able to shoot for 30 minutes. The camera body did heat up during recording in a 64.5F / 18C room, which wasn't an issue, but in warmer temperatures when shooting outdoors this could be problematic. One way to aid heat dissipation in warmer temperatures when shooting video is to open the battery door on the bottom of the camera, although this presents obvious risks.
Sony A7R V: features and performance
Subject-recognition autofocus
8-stop image stabilization
Improved Pixel Shift Multi Shooting
While the A7R IV didn't offer a great deal more to entice A7R III owners to upgrade, the A7R V aims to address the deficiencies of its predecessor, and is a much more well-rounded camera overall. The improvements Sony has implemented, alongside the inclusion of some welcome new features, make it significantly more attractive, whether you're upgrading from an earlier model or switching to Sony from another brand.
One new feature, which is designed to address sensor dust complaints from A7R IV users, is the ability to have the shutter close when the camera is switched off. This might work, but after only using the camera for a few weeks it's impossible to test this claim. Although, given that DSLR shutters close after each shot has been taken, and these cameras still suffer from sensor dust, whether it'll be effective is questionable.
Image stabilization has been improved, with up to eight stops of compensation available when shooting stills. During testing, it was easy to shoot sharp handheld images with a shutter speed of around 1/8 sec, and with a particularly steady hand it was even possible to shoot as slow as one second. For video, Active Mode image stabilization aids smooth handheld shooting, and can be paired with some lenses that feature optical image stabilization for even smoother video.
Pixel Shift Multi Shooting has also been improved. In this mode the camera captures 16 frames, with the sensor position shifted slightly between each, which can then be merged into a huge 240.8MP image that's claimed to be better corrected for minor movement in scenes. This requires Sony's Image Edge Desktop software to be used, but it would be much more convenient if these composite images were merged in-camera.
Image 1 of 3
The A7R V features 693 AF points and offers Real-time Recognition AF, enabling you to select from Human, Animal/Bird, Animal, Bird, Insect, Car/Train and Airplane. The Human option is much more advanced than simply eye or face detection, and can identify people in wider scenes. The feature generally works well across subjects, but it's not perfect, and turning off subject recognition requires delving into the camera menu. The best way to switch Real-time Recognition AF on and off is to include this in My Menu, which is the camera's custom user menu.
My Menu is incredibly useful overall, because Sony cameras are infamous for their labyrinthine menu systems. Another feature worth including here is Bulb Timer Settings. With this, when shooting in Bulb mode you can select any exposure duration from two to 900 seconds, which is incredibly useful when shooting long exposures. With this setting turned on, you can use the self-timer to release the shutter and the camera will time the exposure for you – fantastic when using a Big Stopper.
Features and performance 4/5
Sony A7R V: image and video quality
New 61MP Exmor R sensor boasts 15 stops dynamic range
Impressive ISO handling
Sharp video up to 8K video
Image quality in many respects comes down to the optics you attach to the camera, with higher-quality lenses naturally offering the best possible image quality. And with the A7R V, this is certainly the case – you'll get the best results using higher-quality Sony G lenses such as the 20mm F1.8 and 90mm F2.8 Macro and the flagship G Master lenses. The high-resolution sensor is unforgiving when the camera is paired with cheaper and lower-quality optics, so you do need to avoid these if you want the A7R V to achieve its potential.
With high-quality lenses, image quality for both stills and video is excellent thanks to the new 61MP Exmor R sensor and Bionz XR processing engine. Dynamic range is advertised at 15 stops, and you can certainly increase the exposure of underexposed raw files considerably before image degradation becomes problematic. Photo capture is available in 14-bit raw, compressed raw, HEIF and JPEG, so you've got plenty of options.
Image 1 of 4
ISO performance is impressive within the native ISO 100-32,000 range, with the expanded range taking settings from ISO 50-102,400. The best quality comes at settings up to ISO 1600, with images shot at up to 6400 still looking reasonably good, and those taken at up to ISO 25,600 providing usable results. Beyond this, noise and color loss become very evident, leaving images pretty much unusable.
Image 1 of 5
Video quality is equally impressive, with 8K video available at 24fps, 4K up to 60fps, and FHD up to 120fps in NTSC or 100fps in PAL, with a 4:2:2 10-bit color depth available. Color profiles include S-Cinetone and S-Log3 among others, so there's plenty to keep hybrid stills/video shooters happy. Videographers will find the A7S III is a better camera overall for shooting video; you could certainly shoot professional video with the A7R V, but it's not the best Sony A-series camera for the job.
Image and video quality 5/5
Should I buy the Sony A7R V?
You shoot landscapes, portraits or studio photography
With a 61MP sensor and a powerful processing engine, image quality is excellent for subjects packed with high levels of detail, making this a great camera for landscape, portrait and studio photography. The sensor is unforgiving though, so you will need the best optics.
If you need subject detection
Subject detection is undoubtedly a useful feature that builds on human and animal eye detection to provide more reliable autofocus that can, for instance, recognize humans in wider scenes rather than simply by their eyes.
You want to upgrade
The A7R V is a high-spec camera that addresses many of the deficiencies in both the A7R III and A7R IV, and is a worthy upgrade to both cameras; less so for the A7R IV, which has the same resolution but an older sensor, but the A7R V is undoubtedly a better camera overall.
Don't buy it if...
You don't have or can't afford the best optics
As this is a high-end professional camera with a 61MP sensor, any lens deficiencies will be picked up, so cheaper Sony FE optics, and those from budget third-party manufacturers, won't allow you to get the best from the camera.
You want to shoot slow-motion 4K video
4K limited to a maximum frame rate of 60fps; if you need the ability to shoot in 4K at 120fps the Sony A7S III will allow you to do this, and that camera is a better option overall for video and low-light performance. However, with just a 12.1MP sensor, the A7S III's photo size is severely limited.
You don't need the resolution
For full-frame cameras, resolutions around 40MP seem to be a bit of a sweet spot in terms of file size and photo dimensions. There's certainly nothing wrong with 61MP, but if you don't require this resolution the A7 IV offers a 33MP sensor, and a significant cost saving.
Also consider
If our Sony A7R V review has you wondering about alternatives, here are two rivals to consider.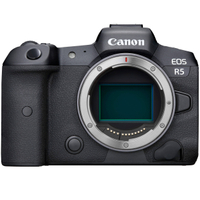 Canon EOS R5
This is Canon's closest rival to the Sony A7R V. The EOS R5 has a lower resolution 45MP sensor but it does boast a slightly quicker 12fps continuous shooting mode and a wider array of slo-mo video modes, including 4K 120p. Autofocus in both cameras is excellent.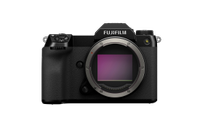 Fujifilm GFX 100S
Like the A7R V, the GFX 100S is a high resolution camera well suited to landscape and studio photography. As a medium format camera, it cannot match the overall speed and performance of the A7R V, but arguably resolution junkies will be less fussed about frames per second and subject detection AF modes and more concerned about colour, tone and resolution which the GFX 100S has in abundance, and it doesn't cost too much more, either.
Sony A7R V: testing scorecard
Swipe to scroll horizontally
Sony A7R V

| Attributes | Notes | Rating |
| --- | --- | --- |
| Price | Sony mirrorless cameras don't come cheap | 4/5 |
| Design | Small, versatile, complete | 5/5 |
| Features/performance | A powerhouse but there are video limitations | 4/5 |
| Image/video quality | 61MP in a full-frame camera can't be beaten | 5/5 |
First reviewed: January 2023