The best mirrorless camera for 2023: top picks for every budget
Best
Contributions from
last updated
The best mirrorless cameras from Sony, Canon and more
VERDICT
REASONS TO BUY
REASONS TO AVOID
Whether you're new to photography or a long-term enthusiast, the best mirrorless cameras have the features and performance to take your shooting to the next level. We've extensively tested all of the top mirrorless cameras and put together this guide to help you decide which one is right for you.
We think the best mirrorless camera for most people right now is the Sony A7 IV, which we also consider to be the best camera overall. With a sharp full-frame sensor and fantastic autofocus capabilities, it's a hybrid that handled almost every shooting scenario during our review. But there are options below for all levels of experience and budget.
Our ranked selection draws on the results of our in-depth reviews. We comprehensively test every mirrorless camera to see how well it handles, and how its features and performance stack up in the real world. We assess each model on its individual merits, then compare it to the closest competition in its category.
Our in-depth guide is organized to help you quickly find the top options for your needs. We keep it regularly updated with the latest releases, and we've also outlined some expert buying tips at the bottom of the page.
The quick list
Want to get straight to the best mirrorless camera for your needs? Use our quick round-up below to immediately find a mirrorless camera that suits you – and you can read more about it by jumping to our full write-ups and explanations using the links.
The best mirrorless cameras for 2023
Below you'll find full write-ups for each of the best mirrorless cameras in our list. We've tested each one extensively, so you can be sure that our recommendations can be trusted.
The best overall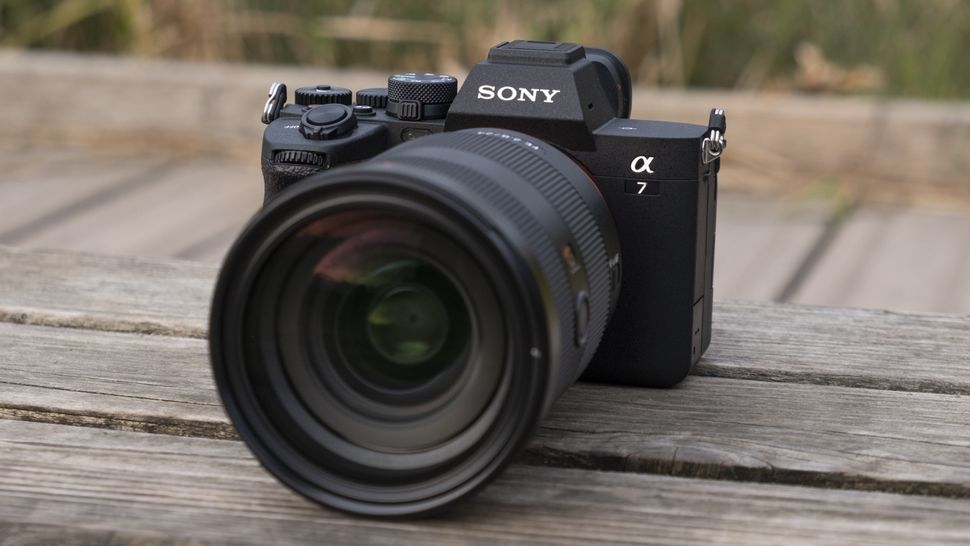 The Sony A7 IV is a truly modern hybrid camera. It's overkill for beginners and more expensive than its stills-focused competition, but it's also a versatile workhorse for anyone who want to shoot a mixture of photos and video. A price bump means it no longer occupies the same entry-level price bracket as its popular predecessor, but upgrades like 10-bit video and a Bionz XR processor make it a much more powerful option.
In our tests, we found the A7 IV to have class-leading autofocus skills, plus a seemingly endless buffer depth, which means the camera can almost indefinitely maintain its maximum burst speeds without any slowdown. When using a CFexpress card, it swallowed 9fps for over a minute (or 6-7fps when continuously shooting raw). The A7 IV's new 33MP full-frame sensor doesn't dramatically improve image quality over the A7 III (the higher resolution also means fairly prevalent noise above ISO 6400), and there's a heavy crop on 4K footage. But as a complete package, the Sony A7 IV is a solid all-rounder which could be the only mirrorless camera you'll ever need.
---
The best crop-sensor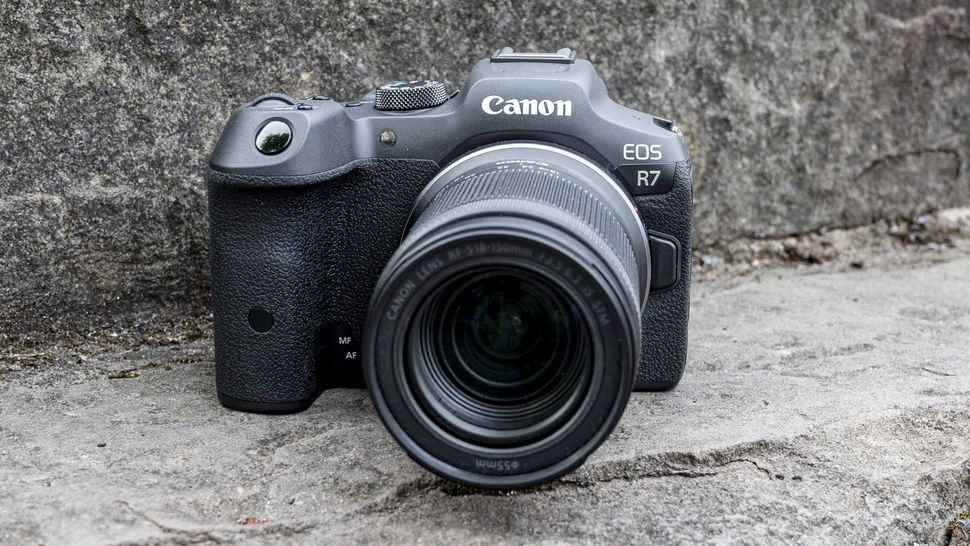 The Canon EOS R7 is like one of the camera giant's full-frame EOS R cameras, only with a smaller APS-C sensor. For the price, it's impressively powerful, particularly if you're fan of shooting wildlife or sports scenes. That's because it boasts 15fps burst speeds (or 30fps if you switch to the electronic shutter). Our tests found that the EOS R7 can indeed hit these speeds, though you don't get the deep buffers found on full-frame siblings like the EOS R6, so it can't sustain those speeds for quite as long.
Beyond rattling off frames of speeding animals, the EOS R7 offers comfortable handling, Canon's latest subject-tracking autofocus system and and dual UHS-II card slots, making it a camera that will also tempt pro EOS R series fans as a second body. The only downside? Canon has so far only made two native lenses for the EOS R7's APS-C sensor. More should be en route, though, and you can always mount existing RF lenses or adapt older EF lenses from Canon's DSLRs while you wait.
---
The best for Nikon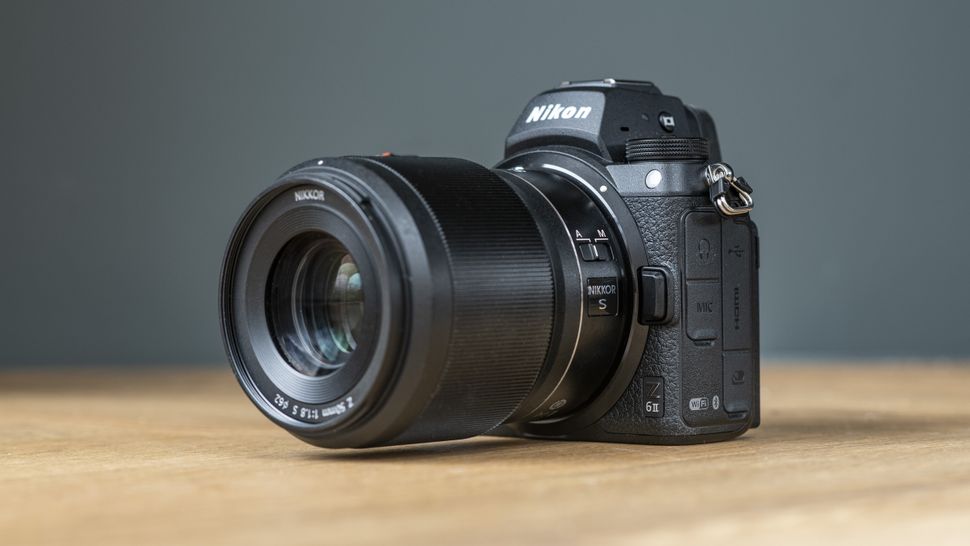 For a long time, the full-frame Nikon Z6 reigned as our number one camera. This successor remains an excellent performer, particularly for those looking to upgrade from Nikon DSLRs, but the Z6 II's modest updates mean it's fallen slightly behind the very best mirrorless cameras. It still comes highly recommended, though, thanks to its consistency in most areas, with the addition of a second Expeed 6 processor bringing a range of performance improvements that include a new 14fps burst shooting speed.
In our tests, we found the autofocus to be a significant improvement on the Nikon Z6, particularly with animal eye/face detection, and the Z6 II adds a much-needed UHS-II SD card slot alongside the existing XQD/CFexpress slot. Video does now lag slightly behind hybrid rivals like the Sony A7 IV. But with a tried-and-tested 24MP full-frame BSI CMOS sensor, which delivers very good high ISO performance, and the best handling around, it fully deserves its place at the top table for photographers.
---
The best in the hand
Taking all that made the X-S10 one of our favorite mirrorless hybrids, the Fujifilm X-S20 adds beginner-friendly features while still satisfying advanced users. Adopting the balanced body of the X-S10, it handles comfortably. Our first impressions found that simplified dials make it easier for learners to operate. A new Vlog mode, plus automatic scene detection and better subject tracking, also eases the way for beginners.
By inheriting the 26.1MP X-Trans CMOS 4 sensor from the X-S10 and X-T4, the X-S20 benefits from a proven imaging system, while Fuji's latest X-Processor 5 works efficiently with the bigger battery to extend longevity. The X-S20 enhances things further by offering 6K/30p 4:2:2 10-bit internal video recording, which is more than most casual content creators will need.
We think many beginners will be wary of its increased price tag, with the X-S10 still available for less. We also wish that Fuji had weather-sealed the X-S20. All the same, with a generous feature set – including in-body image stabilization that worked well for handheld shooting in our review - the result is a very capable all-rounder for both stills and video.
---
The best for video creatives
A worthy successor to one of our favorite video cameras, the Panasonic Lumix S5 II improves on the S5's excellent precedent. Wieldy like its predecessor, we found it sturdy yet comfortable to handle during testing. Happily, its compact design doesn't compromise the physical controls.
Like the S5, the S5 II is ticketed as a hybrid, but video is where it excels. In our tests, we found its 6K/30p footage rich and detailed, with wide dynamic range. Its video chops are bolstered by 10-bit recording across almost all resolutions, plus the ability to record uncropped footage using the sensor's full 3:2 aspect ratio – useful for cropping content.
The S5 II is Panasonic's first mirrorless camera with phase detection AF for video. Combined with highly effective image stabilization, we found it produces sharp, stable video even when shooting handheld, although the 1.5x crop on 4K/60p video is a shame. It's no slouch for stills, either: contrast detection AF proved rapid and reliable, and the S5 II demonstrated excellent noise control. Serious videographers will be drawn by the Lumix S5 IIX, while the Canon EOS R6 II offers more advanced subject detection. Nevertheless, the S5 II is a fantastic hybrid for high-quality video.
---
The best for beginners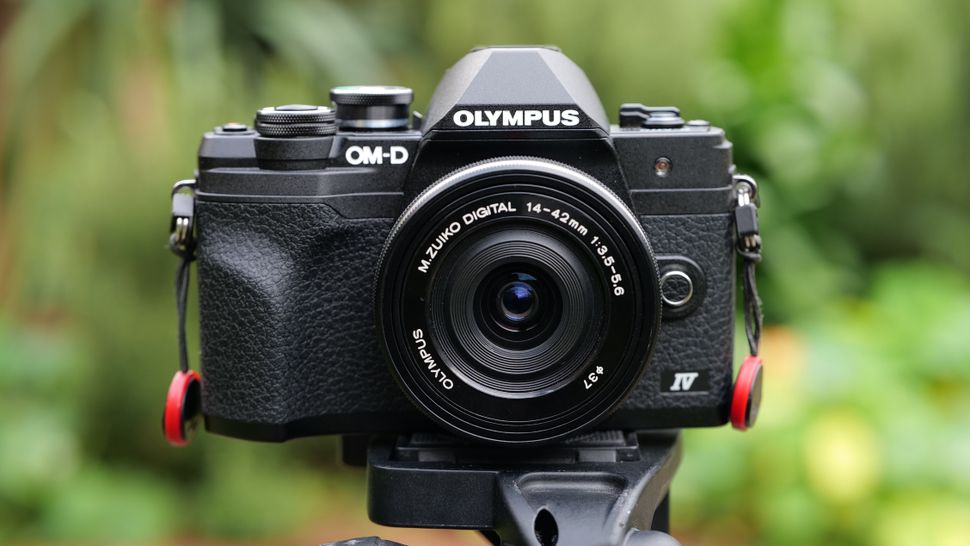 On paper, the E-M10 Mark IV is an easy camera to overlook. But in reality, it's one of the best cameras for beginners who are mainly focused on stills rather than video. It might lack advanced features such as phase-detection autofocus or a microphone input, but it ticks all of the key boxes for beginners. A compact body and approachable button layout make it an accessible upgrade for smartphone photographers, as do Wi-Fi and Bluetooth connectivity.
In our tests, we found that the 20.3MP sensor to be plenty capable enough to capture consistently attractive images, while in-body image stabilization works a treat for shooting snaps at slower shutter speeds. The 121-point contrast detection autofocus won't make headlines, but it does a decent job of consistently tracking faces and eyes. Add classic styling to the mix, plus a handy flip-down touchscreen and an Advanced Photo mode that makes it easy to experiment with complex techniques and the Mark IV proves itself a well-rounded beginner mirrorless option.
---
The best retro modern fusion
The Nikon Z fc is a gloriously retro take on the Nikon Z50, the camera giant's other crop-sensor mirrorless camera. It packs the same specs as the Z50 into a body that's inspired by the Nikon FM2 from the early 1980s – and the combination is a triumph for casual shooters who want a fun camera for travel and everyday shooting.
It might lack a weather-proof build and the large grip seen on the Nikon Z50, but we found the Z fc to be a delight to shoot with. Its competitive specs, which include a 20.9MP sensor, the ability to shoot 4K/30p video, and continuous AF tracking for people and animals, are also borne out in reality. The only downside? A lack of native lenses. If a wide range of APS-C lenses is important to you, then Fujifilm's X-series is a good alternative – but otherwise, the Nikon Z fc is a glorious mix of old and new.
---
The best low cost starter
The Sony A6000 remains a popular mirrorless camera for beginners, but five years on from its launch the A6100 brought its skills up to date in a familiar but more capable package. Borrowing an APS-C sensor from Sony's premium mirrorless cameras, the A6100 also deploys the flagship A6600's autofocus system to deliver outstanding continuous tracking capability that's rapid and reliable for both stills and video.
Image quality is as expected, with good detail and decent colors (though a neutral profile would be welcome), while battery life is solid and the tilting screen is now touch-sensitive – albeit with limited functionality. Not everything has changed, mind: the LCD and EVF both remain relatively low-res and maximum burst is still 11fps, while buffering performance can sometimes stumble. So it's not perfect and unlocking its full potential can take time, but the A6100 is certainly a top mirrorless all-rounder for a decent price.
---
The best smartphone upgrade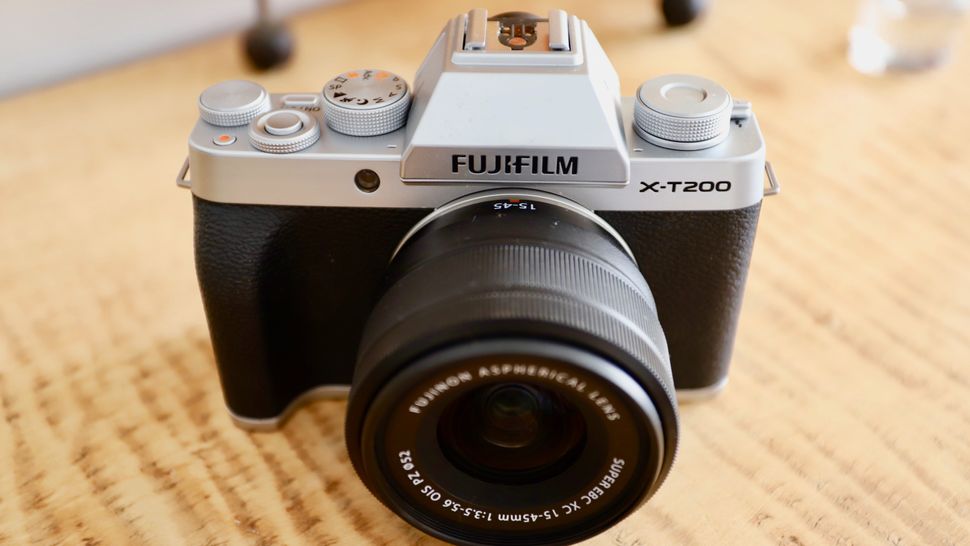 A fine choice for anyone moving up from smartphone shooting, the Fujifilm X-T200 combines a large, sharp 3.5in touchscreen with a lovely design that feels much nicer in the hands than its predecessor. It's a big step up from its X-T100 predecessor in most ways, including autofocus performance. And unlike the Fujifilm X-A7, the X-T200 also crucially has a built-in viewfinder for framing your shots.
The only real downside compared to pricier models in this list is that the X-T200's subject-tracking can be a little hit-and-miss during burst shooting and isn't available in video mode. But it otherwise offers excellent value and is a great alternative to rivals like the Sony A6100 (see above) and Canon EOS M50 Mark II.
---
The best for pros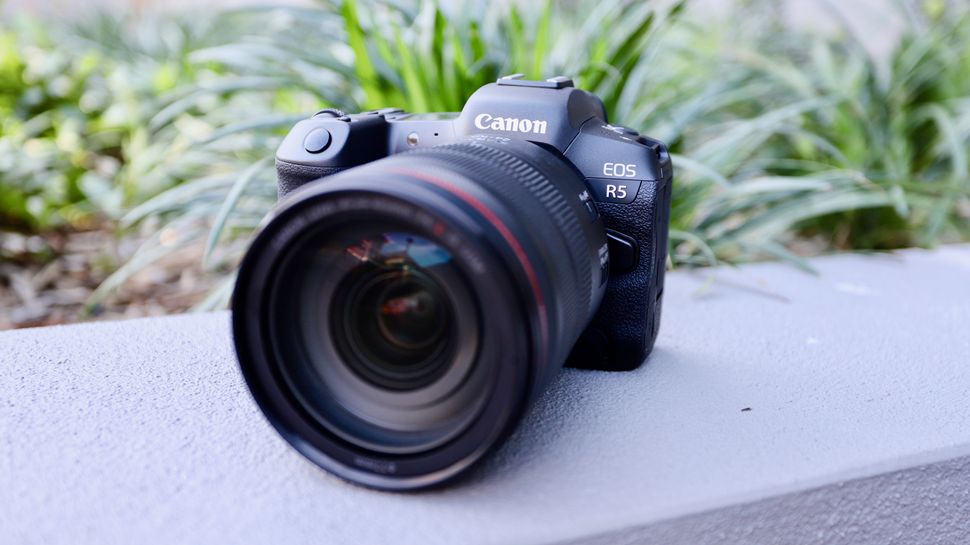 Canon really pulled out all the stops with the EOS R5. Lightweight yet substantial in the hand, it's the company's best mirrorless camera so far. High-resolution, full-frame and driven by the powerful Digic X processor, it's an exceptional tool for stills photographers. Our tests found its next-gen Dual Pixel autofocus to be outstanding, offering impressively accurate tracking and mind-blowing animal detection. Image quality is similarly superlative, producing remarkable results even in low light, with minimal noise even as high as ISO 4000. Add 20fps continuous shooting with the electronic shutter and you've got a pro-level mirrorless camera that's as comfortable in the studio as it is on the street.
The EOS R5's battery life can't rival a DSLR, but a good four hours of intensive shooting is possible on a single charge. Its video specs are also staggering for a camera of this size, capturing 8K at up to 30fps or 4K at up to 120fps, and recent firmware upgrades have only boosted its appeal for videographers. However, it's worth bearing in mind that heat restrictions do limit recording times, while 'cool down' periods can be lengthy. Making the most of that performance will also require investment in costly CFexpress cards – though if you can afford the R5's top-end price tag, perhaps that won't be an issue.
---
The best for action
With a stacked sensor that's seriously rapid, the Fujifilm X-H2S is one of the best mirrorless cameras for action photographers who also want to shoot pro-quality video. Its electronic shutter delivers burst speeds of up to 40fps, while its subject-tracking autofocus makes it easily the best Fuji X-series camera for shooting fast-moving scenes.
Videographers are also rewarded with a superlative skill set. The X-H2S can record detailed 6.2K/30p footage internally, with countless color profiles for editing flexibility. In-body image stabilization and a sharp articulating touchscreen complement the package.
We think it's overkill for photographers who won't utilise its blistering pace, and there's no escaping its serious price tag. That said, it's a more realistic alternative to the Nikon Z9. And while it costs the same as full-frame rivals such as the Sony A7 IV, not other APS-C camera can compete with its feature set or the performance of its stacked sensor.
---
The best high-res full-frame
At 61MP, the Sony A7R V has the same class-leading resolution as the A7R IV before it. But thanks to a new sensor and powerful Bionz XR processing engine, our review found that the A7R V is a better camera overall. Paired with high-quality optics and up to eight stops of image stabilization, we found it capable of capturing outstanding detail.
In our tests, its AI-powered Real-time Recognition AF wasn't foolproof, but it could reliably lock onto a range of subjects, working particularly well with people – even in wider scenes. We found image quality to be excellent when shooting detailed subjects, making the A7R V a fantastic choice for landscape or studio pros.
Its articulating touchscreen provides useful flexibility when it comes to framing, while the EVF is as sharp here as on the A7S III. If you want a high-spec full-frame powerhouse and don't mind paying for it, the A7R V is a serious step up from its predecessor. But if you can't afford the best glass, want to shoot slow-mo 4K video or simply don't need such high resolution, you might find better value in the A7 IV.
---
The best for pro video