There's an awful lot to like about the Canon EOS R7 and it feels like the mid-range camera that a lot of Canon fans have been waiting for. It's fast, has powerful autofocus that keeps up with a range of subjects, produces excellent images, handles well and is priced competitively. At the time of writing, the only drawback is the limited range of native lenses. If Canon can give us some more of these soon, the EOS R7 could deservedly become one of its most popular cameras.
Pros
+

Fast burst shooting

+

Great value

+

Good handling

+

Excellent autofocus and stabilization
Cons
-

Lack of native APS-C lenses

-

Average electronic viewfinder

-

Lack of 4K/120p video
Why you can trust TechRadar We spend hours testing every product or service we review, so you can be sure you're buying the best. Find out more about how we test.
Two-minute review
If you're a keen amateur photographer who also likes to shoot video, the Canon EOS R7 is one of the best cameras you can buy and also the sweet spot in the camera giant's EOS R range for amateur shooters.
Sitting in between classic DSLRS like the Canon EOS 7D Mark II and EOS 90D, it combines Canon's latest Dual Pixel CMOS AF II autofocus system with speedy 15fps burst-shooting speeds (or even 30fps speeds, when you use its electronic shutter). It's pricier than the Canon EOS R10, but the R7's higher-resolution 32.5MP sensor, in-body stabilization, deeper buffer and dual card slots will justify the cost for many.
Unlike Canon's full-frame cameras, the EOS R7 has an APS-C sensor. While these can't gather as much light as the full-frame sensors seen in cameras like the Canon EOS R6, they do bring a few benefits – including a smaller, lighter overall camera system and a lower price tag.
For its price, the EOS R7 delivers an impressive range of features that show why it's now Canon's flagship APS-C camera. Unlike the EOS 90D, you get in-body image stabilization (IBIS), which helps preserve image quality when you're shooting handheld. You also get two UHS-II card slots and a solid range of video-shooting specs, including headphone and microphone inputs, plus the ability to shoot uncropped 4K/60p video.
Together, these features make the EOS R7 one of the best mirrorless cameras who can't justify Canon's full-frame models, which share the same RF-mount. But this mount is also, currently, the EOS R7's main weakness – at the time of writing, there are only two native RF-S lenses for this camera's sensor.
One of these lenses is an 18-150mm 'all-rounder' that comes available in a package with the EOS R7, with the other being an 18-45mm f/4.5-6.3 kit lens. Other than these two lenses, you have two choices when it comes to optics – use existing full-frame RF lenses, or use either EF or EF-S lenses via the optional EF-to-RF adapter. Neither solution is ideal for keeping things on the light and small side, but hopefully as the system ages, it will also grow to include more options.
Confusingly, you might already be aware of Canon's 'other' APS-C mirrorless system, which uses the EF-M mount. Lenses from this system are not compatible with the EOS R series' APS-C models, and there's no way to mount them via an adapter either. Canon has yet to outwardly admit that it's going to stop making EF-M models. But the arrival of the EOS R7 and EOS R10 means the EF-M series has now likely reached its end.
Aside from this limited range of native lenses, the EOS R7 is otherwise an excellent all-rounder. With up to 30fps shooting combined with Canon's latest autofocus wizardry, it's a dream for wildlife, action and sports photographers – especially as that crop sensor will allow you to get closer to the action with your long lenses.
Canon EOS R7 specs
Sensor: 32.5MP APS-C CMOS
AF points: 5915 manually selectable, 651 automatic selection
Video: 4K/60p, Full HD/60p, High-speed 120p Full HD
Viewfinder: 0.39-inch OLED 2.36m-dot resolution
Memory card: Double SD/SDHC/SDXC UHS-II
LCD: 2.95-inch vari-angle touch 1.62m-dot
Max Burst: 15fps mechanical shutter (buffer 224 JPEG / 51 raw), 30fps electronic shutter (buffer 126 JPEG / 42 raw)
Connectivity: Wi-Fi, Bluetooth
Size: 132 x 90.4 x 91.7mm
Weight: 612g (inc. battery and SD card)
You also get in-body stabilization (IBIS), something that was missing from Canon's mid-range Canon DSLRs. With up to eight stops of compensation, this is ideal for shooting handheld with slower shutter speeds or in low light.
The EOS R7 is also a nice little camera to use. You get a reasonably solid and chunky grip, plus a good range of dials and buttons that make it enjoyable to change the settings in different situations. Its vari-angle touchscreen is also helpful for shooting from different angles – and while the electronic viewfinder is a little pedestrian, it does the job.
Dual UHS-II card slots are a nice bonus for a camera like this (and at this price), hinting it might also be favored by pros looking for a good, fast backup model to their main full-frame body. A range of useful video specifications, including uncropped 4K/60p video, round out the specs sheet nicely to make the R7 a great little all-rounder.
In our real-world tests, the camera produced lovely images in a range of conditions, though as we'd expect it's not quite on par with full-frame siblings when it comes to low-light or high ISO shooting.
The main problem is that lack of a real lens system to harness the EOS R7's potential. Having to compromise on lenses from the get-go isn't ideal, particularly when the likes of Sony and Fujifilm have a solid set of lenses to back up APS-C cameras like the Sony A6600 and Fujifilm X-T5. But if the R7 and R10 prove to be as popular as Canon surely hopes they will be, that lack of native lenses should become less of a problem in time.
Canon EOS R7 release date and price
Available to order now
$1,499 / £1,349 / AU$2,349 (body only)
$1,899 / £1,699 / AU$1,959 (with 18-150mm lens)
The Canon EOS R7 is pretty aggressively priced to make it much more appealing to those on a budget, compared to full-frame models. It also compares favorably to other APS-C big-hitters, too.
The EOS R7 is just a shade more expensive than the three-year-old Sony A6600. It's also significantly cheaper than the higher-spec Fujifilm X-H2S, another flagship model with fast-shooting and quick-autofocusing smarts.
It's a little closer in price to the Fujifilm X-T5 – the EOS R7 edges it on autofocusing but loses on native lenses, so a decision between the two very much depends on your existing lens collection.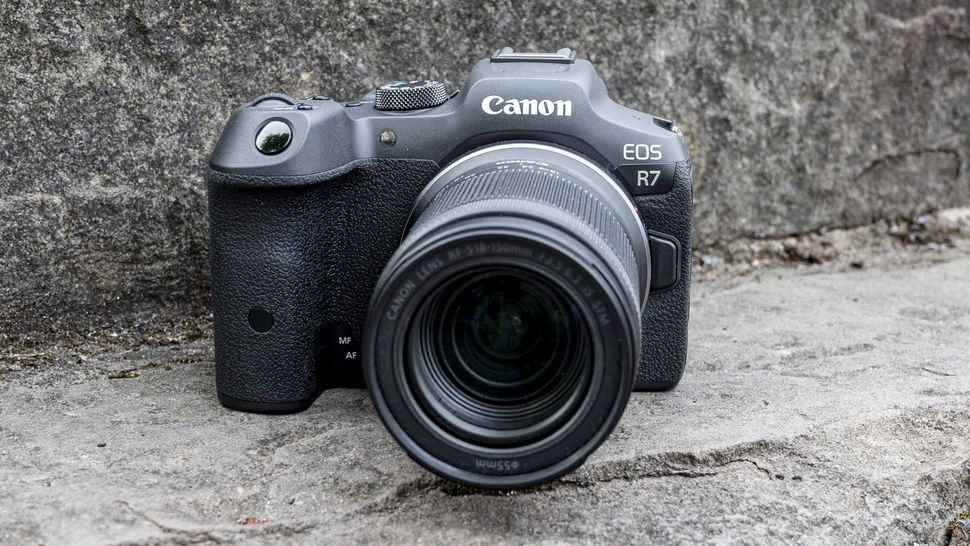 Older full-frame Canon tech, such as the full-frame Canon EOS RP, is available for less than the EOS R7, but uses much older technology that means autofocusing and video is not a patch on the R7.
We're yet to see a direct 'entry-level' full-frame replacement for the Canon EOS RP, and it's possible that one could be coming in 2023. Right now, there's no real evidence to suggest an EOS RP successor is imminent, and the EOS R7 nicely fills the gap as an affordable mirrorless camera for hobbyists, as long as you prefer the advantages of APS-C cameras over full-frame.
Canon EOS R7 review: design
Combined control wheel and joystick
Vari-angle screen and modest viewfinder
Weather-sealing to same standard as EOS 90D DSLR
Canon has combined elements from both its DSLR line-up and its existing EOS R series cameras to make the EOS R7 both portable and intuitive.
If you've used a Canon EOS camera before, you'll likely be very at home. But even if this is your first time with the brand, it won't be too difficult to find everything you need. Impressively for such a small camera, the EOS R7 manages to include a deep chunky grip, which should prove popular among photographers. At the same time, the overall size of the camera isn't too big for travel shooting.
As you'd expect for a mid-range cameras you don't get a top-plate LCD for quickly checking settings. The same is true of the full-frame EOS R6, so APS-C users shouldn't feel too hard done by here. What you do get is a sensibly laid out control system, which includes a mode dial to the right of the viewfinder, a control dial just behind the shutter button and dedicated buttons just behind that for ISO and video recording.
Flipping to the back of the camera, there's a joystick-cum-control wheel hybrid that some will love, and others may well hate. It does take some getting used to, especially if you're an existing Canon owner. But after a few days in its company, it works quite well in tandem with the principal control dial. The dials can be used to adjust shutter speed and aperture – depending on the shooting mode you're in – as well as flip through menu items and images in playback.
The joystick is ideal for moving the AF point around the frame when shooting through the viewfinder, though you can also use the screen to do this so long as you have 'Touch and Drag' enabled in the main menu.
Other buttons include a four-way d-pad, a useful 'Q' button for quickly accessing your common settings, and buttons for playback and deleting photos. Almost all of the controls are found on the right-hand side of the camera, which is ideal for one-handed operation, with the small size of the body meaning everything is within easy reach of your thumb.
If you're moving to the EOS R7 from a DSLR, one thing you might find yourself getting used to is an electronic viewfinder. The R7's is arguably a little dated, offering 2.36m-dots, 1.15x magnification and a 120fps refresh rate. But if you've never used anything better, then you'll likely find it perfectly serviceable. Those switching from a DSLR can also switch on OVF (optical viewfinder) simulation, which might help ease you in if you're not totally convinced about EVFs just yet.
The fully articulating touchscreen is just shy of three inches, but being able to maneuver it into whatever position you need is helpful for video and awkward angle shots. It's also nice to be able to fold the camera's screen in on itself when carrying it in a bag to keep it free of scratches. A similar standard of weather-sealing to the EOS 90D means the EOS R7 should be able to stand up to a light sprinkling of rain, but we'd probably keep it away from heavy downpours or extensive sea-splashes where possible.
Some had expected the EOS R7 – a camera for wildlife/sports fans – to include a CFexpress slot for ultra-fast shooting. Instead, we get double UHS-II slots. On the one hand, it's a shame not to have the speeds of CFexpress, but it's not particularly surprising for an APS-C camera at this price, and it's undeniably a more straightforward setup. It's also a lot cheaper to buy SD cards for now, so it's a better setup for those on a budget.
Canon EOS R7 review: features and performance
Dual Pixel CMOS AF II, subject recognition and eye-detection
Up to 30fps shooting with electronic shutter
500-shot battery life
The Canon EOS R7 is being heavily targeted towards wildlife and sports shooters, thanks to its high-quality autofocusing and burst-shooting prowess. If you're coming across from an older DSLR, it's this technology that's likely to impress you the most. It also outshines some of the older EOS R entry-level models, as well as Canon's EOS M APS-C models, too.
This power is ably supported by Dual Pixel CMOS AF II, which is Canon's latest autofocusing system. Broadly speaking, this is something we've seen on more advanced full-frame models like the EOS R5 and the EOS R6, which means you get very good performance for the price.
Covering the whole frame, Dual Pixel CMOS AF II also includes clever and useful technology such as intelligent subject-tracking, which can identify animals (dogs, cats and birds), vehicles and people.
Pro cameras like the EOS R5 and R6 have more AF zones (1,053) than the R7 (651 when the camera is left to automatically select them), so it isn't exactly the same system as Canon's pricier models. But in our tests it kept up extremely well with whatever subject we were trying to follow across the frame, almost unfalteringly so.
As well as subject-tracking, you'll also see face and eye-detection kick in when you're photographing animals or humans. This also works impressively well – during our tests, it was able to pick out a bird's eye from a few hundred meters away and easily track it around the frame.
Similarly, when photographing a dog running around the beach, it did exactly the same – keeping up with a dark eye surrounded by dark fur. Human eyes are just as easily picked out, making it ideal for sports photography and portraits.
Of course, you also need fast shooting speeds for sports and wildlife, and the EOS R7 offers this, too. You get up to 15fps with the mechanical shutter, which is pretty good in itself, but switching to the electronic shutter you get around 30fps. Considering this includes raw shooting and continuous AF, that's excellent for the price. The trade-off is the risk of rolling shutter – which can give slanted vertical lines – but this isn't something we experienced much.
While 30fps is great, what you don't get is the same deep buffer such as you'd see on a more expensive model like the EOS R6 or the R5. At 30fps, the camera will need to take a pause after just 42 raw files. But as long as you aren't too trigger happy and practice controlled bursts, this will be enough for most hobbyist users hoping to catch a specific moment.
It's worth noting that to take full advantage of these speeds, you'll need a fast UHS-II memory card. We found when photographing a fast running dog, more shots were in focus than weren't, making photographing wildlife, sports and action easier than ever before at this price. That said, it's worth noting that the EOS R10 offers a similar hit-rate and is even cheaper than the EOS R7.
The 500-shot quoted battery life is decent for a mirrorless camera. Remember also that this is a lab-specification – in real-world shooting, you can also always eke out more shots if you're careful with power saving or if you're not doing something power intensive (like shooting 4K video).
In our tests, the camera always lasted a full day without dropping more than a couple of bars of battery. You can also charge the camera via USB, so if you were particularly concerned, you could always carry a battery pack for power bursts on the go.
Features and performance score: 4.5/5
Canon EOS R7 review: image and video quality
At 32.5MP, the EOS R7 has a high megapixel count for an APS-C camera. The advantages of this are that images are beautifully detailed, plus you've got good scope for cropping – which often comes in handy when shooting wildlife and action-type subjects.
The downside of all those pixels crammed onto a fairly small surface area is that low-light shooting can't compete with full-frame models, or even APS-C models with more modest resolutions. That might not be too much of an issue for most photographers, but there are some instances where it can lead to less than perfect imagery. For example, during our test, we used the RF 600mm f/11 lens.
Image 1 of 2
While this is a great lens for wildlife shooting, thanks to its compact size and long reach (960mm equivalent when mounted to the R7), having f/11 as its maximum aperture generally means using fairly high ISOs, even when light is pretty abundant.
The resulting photos show a reasonable degree of noise and image smoothing. This isn't too bad when looking at images at small sizes, but is pretty apparent as soon as you view them at full size or scrutinize them closely.
On the whole, though, we've been very impressed by the EOS R7's image quality. Colors are rich, warm and attractive, just as we'd expect from Canon. The automatic white balance setting proved a winner in every lighting scenario we threw at it - and you can even ask it to prioritize warm tones or cool tones depending on your preference.
Image 1 of 5
The all-purpose metering mode (known as evaluative metering for Canon cameras) worked well to produce well-balanced exposures, even when presented with high-contrast scenarios.
Raw files show a good amount of scope for making adjustments, allowing you to pull back a good degree of missing detail in lowlights and highlights when you need to. You can also change the balance of smoothing and noise if you'd prefer to see a little more detail than the JPEG output provides.
Image 1 of 3
Video quality is also good, with the benefit of uncropped 4K/60p video with 4:2:2 10-bit color depth. We've been critical of Canon's mid-range (EOS M) mirrorless options for their video limitations for some time, so it's nice to see a good hybrid camera at a reasonable price.
Content creators may want to consider the EOS R7, especially considering other useful features include the flip-out screen, mic and headphone sockets. One downside of video is that there's no 4K/120p mode for slow-mo shooting, but that won't be a deal-breaker for most.
Image and video quality score: 4/5
Should I buy the Canon EOS R7?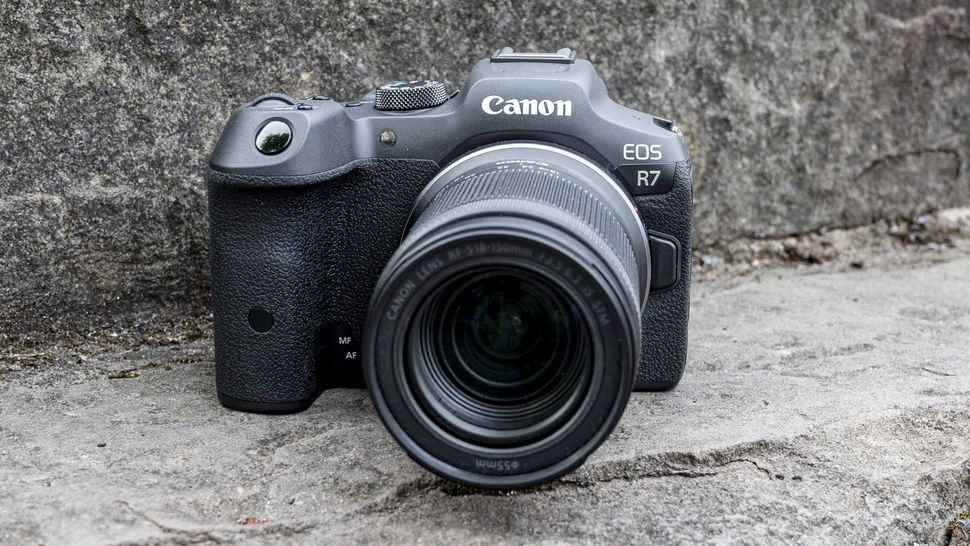 Buy it if...
You're on a budget and like wildlife or sports photography
With excellent autofocusing, subject-tracking and eye-recognition, the EOS R7 is a bit of a game-changer for Canon users who lack the top-end budgets to buy advanced full-frame models. Having an APS-C sensor is also an advantage for getting closer to the subject without having to invest in ultra-long lenses.
You don't mind waiting for native RF-S lenses
The lens situation as it currently stands is less than ideal. Yes, you can use any of the RF lenses, but in doing so you don't get the overall small size and weight that an APS-C system would otherwise lend itself to. You can also use DSLR lenses via an adapter, but you'll often run into the same problem again. Hopefully in time, the RF-S system won't suffer the same fate as EF-M and Canon will invest in a good range of optics.
You want a small, travel-friendly all-rounder
The EOS R7 is being touted as a sports and wildlife-type camera, but it's also an excellent all-rounder, being well-suited to plenty of other subjects such as landscape. Its small size and the 18-150mm kit lens also make it a good option for travel, with a good range of subjects covered by that focal range.
Don't buy it if...
You're frustrated by the lack of native RF-S lenses
This is a point we've mentioned several times, but only because we've been burned before by the EOS M system. Right now, sports and wildlife shooters are arguably better served by the likes of the Sony A6600 and the Fujifilm X-H2S, two APS-C systems with an excellent range of lenses. The A6600 isn't as nice to handle, and the X-H2S is far more expensive, but it really depends what you want (or need).
You crave full-frame or low-light excellence
There are lots of advantages to APS-C sensors, but many people will simply desire a full-frame camera. If you've been waiting to make the move to mirrorless, you might be more impressed by full-frame options, particularly if you've got the budget. And particularly if you shoot full-frame friendly subjects, such as low-light and portraiture. Give good consideration to the type of subjects you choose – as well as the amount you want to spend – before plumping for something like the R7.
You rarely shoot wildlife and sports
Although the EOS R7 is a good all-rounder, where it really shines is keeping up with fast-moving subjects. As such, if you never shoot said subjects, it can be a bit of a waste. You might want to consider either the R7's sister model, the R10, or look towards entry-level full-frame models which offer higher quality for static subjects such as landscapes.
Also consider...
If our Canon EOS R7 review has you considering other options, here are three more mirrorless cameras to consider...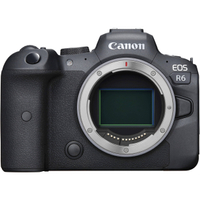 Canon EOS R6 Mark II
Although a chunk more expensive than the R7, the R6 Mark II is a fantastic choice for getting you into full-frame photography. Despite its larger sensor, it offers comparable speeds to the R7, with 40fps shooting possible when using its electronic shutter. With improved autofocus from its predecessor and 4K/60p video without a crop, it's effectively a full-frame version of the EOS R7.
Read our in-depth Canon EOS R6 Mark II review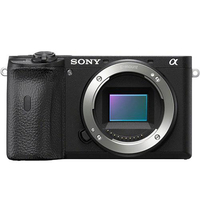 Sony A6600
Now a few years old, the A6600 still holds its own when it comes to photographing moving subjects. If sports and wildlife is your cup of tea and you're disappointed by the number of APS-C lenses currently offered for Canon's RF mount, then the A6600 should suit you better. Handling isn't quite as nice, and the single UHS-I card slot is a bit of a let down, though.
Read our in-depth Sony A6600 review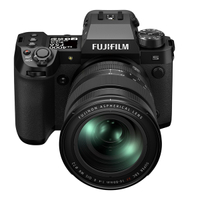 Fujifilm X-H2S
Up until now, Fujifilm hasn't been renowned for its sports and action shooting, but all that changes with the X-H2S. Managing to combine power and speed, there's already a comprehensive set of lenses and accessories for this well-established APS-C system. But the big problem here is the price – for the price of the X-H2S, you can pick up some full-frame rivals, making it an expensive proposition.
Read our in-depth Fujifilm X-H2S review
Testing scorecard
Swipe to scroll horizontally
Canon EOS R7

| Attributes | Notes | Rating |
| --- | --- | --- |
| Price | Excellent specifications for the price, particularly for action shooters | 4.5/5 |
| Design | Intuitive, chunky yet small - the EOS R7 handles very well | 4.5/5 |
| Features/performance | Superb autofocus and burst shooting powers for the price | 4.5/5 |
| Image/video quality | Impressive overall, but low-light / high ISO shooting not on a par with full-frame | 4/5 |