Editor's note
The majority of beginner-friendly DSLRs, including the Nikon D3500, have now been discontinued. For now, it's still possible to find stock of the D3500 and many others in our list below. But if you're on a tight budget you should definitely consider delving into the second-hand market.

The used camera market is booming right now, which means there are plenty of reputable places to pick up a bargain DSLR. In the US, we recommend the likes of B&H Photo Video (opens in new tab), MPB (opens in new tab) and Adorama (opens in new tab), while those in the UK should check out Ffordes (opens in new tab), MPB (opens in new tab), Wex Photo Video (opens in new tab) and Park Cameras (opens in new tab).

The Nikon D3500, for example, is available for only $354 in the US and even mid-range DSLRs like the Nikon D5600 can be found for $464 / £359 (around AU$655) in 'good' condition on MPB. The only downside when buying used is that you don't get the kit lens bundles that are often available when buying new, so it's still well worth comparing second-hand deals with the latest offers on new bodies shown in our guide below.

Mark Wilson, Cameras editor
The best beginner DSLR cameras are still great options for new photographers. While the best beginner mirrorless cameras are better choices for those who need a modern shooting experience, DSLRs remain the cheapest way to get a camera with a built-in viewfinder. They also offer great handling and, thanks to their tried-and-tested sensors, often produce excellent images.
We've tested pretty much every beginner DSLR you can buy to create our ranked guide below. After countless hours of testing, the Nikon D3500 tops our list. Though it was recently discontinued, you can still find it stocked at many retailers. Thanks to its accessible controls, excellent image quality and catalogue of compatible lenses, we still think its the best DSLR camera for beginners to learn and grow with.
If you're blessed with a bigger budget, we also highly recommend the Canon EOS Rebel T8i (also know as the Canon EOS 850D outside the US). One of the newest beginner DSLRs on the market, its phase-detect autofocus is fast, reliable and great for video.
Nikon, Canon and Sony are all phasing out their DSLRs, which means new models are increasingly rare. Because most of the options featured here have been around for a while, you're likely to find great savings online.
We regularly update this guide to reflect the latest pricing, with links beneath each entry taking you straight to the top offers. We've also shared some useful tips to consider when shopping for a beginner DSLR camera. And if you're not glued to the idea of a DSLR, we recommend also reading our guide to the best cameras for beginners.
The best beginner DSLRs for 2023
Why you can trust TechRadar We spend hours testing every product or service we review, so you can be sure you're buying the best. Find out more about how we test.
Nikon may not have announced any new entry-level DSLRs for a while, but the D3500 remains an excellent option for those who are new to photography. It picks up from where the D3400 left off, but with a handful of extra perks. Unlike power-hungry mirrorless models, the major advantage of this camera is battery life. We found that it could keep going for over 1,500 images between charges, which is way ahead of most other DSLRs. In our tests, the 24MP sensor also delivered excellent image quality.
Nikon also revised the body and control layout of the D3500 compared to previous generations, which we think makes it nicer to handle and easier to use. The useful Guide Mode also takes the first-time user's hand and walks them through all the key features in a way that makes everything easy to understand. We still love the D3500 – and if you're just getting started, we reckon you will, too.
Read our in-depth Nikon D3500 review
---
The EOS Rebel SL3 (also known as the 250D and 200D Mark II, outside the US) isn't Canon's cheapest DSLR, but we think it offers the best blend of features, performance and value around. For a start, it's the smallest and lightest DSLR with an articulating screen, which means it isn't an intimidatingly large as some of its rivals. It also adds a fresh processing engine and 4K video recording to its Rebel SL2 (EOS 200D) predecessor.
We were impressed with its responsive touchscreen, speedy start-up time and excellent Dual Pixel CMOS AF system, which also works when you're shooting 1080p video (though not sadly in 4K). Its 5fps burst shooting can't compete with the latest mirrorless cameras, so those who like to shoot sports or action should look elsewhere. But for our money, the EOS Rebel SL3 / EOS 250D makes slightly more sense than Canon's super-budget DSLRs like the EOS Rebel T100 (also know as the EOS 4000D / EOS 3000D), if you can afford to pay that bit more.
Read our in-depth Canon EOS Rebel SL3 / EOS 250D review
---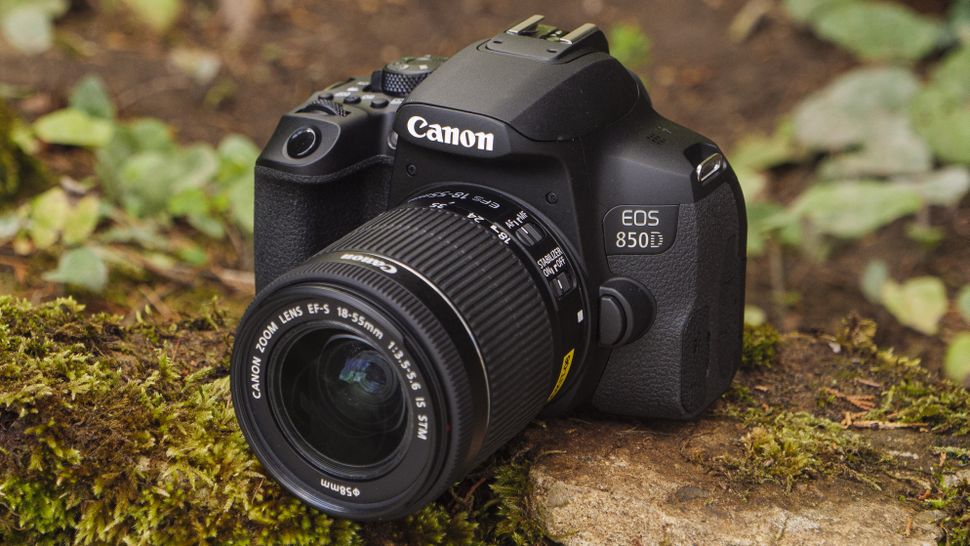 The Canon EOS Rebel T8i (know as the EOS 850D outside the US) takes the baton from the popular Rebel T7i / EOS 800D, which is now tricky to find. This new model isn't a huge upgrade, with the most notable addition being a 4K video mode that we found to be hampered by frame-rate restrictions. Still, the Rebel T8i / EOS 850D remains one of our favorite all-round DSLRs for beginners.
You get a Dual Pixel phase-detection AF system, which in our tests was fast, reliable and great for video. Its button layout is also very considered, while the vari-angle LCD screen handles really well. As long you ignore that headline of 4K video, which involves a crop and the loss of phase-detection autofocus, it remains a great option for anyone who's starting a photography hobby and prizes DSLR advantages like battery life and handling over the latest mirrorless tech.
Read our in-depth Canon EOS Rebel T8i / EOS 850D review
---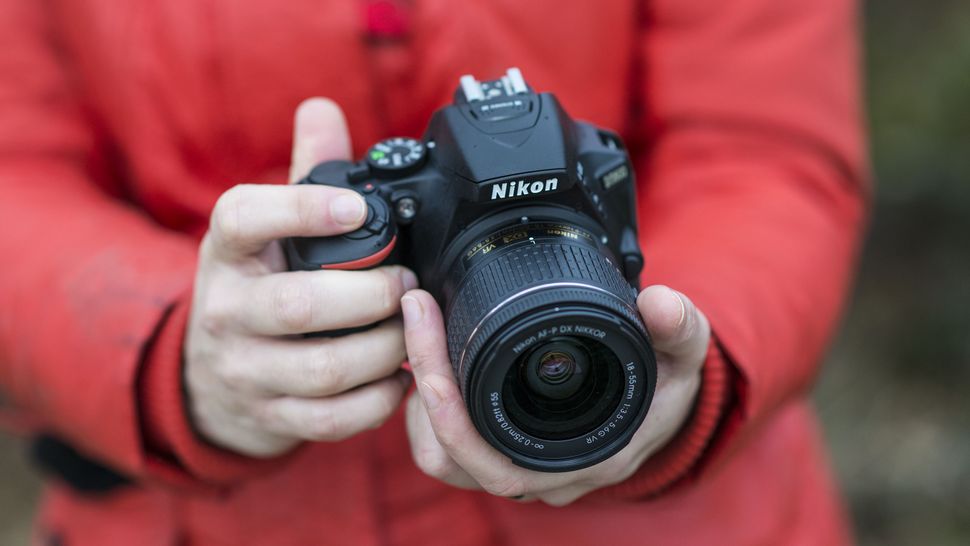 Here's another beginner DSLR that is holding its own against the rise of mirrorless cameras. The D5600 is a step up from Nikon's D3000-series models, with a stronger set of specs to rival the likes of the Canon EOS Rebel T8i / EOS 850D (see above). Key advantages over the D3500 include a large touchscreen that has a vlogging-friendly articulating design to flips round to the front, plus Wi-Fi and a healthy range of additional control on the inside.
In our tests, its 24.2MP sensor also produced very detailed images that didn't disappoint. In fact, despite the D5600's age, you'll likely need to upgrade to a full-frame camera to get better results. We also found the 39-point AF system to be decent, if a little dated, while some polished handling makes the D5600 a well-rounded entry-level DSLRs. You need to pay a little bit more for the privilege, but if you need a little more growing space, it makes sense to go for the D5600 – it'll be a reliable companion for years to come.
Read our in-depth Nikon D5600 review
---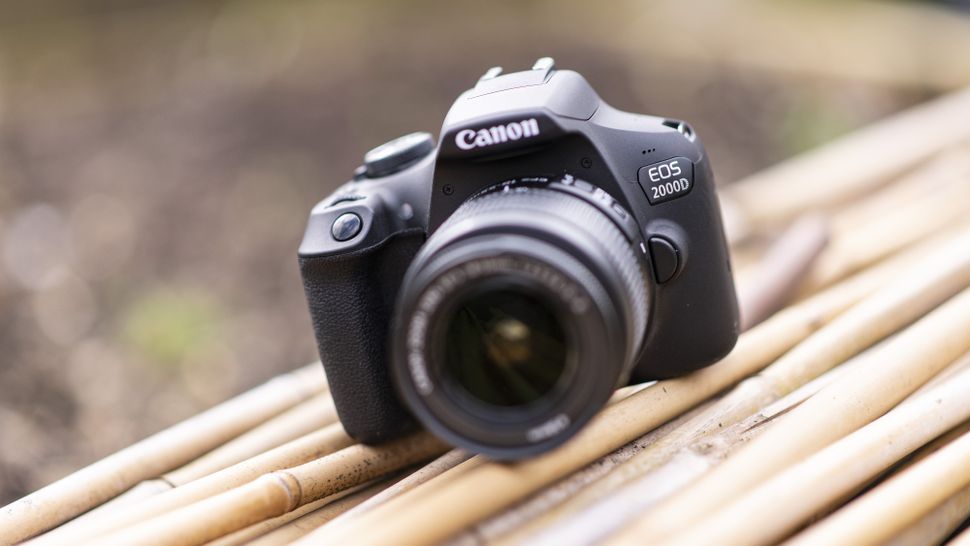 This is one of the cheapest DSLRs in Canon's current line-up, which also makes it a very cost-effective way to get access to an endless assortment of lenses, flashguns and other accessories. Its low price tag means it understandably lacks some of the fancy tricks of its bigger brothers – like a flip-out LCD, 4K video and so on – but there's still a very good level of physical control on offer.
Most importantly, we found the image quality produced by the 24MP sensor to be very sound. The camera is designed very much with its target audience in mind, with a Feature Guide to help you understand basic settings, while its impressive battery life is also better than many mirrorless models at this price point. Wi-Fi, NFC and Full HD video recording round off the specs, making it a well-rounded first-time option for those on a budget.
Read our in-depth Canon EOS Rebel T7 / EOS 2000D / EOS 1500D review
---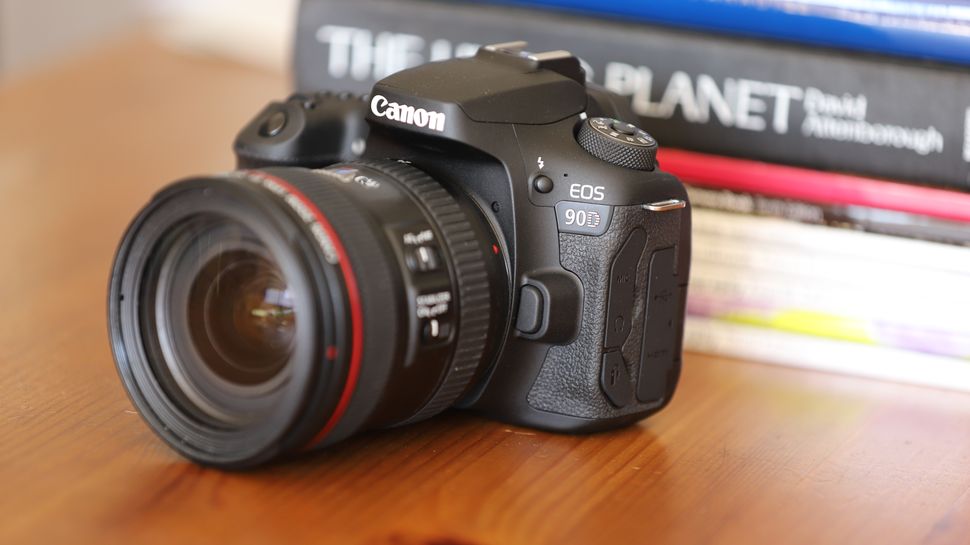 The Canon EOS 90D might be the last enthusiast-level DSLR the company ever makes – and if so, it's going out with a bang. The versatile 90D packs a high-resolution sensor which, paired with Canon's Digic 8 imaging engine, offers the enticing prospect of uncropped 4K video at 30fps.
In our tests, color reproduction was superb and there was plenty of detail in both stills and video. A new 216-zone metering system also helped in this department, even if noise did creep into images above ISO 8000. A deeper grip meant the 90D is also felt really comfortable in our hands, while a joystick made selecting from the Dual Pixel CMOS AF points a cinch.
Battery life is a boon, too, with at least 1,500 shots possible on a single charge in our experience. It's possibly a bit too much camera for an absolute beginner (both in price and features), but there's no doubt it offers a lot of room to grow into. Either way, the 90D proves that DSLRs still very much have a place in the mirrorless world.
Read our in-depth Canon EOS 90D review
---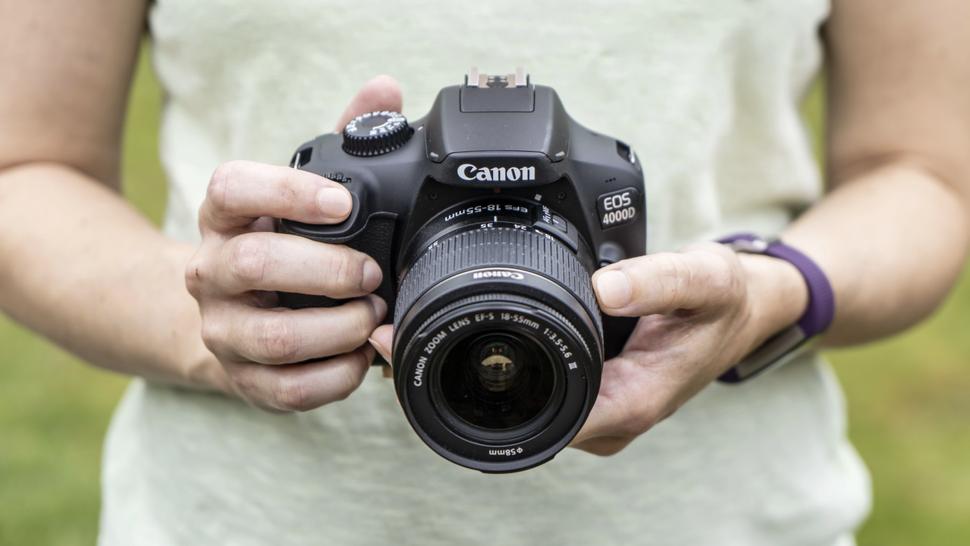 If you're making your first foray into DSLR ownership, you don't necessarily need a camera that can do everything. And if you're looking for something very basic but very affordable, Canon's 4000D (also called the 3000D in some markets) is a decent first choice.
There's a lot about the 4000D that seems dated alongside the latest entry-level models. The 18MP sensor and DIGIC 4+ processor are both aging, as is the modest 9-point autofocus system, which has been in Canon's catalogue since 2009. The LCD display likewise feels long in the tooth, with a 2.7-inch diagonal and 230k-dot resolution, while we found Live View performance to be a little sluggish. Finally, the polycarbonate shell feels understandably cheap.
But it's not all bad: we found the button layout easy to navigate, while battery life proved solid in our tests at about 500 shots per charge. Even more importantly, we found image quality to be adequate, with noise handled fairly well. Those upgrading from a smartphone or compact should find results decent, with a fair amount of detail and a good level of saturation, while Picture Style presets enable easy tonal tweaks. To more experienced buyers, the 4000D will feel like a step back in time, with older components and unremarkable performance. But if affordability is your priority, you might be able to look past the limited feature set and see some wallet-friendly potential.
Read our in-depth Canon EOS Rebel T100 / EOS 4000D review
---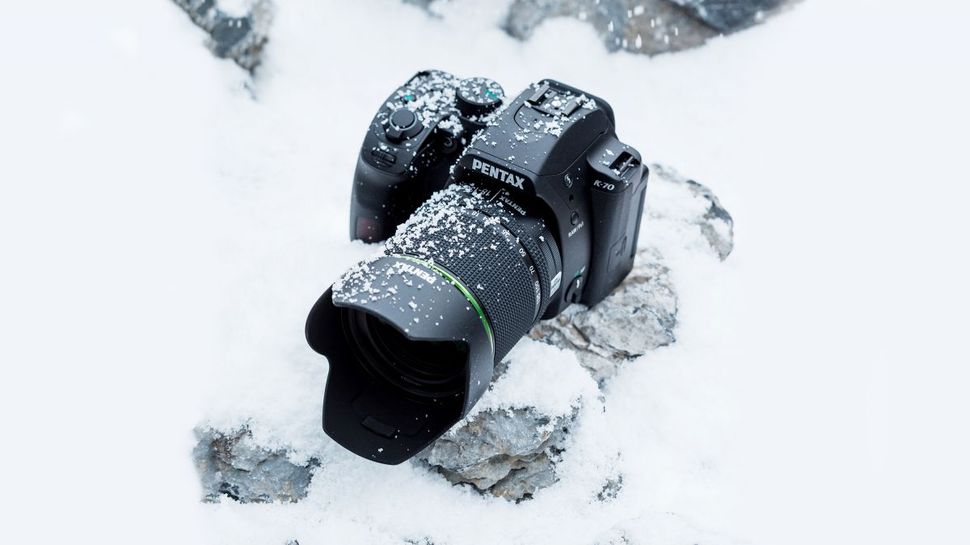 The new Pentax KF is a very mildly updated version of the Pentax K-70, bringing minor features like a slightly higher-res LCD. Still, it's effectively a K-70 in all but name, so this camera remains in our guide for those who are fans of the Pentax brand or its lenses.
The Pentax K-70 (or KF, if stock is available in your region) remains a good-value option for those who want something different from the 'big two' DSLR manufacturers. It's a particularly good choice if you have a stash of old Pentax lenses gathering dust in a basement. The K-70 has a very useful articulating screen, while the hybrid live view autofocus system makes it an actual practical alternative to using the viewfinder.
Our favorite thing about the K-70 is its tough build quality, which is typically lacking in entry-level models. If you're keen to take lots of pictures outdoors – such as landscape shooting – being able to rely on it not being destroyed by inclement weather is a big bonus. One slight disappointment is the kit lens which is often bundled with the camera – while it offers a much longer focal length than most others here, we found that it can be a little soft in places.
Read our in-depth Pentax K-70 review
How to choose the best beginner DSLR for you
There are four main factors to consider when buying a beginner-friendly DSLR: the camera's size, sensor size, screen and kit lens options.
If you're trying to learn your way around manual settings like aperture and shutter speed, which is one of the main benefits of a DSLR, then you'll ideally need a model that's small and light.
This means you'll be more likely to take it out regularly and master those controls. The most beginner-friendly cameras, like the Nikon D3500 (below) and Canon 250D, tend to be particularly small for DSLRs, so take a close look at those.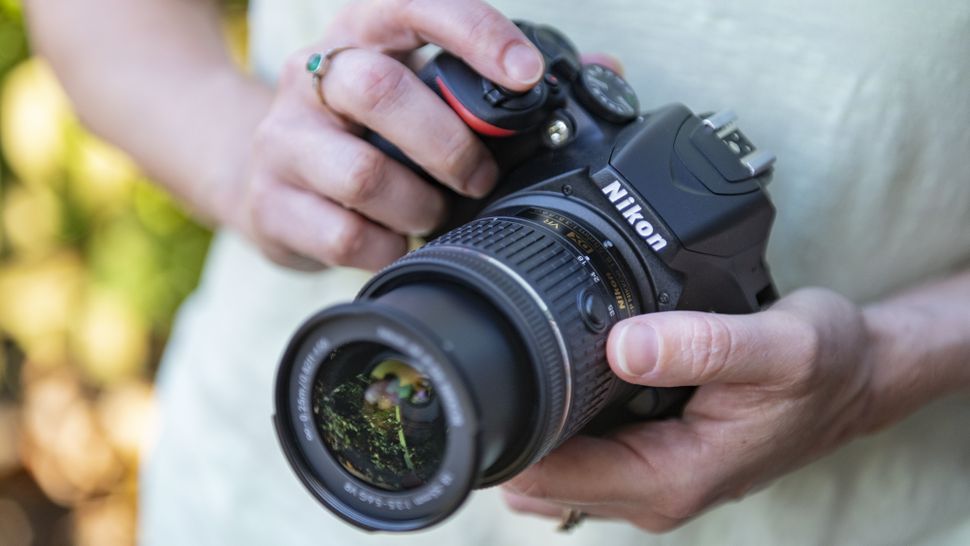 Another factor to consider is the camera's sensor size. Most beginner-friendly DSLRs have APS-C sensors, which are much larger than a smartphone's and more than good enough for those starting out on the photography journeys. But if you're buying second-hand, you may find that full-frame options like the Nikon D610 and D750 come into your price range.
Full-frame cameras aren't necessarily better than APS-C ones. The traditional strengths of full-frame are dynamic range, strong low-light performance, and pleasing bokeh, but these all add to the cameras' size and price. Consider the kinds of things you like to photograph – it can sometimes be easier to shoot distant subjects like wildlife and sports with APS-C cameras due to their narrower angle of view (like in the example below).
Looking to shoot lots of video along with your stills? DSLRs can be cheap YouTube workhorses too, so make sure you look out for models with a vari-angle screen (like the ones on most Canon models) if you need this. These can help you shoot from different angles and also flip round to the front so you can check your framing while recording to camera.
Lastly, you'll want to consider lenses. As a beginner, you'll most likely be starting from scratch, which means it makes more sense to buy your DSLR with a kit lens. A word of warning here, though – most manufacturers offer two types of kits lens, one with image stabilization and one without. It's best to go with the image-stabilized kit lens, as you'll be able to shoot sharper images at slower shutter speeds.
While an 18-55mm kit lens will be more than enough to get you started, one of the big benefits of DSLRs is being able to add extra lenses for different kinds of photography. For example, wide-angle and telephoto zoom lenses, as well as high-quality macro options. You can also add a flashgun and other accessories, which help you to make the most of whatever types of photography you're into.
Still not entirely sure whether you need a DSLR or a mirrorless camera? Don't forget to check out our Mirrorless vs DSLR cameras guide. Alternatively, if don't quite know what kind of camera you need at all, then read our easy-to-follow guide to camera types: What camera should I buy?
Canon vs Nikon: which is better for beginners?
Even though Pentax still makes DSLRs, Canon and Nikon rule the market with the most DSLR models under their individual belts. And they both compete in terms of feature set, image quality and price. So which brand's entry-level DSRLs is best for you?
That will be a personal choice. Both manufacturers have several excellent choices as you can see from our list above. Both have beginner DSLRs that are compact, easy to use and come with a plethora of lenses to support your growing passion for photography. A lot of them are also wallet-friendly, in case you're looking for a budget DSLR.
The only points of difference between the two are the external button layout and internal menu setup – they're different on Canon and Nikon. That said, both are user-friendly, so the ultimate choice will come down to which one suits you best.
How we test DSLRs
Buying a camera these days is a big investment, so every camera in this guide has been tested extensively by us. These days, real-world tests are the most revealing way to understand a camera's performance and character, so we focus heavily on those, along with standardized tests for factors like ISO performance.
To start with, we look at the camera's design, handling and controls to get a sense of what kind of photographer it's aimed at and who would most enjoy shooting with it. When we take it out on a shoot, we'll use it both handheld and on a tripod to get a sense of where its strengths lie, and test its startup speed.
When it comes to performance, we use a formatted SD card and shoot in both raw and JPEG (if available). For burst shooting tests, we dial in our regular test settings (1/250 sec, ISO 200, continuous AF) and shoot a series of frames in front of a stopwatch to see if it lives up to its claimed speeds. We'll also look at how quickly the buffers clears and repeat the test for both raw and JPEG files.
Where applicable, we also test the camera's different autofocus modes in different lighting conditions (including Face and Eye AF) in single point, area and continuous modes. We also shoot a range of photos of different styles (portrait, landscape, low light, macro/close-up) in raw and JPEG to get a sense of metering and its sensor's ability to handle noise and resolve fine detail.
If the camera's raw files are supported by Adobe Camera Raw, we'll also process some test images to see how we can push areas like shadow recovery. And we'll also test its ISO performance across the whole range to get a sense of the levels we'd be happy to push the camera to.
Battery life is tested in a real-world fashion, as we use the camera over the course of the day with the screen set to the default settings. Once the battery has reached zero, we'll then count the number of shots to see how it compares to the camera's CIPA rating. Finally, we test the camera's video skills (where necessary) by shooting some test footage at different frame rates and resolutions, along with its companion app.
We then take everything we've learned about the camera and factor in its price to get a sense of the value-for-money it offers, before reaching our final verdict.
Should you buy a mirrorless camera over a DSLR? Watch our guide video below to learn more: