Looking for the best camera for landscape photography? If it's scenic shots you're after, then you've come to the right place – we've rounded up all of the finest photographic companions for the great outdoors, whatever your budget.
Landscape photography cameras often have a specific range of skills, because they're usually attached to tripods during exposures that are too long for handheld shots. Rather than burst modes or advanced autofocus, the most important factors are often resolution, build quality, weather-proofing and their overall size.
While large sensor cameras can be pricey, this means that you also don't necessarily need the absolute latest models – so we've included a mix in this in-depth guide, based on countless hours spend out in the field. Naturally, lenses are also an important factor when choosing the best landscape photography camera, so we've factored that in, too.
Full-frame and medium format cameras offer the highest resolutions for making larger prints and offer the best noise handling at high ISO settings. The latter isn't essential for landscape photography cameras, making smaller and lighter APS-C and Micro Four Thirds (MFT) cameras strong options if you need a camera that's more comfortable to carry over long distances. Editing software tricks like Adobe's 'Super Resolution' also makes it possible to double the size of raw files with excellent results, so lower resolution sensors don't always present a major problem.
There's no denying that medium format cameras like the Fujifilm GFX 50S II provide the best overall image quality with larger pixels spread over a huge sensor to provide smoother color and tonal graduations. But image quality from smaller sensor cameras remains impressive. So much so, that professional landscape photographers can simply use the camera format that best suits their needs.
What's the best camera for landscape photography right now? Overall, we'd say it's the Sony A7R IV. Despite being a few years old, its mix of an excellent 61MP sensor, a sturdy weather-proof build, and Sony's excellent range of recently updated lenses give it the slight edge over the Nikon Z7 II. But you don't have to spend a fortune to get a great landscape photography camera either, as the other options in our guide show.
How to choose the best camera for landscape photography
Why you can trust TechRadar Our expert reviewers spend hours testing and comparing products and services so you can choose the best for you. Find out more about how we test.
Buying any camera for a specific genre of photography involves weighing up your budget, personal preferences and other factors like existing lenses. For landscape photography, this certainly applies, but it's one subject where you can capture fantastic images with few, if any, bells and whistles – it's resolution, size, weight and build quality that are most important.
The size and weight of a camera system are very much a personal choice; some photographers are willing to carry larger and heavier medium format cameras to enjoy the best image quality possible. While others opt for the middle ground with a full-frame camera. Then some prefer the size and weight advantages of APS-C and Micro Four Thirds cameras.
Weather-sealing is always important because it's not uncommon to find yourself shooting in inclement weather. And although a rain cover is always useful to avoid putting a wet camera into a dry camera bag, knowing that your camera and lenses are dust and moisture resistant adds another layer of confidence in these situations.
Buying a new camera is always an exciting prospect, but it can also be fraught with risk. Choose the wrong model and you'll be cursing yourself for years to come, or could even find yourself trading in prematurely. The camera market can be confusing, so we've compiled a list of the best landscape photography cameras suitable for all budgets and requirements.
The best cameras for landscape photography in 2022:
---
It may be an all-rounder that's capable of shooting a wide variety of subjects, but the 61MP Sony A7R IV is particularly compelling for serious landscape photographers. It shoots incredibly detailed images with good exposure, low noise and pleasing colors – and is bolstered by a fine range of landscape-friendly lenses, too.
With many excellent Sony wide-angle primes and zooms, plus high-quality offerings from third-party lens manufacturers, there's no shortage of optics to suit your style and way of shooting. And with a 16-35mm f/4 and a 16-35mm f/2.8 available, there's a wide-angle zoom option to suit all budgets, too.
The A7R IV offers long-lasting battery life when set to Airplane Mode, but with Bluetooth and WiFi connectivity you can wirelessly tether the camera to a laptop with ease or enjoy wireless control of the camera. A built-in interval timer makes shooting time-lapses incredibly easy, and there's a Pixel Shift Multi Shooting feature where several sensor-shift images can be merged to create a larger image file, although the 61MP resolution is more than satisfactory in most situations.
The main downside to Sony mirrorless cameras is the unintuitive menu system, which is tricky to navigate compared to other manufacturers. But with dust and moisture resistance, plenty of customization options and direct access buttons, alongside 567 AF points, you're never too far from your next best landscape shot. If the A7R IV's price and resolution are too high for you, then it's also worth considering the 33MP Sony A7 IV.
Perfect landscape lens: Sony FE 16-35mm f/2.8 GM
The Sony FE 16-35mm f/2.8 GM is one of, if not the best, lenses available in this focal range. And while it's expensive, the large maximum aperture combined with excellent image quality make it a great option for landscape photographers who need a versatile wide-angle zoom. The f/2.8 maximum aperture may not be as fast as the FE 24mm f/1.4 GM or the FE 20mm f/1.8 G, which are great lenses for astrophotography, but the 16-35mm can perform well when shooting this type of photography, making it a fantastic all-round option for landscape and outdoor photographers shooting with A1, A7 and A9-series cameras.
---
Nikon may have been late to the full-frame mirrorless camera party, but the Z7 II is the company's most impressive offering to date. This 45.7MP professional camera is pricey and ideal for landscape photography, but if you need a full-frame Nikon mirrorless camera with an equally impressive feature set, then the 24.5MP Z6 II provides a more cost-effective alternative.
There aren't as many native lenses available for the Nikon Z system as Sony E-mount, but for landscape photographers, there are all the wide-angle primes and zooms you could ever need, plus the promise of more to come. That's alongside some impressive third-party options, although once again there are fewer than for Sony E-mount due to the infancy of the Z-mount. The Mount Adapter FTZ II, however, allows the use of an extensive catalogue of F-mount lenses to be used with the camera.
Features of interest include base ISO 64, an interval timer for time-lapse photography, class-leading weather sealing, and the ability to set the camera to take focus-stacked images to be merged in Photoshop for a larger depth-of-field in the final image. The camera offers dual card slots – one SD and the other XQD – with the latter being faster and more expensive than the former. This may be of use to action and sports photographers, but for landscape shooters dual high-speed SD card slots would have been preferable. Still, it's a minor black mark on one of the best landscape photography cameras around.
Perfect landscape lens: Nikon Z 14-30mm f/4 S
Every landscape photographer needs a wide-angle zoom, and the Nikkor Z 14-30mm f/4 S is a versatile workhorse. Despite the lens' ultra-wide 14mm minimum focal length, it has an 82mm filter thread – which means you can use standard 100mm filters, rather than requiring 150mm filters like some ultra-wide lenses. This lens isn't as fast as the Nikkor Z 14-24mm f/2.8 S, but the larger focal range and more affordable pricing make the 14-30mm f/4 a fantastic option that can be complemented with the Nikkor Z 20mm f/1.8 S if you need a fast prime for astrophotography, for example.
---
If you're a Canon DSLR owner or someone looking for an affordable entry point to full-frame mirrorless cameras, the 30.3MP Canon EOS R is an attractive option. It's now well over three years old, and there are rumors of a possible successor later this year. But for landscape shooting, the EOS R continues to offer superior value to over the admittedly more future-proofed Canon EOS R5.
In terms of lenses, the Canon RF line-up is growing fast. Like Nikon's Z-mount lenses, it's still smaller than the longer standing Sony E-mount options. This will, of course, grow over time and third-party options will also improve, but for existing Canon DSLR owners and newcomers to the RF system, the optional Mount Adapter EF-EOS R makes it possible to use Canon's extensive list of EF/EF-S lenses, as well as those from third-party manufacturers.
The EOS R uses a sensor that's similar to the one in the Canon EOS 5D Mark IV. This means it isn't as up to date as more recent EOS R models or those from Nikon and Sony, but it still provides a very respectable performance. There's also only one SD card slot, but with excellent dust and water-resistant sealing, 5655 AF points, a low price and solid overall handling, it remains a fine landscape photography camera. Particularly for those who are on a budget but want to shoot with a full-frame mirrorless camera.
Perfect landscape lens: Canon RF 15-35mm F2.8 L IS USM
Buying a cheaper body can leave you with more cash to spend on lenses, which is never a bad thing. Canon's wide-angle options are currently limited, but the RF 15-35mm F2.8 L IS USM is a versatile option that will let you to shoot landscapes and even astrophotography thanks to its f/2.8 maximum aperture. If this lens is out of your budget, the slightly wider but slower RF 14-35mm f4 L IS USM is also a fantastic option. And if you're looking for a wide-angle prime, the Canon RF 16mm f2.8 STM is inexpensive, extremely small and lightweight.
---
Some landscape photographers like to carry the smallest and lightest kit available, while still enjoying professional features and functionality. And this is exactly what the Olympus OM-1 offers. Its sensor is just 20.4MP and in the smaller Micro Four Thirds (MFT) format, but the camera does offer an 80MP High Res Shot Mode where the sensor shifts to create larger raw files. The only downside is that this function doesn't work as well with landscapes that contain movement.
The great thing about the Olympus and Panasonic Micro Four Thirds lens mount is that lenses are interchangeable between the two manufacturers. So, while both companies produce some similar lenses, others are completely different, which means you benefit from a wider range of possibilities. Plus, there are lots of third-party lenses available for the MFT lens mount.
Despite its diminutive size and low weight, the Olympus OM-1 is a professional powerhouse packed with the latest technology, including IP53 dust and moisture resistance and arguably the best in-camera image stabilization available today. It's so good that it's possible to shoot one-second exposures handheld.
Other bonuses include focus stacking and a Live Composite Mode, which combines long exposures into a single image that builds on an initial exposure as new light enters the scene. This is great for night photography, because it takes some of the guesswork out of exposures, and is popular with photographers who regularly paint with light.
Perfect landscape lens: Olympus M.Zuiko Digital ED 8-25mm f4 PRO
Having a choice between Olympus and Panasonic MFT lenses is fantastic for photographers, because it provides many more lens options than most systems. There are several wide-angle options available, but the one that combines performance, price and ease of use is the Olympus M.Zuiko Digital ED 8-25mm f4 Pro, which has a full-frame equivalent focal length of 16-50mm. This makes the lens incredibly versatile, but if you'd like a higher quality lens the Olympus M.Zuiko Digital ED 7-14mm f2.8 Pro is another great option. The only downside to this lens is that despite its small size, it requires the use of a special filter holder and 150mm filters, unlike the 16-50mm that can be paired with standard 100mm filters.
---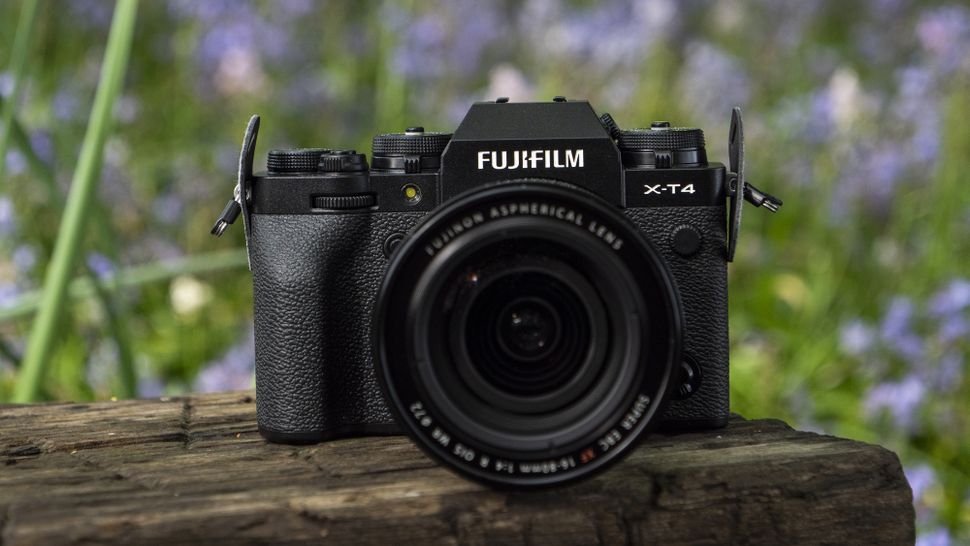 There aren't many cameras that can perform as well for both beginners and professionals, but the Fujifilm X-T4 is one camera that successfully breaks the mould – and it does so with style. This retro-inspired APS-C camera with tactile controls features an excellent 26.1MP sensor and is very good value for a camera that's more than capable of satisfying the demands of professional photographers.
Fujifilm optics are well-known for their excellent performance with several wide-angle zoom lenses and many more primes available to satisfy the needs of landscape photographers. Most are also weather-resistant, which is a huge bonus when partnered with the weather-resistant X-T4. Plus, there are lots of excellent third-party lens options that expand the potential of the system further.
The X-T4 is small and lightweight, offering an APS-C sensor that sits between full-frame and Micro Four Thirds in terms of size. For landscape photography, there are two aspects of the camera that are incredibly useful, despite not being headline features; these are the ability to set the mode dial to T mode and set exposure times much longer than 30 seconds with an on-screen countdown timer. And in Bulb Mode, an on-screen timer is also displayed.
These make it incredibly easy to shoot long exposures with 10-stop ND filters, and Time (T) mode allows you to do so without the need for a shutter remote, using the self-timer instead. There's also an interval timer available for shooting time-lapse photography, making this a compelling camera option for photographers of all levels. The main negative for the camera is the lack of a supplied battery charger. Instead, an adaptor is provided for in-camera battery charging.

Perfect landscape lens: Fujifilm XF 10-24mm f4 R OIS WR
There's no shortage of wide-angle primes for Fujifilm owners, and three zooms provide access to the most commonly used focal ranges in landscape photography. The most appealing lens is the Fujifilm XF 10-24mm f4 R OIS WR offering a full-frame equivalent focal range of 15-36mm with a 72mm filter thread that can be used with 100mm filters. The pricier wide-angle Fujifilm XF 8-16mm f2.8 R LM WR Lens, meanwhile, requires a special filter holder and 150mm filters. You get a wider field of view and faster aperture with this lens, but the need for larger filters on the XF 8-16mm is unappealing when you've invested in a smaller system like this.
---
The Panasonic Lumix G9 is most often touted as a great camera for wildlife and sports photography, thanks to its extremely fast frame-rates. But this certainly doesn't mean it isn't also well-suited to landscape photography – and thanks to its affordable price tag, the 20.3MP Micro Four Thirds (MFT) camera is the perfect option for beginners and enthusiasts. What's more, there are plenty of great optics to choose from.
Panasonic MFT cameras are also compatible with Olympus MFT lenses since they share the same lens mount. So although there's some crossover with the lenses that each manufacturer produces, this interchangeability opens up the possibilities for a much wider range of lenses. There are also plenty of third-party lenses available for the MFT lens mount, further widening the options available.
The most impressive features of this camera are geared towards speed, but it's certainly no slouch when it comes to shooting landscapes. While AF performance and shooting rate are inconsequential for this type of photography, the G9 produces excellent image quality in a small and lightweight package. It also offers focus stacking, an interval timer for time-lapse photography and an 80MP Sensor Shift High Resolution Mode. Although like the Olympus OM-1, this feature may not be well suited to landscapes featuring movement.
Perfect landscape lens: Leica DG Vario-Elmarit 8-16mm f/2.8-4.0 ASPH
The most versatile lens available for the G9 is the Leica DG Vario-Elmarit 8-16mm f/2.8-4.0 ASPH, offering a full-frame equivalent focal range of 16-36mm. The maximum aperture is variable depending on the zoom factor, but only closes down by one stop as you zoom in. This lens will work perfectly with 100mm filters, but if you're looking for something slightly less expensive and wider, the Lumix G Vario 7-14mm f/4 ASPH provides an equivalent focal range of 14-28mm. Another lens that's extremely interesting, but with a professional price tag, is the Leica DG Vario-Summilux 10-25mm f/1.7 ASPH. With a 20-50mm equivalent focal range and constant f/1.7 aperture, this is one of those lenses that could be used for many types of photography, including landscape and astrophotography.
---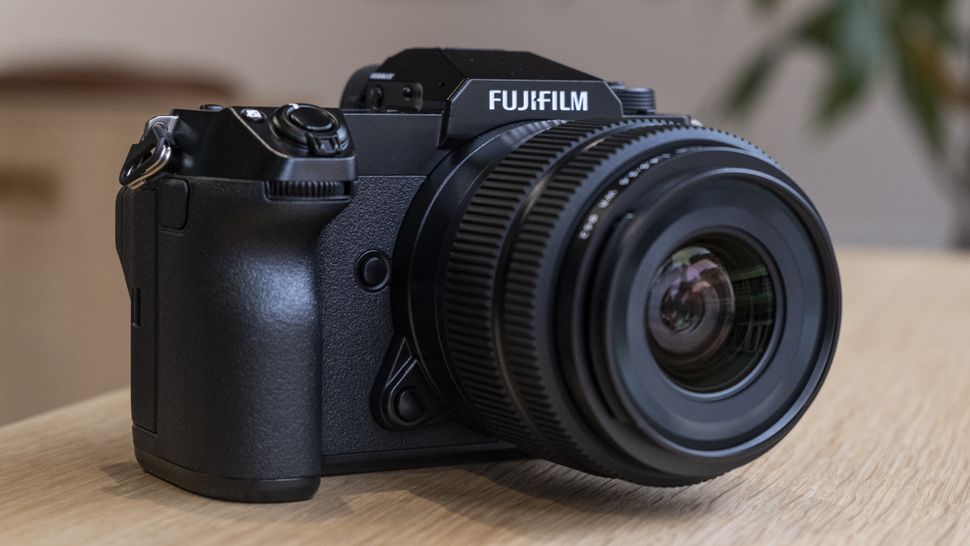 If maximum image quality is your priority, even at the expense of portability and your bank balance, then there are few better options than the medium format GFX 50S II. It sensor is 1.7x bigger than full-frame, and the result is photos with superb dynamic range and impressively fine detail. This is particularly noticeable in low-light situations, where you can pull out huge amounts of detail from the shadows.
The GFX 50S II certainly isn't cheap, but it actually isn't that much more expensive – even when you factor in lenses – compared to full-frame rivals like the Sony A7R IV and Nikon Z7 II. While you do get a larger sensor than those cameras, the compromise is a slight lack of everyday practicality. The autofocus, for example, is a little sluggish and it can only hit a maximum of 3fps, which will put off anyone who's looking for an all-rounder.
Still, the GFX 50S II is certainly feature-packed in other ways that are beneficial to landscape photographers. The 6.5 stops of in-body image stabilization (IBIS) are there if you fancy taking the camera off the tripod and composing handheld, and it also supports a 205MP multi-shot mode (as long you're shooting static subjects).
Then there are the system's brilliant GF lenses. The GF30mm f/3.5 WR and GF45-100mm f/4 R LM OIS WR are arguably the best choices for landscape shooters, with both offering weather-resistance and impressive sharpness. Like the camera itself, they aren't cheap, and some photographers may prefer the higher-resolution GFX100 or the versatility of a full-frame camera to the more limited GFX50S II. But for landscape shooters in search of maximum quality, it remains one of the best options out there.
Perfect landscape lens: Fujifilm GF30mm f/3.5 R WR
Offering an equivalent focal length to 24mm on full-frame cameras, the GF30mm is a very practical choice for landscape shooters who want something that's neither too big nor too pricey for their GFX camera. It's weather-sealed, weighs 'only' 508g and offers impressive sharpness across the frame. It isn't the brightest lens, thanks to that f/3.5 aperture, but that won't be an issue for most landscape shooters, who'll be looking to capture the fine details of sunlit mountains rather than gloomy music venues.
---
What are the best settings for landscape photography?
Capturing great landscapes is more about location, composition, light and weather than settings. But even so, using the right settings to ensure the best possible image quality and a large depth-of-field is essential. Typically, ISO needs to be set to the base ISO setting which is usually ISO 64 or 100. This provides the maximum dynamic range available for the camera being used.
Beyond ISO, shoot in manual or aperture priority and set metering to Evaluative/Matrix for an exposure value that's calculated according to light and dark areas in the scene, with white balance set to Daylight. Shooting in Daylight white balance will capture the natural color of the light rather than being neutralized by Auto white balance. Plus, you can adjust the white balance when processing raw files.
For landscape photography, shooting in raw provides a huge amount of scope for making adjustments to reveal, recover and enhance the rich detail you're typically capturing. Plus, it ultimately helps you to enjoy the best image quality possible, because you're working on the raw image data rather than a JPEG that has already been processed in-camera.
When it comes to focusing, for a large depth-of-field, it's recommended that you focus a third of the distance into the scene beyond the foreground area that you'd like to be sharp and in focus. This can be applied manually or using autofocus. In terms of aperture, it's best not to set the minimum aperture of f/16 or f/22 because diffraction (an overall softening of the image) will be an issue. Instead, shot at f/11-16 on a full-frame camera, f/8-f/11 with APS-C and f/5.6-f/8 for Micro Four Thirds.
How we test landscape photography cameras
Buying a landscape camera these days is a big investment, so every camera in this guide has been tested extensively by us. These days, real-world tests are the most revealing way to understand a camera's performance and character, so we focus heavily on those, along with standardized tests for factors like ISO performance.
To start with, we look at the camera's design, handling and controls to get a sense of what kind of photographer it's aimed at and who would most enjoy shooting with it. When we take it out on a shoot, we'll use it both handheld and on a tripod to get a sense of where its strengths lie, and test its startup speed.
When it comes to performance, we use a formatted card and shoot in both raw and JPEG (if available). For burst shooting tests, we dial in our regular test settings (1/250 sec, ISO 200, continuous AF) and shoot a series of frames in front of a stopwatch to see if it lives up to its claimed speeds. We'll also look at how quickly the buffers clears and repeat the test for both raw and JPEG files, even though this is less crucial for landscape cameras.
In various lighting conditions, we also test the camera's different autofocus modes (including Face and Eye AF) in single point, area and continuous modes. We also shoot a range of photos of different styles beyond landscape (typically portrait, low light and macro/close-up) in raw and JPEG to get a sense of metering and its sensor's ability to handle noise and resolve fine detail.
If the camera's raw files are supported by Adobe Camera Raw, we'll also process some test images to see how we can push areas like shadow recovery. And we'll also test its ISO performance across the whole range to get a sense of the levels we'd be happy to push the camera to.
Battery life is tested in a real-world fashion, as we use the camera over the course of the day with the screen set to the default settings. Once the battery has reached zero, we'll then count the number of shots to see how it compares to the camera's CIPA rating. Finally, we test the camera's video skills by shooting some test footage at different frame-rates and resolutions, along with its companion app.
We then take everything we've learned about the camera and factor in its price to get a sense of the value-for-money it offers, before reaching our final verdict.