The best action camera for 2023: top cameras for adventures
Best
Contributions from
last updated
The best action cameras for recording your escapades
VERDICT
REASONS TO BUY
REASONS TO AVOID
QUICK MENU
1. The list in brief
2. Best overall
3. Best budget
4. Best premium 8K
5. Best low-light
6. Best Hero 12 alternative
7. Best 360
8. Best modular
9. Best vlogging
10. Best tough
11. Best value GoPro
12. How to choose
13. How we test
If you want to shoot adventurous video, the best action camera is what you need. From budget models to the smartest flagships, we've tested all of the top action cameras and highlighted our favorites in the list below. Whether for surfing, skydiving or something else, our expert guide is designed to help you find the right action camera for your needs and budget.
We think the best action camera for most people right now is the GoPro Hero 11 Black. It's the most feature-packed GoPro to date, with a new 8:7 aspect ratio that makes it easy to crop footage for social. Horizon Lock also keeps 5.3K/30p video steady and level through 360 degrees. If you're looking to spend a lot less on an action camera, the Akaso Brave 7 LE is our top pick for buyers on a budget. With two screens and weather-sealing, it's the best cheap action camera you can buy.
Whatever your expectations, our round-up covers all of the top action cameras. Our team of experts has put each model through its paces, to assess how it performs in the real world. We test factors such as durability and usability, to ensure every entry can deliver in the thick of the action. We also assess image quality, keeping a keen eye on how effectively image stabilization smooths out bumps in the road. We've summarized our findings in the list below, along with useful buying advice to help you pick which action camera is right for you.
Written by
Tim is TechRadar's Cameras editor, with over 15 years in the photo video industry and most of those in the world of tech journalism, Tim has developed a deeply technical knowledge and practical experience with all things camera related. He's also worked in video production with clients including Canon, and volunteers his spare time to consult a non-profit, diverse stories team based in Nairobi.
The quick list
If time is short, you can jump straight to the best action cameras by reading our round-up below. If you'd like to know more about a particular model, the link beneath each entry will take you to our in-depth summary.
Best overall
Best action camera overall
A flagship action cam in every respect, the GoPro Hero 12 Black shoots impressively stable 5.3K video. New features unlock more dynamic range and audio flexibility.
Best budget
Best budget action camera
It can't compete on outright video quality, but with two screens, weather sealing and an intuitive touchscreen interface, the Akaso Brave 7 LE offers unrivalled value.
Best premium 8K
The best premium 8K action camera
Wide-angle and well-built, the Insta360 Ace Pro is an 8K action cam with top performance, a fantastic flip-up screen and excellent image quality in almost all conditions.
Best premium
4. Insta360 One R 1-inch edition
Best low-light action camera
A 5K GoPro rival with modular versatility, the Insta360 One R 1-inch Edition benefits from a larger sensor that gives it superior shooting skills in low-light scenarios.
Best Hero 12 alternative
Best Hero 12 alternative
Pricier than the Action 3, a sensor upgrade gives this rugged little camera the shooting skills to rival the GoPro Hero 12 Black. Quick magnetic mounting is useful, too.
Best 360
Best 360-degree action camera
Using two fisheye lenses to shoot in full 360, the GoPro Max gives you the flexibility to shoot first and frame later, with excellent six-mic audio to go with your video.
Load the next 4 products...
Best modular
The best modular action camera
A mini modular camera with magnetic mounting and a wireless viewfinder accessory, the Insta360 Go 3 is a pocket action camera that's uniquely fun and functional.
Best vlogging
Best for vlogging
It's not strictly an action camera, but if you want a pocketable option for shooting stabilized vlogs on the go, the gimbal-headed DJI Pocket 2 is the perfect tool for the job.
Best tough
Best tough action camera
A hardcore compact camera that's built for action, the Olympus Tough TG-6 has some of the best durability specs in this list, and still shoots decent 4K footage at 30fps.
Best value GoPro
Best value GoPro
If you'd like a capable GoPro but don't need the very latest flagship features, Hero 10 Black represents excellent value, with the ability to shoot 4K/120p video.
The best action camera in 2023
Why you can trust TechRadar We spend hours testing every product or service we review, so you can be sure you're buying the best. Find out more about how we test.
Below you'll find full write-ups for each of the best action cameras in our list. We've tested each one extensively, so you can be sure that our recommendations can be trusted.
The best action camera overall
The best action camera for most people
Reasons to buy
+
Versatile mounting options
+
Shoots stable, high-res video
Reasons to avoid
-
Still not great in low lighting
-
Average battery life
Buy it if:
✅ You want to shoot sharp: The Hero 12 Black can shoot 5.3K 10-bit video at 60fps, and 2.7K slow-mo at 120fps.
✅ You shoot for social: Thanks to the 8:7 aspect ratio of its sensor, footage can be easily cropped for different social platforms.
Don't buy it if:
❌ You have a Hero 11 Black: With an identical sensor and dimensions, the upgrades here are useful but modest.
❌ You shoot in low light: Thanks to its relatively small sensor, the Hero 12 Black doesn't handle noise well in low light.
GoPro's updated flagship isn't a huge departure from the GoPro Hero 11 Black, our previous favorite action camera. It uses the same 1/1.9in sensor to shoot high-res 5.3K video, with an 8:9 aspect ratio that's useful for exporting footage to fit different social channels without sacrificing quality.
Low light remains an Achilles heel, but the addition of HDR video and GP-Log support gives filmmakers the ability to capture even greater dynamic range. Together with the returning 10-bit color mode, we found the Hero 12 Black capable of producing crisp, super smooth footage in bright conditions.
Besides a speckled casing, the physical design is essentially identical. This means the Hero 12 Black works with the same accessories as many previous GoPro models. It also gains a useful 1/4in thread mount for mini tripods.
Battery life from the default Enduro battery proved mediocre in our review, but Bluetooth audio support is a welcome addition, meaning you don't need to buy the Media Mod to upgrade the built-in audio. While these modest upgrades don't justify switching from the Hero 11 Black, they do make the Hero 12 Black an even more polished, feature-packed yet user-friendly action camera.
Read our hands-on GoPro Hero 12 Black review
The best budget action camera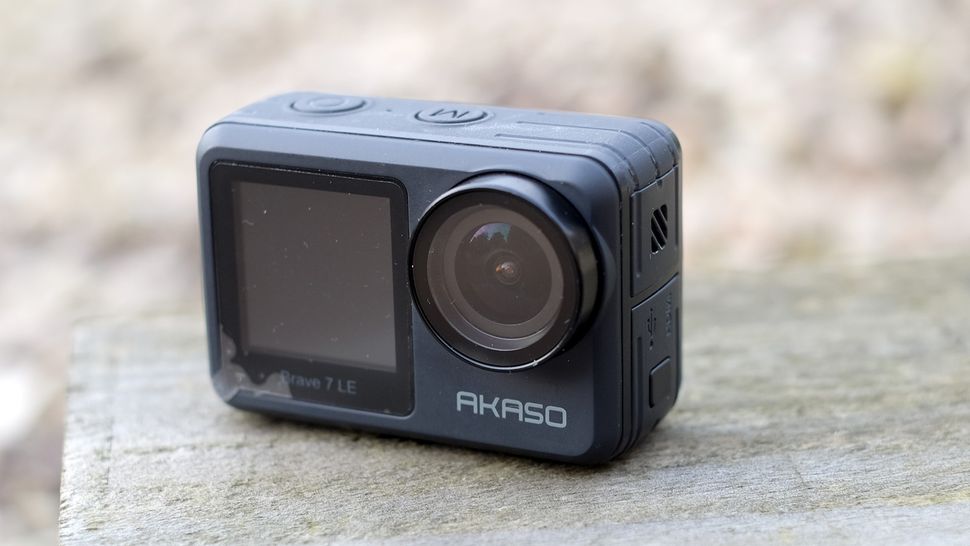 2. Akaso Brave 7 LE
The best cheap action camera you can buy
Specifications
Waterproof:
IPx7(no case needed), 40M (with case)
Reasons to buy
+
Dual screens
+
Case-free water resistance
+
Class-leading build quality
Reasons to avoid
-
Poor 60fps footage
-
Jumpy electronic stabilization
-
Cheaper options have better 4K
Buy it if:
✅ You're on a tight budget: The Akaso Brave 7 LE is the best value 4K action camera you can get for the price.
✅ You want dual screens: Despite its low cost, the Brave 7 LE features front and rear displays to help with framing.
Don't buy it if:
❌ You need perfect stabilization: Electronic stabilization is OK, but you'll get better performance by spending more.
❌ You want perfect image quality: Cheaper rivals produce crisper 4K video, which can appear soft out of the Brave 7 LE.
The Akaso Brave 7 LE offers an incredible range of features for its price. If a front-facing screen and weather-sealing are more important to you than outright video quality, then it should certainly be high on your shortlist. In our tests, this model's audio quality was better than any other non-GoPro we've reviewed (in quieter environments, anyway) and it has a fantastically intuitive touchscreen interface.
The only slight downer is that the video quality, while decent at 4K resolution, doesn't quite match the rest of the Brave 7 LE's features. It leans heavily on noise reduction in lower light, giving your footage a soft quality, while the electronic image stabilization is decent rather than class-leading. Still, for the price, it's undoubtedly one of the best action cams out there – and unrivaled in terms of the amount of features it packs in for the price.
The best premium 8K action camera
The best premium action camera with 8K recording
Specifications
1080p video:
up to 240fps
Reasons to buy
+
8K video resolution
+
Great stabilization
+
Good HDR shooting
Reasons to avoid
-
More expensive than rivals
-
Heavier than other options
Buy it if:
✅ You want an 8K action camera: Not everyone will need it, but the Ace Pro is the only action camera capable of outputting 8K footage.
✅ You like the idea of a flip screen: The 2.4-inch rear display flips up to face the front, giving you a high-res framing option in both directions.
Don't buy it if:
❌ You're on a budget: There's no denying its top-tier specs, but the Insta360 Ace Pro also demands an asking price that's the highest in this list.
❌ You want the lightest option: 179.8g is hardly heavyweight, but it is more than the Hero 12 Black (154g) and the DJI Osmo Action 4 (145g).
A wide-angle warrior, the Insta360 Ace Pro is the first action cam to offer 8K video output. That resolution will be overkill for many, as will the 48MP stills it can produce, and the high price tag it demands. But if you want rugged 8K recording, the Ace Pro is the way to go.
Physically, our review found the Ace Pro nicely built. It's heftier than its competitors, hitting the scales at 179.8g, which makes it feel substantial in the hand. We also rate its flip-up display, which hinges at the top to deliver a selfie experience that's more responsive than GoPro and DJI rivals. Mounting options are plentiful, too, with a magnetic base plate for quick switching.
As you'd expect of a sensor co-engineered with Leica, image quality is superb. Our tests found results across all resolutions to be excellent, with good clarity, punchy colors and solid noise-handling in low light (aided by AI processing). Active HDR does pretty well at balancing high-onctrast lighting, while FlowState and Horizon Lock stabilization are proven performers. Professional filmmakers might wish for log capture and higher 8K frame rates, but this is still a mighty impressive action camera.
Read our hands-on Insta360 Ace Pro review
The best low-light action camera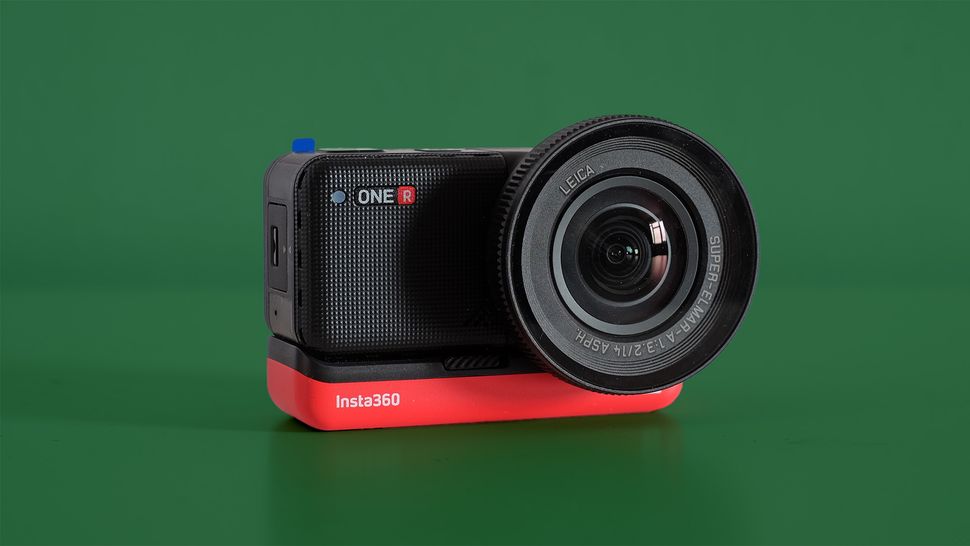 The best action camera for low-light recording
Specifications
1080p video:
up to 120fps
Reasons to buy
+
Large sensor for great image quality
+
Strong low-light performance
Reasons to avoid
-
Processing niggles
-
Sluggish software
Buy it if:
✅ You shoot in low light: Thanks to its large 1-inch sensor, the One R 1-inch edition gather light better than a GoPro.
✅ You plan to shoot stills: RAW image capture give this action cam genuine skills when it comes to shooting stills.
Don't buy it if:
❌ You need a big screen: The 1.3-inch display on the One R 1-inch edition is too small and square for easy composition.
❌ You like quick, slick editing: Insta360's app and desktop software can be a little sluggish when it comes to processing clips.
Already a proven rival to GoPro's Hero series, the modular Insta360 One R is now available with a sizeable 1-inch sensor. In our review, we found that this gives it low-light abilities which are brighter, cleaner and more d