Best GoPro camera 2023: the finest models you can buy at all price points
Best
Contributions from
last updated
How to choose your perfect GoPro action camera
QUICK MENU
1. The list in brief
2. Best GoPro
3. Best Value GoPro
4. Cheapest GoPro
5. Best Hero 12 Black alternative
6. Best 360-degree GoPro
7. How to choose
8. How we test
Looking to pick up the best GoPro action camera? We've got all the information you're going to need right here. Whether you want the latest GoPro cameras, or you're happy to save a bit of cash by going for one of the older models, we've tested them all extensively to bring you the best of the best.
So with that in mind, what's the best GoPro camera you can buy right now? As you might expect, it's the flagship GoPro Hero 12 Back. Being the slickest GoPro to date, it's an excellent choice if you've got the budget to spend. There's lots to like about it, including a fast processor for a speedy user experience, plus 5.3K videos at 60fps and 4K up to 120fps for beautifully smooth slow-mo. Couple all of that with class-leading stabilization plus features such as horizon-leveling and it's easy to see why it's one of the best action cameras around and, for those who like to shoot video, also one of the best travel cameras you can buy.
However, that's not to say that there could be a better action cam for you. For example, if you want a more affordable GoPro and can live without the latest features, going back a generation to the GoPro Hero 11 will still leave you with a very capable action camera that is able to record 5K video.
And it stands to reason that you can save even more by stepping back even further and looking at the GoPro Hero 10. This one-time flagship model is still fantastic, offering 5K at 60fps, 4K at 120fps and 2.7K at 240fps. To help you make your choice, we've also included useful 'How to choose' info at the end of this guide.
Written by
Tim is TechRadar's Cameras editor, with over 15 years in the photo video industry and most of those in the world of tech journalism. Tim has developed a deeply technical knowledge and practical experience with all things camera related. He's also worked in video production with clients including Canon, and volunteers his spare time to consult a non-profit, diverse stories team based in Nairobi.
The quick list
If you don't have time to read our full list of the best GoPro cameras, you can read the round-up below for a shortcut to the top options for your needs and budget. If you find one that takes your fancy, use the links to jump to our full write-up.
Best GoPro
The best GoPro
The GoPro that is very gradually edging closer and closer to perfection. Includes incredible stabilization, versatile mounting options and Bluetooth audio support.
Best value GoPro
The best value GoPro
No longer the flagship, but the GoPro Hero 10 Black remains an absolutely cracking buy. Includes a powerful GP2 processor, 4K at 120fps and class-leading stabilization.
Cheapest GoPro
The cheapest GoPro
The most affordable GoPro that offers great 4K video and image quality and HyperSmooth functionality.
Best Hero 12 Black alternative
The best GoPro Hero 12 Black alternative
The Hero 11 Black is the social media king of action cams and includes a new sensor that is ideal for vertical videos.
Best 360 degree GoPro
The best 360-degree GoPro
The GoPro Max makes 360 action cam footage easy to turn around. Amazing 5.6K 360 degree video, on-camera stitching and it fits on existing mounts.
The best GoPro's 2023
Why you can trust TechRadar We spend hours testing every product or service we review, so you can be sure you're buying the best. Find out more about how we test.
Below you'll find full write-ups for each of the best GoPro's in our list. We've tested each one extensively, so you can be sure that our recommendations can be trusted.
Best GoPro
The best GoPro
Reasons to buy
+
Great stabilization
+
Versatile mounting options
+
Compatible with existing accessories
+
Bluetooth audio support
Reasons to avoid
-
Very similar to Hero 11 Black
-
Mediocre battery life
-
Disappointing low-light performance
Buy it if:
✅ You're a daytime adventurer: A high-resolution sensor and genius stabilization that works best in bright environments at up to 240fps at 2.7K resolution.
✅ You want to post your videos to Instagram, TikTok, and YouTube: With its 8:7 sensor, the Hero 12 Black can natively shoot video at 5.3K with an almost square frame.
Don't buy it if:
❌ You want magnetic mounting: The DJI Osmo Action 3 and 4 and Insta360 Go 3 all offer magnetic mounting, while GoPro's Hero 12 Black has fiddlier flip-out feet and a tripod thread for traditional action cam and camera mounting instead.
❌ You need a low-light champ: The Hero 12 Black doesn't have a big sensor, and its low-light footage reflects that.
The GoPro Hero 12 Black is a hardy, handy, ultra-wide action camera with incredible stabilization and an abundance of features. The new external and dual-channel audio tools are useful, and filmmakers will appreciate the addition of 10-bit log capture and timecoded footage.
This action camera has a 27MP 8:7 sensor that can capture 16:9, 9:16, and 8:7 footage without needing to reorient your camera. This can easily be chopped up for various social media channels to get multiple high-resolution posts from just one clip. It can shoot at up to 5.3K 60fps and 4K 120fps, and if you want to drop the resolution to 2K, it even captures 240fps, something the DJI Osmo Action 4 can't do.
It's not perfect though, and low-light video is still its Achille's heel compared to its main competition. While it's incredible that GoPro has managed to achieve what it has with its relatively pared-back hardware, it still hasn't mastered noise-handling in dark scenes – the DJI Osmo Action 4 is a better choice on that front.
The Hero 12 Black is also very similar to the Hero 11 Black, so probably doesn't warrant an upgrade from its predecessor. It captures great-looking footage in well-lit scenes, though, and thanks to its streamlined interface and upgraded features, it's still the best GoPro around.
Read our in-depth GoPro Hero 12 Black review.
Best Value GoPro
Best Value GoPro
Reasons to buy
+
Snappier menus and interface
+
Powerful GP2 processor
+
4K/120p mode is fun
+
Class-leading stabilization
Reasons to avoid
-
Same (small) sensor as Hero 9 Black
-
Still not a low-light king
-
Budget rivals offer better value
Buy it if:
✅ You want a polished, super-versatile action cam
The Hero 10 Black isn't one of those seismic leaps that GoPros occasionally makes, but it is a sensible step up from the Hero 9 Black and much the same as the Hero 11 Black.

✅ You enjoy shooting slo-mo videos: The 4K/120p mode is ideal for shooting cut-scenes or family frolics. This is a key advantage for this model.
Don't buy it if:
❌ You want truly cinematic video: While it is possible to squeeze some excellent video from the Hero 10 Black with the right settings (the 'High' bit-rate mode, low sharpening, and the 'Natural' color profile), footage still tends to have that wide-angle look, without any pleasing bokeh.

❌ You're looking for an action cam bargain: If you're just looking for an affordable workhorse that can still shoot decent 4K video, then there are some better-value options in our best cheap action camera guide.
Although the GoPro Hero 10 Black isn't a total overhaul of the GoPro Hero 9, the result is a much more user-friendly and refined version of its predecessor making it the most versatile action camera you can buy.
Thanks to the new GP2 processor, you get the most powerful GoPro so far, but in other ways, it's a relatively minor upgrade and not one of the big leaps between some of the generations we have seen.
The camera is built around the same 23MP 1/2.3-inch sensor as its predecessor, and features the same 10 meter waterproofing. There are some new shooting modes, which includes new 5K/60p, 4K/120p and 2.7K/240p shooting capabilities. The latter of those two bring new fun slow-motion options which are ideal for social media cut-scenes and b-cam footage, particularly as the Quick app for GoPro will take care of the editing for you.
There's also a more responsive touchscreen interface, a wired date transfer mode which you can use with your phone and a general boost to image quality. The improvements here may be relatively small, but when it's building on an already excellent model that's to be expected.
Overall, the GoPro Hero 10 Black may not be the cheapest on the market, but it's almost certainly the most powerful and most user-friendly, so if you're looking for the best you can buy, it's the one to plump for.
Read our in-depth GoPro Hero 10 Black review.
Cheapest GoPro
The cheapest GoPro
Reasons to buy
+
Great 4K video and image quality
+
HyperSmooth is very effective
+
TimeWarp is great fun
Reasons to avoid
-
Can struggle with voice commands
-
Screen unresponsive at times
-
Slo-mo footage only output through app or software
-
Many cheaper options
Buy it if:
✅ You need something super cheaper: The GoPro Hero 7 Black has some excellent features and can be snapped up for a tiny price.

✅ You want some fun: The benefit of buying a cheap action camera is that you can throw it around as much as you like without worrying if it's going to break.
Don't buy it if:
❌ You want the latest specs: The Hro Black 7 lacks almost all of the features that the GoPro Hero 12 Black offers.

❌ You want something that will last: As you'll be buying a used version of this action camera there is no telling how long it'll actually last.
It might now be a number of generations old, but the Hero 7 Black still remains a great action camera at a really affordable price.
In fact, if you can do without all the latest features then it might not only be the cheaper buy but also the better option for you. Its 4K footage is still very good and the HyperSmooth video image stabilization tech still impresses, serving up buttery smooth footage.
Throw in 10-meter waterproofing, a 2-inch touchscreen, voice control and raw output and you've got a GoPro that, even with its superior successors on the scene, is still well worth considering.
You can't buy the Hero 7 Black from the GoPro site anymore, but it's available new on sites like Amazon and, given its age, you could well find a secondhand bargain.
Read our in-depth GoPro Hero 7 Black review
Best Hero 12 Black alternative
4. GoPro Hero 11 Black
The social media king of action cams
Reasons to buy
+
Good battery life
+
High resolution for stills
+
Bigger sensor for more cropping
Reasons to avoid
-
Not great in low-light
-
Better alternatives at the same price
Buy it if:
✅ You want 10-bit video: A video's bit-depth describes the total possible number of color gradations, with 10-bit offering far more than the standard 8-bit seen in previous GoPros.

✅ You want a bigger sensor: The new sensor is mainly on board to boost the Hero 11 Black's versatility, rather than its image quality. Because it has an almost square 8:7 aspect ratio, you can export videos in various formats
Don't buy it if:
❌ You want external and dual-channel audio tools: These are only available on the GoPro Hero 12 Black.

❌ You're on a budget: Better off buying one of the older GoPro Hero models to make your budget go further.
That new sensor is mainly on board to boost the Hero 11 Black's versatility, rather than its image quality. Because it has an almost square 8:7 aspect ratio, you can export videos in various formats – like 9:16 for TikTok and Instagram, for example – without losing any quality or resolution.
The Hero 11 Black's other new headline feature is support for 10-bit video. This feature is usually only found in the best video cameras, so is an impressive first for a GoPro. A video's bit-depth describes the total possible number of color gradations, with 10-bit offering far more than the standard 8-bit seen in previous GoPros. This makes it easier for video editors to fine-tune footage and avoid issues like color banding in skies, particularly when shooting in GoPro's 'flat' color profile.
Overall, the Hero 11 Black isn't a dramatic leap up from its predecessor. It's one of the most feature-packed, user-friendly action camera you can buy, and one of the best one around if you shoot a lot for different platforms (with different aspect ratios) like YouTube and TikTok.
Read our Hero 11 Black hands-on review.
Best 360 degree GoPro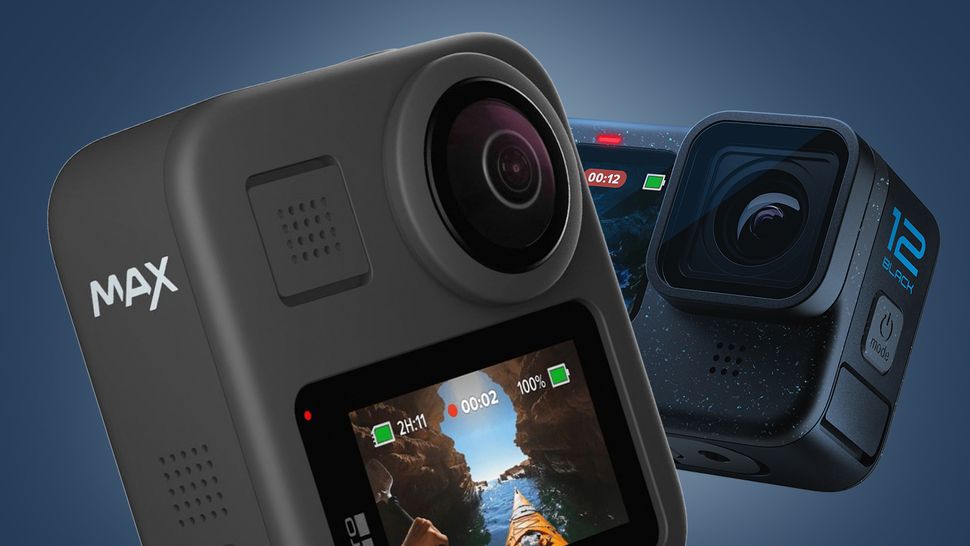 A 360 action camera that's swell for capturing action in the round
Specifications
Stills resolution:
16.6MP 360
Reasons to buy
+
5.6K 360-degree video
+
On-camera stitching
Reasons to avoid
-
No slow-mo in 360 mode
-
Poor in low-light/underwater
Buy it if:
✅ You need 360 degree video: The GoPro Max is a boss at getting great 360 video with an easy workflow.

✅ You want in-camera stitching: The GoPro Max handles all the stitching on-board the camera so there's no stitching to do afterwards.
Don't buy it if:
❌ You want a great action camera: The GoPro Hero range of action cameras are much better suited to a more traditional workflow and output.

❌ You want high res video footage: This action camera is specifically designed for 360 degree video so the resolution of standard video is not so good.
The Max uses two 180-degree fisheye lenses to capture basically anything in its direct line of sight. The Max, however, stitches these two hemispherical video files together automatically, which is a massive timesaver, and the GoPro smartphone app lets you edit and publish spherical media from start to finish on your phone.
This novel shooting process really expands the types of shots media professionals will be able to create and it's a feature that is particularly well suited to an action camera – since it saves you from worrying about getting everything in-shot and lets you focus on what you're actually doing.
The Max also gets decent 16ft (5m) water resistance, in-built retractable mounting fingers and is now compact enough to be compatible with GoPro's entire range of mounting solutions.
To round out the top-line features, the Max has a new six-microphone audio array that captures a truly three-dimensional soundscape. The additional microphones also provide a surplus of audio information that can be used to cancel out background noise and hone in on voices or other desirable sounds.
Read our in-depth GoPro Max review
How to choose the best GoPro for you
How to choose the best GoPro for you
With such a long line of GoPro models to choose from, finding the right one can be tricky. The most recent GoPro action cameras are capable of shooting the sharpest footage (up to 5.3K) and feature GoPro's most advanced HyperSmooth stabilization and horizon-leveling smarts for super steady footage in all conditions.
That said, GoPro cameras have been capable of recording 5K footage since 2021, while the GoPro Hero 7 Black (launched in 2017) was the first to offer HyperSmooth stabilization. So while older models don't necessarily offer the latest cutting-edge features, you don't need to shell out for the most recent model to get sharp, steady footage.
Eager to stream? Every GoPro model back to the GoPro Hero 7 back supports live streaming – and GoPro subscribers can even create private stream links to share directly with friends, family and fans. You'll need a minimum of 1,000 subscribers to stream to YouTube.
More recent GoPro models have included a few genuinely useful upgrades. Built-in mounting fingers make it much easier to attach your action cam to different mounts – or fold them away for use as a tidy vlogging tool.
Equally, if you'd like the option to enhance your shooting package with modular accessories – such as an LED light or an improved mic for clearer audio quality – then look for a GoPro with support for Media Mods.
Keen to record 360-degree footage? The GoPro Max is the best option for capturing fully immersive 360 video.
What SD card do I need for a GoPro?
SD memory cards come in a handful of sizes. Most compact, DSLR and mirrorless cameras use standard SD cards, which are the size of a postage stamp. GoPro cameras use microSD cards. These memory cards are much smaller and they are the same format used by most smartphones with expandable storage.
So you'll need a microSD card for your GoPro. You'll often find one bundled in if you buy a new GoPro. Capacity is important, particularly if you'll be shooting a lot of footage before transferring it to your smartphone or laptop. Every GoPro after the Hero7 Black (including the Max) can support memory cards with up to 512GB of storage space, which should be enough to record up to 15 hours of 4K footage at 60fps.
Just as important is a memory card's transfer speed rating. This refers to how fast footage can be recorded to the card. It's important if you're planning to shoot at 4K or sharper: the card needs to be quick enough to save the footage as it's created. For the GoPro Hero 10 Black, look for a memory card with at least the v30 or UHS-3 rating. For the Hero 9 Black, Hero 8 Black, Hero 7 Black and Max, the minimum requirement is a microSD card with a Class 10 or UHS-1 rating.
Not sure which microSD card is the best for your GoPro? Sandisk's Extreme, Extreme Plus and Extreme Pro models are recommended by GoPro, as is Lexar's Professional 1066x Silver Series. For a full list, check out GoPro's official SD cards that will work with GoPro cameras page.
How we test GoPro cameras
How we test GoPro cameras
GoPros are among the toughest cameras around, so we properly put them through their paces to make sure they live up to their rugged billing – and can shoot excellent video and stills, too.
We take each one through a range of real-world tests including cycling, swimming and, if possible, an experience like an adventure course. These not only give us a good idea of each model's ability to withstand the elements, but how easy they are to operate in difficult conditions.
When it comes to footage, we record in a variety of resolutions and frame-rates to help gauge each action camera's strengths, and review these clips on a calibrated monitor. We look at default color reproduction and noise levels in shadows and highlights, and look out for any common image quality issues including clipping, softness, barrel distortion and over-zealous processing.
We go through a similar process to analyze each GoPro's image stabilization (called HyperSmooth in its most recent models), which is crucial to maintaining image quality during movement, and look at the quality of any special shooting modes too, including slo-mo and timelapses.
For battery life tests, we continuously record at different resolutions and frame-rates. We note down both how long the action cams lasts and when it has to shut down due to overheating. Lastly, we evaluate how user-friendly each GoPro is, by testing both their touchscreen interfaces and companion apps.