Looking to pick up the best GoPro action camera? We've got all the information you're going to need right here. Whether you want the latest GoPro cameras, or you're happy to save a bit of cash by going for one of the older models, we've tested them all extensively to bring you the best of the best.
So with that in mind, what's the best GoPro camera you can buy right now? As you might expect, it's the flagship GoPro Hero 10 Back. Being the slickest GoPro to date, it's an excellent choice if you've got the budget to spend. There's lots to like about it, including a fast processor for a speedy user experience, plus 5.3K videos at 30fps and 4K up to 120fps for beautifully smooth slow-mo. Couple all of that with class-leading stabilization plus features such as horizon-leveling and it's easy to see why it's one of the best action cameras around and, for those who like to shoot video, also one of the best travel cameras you can buy.
However, that's not to say that there could be a better action cam for you. For example, if you want a more affordable GoPro and can live without the latest features, going back a generation to the GoPro Hero 9 will still leave you with a very capable action camera that is able to record 5K video.
And it stands to reason that you can save even more by stepping back even further and looking at the GoPro Hero 8. This one-time flagship model is still fantastic, offering 4K video and support for MediaMods which vloggers are likely to find especially flexible.
We've tested every GoPro and ranked all of the options that are still available to buy, including the older models and even the specialized cameras such as the GoPro Max, which can capture 360-degree footage. The guide is regularly updated with new releases, along with the latest pricing information to make sure you're always likely to get a good deal.
If you're toying with the idea of getting a GoPro Subscription, we've also got a dedicated explainer to help you decide. If you're also not sure where to start with choosing the best GoPro camera, keep on scrolling to the bottom of the page find some advice and tips to get you started on finding the perfect GoPro.

Best GoPro cameras in 2022:
Why you can trust TechRadar We spend hours testing every product or service we review, so you can be sure you're buying the best. Find out more about how we test.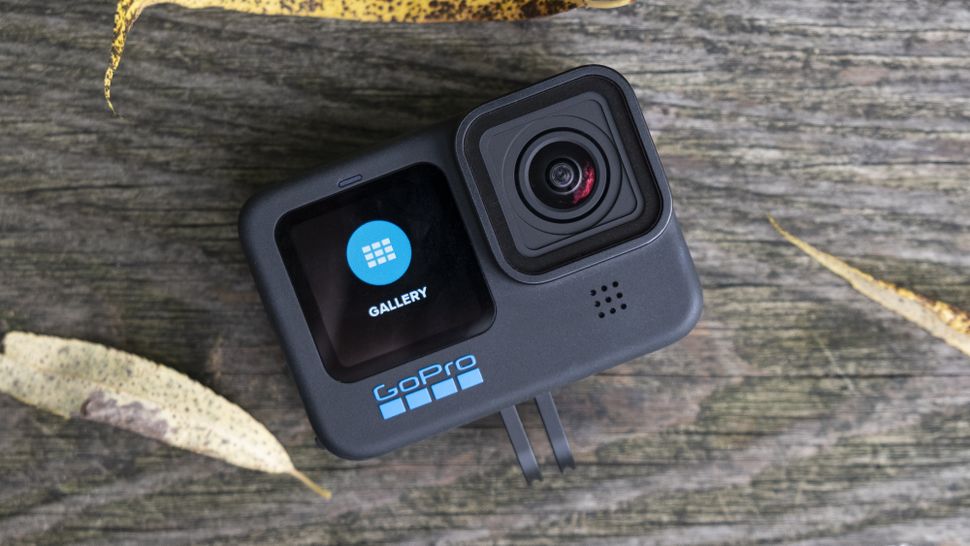 Although the GoPro Hero 10 Black isn't a total overhaul of the GoPro Hero 9, the result is a much more user-friendly and refined version of its predecessor making it the most versatile action camera you can buy.
Thanks to the new GP2 processor, you get the most powerful GoPro so far, but in other ways, it's a relatively minor upgrade and not one of the big leaps between some of the generations we have seen.
The camera is built around the same 23MP 1/2.3-inch sensor as its predecessor, and features the same 10 meter waterproofing. There are some new shooting modes, which includes new 5K/60p, 4K/120p and 2.7K/240p shooting capabilities. The latter of those two bring new fun slow-motion options which are ideal for social media cut-scenes and b-cam footage, particularly as the Quick app for GoPro will take care of the editing for you.
There's also a more responsive touchscreen interface, a wired date transfer mode which you can use with your phone and a general boost to image quality. The improvements here may be relatively small, but when it's building on an already excellent model that's to be expected.
Overall, the GoPro Hero 10 Black may not be the cheapest on the market, but it's almost certainly the most powerful and most user-friendly, so if you're looking for the best you can buy, it's the one to plump for.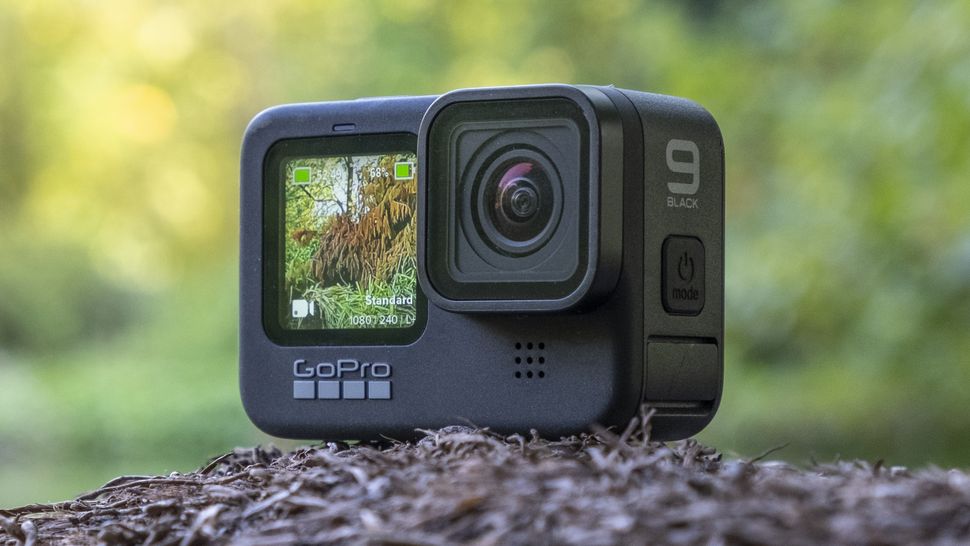 The predecessor to the most recent addition to the GoPro's Hero catalogue brings a lot of value for money if you're not absolutely desperate for the latest tech. At the time, it was tweaked from top to bottom, but retains the pocket-friendly form factor of its predecessors, adding a full-color front-facing screen for easy framing. Also new was its 23.6MP sensor - the same one now also found in the Hero 10 Black.
4K recording is limited to 60fps, but the Hero 9 Black's headline feature is 5K footage at 30fps: at a 100Mbps bit-rate and in the right lighting conditions, it can capture more detail than any GoPro to date. The option of HyperSmooth Boost in all shooting modes now means you'll always have the benefit of GoPro's strongest stabilization setting, while increased battery capacity lets you shoot for longer.
There are a few fresh software tricks, too: HindSight, for example, allows you to save action that happened up to 30 seconds before you hit the shutter. It might not have been a radical upgrade over the Hero 8 Black, but now that a firmware fix has mostly resolved issues with auto-exposure and touchscreen responsiveness, the GoPro Hero 9 Black should definitely be worthy of your consideration. Other even older options will represent better value if 5K and a front-facing aren't on your list.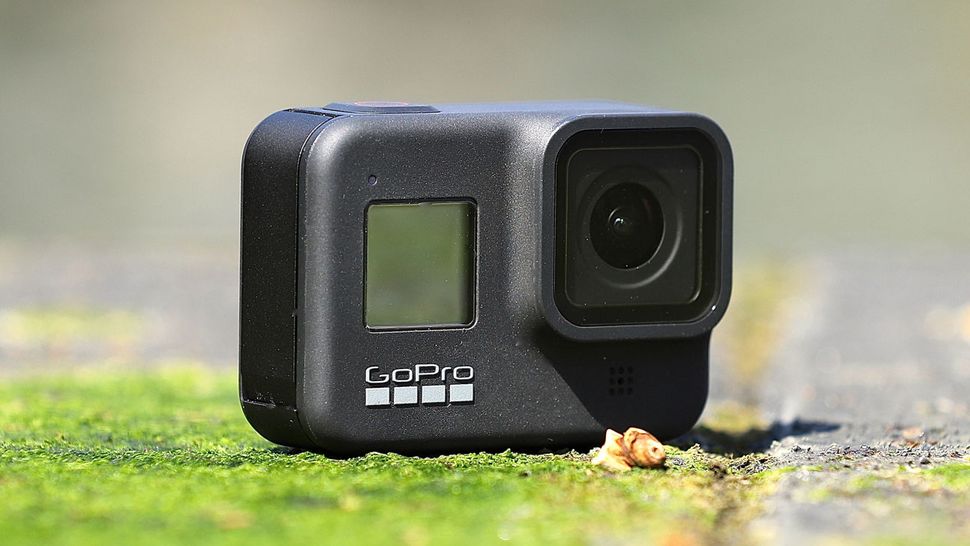 The Hero 8 Black still offers outstanding value and performance for most people, even if it is now two-generations old. If you don't need a front-facing screen or 5K video, the Hero 8 Black remains a stellar action package.
The 4K footage at 60fps is as impressive as what you'll get from the Hero 9 Black, while HyperSmooth image stabilization is almost identical. That means smooth, detailed footage when the lighting is good – and the option of shooting 1080p at 240fps unlocks stunning slow-mo potential. The Hero 8 Black is versatile, too, with support for GoPro's Mod accessories, plus the now-familiar fold-out mounting arms.
Time-saving Capture Presets make it easy to use, while smarts such as 1080p live-streaming mean it's also a very capable all-rounder, especially when pared with the excellent GoPro app. Whether you want to capture travel video or action footage, the GoPro Hero 8 Black is a very compelling all-round package – and potentially better value than its newer sibling.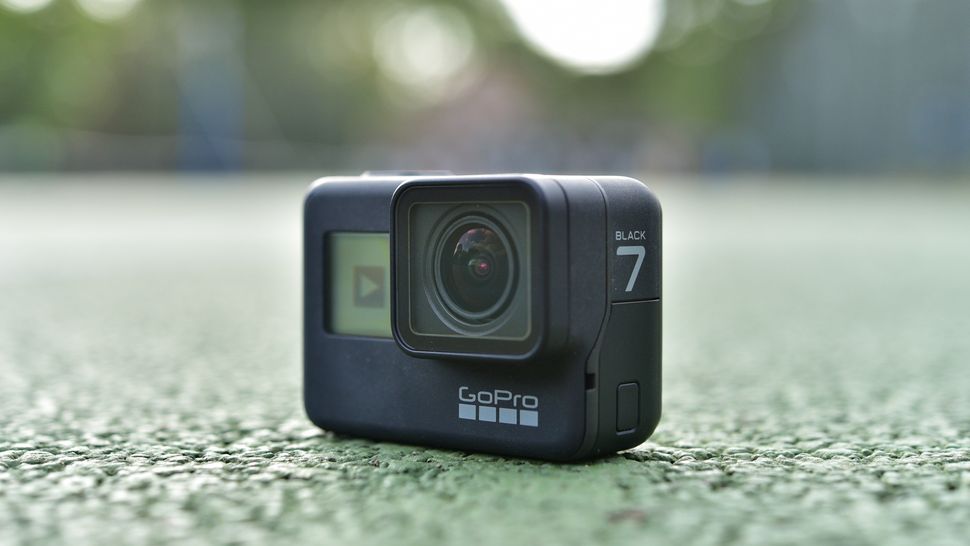 It might now be three generations old, but the Hero 7 Black still remains one of the best action cameras in the business at its price.
In fact, if you can do without the Mods option offered by the Hero 8 Black, it might be the smarter – and certainly more affordable – buy. Its 4K footage is only fractionally inferior to its sibling, while the original HyperSmooth video image stabilization tech still impresses, serving up buttery smooth footage.
Throw in 10-meter waterproofing, a 2-inch touchscreen, voice control and raw output and you've got a GoPro that, even with its superior successors on the scene, is still well worth considering.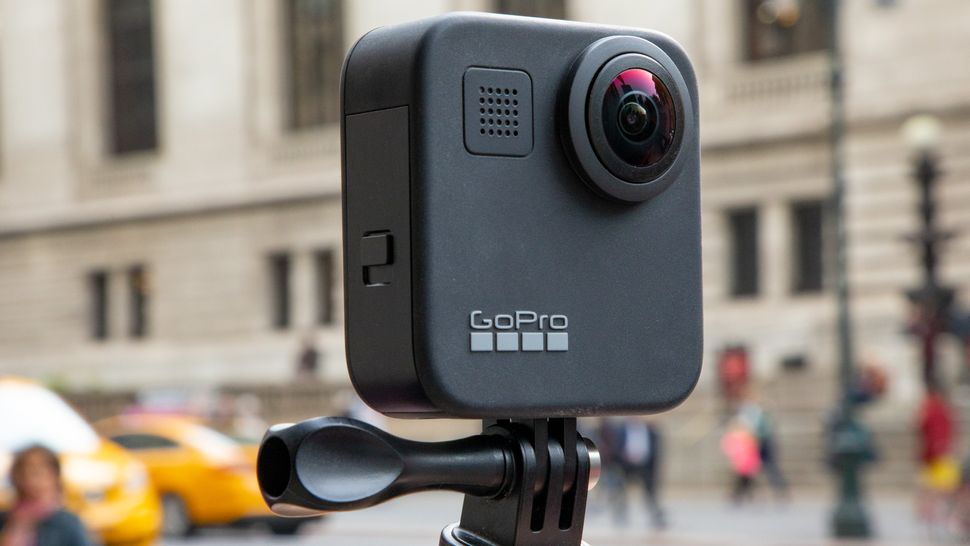 Spherical video might sound like a gimmick, but the real benefit of software trickery from the likes of GoPro and Insta360 is being able to capture everything around you, then choose which traditional 'flat' frames you want to weave together into your final video. In other words, cameras like the GoPro Max let you capture an entire scene rather than one particular view of it – if that sounds up your street then, then the Max is the GoPro for you.
On-camera stitching takes the pain out of processing, while editing tools in the partner apps make reframing footage a whole lot simpler. At 5.6K, video is nothing if not high-res, but there are limitations: because fisheye footage from the front-facing camera has to be flattened for 2D, the quality in this mode leaves something to be desired. Stitching can also become an issue in low-light conditions, while the 50-minute battery life limits how much you can shoot in 360.
All the same, the GoPro Max makes it simple to capture striking and immersive shots – with 360 audio to match – that isn't possible on other GoPros, or most other action cams.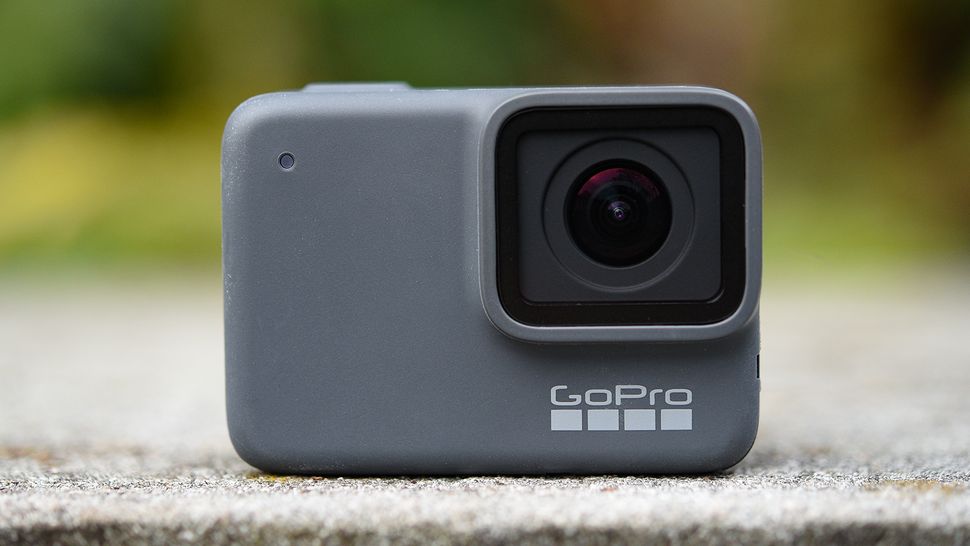 It's no longer part of GoPro's 2021 lineup, but this mid-range offering from 2018 now offers very good value at it's current price.
While it can't pull off as many fancy shooting tricks as the Hero 7 Black (for example, HyperSmooth stabilization and TimeWarp timelapses), it still offers good value if you're mainly looking for a small, tough action camera that shoots pleasing 4K video.
Despite the lack of HyperSmooth, you still get 4K video recording, plus waterproofing down to 10m, a 2-inch touchscreen on the back and Voice Control that allows you to instruct the camera to perform almost all main functions without you raising a finger. If you don't mind the non-removable battery, it's a fine choice for first-time users.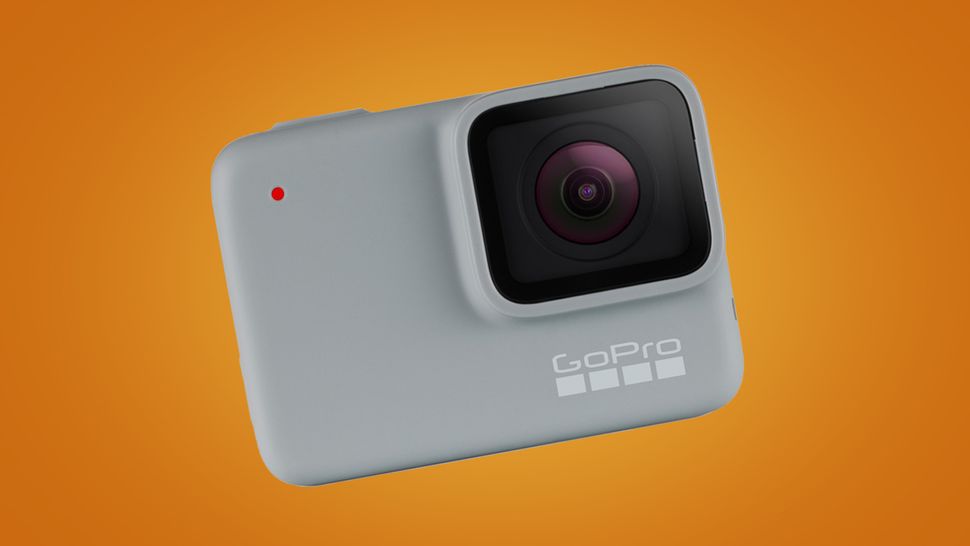 GoPro's entry-level Hero 7 White barely lasted a year before it was discontinued, but you can still find stock at even lower prices than its original launch price. Cheaper than both its Silver and Black siblings, it was never intended to be a flagship; rather, the Hero 7 White is all about nailing the action cam basics on a budget.
There's no 4K, the battery isn't removable, the field of view is fixed and it doesn't have the HyperSmooth stabilization or fancier features of the other Hero 7 cameras (think TimeWarp, GPS or live-streaming). What it does offer, though, is high quality stabilized 1080p footage, a body that's waterproof down to 10 meters and a slick, easy interface that's a boon for beginners.
If you're after an affordable, capable action cam that can deliver on quality with point-and-shoot simplicity, look no further.

How to choose the best GoPro for you
With such a long line of GoPro models to choose from, finding the right one can be tricky. The most recent GoPro action cameras are capable of shooting the sharpest footage (up to 5.3K) and feature GoPro's most advanced HyperSmooth stabilization and horizon-leveling smarts for super steady footage in all conditions.
That said, GoPro cameras have been capable of recording 4K footage since 2014, while the GoPro Hero 7 Black (launched in 2017) was the first to offer HyperSmooth stabilization. So while older models don't necessarily offer the latest cutting-edge features, you don't need to shell out for the most recent model to get sharp, steady footage.
Eager to stream? Every GoPro model back to the GoPro Hero 7 back supports live streaming – and GoPro subscribers can even create private stream links to share directly with friends, family and fans. You'll need a minimum of 1,000 subscribers to stream to YouTube.
More recent GoPro models have included a few genuinely useful upgrades. Built-in mounting fingers (introduced with the GoPro Hero 8 Black) make it much easier to attach your action cam to different mounts – or fold them away for use as a tidy vlogging tool.
Equally, if you'd like the option to enhance your shooting package with modular accessories – such as an LED light or an improved mic for clearer audio quality – then look for a GoPro with support for Media Mods.
Keen to record 360-degree footage? The GoPro Max is the best option for capturing fully immersive 360 video.
What SD card do I need for a GoPro?
SD memory cards come in a handful of sizes. Most compact, DSLR and mirrorless cameras use standard SD cards, which are the size of a postage stamp. GoPro cameras use microSD cards. These memory cards are much smaller and they are the same format used by most smartphones with expandable storage.
So you'll need a microSD card for your GoPro. You'll often find one bundled in if you buy a new GoPro. Capacity is important, particularly if you'll be shooting a lot of footage before transferring it to your smartphone or laptop. Every GoPro after the Hero7 Black (including the Max) can support memory cards with up to 512GB of storage space, which should be enough to record up to 15 hours of 4K footage at 60fps.
Just as important is a memory card's transfer speed rating. This refers to how fast footage can be recorded to the card. It's important if you're planning to shoot at 4K or sharper: the card needs to be quick enough to save the footage as it's created. For the GoPro Hero 10 Black, look for a memory card with at least the v30 or UHS-3 rating. For the Hero 9 Black, Hero 8 Black, Hero 7 Black and Max, the minimum requirement is a microSD card with a Class 10 or UHS-1 rating.
Not sure which microSD card is the best for your GoPro? Sandisk's Extreme, Extreme Plus and Extreme Pro models are recommended by GoPro, as is Lexar's Professional 1066x Silver Series. For a full list, check out GoPro's official SD cards that will work with GoPro cameras page.

How we test GoPro cameras
GoPros are among the toughest cameras around, so we properly put them through their paces to make sure they live up to their rugged billing – and can shoot excellent video and stills, too.
We take each one through a range of real-world tests including cycling, swimming and, if possible, an experience like an adventure course. These not only give us a good idea of each model's ability to withstand the elements, but how easy they are to operate in difficult conditions.
When it comes to footage, we record in a variety of resolutions and frame-rates to help gauge each action camera's strengths, and review these clips on a calibrated monitor. We look at default color reproduction and noise levels in shadows and highlights, and look out for any common image quality issues including clipping, softness, barrel distortion and over-zealous processing.
We go through a similar process to analyze each GoPro's image stabilization (called HyperSmooth in its most recent models), which is crucial to maintaining image quality during movement, and look at the quality of any special shooting modes too, including slo-mo and timelapses.
For battery life tests, we continuously record at different resolutions and frame-rates. We note down both how long the action cams lasts and when it has to shut down due to overheating. Lastly, we evaluate how user-friendly each GoPro is, by testing both their touchscreen interfaces and companion apps.