Editor's note: June 2023
What's next for DJI? The latest rumors from the pretty reliable @DealsDrone suggest it could be planning a more affordable version of the DJI Mavic 3 called the DJI Mavic 3 Classic.

As you can see below, the Mavic 3 is an impressive but expensive drone. The rumors suggest that the Mavic 3 Classic might dispense with the Mavic 3's telephoto lens and a few other features in order to achieve a much more affordable price tag.

This is certainly possible, but the DJI drone that's arguably most due a successor is the DJI Air 2S, which landed back in April 2021. It's still a great drone, but the surprising power of the DJI Mini 3 Pro (for one so small) meant that drone recently took the Air 2S' top spot at the top of our guide.

Mark Wilson, Cameras editor
Scanning the skies for the best DJI drone? Whether you're a novice pilot or a seasoned flyer, this list will help you get off the ground. A proven ace among drone makers, DJI has flying machines for every kind of aerial videographer. And because we've tested all of them, this guide is sure to help you land on the ideal DJI drone for your needs.
What's the best DJI drone available right now? We think the DJI Mini 3 Pro is the top option for most pilots. A compact folding drone with pro shooting skills, it uses a stabilized CMOS sensor to shoot stable, noise-free footage in portrait or landscape. Automated modes, obstacle avoidance and clever subject-tracking also make it simple to go solo.
If you're a pro with deeper pockets, we're also big fans of the DJI Mavic 3. A powerhouse drone equipped with two cameras, it records 5.1K footage at up to 50fps. With superlative image quality and the ability to adjust aperture settings for creative flexibility, it's a fantastic tool for serious aerial filmmakers. That said, the DJI Air 2S is also a fantastic all-rounder that arguably hits the price/performance sweet spot between the two models above.
Whatever type of DJI drone you're interested in, we've tested all of the options featured below. Ranked on the basis of extensive flight time, you can be sure that each recommendation is airworthy. And with the help of our buying tips and price comparison widget, you can shop for a DJI drone in confidence.

The best DJI drones in 2022:
Why you can trust TechRadar We spend hours testing every product or service we review, so you can be sure you're buying the best. Find out more about how we test.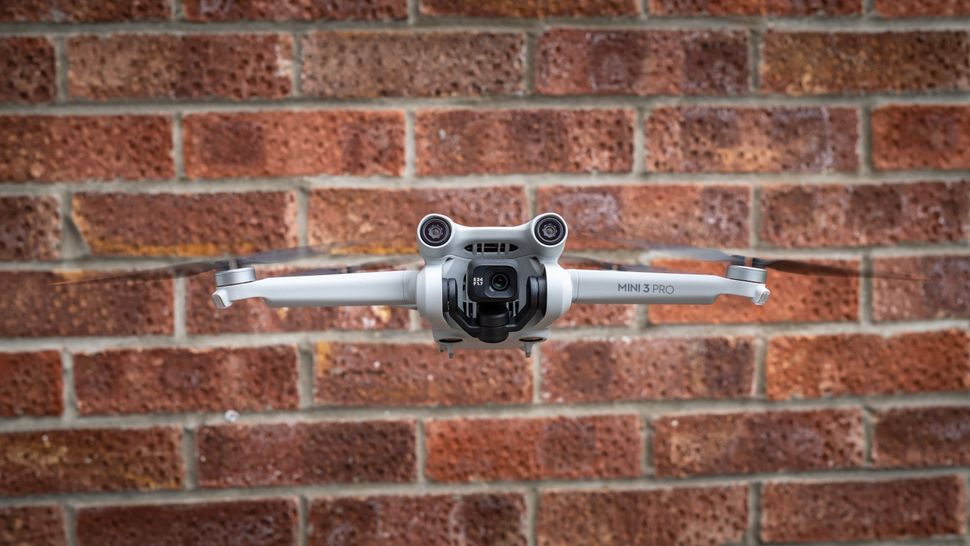 Squeezing pro performance into a compact folding package, the DJI Mini 3 Pro takes the Mini series to new heights. Like its predecessor, it weighs less than 250g, but larger propellers and improved aerodynamics translate into 34-minute maximum flight times.
Chief among the upgrades is a new 1/1.3in CMOS sensor. Attached to a stabilizing gimbal, this can now be rotated 90 degrees to capture portrait content. In testing, we found that the enhanced shooting setup delivers vast improvements in video and stills quality. Noise-handling proved particularly good, producing impressive results even in lower lighting conditions.
The priciest bundle includes the new DJI RC Smart Controller, with a 5.5-inch touchscreen offering increased visibility. Flying solo? Obstacle avoidance sensors reduce the likelihood of collisions, while unlocking automated QuickShots for the first time on a Mini-series drone. We're big fans of these automated flight patterns, which make it easy to capture cinematic content single-handedly. Similarly, subject tracking worked a treat in testing.
Its increased price positions the Mini 3 Pro closer to the DJI Air 2S, but we still think its small size, low weight and serious skills make the DJI Mini 3 Pro a fantastic flying machine for all types of pilot.
---
DJI launched the Mavic 3 before its full suite of features was ready. A firmware update has now plugged the gaps, transforming it into the aerial powerhouse that DJI promised. Up front is a new dual Hasselblad camera setup: a 20MP Four Thirds CMOS sensor impresses with its adjustable aperture and best-in-class image quality, while the secondary telephoto lens is more limited (but still useful for distant subjects).
Upgraded video shooting powers make the Mavic 3 a significant upgrade for professionals: it can capture 5.1K at up to 50fps, with support for Apple ProRes in FullHD at up to 120fps. Other tweaks include boosted battery life, better collision avoidance and improved responsiveness in flight, all while keeping the backpack-friendly form of its predecessors. Opt for the Cine edition and you also get 1TB of solid-state storage inside.
With skills such as ActiveTrack 5.0 subject-tracking, automated MasterShots and high-speed QuickTransfer via Wi-Fi 6 finally unlocked, the Mavic 3 is easily the best DJI drone ever in pure performance terms. But with a price tag to reflect its spec sheet, professional flyers are clearly the target market.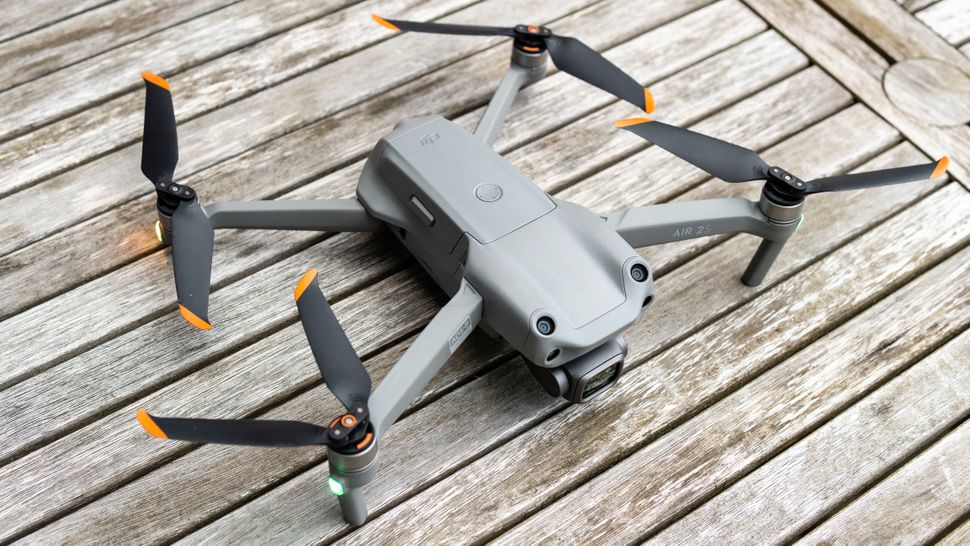 DJI's 'Air' line has long been a sweet spot in its range for anyone who's looking for a good balance of portability and image quality – and the DJI Air 2S takes that concept to the next level. It effectively combines the best parts of our two previous favorite DJI drones, the Mavic Air 2 and Mavic 2 Pro. You get the backpack-friendly, folding design of the former and, crucially, the 20MP 1-Inch sensor of the latter, a mix that makes the Air 2S comfortably our number one drone.
If you're on a tighter budget, the Mavic Air 2 (below) remains a good choice, while the variable aperture offered by the Mavic 2 Pro (which isn't available on the Air 2S) is a handy feature for those who like to regularly use ND filters. But otherwise the Air 2S is an almost faultless all-rounder, offer 5.4K video at 30fps, a handy digital zoom option (even if we'd only use it up to 2x zoom) and some impressive high ISO performance. It's a cocktail that gives this mid-range drone huge appeal for both hobbyists looking for their first drone and pro photographers who want to give their snaps a new aerial dimension.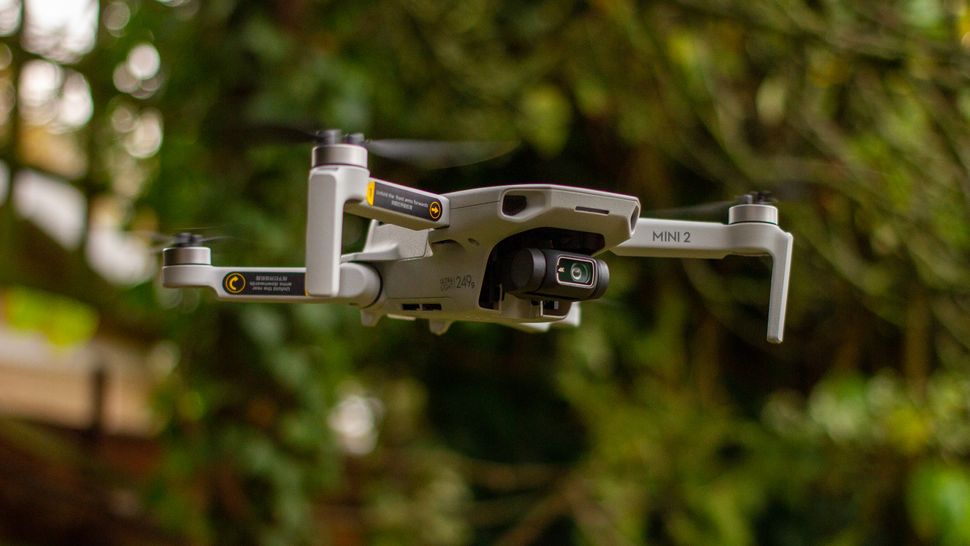 A very close relation to the DJI Mavic Mini (see below), the second generation of DJI's ultra-compact drone is the ultimate flying machine for beginners. With the same lightweight folding design, the Mini 2 remains a properly pocketable drone that doesn't require registration in most regions. New to the mix is a revamped controller that's streamlined and antenna-free, delivering a smooth and intuitive handling experience which makes the Mini 2 even easier to fly, plus an enhanced range of up to 10km.
Also fresh is the 4K resolution: though the small sensor struggles when the sun drops, the clarity of 4K/30p footage is respectable in bright conditions. Aerial video is also as stable as you'd expect from a DJI drone and, despite its size, the Mini 2 remains rock-steady in even the windiest conditions. Add a 30-minute flight time and five Quickshots into the mix, and the Mini 2 shapes up as simply the best drone for beginners.

It's now been succeeded by the DJI Air 2S, but the Mavic Air 2 remains on sale for those who need a foldable, mid-range at a lower price tag. The main difference between the two is that the older Mavic Air 2 has a smaller 48MP 1/2-inch sensor, compared to the 20MP 1-Inch sensor on the Air 2S. Still, if you're a hobbyist flier, the Mavic Air 2 still produces impressive 4K/60p video along with a huge range of shooting features that mean it's still one of the most versatile drones around.
The Mavic Air 2's controller brings Ocusync 2.0 connectivity, which takes its range up to 10km and improves the stability of its signal to the DJI Fly app. You also get a full stack of those beginner-friendly modes that DJI has fine-tuned over the past few years, including the 'Quickshot' automated flying modes and subject-tracking. The DJI Mini 2 remains a better and more affordable choice for complete beginners, but if you're looking for high-quality 4K video in well-lit conditions and don't need a 1-Inch sensor, then the Mavic Air 2 is still well worth considering.

The DJI Avata is a new breed of flying camera for the drone giant, with the focus on bringing the FPV (first-person view) shooting experience to the masses. If you're okay with the relatively high price of entry – compared to existing 'cinewhoop' drones, at least – it mostly succeeds in this mission, helping you produce cinematic one-shot videos while being incredibly fun to fly.
The Avata is much lighter than the DJI FPV (see below) and its propellor guards make it suitable for flying indoors. Strangely, you can only buy the Avata in a bundle with DJI's Motion Controller, which sees the drone respond to the movements of your hand. But we found that this comes with some restrictions (like not being able to fly backwards) and some may prefer buying the more traditional FPV Remote Controller 2 ($139 / £139) for it instead.
Aside from its poorly placed microSD card slot, we found the design of the DJI Avata to excellent and pretty crash-resistant, too. It's fun to fly, with its slower top speed (60mph, compared to the DJI FPV's 87mph) helping to keep it under control, while the 1/1.7-inch sensor produces impressive 4K/60p video (in the 'flat' D-Cinelike profile, if you like). The Goggles mean you'll need to fly alongside a 'spotter' and the Avata is too slow for drone racing, but as long as you're aware of its limitations this drone is capable of capturing unique aerial imagery without expert piloting skills.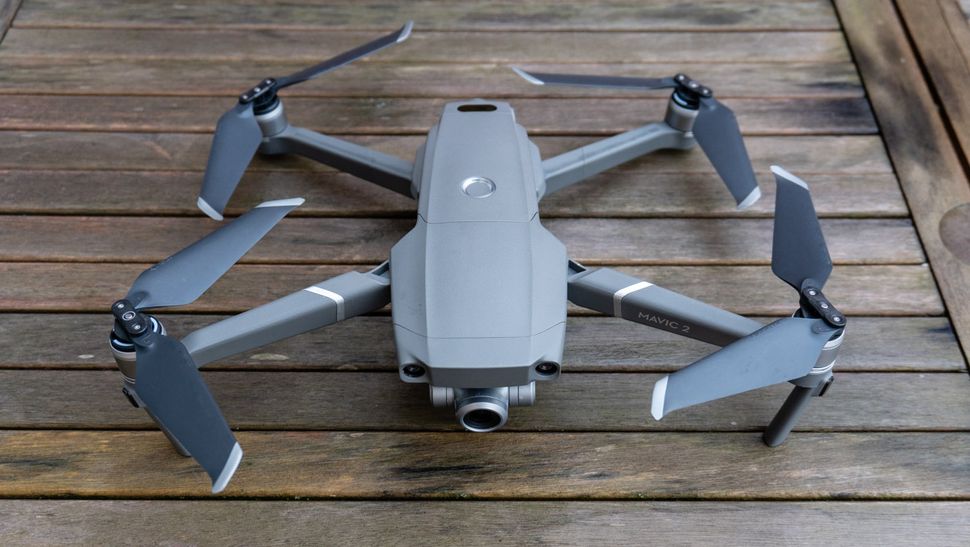 When it launched, the Mavic 2 Zoom was the almost identical twin of the DJI Mavic 2 Pro, apart from one key difference – its camera has optical zoom. Rather than the 1-inch 20MP sensor seen on its 'Pro' sibling, this drone pairs a smaller 12MP sensor with an 24-48mm optical zoom lens. This is extremely handy, as it means you can capture close-up shots of subjects like people at events, without needing to fly as close as other drones. And while the newer has Mavic 3 does have a telephoto lens, it lacks true optical zoom, instead switching between cameras of different focal lengths.
Because it has a smaller sensor than its siblings, image quality naturally falls short of the Mavic 2 Pro and Air 2S, but its videos and photos are more than good enough for pro use in the right light. That zoom is particularly useful because distortion is minimal and control is intuitive via the partner app. And it packs in all of the usual intelligent flight modes that you'd expect from a DJI drone, including Active Track and Hyperlapses. With a decent 30-minute flight time too, it's still worth considering if you need a super-versatile drone with zoom powers, though its overall performance is certainly eclipsed by the pricer DJI Mavic 3.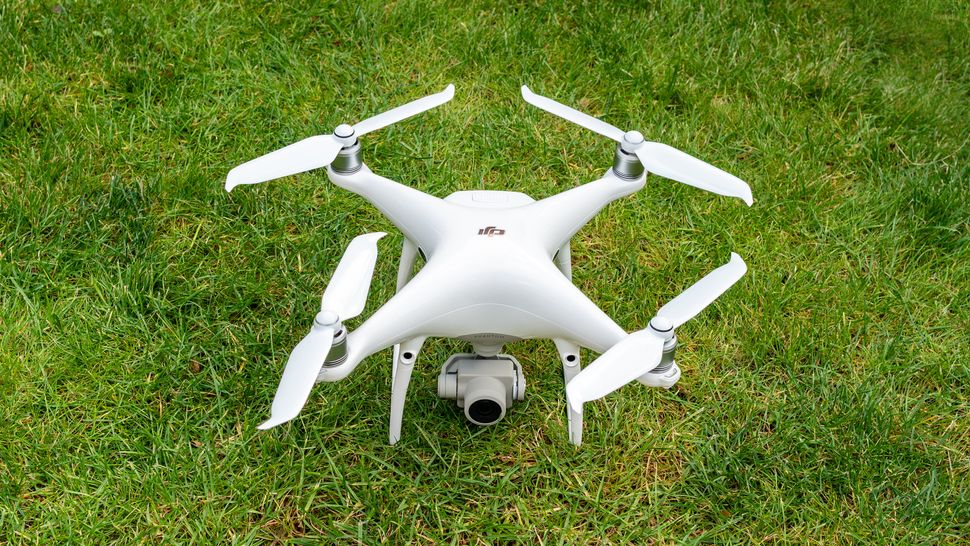 It might not be the newest model in this, having launched back in 2018, but the Phantom 4 Pro V2.0 is the ideal choice for pros who often fly in less-than-ideal conditions. Its superb handling, weight and impressive flight time of 30 minutes mean this Phantom is particularly adept in windier conditions that might blow the smaller models in this list off course – or at least affect the quality of the footage you're able to shoot.
Talking of which, the Phantom 4 Pro V2.0 fairs well in the video and stills department too, thanks to its 20MP 1-inch sensor, which lets it shoot flexible raw photos and 4K/60p video at 100Mbps in the D-Log color profile. Of course, it's nowhere near as convenient as tiny folding drones like the DJI Mavic Air 2, but if reliability and the ability to fine-tune your aerial footage in post-production are your priorities, this remains one of the best choices around.

Fancy soaring like a bird? The DJI FPV finally makes the fun of first-person flight accessible out of the box. It might not be as polished, convenient or affordable as DJI's Mavic series, but it does offer an incredibly immersive flying experience for novices and seasoned pilots alike. Shipped with the amazing DJI Goggles, the DJI FPV reliably transmits compelling 4K footage from its front-facing camera to the bundled headset.
It's also remarkably easy to fly in 'Normal' mode, with GPS and collision sensors reducing the risk of crashing. The result is an exhilarating first-person experience that really feels like flying. Less compelling is the 10-minute flight time, the need for a secondary observer to maintain a visual line of sight and the cost of the accessories you'll need to get the best from it. Stills quality is average too, while the front propellers are visible in footage. So it's not the perfect first-person drone, but it is a huge amount of fun to fly.

It might not carry the DJI name, but this little 80g flier does contain the company's flight tech and was made in collaboration with both DJI and Intel. A palm-sized drone that's been designed for fly either indoors or outside on very still days, the Tello can shoot 720p video and perform impressive stunts like '8D' flips.
While it's a lot of fun to fly, particularly with your phone acting as the controller, the Ryze Tello is really an educational toy in disguise. That's because it works with the MIT-developed coding tool Scratch, which lets you drag-and-drop blocks to create flight paths and build other tricks. Naturally, the drone's tiny 1/5in sensor and low 4Mbps bitrate mean video quality is strictly for social media, but the Ryze Tello is a fantastic toy drone that can teach you a thing or two about coding in the process.

While most of the drones in the list are smaller consumer models that are the aerial equivalents of compact mirrorless cameras or premium compacts, the Inspire 2 is a full-blown pro DSLR in the sky. This extends right to its modular design, which allows you to pick the right Zenmuse camera to attach to it. We tested the Inspire 2 with the Zenmuse Z5S, which is a 4K Micro Four Thirds camera, though you can also add a Zenmuse X7 if you need a Super 35 camera with interchangeable lenses.
It might look like something that Skynet has sent back in time to hunt for John Connor, but the Inspire 2 is a little more friendly than that, particularly if you're a pro filmmaker looking to shoot 5.2K video, albeit at 30 frames per second. Shooting in 4K is also possible at 60 frames per second, while the Inspire 2 also comes with some excellent automated flying modes and solid subject-tracking. If you can afford it, and don't mind its size, this remains one of the finest flying cameras you can buy.
Read our in-depth DJI Inspire 2 review

How we test DJI drones
While the cameras are the main focus of the DJI drones we review, we also test their flying performance to see how easy they are to operate. We check their stabilization in the air, their responsiveness and their top speed. Perhaps most importantly, we also assess their obstacle avoidance – which is particularly crucial if you want a drone that automatically tracks and follows a subject.
After testing the drone's battery life claims based on some real-world flights, we then move onto their cameras. We shoot a range if clips at different resolutions and frame-rates, including high-contrast scenes to push their dynamic range to the limit, plus some low-light scenes. Automated flight modes are also tested to see whether they're genuinely useful or fun gimmicks.
These videos are then assessed on a calibrated monitor, along with the drone's still photos (which we shoot in maximum resolution in both JPEG and raw, at various ISOs).
When it comes to image quality, we look at detail, sharpness across the frame, and high ISO noise handling, to see which conditions you can reasonably expect to shoot usable video and stills in. We then combine these results with our overall impression of the drone's design, features and value to produce our final verdict.