Editor's note: June 2023
The best beginner drones with a camera should be easy to fly using a controller and your own eyes, and not cost the earth, like all the drones in this list with the exception of the FPV (first-person view) DJI Avata drone (see below).
Drone regulations are different the world over, but overall there are less regulations for sub 250g drones which makes life easier getting started, and do check the bottom of this guide for more details.
Naturally, there are concessions when you spend less money – you're unlikely to get top quality 4K video or features such as obstacle avoidance. But the drones in this list are excellent stepping stones for beginners.
FPV drones are increasingly popular sub-genre breaking out of the drone racing world and into the mainstream. They use headsets to give you an on-board view from the drone and make for a different kind of flying experience, being more than just a camera with propellors.

Tim Coleman, Cameras Editor
The best beginner drones are designed for first-time flyers to get airborne with ease. These entry-level models are made with novice pilots in mind, which means they're easy to fly and affordable to buy. While they might not offer the more advanced features and filmmaking skills of premium drones, most also come with camera sensors that can capture decent footage while you hone your flying skills.
Advanced drones, including many of the models featured in our guide to the best drones, usually carry a substantial price tag. For inexperienced pilots, the idea of crash-landing a costly drone can be daunting. Luckily, the best beginner drones are built for learners, which means they're usually easy to handle and less expensive.
We've put in countless hours to thoroughly test the best beginner drones, then ranked our favorite flying machines in the list below. Whether you're looking for a simple budget drone or a smarter beginner drone, we've covered a range of the top options in our comprehensive buying guide, including many of the best DJI drones you can buy.
With a solid set of features for the price, we think the best overall drone for beginners right now is the DJI Mini 3. The more expensive DJI Mini 3 Pro features useful collision avoidance sensors, but with a compact form factor, intuitive controls and automated shooting modes, the Mini 3 makes it a breeze to record quality aerial video.
If you'd like to spend less on your first flying experience, we recommend the Ryze Tello as our favorite bargain drone for beginners. At just 80g, it's a featherweight flyer that's perfect for novices to pilot using their smartphone.
Whatever your expectations, our guide will help you find your ideal beginner drone. We've included direct links to the best deals beneath each entry, saving you valuable time in your search. If you need additional pointers, you'll also find our expert buying advice at the bottom of this page.
The best beginner drones for 2023
Why you can trust TechRadar We spend hours testing every product or service we review, so you can be sure you're buying the best. Find out more about how we test.
DJI's latest compact drone lands as the best edition for beginners to date. Like both of its Mini predecessors, the DJI Mini 3 is a lightweight flying machine with a small folding body, intuitive controls and useful automated filming modes. Like those same predecessors, it still misses out on collision avoidance – something you only get by spending more on the Pro version (below). But it proved every bit the quality drone in testing: we found it forgiving to pilot using the standard controller, which is the same as the one supplied with the Mini 2. Drift was only an issue in the windiest conditions.
While it lacks the Log profiles of DJI's premium drones, we found that its 1/1.3-inch sensor – larger than the DJI Mini 2's – captured sharp 4K/30p footage that was excellent overall. What also set it apart was the ability to rotate its 12MP sensor to portrait for shooting social content. If you already have a DJI Mini 2, the case for upgrading is less compelling. But if you're shopping for a well-built and feature-packed beginner drone, this is the best you can get.
---
Designed in partnership with DJI, Ryze's Tello is an affordable, compact and lightweight drone that's ideal for mastering the basics. It's controllable via your smartphone running the Tello app and Wi-Fi, but you can also use a Bluetooth gaming controller, albeit at a shorter range. We appreciate that it's proven to be a responsive and lively flier during our tests. That makes it an effective teacher so you can master the ups and downs of twin-stick quadcopter flying. It even features stability sensors to minimize drifting when it's supposed to be static, and the 13-minute battery life isn't bad at all.
It's not all positive. The flight range is limited (well below the 100m maximum Ryze suggests, think 30m instead) while the slightest breeze will send the drone drifting off in whatever direction it's blowing. The 720p video camera isn't up to much either, and with no local storage it sends all footage and photos directly to your phone – which results in choppy video if and when the Wi-Fi connection dips in and out.
Those caveats aside, the Tello is a great starter drone that does the simple things well and feels better made than other budget models. It's the obvious pick for the best budget beginner drone category.
---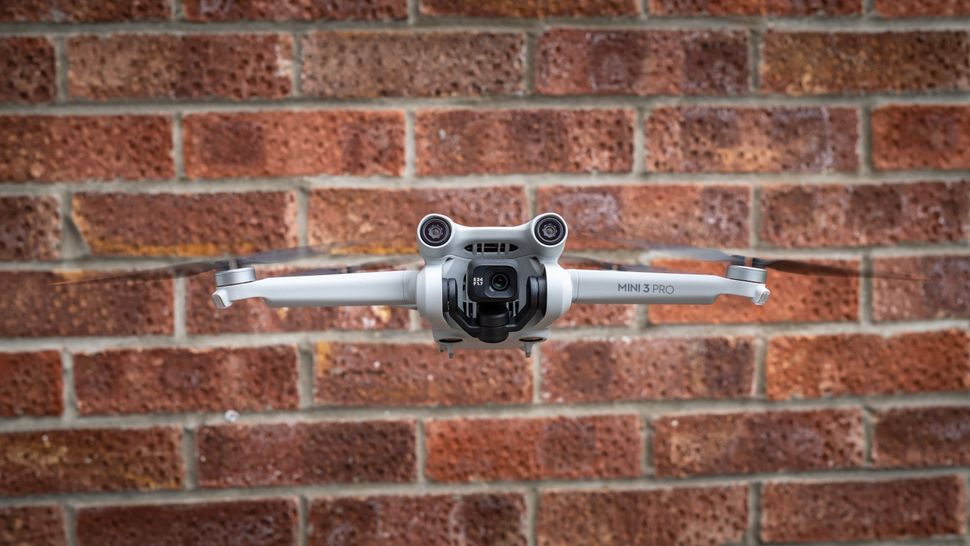 It's by far the most expensive model in this list, but the Mini 3 Pro is also the best drone around for beginners with large budgets. It's big step up from the DJI Mini 2 in almost every way, but the most useful feature for novice fliers are its tri-directional obstacle avoidance sensors. These not only give you a safety net when flying around tree branches, they also help unlock lots of automated modes like FocusTrack, which we found particularly useful during our testing.
The other big upgrade from the Mini 2 is the Mini 3 Pro's camera. During our daylight tests, the drone's 12.1MP 1/1.3-inch sensor produced excellent image quality, with very little noise up to its maximum ISO 6400 setting. The bright f/1.7 lens and dual native ISO tech means low-light performance is strong for such a small drone, if not quite as good as larger models like the DJI Air 2S.
With other benefits like the ability to shoot in portrait (without cropping) and the new optional DJI RC controller, which is a super-convenient way to fly the drone, the Mini 3 Pro is a fine choice for beginners – if you can stretch to its price tag.
---
The Autel Evo Nano+ is taking on DJI's Mini 3 Pro in the sub-250g drone category. That, in of itself, is no easy undertaking with the latter being so near darn perfect.
To its credit, the Evo Nano+ is an impressive beginner drone in its own right. During our tests, we've found that it surpasses our current top pick, the DJI Mini 3, when it comes to low-light performance, thanks to its sensor, and is just about on par when dealing with windy conditions. That makes it an easy recommendation for us, especially when you love capturing sunsets and nighttime cityscapes – not to mention if you need a high-performance drone that meets Europe's critical weight limits.
Admittedly, the Mini 3 Pro has the overall edge here. However, the Evo Nano+ should see refinements over time, thanks to Autel's adding new features and making improvements via firmware updates. And, if you're looking for an ace alternative to DJI's offerings, this one should be at the top of your list.
---
The DJI Avata isn't as approachable as the more traditional drones on this list, but it is a great introduction to FPV (first-person view) flying. Using a combination of DJI's Motion Controller and one of its two flavors of DJI Goggles, you can fly it indoors or outside while shooting impressive 4K/60p video.
Aside from the baffling position of its microSD card slot inside one of its blade rings, the DJI Avata is well-designed, pretty crash-resistant and easy to fly. DJI's Motion Controller, which sees the drone respond to your hand movements, might be an acquired taste for those who are used to more traditional controllers. We wish DJI also offered a bundle with its FPV Remote Controller, which costs $139 / £139. But you can buy that separately and the drone can hit top speeds of 60mph whichever one you go for.
Pro shooters will be pleased to see support for the 'flat' D-Cinelike profile – and as long as you're aware of its limitations (like needing a 'spotter' alongside you if you shooting outdoors) then the DJI Avata is an ideal choice for beginner FPV pilots who want to shoot some unique aerial footage.
---
Small, lightweight and regulator-friendly, the Potensic Atom SE is an affordable alternative to DJI's folding flyers. Highly portable and capable of respectable flight times in testing, we found it an easy drone for beginners to pilot. Its controller comfortably accommodates large smartphones, while the PotensicPro app proved straightforward to operate. We were pleasantly impressed by its build quality too, given the budget price tag.
It's not without compromise, though: like the DJI Mini 3, the Atom SE has no collision avoidance system. You do get a handful of simple automated flight patterns, but a locked gimbal and no mechanical stabilization mean footage rolls with the drone. Our tests revealed that image quality is good in the center of the frame, but sharpness drops off at the edge. There are also few options for adjusting camera settings, which will limit its appeal to seasoned pilots. That said, with a useful form factor and straightforward controls, this surprisingly speedy machine is still a decent budget drone for beginners.
---
Best beginner drones – FAQs
What are the best beginner drone features?
Beginner drones come in a range of shapes and sizes, but the best models all share a few key features. If you're just starting out, then a slick companion app will be invaluable – some of the best we've tried are from DJI, Ryze and FIMI. A drone that's happy to hover in place will also allow you to carefully learn the controls and understand how sensitive it is to commands. A few of the drones above, such as the DJI Mini 3, also feature preset flying tricks that allow you to easily capture Hollywood-style shots, which can produce impressive results with just a little bit of practice.
What's the best beginner drone for videography?
If you're looking for a beginner drone with a camera, then bear in mind that you'll need to spend a bit more to get genuinely usable footage. Look for a drone with a camera that has at least a 1080/30p mode. A low-resolution sensor like the 720p one found on the Ryze Tello is fine for learning the basics, but you'll need to spend at least $350 / £300 / AU$550 to get a really high-quality camera, such as the 4K recorder on the DJI Mini 3.
What's the best beginner outdoor drone?
It's important to think about where you're most likely to fly your drone. If you're happy to stay indoors or in sheltered spots near your home, then a small, toy model (like the Ryze Tello or Revell Icon) will be fine. But for more ambitious flights, you'll need a drone that can withstand gusts of wind and a few crash landings, like the DJI Mini 3. Drones with obstacle avoidance sensors, such as the DJI Mini 3 Pro, are the safest to fly outdoors, but these usually come at a premium.
Do I need a license to fly a drone?
Drone laws mean that taking to the sky is tightly regulated. This is to ensure that the skies remain safe for everyone, especially around sensitive locations such as airports and national parks. Drone laws also try to address privacy concerns when camera-equipped drones fly in residential areas.
In many regions, like the US, drones that weigh below 250g do not need to be registered with a civil aviation authority. You'll still need to follow all the local drone laws, such as keeping your drone within line of sight at all time, but registration commonly isn't required.
This isn't the case in all countries, though. In the UK, drones weighing less than 250g used to be exempt from registration requirements. This has now changed, so that owners of any drone with a camera will need to register their flying machine with the Civil Aviation Authority and get an Operator ID. You can do this for a fee of £9 per year, provided you're 18 or over.
If your drone weighs more than 250g, you'll also need a Flyer ID. To get this, you'll need to take an online test consisting of 40 multiple-choice questions. The answers can all be found in the Drone Code and should help to ensure that you're a safer flyer.
If your drone weighs less than 250g and does not have a camera, you won't need either ID. But you'll still need to check that you're piloting your drone in line with the UK's drone laws. According to the Drone Code, that means keeping eyes on your drone at all times, not flying higher than 120m above the ground and staying at least 150m away from built-up areas. And you'll need to avoid restricted airspace, which is usually around airports.
How we test beginner drones
When it comes to beginner drones, their usability and flying importance is just as important as their cameras – so we place equal emphasis on both during our testing.
To test the former, we run through their stabilization in the air, overall responsiveness and their top speed. Most beginner drones lack obstacle avoidance powers, but if they do have them we fly them though an obstacle course to see how well they work.
After checking the drone's battery life claims based on real-world flights, we then move onto their cameras. Most beginner drones have small sensors that struggle in high-contrast situations, but we fly them through a variety of lighting conditions to see where their breaking point is and in what conditions you can realistically expect usable footage.
We then evaluate their footage, taken at a range of frame-rates, on a calibrated monitor, alongside some of the drone's sample still photos. When it comes to image quality, we look at detail, sharpness across the frame, and high ISO noise handling. We then combine these results with our overall impression of the drone's design, features and value to produce our final verdict.