Two-minute review
The Insta360 X3 is a great all-rounder action camera. Its strength clearly lies as a 360-degree video shooter, although it can capture decent 4K footage with a standard action camera field of view, too, beating the GoPro Max for single-lens clarity. That said, if you mostly shoot single lens videos, dedicated offerings from DJI, Insta360 and GoPro in our best action cameras guide fare better.
You can use a Insta360 X3 mounted to bike handlebars or a helmet, or you can just hold it and shoot video as you would with a phone. Handheld use is the part Insta360 X3 nails better than a GoPro, which feel like they should be attached to a selfie stick at the very least. The Insta360 X3 also has major usability benefits over any Insta360 camera released to date, mostly thanks to the unusually good screen.
Insta360 has also nailed one of the most important parts of the pocket 360-camera workflow – editing your footage is a blast, and only takes a few minutes for shorter clips once you have a grip on the fairly intuitive and wide-ranging tools.
Insta360 X3 specs:
Sensor: Dual 48MP 1/2'' sensors
Video: 5.7K 360-degree, 4K up to 30fps
LCD: 2.29-inch touchscreen
Video modes: Active HDR, Timelapse, Timeshift, Bullet time
Connectivity: Wi-Fi, Bluetooth 5.0, USB-C
Memory card: MicroSD UHS-I
Size: 114 x 46 x 33.1mm
Weight: 180g
Battery: 1800mAh
Sure, there are some problems. You can't view all kinds of clips from the camera itself. It takes a beat to start capturing video, and some elements of the image processing aren't at the same level as GoPro's.
However, the Insta360 X3 is one of the best options if you want an action camera that can "do it all". But is it worth the upgrade for Insta360 X2 owners? We think there's plenty of life left in that older camera, and the main improvements are a much larger screen and a great new Active HDR mode that avoids blown highlights like a pro.
Price and availability
Launched in September 2022
$449/ £459 / AU$799 RRP
Seven different kits available
The Insta360 X3 was released in September 2022, two years after the Insta360 X2. It costs $449 / £459 / $799AU, making it just slightly more expensive than its predecessor was at launch. It costs slightly less than the GoPro Max, although you can generally now find that dated camera for less online, while the Ricoh Theta X seems extortionate by comparison.
Insta360 also offers a bunch of kits for different mounting scenarios — adding in a bunch of accessories. Kits include the Get-Set Kit for $496 / £510 / AU$800 that includes an invisible selfie stick, a 64GB memory card and a lens a cap. Others available include the Snow Kit, Motorcycle Kit, Bike Kit, Bullet Time Kit, Ultimate Kit and Virtual Tour Kit and more details can be found on the Insta360 store.
Design
Large, clear display
Includes a 1/4-inch threaded port for a selfie stick
10M water resistance
The Insta360 X3 is an upright, stick-like camera, just like its predecessor. There's a threaded mount point on the bottom, should you want to attach a selfie stick.
It fits comfortably in the hand, despite the lack of room for any ergonomic grip contouring. And for those interested in the materials used, the sides are plastic with a diamond embossed texture, for extra grip. The front and back are soft touch plastic. No surfaces have the rubberised feel of a GoPro, but the parts you end up worrying about are the glass areas.
That's the display glass and, much more important, the lenses. The fear factor is unavoidable with 360-degree cameras, so you might want to buy a lens cover (not included with the standard bundle) or Insta360's accidental damage insurance. There are no removable, replaceable outer lens elements here.
Back to the fun stuff, the Insta360 X3 feels right at home in your hand. Just below the screen are buttons that start capturing video and flip between front and rear lens views. In action these are a bit like the navigation keys on an Android phone. Very handy.
The Insta360 X3 has four physical buttons: two up front, two on the side. But it is largely a touch-led interface, and one that uses a couple of gestures you will need to bed into.
Flick right and you reach the shooting mode screen. But flick right from the very end of the display and the Insta360 X3 brings up your captured clips instead. It's the one quirk of the Insta360 interface: needing to disambiguate between horizontal swipes and similar swipes that begin at the screen's end.
Once you're accustomed to that, the Insta360 X3 is largely a breeze. And it looks clear on the 2.6-inch screen.
The Insta360 X3's screen is probably the single most important design upgrade here. The modular cameras have tiny little square screens, while in the Insta360 One X2 there is a small round porthole instead. This camera's portrait aspect screen seems huge in comparison, and is also larger than the GoPro Max's display.
You do need to manually max out the brightness to make it hold up in bright sunlight, but it gets roughly as bright as the GoPro Max's own. The large screen is better for previewing the picture than the last gen model, and makes navigating around the menu system easier. Its interface also just looks a lot glossier and more high-end.
The style of the Insta360 X3's screen is geared more at influencers and content creators than the classic action camera audience, though. It's an upright screen, offering the framing you'll typically see in videos shared on social networks. The orientation doesn't auto-rotate if you turn the camera around either.
However, look a little deeper and you'll realize this is an entirely sensible move. Holding the camera sideways is only going to bring your fingers closer to the lenses if you're rolling without a stick. And when you shoot in the single-lens mode, the only drawback when shooting at 16:9 is the preview image is smaller.
If you are desperate for that full-screen preview, you can get the Insta360 X3 to shoot in 9:16 instead and turn the camera on its side.
The Insta360 X3 has double the water resistance of the GoPro Max, at 10m/33ft, and matches the GoPro Hero 11 Black. Those planning to dive at anything like a depth of 10m should get the Insta360 Dive Case, though. The additional pressures involved when moving through water means anything below fairly surface-level capture is a bit risky.
Insta360 achieves the X3's water resistance using single layer rubber seals around the charging socket and the battery, which pops out when you release its two fastening sliders on the side.
Our review period did not, unfortunately, coincide with any trips to the beach. Walking and running around with the Insta360 X3, we noticed it does tend to get warm pretty quickly. But not uncomfortably so. We saw no overheating messages after filming constantly for 45 minutes at 5.7K.
Features and performance
Stabilization smooths out action a treat
Powerful editor for modes like timelapse
Slow start up time
The Insta360 X3 uses an 1800maH battery, notably higher capacity than the 1600mAh of the GoPro Max. Insta360 claims this can last 81 minutes in the 360-degree, 5.7K resolution mode.
After 15 minutes the Insta360 X3 dropped from 100% to 87%, suggesting it could actually last a lot longer than 81 minutes. However, following 45 minutes of capture it was at 49% battery, closer to the claim.
What we have here is somewhat non-linear battery reporting. The Insta360 X3 holds onto a 100% charge reading for a little too long, a popular tactic in consumer electronics. It's not helpful in a more tool-like gadget such as this, but may change over the weeks as the battery settles (and more firmware updates arrive). And the important part: Insta360's 81 minute battery life rating is not a work of fiction.
Stabilization used to be one of the classic action camera battlegrounds. It still is at the low-end, but discussing it in Insta360 cameras has now become quite boring. Its FlowState stabilization has been excellent for ages now, and continues to be so. The Insta360 X3 is great for sporty use, or extreme sports use, as long as you don't mind the way its tall shape will stick up from the mount a bit.
The 360-degree view means there's basically infinite scope for stabilization, and the Insta360 X3 has horizon leveling to make this effectively automatic. You can also switch on a feature called Direction Lock when editing your clips, which counters any twisting of the camera so it appears as though you were holding the X3 straight the whole time.
The Insta360 X3 has a built-in TimeShift mode, which is a form of Timelapse shooting designed to let you use the camera handheld. It doesn't have the smarts of GoPro's version, which can automatically shift the footage's speed up and down based on whether there's anything interesting going on in the scene. But it's a quick way to make sped-up clips.
We do think you get better results by shooting at standard speed and turbo-charging footage in the edit, as Insta360 offers good-looking motion blur and better control over the speed of playback.
There are parts for Insta360 to address in a future camera or, fingers crossed, a software update. The Insta360 X3 takes a solid couple of seconds to actually start recording clips, and the GoPro Max feels instantaneous by comparison.
Like most Insta360 launches, we've also come across a few bugs. It has frozen on a few occasions, and one low-light mode clip was rendered unreadable for some reason. However, these mostly cropped up when handling footage after a shoot, not actually during capture.
The Insta360 X3 also has several interesting modes we've not discussed yet. Me Mode is one of the neatest. This leverages the slight overlap of the lenses' vision to produce a flat clip in which a stick used to mount the camera becomes invisible. You'll still see your arm holding it, of course, but it's great for no-fuss dramatic shots. Insta360 uses someone jumping into the sea, and snowboarding, as a couple of examples.
You can capture stills at up to 72MP resolution, in the 360-degree mode. Again, this process is quite slow, but the results are solid — if not as impressive as those of a good phone when trying to capture a more ordinary field of view.
Insta360's editing tools are fun and fairly easy to use as well. We tried both the phone app and Insta360 Studio on Mac for this review, and their tool sets are largely similar.
When re-framing 360-degree footage, you set key frames along the timeline, and Insta360's software generates smooth transitions between them. You pinch and drag the view in the phone app to perfect each of these key frames, but rotational control is kept separate. This can initially seem a bit confusing, but does make key frame manipulation feel simpler than GoPro's more free-wheeling approach.
We found the process fastest on a laptop, as mouse control just feels that bit more precise than on a phone-size touchscreen. 360-degree edited clips are set at 1080p when exporting from the phone app or Insta360 Studio, which may seem too limited when maximum res is 5.7K. However, we saw little obvious benefit after manually changing this to 4K resolution in the desktop Insta360 Studio software. And if you're looking to produce remotely normal-looking videos, you're not going to be using all of that raw 5.7K information anyway.
There's also a plug-in for Adobe Premiere Pro, but we haven't tried this as part of the review.
Features and performance: 4.5/5
Image and video quality
Active HDR deals with blown out highlights
Strong 360-degree image quality with limited cropping
Single-lens videos look better than the GoPro Max
The Insta360 X3 has two 48-megapixel cameras with 1/2-inch sensors and f/1.9 aperture lenses. These are larger and higher-res than the 17MP, 1/2.3-inch sensors of the GoPro Max, and those of the One X2.
However, these numbers aren't really aspects to focus on, beyond the one key mode they may help to enable. This is 4K video when shooting with a single lens, rather than in the 360 mode.
Single lens videos require zero editing – you can pull the resulting MP4 files straight off the camera, ready to go. Its sharpness is significantly better than the single lens mode of the GoPro Max, which is limited to 1080p. Sure, there's a 1440p mode in the GoPro, but this is 4:3 capture, meaning it's the same quality as 1080p, just with a taller frame.
So, are single lens videos a match for those in single lens cameras from GoPro and Insta360? Not even close. We only had the GoPro Hero 9 Black for direct comparison, but that older model has prettier color and much better detail at 4K, particularly out of the center of the frame. These flat videos become quite muggy and basic-looking at the corners of the shot, and look much more like 1080p captures than 4K.
This was always going to be the case. The Insta360 X3 lenses have to capture a full 180 degrees, the GoPro Hero 9 Black's do not, and this mode crops into their view substantially. Don't buy the X3 if 360-degree capture is a "nice to have" extra. 4K flat videos are also limited to 30fps, with 60fps available at a lower-quality 2.7K resolution.
360-degree video is the main event, and here the Insta360 X3 and GoPro Max find a form of parity. The X3 shoots 360 clips at up to 5.7K resolution, 30 frames per second. Insta360's secret weapon is Active HDR, which you don't get in GoPro cameras. This doesn't affect the frame rate either.
Action cameras have a bad habit of leaving video clips with odd-looking gradients in skies as the frame errs closer to the sun. Or leaving very significant blown out areas in clouds on bright days. It's because the small sensors of these cameras have relatively low dynamic range. The Insta360 X3's HDR mode all but fixes this, at least compared to the standard shooting mode, by merging two exposures per frame.
Sometimes the results are quite brilliant, and give you loads more highlight detail to play with in the edit. It's extremely useful when you're shooting outdoors, or when there's partial tree cover up top – one of the tricky parts of shooting 360 video is the exposure level is not just judged on what's in front of you, but your entire surroundings.
You won't want to use HDR 24/7, though. It's no good for low light conditions, because it restricts the exposure time for each frame. And while it has real image quality benefits, I've noticed more aberrations in HDR clips, like very obvious noise in a plain blue sky towards the side of the frame — even on a sunny day.
HDR also has a color character that reminds us of the earlier 2013-2015 days of phone HDR, sometimes leading to unnatural-looking tonality and a slight flattening of contrast. However, this can be fixed in video editing software. Insta360's own software offers a couple of color and clarity boosting options. I haven't noticed any ghosting in Active HDR, though, which is the classic issue of HDR video where combined frames are shot sequentially, leading to "afterimage" doubling of moving subjects.
GoPro currently only offers tone mapping, which is nowhere near as powerful as "active" HDR. But when you get a bit more ambitious with your 360-degree editing, you can't avoid the slight deficiencies of Insta360's image processing.
Zoom in significantly and fine detail can become unconvincing. Tight textures like gravel, tree leaves and the patina of old walls get filled in with too many unnatural-looking straight and horizontal patterns. GoPro tends to avoid these, instead often looking softer, but more natural.
This is an effect of Insta360's sharpening, which can be dramatically reduced by simply dropping it down from the standard "high" setting. But it's a balance. If you want to edit down to a field of view less than 180 degrees, footage does become quite soft-looking with no sharpening at all.
Night shooting is, as in most other action cameras, quite poor. The larger sensors bring a slightly improvement over the Insta360 One X2, but not a dramatic one. However, there is a timelapse style night mode that dramatically improves results, called StarLapse. You'll need to use a tripod for it, but it can be perfect for YouTuber-style B-roll footage.
Image and video quality: 4/5
Also consider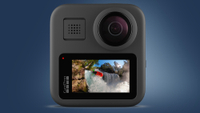 (opens in new tab)
Despite being three years younger, the Insta360 X3 doesn't win on all counts over the GoPro Max. For example, it's videos looks less natural. However, the X3 is a more powerful camera, with fun shooting modes and editing and a larger screen. Overall, it's the more compelling option of the two.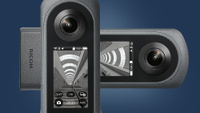 (opens in new tab)
Ricoh Theta X
There's many similarities between the Ricoh Theta X and Insta360 X3; 5.7K 360-degree videos up to 30p, 4K single lens videos, dual 48MP 1/2in sensors, a high-res photo mode and large 2.25-in color touchscreen. However, the Theta X lacks a few editing smarts, its battery life is shorter, and most notably it is twice the price, making the Insta360 X3 a clear winner.
Testing scorecard
Swipe to scroll horizontally
| | | |
| --- | --- | --- |
| Price | A little cheaper than rivals | 4.5/5 |
| Design | Large touchscreen | 4.5/5 |
| Features and performance | Powerful editing, battery and stabilization | 4.5/5 |
| Image and video quality | Shines for 360-degree, less so for single lens | 4/5 |