The Insta360 Ace Pro is an absolute monster and is the first action camera to hit the magic 8K video output. It offers this only at 24 frames per second but is a true marker in the ground for GoPro and DJI to take note of. Video quality across all the resolutions is impressive, with good results in a range of different lighting conditions. Low-light performance is generally good, although there is still room for improvement, and highlights are handled better in photo mode than video mode. The gorgeous 2.4-inch flip screen gives a great size output for live viewing and reviewing footage. The range of mounts makes it ideally suited to all action sports, and it's robust enough to be usable in a wide range of environments. This camera looks set to shake up the market, and it'll be interesting to see how its competitors respond.
Pros
+

8K video resolution

+

Great stabilization

+

Handles low light and highlights well

+

Lots of mounting options
Cons
-

Expensive compared to alternatives

-

On the heavy side
Why you can trust TechRadar We spend hours testing every product or service we review, so you can be sure you're buying the best. Find out more about how we test.
Two-minute review
The Insta360 Ace Pro is Insta360's first out and out wide-angle action camera – and the brand has absolutely nailed it, creating one of the best action cameras to market. Insta360 isn't new to this field though, with a range of 360-degree cameras that includes the low-light champion the Insta360 One R 1-inch, plus mobile gimbals.
The Ace Pro rivals the likes of the GoPro Hero 12 Black and the DJI Action 4, but it is the first of its kind to offer 8K video. Take that, GoPro and DJI. You also get 48MP stills – both of which are probably larger than most people will need. However, the quality of the output is generally great, with the HDR Photo mode particularly good at capturing detail in highlights.
The highest resolution 8K video is available at 24fps only, so there's definitely room for higher frame rates to be added in future versions of this camera. However, slow motion 4K video is possible up to 120fps.
Insta360 is a long-time partner of Leica, which has engineered the Ace Pro's 1/1.3-inch sensor, and this partnership seems to be paying off. The sensor, backed by the camera's AI-boosted chip, does a great job of capturing excellent video and photo quality, even under more demanding lighting scenarios such as low light and highlights.
The magnetic mounting system and wide range of mounts makes this camera a highly versatile option for all types of creatives. The multi mount is particularly useful, enabling the camera to be mounted on a tripod or carried around on a selfie-stick, and Insta360 provides mounts that would work with all types of action sports, including cycling, diving, and surfing.
I really enjoyed the camera, from the excellent build quality to the impressive output of the video and photo. Insta360 has made a great camera, and it's hard to see what it can improve on in future releases – perhaps slow motion 8K recording?
Insta360 Ace Pro specifications
Sensor: 1/1.3-inch
FOV/focal length: 16mm (35mm equivalent)
Max photo resolution: 48MP (8064 x 6048)
Video: 8K 24fps / 4K 120fps / 1080 240fps
Stabilisation: FlowState and Horizon Lock
Screen: 2.4-inch flip screen
Mount: Magnetic standard, Quick release, Multi Mount
Battery: 1,650mAh
Connectivity: Bluetooth, USB-C and Wi-Fi
It's a pricier alternative to the Hero 12 Black and the Action 4, but there are a number of specs that make the Ace Pro stand out and justify the higher price. The first is the 8K recording functionality. To achieve this inside such a small camera body is to push the boundaries of what was previously possible.
The 1/1.3-inch sensor is another spec that's worth noting. This is bigger than the Hero 12 Black's sensor and the same size as the Action 4's, although not as big as the Osmo Pocket 3.
There's also a 2.4-inch flip screen that is the largest available on the market, compared to 2.25-inch for the Action 4 and 2.27-inch for the Hero 12 Black. The screens of those cameras are fixed, too, while the Ace Pro's can flip up for selfies.
Overall, Insta360 has done a breathtaking job of pushing the boundaries of what it's possible to pack into a small-form action camera.
Insta360 Ace Pro: release date and price
Available to buy now for $449.99 / £429 / AU$729
Mounts available from $14.99 / £15.99 / AU$29
Cheaper 'Ace' version of the camera costs $379 / £359.99 / $AU609
The Insta360 Ace Pro is available now, with the lowest-priced Standard Combo package costing $449.99 / £429 / AU$729, which is a little pricier than the GoPro Hero 12 Black, which retails at $400 / £400 / AU$650, or the Hero 11 Black at $350 / £350 / AU$579.
To extend your mounting options you can get the Standard Mount for $14.99 / £15.99 / AU$29, and the Vertical-Horizontal Mount for $19.99 / £19.99 / AU$39.
To get waterproofing down to 16m rather than the standard 10m you can buy the Dive Case for $59.99 / £59.99 / AU$109.
An extra battery to extend shooting times costs $34.99 / £35.99 / AU$65, and if you're needing to charge your batteries quickly then the Fast Charge Hub is a great option, and costs $49.99 / £51.99 / AU$89.
The Insta360 Ace Pro doesn't come with GPS as standard, but if you pair it with the GPS Preview Remote you can track your location. The remote can be worn on your wrist or mounted on your bike, for example. It costs $149.99 / £149.99 / AU$269.
If you want a cheaper alternative to the Pro version there's an Insta360 Ace which retails at $379 / £359.99 / $AU609.
Insta360 Ace Pro: design
Easy magnetic mount
Versatile multi mount
2.4-inch flip screen for selfies
The Ace Pro is really nicely engineered, from quality materials. As soon as you take it out the box you can tell that it's both heavier and bigger than other cameras on the market, such as the Hero 12 Black. It weighs in at 179.8g, compared to 154g for the Hero 12 Black and 145g for the Action 4.
The benefit of this is that it feels more substantial in the hand, while still feeling very much like an action camera. It also allows for much better heat dissipation, something that is the single biggest problem facing action camera designers. If you want a smaller Insta360 camera the brand does offer smaller consumer alternatives.
One area where the Ace Pro diverges from other action cameras, in a good way, is in the implementation of its screens. I find DJI and GoPro screens often a little unresponsive, and their front screens never seem to deliver what's required when shooting in selfie-mode. The Ace Pro, on the other hand, includes a fantastic 2.4-inch rear flip screen that hinges from the top. The screen is big and responsive, and the hinge is perfectly engineered, enabling the screen to perch securely at any angle. I love it.
Image 1 of 4
In terms of mounting, you have a plethora of options available to you. The camera itself has a magnetic plate at the base to allow for a super-quick snapping of the camera onto different mounts. It follows the Action 4 in this regard, and has left behind the Hero 12 Black, which will hopefully introduce this functionality next time round. Action cameras have to be versatile, and quick to get up and running, and the magnetic mount on the Insta360 Ace Pro enables exactly that.
The standard mount is ideal for cycling, for either mounting the camera onto a helmet or handlebars. It's lightweight, and includes a quarter-inch screw hole. There's also a quick-release mount, which hooks into the camera and is removable using the quick-release buttons. Unfortunately, I found that the camera didn't hook into the prongs first time every time, and at times it took a little fiddling to ensure that both prongs were clicked in, which isn't ideal.
The multi mount is a stroke of genius though, serving a whole host of different shooting scenarios. It can serve as a standard tripod, as a selfie-stick of sorts, or just as something to carry the camera around with when you're shooting on the go.
Insta360 has also included a really nice front display, which isn't a touchscreen but updates you on some of the key settings. It's a nice feature, but I couldn't really find a use case for it; if I was shooting in selfie mode then I had the settings displayed on the flipped screen anyway.
I personally found the record button too hard to press, which made it difficult to begin recording or take a photo without dislodging the location of the camera in my hand and introducing a wobble into the start of the video. A more responsive button would easily overcome this.
The camera contains all the ports you would expect, including a USB-C port, microSD slot, and a battery cavity. These are all behind flaps which I found a little fiddly to open and close. The flap to the power port/microSD port also only just opens wide enough to allow the power cable in, while the microSD port is also right next to the power cable, which makes it tricky to remove or insert the SD card while charging.
Insta360 Ace Pro: features and performance
Excellent FlowState stabilization and Horizon Lock
Decent waterproofing up to 33ft / 10m
Handy voice and gesture controls
The Insta360 Ace Pro has been co-engineered with Leica, which means it has a great sensor – it's actually the same size sensor as in the Osmo Action 4 at 1/1.3-inches, and is bigger than the Hero 12 Black's. It does, however, fall short of the new 1-inch sensor in the DJI Osmo Pocket 3; given this camera's larger camera body, I wonder if this bigger sensor will be introduced in a future Ace Pro camera.
The 1/1.3-inch sensor alongside the f/2.6 aperture facilitates impressive low-light performance – more about that later. The 5nm AI chip enables a strong level of noise reduction, which is perfect in those night-time scenes where you can't get rid of all the noise in-camera. The AI on the chip also means it better handles the opposite extreme, where there are bright light sources in the shot, something that's difficult for any camera to handle, let alone a small action camera.
The stabilization in the camera centers around FlowState and Horizon Lock, features that are well implemented in pretty much all other action cameras. FlowState, Insta360's proprietary algorithm, is tried and tested on its other cameras and works well. Horizon Lock does exactly that, and is ideally suited to when the camera is rotated a lot through the shot.
Image 1 of 3
The video resolution allows for up to 8K at 24 frames per second. This is an industry-leading resolution, with the Hero 12 Black topping out at 5.3K and the Action 4 at 4K. Not many users will need 8K in this type of camera, or have the display to watch it on, but if it's something that's important to your workflow then the Insta360 Ace Pro delivers.
The camera contains a neat little feature, although not unique, called 'Photo Grab', which enables the capturing of 12MP photos mid-video. We'll look at the quality of the video and photo from this camera later.
The camera is waterproof down to 10m, which will be sufficient for most cases, but if you find yourself shooting at a greater depth the dive case that's available separately allows you to use the camera to depths of to 16m.
One feature I particularly love is the gesture control. With a simple raising of the palm the camera will start recording video, after a three-second countdown so you can get set up. And if you show the 'peace' sign a photo will be taken after three seconds. I like these types of features, as they minimize the interaction required with the actual camera.
Insta360 Ace Pro: image and video quality
Max photo resolution: 48MP (8064 x 6048)
Video: 8K 24fps / 4K 120fps / 1080 240fps
Active HDR
The results produced by the Insta360 Ace Pro are noticeably impressive. Where do we start? How about low-light performance? This is where so many action cameras, over the years, have tripped up. If the lighting conditions are ideal then it's no problem, but creators don't want to be limited by their tech.
The image quality across all resolutions is really nice including the 8K option. Colors are represented with clarity and vibrancy giving a punchy image that pops off the screen. Low-lighting conditions are also handled well, with only a small amount of noise noticeable during testing. The AI-boosted chip helps to clear away more of the noise that can't be removed by the 1/1.3-inch sensor, and this low-light performance is replicated across video and photo.
The other scenarios these types of cameras often struggle with is highlights. The Ace Pro contains HDR technology when shooting video, and also includes a separate HDR photo mode. The Active HDR in video mode delivers fairly good results, although there is still some detail lost, especially in the highlights.
The HDR photo mode on the other hand does a much better job of capturing those details. When taking a photo of an overcast sky, for example, the image had definition in the clouds, where the video captured turned the sky completely white.
Color replication across all modes is excellent, with little to no correction required to replicate real-life colors. GoPro and DJI cameras often struggle with this, so I was pleased to see the Insta360 Ace Pro doing such a good job. This color replication is also noticeable with faces and skin tones which, again, are captured accurately.
Unfortunately, there isn't log capture functionality like the GP-Log in the GoPro Hero 12 Black. This limits your color-editing options in post, and it would be a fantastic additional feature to really take this camera to the next level.
Image and video quality score: 4.5/5
Should I buy the Insta360 Ace Pro?
Buy it if...
You want an 8K action camera
Not many users will need 8K in this type of camera, or have the display to watch it on, but if that's important to your workflow then the Insta360 Ace Pro delivers.
You love a flip screen
The 2.4-inch rear flip-screen is wonderfully engineered, and enables the user to see their video feed in high definition whether they're behind or in front of the camera.
You want to post your videos to Instagram, TikTok, and YouTube
With its portrait filming functionality, the Insta360 Ace Pro is ideal for shooting videos that can be uploaded to your favorite social media app.
Don't buy it if...
You want a front and rear screen
If you want a traditional implementation of a front and rear screen then you'll need a GoPro or DJI. The Insta360 Ace Pro has a flip-screen alternative.
You want the lightest action camera
The Insta360 Ace Pro weighs 179.8g, compared to 154g for the Hero 12 Black and 145g for the Action 4.
You want log capture functionality
If color grading is important to you then you won't find any log capturing functionality in this camera. You'll need to buy the GoPro Hero 12 Black instead.
Insta360 Ace Pro: Also consider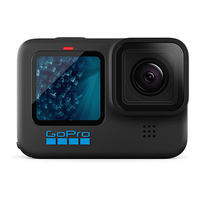 GoPro Hero 12 Black
The GoPro Hero 12 Black is a hardy, handy, ultra-wide action camera with incredible stabilization and an abundance of features. The new external and dual-channel audio tools are useful, and filmmakers will appreciate the addition of 10-bit log capture and time-coded footage. It's not perfect, and low-light video is still its Achilles' heel compared to its main competition, the DJI Action 4.
Read our in-depth GoPro Hero12 Black review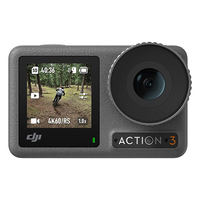 DJI Osmo Action 4
There's a modest saving to be had by picking up DJI's Action 4. It delivers superior low-light performance, and has magnetic mounting, twin touchscreens, excellent stabilization, and an ultra-wide lens. While it misses out on the resolution, with its photos caping out at 10MP, it's also a deeper diver, and a great all-around package.
Read our in-depth DJI Osmo Action 4 review
Testing scorecard
Swipe to scroll horizontally
Insta360 Ace Pro

| | | |
| --- | --- | --- |
| Price | Pricier than the GoPro Hero 12 Black | 4/5 |
| Design | A beautiful design that's well engineered | 4.5/5 |
| Performance | 1/1.3-inch sensor delivers results in low light | 4.5/5 |
| Image and video quality | Amazing video quality even up to 8K | 4.5/5 |
How I tested the Insta360 Ace Pro
I used the Insta360 Ace Pro as both an action camera and a vlogging camera. Taking it out and about enabled me to properly test all of its features, including its video and photo quality as well as its stabilization.
Taking the Ace Pro out on my bike provided a great opportunity to see how the camera would cope working at speed and under changing lighting conditions.
Having tested other action cameras I was able to make informed comparisons between the Ace Pro and other popular models.
First reviewed November 2023
Paul has 20+ years experience working in creative industries including photography, videography and 3D visualisation. You'll also find his writing at Creative Bloq, Digital Camera World, and in 3D World Magazine.