The DJI Osmo Pocket 3 is an impressive camera that delivers amazing video quality and beautiful slow-motion scenes. The all-new 1-inch sensor boosts the image quality in low light, while the portrait filming mode enables on-board filming in this orientation, and the timelapse and motion lapse features further expand the functionality. If you can stomach the price tag, you won't be disappointed by what the Pocket 3 enables you to produce.
Pros
+

1-inch sensor

+

Bigger and better screen

+

Portrait recording option

+

Slow-mo mode now up to 4k at 120fps
Cons
-

Usability of touchscreen needs improvement

-

Can get hot when filming

-

No built-in storage
Why you can trust TechRadar We spend hours testing every product or service we review, so you can be sure you're buying the best. Find out more about how we test.
Two-minute review
The Osmo Pocket 3 is a really nice piece of kit, which you'd expect when you're shedding out more than $500 or close to £500. The device is beautifully designed, and carefully crafted with every component sitting nicely in the overall design. The second iteration of this action camera ditched the Osmo tag, but it returns here.
The introduction of a new 1-inch sensor is a game-changer for the Pocket line. It results in better image quality across both photo and video, with higher-resolution video capabilities in the slow-mo mode and greatly improved low-light capabilities. There is still a little bit of noise in darker areas, but it's not that noticeable.
The most notable addition to the video resolution category is the new portrait mode. It's possible to record directly in this orientation all the way up to 3K, something that will be a dream come true for TikTok content creators.
The screen has also been bumped up from 1-inch to 2-inch, a sizable difference in terms of both visual display and touchscreen functionality. The screen is perfect for viewing a live feed of the camera, as well as picking focus points, although it lacks the necessary size to be enjoyable when navigating around settings and menus.
DJI Osmo Pocket 3 specification
Sensor: 1-inch CMOS sensor
FOV/focal length: 20mm
Max photo resolution: 3648 x 2736px
Video: Up to 4K 120fps (16:9)
Stabilization: 3-axis gimbal mechanical
Tracking: ActiveTrack 6.0
Audio: Stereo recording
Screen: 2-inch rotatable screen
Face auto-detect and dynamic framing make it easy to track objects and faces while still maintaining a stabilized shot. I didn't find the dynamic framing as useful as I thought I would, but that might just be because of my workflow. The new Spinshot feature seems absolutely useless, in essence enabling videographers to rotate their footage either through 90 or 180 degrees without adjusting the orientation of the footage; I can't see this feature being used much.
The battery has received an upgrade, resulting in longer recording times and a quicker recharge cycle. The device still suffers from some overheating challenges, but it's hard to find an action camera that doesn't.
The stabilization on action cameras such as the Osmo Action 4 and GoPro Hero 12 Black is becoming increasingly impressive and reliable, which brings into question the necessity of the Pocket 3; however, I think the portrait filming feature will go a long way to setting the Pocket 3 apart from other options, and the inclusion of dedicated audio recording equipment is another plus.
Overall, this is an impressive camera that delivers amazing video quality and beautiful slow-mo scenes. The timelapse and motion-lapse features further expand the functionality of this camera, and i you can stomach the price tag you won't be disappointed by what it enables you to produce.
DJI Osmo Pocket 3: price
Standard bundle available to buy now for $519 / £489 / AU$849
Creator Combo costs $669 / £619 / AU$1,129
Plethora of optional accessories
The Osmo Pocket 3 retails for $519 / £489 / AU$849, with the standard bundle including the Osmo Pocket 3, a USB Type-C to Type-C PD Cable, a Osmo Pocket 3 Protective Cover, a DJI Wrist Strap, and a Osmo Pocket 3 Handle With 1/4-inch Thread. That's a fair whack pricier than the Pocket 2.
The Osmo Pocket 3 Creator Combo retails for $669 / £619 / AU$1,129 and includes the Osmo Pocket 3, a Type-C to Type-C PD Cable, a Osmo Pocket 3 Protective Cover, a DJI Wrist Strap, a Osmo Pocket 3 Handle With 1/4′′ Thread, a DJI Mic 2 Transmitter (Shadow Black), a DJI Mic 2 Windscreen, a DJI Mic 2 Clip Magnet, a Osmo Pocket 3 Battery Handle, a Osmo Mini Tripod, and Osmo Pocket 3 Carrying Bag.
DJI Osmo Pocket 3: design
139.7 x 42.2 x 33.5mm (l x w x h), 179g
2-inch rotatable OLED screen
Tripod mount
The Pocket 3 is still pocket-sized, something DJI is at pains to tell you in the list of features. I think it's keen to state this because of the increase in both the camera's size and weight. The first version of this action camera was 116g, and the second model was much the same, but here the weight has jumped up to 179g. It still feels nice to hold, and the added weight gives it a much sturdier feel in the hand. This extra weight is the result of the larger sensor, the bigger screen, and the increased size overall. Compared to the Pocket 2 it's 14mm longer, 4mm wider and just over 3mm deeper. The length is particularly noticeable, and is due to the 2-inch screen in its default portrait mode – more on that in a minute.
The build quality reflects DJI's commitment to producing solid devices that will take a knock or two – this is an action camera after all. The hand grip sits nicely in the hand, and for extra grip DJI has included a grip panel on the back.
The device has been beautifully constructed, with every component interacting seamlessly with the ones next to it. This is seen in the way the screen appears to protrude perfectly from the main body, and in how the gimbal sits in a perfectly circular housing. The fact that the screen needs to rotate 90 degrees could have resulted in a flimsy construction, but it never feels like the rotation hinge inside is going to break – don't quote me on that though. When rotating the screen, there's a magnetic-like locking action at both ends of the rotation, which is pleasing.
One of the standout features of the new design is the 2-inch screen, which is a great improvement on the 1-inch screen of the Pocket 2. The OLED display feels robust enough to handle the demands of filmmaking, and particularly action shots. I still found the screen too small to enjoy using it to change settings and modes, though; these can be changed using the DJI app, but I feel a slightly larger screen and a better interface would be better. This issue is particularly noticeable when trying to adjust the settings on the screen – with only enough room for around nine letters, the text for each setting scrolls along, making it unusable in my opinion.
The tripod mount that was missing from the Pocket 1 but introduced in the Pocket 2 continues to perform well. All of the accessories follow the same careful and considered design rules, which make the full set of components a pleasure to interact with. The attachments clip nicely together, and I experienced no fear of them detaching while filming.
DJI Osmo Pocket 3: features and performance
Portrait filming and livestream option
Face auto-detect and dynamic framing
DJI is really focusing its efforts on social media content creators, and the introduction of a portrait mode and a livestreaming feature shows its willingness to 'move with the times'. More traditional creators might argue that these features are gimmicky, and detract from a great product, but there's no getting away from the fact that this camera and gimbal combo is ideally suited to vloggers and social media content creators, something that's highlighted by DJI's decision to make the new portrait mode the default option and orientation for the screen.
The Pocket 3 benefits from ActiveTrack 6.0, which includes automatic face detection and dynamic framing, and both these features operated impressively, with no bugs or issues. I found the camera more than able to track a variety of objects, even in low light and across a variety of distances.
The spin shot feature seems pretty gimmicky, and it's hard to imagine it finding much use among videographers. The only use-case I could imagine this would be for vloggers wanting to create a spin transition into their next shot, but I think this type of transition is overdone in the vlogging world, and I was surprised to see this functionality included. It's also pretty fiddly to get the desired orientation.
Operating the camera with the gimbal is relatively straightforward and responsive. I feel it would have made sense for the gimbal to switch direction when in selfie mode, but maybe that's just personal preference; it just seems counterintuitive to be pushing the gimbal left only to find that the camera is rotating right.
The standard photography and panorama features continue to exist, without much change to their functionality, and the countdown feature in photography mode is useful when setting up shots in which the camera operator needs to appear.
The DJI Mimo app adds a whole other level of functionality to the camera, and generally makes it much easier to operate. The relay of the video feed is fast, with no noticeable lag. It's possible to adjust settings and operate the camera without needing the app, but it's not easy, with the 2-inch screen with touch buttons and swipe functionality making everything really fiddly. Having to use the app on a phone isn't necessarily a problem, but it does make the workflow a little more clunky and less natural – a larger screen with a better implementation og the interface would reduce the requirement for the app, and make the whole creative process more enjoyable.
In terms of audio, there's not much to say beyond what was possible on the Pocket 2. The Creator Combo includes an external wireless mic and a windshield, and this wireless audio option is perfect for vloggers who want to move around without being tethered to the Pocket 3. The linking of the Pocket 3 and the mic transmitter takes some concentration, but once you know what you're doing it's not too difficult. It's also possible to link the Pocket 3 to any external digital USB-C microphones that support 48K/16bit.
Finally, let's talk about the battery. It seems that every action camera faces the challenge of delivering good battery performance while at the same time avoiding the perils of getting too warm and overheating. The battery here has been upgraded from 875mAh to 1300mAh, which delivers quite a significant operating-time improvement. Under normal room temperature conditions the Pocket 3 can capture around 166 minutes at 1080p, 26 minutes more than its predecessor. Even at 4K the Pocket 3 can manage around two hours of recording.
The recharge speed is unbelievably quick, with a full charge achieved in only 32 minutes, less than half the time of the Pocket 2. This is even more impressive considering that 80% battery is reached in just 16 minutes.
Features and performance score: 4/5
DJI Osmo Pocket 3: image and video quality
4K at 60fps landscape and 3K at 60fps portrait
4K at 120fps for slow-mo
The video resolution delivers on almost every front. The Pocket camera has always delivered 4K footage at 60fps, and it's no different for the Pocket 3. At some point I imagine this will jump to 8K, but at this point in time there's very little demand for that, and considering the timespan between releases has been one to two years, any features like that can wait for now.
The video quality is generally excellent, although there's definitely a reduction in quality towards the edges of the video, something that's the case in photo mode as well. There's chromatic aberration and a loss of definition in these areas, something that becomes exaggerated with the wide-angle lens.
Maximum video resolution is 4K in 16:9, while in portrait mode the Pocket 3 tops out at 3K when choosing that film orientation, both 9:16 and 1:1 aspect are capped at 3,072 pixels. It's a shame you don't get 4K, but content creators on TikTok will be grateful for the multi-aspect option, because portrait video wasn't possible at all on the Pocket 2.
The photo resolution is 3840 x 2160, a noticeable drop from 9216 x 6912 on the Pocket 2, although the pixel size has increased from 1.6um to 3.2um. If you want to use the Pocket 3 to capture high-resolution imagery for larger-format printing then you won't be able to. The image quality is definitely lacking here, making this camera much more suited to video.
Image 1 of 6
The larger sensor produces great dynamic range and color replication, while also dealing with some of the previous low-light issues. As mentioned, the introduction of portrait filming and livestreaming will please vloggers, and the higher resolution for slow-motion recording is another plus; there just aren't many negative things to say about this latest release.
One of the big improvements to the video capabilities is the ability to record up to 4K at 120fps. This is a significant jump up from the Pocket 2, which was only capable of recording 1080p in slow-mo mode. The extra resolution here makes it possible to capture more detail, and gives greater flexibility for cropping in post. I would like to have seen the slow-mo recording capabilities extended to the portrait mode, but I imagine that will come in a future iteration of the Pocket.
Image and video quality score: 4.5/5
Should I buy the DJI Osmo Pocket 3?
Buy it if...
You're a TikTok content creator
The introduction of a portrait filming mode at 3K makes the video capturing workflow as smooth as it has ever been. With all the stabilization benefits, the Pocket 3 is the best purpose-built camera for portrait social media.
You shoot a lot of slow-mo
The Pocket 3 delivers 4K footage at 120fps. This is an impressive resolution, and enables footage to be slowed down by four times. It's also possible to record 1080p at 240fps, which is a great option to have.
You want to capture audio on the go
The mic transmitter delivers great sound quality, which when paired with the camera's ability to capture amazingly smooth video makes for an impressive combo. The 8GB of internal storage can store up to 14 hours of 48kHz 24-bit audio without compression.
Don'y buy it if...
You already own an Osmo Action 4 or GoPro Hero 12 Black
The stabilization on these cameras is becoming pretty amazing, and the Pocket 3 doesn't deliver a huge amount more in terms of video quality and features.
You shoot a lot of action photos
The resolution of the camera is far from ideal for capturing high-resolution action photos. The GoPro Hero Black would be a much better option if photo resolution is important.
You're happy with the Pocket 2
If the Pocket 2 is delivering exactly the sort of footage you need for your workflow then there's not a great reason to upgrade. You will get slightly better video quality and tracking capabilities, but it's probably worth waiting until Pocket 4 to consider an upgrade.
Also consider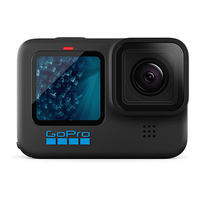 GoPro Hero 12 Black
The GoPro Hero 12 Black is a hardy, handy, ultra-wide action camera with incredible stabilization and an abundance of features. The new external and dual-channel audio tools are useful, and filmmakers will appreciate the addition of 10-bit log capture and timecoded footage. It's not perfect, and low-light video is still its Achille's heel compared to its main competition, the DJI Action 4. It's also very similar to the Hero 11 Black, so probably doesn't warrant an upgrade from its predecessor. It captures great-looking footage in well-lit scenes, though, and thanks to its streamlined interface and upgraded features, it's still the best GoPro around.

Read our in-depth GoPro Hero12 Black review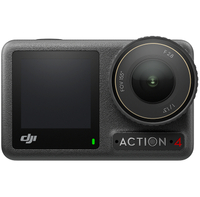 DJI Osmo Action 4
The Osmo Action 4 is a fantastic action camera; it's tiny, rugged and versatile, and crucially it delivers better image quality than its predecessor, packing more detail in challenging shooting environments and low light. A price hike over its predecessor pitches the Action 4 squarely against GoPro's best offerings, and it outdoes the GoPros with its quick and convenient magnetic mounting. This is an incredibly fun and capable camera for your active pursuits and vlogging, and comes highly recommended.
Read our in-depth DJI Osmo Action 4 review
Testing scorecard
Swipe to scroll horizontally
DJI Osmo Action 4

| Attributes | Notes | Rating |
| --- | --- | --- |
| Price | Quite pricey for an action camera | 4/5 |
| Design | A beautiful and considered design | 5/5 |
| Performance | Amazing tracking and stabilization | 4/5 |
| Image and video quality | Delivers great video quality, but lacks resolution for photos. | 4.5/5 |
How I tested the DJI Osmo Pocket 3
I had the DJI Osmo Pocket 3 with me during a weekend break in Bath, UK. Bath is a beautiful city with impressive architecture, bustling crowds of tourists, and lots going on, making it great place to test all the features of the Pocket 3. I tested all shooting features, along with the audio hardware. I had the Creator Combo pack, so I was able to test all the accessories, including the tripod, battery handle, protective cover, and mic transmitter.
First reviewed October 2023
Paul has 20+ years experience working in creative industries including photography, videography and 3D visualisation. You'll also find his writing at Creative Bloq, Digital Camera World, and in 3D World Magazine.