If you want a great, compact, fun little action camera for those moments when your phone is too bulky or conspicuous, the Go 3 could be perfect, and its smart ActionPod adds a touchscreen and wireless control to the mix. While video and stabilization quality aren't best-in-class, versatility is the name of the game here, helped along by super-convenient magnetic mounting. Add a strong app experience to the mix and a handy FreeFrame mode for shoot now, frame later capture, and the Go 3 is also a perfect pairing for TikTok and Instagram fans.
Pros
+

Action Pod adds lots of functionality

+

Loads of accessories in the box

+

Super-convenient magnetic mounting

+

Shoot-first-frame-later is very handy
Cons
-

Lower resolution than the competition

-

Occasional wireless viewfinder glitches

-

Action Pod misses out on waterproofing

-

Low light performance isn't strong
Why you can trust TechRadar We spend hours testing every product or service we review, so you can be sure you're buying the best. Find out more about how we test.
Two-minute review
I love a magnetic action camera, and the Insta360 Go 3 might be my favourite of the bunch. Its core unit can fix to pipes, rails and fridges to name a few makeshift surfaces, and when docked in its Action Pod, you get a touchscreen that flips out so you can frame vlogs too.
This multi-function is the Go 3's most appealing selling point, helped along by the suite of accessories the camera ships with. Better still, the Action Pod wirelessly controls the Go 3 even when undocked, so you can use it as a remote viewfinder.
Given its unique, modular design and feature set, the Insta360 Go 3 doesn't have any obvious direct competition. On the one hand, when docked, it takes on the GoPro Hero 10 Black and Hero 11 Black. Standalone, the Go 3 is more of a Hero 11 Black Mini alternative, and with its magnetic functionality, it also takes on the DJI Osmo Action 2 and Action 3.
Insta360 Go 3 specs:
Weight: GO 3: 35.5g; Action Pod: 96.3g
Dimensions: GO 3: 25.6x54.4x23.2mm; Action Pod: 63.5x47.6x29.5mm
Maximum video resolution: 2.7K: 2720x1536@24/25/30fps
Maximum photo resolution: 6.6MP (1:1); 3.7MP (16:9)
Connectivity: USB-C, Bluetooth 5.0, Wi-Fi
Storage: 32GB, 64GB, 128GB
Battery capacity: GO 3: 310mAh; Action Pod: 1270mAh
Quoted run time: Go 3: 43m; Action Pod: 170m (1080P@30fps)
With all this functionality, though, come some inevitable compromises. The Insta360 Go 3's recording caps out at 2.7K – higher resolution than its predecessor's 2K capture, but a far cry from the GoPro Hero 11 Black line's 5.7K capabilities.
The Insta360 Go 3 also takes relatively low-resolution photos, capping out at 6.6MP square, or 3.7MP 16:9 images.
If none of those resolution limitations are an issue, the Go 3 serves up some fantastic stabilization, excellent features, and the ability to reframe your photo or video in the app after you've finished recording.
For casual users who are torn between the Hero 11 Black and Mini, and don't need the sky-high resolution but fancy a bit more versatility, the Go 3 is a powerful gadget that's supremely mountable and a lot of fun and a worthy addition to our best action camera guide.
Price and availability
Launched in June 2023
Starts at $379.99 / £379.99 / AU$659
Three different kits available
You can pick up the Insta360 Go 3 in three packages. How much you pay is dictated by the camera's storage capacity, starting with 32GB storage, ($379.99 / £379.99 / AU$659), climbing to 64GB ($399.99 / £399.99 / AU$699), and maxing out at 128GB ($429.99 / £429.99 / AU$739).
The Go 3 ships with plenty of accessories that help level-up its value, whichever capacity you pick up. That includes a magnetic lanyard, hat clip, tripod mount and an adhesive plate.
Design
The Insta360 GO 3 weighs 35.5g
It's thumb-sized and magnetic for easy mounting
The Action Pod weighs 96.3g with GoPro-like dimensions
There are two elements to talk about when it comes to the Insta360 Go 3's design, the core camera and the Action Pod.
The camera unit is a light, 35.5g stick (pictured below), and it features one button to start and stop recording, a removable lens protector, a microphone, and a magnetic mount along the back.
The Action Pod is a GoPro-shaped system with a cavity so you can dock the Insta360 Go 3 inside. It has a flip-out screen around the back, a USB-C port for charging, power and quick action buttons, and a record button at the top.
The bottom of the Insta360 Go 3 and the Action Pod are magnetic, featuring a clamp-based mounting system, so whether docked or standalone, you won't need different mounts to securely stow your Go 3 and its housing. In the box, you get a standard tripod thread mountable clamp, though if you want a GoPro-style action camera mounting plate, you'll need to pick one up separately.
The Go 3's light weight means it can be magnetically mounted wherever you find a compatible metal surface. While the Action Pod is magnetic, too, it's too heavy to mount sideways.
Another difference between the ways you can expect to use the Go 3 and its ActionPod comes in the form of water resistance. While the Go 3 is waterproof up to 5m, the Action Pod is only splash-proof, so can't be submerged.
Even though the setup, when docked, looks like a GoPro or a DJI Action 3, the Action Pod's durability holds the system back from being truly comparable for action.
The Action Pod and Go 3 are made of plastic, look fun with bulbous styling, and combine very securely, with the Go 3 guided in place by – you guessed it – magnets.
I love the addition of the Action Pod's flip-out touch screen versus the Go 2. It gave me the freedom to leave my phone in a pocket or bag while recording content. Whether I needed a wireless viewfinder or shot with the Go 3 docked, the responsive touch operation and secure hinge left me comfortable angling the preview for maximum visibility and changing shooting modes on the fly quickly and easily.
Image 1 of 5
Features
Wireless or docked control via Action Pod
Smartphone app for iOS and Android
Plenty of shooting modes for photo or video capture
The Insta360 Go 3 is a simple gadget in itself. One button does the trick, powering it up, down, and shooting. Its lightweight design and magnetic back make it incredibly easy to mount, turning any magnetic surface into a makeshift tripod for steady, hands-free capture.
Combine the Go 3 with its Action Pod, and on top of traditional ergonomics, its screen operates just like that of a GoPro, unlocking easy-to-use, touch-screen mode selection tools, control over granular settings, and the ability to playback content. This works whether the Go 3 is docked or undocked, and the connection is good for a 5M (16ft) range.
The final way to eke a little extra out of the thumb-sized Go 3 is with the Insta360 app. Doubling up with the type of control the Action Pod offers, you can also export and edit footage captured on the Go 3 through the app.
When it comes to ease of use, the Go 3 is a breeze to get your head around. The core unit couldn't be simpler with just a one-button press, and the recording status is illustrated by an LED light on the front. When you add a touch screen to the mix, usability is worlds apart from the Go 2 – a huge upgrade.
Video caps out at 2.7K, while the highest resolution photos are 1:1 aspect ratio, 2560 x 2560 stills. For 4K filmmakers who want to splice action camera footage into their masterpieces, these low resolutions won't fit the bill. For casual action adventurers and family photographers and vloggers, though, the Insta360 Go 3 could be a perfect tool.
Insta360's FreeFrame feature is also a lot of fun, and perfect for less experienced shooters. It lets you capture photos and videos, and then reframe your shot easily within the app. While it only appears to capture 16:9 footage, the Go 3 actually shoots a more square frame, so you can losslessly switch between 16:9, 19:6, and 1:1.
The camera also features horizon leveling as well when shooting in FreeFrame mode, and all photos captured support this reframing feature, helping compensate for the Go 3's low-resolution images.
Image 1 of 4
In addition to traditional and FreeFrame capture, the Go 3 also packs the usual suspect Action Camera modes, including TimeShift (hyperlapse), Slow Motion (up to 120fps), Timelapse, Starlapse, and Interval capture.
When shooting in FreeFrame mode, there isn't scope to adjust the degree of stabilization – that's managed post-capture – but in standard video mode, you can choose between three levels or turn it off.
Performance
Action Pod wireless control is excellent
Touch-screen controls is a game changer for Go line
The footage isn't best-in-class but strong considering size
Before I even cover image quality, I have to commend Insta360 for making a wireless controller that works so reliably. Having the small Action Pod to hand and seeing what the Go 3 was recording, even when it was out of eyeshot, was incredibly liberating. Yes, wireless control has been available via the smartphone app for a while, but the Action Pod's compact size made it feel much less clunky than navigating the Insta360 app when filming.
The Action Pod's touch controls were also intuitive, borrowing the menu system from other Insta360 action cameras and tuning it to the Go 3's capabilities. Within the settings, I was able to do things on the touch display that I couldn't do in the smartphone app, such as turn off the LED light on the front of the camera and mute the beeping noise.
Little touches also helped elevate the Go 3 experience. For example, the unit vibrates when it starts and stops filming – a great, tactile way to tell you what's going on without a high-pitched beep.
As for video quality – there's no getting around the fact the 2.7K resolution capture hurts the Go 3's appeal. Compared to the similarly priced GoPro Hero 11 Black which caps out at 5.7K, and the DJI Action 3 with its 4K video, the Go 3 can't stack up in brightly-lit environments.
Exposure, white balance, and saturation are generally strong in the Go 3's 2.7K video, and dynamic range is competitive even if it isn't exceptional. Videos have a pleasing amount of contrast while still holding onto some shadow detail, and the camera exposes for subjects well relatively even when they're backlit.
I also liked the natural quality to outdoor, stabilized footage. As you can see from the walking sample below, FreeFrame mode held things together well in bright environments, irrespective of the final framing.
One good thing about the 2.7K resolution is that the Go 3's files aren't as big as those of the GoPro Hero 11 Black line, so I ended up shooting in FreeFrame, max-res mode most of the time and creating content that could easily be edited for lossless exporting across platforms, be they YouTube, Instagram or TikTok.
Lowlight performance is weak, as is the case with all action cameras, so if the lights drop, your phone will likely do a better job of capturing videos.
Stills are captured in default mode which supports RAW photos, or PureShot HDR mode and there's also Night Shot and StarLapse capture too. Generally speaking, if you've got your phone to hand, as with lowlight video, it will outperform the Go 3 for photos too.
On the plus, there is a manual photography mode, so you can extend the shutter speed to help things along when the lights drop in stills, even if you can't when shooting video.
Image 1 of 3
As for battery life, the Go 3 charges while it's docked in the Action Pod, so if you tend to take short clips, you won't run into any battery issues until the Action Pod runs out, with capture time of the Go 3 being around 30-40 minutes on a single charge, and the ActionPod adding an impressive couple of hours of capture to that.
How I tested the Insta360 Go 3
The first thing I did with the Insta360 Go was fire it up and see how intuitive it was to use without looking at any guides or instructions. I then compared it with its main competition, the GoPro Hero 11 Black and the DJI Action 3, while also keeping the GoPro Hero 11 Black Mini in mind, and the Go 3's predecessor, the Go 2.
Given the camera's price, I was impressed with the selection of accessories it ships with, so I put them to the test too. It was great to get a sense of how the Go 3 changes a filming workflow thanks to its magnetic mounting and wireless ActionPod compared to traditional action cameras.
Once I felt I understood the product, it was time to take it for a spin, running down some stairs, vlogging on it, and capturing photos and videos in a range of environments. Importantly, I found myself gravitating to shooting modes I wouldn't normally use, specifically FreeFrame mode. So between the liberated filming style the Go 3's light weight enables, and the flexible shooting mode, Insta360's modular camera was starting to shine.
Finally, I exported the clips and photos from the camera, reviewed the app performance, looking out for usability red flags, compared the capture quality to alternatives from GoPro as well as smartphones, and began writing my review.
Should I buy the Insta360 Go 3?
Buy it if...
You want a tiny action camera
The Insta360 Go 3 is the smallest action camera around that can capture the kind of footage it can, wirelessly connects to your phone or an ActionPod for a live preview, and magnetically latches onto surfaces for maximum convenience.
You have kids
If you want a hardy, tiny camera for family filmmaking, the Go 3 is a durable option. The ActionPod is also a great wireless viewfinder, so you can keep an eye on your kids while they're recording away, and with a replaceable lens cover and waterproofing, you won't need to worry about it being able to withstand your brood's wrath.
You're indecisive
Thanks to the FreeFrame mode, you can capture footage without having to worry about framing, then crop it losslessly later in either 16:9, 19:6 or 1:1. The Insta360 Go 3 also supports the feature for photo capture too, though we'd lean on a smartphone for pictures given the Go 3's low-resolution stills.
Don't buy it if...
You want high-resolution capture
The GoPro Hero 11 Black is still the champion of high-res action camera capture with its 5.7K recording and 27MP still images. If you don't want something quite as bulky as the 11 Black, the GoPro Hero 11 Black Mini ditches the screen while retaining the resolution – so while it isn't as small as the Insta360 Go 3, it's pixel-power is mightier.
You want a totally waterproof experience
The Go 3 camera might be waterproof, but the ActionPod housing isn't. As you'll be leaning on it to switch up settings and change shooting modes, if you're poolside and want a dunking buddy, the Go 3 isn't your best option.
You're a fan of memory cards
The storage in the Insta360 Go 3 is fixed, so you'll have to get your content off the camera wirelessly, either through the app or by plugging it into a USB-C port on your Android phone or computer. With no SD card slot, there's no expandable storage either, so make sure you pick a capacity that will last when you buy your camera.
Also consider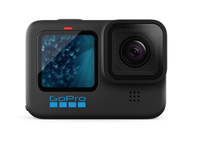 GoPro Hero 11 Black
GoPro's more traditional take on action cameras is best-in-class when it comes to stabilization and resolution, capturing more detail than the competition while still offering that Insta360 – shoot first, frame later – option through the GoPro Quik app. It's larger and doesn't offer as many mounting options – all making it less casually convenient than the Insta360 Go 3, so it isn't a better option across the board.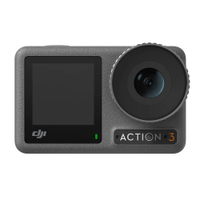 DJI Action 3
The DJI Action 3 is a great value battery champ that can out-last the Insta360 Go 3 and shoot at 4K resolution, while still offering magnetic mounting and it also packs a front display to help you frame your content. DJI's action camera is much larger than the Go 3, but if you can handle its size, it's a great middle ground between Insta360's thumb-sized option and GoPro's 5.7K 11 Black.
Testing scorecard
Swipe to scroll horizontally
| | | |
| --- | --- | --- |
| Price | While it doesn't undercut superior competition, thanks to its size, accessories, and unique modular offering, the Go 3 still represents good value | 4/5 |
| Design | The ActionPod and Go 3 are a huge step up from the Go 2, adding loads of functionality and making the whole experience more intuitive | 4/5 |
| Features | The FreeFrame capture is great for social footage, and the versatility of magnetic mounting and wireless control via the ActionPod makes the Insta360 Go 3 powerful even if its resolutions can't best the competition | 4/5 |
| Performance | While footage and stabilization aren't best-in-class, good quality capture is helped along by a strong app experience and unique functionality help keep the Go 3 competitive especially for casual users and families who want a fun capture tool above a dedicated action camera | 4/5 |
Basil Kronfli is the Head of content at Make Honey and freelance technology journalist. He is an experienced writer and producer and is skilled in video production, and runs the technology YouTube channel TechEdit.