Clever autofocus and a travel-friendly form factor make Sony's flagship APS-C camera one of the top options for capturing sharp stills and video on the road. AI smarts can rapidly track a range of subjects, while its sensor turns out attractive 26MP images and 4K video in most conditions. An ergonomic grip and plenty of direct-access controls also make it a lovely camera to handle, even if its tweaked menu system remains complex. Five-axis image stabilization isn't perfect when shooting handheld video and the sensor size makes noise an issue at higher ISOs. All the same, if you want a combination of power and portability, this is a reliable all-rounder.
Pros
+

Impressive AI-powered autofocus

+

Great handling and physical controls

+

Solid battery life

+

Large range of compatible lenses
Cons
-

Menu system complex for beginners

-

IBIS not the best for video

-

Heavy 1.6x crop on 4K 120p slow-mo

-

Noise creeps in at ISO 6400
Why you can trust TechRadar We spend hours testing every product or service we review, so you can be sure you're buying the best. Find out more about how we test.
Sony A6700: Two-minute review
By combining a 26MP APS-C sensor with AI-powered subject recognition in a body built for shooting on the move, the Sony A6700 lands as a compelling hybrid for hobbyists who value power and portability in equal parts. We gave its predecessor four stars in our full Sony A6600 review, and the A6700 is a shoo-in for a top spot in our round-up of the best travel cameras.
On a spec sheet peppered with improvements, Real-time Recognition AF is worthy of note. Driven by the same Bionz XR processor seen on the Sony ZV-E1 and Sony A7R V, it's capable of accurately recognizing and tracking a variety of targets in the real world, including humans, animals and vehicles.
Paired with a 759-point phase detection array, plus five-axis optical image stabilization, the result is a neatly proportioned camera that can produce sharp, balanced stills in most conditions, even when shooting handheld.
Noise does begin to creep in at higher ISOs, especially north of ISO 6400, but not enough to be an issue if you're only sharing on social. The metering system also has a habit of underexposing scenes on overcast days, but that's something you can manually compensate for.
The A6700 is marketed as a hybrid, and I found that it broadly has the video skills to back up its stills abilities. 4K 60p footage is oversampled from 6K without pixel binning, with 10-bit depth and 4:2:2 color sampling to match its video-focused FX30 and ZV-E1 cousins. The resulting clips are as crisp as you'd expect beneath clear skies.
Less impressive is the 1.6x crop applied to 4K 120p slow-motion footage, and I also found that the in-body image stabilization didn't eliminate wobble when recording while walking. That said, the availability of subject-recognition AF and auto-framing – which automatically crops to track you – makes it straightforward to capture sharp video.
Image 1 of 3
The A6700 also benefits from revised handling versus the A6600, including a deeper grip that makes it more comfortable to shoot with for extended periods. I didn't get to test it with a telephoto lens, but the body strikes a great compromise between size and ergonomics. It feels like a camera you could trust to take a few knocks on your travels.
Direct-access control has been meaningfully improved too, with the addition of a front dial, a dedicated dial for switching between still, movie and S&Q modes, as well as several buttons, all of which can be usefully assigned with custom functions – a win for hobbyists who want the option to switch settings quickly when shooting in the street.
And it's not just the physical setup that's changed: Sony has revised the menu system for the A6700, with the aim of making it easier to navigate with the vari-angle touchscreen. While the main interface is generally straightforward enough to use, though, I found that there was still a fairly steep learning curve when it came to locating certain settings within the depths of the menus.
Sony lent me its tidy 10-20mm F4 wide angle lens for my review of the A6700, which I found a little limiting creatively. But a major benefit for consumers is that the camera uses Sony's E Mount, an established system with a huge catalogue of compatible glass, including plenty of compact options that would team well with the camera for a travel-friendly setup.
If video is your focus, you'll likely get better results from something like the Fujifilm X-S20. But if you want a compact APS-C hybrid with a capable sensor and the ability to automate autofocus on the fly, the A6700 is well worth considering.
Sony A6700: Price and release date
$1,400 / £1,450 / AU$2,499 body-only
Announced July 2023
Available from Sony stores and authorized retailers from August
Sony announced the Sony A6700 on July 12, alongside a new shotgun microphone. The camera will set you back $1,400 / £1450 / AU$2,499 body-only, while the ECM-M1 shotgun mic costs $349 / £349 / AU$499.
That's essentially the same as what the Sony A6600 cost when it launched in 2019. At that time, we though it was a steep asking price for what the camera offered, but you're getting a whole lot of upgrades with the A6700, including cutting-edge autofocus and refined handling. Given current inflation, we think that price tag looks more reasonable this time around.
It still hits shelves at a higher price than some of its closest rivals, though. While the Fujifilm X-S20 doesn't have the class-leading AI skills of the Sony A6700, it has a comparable APS-C sensor and is capable of recording 6K 30p video, yet comes in a good slice cheaper than the A6700.
Slightly closer in price – but still less expensive – is the Canon EOS R7, one of the best mirrorless cameras for stills photography. It doesn't offer 4K 120p video recording like the Sony A6700, but it does have a higher resolution sensor and dual card slots.
Sony A6700: Specs
Swipe to scroll horizontally
| Header Cell - Column 0 | Sony A6700 |
| --- | --- |
| Sensor | 26MP BSI APS-C |
| Video: | 4K 60p (with 1.04x crop) / 4K 120p (with 1.6x crop) |
| AF points: | 759-point array hybrid phase / contrast detection |
| LCD: | 3.0-inch vari-angle touchscreen, 1.03m-dot |
| Viewfinder: | 2.36m-dot OLED EVF |
| Memory cards: | Single UHS-II |
| Connectivity: | Wi-Fi / Bluetooth |
| Max burst: | 11fps mechanical shutter (C-AF) |
| Size: | 122 x 69 x 64mm |
| Weight: | 493g (17.4 oz) |
Sony A6700: Design
Refined grip is more comfortable in the hand
New dials and buttons improve direct-access control
Menu system remains confusing for beginners
Like the A6600 before it, the A6700 is a tightly packaged APS-C camera with flat sides and a viewfinder over to the left. It might not win any design awards, but the neat proportions make it a tidy camera to travel with. That's still true even with its slightly larger dimensions: it's deeper than the A6600, but this increase doesn't make it feel bigger in the hand. It helps that the payoff is a deeper, more ergonomic grip, which makes the A6700 a comfortable camera to carry and use for full days of shooting. It's also a well-built one, with a sturdy feel bolstered by weather sealing.
What further sets the A6700 apart from its predecessor is the addition of new direct-access controls. Beneath the main mode dial now resides a second dial for switching between stills, video and S&Q (for slow-motion and time-lapse shooting). On the front of the grip lives a further control wheel, which takes care of aperture by default. These are joined by a dedicated video record button on the top plate, an AF ON shortcut on the back and a C1 button on the outside of thumb rest.
Taken together, the updated control array unlocks greater customization options for hands-on hobbyists. Provided you're prepared to dive into the menu system, each button's function can be reassigned for swift access to your preferred settings for both stills and video. The more pronounced thumb rest does make the rightmost dial a bit trickier to reach, while the front wheel is a fairly slender thing to scroll with your forefinger. The menu button can also be a stretch to get at with your thumb. Broadly, though, the revamped controls are relatively well laid-out and enhance the camera's usability.
Sony has also upgraded the touchscreen on the A6700. Slightly sharper at 1.04m dots, it's now a vari-angle number with a full touchscreen interface, versus the tilt-only display that could only really be used to set AF points on the A6600. On the whole, the screen complements the user experience. Visibility is a little limited in direct sunlight, but the articulating setup offers useful flexibility when framing.
Image 1 of 3
The software itself is a mixed bag. You can swipe in and out at the sides of the display to show and hide shortcuts, while swiping up reveals two rows of virtual buttons that can be customized for quick access to your favorite settings. These icons are just about big enough not to feel cramped, but it's still easy to hit the wrong one when operating in the wild.
In what feels like a recurring gripe for Sony cameras, though, it's the menu system that holds the A6700 back. Sony has changed the main menu to a grid layout that's more accessible at a glance, but you have to scroll or tap across twice to reach it. The overall structure has also been revised into vertical columns, but accessing any settings not listed in the main grid can still feel like a labyrinthine task. Even headline features such as auto-framing are buried several levels deep.
This is a shame, because the A6700 is otherwise a lovely camera to handle and shoot with. Not everyone will love the off-centre position of the OLED EVF, yet it feels like the best way to both frame and review images in the field. The viewfinder has the same 2.36m-dot resolution as before, but benefits from a welcome boost in brightness.
Sony A6700: Features & performance
AI-powered subject detection and auto-framing
Rapid and reliable AF across 759 phase-detection points
IBIS works better for handheld stills than video
What its menus might lack in clarity, the Sony Alpha A6700 makes up for with cutting-edge performance. Harnessing the same AI chipset as the Sony ZV-E1 and A7R V, it delivers best-in-class subject tracking. Pre-select a target for Real-time Recognition AF to detect, or tap on the touchscreen to select an object: either way, it will lock on with remarkably sticky precision, even as your subject moves around the frame.
In bright conditions, the system is rapid and reliable. Real-time Recognition only works if you're framing a subject that features on its list of presets, which includes humans, animals and insects, as well as cars, trains and aircraft. In future, we will surely see cameras that can switch between these targets themselves, based on what you're aiming at. For now, the abilities of the Sony A6700 are at the forefront of AI-driven autofocus.
It isn't foolproof, as I found when it ignored a sheep I was photographing. Woolly subjects aside, though, it's a system you can trust to focus for you, even when you're shooting fast and from the hip. I found its eye-tracking skills particularly good at locking on, regardless of how much I tried to make it break focus.
Image 1 of 3
All of this speed and accuracy is deployed across an expanded array of 759 phase-detection and 25 contrast-detection points. With both the AF-ON and shutter buttons held down, it will continue tracking subjects around the frame while firing off mechanical bursts at 11fps. The 59-raw-shot buffer fills quicker than you might think, but the A6700 at least offers UHS-II card compatibility for speedier transfer rates – although there's only one slot.
Helping to net sharp stills is the five-axis image stabilization system. Sony claims that an enhanced algorithm provides up to five stops of stabilization for photography, and I certainly had no issues capturing crisp handheld images with the A6700. Active SteadyShot stabilization is also available for video, although I wasn't as impressed with the results. It effectively levelled handheld clips when I was stood static, but it's simply not as good as Sony's Dynamic stabilization when it comes to counteracting wobble while walking. It might be because I'm heavy-footed, but I wouldn't use it to replace a gimbal.
What the A6700 might be able to replace, though, is your film crew. Like the Sony ZV-E1, it can automatically crop in while recording to compose the scene around your subject. There are three auto-framing settings, with the most aggressive cropping in the closest. It's an incredibly useful option for content creators shooting solo, as it effectively replicates the inputs of a real camera operator. Helpfully, the A6700 shows the auto-frame as a moving outline within the wider scene, so you know how much space you have to work with. What you can't do is use Active SteadyShot and Auto Framing at the same time, so the former will make the most sense with a tripod.
I was also impressed by the battery life of the A6700, which continues the A6600's legacy of strong longevity. Like the ZV-E1, it uses the same FZ-100 battery as the FX3 and A7S III. Real-world results will depend on your combination of stills and video, but a full tank proved more than enough for a full day of photography, interspersed with a few 4K clips. Helpfully, the cell charges in-camera using USB-C, so you don't need to add another charger to your travel bag.
Features and performance score: 4.5/5
Sony A6700: Image and video quality
Crisp, balanced results in most conditions
Tendency to underexpose on overcast days
Noise can be an issue north of ISO 6400
At 26MP, the APS-C sensor inside the A6700 pretty much matches the benchmark for modern mirrorless cameras. There are rivals with higher resolutions, such as the Canon EOS R7, but most hobbyist cameras hover around the 26MP mark – and that's plenty for the average enthusiast.
It certainly shoots sharp in use, with no shortage of detail. On the whole, the A6700 produces crisp, balanced results, with decent dynamic range and accurate color reproduction. Like many APS-C cameras, sunny days are when it thrives, delivering rich but realistic images with plenty of depth.
In overcast conditions, the A6700's metering system does have a habit of slightly underexposing images. You can still pull detail out of the shadows in the edit if you're using Sony's lossless compressed RAW format, and it's worth enabling the Dynamic Range Optimizer to help balance the light and dark parts of a scene. All the same, you'll want to keep an eye on exposure compensation when shooting on a cloudy day.
Image 1 of 10
Like the A6600, the A6700 is also a reliable performer after dark. Lower lit scenes come out balanced and sharp, even with multiple light sources in the picture. Improved algorithms also mean it's more effective at focusing in dim conditions, rarely relying on the illuminator to lock on to subjects.
An expanded ISO range of 50-102400 for photography gives the A6700 useful stills versatility on paper, but crank it anywhere north of ISO 6400 and noise quickly becomes noticeable across the image. This grain will be very evident on larger prints in particular. For sharing low-light shots on social, though, it's less of an issue. Happily, there's still plenty of detail beneath the noise, with little of the smoothing that can so often smudge shadows on APS-C cameras.
I've covered the limitations of Active SteadyShot stabilization for video above, but it's not the only factor which restricts recording on the A6700. 4K 120p slow-mo is a fantastic addition, but it's limited by a 1.6x crop that means you'll need a wider lens to make the most of it. Super 35mm 4K isn't completely uncropped either, although the factor is marginal at 1.04x.
Shoot longer clips and you'll also run into the A6700's recording limits. You can set the auto power-off temperature to 'standard' or 'high'. With the latter selected, the A6700 displayed an overheating warning after 38 minutes of recording 4K 60p video indoors. For capturing short travel clips and b-roll on the fly, this time cap shouldn't be a major issue. But without the cooling vents of the ZV-E1, this isn't a hybrid for serious videographers or vloggers who like to record for longer.
Audio out of the camera is very usable, with more tonal depth than you'd expect from a built-in pickup. When walking and talking outdoors, it clearly captured my voice without too much interference. If you do want a more professional setup, you have the option to use the A6700's microphone and headphone ports, or stick Sony's new XX shotgun microphone on top of the camera.
Launched alongside the A6700, this hot-shoe-mounted accessory features eight modes for directional audio pickup, plus noise-suppression settings that effectively minimize the impact of factors like wind. It's a lightweight, compact tool that I can see appealing to travel vloggers who want a streamlined solution for targeted audio capture.
Image and video quality score: 4/5
Should you buy the Sony A6700?
Buy it if...
You want a powerful travel hybrid
The A6700 packs a sharp APS-C sensor, five-axis image stabilization and cutting-edge AI autofocus into a chassis that's neatly proportioned and solidly built, making it a great all-rounder for the road. Decent battery life is a win for travel, too.
You'd like AI assistance with autofocus
Equipped with the same powerful AI chipset as the Sony A7R V, the A6700 can recognize and track pre-selected subjects with class-leading speed and accuracy, across 759 phase-detection points. This is the future of autofocus.
You like to get hands-on when shooting
With a more ergonomic grip, plus a suite of direct-access buttons and dials, the A6700 is a camera that's built to be handled. Provided you're happy to delve through the menus, there are countless options for customising the control functions.
Don't buy it if...
You plan to shoot mainly video
The A6700 has the video skills to make it a capable hybrid camera, but there are better options if footage is your focus. There's a heavy 1.6x crop on 4K 120p slow-mo, while Active SteadyShot stabilization doesn't smooth footsteps well.
You plan to print or crop low-light shots
Despite a generous expanded ISO range of 50-102400 for stills, noise quickly becomes an issue above ISO 6400. It's not a dealbreaker if you're only planning to share your low-light shots online, but printing or cropping will highlight this grain.
You like a simple menu system
Sony has tweaked the system interface on the A6700 to make its menu setup more accessible, but finding less common settings still requires quite a bit of digging. The required learning curve isn't beginner friendly.
Swipe to scroll horizontally
Sony A6700

| Attributes | Notes | Rating |
| --- | --- | --- |
| Price | Top tech but pricier than rivals | 4.5 / 5 |
| Design | Tricky menus but nice to handle | 4 / 5 |
| Performance | No shortage of AI smarts | 4.5 / 5 |
| Image quality | Troubled only at higher ISOs | 4 / 5 |
Sony A6700: Also consider
If our Sony A6700 has inspired you to think about other options, here are three more cameras to consider…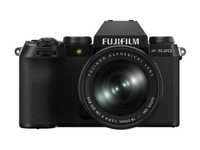 Fujifilm X-S20
With a 26MP APS-C sensor, the Fujifilm X-S20 is a close match for the Sony A6700 on paper. Like the A6700, it's a mirrorless hybrid with subject-tracking autofocus and automatic scene detection. Its chunky grip is comfortable in the hand, while its retro looks and accessible dials only add to the appeal. It also holds the trump card when it comes to video, courtesy of 6K/30p 4:2:2 10-bit internal recording and a dedicated vlogging mode.
Read our in-depth Fujifilm X-S20 review