The mirrorless filmmaking world may have become more focussed on full-frame cameras since the GH Lumix series emerged, but the Panasonic Lumix GH6 shows that there's still life in the Micro Four Thirds sensor format. Small and lightweight but packed with a remarkable array of video options and excellent image quality, the GH6 also boasts superb handling and image stabilization and perhaps the best contrast-based autofocus yet seen on a Panasonic camera. It's a dependable stills camera, too.
Pros
+

Huge range of video options

+

Unlimited recording times

+

Excellent image stabilization

+

Relatively affordable

+

Multi-angle tilt-and-swivel screen

+

Great handling
Cons
-

Autofocus still lags behind the best

-

Larger and heavier than GH5 II

-

Some features not available until firmware update
Why you can trust TechRadar We spend hours testing every product or service we review, so you can be sure you're buying the best. Find out more about how we test.
Two-minute review
Last year's Panasonic Lumix GH5 II was just the appetizer: for would-be filmmakers looking for a small camera with huge creative potential, the Panasonic Lumix GH6 is the true main course.
And what a feast it is: the new flagship in Panasonic's Lumix G range of mirrorless interchangeable lens cameras based on the Micro Four Thirds mount, the 25.2MP GH6 fits a dizzying array of movie skills into its compact body. There's 5.7K video at 60fps and Apple ProRes 422 HQ recording, 7.5 stops of in-body image stabilization, 4-channel XLR audio recording and a monitor that can be tilted in almost any direction.
With full-frame cameras proving popular with filmmakers right now, some might question whether a Micro Four Thirds camera like the GH6 remains an attractive proposition. To us, its appeal is clear: while full-frame sensors might perform better in low light, make it easier to achieve a shallow depth of field in shots and deliver a wider dynamic range, Micro Four Thirds cameras are generally smaller, lighter and more affordable. And because the sensor is smaller, it's easier to stabilize more effectively.
All of the above applies with the GH6, and its thoughtful design, superb handling and the sheer wealth of video options on offer make it a tool that'll suit all but the most demanding of mirrorless movie makers. It's no slouch when it comes to still photography either – its contrast-based autofocus performance (while still not as impressive as some hybrid systems from Panasonic's rivals) seems markedly improved over the GH5 II's, and small touches like the dual tally lights and record buttons make a difference too.
After a couple of weeks with the GH6 we're left in no doubt that this is Panasonic's most powerful Micro Four Thirds camera to date, and the best MFT camera for filmmakers full-stop. It's also one of the best YouTube cameras out there right now, and certainly one of the best video cameras.
Price and release date
The Panasonic Lumix GH6 is available to buy now for a body-only price of $2,199 / £1,999 / AU$3,699. If you don't have any Micro Four Thirds lenses to get started, you can also get a 12-60mm zoom lens kit for $2,799 / £2,199 / AU$4,799.
That makes the GH6 slightly more expensive than the Panasonic Lumix GH5 II, another video-focussed hybrid mirrorless Micro Four Thirds model. That camera costs £1,499 / AU$2,499 body only or £1,699 / AU$2,699 with the same 12-60mm lens.
The GH6 is also pricier than the full-frame Panasonic Lumix S5, an L-mount mirrorless model that costs $1,999 / £1,799 / AU$3,199. It isn't Panasonic's most expensive video-centric mirrorless camera, though: the Netflix-approved Panasonic Lumix S1H L-mount camera launched for $3,999 / £3,599 / AU$5,999 (body only).
In terms of rivals, the GH6 is in a similar bracket to the Sony A7 IV ($2,499 / £2,400 / AU$$4,299), Canon EOS R6 ($2,499 / £2,499 / AU$4,499) and Nikon Z6 II ($2,600 / £2,549 / AU$4,399) but, depending on where you live, slightly cheaper than all three.
The Blackmagic Pocket Cinema Camera 6K Pro ($2,495 / £2,254 / AU$3,935) is also an interesting alternative given it can also record Apple ProRe, but it does lack many of the creature comforts (like continuous tracking autofocus and a functional stills shooting mode) that the GH6 provides.
Your decision on whether to go for the Panasonic Lumix GH6 or one of its many rivals could also hinge on the discounts we see in the incoming Black Friday camera deals. While the GH6 is a relatively new camera, we did see the Lumix GH5 II get some impressive discounts in Amazon's Prime Day sales earlier this year. So if you're on the fence, we definitely recommend waiting to see what the Black Friday deals bring.
Design and handling
The GH6's body shape is immediately familiar: it's that well-worn, DSLR-inspired design used by most of Panasonic's Lumix G series. It might not be particularly original, but it works: there's a big textured grip to wrap your right hand around while your left supports the lens, and a nice clear OLED electronic viewfinder with 3.68-million dots for composing, previewing and reviewing your shots no matter how bright the weather conditions.
Speaking of weather conditions, the body is sealed against dust and water ingress (it's not officially IP-rated as far as we can see, but Panasonic calls it "dust and splash resistant") and is built on a rugged magnesium alloy frame for toughness. It'll also work to temperatures as low as -10ºC/14ºF.
Image 1 of 3
The physical buttons, wheels and dials are thoughtfully positioned, and as frequent users of the GH5 II we found the GH6 to be pleasingly familiar to control and use. Panasonic has considerately placed a second video record button on the front of the camera (the first is up on the top plate), which is really helpful for vlogging and other self-shooting work. There are also tally lights both front and back to make it clear when you're recording, which you don't get on the GH5 II.
The 3-inch touchscreen is the best we've seen on a recent Panasonic Lumix GH model, with a super-flexible design: not only does it flip and twist, it also tilts – just like the screen on the full-frame Panasonic Lumix S1H. Not only does that give you greater scope for shooting at unusual angles, it also lets you attach both a USB and a full-size HDMI cable to the GH6 without blocking your view of the screen.
The body itself is lightweight and compact considering its impressive array of specs – a key benefit of the small physical size of its image sensor. Without a lens attached but with an SD card and battery inserted, the GH6 weighs just 823g, and measures 138.4 x 100.3 x 99.6mm, which makes it only slightly bigger than the GH5 II. The added bulk here seems to come as a consequence of the new forced-fan cooling system, which causes the screen to bulge out from the back slightly. But it's still a fairly trim package overall, with handling that makes it a joy to use in the vast majority of situations.
Features and autofocus
Being a video-first hybrid, the connectivity of the GH6 appears to have been given lots of thought.
There's a full-size HDMI Type A that can output video up to C4K 4:2:2 10-bit at 60fps, headphone and microphone ports and XLR microphone compatibility (via the optional DMW-XLR1 accessory), while the USB-C port with 10Gbps transfer speed that can also be used as a constant power supply, a battery charger and (following a recent firmware update) for direct recording to a 2TB external SSD.
There are two card slots, one for standard SD and the other for CFexpress Type B cards (a first on a Lumix G camera, and vital for recording video in some of the more demanding formats like ProRes). CFexpress cards are expensive, so do factor that in when budgeting.
Image 1 of 3
The contrast-based DFD autofocus setup is similar to that of the GH5 II, with a wide range of options available, including automatic tracking of moving objects and detection settings that will recognize and track human, animal and eye/face subjects. The tracking generally works well – a lot better than on previous Panasonic cameras, we feel – but you do occasionally notice a "pulse" when the AF system is hunting down a lock.
This just seems to be a side-effect of contrast detection, and one that users will need to accept, but the GH6 does seem markedly better here than the GH5 II. One useful way you can avoid too much hunting here is to use the new autofocus limiter option, which lets you set a range for the AF – it won't attempt to focus on anything outside of that; handy if you're filming a subject that isn't moving about too much.
A lot of filmmakers use manual focus, of course, and the GH6 is impressive here, too: when you begin to twist the lens ring to focus, the screen or viewfinder shows a zoomed-in preview of your subject to help you get things perfect, and you can also turn on focus peaking to identify the sharpest areas in a contrasting color.
Last and certainly not least, the GH6's 5-axis image stabilization system has been given an algorithmic upgrade over the GH5 II's, and Panasonic claims it now offers up to 7.5 stops of correction – to the point where you can shoot a 100MP photograph in the image-stacking High Resolution mode handheld (previously, a tripod was required).
We tried that and it worked really well, but it's superb for video too: if you want to record to-camera vlogs while walking, or film moving subjects with an almost gimbal-like steadiness, the GH6's stabilization makes it one of the best cameras we've seen at smoothing out motion in a way that seems natural.
Video and image quality
There's a truly mind-boggling level of customizability to the video here. We were impressed by the GH5 II's wealth of formats, resolutions and frame rates, but the GH6 takes things to even greater heights.
The lengthy list of video options might seem like overkill to the casual user, but filmmakers will be rubbing their hands together at the creative possibilities offered by the likes of Apple ProRes, 5.8K anamorphic, 5.7K resolutions and variable frame-rate recording, as well as the fact that almost all the recording modes are 10-bit rather than 8-bit.
At launch, ProRes 422 and 422 HQ is available only for 5.7K recording (at 60/50/24fps), but a forthcoming firmware update should add options for using it at lower resolutions including Full HD and Cinema 4K ProRes. Currently, you can also shoot 4K at up to 120fps and Full HD at up to 240fps (ideal for slow motion playback and speed ramping) and 10-bit Cinema 4K 4:2:2 at up to 60fps.
Panasonic has included a wide range of picture profiles (called "photo styles" here) including Cinelike D2, Cinelike V2, Like709, V-Log and HLG. So there's a lot of scope for filmmakers who want to color grade their footage afterwards.
The GH6 also comes with a new feature called Dynamic Range Boost which Panasonic claims expands V-Log's dynamic range from 12+ stops to 13+ stops. In testing, we didn't spot a big difference coming from using it, but we suspect it's something that will be more noticeable to those meticulously grading and color correcting their footage in Premiere, Final Cut Pro or Resolve.
Unlike some of its mirrorless rivals, the GH6 shouldn't experience overheating issues that limit the length of its recording times and necessitate a long cooling-off period before recording can resume. Panasonic has fitted it with a new forced-fan cooling system which it claims will remove all overheating problems, so the only thing limiting recording length should be storage capacity. We certainly experienced no issues with heat during our testing period.
The only imaging issue we suspect the GH6 might face is its low-light performance. The small physical size of the sensor on Micro Four Thirds cameras often means their light-gathering abilities seem limited in comparison to the larger APS-C and full-frame sensors employed by other mirrorless cameras. But if you're aware of that and are willing to work around it, we can't see it being a huge barrier to achieving good results. As you can see from our test footage above, our twilight shots came out fairly well.
Image 1 of 5
While the video side of the GH6 is definitely the one getting all the attention, like previous GH Lumix cameras it's a hybrid camera with a lot of thought put into the still photography side of things. There's a mechanical shutter, the standard M/A/P/S selection of shooting modes and a wide range of options for specialist stills shooting, including the aforementioned 100MP image-stacking High Resolution mode and some extremely fast burst shooting (up to 75 shots per second with the electronic shutter).
The small sensor size and relatively small ISO range (50-25600 for still photography in extended mode, or 250-12800 in V-Log) hint at the GH6's main issue when compared to full-frame rivals: it's not particularly comfortable in low-light situations. It will do a passable job, but we wouldn't advise anyone to shoot an indoor wedding or concert photos with one of these – it's far more comfortable outdoors in abundant light.
Should I buy the Panasonic Lumix GH6?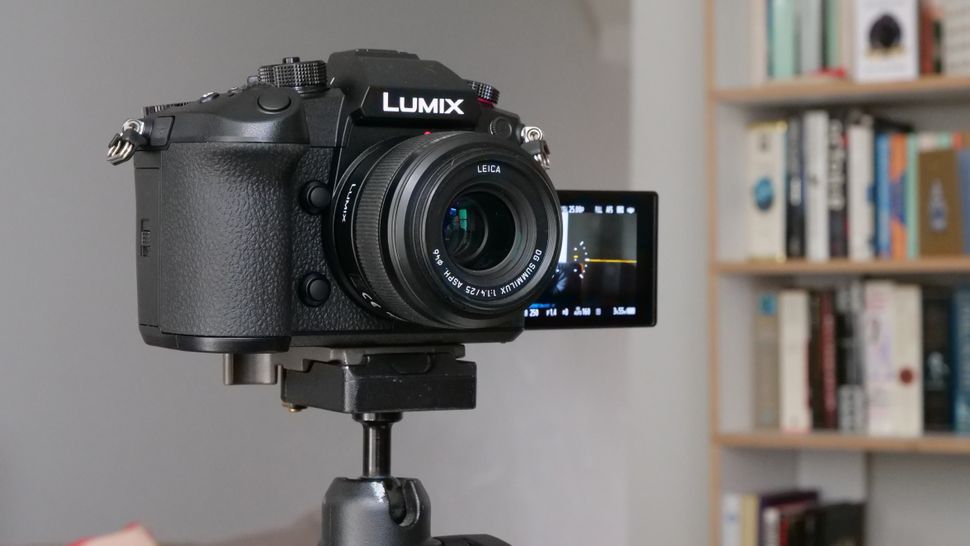 Buy it if...
You need a lightweight video monster
With a massive range of 10-bit ProRes and anamorphic video options, several built-in color profiles, improved audio, unlimited recording times and an impressive 7.5 stops of image stabilization, the Panasonic GH6 is a real beast of a video machine. That you get all this in a body that weighs less than a kilo and fits in a small camera bag is extremely impressive, and one of the reasons Micro Four Thirds still has a place in video production.
You want reliable build and easy handling
The Panasonic Lumix GH6's design is another strong point: the camera itself is built on a rugged magnesium alloy frame and is dust- and splash-proof, while its shape and control layout makes it a joy to use. Front and back recording buttons and tally lights, as well as a multi-angle tilt-and-swivel screen make it easy to shoot whether you're in front of or behind the camera.
You shoot video more than stills
The still photography performance of the Panasonic Lumix GH6 isn't at all bad, but we think its 25.2MP sensor and autofocus system is designed very much with video in mind. If you primarily shoot stills photography and need resolution and/or autofocus accuracy and speed – say for sports or wildlife shooting – then you'll find better options elsewhere.
Don't buy it if...
You want the advantages of full-frame
The GH6's tiny Micro Four Thirds sensor is no slouch: it's capable of delivering excellent image quality in most conditions and its size works as an advantage when it comes to image stabilization performance and the general bulk of the camera. Still, full-frame cameras (which Panasonic also produces) do fare better in low-light situations and make it easier to achieve a shallow depth of field with smooth bokeh – a signature prized by many filmmakers.
You want the best autofocus performance
While Panasonic's 'Depth From Defocus' contrast-based autofocus system works better here than on previous models, there's still the sense that it's lagging slightly behind the hybrid systems used by Sony, Canon et al when it comes to continuous autofocus. If you need the fastest, most accurate AF system, another brand might better suit you.
You aren't a demanding video maker
While the GH6 is relatively affordable for its level of performance, it's still quite a bit pricier than other Lumix G models like the Panasonic GH5 II. It's worth asking yourself if you need the extra performance and sheer level of video options it offers: the GH5 II is also a capable video performer and slightly lighter and smaller, and the difference in price compared to the GH6 could buy you an extra lens, external microphone or other useful accessory.
Sam has been writing about tech and digital culture for over 20 years, starting off in video games journalism before branching out into the wonderful worlds of consumer electronics, streaming entertainment and photography. Over the years he has written for Wired, Stuff, GQ, T3, Trusted Reviews and PC Zone, and now lives on the Kent coast in the UK – the ideal place for a camera reviewer to ply their trade.