Panasonic's Lumix GH5, GH5S and G9 are among our favourite video cameras, but Lumix S1H takes it up more than a single notch to offer stupendous performance. 6K video with 10-bit color offers picture quality that is sharp as a tack, with superb low-light performance as well. It's also the small things that count, from a cooling vent that lets you shoot for hours without worrying about overheating, to an impressive EVF and a flip-out rear display – Panasonic has put a lot of thought into the S1H.
Pros
+

6K 10-bit full-frame capture

+

Brilliant low-light performance

+

Dual IS 2 with 6.5 stops of stability

+

Anamorphic support
Cons
-

Lacks raw video capture

-

AF performance not best in class

-

Large and heavy
Why you can trust TechRadar We spend hours testing every product or service we review, so you can be sure you're buying the best. Find out more about how we test.
Sony's video-centric Alpha A7S III might still be in limbo, but Panasonic beat the competition to the finish line when it announced the Lumix S1H at the 2019 Cine Gear Expo in Hollywood. It took a while longer for the camera to begin shipping, though, and as soon as it did, it became a popular choice with filmmakers and videographers thanks to its near-perfect performance.
The $3,999 / £3,599 / AU$5,999 Lumix S1H is pretty much the love-child of Panasonic's VariCam and Lumix GH5, and is a full-featured video camera that has been approved by Netflix for use in original productions. As such, it's one of the best video cameras currently on the market. It's the smallest and cheapest camera to make the list, giving up-and-coming filmmakers and videographers a chance to work on their own projects. The S1H has also been designed to work in pretty much any condition – rain, shine, low light or brightly back-lit, the camera can handle it all – with a staggering number of resolutions and frame rates to choose from. And it's not just for cine work either – its flippable rear display is perfect for vlogging as well although, admittedly, there are cheaper options available if vlogging is the main use case.
The S1H is, also, a stills camera but you'd be doing it an injustice by using it primarily for photography. Instead, we'd recommend the Lumix S1, which is also a hybrid but designed mainly for stills with some superb video capabilities. So we've decided to highlight the S1H's video features in our review – if you want to know exactly how it performs as a stills camera, head to our Lumix S1 review as both siblings are almost identical in that respect.
Key features
Plethora of shooting resolutions
Anamorphic shooting
Dual Native ISO
IBIS
Panasonic Lumix S1H: Key specs
Sensor: 24.2MP full-frame CMOS
Image processor: Venus
Lens mount: L mount
Video: 6K / 4K / Super35 Crop
Image stabilization: 5-axis IS (with Dual IS 2 technology)
AF points: 225-area DFD contrast AF
ISO range: 100 to 51,200 (expandable to 50-204,800)
Max burst: 9fps (6fps with Continuous AF)
Connectivity: Bluetooth, Wi-Fi
Weight: 1,164g with card and battery
It's clear from the get-go that the Lumix S1H is designed for cinema, more so than even its predecessor, the video-centric Lumix S1. While both snappers share the same resolution, the sensor for the S1H was developed to handle the new camera's pro-level video capabilities.
There's a whole smorgasbord of video resolutions, frame rates and bitrates to choose from on the S1H – from 6K/24p to 4K/30p and 4K/60p, and plenty more besides – with most of them available at no crop. If, however, you feel the need to crop your footage, there's a Super35 Mode available which also maintains 4K resolution. Most users won't necessarily need to deliver projects to clients in 6K resolution, although shooting in high resolutions means you have plenty to work with when editing the footage to a 4K crop.
Every video resolution is available with 10-bit color, which offers plenty of editing flexibility during post processing, and with 4:2:0 color gamut for the 6K and 5.9K options. However, if you need a touch more chroma information, then you will need to shoot in 4K that records in 10-bit 4:2:2 color.
There's also the option to use anamorphic lenses with the camera, although it's something we haven't been able to try. Instead, we mostly shot with the Lumix S Pro 24-70mm f/2.8 lens, which is superb for everyday recording. Anamorphic shooting is available using the full 3:2 sensor in 6K in the 10-bit 4:2:0 color space. There's also desqueeze functionality available on-board when viewing footage shot with anamorphic glass, with several aspect ratios available in the menu system.
Different recording modes are available on board as well, including Cinelike Gamma, V-Log/V-Gamut and HDR in HLG (Hybrid Log Gamma), with color profiles adjustable in-camera. When shooting in V-Log/V-Gamut, there's 14 stops of dynamic range, which makes the images look bright, crisp and with lots of details. It's also what you'll need if you're shooting something for Netflix, using a maximum All-I 400Mbps bitrate that is only available for 4K and DCI 4K at up to 30fps.
Supporting a whole array of video resolutions in different frame rates means the menu system could easily have become a mind-boggling cornucopia of confusion. However, Panasonic has refreshed the interface, making it easier for you to find what you need by allowing you to filter by resolution, frame rate, codec and HLG setting. The My List option that was introduced with the S1 and S1R is also available in the S1H, allowing you to limit the menu to only the options you think you will ever need.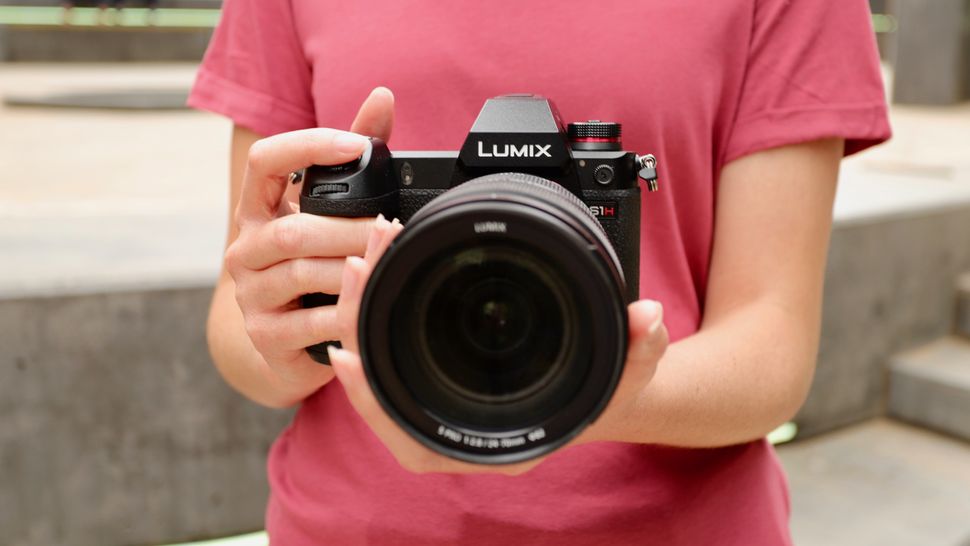 The S1H also comes with plenty of monitoring and display options, including a waveform monitor that can be scaled and positioned wherever necessary on the display. There's also a vectorscope, zebra patterns with plenty of preset options (or you can set your own custom one) to indicate highlighted areas, color bars and a video frame marker.
Panasonic has included an anti-aliasing filter on the S1H – something the cheaper S1 missed out on, and which is important on any video-centric camera to reduce moiré.
Taking a leaf out of the GH5's spec sheet, Panasonic has included its Dual Native ISO system in the S1H as well. This feature comes into play when shooting in V-Log/V-Gamut, when the native ISO jumps from 100 and 640 to 640 and 4000, and is very handy in low-light situations, resulting in sharp footage with low noise.
The in-built five-axis stabilization of the S1H is pretty good when it comes to keeping footage smooth when shooting handheld, but combining this with the two-axis Optical Image Stabilization of OIS lenses gives the cinematographer the ability to shoot without using a gimbal if necessary. This Dual IS 2 technology (already available on the GH5) allows for more precision and buttery smooth footage when using the camera handheld for long periods of time. Even when holding the camera aloft (like many of us would do if we were standing in the crowd while watching a band perform) for minutes at a time offers near-perfect results.
That said, those results are very dependent on the user – the camera isn't as light as most mirrorless snappers and can feel heavy after a short duration. So you'll likely get some shaky video if you aren't used to holding something that weighs over a kilogram for long periods of time (which is what happened during our testing – we didn't use a tripod or monopod and the video samples we took suffered because of the weight).
Build and handling
Built-in fan and cooling vent
Fully articulating LCD display
High resolution EVF
Unlike many video cameras, there's no time limitations to how long you can record using the S1H. You can carry on filming till you either run out of storage on your SD cards or use up the battery, whichever comes first. But all that video data processing is naturally going to generate a lot of heat. To deal with that, Panasonic has designed an internal fan placed just behind the sensor. It pulls cool air from the outside through vents on one side of the camera's rear LCD display and pushes the hot air out through vents on the other side.
Panasonic promises that the S1H is weather-sealed, and if you thought the vents of the cooling system would allow dust and moisture to enter, think again. The vents are external – there's no opening between the fan chamber and the body itself.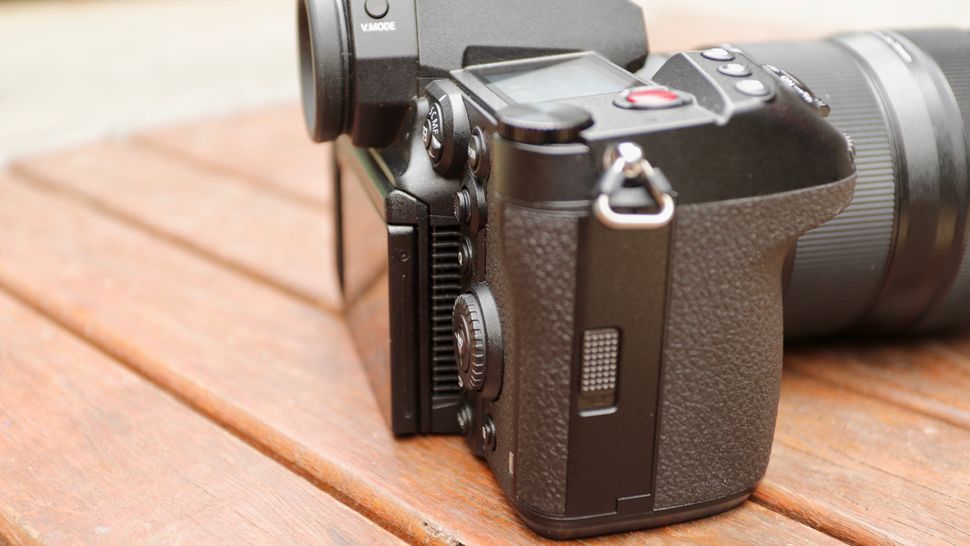 The fan is completely silent and has been designed to create the least amount of vibrations. There are four modes to choose from, and only when you are in Normal mode can you hear the fan if you listen hard enough. In use, though, you'll barely even know it's there and it's nowhere near loud enough to cause problems.
The in-built cooling system is the main reason why the S1H is bulkier and heavier than its S1 sibling. In fact, weighing in at 1,164g (including card and battery) and measuring 151.0 x 114.2 x 110.4mm, the S1H is much larger than any other full-frame mirrorless camera on the market at the time of writing. It even outweighs some DSLRs as well. That means that if you aren't used to holding something as heavy as this camera up for long periods, you will likely capture shaky video, despite the (up to) 6.5 stops of stability available. However, that's not necessarily a dealbreaker – its large, ergonomic grip is comfortable, and it can easily be fitted into a rig for more demanding work.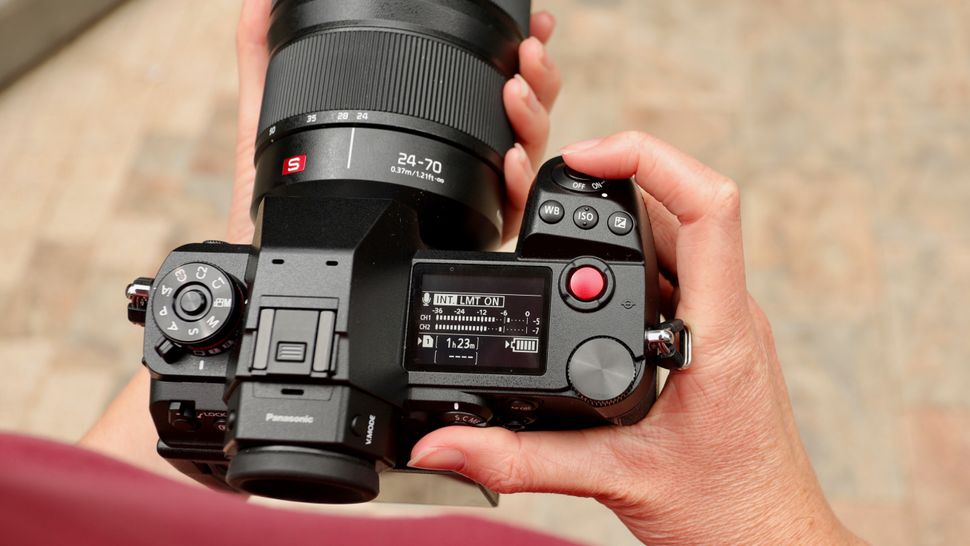 The larger size has given Panasonic the opportunity to add a new 1.8-inch always-on top plate to show all the important shooting information. This new status panel uses a technology called Memory In Pixel which, according to Panasonic, consumes very little power. Visibility is superb even in bright sunlight, with response times fast enough for time code counts and audio monitoring.
Thought has even gone into making the rear LCD display a fully articulating screen, which Panasonic says has 150% higher luminance than those on the S1 and the S1R. The rear LCD is attached to a tilting plate that extends back from the camera body, moving the screen away from any of the ports on the side. There's also a Live View Boost mode for use in near-total darkness.
Image 1 of 5
The highlight physical feature of the S1H, though, is the electronic viewfinder (EVF). A 5.76 million dot OLED panel that it shares with its other siblings makes it the best on the market, with a refresh rate of 120fps and near-zero lag.
Another useful addition that isn't available on other mirrorless cameras is tally lights. Mounted on the front and rear of the camera, it's there to let both the user and the subject know that the camera is recording, although they can be switched off, either together or independently of each other. The tally lights aren't too bright to affect anything, although they can, inadvertently, make their way into recordings if you're shooting near reflective surfaces.
There are dual SD card slots, both compatible with the latest V90 cards, so speeds shouldn't be an issue when recording. Moreover, it's possible to record to both cards at the same time, should you need to keep footage backed up for emergencies, or hot-swap (replace) the cards even when the camera is still recording.
The usual ports are available on the right side of the camera, including a USB Type-C port which can be used to keep the battery topped up while the camera is in use.
Performance
Depth From Defocus (DFD) technology
Excellent noise performance
Practically perfect video quality
As expected, from a camera of this calibre, the video quality is almost flawless. There's 14 stops of dynamic range when shooting V-log, meaning colors are beautiful in footage, with plenty of details (although, it must be noted that nobody on TechRadar's photography team is a colorist – just photographers keen on new cameras and technology). In the right hands, the S1H is sure to impress.
Nighttime filming isn't a challenge either, thanks to the Dual Native ISO. Videos shot at ISO 12,800 and 25,600 had acceptable levels of noise, while details in shadows or areas of darkness were also quite remarkable. That said, autofocus (AF) does suffer a little in poor lighting. Although Panasonic has used the same contrast based Depth From Defocus (DFD) technology here as it has in the other S series cameras, AF performance slows down in low-light situations, with both stills and video.
The montage above was put together using 4K/50p footage in 10-bit 4:2:2 color, although it has been downscaled to 1080p to upload to our website. If, however, you'd like to watch in its full 4K resolution, head to TechRadar's YouTube channel. Video was captured handheld and, while being on a moving ferry did us no favors, we found it difficult to keep the camera steady for long because of the weight.
While the S1H excels as a video camera, it does quite well as a stills camera too. That said, we'd recommend the S1 (or even the S1R) over the S1H if stills are what you're primarily after. Raw images are captured in 14-bit color, giving plenty of wriggle room if you want to edit in post. Out-of-camera JPEGs are pinpoint sharp, with great color and skin tones. Like the autofocus performance for stills on the S1, it does find it difficult to lock onto a subject in dim lighting, although we're quite sure something can be done about it in future firmware updates.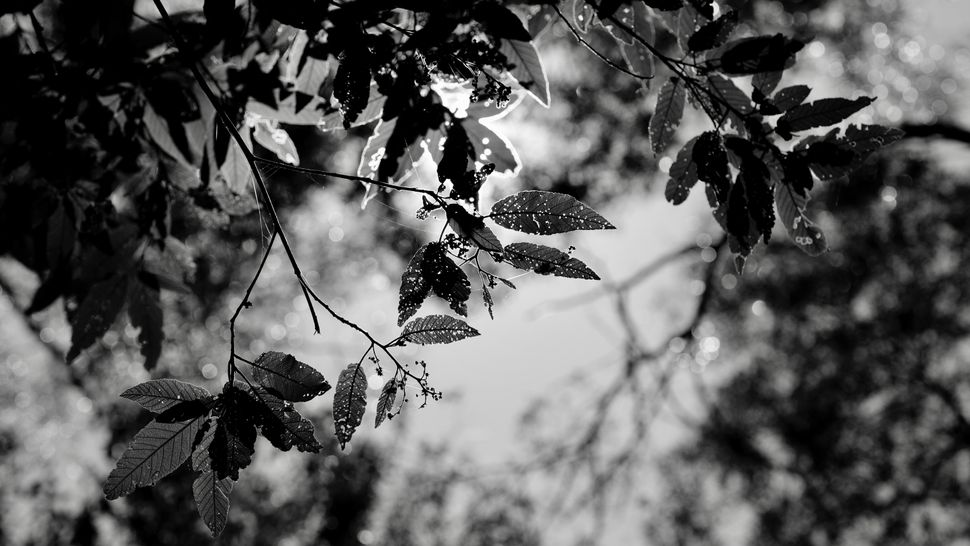 One standout autofocus feature here is that AF and tracking work together when recording HD footage at 100fps for slow motion, and the S1H does this with sound.
Verdict
It's already got Netflix's blessing and that, in itself, speaks volumes. For many videographers the Panasonic Lumix S1 might be a tempting prospect – it supports Panasonic's V-Log mode and 4:2:2 10-bit recording for a cheaper price – but there's a lot more on offer when it comes to the S1H. Not many competitor cameras offer as many shooting options as the S1H, with most of them being limited either by sensor size or limited frame rates. In the hands of someone who knows what they're doing, the S1H would be a marvelous tool – a 24p mode for cinematic effect, and 4K/60p 10-bit internal recording is a boon.
Panasonic has clearly paid a lot of attention to the tiny details when it comes to the S1H – be it in the cooling system, the menu options or the in-body stabilization that gives the user so much more freedom, or even the inclusion of tally lamps and the two recording buttons. Even the menu system has been designed to make using the camera quick and easy.
And while its price may be too steep for some, budding videographers might be able to profit from it. Add to that the camera's still capabilities and the price may not seem all that exorbitant after all.
Competition
Image 1 of 3
Blackmagic Pocket Cinema Camera 6K
With a larger Super 35mm sensor that's capable of 6K RAW capture out of the box, the Blackmagic Pocket Cinema Camera 6K takes over where it's 4K sibling left off. It's been designed with premium video capture in mind and isn't one for the vloggers. There's 13 stops of dynamic range and dual native ISO on board, making it quite the competitor for the S1H. However, there's no in-body stabilization here, so handheld shooting isn't ideal. And it can be used with the existing Canon EF lens range. However, if you're on a tight budget and don't really need the 6K resolution, then the Blackmagic Pocket Cinema Camera 4K is the perfect alternative.
Canon EOS 1D X Mark III
You'd be forgiven for thinking this is a strange choice for a video camera, but Canon has armed its latest pro DSLR with some excellent 4K video capabilities. The EOS 1D X Mark III can record 4K/60p 10-bit 4:2:2 video internally using the full width of the sensor in C-Log (Canon Log). You also get full tracking when shooting 4K in crop mode at 60p or Full HD at 120fps. Unlike the S1H, though, there are limits to how much video you can capture, with both 4K and Full HD recording limited to 30 minutes.
Sony Alpha A7S II
We're still hoping that Sony will finally get round to releasing a third iteration, but until then the Alpha A7S II remains one of our favourite 4K video cameras. Capable of 4K internal recording, its dynamic range is very high and consistently beats out its rivals at higher sensitivities. Moreover, it's smaller and lighter than the S1H, making it an ideal choice for the traveling videographer or vlogger. It also shoots stills really well, despite its 12MP sensor, although you won't be able to print them larger than an A3 size.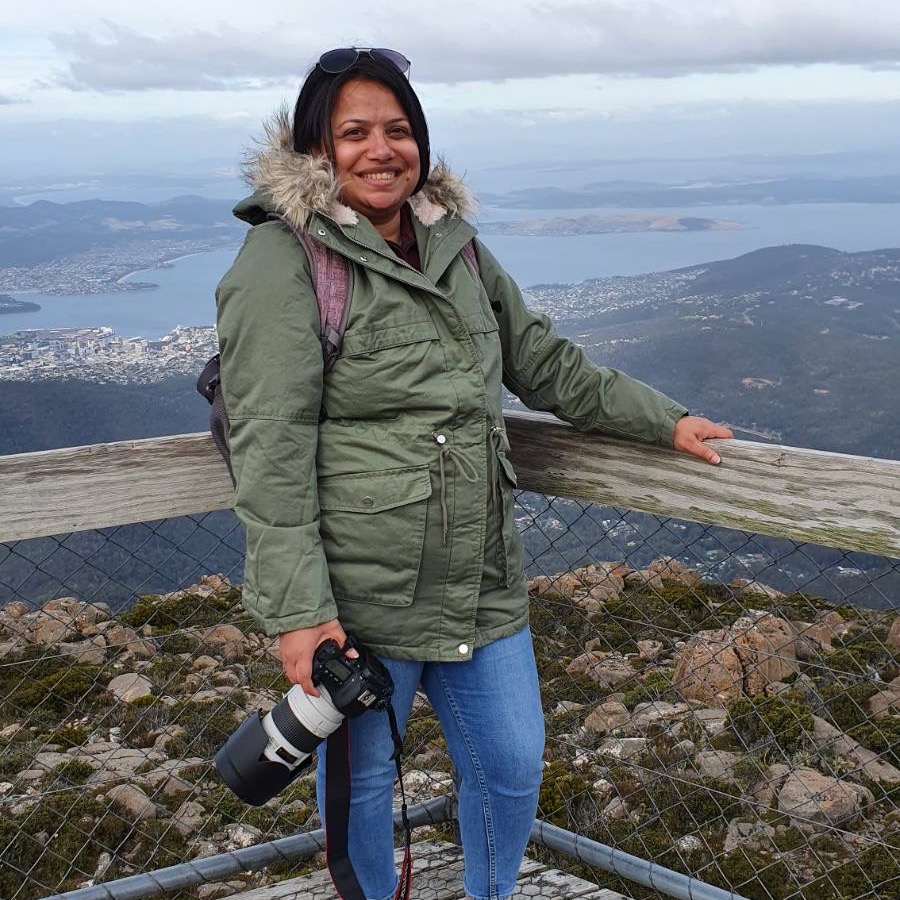 Sharmishta is TechRadar's APAC Managing Editor and loves all things photography, something she discovered while chasing monkeys in the wilds of India (she studied to be a primatologist but has since left monkey business behind). While she's happiest with a camera in her hand, she's also an avid reader and has become a passionate proponent of ereaders, having appeared on Singaporean radio to talk about the convenience of these underrated devices. When she's not testing camera kits or the latest in e-paper tablets, she's discovering the joys and foibles of smart home gizmos. She's also the Australian Managing Editor of Digital Camera World and, if that wasn't enough, she contributes to T3 and Tom's Guide, while also working on two of Future's photography print magazines Down Under.