Panasonic Lumix S5 II: Two-minute review
At its launch, there's no more capable full-frame camera under $2,000 / £2,000 for video and photo than the Panasonic Lumix S5 II. It succeeds the Lumix S5 – a camera that I rate highly, and which earned four-and-a-half stars in our Panasonic Lumix S5 review – and arrives with a comprehensive set of improvements, and is set to join its predecessor on our list of the best video cameras.
After my review of the S5 II, the Panasonic Lumix S5 IIX was officially launched (see the cameras side by side, below), and after hands-on time with the S5 IIX and considering its new features, I believe it is the better option for more serious filmmakers, yet it only costs an extra 10%.
So what sort of bang do you get for your buck with the S5 II? Highlights include a new 24MP full-frame sensor and 6K / 30p video recording, with virtually all video options available in 10-bit. What's more, the S5 II isn't limited to 16:9 video aspect ratio (or wider) like most cameras, but can record from the full sensor area, which in the S5 II is 3:2 aspect ratio. You may have already heard this uncropped video referred to as 'open gate' or 'full sensor' recording.
Uncropped video is nothing new – I own a Panasonic Lumix GH5 which does this from its 4:3 aspect ratio – but most other cameras, including the Canon EOS R3 and Nikon Z9, impose a 16:9 crop, which effectively discards the pixels from the top and bottom of the image. The S5 II can make full use of the entire sensor, which is a dream for those intending to shoot in narrower aspect ratios embraced by social media, like 4:3, 1:1 and 9:16.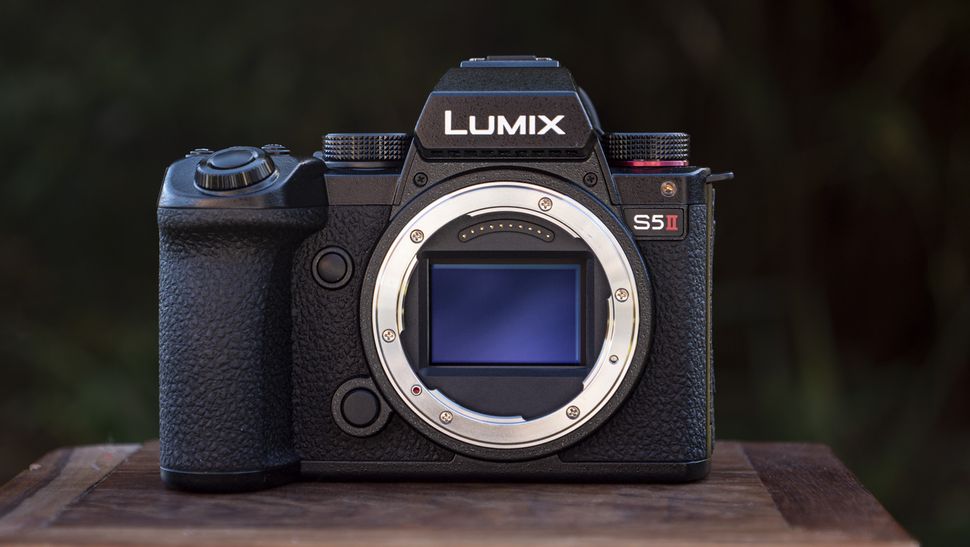 Panasonic's image stabilization has impressed me again, and its effectiveness has been improved over the S5, especially for run-and-gun filmmaking. Whether it's some casual vlogging or slow-shutter-speed landscape photos, the S5 II is a camera that can be used handheld in most scenarios and will still deliver sharp photos and smooth video clips.
What makes the 24MP full-frame sensor 'new' is that it includes a 779-point phase detection autofocus system. This development in particular excites people like me who closely follow the latest camera technology, because Panasonic, unlike all other leading camera brands, has previously shunned this technology.
The S5 II becomes the first mirrorless camera from Panasonic to use phase-detection AF for video, and contrast-detection AF for stills. All other Panasonic cameras rely solely on contrast-detection AF, which performs extremely well for photography but is more jittery than phase-detection AF for video, which can be particularly distracting in the resulting footage. Now, finally, we have the best of both worlds.
And it's not just the sensor tech that impresses. From the off, in the hand, the S5 II feels like a camera that you can trust, and forge a solid working relationship with; it feels solid and reliable, and has an intuitive control layout that's managed to feel simple and comprehensive at the same time.
Then there are the design details that won't make headlines, but which do make daily life with this camera less pressured for creatives like me. Cooling vents prevent overheating and allow for unlimited video recording times, the full-size HDMI gives better connectivity to an external monitor, and a joystick enhances the handling for autofocus selection.
Whether you're shooting stills or video, both the EVF and vari-angle touchscreen are up to the task, offering clear viewing and enabling you to compose images from any angle and in any environment.
I particularly appreciate the S5II paired with the 20-60mm lens that I used for this review, which is available as a kit with the camera for only a little extra outlay. Together, they're a well-made and compact combo that cover most stills and video scenarios, the wider-than-normal angle of view being particularly helpful for filmmaking. The full-frame 'S' lens range is coming together nicely, too.
Panasonic's full-frame Lumix system unfairly goes under the radar, compared to alternatives from the likes of Sony and Canon; but if Panasonic wasn't already being taken seriously, it should be now. Put simply, I can trust the Lumix S5 II as a reliable tool for creating high-quality videos and stills, and like my GH5, it represents excellent value for money.
Panasonic Lumix S5 II: Price and release date
$1,999 / £1,999 / (approx) AU$2,989 body-only
Raw video output costs an additional $200 / £200 / (approx) AU$300
Panasonic S5 IIX version available at $2,299 / £2,199 / (approx) AU$3,137 body-only
The Panasonic S5 II is available now, and quite frankly it's a steal at $1,999 / £1,999 / AU$2,989 body-only. Not many hybrid full-frame mirrorless cameras at this price or less can do what the S5 II does. It's also available as a kit with the excellent 20-60mm f/3.5-5.6 lens for $2,299 / £2,299 / AU$3,220 – a versatile pairing especially for those who shoot both video and stills, and who regularly need that wide 20mm focal length.
Another version of the S5 II, the Lumix S5 IIX, was officially announced on May 9 and costs an additional $200 / £200 / AU$300. The S5 IIX brings raw video output and recording to an external SSD. Alternatively, raw video output can be added to the S5 II after purchase for the same additional cost via a paid DMW-SFU2 key and with firmware V2.0 installed on the camera.
We think that the S5 IIX has surpassed the S5 II as the best video camera at this price point and indeed puts the Sony A7 IV in the shade. Check out our Panasonic S5 II vs Panasonic S5 IIX: key differences explained feature for more details.
Panasonic Lumix S5 II: Specs
Swipe to scroll horizontally
| Header Cell - Column 0 | Panasonic Lumix S5 II |
| --- | --- |
| Sensor | 24MP BSI CMOS full-frame (36 x 24mm) |
| Video: | 6K 30p (uncropped) / 4K 60p (with 1.5x crop) |
| AF points: | 779-point array hybrid phase / contrast detection |
| LCD: | 3-inch vari-angle screen, 1.84m-dot |
| Viewfinder: | 3.69m-dot OLED EVF |
| Memory cards: | Twin SDXC / SDHC UHS-II |
| Connectivity: | Wi-Fi 5GHz, USB-C |
| Max burst: | 30fps electronic shutter / 7fps mechanical shutter (C-AF) |
| Size: | 134.3 x 102.3 x 90.1mm (5.29 x 4.03 x 3.55'') |
| Weight: | 740g (with battery and card) |
Panasonic Lumix S5 II: Design
Reassuring and solid build quality
Cooling vents give unlimited video recording
Vari-angle touch screen impeded by accessory cables
As someone who thrashes their camera kit about, I appreciate the sturdy build quality of the S5 II. It's a compact, DSLR-style mirrorless camera that's comfortable to hold for long periods, and I'm confident it would last me through years of heavy use.
Make no mistake, though – despite its relatively small body and modest price tag, the S5 II lacks little. Every control an experienced photographer needs – and to an extent a pro filmmaker – is here.
There are dedicated buttons for key exposure settings, control dials, plus an AF joystick for making quick adjustments to the AF area. You also get a big shiny red button to initiate video recording, in addition to the shutter button for stills.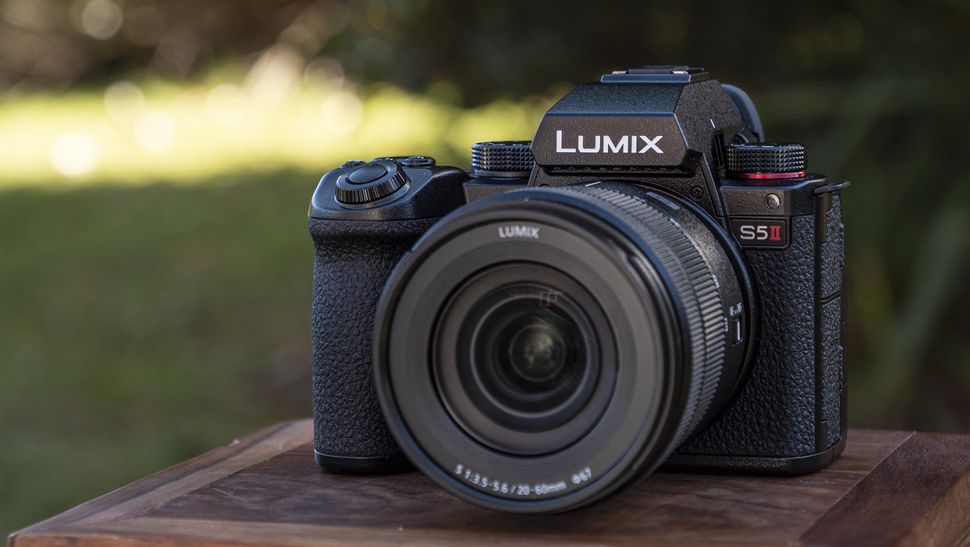 Behind two rigid port doors are a headphone jack, mic socket, and USB-C and a full-size HDMI connectors, and with these connections the S5 II is well equipped for professional video recording. When the ports are in play, I did find that cables seriously impeded the vari-angle screen when it's flipped out to the side, although the HDMI cable for an external monitor is the main culprit, where I'm less likely to need the camera's screen anyway.
That screen is crisp and clear, and provides full touch control for navigating menus, selecting focus points and taking photos, while the viewfinder display is decent enough, with a 3.69m-dot resolution and solid refresh rate.
Cooling vents are tucked neatly on either side of the viewfinder bump, and prevent the camera from overheating when maxing out the video recording features. As such, video recording times are only limited by card capacity or battery life. I recorded long video sequences (for the purpose of testing rather than actual creation) and the S5 II does the job with no fuss.
I really like the screen display layout of video settings, which clearly includes the most useful info like live audio levels, shutter speed, FPS, aperture (iris), and color profile, with the option to adjust by a touch of the screen.
Overall, there's not a lot to be excited about when it comes to the conventional boxy design of the S5 II – you can hardly call it sexy, but it's a highly competent and comprehensive tool that does everything you need it to do.
Panasonic Lumix S5 II: Features & performance
Superb image stabilization for handheld work
Phase detection autofocus – finally
A good all-rounder for photography
There was a time when Olympus (now OM System) ruled the image-stabilization roost, but Panasonic has worked its share of magic, too. The 5-axis in-body image stabilization employed by the S5 II makes light work of slow shutter speeds and moderate handshake to deliver sharp detail and smooth videos respectively.
For one test, I set the 20-60mm lens to its widest 20mm setting, at which I would expect a sharp handheld image with a steady hand at 1/30 sec with no stabilization employed. I then continually cranked the shutter speed slower until I found the camera's breaking point – and impressively it was only at a 2.5 secs that softness crept in, and at 3 secs that blur was evident from camera shake. That works out at around six stops of effective stabilization. The reality of such tech is the ability to shoot the likes of light trails at night, handheld.
Active IS has been introduced in the S5 II, which Panasonic informed me kicks in automatically when user motion is detected, and which is claimed to be 200% more effective than the image stabilization in the S5. I can't quantify that in the same way that Panasonic does, but I did take the S5 II for several brisk walks and shot handheld vlog clips, and I've been majorly impressed – you can get some seriously smooth run-and-gun video. And I couldn't see a crop of the image area, which is a major bonus.
For video, the historic thorn in Panasonic's side has been its insistence to shun phase detection autofocus; that is, until now. The Lumix S5 II has hybrid contrast-detection AF for photos, and an all-new phase-detection system for video. Judging from its implementation here, I'm fully expecting to see this hybrid AF system in future Panasonic mirrorless cameras, certainly those for advanced users.
Contrast-detection AF continues to be extremely quick for photos, with a huge array of choices to suit your shooting scenario, but its speed and any jitteriness is less desirable for video. Thankfully phase-detection AF, once set up to your taste, is dreamy-smooth for video. For example, in the 'AF Custom Setting' the AF speed and sensitivity (on a detected subject) can be manually adjusted – set the speed to slow, and shifts in focus are buttery – hallelujah!
Where Panasonic could develop the AF system further is by embracing a wider range of subjects for tracking AF. Currently, the S5 II is limited to human, face/eye or human+animal.
Elsewhere, action shooters can enjoy 7fps (or 9fps single AF) with the mechanical shutter or 30fps using the electronic shutter, with continuous AF. It's a rudimentary all-rounder's performance, with bursts lasting in the region of 300 frames and 130 frames respectively (recording JPEG fine to a UHS-II card). It's possible that performance could be improved by recording to a faster memory card like CFexpress, but the S5 II only accepts twin SD cards with UHS-II support.
Features and performance score: 4.5/5
Panasonic Lumix S5 II: Image and video quality
Uncropped 6K video ideal for shooting in multiple aspect ratios
Lovely colors
Can import your own LUT profiles
Camera brands take very different approaches when it comes to video quality – take a rival to the S5 II like the Sony A7 IV. In the S5 II, Panasonic has opted for higher-resolution 6K / 30p video – uncropped at 5952 x 3968 pixels or cropped to 16:9 (5952 x 3136 pixels) – with 10-bit recording in almost all of the resolution and frame rate options in MOV format. However, Sony's 4K video has a superior bitrate and compression (therefore in theory better quality), with a maximum 600Mbps bitrate to the S5 II's 200Mbps, plus you can shoot in ALL-I as well as LONG GOP (the S5 II is restricted to LONG GOP). Both cameras impose a Super 35 crop when shooting 4K /60p video.
Excessively large video files are the bane of independent video creators, regularly chewing up the minutes and hours of record time; so on a practical level, the S5 II's much smaller video files are more manageable, and I wouldn't hesitate to shoot 6K video even if my output is 4K. That way I have the extra cropping potential for 4K-or-lower output.
Certainly, I think the video quality of the S5 II is excellent, with a noticeably wide dynamic range and lovely rich colors that can easily be matched to profiles from other camera brands in post. Panasonic introduces Real Time LUT for the first time, meaning you can import your own LUT color profile for internal video recording, in addition to V-Log, Rec 709L and many 'Cinelike' profiles. There's little wanting here.
Stills quality is great too. The 24MP resolution is standard fare in 2023 for an all-rounder full-frame camera, and the S5 II has excellent noise control and dynamic range. I like to shoot low key in bright weather to maintain highlights, and brightening those images in post reveals clean detail in dark shadows. You'll get more detail from a higher-resolution camera like the Sony A7 IV, but few other cameras at this price range can better the S5 II.
Image and video quality score: 4.5/5
Should you buy the Panasonic Lumix S5 II?
Buy it if...
You lean more to video
It's an adept camera for both photo and video, but the S5 II really shines for moving pictures, with uncropped 6K 30p recording (see below), excellent image stabilization and much more.
You shoot for social
The S5 II can record uncropped video from the full 3:2 aspect ratio sensor, meaning no unnecessary loss of detail when shooting in narrower aspect ratios than the industry standard 16:9. Given that most social content, like Instagram reels, is in vertical 9:16 format, it's a surprise we don't see more cameras with uncropped video like the S5 II.
You're a run-and-gun filmmaker
Excellent image stabilization, the introduction of phase-detection autofocus, a lightweight a durable body… the S5 II ticks a lot of boxes for handheld video on the move.
Don't buy it if...
You shoot slow-motion video a lot
The S5 II can produce excellent-quality video but if you slow down frame rates then some restrictions come in. For example, 4K /60p incurs a 1.5x crop, which can be limiting for run-and-gun filmmaking where a wide angle of view is often necessary.
You care how your camera looks
Whether design is attractive or not is subjective, but the S5 II's DSLR style with harsh angles hardly excites. For hardened photographers and filmmakers, though, the S5 II offers solid reassurance that it's up to the demands of heavy use.
You have no intention to shoot video
A lot of the S5 II's bang is for video users. And although the S5 II is a competent photography tool, if photos is all you shoot then there are probably more sensible options for the same outlay.
Swipe to scroll horizontally
Panasonic Lumix S5 II

| Attributes | Notes | Rating |
| --- | --- | --- |
| Price | Unbeatable bang for buck | 5 / 5 |
| Design | Tough, compact, reliable | 5 / 5 |
| Performance | Panasonic's autofocus dawn | 4.5 / 5 |
| Image quality | Rich depth and accurate colors | 4.5 / 5 |
Panasonic Lumix S5 II: Also consider
If our Panasonic Lumix S5 II review has you considering other options, here are three more cameras to consider...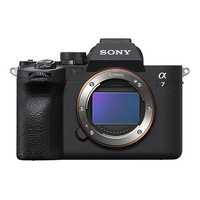 Sony A7 IV
The A7 IV has a higher-resolution 33MP sensor, higher bitrates and ALL-I video, plus it can shoot to CFexpress with better buffer performance. However, the S5 II has higher-resolution uncropped video, unlimited record times, and costs 20% less. Despite many similarities, the S5 II has a slight edge for video performance, while the A7 IV is more accommodating to photographers.
Read our in-depth Sony A7 IV review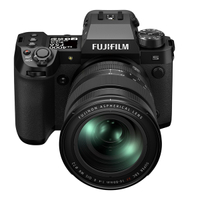 Fujifilm X-H2S
Other full-frame alternatives to the S5 II include the NIkon Z6 II and Canon EOS R6 II, but if you can live without full-frame, then the top-of-the-APS-C-range Fujifilm X-H2S is probably the closest-matched crop-sensor camera to the S5 II. Its spec reads very well, with uncropped 6k video, 4K /120p video and a stacked sensor. However it costs 20% more, and has a smaller sensor – and you'll need to buy a bolt-on fan to keep it cool for extended video recording.
Read our in-depth Fujifilm X-H2S review
How I tested the Panasonic Lumix S5 II
With the Panasonic Lumix S5 II being a hybrid camera, I took equal interest in its stills and video functions. It was by my side for several weeks, during which time I shot all kinds of photos – portraits, landscape, street reportage and low light – and recorded numerous videos, including run-and-gun vlogging.
I've attached all manner of video accessories to the camera – external monitor, microphone and headphones; tested the effectiveness of the image stabilization, including the new active IS mode; and got a good feel for the new phase-detection autofocus system.
I've been pushing the S5 II hard, especially with long video recording times and continuous photo bursts, in order to test if the camera overheats and the battery's longevity. All in all, the S5 II has passed these tests with great competence.
First reviewed April 2023