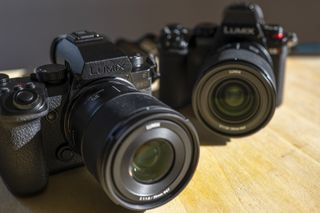 (Image credit: Future | Jon Devo)
Class-leading hybrid mirrorless camera with 24MP full-frame sensor, 6K 30p video recording and in-body image stabilization
For
Costs less than S5 II X
Almost all the same features as S5 II X
Against
Limited bitrate and video output compared to S5 II X
Improved video features come via paid upgrade
A video-focused version of the S5 II, bringing RAW video, SSD recording and wireless IP streaming to the table
For
Unlimited 6K/30p video
RAW video output
SSD Recording
Wireless IP Streaming
Against
Buttons hard to see in the dark
Costs more than S5 II
Panasonic announced the Lumix S5IIX alongside the S5II back in January, but unlike its stablemate, keen potential owners had to wait a few months to get the full specs list of the camera.
We already knew the S5IIX was being aimed more towards advanced video creatives, but now we know exactly what it offers over the very similarly specced S5 II.
The headline feature of both S5 II cameras was the inclusion of Hybrid Phase Detection Autofocus, which delivered a significant leap in performance for continuous autofocus for video.
As they were developed at the same time, the two cameras share the same generation of technology. However, the LUMIX S5II X has all the tricks available to the S5 II, plus a few more for good measure.
Panasonic Lumix S5II vs S5II X: Price and Availability
The LUMIX S5IIX is available to pre-order, with some retailers promising shipping at the end of May / early June, priced at $2,199 / £2,299 / AU$3,220 RRP body only.
That's a $200 / £300 / AU$300 premium over the S5 II, which costs $1,999 / £1,999 / AU$2,989 body only. Both cameras are available as a kit with the 20-60mm F3.5-5.6 lens.
At the same time as revealing fresh details about the S5 IIX, a firmware update (V 2.0) was announced for the S5 II will unleash RAW video output, and SSD recording, albeit via a paid DMW-SFU2 key which costs $300 / £200 / AU$300 (approx).
Panasonic Lumix S5II vs S5II X: Body and Build Quality
In terms of size, weight and physical button layout, these cameras are identical. One difference is that the S5 IIX comes in a striking all-black finish, with its logos blacked out and all of its buttons finished in grey, rather than white. Practically speaking, we have found it harder to see the S5 IIX buttons in dark environments, compared to the bright white markings of the S5 II.
Panasonic Lumix S5II vs S5II X: Video features
The S5II was already a video-centric camera, offering features like; best in-class active image stabilization, waveform monitoring, shutter angle control, 4 channel audio and 10-bit color in almost all of its video formats. However, the Lumix S5 IIX takes things a step further, especially for pro-filmmakers.
New to the S5 II X is Wired Streaming up to 4K/60p and FHD/60p Wireless IP Streaming, and SSD recording via USB-C 3.2 which enables full sensor Apple ProRes recording internally up to Full HD at 60fps 422 HQ and full sensor Apple ProRes recording externally up to 5.8K/30p 422 HQ with a hefty data rate of 1.9Gbps.
The S5 II can only record to twin SD UHS-II cards which limits data rates to 200Mbps. Data rates are on another level in the S5 IIX.
The S5II X also gains ALL-Intra recording up to 4K/60p 10-bit 422 with a crop or 4K/30p 10-bit 422 with no cropping, whereas the S5 II can only record in LONG-GOP.
Uncropped high frame rate recording in Full HD up to 120fps can also be recorded in the S5 II X using the .MOV All-Intra compression method, which should deliver better quality when editing.
Panasonic Lumix S5II vs S5II X: Raw video
Straight out of the box, the Lumix S5II X can output RAW video via HDMI and crucially has Blackmagic RAW (BRAW) compatibility. Note you won't be able to record to a memory card internally at the same time as outputting RAW data over HDMI. But existing S5 II owners can also access external RAW recording functionality, including Apple ProRes RAW via the DMW-SFU2 paid upgrade key, slated to be arriving with Firmware Update Version 2.0, which is currently scheduled for mid-June 2023.
Alongside preparing the S5II for RAW recording, Firmware 2.0 will also see the return of popular Live View Composite Mode, which was in the original S5 and comes pre-installed on the S5IIX. Live View mode aside, there are no other differences between the S5II and S5II X in terms of photography capabilities or functions. The departures in the S5IIX all come down to significant video features.
Panasonic Lumix S5II vs S5II X: Which one should I buy?
Given the number of similarities between the Lumix S5II and S5IIX, it may not be easy to choose the best camera for your needs. That is unless you specifically need streaming, SSD recording or more advanced video recording capabilities, then the choice is simple, go for the S5II X.

If you're on the fence about those features and see them more as nice to haves, it may be worth saving your money and putting it towards one of the excellent LUMIX S F1.8 prime lenses. However, I would say it's better to get a camera you can grow into. Even if it has features you may not feel you need right now, if you can afford it, it could make more sense to get the higher specced model as it will likely serve you in the long term as your filmmaking evolves.
What if you already own the Lumix S5II and are already considering the upgrade? For a similar amount of money, the DMW-SFU2 key will add RAW recording functionality to the S5II. But it's still unconfirmed as to what other functions may be unlocked and which remain exclusive to the S5IIX, so if your head is being turned, it may be worth just trading in your S5II and paying the difference.
Both cameras are excellent options for general content creation, packed with photography and video features that represent outstanding value for money. Without doubt, at least one of these two cameras will be vying for camera of the year in many people's considerations for 2023.
Get daily insight, inspiration and deals in your inbox
Get the hottest deals available in your inbox plus news, reviews, opinion, analysis and more from the TechRadar team.