Editor's note: April 2023
Smartphones have pushed the world's best compact cameras towards the premium end of the market, which means the ones in our list below invariably have high (if entirely justified) price tags. But what if you're on a more limited budget? It's well-worth looking at the many second-hand options out there.

The thriving second-hand camera market means there are now several reputable marketplaces out there who provide a few more checks-and-balances compared to your average private eBay seller. Some of our preferred used camera marketplaces in the US include B&H Photo Video (opens in new tab), MPB (opens in new tab) and Adorama (opens in new tab), while UK we're fans of Ffordes (opens in new tab), MPB (opens in new tab), Wex Photo Video (opens in new tab) and Park Cameras (opens in new tab).

Many of the models in our list below can be found with lower price tags at the places above – and while increased competition has kept second-hand prices fairly buoyant, it's definitely an option worth considering if buying new is just out of your budget.

Mark Wilson, Cameras editor
The best compact cameras pack smartphone-beating photo skills into pocketable bodies. You won't find many cheap point-and-shoot models on the shelves today, but today's best premium compacts benefit from large sensors, versatile zoom ranges, high-quality lenses and sharp electronic viewfinders. All of these features trump today's smartphones and make them great tools for travel, street and holiday photography.
Right now, we think the best compact camera is currently the Fujifilm X100V. While its fixed 23mm lens won't suit those looking for maximum flexibility, it's a camera that's packed with premium, pro-friendly features. These include a tilting screen, hybrid viewfinder and rapid autofocus, which makes it an easy camera to shoot with. Its retro design and build quality also make it the most desirable compact camera around.
If you're looking for a more accessible compact camera, we're big fans of the Panasonic Lumix ZS100 / TZ100. Its combination of a 10x optical zoom (for a 25-250mm equivalent focal range), electronic viewfinder, 10fps shooting and (albeit fixed) touchscreen make it one of the best cameras for beginners, even if the more recent ZS200 / TZ200 (our pick for the title of best point-and-shoot camera) delivers an even longer 15x optical zoom range.
While today's best camera phones are undoubtedly some of the best compact cameras around, we've kept them distinct from this guide. The list below focuses instead on take-anywhere models that offer something more than any smartphone, whether that's in better handling, a viewfinder, larger sensors, superior image quality, or a combination of all four. This also makes them some of the world's best travel cameras – and thanks to our built-in price comparison tool, you can track down their lowest prices, too.
The best compact cameras for 2023
Why you can trust TechRadar We spend hours testing every product or service we review, so you can be sure you're buying the best. Find out more about how we test.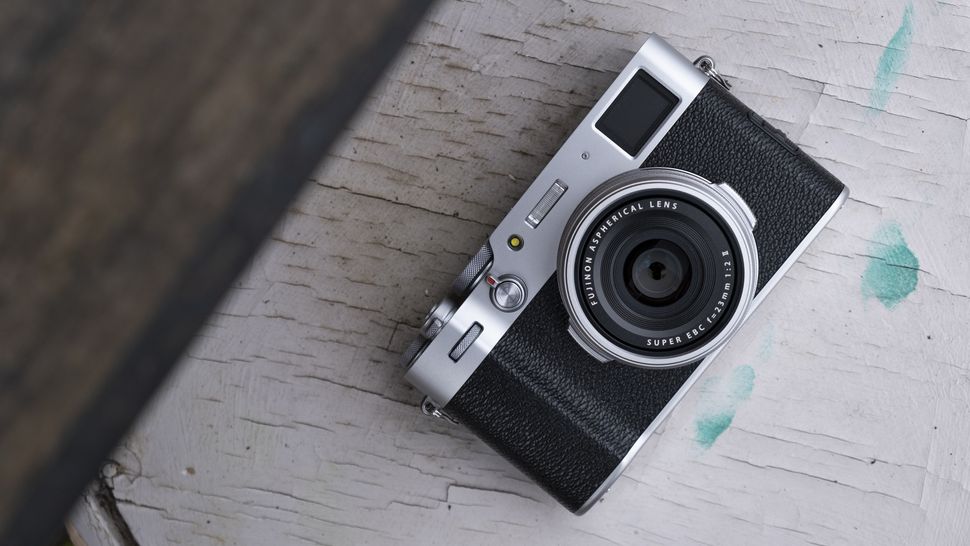 The Fujifilm X100V takes what was already a special camera and fixes all of its weaknesses – it's the perfect compact for the smartphone age. The concept is the same as before: a stylish, pocketable design, large APS-C sensor, unique hybrid viewfinder and a fixed 23mm f/2 lens. All of those areas, though, have now been improved on the X100V, which brings a new tilting screen and improved autofocus performance.
Our testing has found the image quality to be much improved, partly thanks to a redesigned lens, and the low-light performance to be better. One of our main complaints with the X100F was that its photos tended to be soft at f/2. Not so much with X100V, as we found it to offer great sharpness in the centre, even at the widest apertures. Then there's the higher resolution hybrid viewfinder – both optical and electronic – as well as support for 4K/30p video capture.
Sure, you need to add a filter for full weather-proofing and the cost will be prohibitive for some. But, the X100V puts an impressive range of features into a polished, premium body, with throwback style that sets it apart from the crowd – yet still fits perfectly in your pocket.
If you're looking for a travel-friendly all-rounder that has a viewfinder and doesn't break the bank, this is the compact camera we'd go for. It's since been succeeded by the ZS200 / TZ200, which is also worth considering – but if you don't need the newer model's slightly longer zoom (15x rather than 10x) and higher-res viewfinder, then you can save money by going for this older classic.
The ZS100 / TZ100 remains a solid middle ground between premium compact cameras with larger sensors (in this case, a 1-inch sensor) and super-zoom models with smartphone-beating reach. Its 10x zoom might now be matched by some smartphones, but in our tests the quality of this camera's lens and image processing produced vibrant, punchy photos with excellent detail. If you're looking to get high-quality images with minimal baked-in processing, then the ZS100 / TZ100 will serve you well and offer a more enjoyable photographic experience than any glass slab.
The downsides include a small and relatively low-res viewfinder, plus a fixed touchscreen. These are symptoms of this camera's age, but a small EVF is still better than no viewfinder when you're shooting in sunny conditions, and this camera otherwise offers modern conveniences like 10fps burst shooting, 4K video shooting and built-in Wi-Fi.
In many ways, the RX100 VII is still best compact around right now. Its autofocus system, we found, is comfortably ahead of any other pocket camera, tracking moving subjects with great reliability and making clever use of its Face and Eye AF, even in video mode. Video quality is superb, while image quality is also stellar. But all of this comes at a huge price, and for many people that could be a deal-breaker.
Still, we can't avoid including it in this guide, as it's one of the best options around. If your budget allows, then you won't find a more powerful compact than the Mark VII. But if you're happy to sacrifice some of the latest autofocus features and a microphone jack, check out the RX100 VI, which offers most of its performance a little less cash.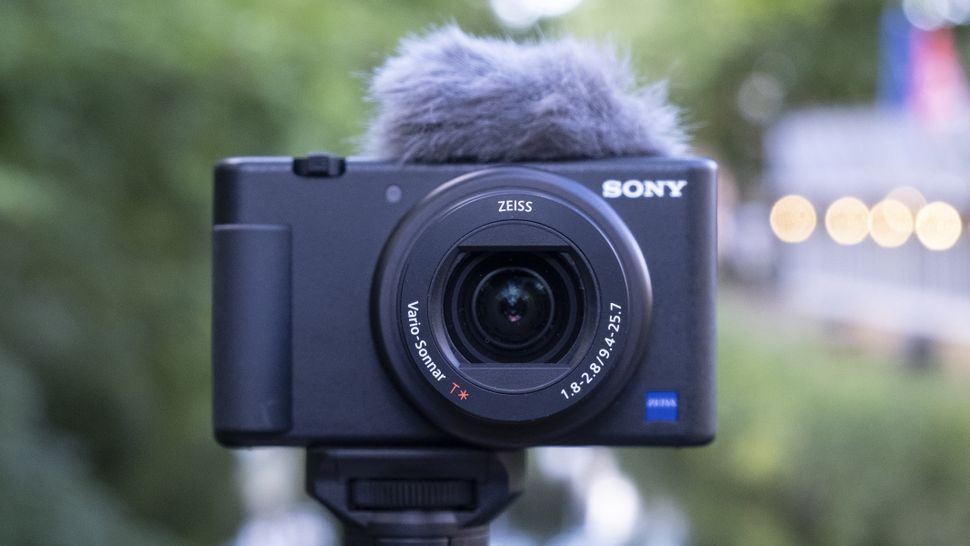 If it's mainly video rather than stills that you're looking for from a compact camera, then the Sony ZV-1 is the best option around. Not that it isn't also very capable at shooting still photos – it has the same sensor and processor as Sony's latest RX100 series cameras, after all – but the ZV-1's main strength are its video powers.
That includes its class-leading autofocus powers, which helps it tenaciously lock onto people and moving objects in your frame. During testing, we found it to do an excellent job of keeping moving subjects in focus and tracking our eyes across most of the frame. Of course, the video quality from its 20.1MP 1-inch sensor is nothing short of impressive as well.
These are backed up by a 3.5mm mic port for boosting audio quality with an external microphone, and a hotshoe to help mount the latter. Its bright 24-70mm f/1.8-2.8 doesn't give you the same reach as the RX100 VII, but it does ensure that you get lovely background blur in both stills and videos – perfect if you mainly shoot portraits or vlogs.
The latest in a long line of discrete Ricoh cameras, the GR IIIx sticks to a familiar formula: a large APS-C sensor and sharp, fixed focal length lens in a small, simple shell. Like its predecessors, our testing found the GR IIIx to offer intuitive handling, rapid responsiveness and unparalleled pocketability.
What's new compared to the standard GR III (which you can find further down this list) is the focal length, which is 40mm instead of 28mm. This limits versatility in a way that won't appeal to everyone, but many will relish the creative discipline it requires. We also found it ideal for environmental portraits and certain street scenes, offering reasonable control over depth of field.
The GR IIIx is not a camera without compromise, suffering from a poor battery life and a screen that doesn't tilt. But we also found that it was a joy to use and shoot with, courtesy of its straightforward interface and customization options. The GR IIIx is a niche compact camera and you'll find more functionality for your money elsewhere. But we still think it's a compelling choice if you want a streamlined shooting tool.
Compact cameras with sensors larger than 1-inch in size are typically limited to fixed-focal-length lenses, which is great for quality but less so for flexibility. But not the Panasonic LX100 II; it manages to marry a 17MP Four Thirds sensor – the same size as those found inside Panasonic's G-series mirrorless cameras – with a zoom lens equivalent to 24-75mm in 35mm terms, proving that sometimes you can get quality and flexibility at once.
We found its Leica-badged lens to be very impressive, capturing very good levels of detail that's worthy of pricier APS-C cameras, and its exposure metering system more than reliable. Our tests also show that it handles noise pretty well and produces natural-looking images with faithful colors.
The original LX100 was something of a landmark camera for offering something similar, and this latest iteration takes the baton, with a nippy AF system, robust body, clear 4K videos and a useful electronic viewfinder among its highlights.
With a pocketable body and 30x zoom range, the Panasonic ZS80 / TZ95 is pitched at those looking for the flexibility to shoot a range of scenes, but without the hassle of interchangeable lenses. A small grip and thumb rest make it nicer to handle than many rivals, while a control ring around the lens can be configured for easy adjustments, including zoom and focus. Its sensor is small, but the shooting specs are still not to be sniffed at.
The ZS80 / TZ95 can shoot 4K video at 30fps, while 10fps burst shooting is decent for a compact. Focusing is similarly speedy, with great face detection. During our time with it, we found the image quality to be generally reasonable. There was some softness around the edge of the frame at 24mm.
All the same, image stabilization keeps things sharp, with pleasing colors and broadly reliable exposures when shooting in JPEG or raw. The ZS70 / TZ90 might represent better value if you don't need a high-resolution viewfinder, but the ZS80 / TZ95 is a well-built, comprehensive compact package that's enjoyable to shoot with.
The G7X Mark II was a smash and, despite the arrival of alternatives like the Sony ZV-1 (see no. 4 above) this successor has also proven to be a hit with vloggers and enthusiast photographers. With the bonuses of 4K shooting, a mic port and live streaming to YouTube joining the previously seen built-in ND filter and flip up LCD screen, this is still one of the strongest compacts right now for vlogging.
Our testing shows that the video quality is very good, detailed enough for everyday use and for vloggers to roll out great content. If you've no interest in video, we found the detail in the center of its still shots to be decent as well, particularly at mid-range aperture settings.
There other things to keep you happy here, from 30fps shooting at full resolution to a super-sensitive touchscreen, in-camera raw processing and the added convenience of USB charging. It's a shame there's no viewfinder or hot shoe, but then not everyone needs these.
The second coming of the G5 X was a serious step-change in styling and spec for the series. Out went the DSLR-style shell and in came a streamlined body that's still a pleasure to grip, but far easier to slip into a pocket. Inside, a 20.1MP stacked CMOS sensor, driven by Canon's DIGIC 8 engine, is able to capture uncropped 4K footage, while a fresh 24-100mm lens offers a generous focal range and a relatively wide maximum aperture.
We found that the G5 X Mark II delivers reliably good image quality. During our time with it, its metering system has proven to be dependable and its noise performance very good. Image distortions were well-controlled as well.
Well-rounded and wonderful to use, it also boasts brisk focussing and a strong feature set. Battery life could be better and the lens can be a little soft at longer focal lengths, but the Mark II remains a very capable all-rounder that's untroubled by almost all scenes. So why the lower ranking? It's still fairly pricey in the age of powerful smartphone cameras, so we'd like to see it come down in price.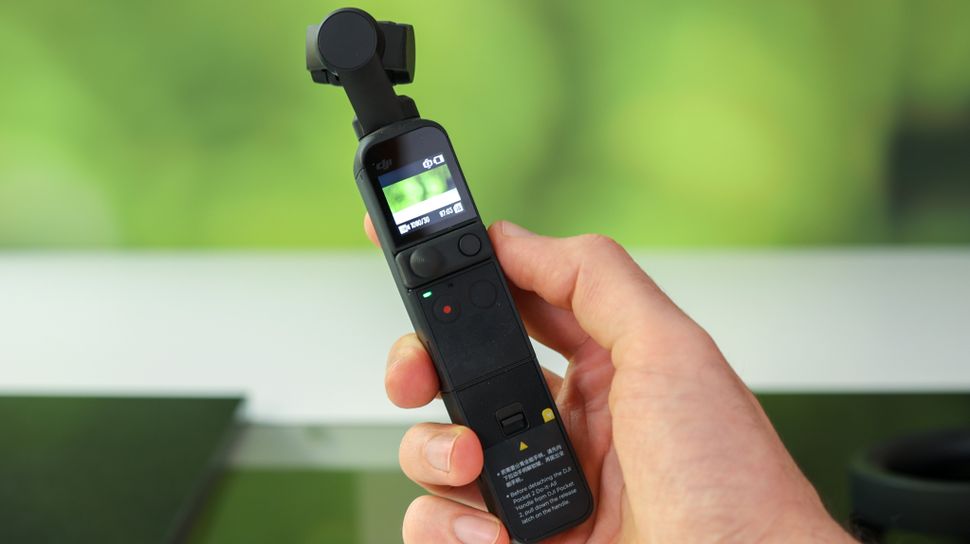 Attaching a 64MP smartphone-style sensor to a three-axis gimbal, we think the DJI Pocket 2 is one of the best compact cameras for solo vlogging. That gimbal gives it incredible stabilization skills, while automatic face-tracking smarts make it a great virtual camera crew for solo videographers. Its 93-degree field of view also captures a good portion of a given scene, while its small touchscreen is useful for previewing footage, even if it's fiddly to use.
In testing, we found that the 4K footage isn't as crisp as the best cameras in this list. Color balance is flattering for skin tones, but the 1/1.7-inch sensor struggles in low-light and high-contrast conditions. Stills are also mediocre, easily beaten by the premium compacts in this list. But the Pocket 2's stabilization abilities are unparalleled, especially from a camera with its pocket-friendly proportions. When ActiveTrack smarts are steering the gimbal, the Pocket 2 can produce shots no smartphone is capable of.
This may be a bit of a left-field choice, but we've included the Leica Q2 Monochrom for the simple reason that it's both beautiful and capable of taking stunning imagery. First of all, though, you need to get your head around the idea of a camera which is only capable of taking black and white images – it won't be for everybody.
This being a Leica, it also has a price tag to make your eyes water. But for those willing to invest, you'll find, as we have, that shooting with it is an absolute treat, especially since its sensor configuration makes it possible to shoot at high ISO settings with significantly less ISO noise. In short, it'll make you fall in love with B&W images again.
You'll also be rewarded with a gorgeous body design, a superbly 47.3MP full-frame sensor and 28mm f/1.7 lens, Cinema 4K video recording, minimalist external controls, and a fantastic viewfinder and screen combo. Plus, on top of all that, it's a camera that all your mates are likely to drool over.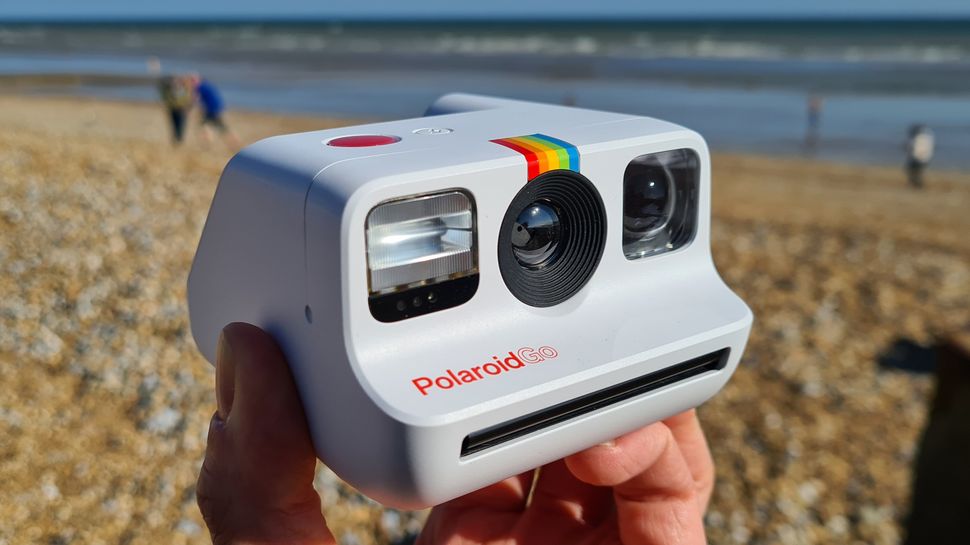 Instant cameras are designed for fun – and few make it easier to capture quick, attractive snaps than the Polaroid Go. Pitched as "the world's smallest analogue digital camera", its boxy, retro shape means it isn't as portable as a digital compact camera – but it's still one of the dinkiest instant cameras you can buy in 2021. Capable of producing credit card-sized prints with dreamy pastel tones and impressive detail, the Go's greatest merit is its point-and-shoot simplicity.
The streamlined interface is super easy to use, with a handy digital shot counter for tracking your snaps. Unlike other instant cameras, we found this to be very versatile. Automatic flash can be manually overridden, while self-timer and double-exposure modes add welcome opportunities for creativity – although its fixed focus and lack of a macro mode mean it isn't quite as flexible as certain alternatives. Film refills aren't the cheapest, and you do pay a premium for the Polaroid Go's portability. What you also get, though, is an entertaining, accessible and convenient – not to mention surprisingly capable – instant printing camera.
---
How to choose the best compact camera for you
Compared to smartphones, the main benefits of compact cameras are their handling, electronic viewfinders, high-quality optics, zoom ranges and, in some case, larger sensors. All of the models in our list above combine some of these elements – if the model you're looking at doesn't feature list one of those things as a strength, you're likely better off using your phone's camera.
Sensor size is now one of the most important features. Micro Four Thirds and APS-C options, like the Fujifilm X100V, are are now as prevalent as 1-inch models. To be worthy of your attention, the latter should really offer at least 10x optical zoom (and ideally more). Take a look at the type of viewfinder as well – or at least whether or not the camera you're looking at has one. Most compact cameras have an electronic viewfinder, but a small number have an optical one.
If you plan on using your compact camera for travel, you should take a closer look at the lens and its zoom capabilities. You'll find that when it comes to taking travel photos, you'll get a lot more use out of a camera that has impressive zooming capabilities. If you plan on using your camera for street photography or for snapshots of people, a fixed lens might just be better for you. For shooting night-time photos, look for one with high ISO capabilities and great noise handling.
Take a look at features as well. Some features you might not need, but a few – like image stabilization or face/eye tracking – could prove to be useful bonuses. Of course, price is a factor as well, so if the models above are too pricey new, check out their second-hand availability. Our guide on how to buy a second-hand DSLR or mirrorless camera may be aimed at larger models, but much of the same advice applies to premium compact cameras.
How we test compact cameras
Real-world tests are the most revealing way to understand the best compact cameras' performance, quirks, and features. So, along with standardized tests for factors like ISO performance, we take every camera we test for a spin to see how it fares in real-world scenarios.
We'll use it both handheld and on a tripod to get a sense of where its strengths lie, and test its startup speed. We also use a formatted UHS-1 card and shoot in both raw and JPEG (if available), testing its burst shooting and buffer performance.
For autofocusing, we use the different autofocus modes on hand in single point, area, and continuous modes. Naturally, we take a look at how accurate and reliable its metering is, how well it handles noise, and how well it minimizes things like fringing and distortion. Its video shooting skills are tested as well by shooting some test footage at different frame-rates and resolutions.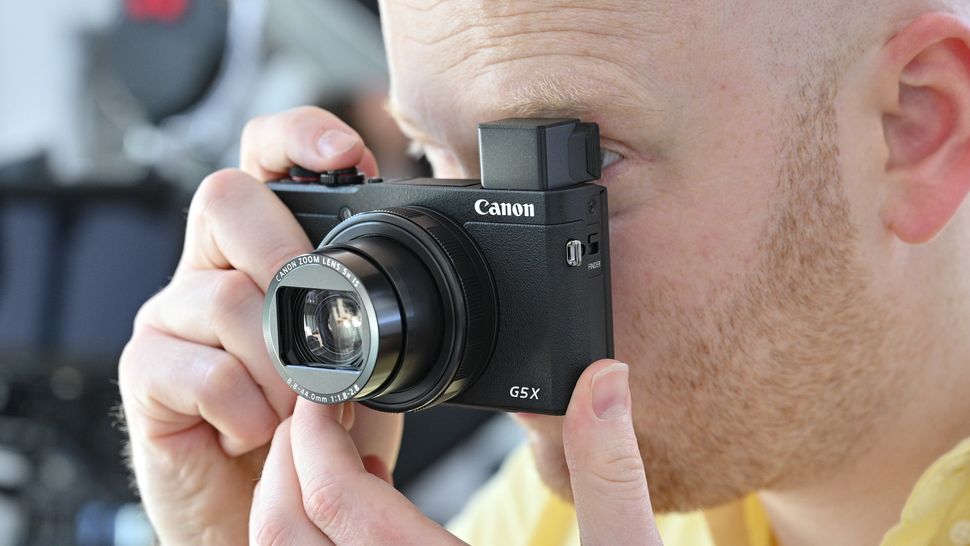 Of course, we also look at the camera's design, handling, and user interface while getting a sense of what kind of photographer it's most ideal for. Battery life is tested as well over the course of the day with the screen set to the default settings. Once the battery has reached zero, we'll then count the number of shots to see how it compares to the camera's CIPA rating.
Once all is said and done, we take all our data and everything we've learned about the compact camera and compare it to its price tag to see if it offer great value for your money.