The best compact camera for 2023: top pocket choices to take anywhere
Best
Contributions from
last updated
The best compact cameras for phone-beating snaps
VERDICT
REASONS TO BUY
REASONS TO AVOID
QUICK MENU
1. The list in brief
2. Best overall
3. Best affordable compact camera
4. Best pocket compact for features
5. Best for video creatives
6. Best photo quality from your pocket
7. Best for keen hobbyists
8. Best compact superzoom
9. Best all-rounder for photographers
10. Best money-no-object
11. Best compact instant
11. How to choose
12. How we test
Whether you're upgrading from a smartphone or looking for a capable backup camera, the best compact cameras pack versatile shooting skills into pocket-friendly bodies. While the best camera phones have replaced cheap point-and-shoots, today's top premium compacts still win out with big sensors, generous zoom ranges, sharp electronic viewfinders and high-quality lenses. All of which make them great tools for street and travel photography.
Which compact camera is best for you comes down to your specific needs and budget. We've comprehensively tested a range of the top options and created this ranked list to help steer you in the right direction. Our selection covers everything from superzoom travel cameras to the best premium compacts. We've also included some compact cameras which are up there with the best vlogging cameras.
We think the best compact camera for most people right now is the Fujifilm X100V. On paper, its fixed 23mm lens makes it a niche proposition. Yet it also offers a catalogue of premium features, including a tilting touchscreen, hybrid viewfinder and rapid autofocus. Its polished retro design is the definition of stylish, too.
If your budget doesn't stretch that far – or you want a camera with a large optical zoom range – we also highly recommend the Panasonic Lumix ZS100 / TZ100, one of our favorite travel cameras. It pairs 10x optical zoom with a decent 1-inch sensor to produce rich, detailed images. It also benefits from an accessible touchscreen interface and an electronic viewfinder.
Our guide below targets take-anywhere cameras that offer something more than any smartphone – whether that's thanks to their handling, viewfinder, zoom, sensor, or a combination of all four. If you're not sure where to start, you'll find expert buying advice at the bottom of the page, while links beneath each entry take you straight to the best deals available right now.
Written by
Tim is TechRadar's Cameras editor, with over 15 years in the photo video industry and most of those in the world of tech journalism, Tim has developed a deeply technical knowledge and practical experience with all things camera related. He notes, "a number of the compact cameras in this list cost as much if not more than the latest flagship smartphones, but as dedicated tools with superior handling, you shouldn't write them off."
The quick list
Want to get straight to the best compact camera for your needs? Use our quick round-up below to immediately find a compact camera that suits you – and you can read more about it by jumping to our full write-ups and explanations using the links.
Best overall
The best compact camera for serious photographers
The perfect compact camera for the smartphone age, the X100V is a great street photography sidekick that takes the series to new heights.
Best affordable
2. Panasonic Lumix ZS100 / TZ100
The best affordable compact camera
The Lumix ZS100 (known as the Lumix TZ100 outside the US) is a big step forward for Panasonic's travel cameras, and brings an interesting new proposition into the one-inch sensor market – a pocket-sized camera with a 10x zoom range.
Best pocket camera for features
3. Sony Cyber-shot RX100 VII
The best pocket compact for features
With its strong image quality, detailed 4K videos and a class-leading AF performance, the latest addition to the RX100 line is one of the most capable compacts right now
Best for video creatives
The best compact camera for video creatives
Its mix of a bright lens, superb autofocus and design tweaks like the side-flipping screen make the Sony ZV-1 a powerful pocket video option with few peers
Best pocket photo quality
The best photo quality from your pocket
Unparalleled pocketability, quick response, intuitive handling and sharp-looking DNG raws, plus a new 40mm f/2.8 lens make the GR IIIx as versatile as it is compact.
Best for keen hobbyists
6. Panasonic Lumix LX100 II
The best for keen hobbyists
A brilliant compact for the enthusiast photographer, the Panasonic Lumix LX100 II offers excellent image quality, responsive autofocus
Load the next 4 products...
Best superzoom compact camera
7. Panasonic Lumix ZS80 / TZ95
The best compact superzoom
Albeit a minor improvement over its predecessor, the ZS80 / TZ95 is a compact camera blessed with a very fast AF system, great build quality, pleasing 4K video and an upgraded viewfinder.
Best all-rounder for photographers
8. Canon PowerShot G5 X Mark II
The best all-rounder for photographers
The Canon PowerShot G5 X II manages to blend its capable core with some useful features, great handing, a fine build and a strong level of control.
Best money no object
The best money-no-object
The Leica Q3 is the most powerful, most enjoyable, but most expensive compact camera available. Cost aside, it's what a camera should be in 2023; tactile, desirable and high quality.
Best compact instant camera
The best compact instant camera
The Go is a point-and-shoot instant camera you can take just about everywhere. The credit card-sized images It produces are perfect for sharing, and it stylishly blends retro looks with modern niceties like a rechargeable battery
The best compact cameras in 2023
Why you can trust TechRadar We spend hours testing every product or service we review, so you can be sure you're buying the best. Find out more about how we test.
The best compact camera
A special camera that's the best of its kind
Specifications
Sensor:
26.1MP X-Trans CMOS
Monitor:
3.0-inch tilt-angle touchscreen, 1.62m dots
Continuous shooting:
11fps (mechanical), 30fps (electronic)
Reasons to buy
+
Tilting touchscreen
+
Improved sensor and autofocus
+
4K
Reasons to avoid
-
Needs filter for full weather sealing
-
Fixed focal length
Buy it if:
✅ You want a stylish snapper: The X100V draws you in with its retro appeal, and exposure dials.

✅ You want a unique shooting experience: If you haven't used the X100V's hybrid viewfinder, try it and thank us later.
Don't buy it if:
❌ You want to buy it new: The X00V has proved the most popular camera in 2023 and is sold out everywhere.

❌ You want flexibility: As a fixed lens compact, you can't zoom in out or out for a different field of view from its 35mm focal length.
The Fujifilm X100V takes what was already a special camera and fixes all of its weaknesses – it's the perfect compact for the smartphone age. The concept is the same as before: a stylish, pocketable design, large APS-C sensor, unique hybrid viewfinder and a fixed 23mm f/2 lens. All of those areas, though, have now been improved on the X100V, which brings a new tilting screen and improved autofocus performance.
Our testing has found the image quality to be much improved, partly thanks to a redesigned lens, and the low-light performance to be better. One of our main complaints with the X100F was that its photos tended to be soft at f/2. Not so much with X100V, as we found it to offer great sharpness in the centre, even at the widest apertures. Then there's the higher resolution hybrid viewfinder – both optical and electronic – as well as support for 4K/30p video capture.
Sure, you need to add a filter for full weather-proofing and the cost will be prohibitive for some. But, the X100V puts an impressive range of features into a polished, premium body, with throwback style that sets it apart from the crowd – yet still fits perfectly in your pocket.
If you do come across a Fujifilm X100V in the shops, it could be worth snapping it up because it's trending in 2023 and on backorder in most retailers.
Read our in-depth Fujifilm X100V review
The best for affordability
Premium travel zoom compact gets a larger than average sensor
Specifications
Lens:
25-250mm (10x optical zoom)
Monitor:
3.0-inch rear LCD
Viewfinder:
EVF (0.2-inch, 1166k-dot)
Continuous shooting:
10fps
User level:
Beginner/Intermediate
Reasons to buy
+
Useful optical zoom range
+
Has an electronic viewfinder
+
Shoots 4K video
Buy it if:
✅ You want power from your pocket: One of the smallest cameras in this guide that still boasts a 1in sensor and 10x zoom.

✅ You want a low cost compact: While not exactly cheap, the ZS100 / TZ100 is the lowest cost option in this guide.
Don't buy it if:
❌ You want the best possible image quality: Versatility comes with compromise, and you'll get better images with some fixed lens options in this guide.

❌ You want a flip screen: The LCD screen is fixed which makes selfies and awkward shooting angles a challenge.
If you're looking for a travel-friendly all-rounder that has a viewfinder and doesn't break the bank, this is the compact camera we'd go for. It's since been succeeded by the ZS200 / TZ200, which is also worth considering – but if you don't need the newer model's slightly longer zoom (15x rather than 10x) and higher-res viewfinder, then you can save money by going for this older classic.
The ZS100 / TZ100 remains a solid middle ground between premium compact cameras with larger sensors (in this case, a 1-inch sensor) and super-zoom models with smartphone-beating reach. Its 10x zoom might now be matched by some smartphones, but in our tests the quality of this camera's lens and image processing produced vibrant, punchy photos with excellent detail. If you're looking to get high-quality images with minimal baked-in processing, then the ZS100 / TZ100 will serve you well and offer a more enjoyable photographic experience than any glass slab.
The downsides include a small and relatively low-res viewfinder, plus a fixed touchscreen. These are symptoms of this camera's age, but a small EVF is still better than no viewfinder when you're shooting in sunny conditions, and this camera otherwise offers modern conveniences like 10fps burst shooting, 4K video shooting and built-in Wi-Fi.
Read our in-depth Panasonic Lumix ZS100 / TZ100 review
The best pocket compact for features
Seventh heaven
Specifications
Lens:
24-200mm, f/2.8-4.5
Monitor:
3.0-inch tilt-angle touchscreen, 921,000 dots
Continuous shooting:
20fps
User level:
Intermediate/Expert
Reasons to buy
+
Sterling autofocus system
+
Lovely video
Reasons to avoid
-
Handling not ideal
-
Expensive
Buy it if:
✅ You need a complete pocket camera: The RX100 VII is arguably the most rounded pocket camera for photo and video.
✅ You shoot action: Lens zoom is limited, but the performance is not with super fast autofocus and continuous shooting.
Don't buy it if:
❌ You want excellent handling: Small it may well be, the RX100 VII isn't the most ergonomic option available.
❌ You rely on a touch screen: The function of the touch screen is limited – lacking menu navigation.
In many ways, the RX100 VII is still best compact around right now. Its autofocus system, we found, is comfortably ahead of any other pocket camera, tracking moving subjects with great reliability and making clever use of its Face and Eye AF, even in video mode. Video quality is superb, while image quality is also stellar. But all of this comes at a huge price, and for many people that could be a deal-breaker.
Still, we can't avoid including it in this guide, as it's one of the best options around. If your budget allows, then you won't find a more powerful compact than the Mark VII. But if you're happy to sacrifice some of the latest autofocus features and a microphone jack, check out the RX100 VI, which offers most of its performance a little less cash.
Read our in-depth Sony RX100 Mark VII review
The best compact video camera
A powerful pocket vlogging camera for YouTubers
Specifications
Monitor:
3.0-inch vary-angle touchscreen, 921,600 dots
Continuous shooting:
24fps
User level:
Beginner/Intermediate
Reasons to buy
+
Unrivaled autofocus
+
Hotshoe and 3.5mm mic port
Reasons to avoid
-
Touchscreen a tad limited
-
MicroUSB rather than USB-C
Buy it if:
✅ You want a powerful vlogging camera that fits in your pocket: The Sony ZV-1 is the best compact camera so far for YouTubers, shooting smartphone-beating 4K video.
✅ You want a small video camera that can grow with you: While Sony has attempted to make the ZV-1 simpler for beginners to use – and the slick autofocus goes some way to achieving that – it's also jam-packed professional features.
Don't buy it if:
❌ You mainly want to shoot stills with a side of video:
While it's no slouch when it comes to shooting photos, the ZV-1's lack of a viewfinder and moderate zoom range will limit some photographers.
❌ You need an all-weather action camera: The ZV-1 is packed with features, but one that it lacks is weather-proofing.
If it's mainly video rather than stills that you're looking for from a compact camera, then the Sony ZV-1 is the best option around. Not that it isn't also very capable at shooting still photos – it has the same sensor and processor as Sony's latest RX100 series cameras, after all – but the ZV-1's main strength are its video powers.
That includes its class-leading autofocus powers, which helps it tenaciously lock onto people and moving objects in your frame. During testing, we found it to do an excellent job of keeping moving subjects in focus and tracking our eyes across most of the frame. Of course, the video quality from its 20.1MP 1-inch sensor is nothing short of impressive as well.
These are backed up by a 3.5mm mic port for boosting audio quality with an external microphone, and a hotshoe to help mount the latter. Its bright 24-70mm f/1.8-2.8 doesn't give you the same reach as the RX100 VII, but it does ensure that you get lovely background blur in both stills and videos – perfect if you mainly shoot portraits or vlogs.
Read our in-depth Sony ZV-1 review
The best photo quality from your pocket
Intuitive street shooter with a 40mm lens and large sensor
Specifications
Monitor:
3.0-inch TFT LCD touchscreen
Continuous shooting speed:
4fps
Reasons to buy
+
Large sensor pocket power
+
Intuitive handling
+
Quick start up
+
Sharp raw DNG stills
Reasons to avoid
-
No tilt-screen
-
Poor battery life
-
Jittery autofocus
Buy it if:
✅ You want to develop your creative eye: With the limitation of its fixed focal length lens, exposure tools and a wide range of in-camera edits, we found the GR III X encourages a way of seeing, shooting and editing images.
✅ You want a fun pocket camera: Small enough to slip in the pocket, quick to use, intuitive and customizable handling, the GR IIIx is point-and-shoot happiness.
Don't buy it if:
❌ You want a versatile camera: The GR IIIx is as niche as they come. Fixed lens, fixed focal length, modest video recording. This is a camera aimed at a certain type of photographer.
❌ You shoot video a lot: Tech-wise, the GR IIx is way behind today's smartphones for video recording, being limited to Full HD resolution and mono in-camera audio.
The new Ricoh GR IIIx is the latest in a long line of discrete compact cameras that are small enough to slip into your pocket, but somehow boast a large APS-C sensor and a sharp, fixed focal length lens. Street photographers and everyday snappers love the camera's pocketability, quick response, intuitive handling and, more recently, Snap Focus system to capture decisive moments
Aside from its new 40mm f/2.8 lens, the GR IIIx is largely identical to its two-year-old GR III sibling, for good and for bad, although that focal length is arguably more versatile. Like the GR III, the GR IIIx is a joy to use and a camera you want in your pocket the whole time. It seems so intuitive to general quick response photography, and is easy to customize with tools that experienced photographers will love. The in-camera raw editing and seamless wireless connection to a smartphone (in our experience with a Google Pixel) means you can share edited pictures easily on the fly, too.Any necessary concessions to keep the GR IIIx this small, such as poor battery life, are forgivable. Still, a tilt-screen would be appreciated.
Read our in-depth Ricoh GR IIIx review
The best for keen hobbyists
A worthwhile update to a deservedly popular camera
Specifications
Sensor:
Micro Four Thirds, 17MP
Monitor:
3.0-inch touchscreen, 1,240,000 dots
Max continuous shooting:
11fps
Reasons to buy
+
Excellent image quality
+
Good body-mounted controls
Reasons to avoid
-
Sluggish zooming
-
Fixed rear screen
Buy it if:
✅ You want a Micro Four Thirds sensor: The multi-aspect image sensor is larger than the 1-inch ones used in most other compacts and makes lovely photos.
✅ You want excellent handling: A sensible size, decent grip, EVF, solid build all stack for a lovely shooting experience.
Don't buy it if:
❌ You want the latest tech: The LX100 II is a fantastic camera but it was launched all the way back in 2018 and feels a little dated with fixed screen and clunky UX.
❌ You want a speedy shooter: The lens zoom action is a touch pedestrian; both the zoom lever around the shutter release button and the multi-function control ring on the lens, but both respond slowly.
Compact cameras with sensors larger than 1-inch in size are typically limited to fixed-focal-length lenses, which is great for quality but less so for flexibility. But not the Panasonic LX100 II; it manages to marry a 17MP Four Thirds sensor – the same size as those found inside Panasonic's G-series mirrorless cameras – with a zoom lens equivalent to 24-75mm in 35mm terms, proving that sometimes you can get quality and flexibility at once.
We found its Leica-badged lens to be very impressive, capturing very good levels of detail that's worthy of pricier APS-C cameras, and its exposure metering system more than reliable. Our tests also show that it handles noise pretty well and produces natural-looking images with faithful colors.
The original LX100 was something of a landmark camera for offering something similar, and this latest iteration takes the baton, with a nippy AF system, robust body, clear 4K videos and a useful electronic viewfinder among its highlights.
Read our in-depth Panasonic Lumix LX100 II review
The best compact superzoom
The best all-in-one superzoom right now
Specifications
Sensor:
1/2.3in CMOS, 20.3MP
Lens:
24-720mm, f/3.3-6.4
Monitor:
3.0-inch tilt-angle touchscreen, 1,040,000 dots
Viewfinder:
EVF, 2,330,000 dots
Continuous shooting:
10fps
Reasons to buy
+
Speedy AF and face detection
+
Great UI and responsive touchscreen
Reasons to avoid
-
Softness at wide-angle
-
Imperfect EVF
Buy it if:
✅ You want an all-in-one camera: The generous 30x optical zoom covers every shooting scenario and a perfect companion for your travels.
✅ You want to take selfies: A flip-up screen is ideal for anyone who imagines they will be capturing selfies or group shots – particularly as the face detection works so well.
Don't buy it if:
❌ You're after excellent image quality: A 30x zoom lens in any camera let alone one so small like the ZS80 / TZ95 has its drawbacks, namely soft edge detail.
❌ You shoot in low light: The tiny 1/2.3-inch image sensor is much smaller than the rest in this guide and indeed today's flagship smartphones, struggling in low light with aggressive noise reduction being notable.
With a pocketable body and 30x zoom range, the Panasonic ZS80 / TZ95 is pitched at those looking for the flexibility to shoot a range of scenes, but without the hassle of interchangeable lenses. A small grip and thumb rest make it nicer to handle than many rivals, while a control ring around the lens can be configured for easy adjustments, including zoom and focus. Its sensor is small, but the shooting specs are still not to be sniffed at.
The ZS80 / TZ95 can shoot 4K video at 30fps, while 10fps burst shooting is decent for a compact. Focusing is similarly speedy, with great face detection. During our time with it, we found the image quality to be generally reasonable. There was some softness around the edge of the frame at 24mm.
All the same, image stabilization keeps things sharp, with pleasing colors and broadly reliable exposures when shooting in JPEG or raw. The ZS70 / TZ90 might represent better value if you don't need a high-resolution viewfinder, but the ZS80 / TZ95 is a well-built, comprehensive compact package that's enjoyable to shoot with.
Read our in-depth Panasonic Lumix ZS80 / TZ95 review
The best all-rounder for photographers
A great enthusiast camera with good handling
Specifications
Sensor:
1-inch CMOS, 20.1MP
Lens:
24-100mm, f/1.8-2.8
Monitor:
3.0-inch LCD tilting touchscreen
Viewfinder:
EVF, 2,360,000 dots
Continuous shooting:
30fps
Reasons to buy
+
Very good image quality overall
+
High-quality build and attention to detail
+
Good handling for such a small body
+
EVF is nice and clear
Reasons to avoid
-
Lens is soft at wider apertures
-
4K videos good but not too competitive
-
Battery life could be better
-
Somewhat pricey next to rivals
Buy it if:
✅ You want excellent build quality: Build quality feels great overall, with plenty of attention to detail around all the controls, and a front plate and rear that gives a secure hold.
✅ You're want an everyday shooter: The 24-120mm f/1.8-2.8 lens strikes a nice balance between versatility and image quality, covering most everyday scenarios.
Don't buy it if:
❌ You shoot 4K video: The G5X Mark II can shoot 4K video, but cannot match the superior features from Sony's rival offerings.
❌ You want excellent value: Canon is never cheap, and the G5X Mark II looks like an expensive option compared to its rivals.
The Canon PowerShot G5 X Mark II isn't the conventional Mark II update that we normally see with this kind of compact camera. Sure, it arrives with a handful of improvements to the spec sheet that we may have expected, but its completely different design signals different intentions – and with it, potentially a different kind of use too.
Canon has made a handful of changes to the imaging pipeline, fitting the model with a new 20.1MP stacked 1-inch CMOS sensor, and with the company's latest DIGIC 8 processing engine driving things. This also allows for 4K video recording, and Canon notes that this happens without any crop factor – a common complaint on cameras of all classes that record 4K video.
Other new features include a 30fps raw burst mode, which sits alongside a 20fps regular burst mode, while a 31-point contrast-detect AF system, Wi-Fi, Bluetooth and USB charging have also all been thrown into the mix.
Overall, the G5 X Mark II is a lovely camera to handle and use, and its well-rounded feature set means it can handle a wide range of scenes without much trouble. For that reason, it's definitely one of the best Canon cameras you can buy right now, with its small size making it ideal as one of the best travel cameras.
Read our in-depth Canon PowerShot G5 X Mark II review
The best money-no-object compact camera
An enjoyable mashup of old and new that raises the bar for compact cameras
Specifications
Sensor:
Full-frame CMOS, 60.3MP
Lens:
Summilux 28mm f/1.7 ASPH
Screen:
3-inch tilting touchscreen, 1,840,000 dots
Viewfinder:
EVF, 5,760,000 dots, 120fps
Continuous shooting:
15fps
Reasons to buy
+
Unparalleled lens design and quality
+
The most powerful compact camera available
+
60.3MP to play with
+
Simply a joy to use
Reasons to avoid
-
New tilt screen poorly implemented
-
Improved autofocus still bettered elsewhere
-
Average optical stabilization
-
Middling 350-shot battery life
Buy it if:
✅ You like manual control and a tactile experience: The stunning lens, robust dials and shutter button are a joy to use, offering the kind of tactile experience that we need to see more of in dedicated cameras.
✅ You want the best-quality everyday camera: No compact camera can better the Leica Q3 for everyday photography. It boasts a super-sharp lens paired with a full-frame sensor, class-leading resolution, and lovely Leica colors.
Don't buy it if:
❌ You want to push a camera hard: The Q3 has some seriously impressive features, but they work best when used in moderation. This is a camera of the highest quality, but for light everyday use.
❌ You're after great value: There's no real rival to the Q3, and it does represent reasonable value for a Leica, but $5,995 / £5,300 / AU$9,790 is a lot of anyone's money.
Calling the Q3 a premium compact camera is a stretch, because it's equal in size to a mid-range full-frame mirrorless camera like the Panasonic Lumix S5 II. However, the Q3 is in this category because its lens is built in. And what a lens it is.
The built-in Summilux 28mm f/1.7 ASPH is our new favorite lens, period. Its exquisite design offers a tactile shooting experience – an attribute that we believe will become increasingly important to help dedicated cameras stand out from the best camera phones instead – but tucked away is access to the camera's modern features. These include Leica's best autofocus yet, which reliably tracks human subjects, although its performance is still some way behind the best autofocus systems on the market.
The Leica Q3 is the most powerful, most enjoyable, but most expensive compact camera available. Cost aside, it's what a camera should be in 2023; tactile, desirable and high quality. While it lacks the slow and measured M-series rangefinder user experience, the Q3 should still satisfy Leica-ites as a top-quality everyday snapper. For everyone else, it's one for the wish list.
Read our in-depth Leica Q3 review
The best compact instant camera
The Polaroid Go is cute, compact and delightfully retro
Reasons to buy
+
Properly dinky dimensions
+
Point-and-shoot simplicity
+
Rechargeable battery
Reasons to avoid
-
Fixed focus can be tricky
-
No dedicated close-up mode
-
Film more expensive than rivals
Buy it if:
✅ You love keepsakes: There's nothing like a physical print and the Go spits out beautiful little prints that you can keep or share with those around you.
✅ You want a small instant camera: Most instant cameras are big and bulky and awkward, but the Polaroid Go is as small as they come.
Don't buy it if:
❌ You want low running costs: The Go is an inexpensive camera itself, but its instant film is anything but, being costlier than rival Fujifilm Instax film.
❌ You shoot close ups: Most instant cameras are point-and-shoot simplicity, but the fixed focus can feel more limiting for close ups than, say, the autofocus in the Polaroid Now.
Instant cameras are designed for fun – and few make it easier to capture quick, attractive snaps than the Polaroid Go. Pitched as "the world's smallest analogue digital camera", its boxy, retro shape means it isn't as portable as a digital compact camera – but it's still one of the dinkiest instant cameras you can buy in 2021. Capable of producing credit card-sized prints with dreamy pastel tones and impressive detail, the Go's greatest merit is its point-and-shoot simplicity.
The streamlined interface is super easy to use, with a handy digital shot counter for tracking your snaps. Unlike other instant cameras, we found this to be very versatile. Automatic flash can be manually overridden, while self-timer and double-exposure modes add welcome opportunities for creativity – although its fixed focus and lack of a macro mode mean it isn't quite as flexible as certain alternatives. Film refills aren't the cheapest, and you do pay a premium for the Polaroid Go's portability. What you also get, though, is an entertaining, accessible and convenient – not to mention surprisingly capable – instant printing camera.
Read our in-depth Polaroid Go review
How to choose the best compact camera for you
When it comes to selecting a compact camera, there are several factors to consider. As the name suggests, all compact cameras promise portability, but there's more to keep in mind than form factor alone. All of the cameras in our list above offer some combination of versatility, handling, features and image quality. Which specific aspects matter most will depend on what and how you like to shoot. If you can't find a compact the ticks your key boxes, you might be better off using your smartphone's camera.
One of the key things to think about is sensor size. All of the best compact cameras should represent a step up from your smartphone. Micro Four Thirds and APS-C options, such as the Fujifilm X100V, are now as prevalent as 1-inch models.
If you plan on using your compact camera for travel, you should take a closer look at its lens and zoom capabilities. To be worthy of your attention, the latter should offer at least 10x optical zoom, if not more. If you plan on using your camera for street photography or candid portraits, a fixed lens might work better for you. Or if night-time shots are your thing, look for a compact with good noise handling and high ISO capabilities.
Whatever your subject of choice, pay attention to how a camera handles. This is something we cover in our reviews. Most compacts have an electronic viewfinder, but a small number use an optical one instead. Most also feature a touchscreen interface, which makes it more straightforward to upgrade from a smartphone, although not every display can tilt. You should also think about whether manual controls matter to you.
Some features you might not need, but a few – such image stabilization or face/eye tracking – could prove to be useful bonuses. Of course, price is a factor as well, so if the models above are too pricey new, check out their second-hand availability. Our guide on how to buy a second-hand DSLR or mirrorless cameramay be aimed at larger models, but much of the same advice applies to premium compact cameras.
Is a compact camera better than a smartphone?
It's widely accepted that the best camera is the one you have with you, and this will often be the smartphone in your pocket – especially if you're looking to capture quick, sharp images for sharing on social media. While the best camera phone options are better than ever, though, the top compact cameras remain a cut above their mobile rivals when it comes to image quality and the overall shooting experience.
Larger sensors are an obvious bonus: the sensor inside a premium compact will, in general, be bigger than the one in your average smartphone. This means you'll get more detail and better low-light performance, which will be evident if you choose to print out your images. It helps that most compact cameras also benefit from high-quality optics.
Only a handful of smartphones offer the versatility of optical zoom. While zoom range varies by model, most of the best compact cameras feature this as standard. Even with huge improvements to the quality of digital zoom technology, it can rarely compete with the quality of optical zoom when it comes to preserving detail.
Many compact cameras also have physical advantages over smartphones. While both types of device are designed to be pocket-friendly, the best compacts feature dedicated buttons and dials that offer greater creative control. Similarly, many of the best compact options feature a small but useful grip that gives them an ergonomic edge over smartphones when it comes to handling. Tilting touchscreens and dedicated electronic viewfinders are also handy for framing, while certain compacts ship with niche features, such as stabilizing gimbals and waterproof bodies.
Do photographers use compact cameras?
Given their performance and relative portability, most photographers now favor one of the best mirrorless cameras as their primary camera. These models are not much bigger than a premium compact, with many numbering among the best travel cameras, yet they also offer the flexibility of interchangeable lenses.
That being said, many photographers still choose to travel with a premium compact as a second camera. While they might not compete outright with the images captured by top mirrorless models, a reliable compact camera can be a useful tool to keep within easy reach, in case a photo-worthy scene unfolds before you.
This is particularly true for street and travel photographers. A compact is less conspicuous than a professional full-frame camera, making it easier to shoot comfortably in public. The smaller proportions also mean you're more likely to take it with you whenever you head out, without needing a bulky kit bag.
The same is true for photographers who want to travel light and leave their main camera at home. You'll rarely see an image from a compact adorning billboard, but the best models can produce images plenty sharp enough for digital assignments and prize-winning pics. That's especially true if you pick a compact that focuses on a specific niche, such as the Fujifilm X100V with its fixed 23mm f/2 lens – ideal for street and low-light photography.
How we test compact cameras
Real-world tests are the most revealing way to understand the best compact cameras' performance, quirks, and features. So, along with standardized tests for factors like ISO performance, we take every camera we test for a spin to see how it fares in real-world scenarios.
We'll use it both handheld and on a tripod to get a sense of where its strengths lie, and test its startup speed. We also use a formatted UHS-1 card and shoot in both raw and JPEG (if available), testing its burst shooting and buffer performance.
For autofocusing, we use the different autofocus modes on hand in single point, area, and continuous modes. Naturally, we take a look at how accurate and reliable its metering is, how well it handles noise, and how well it minimizes things like fringing and distortion. Its video shooting skills are tested as well by shooting some test footage at different frame-rates and resolutions.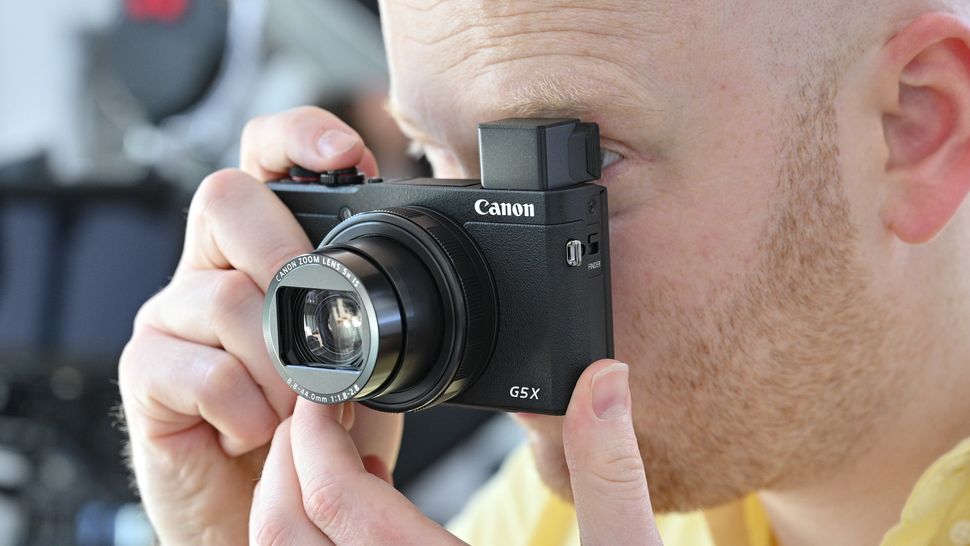 Of course, we also look at the camera's design, handling, and user interface while getting a sense of what kind of photographer it's most ideal for. Battery life is tested as well over the course of the day with the screen set to the default settings. Once the battery has reached zero, we'll then count the number of shots to see how it compares to the camera's CIPA rating.
Once all is said and done, we take all our data and everything we've learned about the compact camera and compare it to its price tag to see if it offer great value for your money.