Razer Kiyo Pro Ultra: One-minute review
The Razer Kiyo Pro Ultra may best serve streamers and content creators who need an all-powerful webcam that delivers high resolution, wide dynamic range, and a snappy yet smooth autofocus. However, it also makes a case to the rest of us who may not necessarily need a kitted-out webcam that it really does pay to invest in one.
Admittedly, it's too much webcam for regular folks. But, I've been using this webcam for daily video calls for a couple of weeks now, and I have never looked so good in my meetings. Its 4K resolution, wide dynamic range, and excellent metering, as well as HDR technology, do wonders for my complexion. Meanwhile, its snappy auto-focusing keeps me in focus and its omnidirectional mic keeps my voice clear no matter how animated I get during. Also, its built-in privacy shutter makes me feel safer when I'm not on a call.
I get it; for most of us, these peripherals are essentially a means to an end. We've switched from in-person meetings to video calls, but apart from putting on a nice top or shirt and making sure we don't look like we just rolled out of bed, we really couldn't be bothered, let alone invest in anything but a cheap webcam. So long as it works, right?
But, whether or not you're a professional content creator, as long as $299.99 / £299.99 / AU$499.95 is something you can afford, the Razer Kiyo Pro Ultra is the best webcam to get right now.
Razer Kiyo Pro Ultra: Price and availability
How much does it cost? $299.99 / £299.99 / AU$499.95
When is it available? Available now
Where can you get it? Available in the US, the UK, and Australia
Razer Kiyo Pro Ultra: SPECS
Supported Resolutions: 4K 30FPS / 1440P 30FPS / 1080p @ 60/30/24FPS / 720P @ 60/30 FPS
Sensor: 1/1.2" Sony Starvis CMOS sensor
Lens: Not specified
Focus Range: about 5 in - ∞
Aperture: f/1.7
Focal Length: 8.5mm
The price tag on the Razer Kiyo Pro Ultra, admittedly, feels like it'll hurt your wallet before you even pull out your credit card. That eye-watering $299.99 / £299.99 / AU$499.95 is a doozy and will probably turn away half of you reading this review right now. Who wants to pay $300 / £300 for a webcam, after all? That'll feed a family of four for at least a week, which is a big reason why it's scoring a little low in this section.
However, if you're serious about the content you're creating or if you want to invest in premium, top-quality peripherals for your PC setup, you will get your money's worth from the Kiyo Pro Ultra.
It's similarly priced to the Elgato Facecam Pro that launched in late 2022 and is its direct rival. There are things the Elgato does better, like offering 60fps at 4K resolution, but the Kiyo Pro Ultra also comes with a slightly bigger Sony Starvis sensor and a slightly bigger aperture. So, one isn't necessarily better than the other; it'll ultimately boil down to your specific preferences.
The Razer Kiyo Pro Ultra is now available for purchase in the US, UK and Australia.
Razer Kiyo Pro Ultra: Design
Sizable but not bulky
Plug and play
Built-in privacy shutter
In comparison to the Elgato Facecam Pro, however, the Razer Kiyo Pro Ultra feels easier to handle as it's a little more compact. That's not to say it isn't big, because at about three inches in diameter and over two inches thick, it is a lot bigger than the other Razer Kiyo models – and most webcams, for that matter. But, it just feels a little more compact than the Facecam Pro.
It is fairly heavy at 348g without the lens cover, which means it'll be too big for mounting on any laptop screen, even the 18-inch Blade that Razer is rolling out. However, it sits just fine atop a regular computer monitor, thanks in large part to its wide L-shaped mount that really secures it and keeps it in place (as well as offers good articulation).
Despite its intimidating size, the Razer Kiyo Pro Ultra is very easy to set up, being plug and play. It has a 1.5-meter braided cable that may be pretty thick but is manageable.
And, while it comes with an unattached camera cover, something the Elgato Facecam Pro doesn't even bother with, it throws in a built-in privacy shutter for good measure – in case you do lose that cover.
I find the privacy shutter easy to use and effortless to turn (counter-clockwise to close, clockwise to open), so you don't inadvertently move the entire webcam and ruin a shot or force you to readjust your framing.
Naturally, the Razer Kiyo Pro Ultra comes with software support. It's compatible with Razer Synapse so you can quickly access it along with your other Razer peripherals. Synapse has its own pre-existing issues that I won't talk about here, but I have found that it had zero issues detecting the camera.
It also offers a deeper level of customization and a lot more control so that you can be more creative with your videos, especially when you're creating content. To name a few, you can do digital zooming and panning, set things like ISO (100 to 6400), shutter speed (1/2000s to 1/10s) and brightness, and change resolutions, which comes in handy when you want a little less ghosting.
Razer Kiyo Pro Ultra: Performance
Largest sensor we've seen on a webcam
Fantastic autofocus, wide dynamic range, great low-light performance
Only 4K at 30fps
Razer webcams have always delivered when it comes to video quality, specifically with low-light performance and noise handling. But, the Razer Kiyo Pro Ultra takes things to the next level, and I'm talking beyond that 4K resolution (the Razer Kiyo Pro sticks with 1080p resolution).
The Kiyo Pro Ultra takes the Elgato Facecam Pro's 1/1.8-inch Sony Starvis CMOS sensor, which previously held the title of the largest sensor on a webcam, and raises it its 1/1.2-inch Sony Starvis sensor. This sensor allows it a wider dynamic range, better noise handling, and creamier blur. I have yet to make side-by-side comparisons of the two models, but that's going off the benefits of larger sensors in general.
Again, Razer Kiyo cameras have always been amazing with their low-light performance, and that's still the case here. The Kiyo Pro Ultra's low-light performance is impressive, as is its noise handling. There's still some chromatic noise and maybe very faint luminance noise in darker areas, especially when you're working with just your display as the source of light – though I do feel that's the worst-case scenario – but you're getting really fine grain and barely noticeable over-smoothing. Toggle the 2D and 3D noise reduction to on, available on the Synapse app, and you're getting an even cleaner image.
More discerning users might, as I have, see hints of chromatic aberration in darker areas as well. However, unless you're actively looking for them, you might not even notice.
The 8.5mm wide angle lens on the Razer Kiyo Pro Ultra more than does the job, delivering very sharp, very detailed visuals at 4K resolution while offering creamy bokeh backgrounds and foregrounds with its f/1.7 aperture. I may be a little biased here, as lenses with bigger than f/2.8 aperture have always been my dream – as a non-pro photographer, those lenses have always been out of reach, price-wise – but having that massive aperture on a webcam really is a treat.
The only thing streamers might take issue with is that shooting at 4K resolution will limit them to 30fps, unlike Facecam Pro, which hits 60fps. I have noticed some ghosting in my own footage, particularly when I'm making fast movements in frame, but it's really nothing too distracting, in my opinion. If you want super crisp, artifact-free visuals, you can always go down to 1080p at 60fps; just bear in mind that there will be some loss of detail.
No matter the resolution you're on, however, you can guarantee almost impeccable focus. The autofocus on this webcam is not just incredibly responsive and snappy, but it delivers really smooth transitions as well, even when you're making fast movements. It helps a lot that the advanced face-tracking technology it's using is incredibly effective.
Not to say that its autofocusing is perfect. I have seen it struggle a couple of times for no reason – there was one incident when I was in frame and not moving, and the focus just got hazy and struggled to refocus – but it works as it should 98% of the time. Its shortest focusing distance is about five inches, though, so keep that in mind when you're showing off products during your streams.
There is manual focus on hand, which is useful when you want to focus on something behind you or there are several subjects in the frame. Toggle this on via Synapse, otherwise, the camera will intuitively focus on the subject closest to it.
Speaking of settings on Synapse, the digital zoom and pan toggles are very simple to use, even when you're not well-versed in such things. Just keep in mind that they aren't available when you're shooting in 1440p or 4K and have the lens distortion compensation on. You probably should just turn the lens distortion compensation setting off anyway, as it isn't very noticeable. If there's any lens compensation happening, I really cannot tell.
The HDR feature is also subtle, though still noticeable. Available in Dark Room and Bright Room modes, I have noticed that it adds a little more dynamic range on my face, making it slightly more radiant because the effect just ever so slightly gives it more life and depth. Using the Dark Room mode does recover a lot of detail in highlights – i.e. my light panels when turned on in a fairly dark room.
Synapse also offers three metering modes: average, center, and face. And, I find them to be accurate. However, if you want more creative exposures, especially when creating content, there's an exposure compensation slider available, as well as brightness, contrast, saturation, and white balance adjustments.
Finally, not all webcams come with a built-in mic, which is why I love that the Razer Kiyo Pro Ultra not only comes with it, but it's an omnidirectional one as well. It works pretty well too. Even when I'm a little over three feet away from the webcam and out of frame, it still picks up my voice clearly – any farther than that, you're still audible but you will sound farther away.
The mic's sound quality is decent as well, like a good boom mic on a gaming headset. It is a little compressed, however, as if it has a cutoff of around 10KHz. It's more than adequate for voice calls, personal video chats, and small multi-person meetings, of course. But, if you're streaming or filming content, you should consider using a USB mic instead.
Should I buy the Razer Kiyo Pro Ultra?
Buy it if...
You have the cash
…or you can save up for it. Even if you're not a content creator, and you'll just use it for connecting with family and colleagues, you'll get a lot out of this webcam.
You are a content creator
Thanks to its picture quality, impressive autofocus, and tools that give you a lot of control over your exposures, this one is a must for streamers and other content creators.
Don't buy it if...
You're really strapped for cash
If you don't have to have the best and are on a tight budget, give this one a skip. Or maybe reconsider it another time.
You need 4K at 60fps shooting
Sadly, the Razer Kiyo Pro Ultra tops out at 4K at 30fps. Take a look at the Elgato Facecam Pro instead if you want 4K at 60fps.
Also consider
Swipe to scroll horizontally
| | Razer Kiyo Pro Ultra | Elgato Facecam Pro | Razer Kiyo Pro |
| --- | --- | --- | --- |
| Price: | $299.99 / £299.99 / AU$499.95 | $299 / £299 | $199.99 / £199.99 / AU$329.95 |
| Supported Resolutions: | 4K 30FPS / 1440P 30FPS / 1080p @ 60/30/24FPS / 720P @ 60/30 FPS | 2160p60, 2160p30, 1080p60, 1080p30, 720p60, 720p30 | 1080p @ 60/30/24FPS / 720p @ 60FPS / 480p @ 30FPS / 360p @30FPS |
| Sensor: | 1/1.2" Sony Starvis CMOS sensor | 1/1.8" Sony Starvis CMOS sensor | 1/2.8 ultra-sensitive CMOS sensor with STARVIS |
| Lens: | Not specified | Elgato Premium AF lens | Not specified |
| Focus Range: | about 5 in - ∞ | 4 in - ∞ | Not specified |
| Aperture: | f/1.7 | f/2.0 | f/2.0 |
| Focal Length: | 8.5mm | 21mm (full frame equivalent) | 3.8mm |
If our Razer Kiyo Pro Ultra review has you considering other options, here are two more to consider...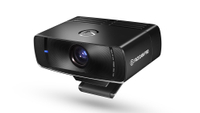 (opens in new tab)
Elgato Facecam Pro
The Elgato Facecam Pro delivers an impressive dynamic range and great noise handling. Its Elgato Premium AF lens offers fast and on-point auto-focusing in well-lit situations while the new Camera Hub gives you a slew of tools for creative exposures.
Read our full Elgato Facecam Pro review
(opens in new tab)
Razer Kiyo Pro
The Kiyo Pro is one of the best webcams on the market and is cheaper than the Kiyo Pro Ultra. The light detection sensor can run into issues, but the overall quality and recording experience ensure it's still one of the best on the market.
Read our full Razer Kiyo Pro review
Razer Kiyo Pro Ultra: Report card
Swipe to scroll horizontally
| | | |
| --- | --- | --- |
| Value | The Razer Kiyo Pro Ultra is indeed expensive. But, if you can afford it, you're getting a lot of bang for your buck. | 3.5 / 5 |
| Design | It's massive, but it doesn't feel bulky and has great features like a built-in shutter and a wide L-shaped mount. | 4.5 / 5 |
| Performance | Fantastic picture quality, near-perfect autofocusing, wide dynamic range, and a slew of customizations make this webcam among the best. | 4.5 / 5 |
| Total | If you're looking for one of the best webcams on the market, regardless of the cost, the Razer Kiyo Pro Ultra might be for you. | 4 / 5 |
First reviewed February 2023
How I tested the Razer Kiyo Pro Ultra
We pride ourselves on our independence and our rigorous review-testing process, offering up long-term attention to the products we review and making sure our reviews are updated and maintained - regardless of when a device was released, if you can still buy it, it's on our radar.