It's incredibly important these days to have one of the best business webcamss as part of your workspace.
Because more people are working from home now, video-conferencing has become more ingrained in how we handle business and meetings. So, you need a business webcam to let you be heard and seen clearly and without issue.
These webcams provide excellent quality while not being too pricey. They also come equipped with top-notch microphones that will pick up your voice like you're in the same room, with many offering noise cancellation or rejection to minimize background noise distraction.
We've compared these business webcams across various aspects, from their resolution and framerate to their connectivity options and microphone quality. We assessed the video quality in diverse lighting conditions and evaluated the efficacy of their AI features, like auto focus, facial tracking, and auto framing. We checked the quality of their microphones and pricing, among other aspects.
You can look at our best webcam list if you have more general webcam needs. And if you need more than one monitor for your work, we've reviewed the best monitors for a dual setup.
---
The best business webcams of 2023 in full
Why you can trust TechRadar Our expert reviewers spend hours testing and comparing products and services so you can choose the best for you. Find out more about how we test.
Dell's UltraSharp 4K webcam is designed for the work-from-home professional. This 4K webcam has incredible video quality, regardless of if you are in a fluorescent-lit room or a professional video studio.
The creators of this camera took inspiration from DSLR cameras to create a consistently high-quality image. Additionally, this camera is minimalist in design with its sleek cylindrical design and magnetic mounts. A magnetic camera cover can also be moved to the back of the camera when the camera is being used.
You can use the Dell Peripheral Manager to adjust various aspects of the webcam, including the resolution, framerate, and field of view.
The camera features built-in AI that can auto-frame a subject, keeping you centered and in focus even if you are moving around. Lastly, a 5x digital zoom and integration with Dell PCs allow features such as ExpressSign-in and Windows Hello.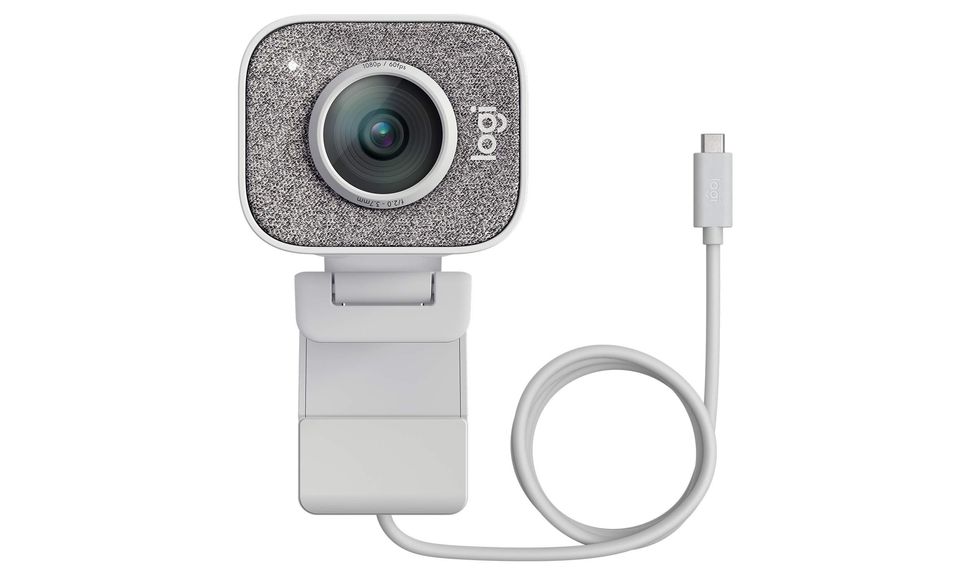 The Logitech StreamCam is a brilliant business webcam. While it's not primarily designed for business use (it is more for content creators like YouTube streamers), the fact that it offers excellent features like auto-focusing, smart exposure, facial tracking, up to 60fps frame rate, and a flippable design, means it is a great choice for professionals anyway.
It's also 1080p, so you get a clearer picture than 720p cameras, and it connects via USB Type-C, so there are faster, more stable, video transfer speeds as well.
The video output is at 60 fps and you will notice how much smoother it looks compared to typical 30 fps webcams. But keep in mind that not all conferencing software (including Google Meet) have the capability to display videos at 60 fps.
Read the full review: Logitech StreamCam
The Logitech C922 Pro Stream features the same classy design as its predecessor, the C920, but also has some key upgrades. For a start, the C922 boasts excellent 1080p video quality, which is great for hosting video calls, and its automatic low-light correction makes it a fantastic cam for streaming with the lights off.
Although it offers 60 fps recording, it's only at 720p resolution. It supports background removal, which is helpful if you're taking part in a virtual meeting and you don't want people to see what's in the background (a blessing for people working from home while their kids are off school!).
The webcam also has two omni-directional microphones for stereo audio that capture audio from many angles to create a clear and natural sound.
Should you buy the Logitech C922 Pro Stream?
If you want to really impress your co-workers and clients, then the Logitech Brio might be the webcam you've been looking for. With a 4K UHD resolution and HDR, the Logitech Brio has brought high fidelity to the world of the best business webcams. This means you can stream in crystal clear ultra high definition.
At 4K resolution, the webcam offers 30 fps, but you can move it up to 60 fps by lowering the resolution to 1080p. Want even smoother recording? Reduce the resolution to 720p and you can enjoy a framerate of 90 fps.
If you need to show off products on the stream, where broadcasting every detail is important, then this is a great choice. If that wasn't enough, it also boasts Windows Hello functionality, allowing you to securely log into your PC just by looking at the camera.
Read the full review: Logitech Brio
---
How to choose the best business webcams for you?
When searching for the best business webcams, one of the first things you'll want to look out for is the resolution. If you plan to stream high-quality video with clear details, then a high resolution camera is a must (1080p or 4K).
You'll want to consider the webcam's overall image quality, low-light performance, color and HDR functionality, and AI features (like auto-framing or facial tracking).
Check what type of connectivity options the webcam offers (USB Type-C offers faster video transfer speeds) and the quality of the microphone.
It'll also help if the webcam has background removal features, and Windows Hello functionality for swift logging in.
The best business webcams: How we test
We've tested the best business webcams on standard specs, like the resolution, framerate, connectivity options, and pricing.
We evaluated the video quality based on how clear and vibrant it looked in bright light, regular light, and low light conditions. We checked what type of AI features they had, like facial tracking, auto-focusing, auto-framing, and auto light correction.
The microphone quality is essential in webcams, so we assessed that and tested the quality of the HDR option where relevant. We also considered whether they had background removal capabilities and adjustable resolution and framerate.