If you're looking for one of the best business projectors to make your presentations stand out or to supercharge your home entertainment, then you've come to the right place.
In our list of the best business projectors, we've examined various brands and models to suit all kinds of budgets and use cases.
Having the best business projector is vitally essential if you regularly make presentations. Every device on this list can produce bright and vibrant projections that allow you to share your screen with an audience while keeping them engaged with your presentation or meeting.
Buying one of the best business projectors will mean looking for different features than purchasing a projector for entertainment. High resolutions and millions of inputs aren't as crucial as they would otherwise be.
Unfortunately, many offices often cheap out when buying business projectors or don't do enough research, leading to headaches for years to come. Please don't make this mistake: review our favorite options for your office's projector unit.
We've featured compact devices that can be popped into luggage and easily carried around with you, to feature-packed business projectors that can be installed in an office and offer a vast range of business-focused features, as well as plenty of ports for connectivity and high-end image quality.
We've compared these business projectors across various points, from their brightness and resolution to their connectivity and contrast ratio. We also looked at what projectors were great for travel and what type of projection system they relied on, among other things.
You won't just find the very best business projectors on this list – as we've also included our price comparison tool to help you find the cheapest prices without having to shop around.
---
The best business projectors of 2023 in full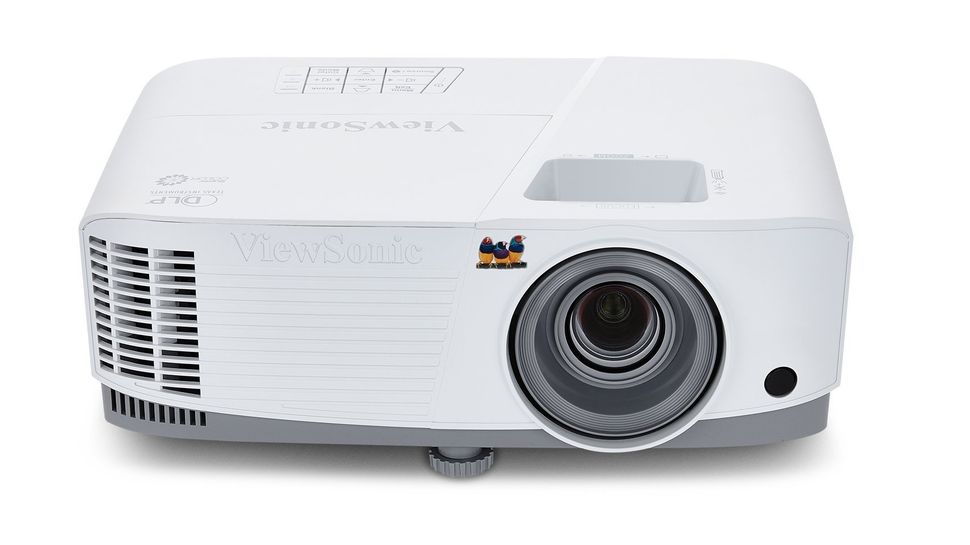 If you are a small-to-medium-sized business, and need a projector for holding presentations in small rooms, then the ViewSonic PA503S is a brilliant choice.
While its 800 x 600 SVGA resolution falls short of full HD, it is enough to display vibrant images, reports, and spreadsheets on a wall or projection screen. It's got plenty of inputs, is easy to use, and is nice and bright as well.
It also comes with a SuperEco mode that dims the brightness by up to 70%. This makes it more energy efficient (and therefore cheaper to run), while also prolonging the life of the bulb.
The PA503S has a contrast ratio of 22,000:1, and it is bright — 3800 ANSI lumens of brightness will ensure you see the details clearly even in spaces with plenty of ambient light.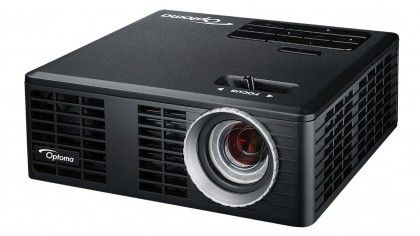 The ML750e by Optoma may not be the smallest projector we're talking about here, but it's a lot more powerful than the pocket-sized PicoPix from Phillips. It weighs in at an ultraportable 380g with a small footprint that makes this easy to carry around. The differences in size between this and the PicoPix are negligible for the power you get in return: a 700 Lumens lamp that lets you present in rooms that aren't completely darkened.
Not only is it port-rich with one MHL-ready HDMI input, a USB 2.0 slot for thumbdrives, a universal I/O slot, and a microSD card slot, but the ML550 handled our 90-inch test screen with impressive results, and peaked at a 60-inch-or-so size.
Much like the ViewSonic PLED-W800, though, the ML750e had us grumbling because you need to buy a dongle for Wi-Fi access. which felt as arcane at the time of this projector's release as it does today. And in another moment that felt anachronistic, there is no way to work with the projector via a smartphone or tablet.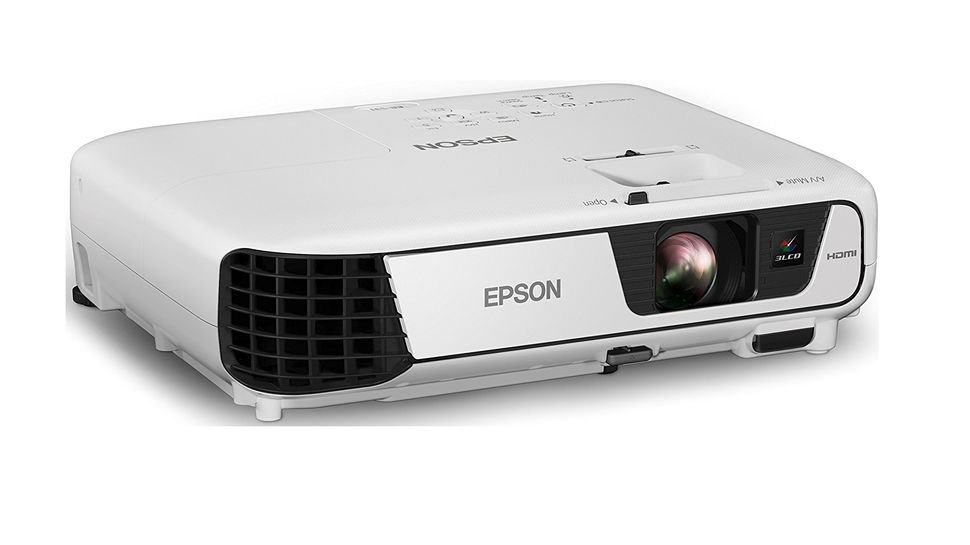 Usually when you choose a portable business projector you have to make a few sacrifices in order to have such a small device – but that's not the case with the Epson EB-S41.
Epson has an excellent reputation with business projectors, and it has brought much of its expertise to the EB-S41. Its 3,300 lumen brightness is much brighter than many other portable projectors, and means you have more flexibility when setting up the EB-S31 in environments where there is still ambient light.
The EB-S41 is small and light enough to carry around with you on business trips, but it also has a very large projection size – up to 300 inches – which makes this an incredibly versatile portable business projector.
The projector has a lifetime of around 12,000 hours, so with moderate use, you can expect it to last you up to 15 years.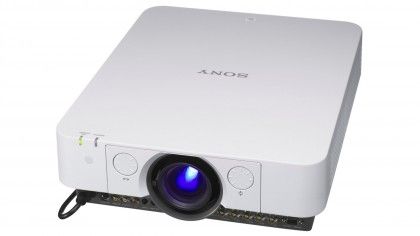 The LG Minibeam PH550G is a brilliant business projector for people who often work on the road thanks to its compact size. It's wireless as well, allowing you to connect a smartphone or tablet to it, and showcase your presentations or media quickly and easily.
This is great for impromptu meetings, and despite its small stature, it offers brilliant image and sound quality. If you're after a business projector that will wow audiences in huge keynote addresses, then this isn't the projector for you – it's relatively dim and lack resolution – but for presentations when out on the road, this is easily one of the best.
The PH550 has versatile connectivity options, including an HDMI, USB, and 3.5mm audio port. But thanks to the wireless mirroring function, you won't need to rely on cables — just your smartphone or tablet will do.

Some projector were meant to be portable – and few do it better than the Anker Nebula Capsule II Mini Projector.
About the size and shape of a can of Coca Cola, the Capsule II is very capable for its size, offering a 720p (HD) resolution and strong audio output – and a noticeable improvement on 2018's Anker Nebula Mars II. Its small size makes it a great choice for offices and board rooms where space is at a premium.
Given its size, we were pleasantly surprised to find a fully-sized HMDI port, too, rather than the mini-HDMI alternative – as well as a USB port and USB-C charging port, allowing you to power the projector while connecting to a streaming stick like the Roku Express or Amazon Fire TV Stick.
There's also 3,600 apps to make use of, all pre-built into the Android TV smart platform. However, given some tricky certification issues around Netflix, you won't get the biggest TV streaming service on there unless you connect and external device to do it for you.
Read our full Anker Nebula Capsule II Mini Projector review.

---
Frequently Asked Questions
How to choose the best business projectors for you?
When finalizing the best business projector for yourself (or the office), start with considering your projection needs, the space you have at work, and whether you'll be traveling around a lot.
If you'll be using the projector often, then it's best to invest in a high-quality device that'll offer great quality visuals for many years. You'll want to evaluate the size of the room where you're projecting and select a projector that has the right throw distance, resolution, and projection size.
For those who're often on the road, a small and compact projector will be quite convenient. Wireless connectivity features always enhance ease of use and so does long battery life.
You'll also want to assess the projector's brightness, contrast ratio, connectivity features, and overall visual quality.
The best business projectors: How we test
To test the best business projectors, we reviewed them across numerous factors.
We considered their technical specifications, like their type of projection system, resolution, brightness, contrast ratio, connectivity options, size, and weight.
We looked at their projection size, the quality of their visuals, and how clear the images were in spaces that received plenty of ambient light.
Depending on their size, weight, and performance, we classified them into projectors that were good for travel and ones that were better suited for office rooms. We also mentioned their lamp life and checked for additional features, like interactivity.