The best 4K projector 2023: top home theater beamers
Best
Contributions from
last updated
The best 4K projectors you can buy today – with some cheaper HD models too
VERDICT
REASONS TO BUY
REASONS TO AVOID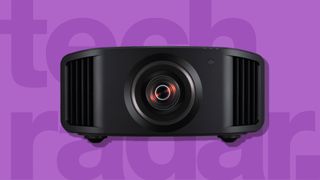 (Image credit: Future)
Editor's note: October 2023
The Epson Pro Cinema LS12000 remains our top projector choice, bringing you excellent cinematic images at a relatively affordable price. Epson also has a companion model, the LS11000, that has mostly similar specs but costs a bit less. For a budget-oriented option, the BenQ TK700STi is a solid 4K projector too, especially for gaming.

If you're looking for ultimate portability, both the Samsung The Freestyle and Anker Nebula Capsule II are fantastic options for movies on the move. And if you're looking for an ultra short throw model with built-in speakers and streaming capability, the Hisense PX1 Pro remains our top pick for that category.
Al Griffin, Senior Editor, Home Entertainment
The best 4K projectors are still the ultimate way for you to bring an immersive and dramatic home theater experience into your home – or into your backyard. These 4K marvels deliver high impact visuals while taking up much less space than a massive TV. All of the top 4K projectors in this guide are capable of beaming a much larger image than any of the best TVs (although some models like LG's G2 OLED are now available in a 97-inch screen size, which means the gap is closing).
A standard image size when a 4K projector is paired with a projection screen will bring you a huge 100 inches. However, some of the higher-end devices are capable of handling even larger screen sizes and still provide ample amounts of brightness. Portable projectors are also a fantastic option because they offer even greater flexibility, allowing you to project images as small as 40 inches depending on the space you set it up in.
Over the years, we've reviewed many of the best 4K projectors, from some of the highest-specified models on the market through to the more affordable and high-value ones. To guide you in picking the right 4K projector, we've selected the best models you can buy right now below, throwing in a few that top out at HD resolution to bring you more choice if you're working with a smaller budget.
Another advantage to the best 4K projectors we've selected below is that, unlike a gigantic 85-inch TV (or even a 65-inch model), they don't take up much room. If you're set on a portable option or a projector you'll only use now and again, take a look at our best outdoor projectors guide instead. And if you're specifically interested in ultra short throw projectors, a category that provides the benefit of built-in speakers and streaming capability, also check out our guide to the best ultra short throw projectors.
The best 4K projector 2023
Why you can trust TechRadar We spend hours testing every product or service we review, so you can be sure you're buying the best. Find out more about how we test.
The best home theater projector for most AV fans
Specifications
Projection system:
Laser 3LCD
Resolution:
3,840 x 2,160
Projection size:
50 to 130 inches
Video inputs:
2 x HDMI 2.1 (1 with eARC)
Dimensions:
20.5(w) x 7.6 (h) x 17.6 (d), inches
Reasons to buy
+
Excellent image quality
+
Highly flexible placement
+
Ready for games and film
Reasons to avoid
-
High price
-
Display only
-
Few ports
If you're looking to find one of the best 4K projectors out there, but don't want to spend the exorbitant sums that top-tier models from JVC and Sony command, look no further than the Epson Pro Cinema LS12000. This machine uses a laser light engine to shine an almost unbeatable image, making it a perfect choice for watching movies at home on a wall-mounted projection screen.
The LS12000 is a beefy (we're talking 50 pounds) projector with a 3LCD system inside. It provides powerful color and white light output, strong contrast, and no artifacts we could detect. Its immaculate picture doesn't struggle to overcome bright lighting conditions, but when we turn out all the ambient light, it steps up to simply blow us away .
There's a lot of flexibility for big rooms and even bigger rooms here, though we wouldn't recommend going all out like this for a small space. This is a serious home theater projector, and very much worth its mid-range cost.
Read the full Epson Pro Cinema LS12000 projector review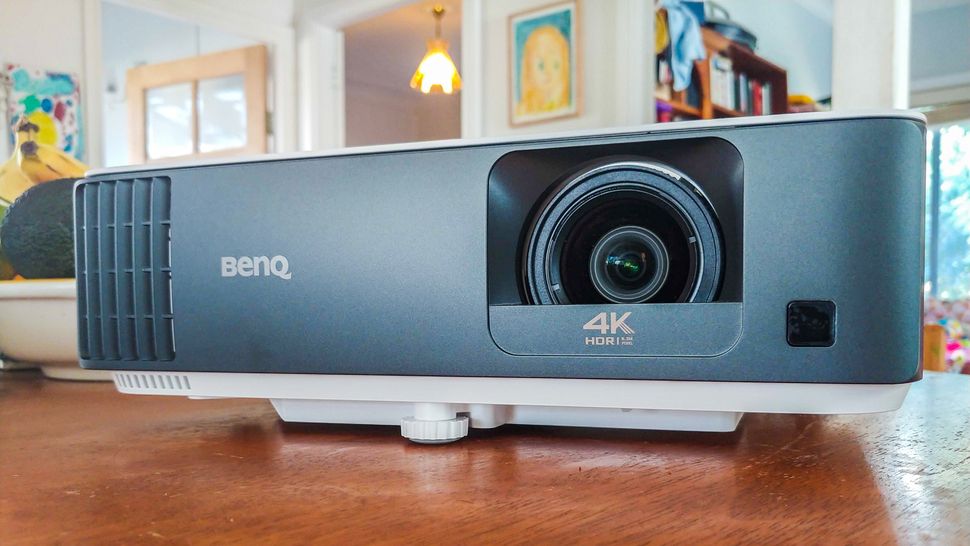 A great budget 4K projector for gaming
Specifications
Resolution:
3,840 x 2,160
Projection size:
Up to 120 inches
Video inputs:
2x HDMI 2.0 (with ARC), 1x Audio OUT, 1x USB, 1x RS-232
Dimensions:
312 x 110 x 246 mm
Reasons to buy
+
16ms input lag is brilliant for a projector
+
4K at 60Hz for premium gaming
Reasons to avoid
-
No Netflix, though that's common for projectors
-
Fiddly onboard buttons
The BenQ TK700STi is an excellent and affordable 4K projector for gaming, but we think it's also a very good choice for TV and movies too – although it's quite pricey for a projector of this specification if response times aren't important to you. It supports 4K at 60Hz with an unsurpassed 16ms response time at that resolution, which is as low as response times get in a native 4K projector. If you want up to 120 inches of bright, crystal-clear game on your wall or screen, this sets a new benchmark.
You can also push to 120Hz if you're happy settling for HD output. If you're never going to use it for gaming, though, and 4K isn't a big deal to you, you can probably settle for something less expensive.
Read the full BenQ TK700STi projector review
The best 4K projector overall
Specifications
Projection system:
Laser D-ILA
Resolution:
4,096 x 2,160 (native)
Projection size:
60 to 200 inches
Video inputs:
3 x HDMI 2.1
Dimensions:
500 x 234 x 505mm (WxHxD)
Reasons to buy
+
Unbeatable black levels
+
Superior HDR performance
+
Laser-based light source
Reasons to avoid
-
Large form factor
-
Pricey compared to most 4K projectors
-
Requires dark room for best picture
If you're looking for the best 4K projector possible for a dedicated home theater, and have a budget that lets you reach for the stars, the JVC DLA-NZ8 should be at the top of your list.
The DLA-NZ8 is the latest native 4K projector from the company, and unlike previous lamp-based generations it uses a BLU-Escent laser light source. This results in brighter images, greater consistency and a longer lifespan without compromising the black levels or increasing the fan noise. As a result, this excellent projector builds on JVC's existing strengths, expanding them in some areas and adding a host of new cutting-edge features in others.
The NZ8 is undoubtedly expensive, but the pricing of JVC's new line-up is intended to reflect the comparative cost of 4K laser projectors from Sony. Interestingly the NZ8 currently has no direct competitor, so if you want uncompromising performance, peerless HDR tone mapping, comprehensive features and a high degree of future-proofing performance, this remarkable projector is in a class of its own.
Read our full JVC DLA-NZ8 projector review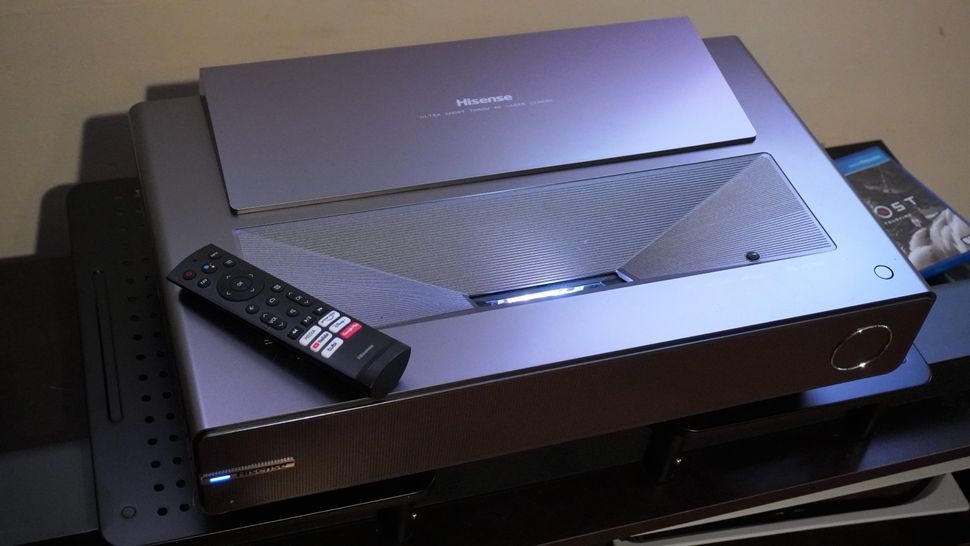 A brilliantly balanced ultra short throw projector
Specifications
Projection system:
Laser 3LCD
Resolution:
3,840 x 2,160
Projection size:
90 to 130 inches
Video inputs:
2 x HDMI 2.1 (1 with eARC)
Dimensions:
12.8 (w) x 6.3 (h) x 20.5 (d) inches
Reasons to buy
+
Compact, all-in-one package
+
Stunning picture
+
Flexible setup options
Reasons to avoid
-
Picture struggles in bright rooms
-
So-so built-in speakers
If you crave the huge screen size that projectors deliver, but don't want to use a long throw model that beams images from the back of a room, an ultra short throw (UST) projector like the Hisense PX1 Pro is just the ticket.
The Hisense PX1 Pro is a brilliant UST model that manages to squeeze itself neatly in between some serious competition. It's no budget piece of home theater gear, but it does bring a meaningful upgrade over some pricier projectors and doesn't fall too short of the ones that it undercuts in price.
Despite taking up just a small space on a shelf or media center, the Hisense PX1 Pro can beam a 90-to-130-inch picture using a triple laser light source. It's on the bright side at 2,200 lumens, and its bright picture is wonderfully complemented by its color, which comes by way of three red, green, and blue lasers. The projector's built-in speakers can handle audio in a pinch, though they're easily beaten by even a modest soundbar.
Read the full Hisense PX1 Pro ultra short throw laser projector review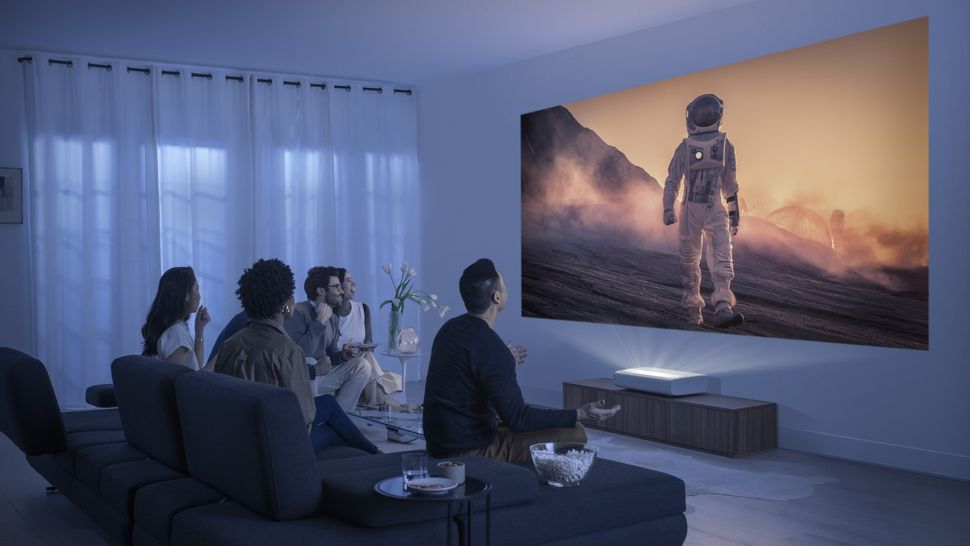 A premium ultra short throw projection experience
Specifications
Projection system:
Three-Laser DLP
Resolution:
3,840 x 2,160
Projection size:
100 or 130 inches
Video inputs:
3x HDMI, 1x RF, optical, 1x AUX Out
Dimensions:
550 x 141 x 367mm
Reasons to buy
+
Bright, colorful pictures
+
Good in light and dark rooms
+
Full TV-style smart system
Reasons to avoid
-
Some rainbow effect
-
Some iffy presets for dark scenes
-
Software can be sluggish
After more than a decade since its last home cinema projector, Samsung returned with an absolute cracker: the Premiere LSP9T projector. It's an ultra short-throw beamer that makes use of 4K HDR laser projection, and its three-color laser removes the need for a color filter. That enables the Premiere's 2,800 lumens brightness to really shine, and it's capable of producing a very impressive 130-inch image.
Pictures are punchy and colorful, and Samsung's support for the HDR10+ format adds scene-by-scene picture calibration in compatible films and TV shows. the projector also benefits from full implementation of Samsung's smart TV operating system, although we found it a bit sluggish at times.
The Premiere LSP9T is expensive, but we think it's a knockout choice for those who can afford it.
Read our full Samsung The Premiere projector review
An ultra short-throw projector that knows its worth
Specifications
Resolution:
3,840 x 2,160
Projection size:
90-120 inches
Dimensions:
6.8 x 13.7 x 5 inches
Reasons to buy
+
Excellent image quality
+
Sleek design
Reasons to avoid
-
Middling speakers for the price
Another ultra short throw projector that can sit right up to the wall, LG's CineBeam can create a massive display from only inches away. The projector's design is as sharp as its picture, with a sleek rectangular profile that can sit happily on your living room carpet or a coffee table without obstructing any of the image it's throwing up on the wall – and you can install it on the ceiling as well if you prefer.
At a distance of 2.2 inches away the projector will deliver a 90-inch screen size, while at 7.2 inches you'll get a 120-inch projection. Picture quality is good, we found during our review. However, we think you'll want to use external speakers for the soundtrack: there's a lack of detail in the high frequencies and we'd prefer a bit more low-end thump too.
Read our full LG HU85LA CineBeam Projector review
Take the cinema experience wherever you go
Specifications
Projection system:
LED DLP
Resolution:
1,920 x 1,080
Projection Size:
30 - 100 inches
Video inputs:
HDMI (micro) x 1
Dimensions:
4 x 6.8 x 3.7 inches (w x h x d, w/ stand)
Reasons to buy
+
Great portability
+
Handy suite of built-in apps
+
Impressive auto adjustment
+
Decent brightness
Reasons to avoid
-
Sluggish navigation
-
Occasional autofocus issues
-
Some random restarts
-
Auto keystone can be fussy
With the portable The Freestyle projector, Samsung provides almost everything you need for a night of entertainment, bringing the smart TV experience to any surface it's aimed at. It offers access to all of your favorite streaming services, a powerful 360° built-in speaker with smart assistant support, and even mobile mirroring functionality – all you need to provide is a power source (either via a nearby wall socket or a compatible power bank) and a Wi-Fi connection (or, failing that, a mobile hotspot).
Approachability is key for mainstream acceptance of any new product, and Samsung has nailed this aspect with The Freestyle. Simply put, any projector which is ready to go within minutes of being taken out of the box is a triumph of design and engineering, and should be celebrated.
Read the full Samsung The Freestyle projector review
The ultimate home theater on the go – though you won't get 4K
Specifications
Resolution:
1,920 x 1,080
Brightness:
800 lumens (plugged in), 600 lumens (on battery)
Projection size:
30-300 inches
Video inputs:
1x HDMI 2.0, 1x USB 2.0
Dimensions:
113.5 x 145 x 171.5mm
Reasons to buy
+
Bright pictures, even on battery
+
Great portability
Reasons to avoid
-
Video noise in dark scenes
-
Aggressive autofocus
The XGIMI Halo is a great shout for anyone after a portable projector that can deliver reasonably good picture quality while running on batteries. This stylish, compact, and capable projector is easy to take with you on the go, with built-in 5W speakers and 1080p / Full HD resolution to offer both sight and sound.
Although the Halo is capable of 800 lumens of brightness, that drops to 600 lumens when you're running on battery power in order to prolong battery life. That's fine for dark outdoor settings, where it lasts long enough for an average length movie, but for more serious use you're going to want to keep it plugged into power. We wouldn't recommend this one for serious home theater enthusiasts, though: there's noticeable noise in the dark scenes, and the brightness isn't great for a real home cinema experience. You won't find native Netflix support either, something that also applies to the XGIMI Horizon Pro.
We think the portability of this projector compensates for the brightness and resolution: the USP here is the go-anywhere ability, and while it's hardly up there with an 8K TV it's perfectly good for showing sports or movies outdoors. If that flexibility matters to you, the XGIMI Halo will prove a worthy choice.
Read our full XGIMI Halo review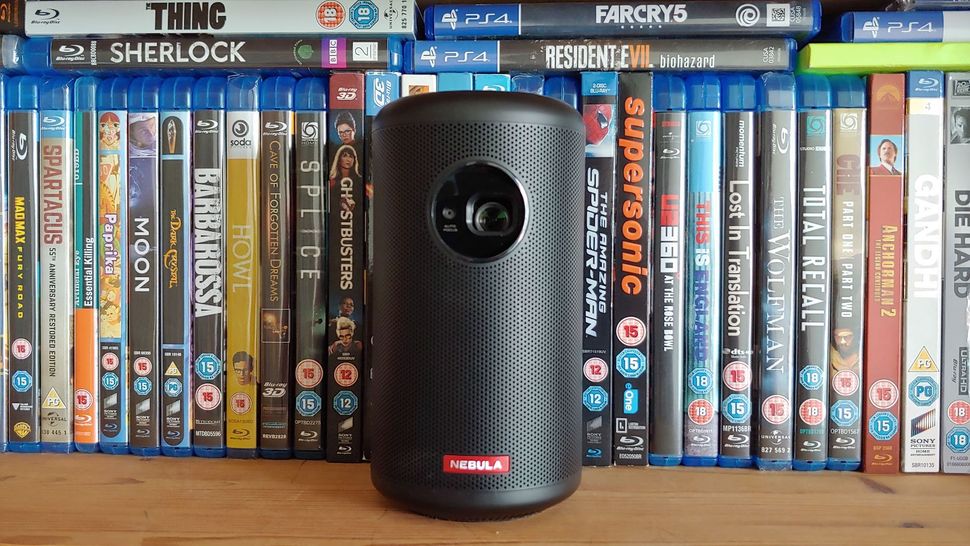 A tiny, quality home cinema projector that doesn't cost much
Specifications
Projection size:
Up to 100 inches
Video inputs:
1x HDMI, 1x USB
Dimensions:
3.15 x 3.15 x 5.9 inches
Reasons to buy
+
Android TV built-in for plenty of apps
+
Full-size HDMI port, despite its size
Reasons to avoid
-
Dim output ruins dark scenes
-
Netflix must be sideloaded
Some projector were meant to be portable – and few do it better than the Anker Nebula Capsule II Mini Projector. This tiny projector is roughly the size of a can of Coke, and we think it looks more like a battery pack for a piece of AV equipment than a projector. But looks can be deceiving, and the Capsule II is very capable for its size. It delivers a 720p (HD) resolution and strong audio output – which is noticeably better than 2018's Anker Nebula Mars II – and while it can't compete with the more premium 4K HDR models listed in this guide it's an excellent little portable projector.
Given its size, we were pleasantly surprised to find a fully-sized HMDI port, too, rather than the mini-HDMI alternative – as well as a USB port and USB-C charging port, allowing you to power the projector while connecting to a streaming stick like the Roku Express or Amazon Fire TV Stick. If you're looking for a go-anywhere projector we think you'll like it a lot.
Read our full Anker Nebula Capsule II Mini Projector review
A stunning portable projector – in the right situations
Specifications
Resolution:
1,920 x 1,080
Projection size:
Up to 120 inches
Video inputs:
1x HDMI 2.0, 1x USB 2.0
Dimensions:
192 x 192.2 x 54.5 mm
Reasons to buy
+
Stunning design
+
Doubles as a Bluetooth speaker
Reasons to avoid
-
A bit dim
-
Sound could be punchier
The Anker Nebula Solar Portable is a compact and stylish mini-projector that delivers in almost every area. Its sleek design won't look out of place on a shelf in your living room between uses, and it's small enough to fit easily into a drawer for storage or in a backpack or tote bag if you want to use it away from home.
The battery life is around three hours, which is enough for pretty much everything shorter than The Batman. It also has a USB-C power port so you should be able to get more viewing time by connecting a portable power bank.
While the picture quality is pretty much what we'd expect at this price and in a projector this size, we'd have liked a bit more brightness for rooms that aren't in complete darkness. But that's a minor complaint and this is still a sleek, smart gadget with a few tricks up its sleeve – including Bluetooth speaker functionality that switches off the projection and just brings the tunes.
Read our full Anker Nebula Solar Portable review
A portable projector that's a great marriage of form and function
Specifications
Resolutions:
1,920 x 1,080
Projection size:
Up to 100 inches
Video inputs:
2x HDMI (1x MHL)
Dimensions:
498 x 141 x 331mm
Reasons to buy
+
Gorgeous design
+
Great picture for the size
Reasons to avoid
-
Only Full HD
-
Too much lag for gaming
While films and sports look brilliant on a big screen, do you really want to watch the daily news roundup on a 100-inch panel? This is where smaller and lighter projectors come in. The Epson EF12 is both compact and attractive, features that work in its favor whether it's being used or stashed away on a shelf.
The EF12, or rather the Epson EpiqVision Mini EF12 Smart Streaming Laser Projector (to give it its full name), is a compact cuboid system that's incredibly easy to set up. Of projectors with this kind of form factor, we think that the EF12 is one of the best looking. Decked out with a textured base, of the type you'd find on the grip of a high-end DSLR camera, it oozes a real feeling of quality.
The laser-powered picture is colorful and clear, with a distinct lack of blurring in fast-moving images. But as great as it is for sports and films, we think that gamers will be disappointed by the long lag, which makes many games unplayable. On paper, it outputs at just 1,000 lumens, but don't let that put you off – we found that it looks significantly brighter than the spec sheet suggests. The EF12 is also extremely power-efficient, drawing around a third of energy when compared to its competitors.
Read our full Epson EF12 EpiqVision Mini review
What to look for in a projector
You've made up your mind: a projector is the perfect AV solution for you. So how do you choose one?
Cost is important, of course. But it's best to start at the other end and ask, what is it that you want the projector to do? Is it something you want to take out in the garden on summer nights, or is it a projector for a comfy home cinema room? Will it live in darkness, or will you want to use it in brightly lit rooms? What do you want to connect it to?
If you're going down the home cinema route, you're generally looking at more premium projectors with 4K resolution, HDR, high contrast and high light output from LED or laser. More portable devices tend to cut a few corners in favour of portability and practicality.
The first thing to consider is how far away the projector is going to be. For smaller spaces short throw projectors are great: you can place them fairly close to a screen or a wall and get good results. They're not ideal for really big projections, however. For that you'll want a long throw projector. They sit much further back – so you'll need to think about where you'll put yours and how you'll connect it – but can project much bigger videos.
The next feature is light output, and how that light is created. Brightness is typically measured in lumens, and the bigger the number the brighter the output. Under 3,000 is fine for darker rooms or night viewing but for bright environments you'll want high output.
There are three kinds of light source. Bulbs, LEDs and lasers. Bulbs are the oldest and cheapest technology, but they can generate a lot of heat and bulbs will need replaced fairly often.
LEDs tend to be a little brighter and a lot more accurate, and they don't generate the same amount of heat so they last much longer – typically 20,000 hours of viewing. LED projectors can be made much smaller than lamp-powered ones.
Lasers are better still, with a similar lifespan to LED but much better brightness. However, they generally cost more too.
Finally, there's the consideration of whether or not to use a dedicated projection screen. A screen is crucial for getting optimal performance from your projector, whether it's a regular or portable model. When shopping for a screen, however, you'll discover there's an almost bewildering array of options, so check out our five things to consider when shopping for a projector screen guide to learn more about screen types and how to select the perfect one for your setup.
Do I need a 4K projector?
If you're not convinced by any of the 4K projectors in this list, it may be worth weighing up the pros and cons of competing technologies.
A standard flatscreen television is generally a simpler affair: you put it in your home, on a wall or stand, and it stays there. It's a set screen size, and will offer the likes of 4K resolution or HDR at a cheaper price point than a projector.
Projectors tend to be pricier for comparative resolutions or HDR support, especially dynamic HDR – with Samsung The Premiere and the JVC DLA-NZ8 being the only existing beamers with HDR10+.
However, the compact form and flexibility that a projector affords does make it a better choice in a lot of cases,and the ultra-large, cinematic image they can provide makes them well worth the investment for die-hard movie fans.
How important is ultra short throw?
Many new 4K projectors these days come with ultra short throw technology, which vastly reduces the distance needed between the projector and the wall or screen surface it's projecting onto.
The laser light module used for this creates crisp images, though it does ramp up the price from a non-laser long-throw model, or even regular 'short throw' which sits somewhere between the two.
Ultra short throw (or 'UST') is certainly a great space-saving measure, keeping your projector in the same position as you might put a TV, and meaning you don't need to install a projector into your ceiling. With UST, people moving around a room are less likely to block images too. These models also pack better built-in audio than other projector types, along with built-in streaming capability for popular apps.
How big should my 4K projector picture be?
An age-old question. It really comes down to how big a picture you can fit in your home. A standard projection screen size is 100 inches, though larger – in some cases, much larger – and also smaller screens are also available. It's well worth measuring the wall you have at home, and checking whether the projector you plan to buy can beam an image at the size you have in mind from the distance where you plan to install it.
Some high-end models like the LG CineBeam range can go up to image sizes of 300 inches, and down to just 40 inches – making them flexible devices that can be housed in various parts of your home.
Are 4K projectors as good as 4K TVs?
Yes, with some important caveats. The biggest one is that projectors are not usually as bright as TVs, and as a result they really struggle in brightly lit rooms: the more light there is, the less vivid your projected images will be. Projectors are best suited to home cinema setups rather than sunny living rooms.
The second consideration is cost. 4K projectors aren't coming down in price as quickly as TV panels are, and that means you'll usually pay more for a good quality 4K projector than for a good quality 4K TV.
That said, if you're looking for a big picture then the price differences start to disappear. 4K TVs become very expensive at their largest sizes, and projectors effortlessly deliver bigger images than even the biggest mainstream TVs.
Another thing to consider is refresh rate, and again that's something TVs tend to be better at – so if you're buying for gaming, you'll get a smoother performance from a 120Hz TV with a fast response time than you'll get from a similarly priced projector. And you're more likely to find HDMI 2.1 ports with gaming-friendly features in a TV than in a projector.
Will a projector play Netflix, Disney Plus and the rest?
The short answer is yes, but the specifics vary from device to device.
Higher-end long throw projectors are generally "dumb" displays, with no built-in smart TV interface or ability to stream video directly. That's because they're usually the main video component in an AV system that uses a receiver and separate speakers for audio, with the receiver sending video directly to the projector, and audio to the speakers.
But some of today's projectors, particularly UST models, are as capable and connected as any smart TV, with many models running Anroid TV or another TV OS and offering streaming apps from big-name services such as Prime Video or Disney+ pre-installed. All you need to do is log in with your account details and you can use the app just as you would on a TV.
For projectors where that isn't the case you usually have three options: you can connect a device such as a laptop or Apple TV via the HDMI connector, run the streaming app on that and send its video to the projector; you can put a streaming stick such as an Amazon Fire TV Stick into the HDMI port and use that as your video source; or you can stream wirelessly from a device such as a laptop, Chromebook, phone or tablet. The two main standards for easy streaming are Google's Chromecast, which is in Android devices and the Chrome browser, and Apple's AirPlay 2, which is in iPhones, iPads and Macs.
When you stream, you're usually streaming video and audio simultaneously – which is fine if your projector has speakers that you want to use. If not, your projector or your streaming device may enable you to send audio to wireless Bluetooth speakers or a soundbar at the same time as you watch the video.
Sign up to receive daily breaking news, reviews, opinion, analysis, deals and more from the world of tech.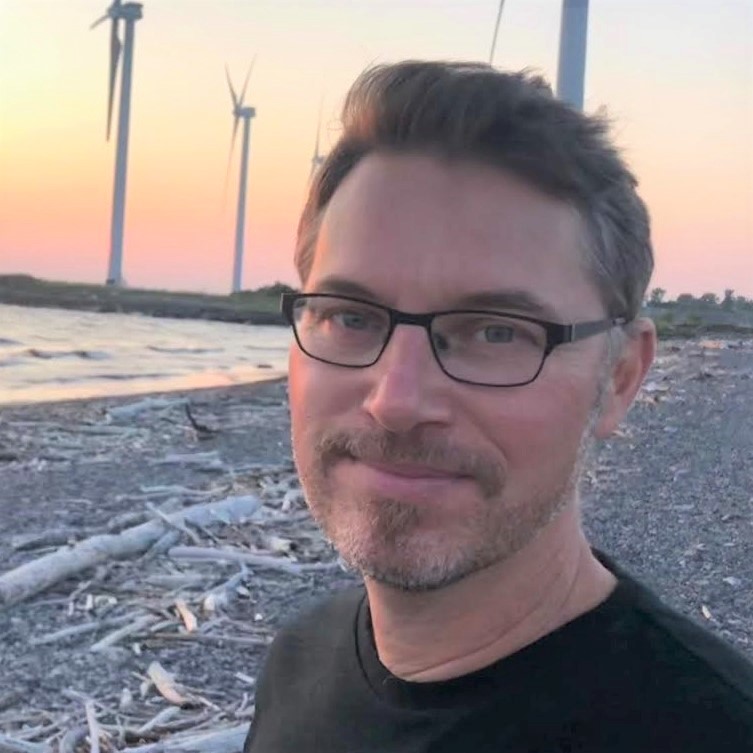 Senior Editor Home Entertainment, US
Al Griffin has been writing about and reviewing A/V tech since the days LaserDiscs roamed the earth, and was previously the editor of Sound & Vision magazine.
When not reviewing the latest and greatest gear or watching movies at home, he can usually be found out and about on a bike.