Editor's note: January 2023
In the most recent update to our guide we've added the Hisense PX1 Pro ultra short throw projector, which slots in at number six on our best 4K projectors list. The ultra short throw (UST) category, which provides viewers with a cinematic 100-inch or larger image with only a minimal living space outlay, has been growing rapidly, and you can expect to see additional UST projectors added as we move further into 2023.
Al Griffin, Senior Editor, Home Entertainment
One of the best 4K projectors are still the ultimate way for you to bring an immersive and dramatic home theater experience into your home – or into your backyard. These technical 4K marvels deliver bags of impact, while taking up much less space than a massive TV would, which always dominates your home and can't be packed away half as easily. All of the top 4K projectors in this guide are capable of beaming a much larger image into your home than any of the best TVs (although with some models, like LG's G2 OLED now available in a 97-inch screen size, which means the gap is closing).
A standard image size when a 4K projector is paired with a projection screen will bring you a huge 100 inches. However, some of the higher-end devices are capable of handling even larger screen sizes and still provide ample amounts of brightness. But portable projectors are also a fantastic option because they offer even greater size flexibility, allowing you to project images as small as 40 inches if that's all you have space for on your wall. With one of the best 4K projectors, you're getting massive, bright and beautiful images that provide an immersive viewing experience but without the bulkiness of a massive TV.
Over the years, we've reviewed many of the best 4K projectors, from some of the highest-specified models on the market through to the more affordable and high-value ones. To guide you in picking the right 4K projector for you, we've selected the best 4K projectors you can buy right now below, throwing in a few that top out at HD resolution that will hopefully bring you more choice if you're working with a smaller budget.
The best 4K projectors we've selected below are all worth considering, especially if you want to create a minimalist home or just don't want a gigantic 85-inch TV (or even a 65-inch model) taking up room and leaving a big, empty space when they're turned off. If you'd like a portable option or a projector you'll only use now and again, take a look at our best outdoor projectors guide instead.
The best 4K projector 2023
Why you can trust TechRadar Our expert reviewers spend hours testing and comparing products and services so you can choose the best for you. Find out more about how we test.
The JVC DLA-NZ8 is the latest native 4K projector from the company, and unlike previous lamp-based generations it uses a BLU-Escent laser light source. This results in brighter images, greater consistency and a longer lifespan without compromising the black levels or increasing the fan noise. As a result, this excellent projector builds on JVC's existing strengths, expanding them in some areas and adding a host of new cutting-edge features in others.
The NZ8 is also very expensive, although the pricing of JVC's new line-up is intended to reflect the comparative cost of 4K laser projectors from Sony. Interestingly the NZ8 currently has no direct competitor, so if you want uncompromising performance, peerless HDR tone mapping, comprehensive features and a high degree of future-proofing performance, this remarkable projector is in a class of its own.
Read our full JVC DLA-NZ8 projector review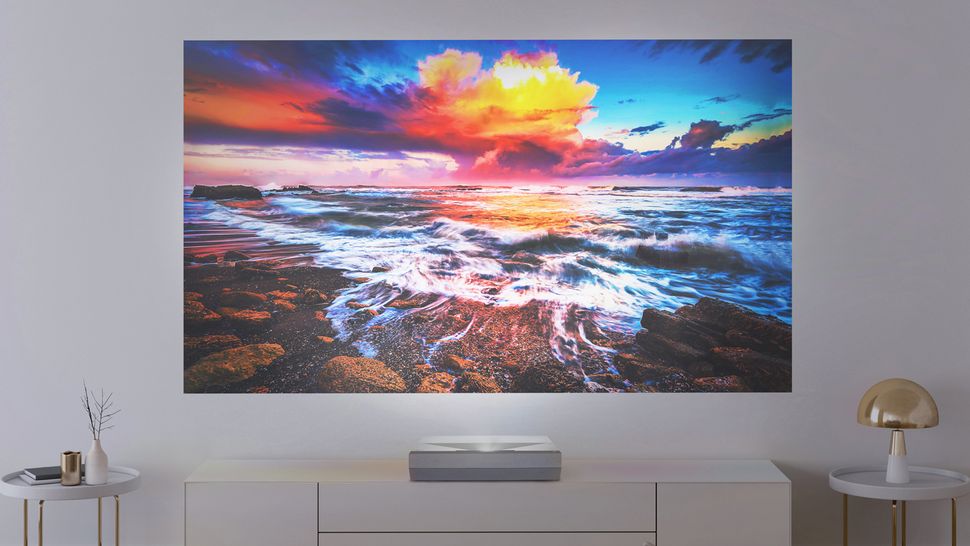 The Optoma CinemaX P2 is unusually good looking for a projector thanks to its stylish matte white finish, complementary grey fabric grille and a peekaboo lens up top. But there's substance here too.
It's built around a single chip DLP 4K device that uses a laser light engine. That results in pin-sharp pictures (no chance of any panel alignment issues here) and excellent color vibrancy, although we think it's actually a little less vibrant than its predecessor. But in the positive column the P2's audio performance is top notch. Each driver has its own 10W digital amp module, so that's a cumulative output of 40W. With the sonic chops of a large Bluetooth speaker, it's more than loud enough to disguise its operating noise, which is a low 26dB.
This isn't quite a cinephile grade projector. However, we think that the convenient form factor and fantastic audio performance should be ample compensation.
Read the full Optoma CinemaX P2 review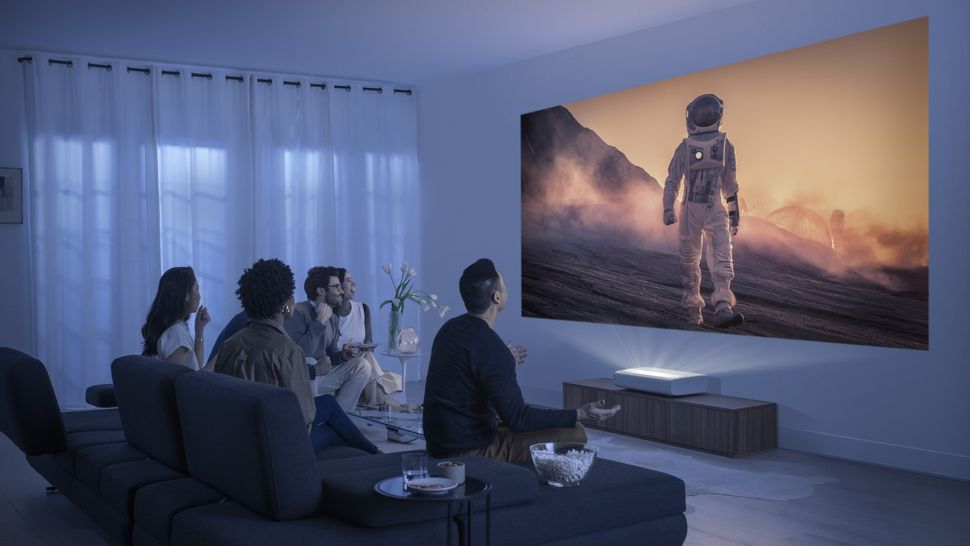 After more than a decade since its last home cinema projector, Samsung returned with an absolute cracker: the Premiere LSP9T projector. It's an ultra short-throw beamer that makes use of 4K HDR laser projection, and its three-color laser removes the need for a color filter. That enables the Premiere's 2,800 lumens brightness to really shine, and it's capable of producing a very impressive 130-inch image. Pictures are punchy and colorful, and Samsung's support for the HDR10+ format adds scene-by-scene picture calibration in compatible films and TV shows.
This projector also benefits from full implementation of Samsung's smart TV operating system. Although we found it a bit sluggish at times, it's nice to have it on a projector instead of the basic and poorly-organized interfaces we're used to.
It is expensive, but we think the Samsung is a knockout choice for those who can afford it. For everyone else, there's plenty of other great models in the guide below.
Read our full Samsung The Premiere projector review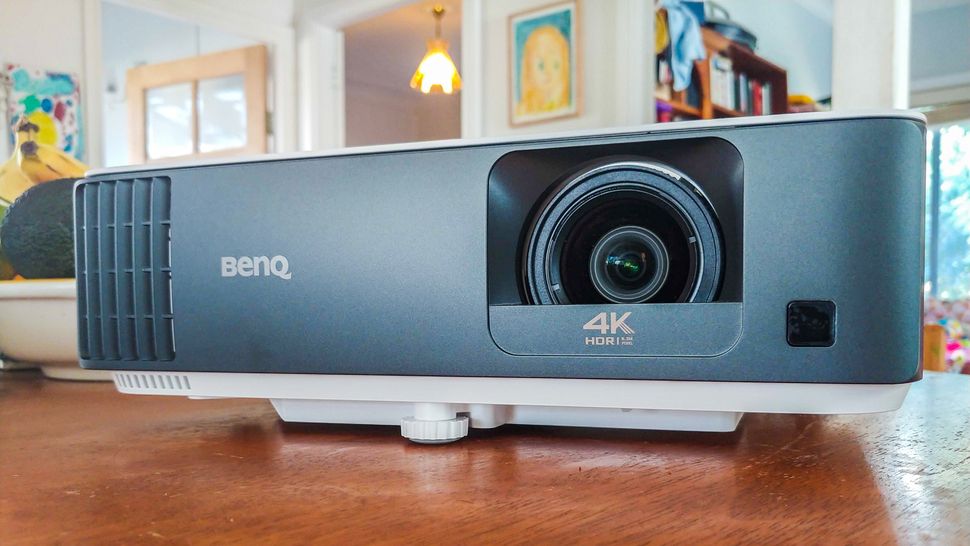 The BenQ TK700STi is an excellent projector for gaming, but we think it's also a very good choice for TV and movies too – although it's quite pricey for a projector of this specification if response times aren't important to you. It supports 4K at 60Hz with an unsurpassed 16ms response time at that resolution, which is as low as response times get in a native 4K projector. If you want up to 120 inches of bright, crystal-clear game on your wall or screen, this sets a new benchmark.
You can also push to 120Hz if you're happy settling for HD output. If you're never going to use it for gaming, though, and 4K isn't a big deal to you, you can probably settle for something less expensive (like the Optoma UHD38).
Read the full BenQ TK700STi projector review
If you're looking to find one of the best 4K projectors out there, you don't have to look further than the Epson Pro Cinema LS12000. This machine is delivering powerful technology that shines an almost unbeatable image. It comes at a predictable high price, though, and Epson has gone all-in on the picture-side of the equation, leaving you to fend for yourself when it comes to video sources and audio.
The LS12000 is a beefy (we're talking 50 pounds) laser projector with a 3LCD system inside. This combination provides a bright light source for both color and white output, powerful contrast, and no artifacts we could detect. It's an immaculate picture that doesn't struggle to overcome bright lighting conditions in a room and then can step up to simply blow us away when we turn out all the ambient light.
There's a lot of flexibility for big rooms and even bigger rooms, though we wouldn't recommend going all out like this for a small space. This is a serious home theater projector.
Read the full Epson Pro Cinema LS12000 projector review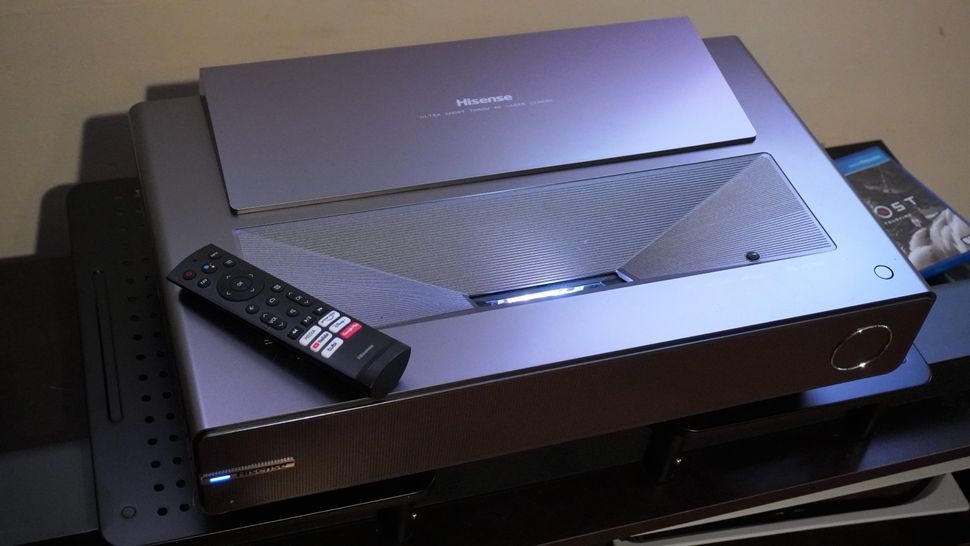 The Hisense PX1 Pro is a brilliant ultra short throw (UST) projector that manages to squeeze itself neatly in between some serious competition. It's no budget piece of home theater gear, but it does bring a meaningful upgrade over some pricier projectors and doesn't fall too short of the ones that it undercuts in price.
Despite taking up just a small space on a shelf or media center, the Hisense PX1 Pro can beam a 90-to-130-inch picture using a triple laser light source. It's on the bright side at 2,200 lumens, and its bright picture is wonderfully complemented by its color, which comes by way of three red, green, and blue lasers.
Hisense's built-in speakers will do the job in a pinch, though they're easily beaten by even a modest soundbar. However, those speakers can still come in handy as the projector is easy to move around at just a hair over 20 pounds and can adjust focus for different setups, connect to Wi-Fi, and pull content through its Android TV interface.
Read the full Hisense PX1 Pro ultra short throw laser projector review
With The Freestyle, Samsung provides almost everything you need for a night of entertainment, bringing the smart TV experience to any surface it's aimed at. It offers access to all of your favorite streaming services, a powerful 360° built-in speaker with smart assistant support, and even mobile mirroring functionality – all you need to provide is a power source (either via a nearby wall socket or a compatible power bank) and a Wi-Fi connection (or, failing that, a mobile hotspot).
Approachability is key for mainstream acceptance of any new product, and Samsung has nailed this aspect with The Freestyle. Simply put, any projector which is ready to go within minutes of being taken out of the box is a triumph of design and engineering, and should be celebrated.
Read the full Samsung The Freestyle projector review
The XGIMI Halo is a great shout for anyone after a portable projector that can deliver reasonably good picture quality while running on batteries. This stylish, compact, and capable projector is easy to take with you on the go, with built-in 5W speakers and 1080p / Full HD resolution to offer both sight and sound.
Although the Halo is capable of 800 lumens of brightness, that drops to 600 lumens when you're running on battery power in order to prolong battery life. That's fine for dark outdoor settings, where it lasts long enough for an average length movie, but for more serious use you're going to want to keep it plugged into power. We wouldn't recommend this one for serious home theater enthusiasts, though: there's noticeable noise in the dark scenes, and the brightness isn't great for a real home cinema experience. You won't find native Netflix support either, something that also applies to the XGIMI Horizon Pro.
We think the portability of this projector compensates for the brightness and resolution: the USP here is the go-anywhere ability, and while it's hardly up there with an 8K TV it's perfectly good for showing sports or movies outdoors. If that flexibility matters to you, the XGIMI Halo will prove a worthy choice.
Read our full XGIMI Halo review
We gave this beamer five stars for its impressive color reproduction, HDR support, and 2,600 lumens brightness, which deliver bright and impactful images. While this isn't a native 4K projector (something you just don't get at this price), even upscaled images are detailed and come across well, with highly natural skin stones and an impressive amount of shadow detail.
The blacks could be deeper and the motion could be smoother, but there's really little to complain about here. The EH-TW9400 boasts advanced capability all around, from its 3D compatibility to motorized lens controls that deliver excellent precision and an impressively easy setup. There's also a lens cover to prevent dust from creeping in.
The Epson EH-TW9400 is widely available in the UK, India and elsewhere, but it has a different name in the US: for that market it's called the Epson Pro Cinema 6050UB. Just keep in mind that it doesn't come with built-in speakers, meaning you are reliant on connected audio equipment.
Read our full Epson EH-TW9400 review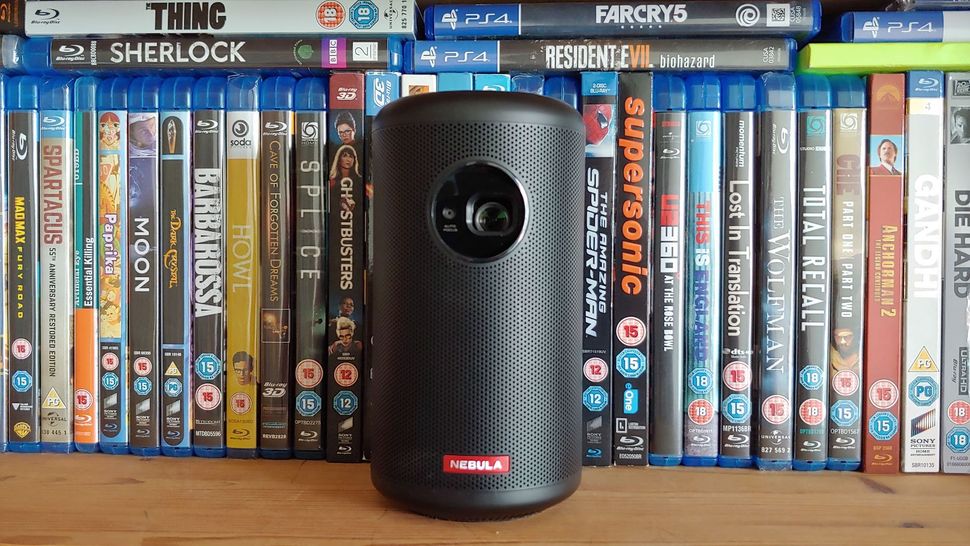 Some projector were meant to be portable – and few do it better than the Anker Nebula Capsule II Mini Projector. This tiny projector is roughly the size of a can of Coke, and we think it looks more like a battery pack for a piece of AV equipment than a projector. But looks can be deceiving, and the Capsule II is very capable for its size. It delivers a 720p (HD) resolution and strong audio output – which is noticeably better than 2018's Anker Nebula Mars II – and while it can't compete with the more premium 4K HDR models listed in this guide it's an excellent little portable projector.
Given its size, we were pleasantly surprised to find a fully-sized HMDI port, too, rather than the mini-HDMI alternative – as well as a USB port and USB-C charging port, allowing you to power the projector while connecting to a streaming stick like the Roku Express or Amazon Fire TV Stick. If you're looking for a go-anywhere projector we think you'll like it a lot.
Read our full Anker Nebula Capsule II Mini Projector review
If you need a projector that can sit right up to the wall, this ultra short-throw CineBeam projector from LG can project a massive display from only inches away. The projector's design is as sharp as its picture. It has a sleek rectangular profile that can sit happily on your living room carpet or coffee table without obstructing any of the image it's throwing up on the wall – and you can install it on the ceiling as well if you prefer.
At a distance of 2.2 inches away the projector will deliver a 90-inch screen size, while at 7.2 inches you'll get a 120-inch projection. Picture quality is good, we found during our review. However, we think you'll want to use external speakers for the soundtrack: there's a lack of detail in the high frequencies and we'd prefer a bit more low-end thump too.
Read our full LG HU85LA CineBeam Projector review
The Anker Nebula Solar Portable is a compact and stylish mini-projector that delivers in almost every area. Its sleek design won't look out of place on a shelf in your living room between uses, and it's small enough to fit easily into a drawer for storage or in a backpack or tote bag if you want to use it away from home.
The battery life is around three hours, which is enough for pretty much everything shorter than The Batman. It also has a USB-C power port so you should be able to get more viewing time by connecting a portable power bank.
While the picture quality is pretty much what we'd expect at this price and in a projector this size, we'd have liked a bit more brightness for rooms that aren't in complete darkness. But that's a minor complaint and this is still a sleek, smart gadget with a few tricks up its sleeve – including Bluetooth speaker functionality that switches off the projection and just brings the tunes.
Read our full Anker Nebula Solar Portable review
While films and sports look brilliant on a big screen, do you really want to watch the daily news roundup on a 100-inch panel? This is where smaller and lighter projectors come in. The Epson EF12 is both compact and attractive, features that work in its favor whether it's being used or stashed away on a shelf.
The EF12, or rather the Epson EpiqVision Mini EF12 Smart Streaming Laser Projector (to give it its full name), is a compact cuboid system that's incredibly easy to set up. Of all the projectors with this kind of form factor, we think that the EF12 is the best looking. Decked out with a textured base, of the type you'd find on the grip of a high-end DSLR camera, it oozes a real feeling of quality.
The laser-powered picture is colorful and clear, with a distinct lack of blurring in fast-moving images. But as great as it is for sports and films, we think that gamers will be disappointed by the long lag, which makes many games unplayable. On paper, it outputs at just 1,000 lumens, but don't let that put you off – we found that it looks significantly brighter than the spec sheet suggests. The EF12 is also extremely power-efficient, drawing around a third of energy when compared to its competitors.
Remember that this is a Full HD beamer; if you're after 4K in this form factor, then consider an LED projector such as the BenQ X1300i 4K. That model is also a cube, but it's around three times the size and weight of the EF12; it costs more and consumes three times the power, too.
Read our full Epson EF12 EpiqVision Mini review
Do I need a 4K projector?
If you're not convinced by any of the 4K projectors in this list, it may be worth weighing up the pros and cons of competing technologies.
A standard flatscreen television is generally a simpler affair: you put it in your home, on a wall or stand, and it stays there. It's a set screen size, and will offer the likes of 4K resolution or HDR at a cheaper price point than a projector.
Projectors tend to be pricier for comparative resolutions or HDR support, especially dynamic HDR – with Samsung The Premiere and the JVC DLA-NZ8 being the only existing beamers with HDR10+.
However, the compact form and flexibility that a projector affords does make it a better choice in a lot of cases,and the ultra-large, cinematic image they can provide makes them well worth the investment for die-hard movie fans.
How important is ultra short throw?
Many new 4K projectors these days come with ultra short throw technology, which vastly reduces the distance needed between the projector and the wall or screen surface it's projecting onto.
The laser light module used for this creates crisp images, though it does ramp up the price from a non-laser long-throw model, or even regular 'short throw' which sits somewhere between the two.
Ultra short throw (or 'UST') is certainly a great space-saving measure, keeping your projector in the same position as you might put a TV, and meaning you don't need to install a projector into your ceiling. With UST, people moving around a room are less likely to block images too. These models also pack better built-in audio than other projector types, along with built-in streaming capability for popular apps.
How big should my 4K projector picture be?
An age-old question. It really comes down to how big a picture you can fit in your home. A standard projection screen size is 100 inches, though larger – in some cases, much larger – and also smaller screens are also available. It's well worth measuring the wall you have at home, and checking whether the projector you plan to buy can beam an image at the size you have in mind from the distance where you plan to install it.
Some high-end models like the LG CineBeam range can go up to image sizes of 300 inches, and down to just 40 inches – making them flexible devices that can be housed in various parts of your home.
Will a projector play Netflix, Disney Plus and the rest?
The short answer is yes, but the specifics vary from device to device.
Higher-end long throw projectors are generally "dumb" displays, with no built-in smart TV interface or ability to stream video directly. That's because they're usually the main video component in an AV system that uses a receiver and separate speakers for audio, with the receiver sending video directly to the projector, and audio to the speakers.
But some of today's projectors, particularly UST models, are as capable and connected as any smart TV, with many models running Anroid TV or another TV OS and offering streaming apps from big-name services such as Prime Video or Disney+ pre-installed. All you need to do is log in with your account details and you can use the app just as you would on a TV.
For projectors where that isn't the case you usually have three options: you can connect a device such as a laptop or Apple TV via the HDMI connector, run the streaming app on that and send its video to the projector; you can put a streaming stick such as an Amazon Fire TV Stick into the HDMI port and use that as your video source; or you can stream wirelessly from a device such as a laptop, Chromebook, phone or tablet. The two main standards for easy streaming are Google's Chromecast, which is in Android devices and the Chrome browser, and Apple's AirPlay 2, which is in iPhones, iPads and Macs.
When you stream, you're usually streaming video and audio simultaneously – which is fine if your projector has speakers that you want to use. If not, your projector or your streaming device may enable you to send audio to wireless Bluetooth speakers or a soundbar at the same time as you watch the video.