Best ultra short throw projectors 2023: big, bright images from a box
The best ultra short throw projectors for your home theater
VERDICT
REASONS TO BUY
REASONS TO AVOID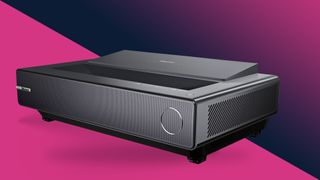 (Image credit: Hisense)
Best ultra short throw projectors: Quick menu
The best ultra short throw projectors, or UST for short, can beam an ultra-large picture from an ultra-short distance. They are designed as an alternative to standard 'long throw' projectors, which must be positioned at the back of a room to generate a large image – usually on a separate projection screen mounted on the opposite wall.
UST projectors also use a separate screen and some models are packaged with an ambient light rejecting (ALR) screen that uses a special material formulated for UST models. In a UST setup, the projector is positioned directly below the screen. The screen material filters out light coming from above, while reflecting light coming directly from the projector. This arrangement allows for UST projectors to deliver bright images even in a daylight environment or one with overhead lights.
We've rounded up the best UST projectors we've tested below. The models listed use different technologies, such as DLP and 3LCD to display pictures, but all have a laser-based light engine and a specified 4K on-screen resolution. We're sure there's a model here that suits your needs, whether it's watching movies or sports, or gaming. And if you're thinking that maybe a regular long-throw projector or even a portable model would be a better fit for your space, also check out our best 4K projectors guide.
Written by
Al Griffin is Senior Editor - Home Entertainment, US at TechRadar, and brings nearly three decades of journalism experience to the position. He is an ISF-trained video calibrator who specializes in TV and projector testing and has also written countless audio equipment reviews ranging from speakers and subwoofers to turntables. An avowed movie fanatic, he spends much of his free time holed up in his home theater, which is his preferred place.
The quick list
Want to cut to the chase and find out which ultra short throw projectors are the best? Below, you'll find a roundup of our choices. You can also jump to a more detailed review of every pick and our price comparison tool to help you find the best deals.
Best overall
1. Hisense L9G TriChroma Laser 4K TV
Best for most people
With high brightness and rich color owing to its 3-laser light engine, the Hisense L9G offers up stunning pictures out of the box. And since it comes with a 100- or 120-inch screen included, you'll have everything you need to set up a first-rate home theater.
Best budget
Best budget
Another Hisense 3-laser model, the PX1 Pro doesn't have the same brightness capability as the L9G, but its picture quality is nonetheless impressive. It also doesn't come with a screen, which is one reason why it costs less than competing models.
Best for picture
Best for picture quality
LG's top UST projector is a high-brightness model that impressed us with its picture quality. It's priced higher than much of the competition, but comes with a full range of features, including LG's webOS smart TV platform for streaming and voice control.
Load the next 3 products...
Best for sound
4. Samsung Premiere LSP9T
Best for sound quality

With its built-in Tizen smart TV platform for streaming and ability to beam bright images up to 130inches, Samsung's The Premiere is a solid UST option. What really makes it special is its audio quality, which is good enough that you can easily do without a soundbar.
Best for sports
5. Epson EpiQVision Ultra LS800
Best for sports
The Epson LS800 can project images as bright as 4000 lumens, making it a perfect choice for daytime sports viewing. It also has a relatively powerful Yamaha-designed built-in audio system that can create a convincing surround effect when its Virtual mode is enabled.

Read more below
Best for streaming
Best for streaming
With LG's webOS smart system onboard for streaming along with Google Assistant support, using the HU85LA is just like watching a regular smart TV. Its picture lacks the powerful brightness of the company's HU915QE, but its 3-laser light engine lets it deliver rich color.
The best ultra short throw projector overall
The best ultra short throw projector for most people
Specifications
Projection system:
3-laser DLP
Projection size:
100 to 120 inches
Video inputs:
3 x HDMI (1 with eARC)
Dimensions (W x H x D):
24 x 6.1 x 13.6 inches
Reasons to buy
+
Astounding visuals
+
Punchy audio
Reasons to avoid
-
Lacks setup flexibility
-
No built-in Netflix
The Hisense L9G is a revelation for the living room. This projector is packed with top-of-the-line projector features in an ultra short throw design, including a tri-color laser light engine, HDMI 2.1 ports with eARC, HDR support, an Android TV interface and powerful 40W speakers.
Hisense isn't selling the L9G as a basic projector, but rather as a laser TV with an included ambient-light-rejecting projector screen that's meant to be permanently installed on your wall. This 100- or 120-inch (varies depending on the model selected) screen will appeal to those who are fussy about image quality, as it will reduce the impact of ambient room lighting on the picture.
As good as its picture performance is, the projector stumbles in a couple of places. Its attempts to adjust brightness on a shot-by-shot basis for some content can mean its overcorrecting in a way that makes the lighting quite jarring. Its motion smoothing can also be trouble as it helps reduce panning judder sometimes but introduces some glaring motion artifacts for everything else on screen. Fortunately, the Hisense L9G has a ton of available settings to adjust these features and many more, effectively letting users dial in the display however they like.
There's no denying the breathtaking quality of the Hisense L9G, but it's a projector that takes a commitment to make sense for would-be buyers. It's definitely less of a commitment than a 100-inch TV, though, as even the affordable models are multiple times the price of the L9G.
Read our full Hisense L9G review
The best budget ultra short throw projector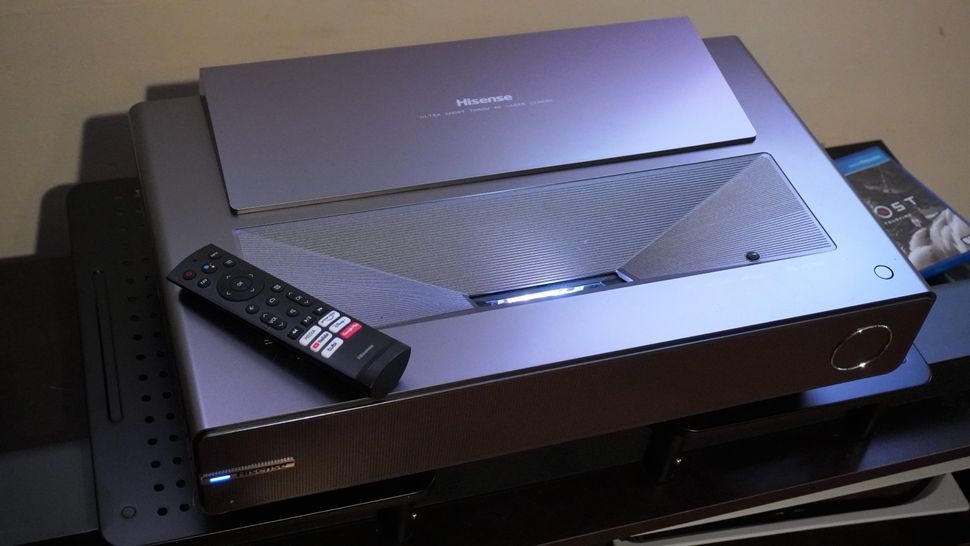 Best budget ultra short throw projector
Specifications
Projection system:
3-laser DLP
Projection size:
90 to 130 inches
Video inputs:
2 x HDMI (1 with eARC)
Dimensions (W x H x D):
12.8 x 6.3 x 20.5 inches
Reasons to buy
+
Compact, all-in-one package
+
Flexible setup options
Reasons to avoid
-
Picture struggles in bright rooms
-
So-so built-in speakers
The Hisense PX1 Pro is a brilliant UST model that manages to squeeze itself neatly in between some serious competition. It's not the cheapest projector, but it offers an excellent package of features and performance for the price.
Despite taking up just a small space on a shelf or media center, the Hisense PX1 Pro can beam a 90-to-130-inch picture using a triple laser light source. It's on the medium-bright side at 2,200 lumens, and its brightness is wonderfully complemented by its color, which comes by way of three lasers, one each for red, green, and blue. The projector's built-in speakers can handle audio in a pinch, though they're easily beaten by even a modest soundbar.
You'll need to pair the PX1 Pro with an ambient light rejecting screen to get the best performance from it, but in this case the money you save from bypassing more expensive models will set you up for success.
Read our full Hisense PX1 Pro review
The best ultra short throw projector for picture
Best ultra short throw projector for picture quality
Specifications
Projection system:
Laser DLP
Brightness:
Up to 3700 ANSI lumens
Projection size:
90 to 120 inches
Video inputs:
3 x HDMI (1 with eARC)
Dimensions (W x H x D):
26.8 x 5 x 13.7 inches
Reasons to buy
+
Excellent brightness
+
Fully featured
Reasons to avoid
-
Expensive
-
Some tedious settings
The LG Cinebeam HU915QE is a relatively new addition to the world of UST projectors, and it's a fabulous one. But at $5,999 / AU$9,999 (about £5,600), this is anything but a casual home theater purchase.
You get plenty for the money here, though. The HU915QE's massive 90- to 120-inch picture is exceedingly bright and richly colorful. Even during daytime viewing, this projector is more than bright enough to create a pleasant picture, and just a little bit of ambient light control goes a long way in allowing it to display exceptional ones.
With potent speakers, LG's handy webOS smart TV system, the convenience of a manual focus wheel, and an image that's hard to find many faults with, you'd be getting quite a lot for your money with the LG Cinebeam HU915QE.
Read our full LG Cinebeam HU915QE review
The best ultra short throw projector for sound
Best ultra short throw projector for sound quality
Specifications
Projection system:
3-laser DLP
Projection size:
100 or 130 inches
Video inputs:
3 x HDMI, 1 x RF
Dimensions (W x H x D):
21.5 x 5.5 x 14.5 inches
Reasons to buy
+
Good in light and dark rooms
+
Full TV-style smart system
Reasons to avoid
-
Some rainbow effect
-
Some iffy presets for dark scenes
After more than a decade since its last home cinema projector, Samsung returned with an absolute cracker: the Premiere LSP9T projector. It's an ultra short-throw beamer that makes use of 4K HDR laser projection, and its three-color laser removes the need for a color filter. That enables the Premiere's 2800 lumens brightness to really shine, and it's capable of producing a very impressive 130-inch image.
Pictures are punchy and colorful, and Samsung's support for the HDR10+ format adds scene-by-scene picture calibration in compatible films and TV shows. The projector also benefits from full implementation of Samsung's smart TV operating system, although we found it a bit sluggish at times.
The Premiere LSP9T's built-in sound system impresses in a number of ways. Dialogue remains correctly placed at the heart of an elevated soundstage, while specific effects are accurately positioned in the audio wall to tally up with the onscreen action. Detailing in even very complex movie mixes is good, and treble effects are delivered without harshness or clipping.
The Premiere LSP9T is expensive, but we think it's a knockout choice for those who can afford it.
Read our full Samsung The Premiere projector review
The best ultra short throw projector for sports
Best ultra short throw projector for sports
Specifications
Projection system:
3LCD with laser light source
Projection size:
Up to 150 inches
Video inputs:
3x HDMI (1 with ARC)
Dimensions (W x H x D):
27.4 x 6.2 x 13.4 inches
Reasons to buy
+
Exceptionally bright, high-contrast picture
+
Runs quietly
Reasons to avoid
-
Some connectivity disappointments
-
Color could be better for the price
There's no shortage of UST projectors turning up to stake their claim as some of the best projectors on the market right now. Epson has shown solid performance with its laser-lit 3LCD technology in various formats, and the Epson LS800 incorporates it in a powerful UST package.
At $3,499 / £3,199 (about AU$5,240), it's amazing that this Epson can deliver 4000 lumens of brightness, which proves more than enough for viewing in the daytime without covering every window with blackout curtains. Epson could have gone further with eARC support and a wider color gamut, but for what it lacks in those departments, it does a solid job making up for it by simply being usable around the clock with little fuss.
The LS800's built-in Yamaha-designed speaker setup provides a strong complement to its image. It can pack a punch, and is plenty for 200 or 300 square foot rooms. The virtual sound mode is surprisingly compelling, mixing voices, sound effects, and music with great balance while lending an impression of surround sound.
The LS800 has claimed a place for anyone who wants a simple, powerful projector that lets them beam a huge image they can view at any time of day they want.
Read our full Epson EpiQVision Ultra LS800 review
The best ultra short throw projector for streaming
The best ultra short throw projector for streaming
Specifications
Projection system:
Laser DLP
Projection size:
90-120 inches
Dimensions (W x H x D):
13.7 x 5 x 6.8 inches
Reasons to buy
+
Excellent image quality
+
WebOS is great
Reasons to avoid
-
Middling speakers for the price
-
Expensive
LG's CineBeam can create a massive display from only inches away. The projector's design is as sharp as its picture, with a sleek rectangular profile.
Picture quality is good, as we found during our review. However, we think you'll want to use external speakers for the soundtrack, as there's a lack of detail in the high frequencies and we'd prefer a bit more low-end thump too.
The projector itself uses LG's WebOS, which is the same smart interface the company uses in its TVs, and it also uses the same Magic Remote for control. WebOS is easy to navigate and, as with many other smart platforms, you can choose from a wide range of streaming services and access other features from the gallery. If you're into voice controls, you can use the remote's built-in mic to jump to different apps, change the volume, and more.
LG's projector makes use of Google Assistant too – so if you're set up in the Google ecosystem, you'll be able to control not only the projector, but also your smart home devices and so on. It's a handy touch, and helps make the already smart WebOS even smarter.
Read our full LG HU85LA CineBeam Projector review
How to choose the best ultra short throw projector
Are UST projectors good for watching TV?
The flexibility that UST projectors provide when it comes to room lighting makes them a great option for watching daytime sports. And their compact installation, with the projector positioned close to the wall where a screen is mounted, also means there will be no shadows cast by family members and friends as they walk around during commercial breaks as they would with a standard projector. That's not to say UST projectors won't look good when lights are dimmed and it's movie time. For that scenario, many models can perform equally well as their long-throw projector counterparts. Some even have the added benefit of Dolby Vision high dynamic range support, which is especially useful for movie viewing.
Are UST projectors good value?
UST projectors also work out to be great value when compared to the largest examples of the best 4K TVs, which are now sold in screen sizes up to 98-inches. While TVs that large are priced anywhere from $8,000 for a new Samsung QLED model up to $25,000 for an LG OLED, a UST projector typically sells for $2,500 to $3,500. Many UST projectors also have relatively powerful built-in speakers, and that feature adds to their value by eliminating the need – in some cases – for an external audio system.
Do I need to a screen with a UST projector?
As with any projector, a projection screen isn't required for UST projectors to work. You can also project onto a white-painted wall, preferably a smooth one that's free from cracks or other inconsistencies. Use of a dedicated screen will result in the best performance, however, and will affect important picture parameters like brightness, contrast, color accuracy, and detail.
While you can use a regular matte white screen with a UST projector, especially if you're viewing in a room with proper light-control, you'll generally get better results by using an ALR screen. An ALR screen is designed to filter out light emanating from undraped windows and lamps that would otherwise reflect off the screen's surface and reduce picture contrast. A special type of ALR screen is normally used with UST projectors that takes the additional picture-improving step of filtering out light coming from above while directly reflecting light coming from the projector positioned below. Some UST projectors such as the Hisense LG9 are even sold as a package with an ALR screen, which is typically available in a 100-inch or 120-inch size option.
Do UST projectors look as good as TVs?
For the most part, no. Even when using a screen with special material optimized for UST projectors, the image won't be as bright or have the same contrast level as what you can expect to see with the best TVs. One area of picture quality where certain UST projectors can beat TVs is color rendition. Models that use three separate lasers to transmit the red, green, and blue components of video images are generally capable of covering 100% of BT.2020 color space, which is the recommended color space standard for ultra high-definition television. The best TVs, in contrast, generally max out at 75% BT.2020 color space coverage.
Should I get a UST projector with a fixed or variable image size?
That will depend on whether or not you plan to buy a UST screen as part of a package with the projector. Models with a fixed image size – typically 100- or 120-inches – come with a matched screen, which in some ways eases setup. A projector with a variable image size will have a zoom lens that allows you to vary the size of the image. This feature will be helpful if you plan to use a screen smaller than 100-inches, or plan to use the projector in multiple locations.
Are UST projectors compatible with streaming services?
Most UST projectors feature a built-in smart TV interface, or come with a USB stick that's used for streaming. In t