The Epson LS800 pairs good color, clarity, and sound with simply stunning brightness levels for an effective package that earns a recommendation for casual viewers and budding cinephiles.
Pros
+

Exceptionally bright, high-contrast picture

+

Runs quietly

+

Flexible setup
Cons
-

No Dolby Vision or Atmos support

-

Some connectivity disappointments

-

Color could be better for the price
Why you can trust TechRadar We spend hours testing every product or service we review, so you can be sure you're buying the best. Find out more about how we test.
Epson EpiQVision Ultra LS800: one-minute review
There's no shortage of ultra short throw (UST) projectors turning up to stake their claim as some of the best projectors on the market right now. Epson has shown solid performance with its laser-lit 3LCD technology in various formats, and the Epson LS800 incorporates it in a powerful UST package.
At $3,499 / £3,199 (about AU$5,240), it's amazing that this Epson can deliver 4,000 lumens of brightness, which proves more than enough for viewing in the daytime without covering every window with blackout curtains. Epson could have gone further with eARC support and a wider color gamut, but for what it lacks in those departments, it does a solid job making up for it by simply being usable around the clock with little fuss. The Hisense L9G may still be the better option for those who don't need the flexibility, and the Hisense PX1 Pro will win for those looking for value and who are willing to invest in blackout curtains. But the LS800 has its place for anyone who wants a simple, powerful projector that lets them beam a huge image they can view at any time of day they want.
Epson EpiQVision Ultra LS800 review: price and release date
Release date: September 2022
Price: $3,499 / £3,199 (about AU$5,240)
Epson's LS800 is available for $3,499 (£3,199, about AU$5,240). The projector is available in black or white color schemes. It does not include a screen, though Epson sells its SilverFlex Ultra for $1,999 to pair with it.
Epson EpiQVision Ultra LS800 review: Specs
Swipe to scroll horizontally
| | |
| --- | --- |
| Screen sizes supported: | up to 150 inches |
| Brightness (specified): | 4000 lumens |
| HDR support: | HDR10, HLG |
| Optical technology: | 3LCD, Laser light source |
| Smart TV: | Android TV |
| Connections: | 3xHDMI (1 with ARC), 2 x powered USB, optical digital audio output, 3.5mm audio output |
| Dimensions: | 27.4 x 6.2 x 13.4 inches (W x H x D) |
| Weight: | 27.6 pounds |
Epson EpiQVision Ultra LS800 review: design and features
Decent, though not elegant, looks
Adequate selection of ports, but lacks Wi-Fi 6, Ethernet, and eARC
Focus dial and brightness control are handy
Like the rest of the recent generation of ultra short throw projectors, the LS800 has a subtle design that's aimed at blending in with its surroundings for a subdued-looking entertainment center. It doesn't demand the same kind of attention as a 100-inch TV sitting against the wall when it's powered off, but it does when it's powered on.
Continuing the similarities, fabric wraps around the Epson's front in much the same way as the Hisense L9G and LG CineBeam HU915QE. Where the L9G offers a somewhat futuristic feel and the HU915QE has a vintage style, the LS800's look manages to land kind of flat. The fabric wrap around the corners doesn't even hit a smooth curve, instead running along a series of small angles. Overall, it detracts slightly from the elegance of the unit. Fortunately, it's not a glaring centerpiece for the living room, so its underwhelming aesthetics don't become an eyesore.
The projector measures just 27.4 inches across and 13.4 inches deep. More impressively, it's only 6.2 inches tall. It's bigger than a soundbar, but fits in under a screen just like one. At 27.6 pounds, it's also easy to move around.
Three adjustable legs — two in the front corners and one in the middle at the back — support the LS800, screwing in and out to raise or lower sections. I found this to be generally effective for getting the image square to a screen, but it required a bit of fuss. Having four adjustable legs would have allowed more options for compensating for uneven floors and tilted screens. Ultimately, any imperfections in alignment are remedied by the projector's digital keystone correction and multi-point adjustments, though using these digital adjustments effectively crops away some of the usable image.
The LS800 has an exceptional short throw range, needing very little space between it and a wall to get a huge image. With its front situated just 17.3 inches from a wall or screen, it can project a 100-inch picture. That leaves just a 4.1-inch gap between the projector's rear and the wall behind it. By contrast, the Hisense L9G leaves an 11-inch gap when projecting the same size image.
Around the right side, a sneaky panel covers up the Epson's ports and the manual focus dial. The panel is made of two parts, allowing for the port-cover component to detach fully in case you're using lots of external connections or streaming dongles and can't fit them all into the small compartment.
Like many of its contemporaries, the LS800 lacks any lens cover. That means there's no convenient way to protect the lens from settling dust or — worse — curious cats looking for somewhere to lounge. Epson did consider how to protect users from the powerful lasers inside the LS800, though. The system has an aggressive eye-protection system that blacks out the screen when anything gets too near, and it resumes projection just as quickly as it dims once it senses no one is near. This is a step up from the system on the Hisense L9G, which can be slow to react and even slower to revert back to full light output.
The projector has three HDMI ports, with one meant for gaming and one offering HDMI ARC support. Notably, HDMI eARC is not supported. There are optical audio and 3.5mm analog audio outputs as well.
The LS800 runs on Android TV, offering up a host of streaming apps right on the device. Netflix is predictably missing — an issue that's common among many projectors — but that's the only glaring omission. Unfortunately, the projector relies on the dated Wi-Fi 5 standard, which could result in a suboptimal streaming experience. The enhanced bandwidth and stability of Wi-Fi 6 would have been a welcome improvement for ensuring high-bitrate streaming, especially since there's no Ethernet port. Connectivity issues were intermittent throughout testing, but notable given the projector was connected to a router separated only by a single wall and no more than 20 feet.
Design and features score: 3.5/5
Epson EpiQVision Ultra LS800 review: picture quality
Brightness and contrast are a huge plus
Color is strong but not stunning
Good built-in sound system
The LS800 doesn't have all the video bells and whistles of some of its competitors. It notably lacks Dolby Vision, opting instead for just HDR10 and HLG support. While some projectors we've tested have received upgrades to add Dolby Vision after release, we doubt the LS800 will get the same treatment. Epson also isn't boasting the widest color gamut for this projector. But what it may lack in those departments, it makes up for in terms of brightness and contrast.
Epson's projector pumps out a bright picture with up to 4,000 lumens. And that brightness applies to not just white light but also color, making for particularly consistent performance. For those sensitive to the rainbow effect from some projectors, Epson's 3LCD display technology manages to avoid this while also providing high contrast. Even in a modestly lit room, the picture is clear. Bright scenes are easy to see in any condition, and with the shades drawn for a room that's easy to see in, the projector still offers a serviceable image for very dark movies, like The Batman. Naturally, the best experience will be in a room with all the lights down.
In a dark room, the projector is so powerful it can merit turning down the brightness. Fortunately, there's a brightness control right on the remote. While watching Pitch Black, which has an opening sequence with lots of flashing lights, my viewing party was all but stunned by the strobing. Meanwhile, the projector's high contrast creates a glorious picture for bright and dark scenes alike.
Watching Avatar: The Way of Water, the projector maintained its stride with respectable color alongside ample brightness and contrast for daytime viewing. This film also showed some of the projector's limits, with its pixel-shifting system adding a little softness to Avatar 2's 4K visuals.
Color also lacked some of the vibrance that a projector like the Hisense L9G could offer with its RGB laser light source. Overall, the LS800 handles natural color quite well, but when it comes to the sizzling, almost neon, colors a movie like Avatar 2 calls for, it comes up slightly short. The contrast makes up for this slightly, with the glowing dots on the Na'vi standing out a bit more markedly in dark scenes.
The LS800's built-in Yamaha-designed speaker setup provides a strong complement to its image. It can pack a punch, and is plenty for 200 or 300 square foot rooms. With two tweeters and a subwoofer, it has a fairly full sound, though it doesn't provide the deep rumble you'll get from dedicated subwoofers in even affordable sound systems. The virtual sound mode is surprisingly compelling, mixing voices, sound effects, and music with great balance while lending an impression of surround sound. That's good news for folks planning on relying on the built-in speakers, but anyone hoping for a huge upgrade through Dolby Atmos will be disappointed by the system's lack of eARC support. You can still get Dolby Atmos if you run sources directly into an external sound system and simply pass the video through to the projector, but that makes for a more cluttered setup – exactly what UST projectors are designed to avoid.
Picture quality score: 3.5/5
Epson EpiQVision Ultra LS800 review: value
Reasonably priced for the brightness on hand
Color underperforms competition
Doesn't include a screen
At $3,499, the LS800 isn't too pricey as far as UST projectors go. It cost the same as the Hisense PX1 Pro at $3,499 (about £2,850, AU$5,035) and is quite a bit cheaper than the $5,999 (AU$9,999, about £5,600) LG CineBeam HU915QE and $5,499 (about £4000, AU$7500) Hisense L9G. And despite the pricing, the Epson is substantially brighter than both Hisense models and even edges out the LG. (It's worth noting that the L9G comes with a special screen that can account for the price difference.)
While its color may underperform here, it's still a strong option, especially for those looking to do a lot of daytime viewing in rooms with little or no ambient light control.
Swipe to scroll horizontally
Epson EpiQVision Ultra LS800

| Attributes | Notes | Rating |
| --- | --- | --- |
| Design and features | Serviceable looks and features, but also a few dated elements that are hard to excuse | 3.5/5 |
| Picture quality | Brightness and contrast go a long way, but richer color and a sharper picture could have really elevated things | 3.5/5 |
| Value | With great brightness for the money and decent sound, the LS800 drives a hard bargain, especially for those concerned about ambient light | 4/5 |
Should I buy the Epson EpiQVision Ultra LS800?
Buy it if...
You need a bright picture for daytime viewing
The LS800's ultimate strength is its bright picture. It looks stunning in a dark room, and is plenty viewable in a well-lit one. If you can't be bothered to draw the curtains, this one's for you.
You want a compact setup
The LS800 has a fantastically short throw, even by UST standards, so you can keep it snug against your wall or projector screen and still enjoy a huge picture.
You want flexibility
Between its quick adjustment for brightness and its manual focus dial, the LS800 makes it easy to adapt to different setups and conditions. Often, these settings get buried a little deeper on UST projectors, and some models like the Hisense L9G don't even offer a focus adjustment.
Don'y buy it if…
You don't have space for a huge picture
Because the LS800 has such a short throw, it's almost impossible to get a small picture. If you're thinking you'd want a sub-80-inch image, this one won't be for you.
You're projecting onto an imperfect wall
The shorter the projector's throw, the more bumps, curves, and cracks in a wall stand out. Since the LS800 has an especially short throw, you'll want to be sure it's shining onto an especially smooth surface, ideally a projection screen.
You're not particular about 4K resolution
Even though it's a little lacking in sharpness, some of what you're paying for with the LS800 is 4K support. Epson also offers the LS300, which is only a little dimmer while being much cheaper and providing a similar sound system. The throw ratio isn't quite as short though.
Also consider...
Swipe to scroll horizontally
Comparison: 4K UST projectors

| | Epson LS800 | Hisense PX1 Pro | Hisense L9G | LG CineBeam HU915QE |
| --- | --- | --- | --- | --- |
| Price: | $3,499 | $2,999 | $5,499 | $5,999 |
| Screen sizes supported: | up to 150 inches | 90 to 130 inches | 100 inches | 90 to 120 inches |
| Brightness (specified): | 4,000 lumens | 2200 lumens | 3,000 lumens | Up to 3700 ANSI lumens |
| HDR support | HDR10, HLG, | HDR10, HLG, Dolby Vision | HDR10, HLG, Dolby Vision | HDR10, HLG |
| Optical technology: | 3LCD, laser light source | 3 Laser DLP | 3 Laser DLP | 3 Laser DLP |
| Smart TV: | Android TV | Android TV | Android TV | webOS |
| Connections: | 3x HDMI 2.0 (1 with ARC) | 2x HDMI 2.1 (1 with eARC) | 2x HDMI 2.1, 1x HDMI 2.0 (with eARC), 1x RF, optical | 3xHDMI (1 with eARC), 2 x powered USB, optical digital audio output, Ethernet |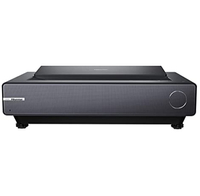 Hisense PX1 Pro
The PX1 Pro isn't as bright as the LS800, but it uses an RGB laser light source to stunning effect for rich color and a sharp 4K image. Since it's a little older, it can also be found at a discount. Its design is also a little more elegant than the Epson's while providing similar flexibility. Here's our full Hisense PX1 Pro review.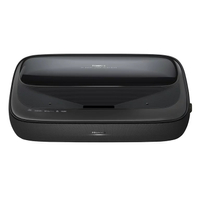 Hisense L9G
If you know you're planning to get a dedicated ALR screen, the Hisense L9G may make more sense. It's a little dimmer at 3,000 lumens, but still considerably bright. Better still, it's color is off the charts, it supports Dolby Vision, and it has eARC for Dolby Atmos support. Also, its 40W sound system is a beast in its own right. Here's our full Hisense L9G review.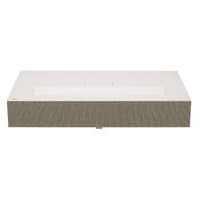 LG CineBeam HU915QE
LG's top UST projector is considerably pricier than the Epson, but has a superior smart TV interface and nearly matches it when it comes brightness. We also found its built-in speakers to be potent when we reviewed it. Here's our full LG CineBeam HU915QE review.
How I tested the Epson EpiQVision Ultra LS800
Tested at home in multiple, real-world viewing conditions
Presented the display with a variety of media and formats
I have tested numerous projectors and displays over the last half-decade
I tested the Epson LS800 at home, in real-world conditions. This saw it faced with ambient light coming in from numerous windows, in-room lighting, as well as ambient noise that the projector's speaker system had to overcome. The projector was tested both on a bare, white wall and an Akia Screens CineWhite screen. It was presented with streamed content, HDR and non-HDR, and console gameplay.
My testing evaluates the projector's performance with respect to its price and competition from other models I and my colleagues at TechRadar have tested.
I have been testing projectors since 2021 and displays for even longer.
Over the last several years, Mark has been tasked as a writer, an editor, and a manager, interacting with published content from all angles. He is intimately familiar with the editorial process from the inception of an article idea, through the iterative process, past publishing, and down the road into performance analysis.