Why should you pick one of the best laser printers over an inkjet? Inkjets might be better at printing photos and generally cheaper upfront, but top laser printers are much better for printing large volumes of documents quickly and quietly, which makes them a favorite for home office use.
The best laser printers also won't demand a new ink cartridge every hundred or so pages; in fact they don't use ink at all. They rely on toner cartridges that are capable of printing thousands of pages before they need replacing. In other words, laser printers are usually considerably cheaper to run.
And where inkjet nozzles can become blocked or dry up when you leave them for long periods, laser printers don't care how often you use them. They need less attention in general and they're always ready to leap into action, which brings us to the other key advantage, speed.
Perhaps best of all, laser printers are more affordable and flexible than ever before. This means they make great home printers as well as being used in offices. The best laser printers come in every shape and size, and we've listed our top recommendations, including the some budget printers, so that you can find the right laser printer for your home or office.
We've compared these laser printers across various aspects, from their printing speed and size to the print quality and build quality. We looked at their multi-function capabilities, connectivity options, security features, and pricing, among many other things.
We've also reviewed the best Brother printers, the best portable printers, and the best label printers.
---
The best laser printers of 2023 in full
Why you can trust TechRadar We spend hours testing every product or service we review, so you can be sure you're buying the best. Find out more about how we test.
1. Xerox VersaLink B600DN: Best for heavy print loads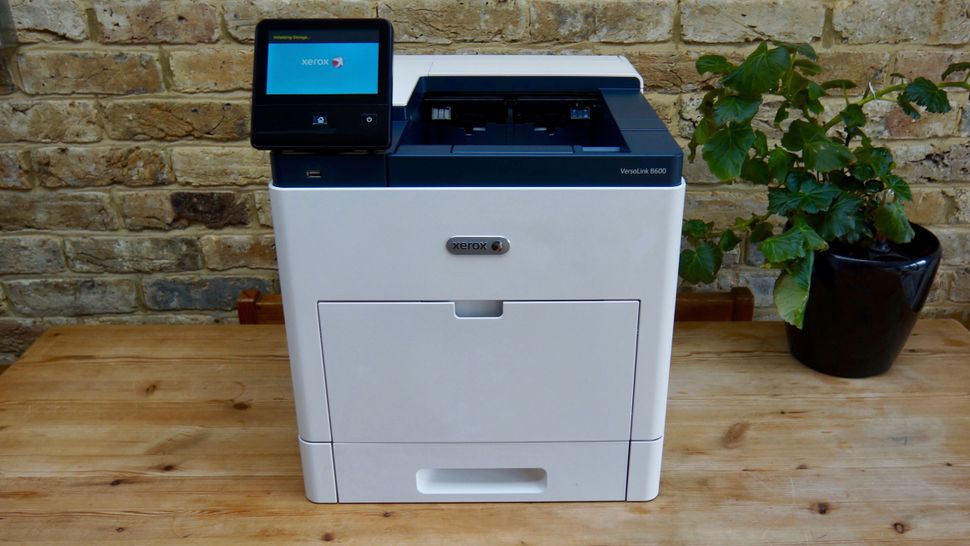 (opens in new tab)
With a print speed of 55 pages per minute and room for a whole ream of paper on board, the Xerox VersaLink B600DN can keep a large work group printing continuously - more than justifying its place among the best laser printers around. It has a duplex print speed of 55ppm, a paper capacity of 700 sheets, and supports high-capacity toner cartridges.
The initial cost for a monochrome print-only device might seem high, but this premium machine is actually very economical to run and its consistent print quality justifies the price tag. The intuitive five-inch touchscreen interface will further cut down your operating time.
But the printer is large, weighs 22.3kg, and is fairly noisy, so it's better suited for busy small and mid-sized businesses than a home office. The printer has security features too. Secure Print holds your documents in the printer's memory and releases it only when you input the correct PIN.
Read the full review: Xerox VersaLink B600DN
2. Brother HL-L5100DN: Best for busy SMBs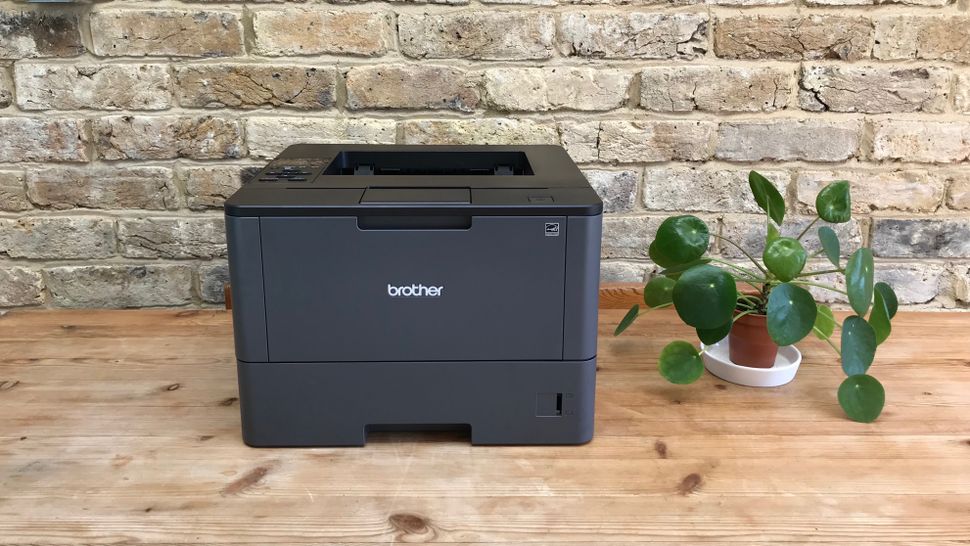 (opens in new tab)
This little grey box can really churn out the pages and despite the size, it will hold a lot of paper too. This makes the Brother HL-L5100DN ideal for the small office with a high demand for black and white documents. The quality is consistent and the per page print cost is attractive. It's light on features with no Wi-Fi or a front USB port, but what it does, it does very well.
The printer has a print speed of 40ppm, and a duplex print speed of 10ppm. The HL-L5100DN can hold 300 sheets of A4 paper in its two in-trays and 150 sheets in the out tray. There is an Ethernet port, so you could connect connect with the office router through an Ethernet cable (not included). Thanks to the Brother iPrint&Scan app, you can also connect to the printer using your smartphone.
Read the full review: Brother HL-L5100DN
3. Kyocera Ecosys P6230cdn: Best security features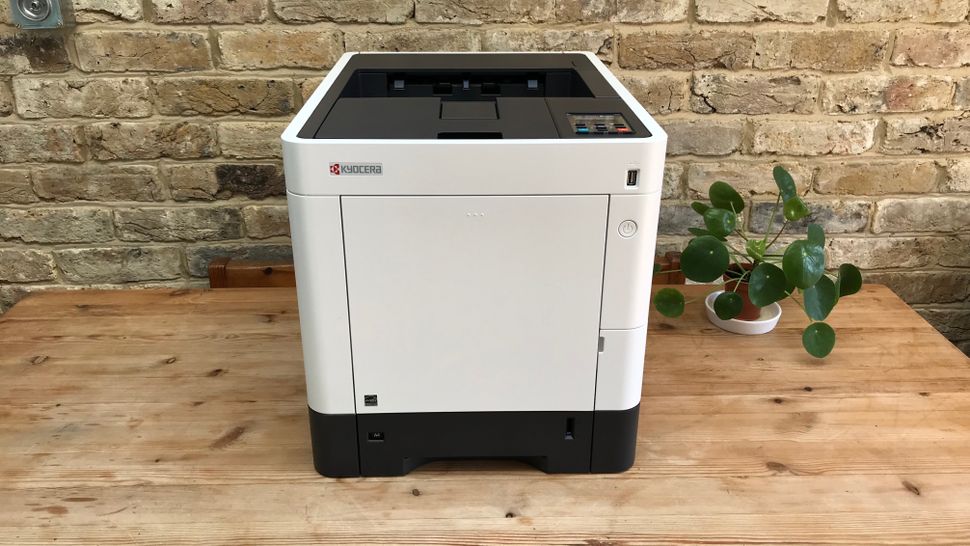 (opens in new tab)
Kyocera's hefty print-only device feels well built and it has enough capacity for 500 sheets of paper and large toner cartridges, which makes it suitable for a big workgroup or a busy home office. The Kyocera Ecosys P6230cdn prints quickly in duplex mode and runs very quietly too.
The display and buttons are rather small, but it is well armed with security features to prevent private documents from going astray.
The printer's main input tray can hold 500 sheets of A4 paper, while the multipurpose tray can carry 100 A4 sheets. The toner cartridges that come with the printer can deliver up to 6000 pages, which is quite suitable for a small or mid-sized business. The Ecosys P6230cdn can print mono and color pages at a rate of 30ppm.
Read the full review: Kyocera Ecosys P6230cdn
4. Xerox B215: Best touchscreen
(opens in new tab)
By Xerox's standards, this compact four-in-one laser printer is a modest affair, offering print, scan, copy and fax functions in a small and relatively affordable package. Despite the low price, however, the Xerox B215 still comes with a large tilting touchscreen for easy operation and a none-too-shabby print speed of 30ppm.
You can fit 250 sheets of paper in the main paper tray and it comes with enough toner for 1500 monochrome pages and has a fairly low per page print cost of around 2.2 pence per page.
The B215 is the brand's smallest multifunction device, and it's light enough to lift easily onto a desk. Although the B215 has a seemingly small footprint, it's not quite the case. To fit A4 sheets inside, you'll have to extend the paper tray out the back by a few inches, and this takes up more space on your desk than you might expect.
Read the full review: Xerox B215
5. Canon imageCLASS MF743Cdw: Best for auto duplex printing
(opens in new tab)
The Canon imageCLASS MF743Cdw (known as the i-SENSYS MF742Cdw in UK) comes with all of the key features such as auto duplex printing, a fifty-sheet ADF and a front USB port while offering a good enough print speed and print quality for any small to medium-sized business.
There's plenty of room for paper and the ability to add further paper trays if required. It's fairly economical to run, and that prominent touchscreen interface makes it particularly easy to use.
This printer's cheaper than the previous i-SENSYS model that it succeeds, and it ships with enough toner to print 2300 black and white pages, or 1200 in color. The MF743Cdw isn't super compact, and although you may not want to place it on your desk, it has a neat design.
Read the full review: Canon imageCLASS MF743Cdw
6. Ricoh P C301W: Best for simplicity
This simple cube of a laser printer can churn out colour or monochrome pages at a steady rate of 25 per minute and 13ppm in duplex mode. It's simple to use too, and easy to connect with thanks to its inclusion of both Wi-Fi and Wi-Fi Direct.
There's even an NFC chip built in for added wireless convenience. NFC makes it possible for you to pull down individual print jobs by simply tapping your NFC-enabled smartphone so that sensitive documents are never left lying on the printer.
The Ricoh P C301W's high yield toner cartridges also ensure a low running cost. It has a paper capacity of 750 sheets, and it recovers from sleep mode in under 10 seconds, so you can get to printing swiftly. The printer supports multiple connectivity options, including AirPrint, Google Cloud Print, and Mopria.
7. Lexmark MB3442adw: Best for speed
(opens in new tab)
It might look a little top-heavy, but this all-in-one laser printer gets the balance between price and specifications just right. It can print, copy scan and fax with the ability to both duplex scan and print. There's plenty of room for paper inside and high-capacity toner cartridges available to keep you printing at volume. With a print speed of 42ppm, it's one of the fastest available at this competitive price point.
Lexmark recommends a maximum monthly page volume of 8,000 prints, so it will be suitable for small to medium sized businesses. The printer can hold 350 A4 sheets in the main tray, and it ships with enough black toner for 3000 pages. Since the tray projects out of the back of the unit by a few centimeters, its footprint takes up little desk space.
Read the full review: Lexmark MB3442adw
8. Kyocera TASKalfa 4052ci: Best for different sizes
For very heavy workloads and a professional finish, this uncompromising laser printer will not let you down. The latest TASKalfa device has a huge capacity for any size paper from A6 to SRA3 and beyond. It prints and scans quickly and at very high quality with 1200dpi resolution and advanced color technology. It can even staple your perfect printed pages together for you.
The TASKalfa 4052ci has a paper capacity of 7,150 and is considerably heavy at 95kg. It has a print speed of 40ppm, and a maximum duty cycle of 200,000 pages per month — perfect for a busy mid-sized business.
The printer supports connectivity options like high-speed USB, and other mobile printing solutions, like Google Cloud Print, Apple AirPrint, and KYOCERA Mobile Print. It also has a customizable 9" color display with an intuitive home screen that makes it easy to input commands.
9. HP Neverstop Laser MFP 1202nw: Best for sustainability
(opens in new tab)
The HP Neverstop Laser MFP 1202nw is the first to employ a refillable toner tank instead of a disposable cartridge. It's a win for both the environment and your print budget, which could cost as much as 60% less than regular toner cartridges.
This inexpensive all-in-one lacks an auto-duplex mode, but for basic monochrome printing and copying duties, this machine is hard to beat on total cost of ownership. There's enough black toner in the box for 5,000 pages and refuelling is as simple as injecting the toner from syringe-type canister into the printer.
The Neverstop Laser MFP 1202nw is apt for home office users looking for economy and space-saving design. The printer takes up very little space on the desk and has room for 150 sheets of paper. It has an LCD display for basic information, but it's easier to use the companion app, HP Smart, through your smartphone or laptop to input commands.
10. Ricoh SP C261DNw: Best for a small office
The Kyocera ECOSYS P2040dw is slick monochrome device demonstrates the advantages of laser class printing by churning out crisp black and white pages of text with ruthless efficiency and at speeds inkjets can only dream of.
It uses LED technology, which relies on fewer moving parts than conventional laser printers and Kyocera's ECOSYS products are invariably well-built using components that are designed to last, so it should demand less maintenance than your average inkjet printer.
There will certainly be be no stopping to clean inkjet nozzles or swap out spent inkjet cartridges. There's room for 250 sheets of A4 paper in its main tray and enough toner included to print 3,600 pages. There's no touchscreen interface, but in all other respects this simple laser printer punches well above its weight and would suit any busy SMB (small and medium-sized business).
---
How to choose the best laser printers for you?
When selecting the best laser printer for yourself, you'll want to start with considering whether you'll be using the machine at home or office, and how much printing you could be doing on a monthly basis.
Then, you'll want to evaluate whether you'll be doing text-heavy printing or more of image and graphic-oriented printing. If your printing requirements go into several hundreds or thousands of pages a month, you'll want a heavy-duty machine that can keep up with the large output, and whose ink prices aren't steep. It'll especially help if the printer comes with a lot of toner and ink.
Don't forget to assess the printer's speed, multi-function capabilities, and connectivity options. You'll also want to check the printer's control panel, companion app, and price, among other things.
Best laser printers: How did we choose?
The best laser printers: How we test
Of course, there is quite a range of laser printers now on offer for consumers to choose from. When compiling this review, this meant we had to narrow down the devices by taking into account speed, longevity, print quality - and cost. Another important consideration was what the printer might eventually be used for.
Will the printer be used at home or based in the office? Will it primarily be used to print the odd document or image for your child's schoolwork, for example, or will it have to manage a more intensive workload? These were all important factors that we considered in order to provide a review that covered a broad spectrum of printers and use-cases.
Each laser printer we source for testing is measured on our test bench and the results are critically compared with every other model we have reviewed. Rather than relying on the manufacturer's quoted figures, we time the first page out and print speeds in single sheet and duplex mode using a standard ten-page document and a stopwatch app.
To compare print quality, we print out the same set of test documents on every machine. These twelve test pages include text of varying font sizes and colors, mixed image and text pages, a set of photos and a series of test patterns designed to assess sharpness, color fidelity, contrast and grey scale.
We also calculate running costs, compare functionality and consider each product's versatility, design and build quality. The overall score reflects all of these parameters and overall value for money.
Check out our list of the best printers, no matter if they are ink jet or laser