Any printer can print a photo, but some are better at it than others. All of the models on this list are semi-dedicated photo printers, which is to say they can turn out a decent text document, but photo printing is their superpower. They are all inkjet printers because only with liquid ink can you achieve the required resolution and color gamut for fine photo printing, and only inkjets can print on dedicated glossy photo paper. Laser printers have advantages, but in general, lasers are lousy at photos.
These days we are taking more digital photos than ever before, and the best desktop photo printers are perfect for making hard copies of those memories at home. They represent a wide spread of price categories from premium models aimed at professional photographers to highly affordable photo printers for families and students. What they all offer is a more convenient and cost-effective alternative to the services of a commercial photo lab.
When choosing the right photo printer, you need to ask yourself these key questions: What kind of photos am I mostly printing – regular 4x6" snaps, poster prints, color, or monochrome? What sort of volume – a few photos a week or stacks of prints at a time? Is this just for photo printing, or will I use this printer for running off letters and homework? What's my budget?
There are plenty of affordable A4/letter-sized photo printers out there that can carry out all the tasks of an all-in-one family printer while doing a great job printing on glossy photo paper. They tend to use the usual four (CMYK) ink cartridges to good effect. They may be either pigmented ink or dye-based ink. The pigment is quicker drying and longer-lasting while the dye is brighter and works well with high gloss media making it more desirable for photos.
When you step up to the more expensive A3+ size printers, you'll often find more inks used to make up the image, and you may well have pigmented black ink for text documents alongside dye-based black for photos. Five, six, eight, or ten ink compartments are common and more colors mean superior print quality is possible. It may also mean higher ink costs, but fortunately, photo printers with refillable ink tanks are booming, so if you plan to print a lot of photos, go for a printer that takes bottled ink rather than cartridges.
Looking for a dedicated photo printer instead? These portable devices can only print on small photo-sized paper; you'll find them here: Best portable printers.
If you need a budget printer, check out the best cheap printers. We've also featured the best all-in-one printers and home printers.
---
The best photo printers of 2022 in full
This must be the ultimate A3 photo printer. For starters, it's a sleek, practical design with a large tilting touchscreen interface and the ability to print on any kind of paper up to A3+. Secondly, it uses six individual inks to create superior quality prints. Best of all, it's an EcoTank, which means you're not tied to cartridges, and you'll find enough bottled ink in the box to print 2,300 photos.
Yes, it is rather expensive for an inkjet, but Epson's bottled ink is not, so you will soon see that money back if you plan to print lots of large photos. The printer itself is also very well specified, with excellent connectivity, high print, and scan resolution, and a surprisingly prompt print speed.
Read our full review: Epson EcoTank ET-8550
Instead of the usual four inkjet cartridges, the Canon PIXMA iX6850 uses five inks to create naturally colored photos and crisp text documents. Being able to replace each one individually makes economic sense too. It can't print both sides of a page automatically (duplex), but this machine is well connected with an Ethernet port, Wi-Fi, and AirPrint compatibility.
The most significant feature, however, is its ability to print on any size of paper up to A3+ (329 x 483mm), making it perfect for printing large spreadsheets and photos. With A3 (or larger) printing, businesses can print huge spreadsheets on a single sheet without making the text too small to read. Photographers and designers too can benefit from this because they'll be able to print flyers and posters at home.
Read our full review: Canon PIXMA iX6850
The Epson Expression Photo HD XP-15000 uses six high-quality Claria ink cartridges to achieve a more lifelike color palette when it comes to printing photos. A combination of dye and pigment-based inks means bright colors are possible, while black and white text documents remain long-lasting and smudge resistant.
Its ability to handle A3+ sized paper makes it perfect for printing super-sized photos or even a collage of images on a single sheet of A3 photo paper. It also functions very well as a regular A4 printer thanks to a surprisingly fast output of 29 black and white A4 pages per minute and the ability to print on both sides of the paper (auto duplex).
Aimed at professional and enthusiast photographers, this high-quality photo printer achieves superior color fidelity by drawing on eight individual inkjet cartridges to create detailed prints on photo paper sizes up to A3+. And instead of pigmented inks, Canon has specified brighter dye-based inks for prints that look good enough for gallery display. Pigment ink is more durable, but you can expect to display dye-based photos for around thirty years before fading occurs.
The Canon PIXMA Pro-100S is a sizable and solid desktop design that uses metal components in its print engine to guarantee accurate high-resolution results on large sheets of paper. It prints quite quickly on anything from individual 6x4" photo paper to borderless A3+ posters. The only difference between this model and the outgoing Canon PIXMA Pro-100 is its compatibility with Canon's PIXMA Cloud Link service.
Read our full review: Canon Pixma Pro-100
Despite its sleek dimensions, this smooth 3-in-1 inkjet device can print on A3-size paper and uses not four, but six inkjet cartridges to achieve superior color accuracy. It means your ink costs are rather high, but it's worth it if you want beautifully shaded results.
The scanner is only A4-size, but it makes very high-resolution scans and combined with the high print resolution, you can make nearly identical color copies. There is no fax, and print speeds are slow, but in all other respects, the Epson Expression Photo XP-970 is hard to beat.
The main paper tray can hold 100 sheets with a maximum paper size of 8.5 x 11 inches. The second paper tray can hold 20 sheets of photo paper with dimensions of 5 x 7 inches.
For an idea of its performance, you can read our review of the almost identical Epson Expression Photo XP-960.
This humble three-in-one can print, scan and copy, but it is most at home when turning out surprisingly vibrant photos. As is often the case with budget inkjet printers, the supplied starter cartridges are somewhat light on ink. However, if you replace them with high-capacity carts, the running cost is also quite competitive.
Four individual cartridges combine to give bright images on glossy photo paper up to A4 in size. It can also duplex print regular text documents, albeit at a fairly slow print speed. Frustratingly, there's no Ethernet port or USB port for printing from a flash drive, and it churns very slowly, but the results are better than you might expect from such a small and affordable AOI.
This all-in-one printer can achieve more natural color fidelity and better photographs than your average inkjet by using six different dye-based inks. What's more, it's a MegaTank printer, which means you can fill it up with inexpensive bottled ink instead of costly cartridges.
There's enough ink in the box to print 3,800 photos, which more than justifies the high price tag. It prints somewhat slowly and there's no auto duplex mode, but if you are only printing photos, that's not going to be a problem. In terms of running cost and convenience, this modest MegaTank is hard to beat.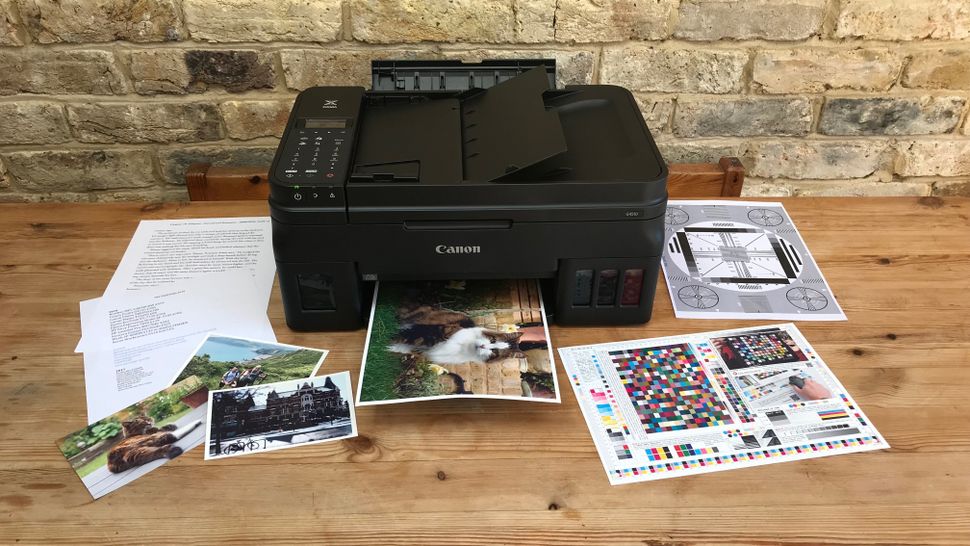 This is Canon's most affordable MegaTank model, making it a cost-effective proposition. You can expect a drastic reduction in your ongoing print costs by ditching cartridges for refillable reservoirs, especially as the box includes enough ink for 6,000 mono and 7,000 color pages.
Behind that headline feature, this is a fairly basic four-in-one printer with just enough key features to make it suitable for home use or a small office. It prints very slowly and cannot automatically print on both sides of the page. For anyone planning to run out of lots of color documents, this compact and pleasingly designed AOI will beat most of the competition on per-page running costs.
Read our full review: Canon Pixma G4510
The Epson EcoTank ET-2720, known as the Epson EcoTank ET-2715 in the UK, is the most affordable of the color Supertank printers in Epson's extensive range and one of the most economical ways of printing photos available right now. And if that doesn't tempt the bargain-hunters, it ships with enough ink in the box to last two years (or 4,500 color pages).
With the cost of bottled ink working out around 80% lower than cartridge ink, you really won't need to worry about your ongoing consumables cost. This is great news for anyone intending to print lots of color photographs. The high image resolution makes this all-in-one well suited to printing on glossy photo paper. It will also function well in a small office environment thanks to its surprisingly fast print speed and sensible features.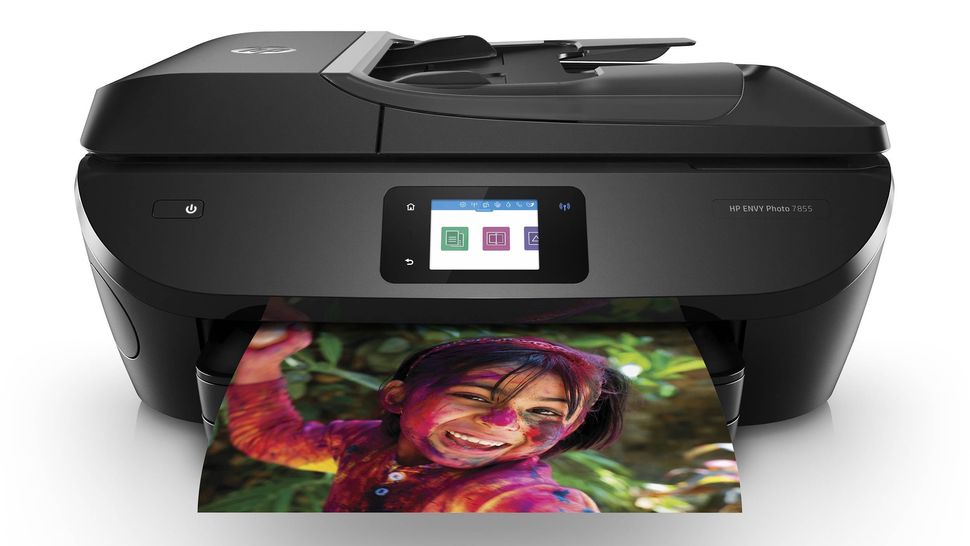 HP's oddly shaped all-in-one comes with comprehensive features, although it is first and foremost a photo printer. The print resolution is high enough to ensure your photos look sharp and colorful when printed on glossy photo paper. There's also a handy SD card slot for printing directly from your camera's memory card.
When it comes to regular monochrome text documents, this four-in-one can auto-duplex print at a reasonable rate. It even has a fax facility. Thankfully, a touchscreen control panel can access all this functionality. The only catch is the high cost of its replacement cartridges. And with the three colors combined in one tri-color cartridge, you will certainly end up wasting ink.
You could reduce the cost of new cartridges a little by signing up for HP's Instant Ink service, although we wouldn't recommend it unless you can commit to printing regularly.
How to choose the best photo printers for you?
Photo printers are diverse in their offerings, so you'll have to evaluate and select one that'll be ideal for your needs.
Start considering where you'll be using the printer — for a small home office or a larger one. You'll then want to assess what kind of printing you'll primarily need — whether it's text or image-heavy. If you need plenty of color prints daily, then you'll want a large tank printer that's economical to run. Make sure the printer offers high color fidelity if you need high-quality color prints.
Along with checking the print speed and auto duplex functionality, you'll also want to check the type of connectivity the printer offers and whether it's Wi-Fi enabled.
Best photo printers: How did we test them?
Each printer we source for testing is measured on our test bench, and the results are critically compared with every other model we have reviewed. Rather than relying on the manufacturer's quoted figures, we time the first page out and print speeds in single sheet and duplex mode using a standard ten-page document and a stopwatch app.
To compare print quality, we print out the same set of test documents on every machine. These twelve test pages include text of varying font sizes and colors, mixed image and text pages, a set of photos, and a series of test patterns designed to assess sharpness, color fidelity, contrast, and grey scale.
We also calculate running costs, compare functionality and consider each product's versatility, design, and build quality. The overall score reflects all of these parameters and overall value for money.
Specifically for photo printers, we looked at their versatility (both in terms of management and media handling), paying closer attention to the print output and the cost of the consumables (ink cartridges, etc.).