Welcome to our selection of the best printers for Macs and MacBooks.
No matter what kind of Mac you have, be it an iMac, MacBook or traditional Mac computer, you'll find on this page the best printers you can plug straight into your Apple device.
Getting the best printer for your Mac means ensuring that it can easily connect to your Apple product either via wires or wirelessly. Many of them will also support printing from your iPhone or iPad as well.
As many people use Macs for creative work, it's vitally important that the printer you buy for your Mac is able to produce high-quality printouts that will do your artwork or photography justice. On this page, you'll find printers that do just that, and they are all macOS compatible.
To make buying the best printer for your Mac even easier, we've compared key aspects for you to consider, including connectivity, duplex printing, and additional touches like touchscreen displays.
We've also included our own price comparison tool on this page, so you'll get recommendations for the best prices as well from a variety of online stores.
Read out review of the best Macbook and Macs

The best printers for Mac in 2022 in full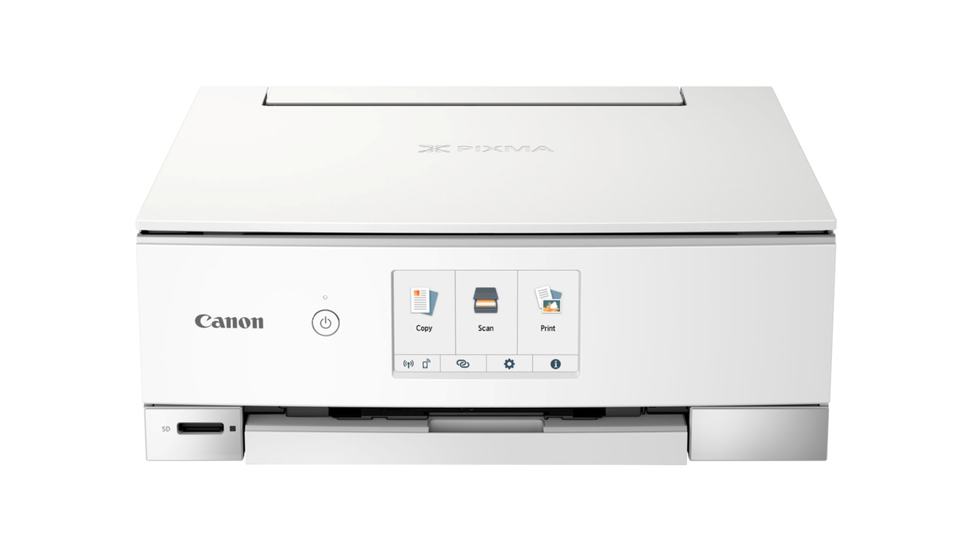 With a sleek colour touchscreen and an automatic out tray, this 3-in-1 inkjet printer looks and feels like a premium model and it has the specifications to match. It uses six individual ink cartridges to achieve superior colour fidelity and prints photos at a sharp 4800 x 1200 DPI resolution. It offers AirPrint connectivity for Mac users and includes an SD Cards slot for photographers.
It can automatically print both sides of a page, scan at high resolution and with the help of its rear paper feed, it can handle almost any kind of printable media from blank CDs to fingernail stickers. It is pretty compact, given the dazzling list of features, and it's all controlled by a generously sized colour touchscreen. Installation is also incredibly intuitive thanks to helpful step-by-step videos and guides available on the Canon website.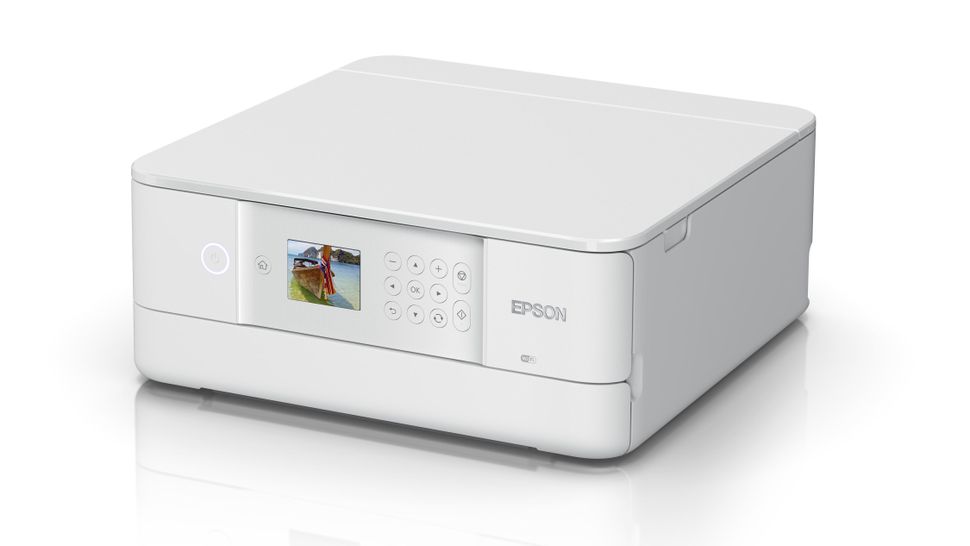 Epson has done well to shrink this three-in-one to the size of a square shoebox without losing any features. Wi-Fi, Wi-Fi Direct and AirPrint make it easy to connect to an Apple device without the need for Ethernet or USB cables. It also offers auto duplex printing, convenient USB and SD card slots and the ability to print on a very wide variety of media from blank CDs to glossy A4 photo paper.
Unlike the Canon Pixma reviewed above, there is no touchscreen display, though you don't feel the loss too gravely as a large colour screen accompanies the handful of buttons.
Given the ink costs it's certainly not the cheapest to run, but it's easy to use, doesn't dally on printing time (even over wireless), and the print quality, especially with photos, is excellent.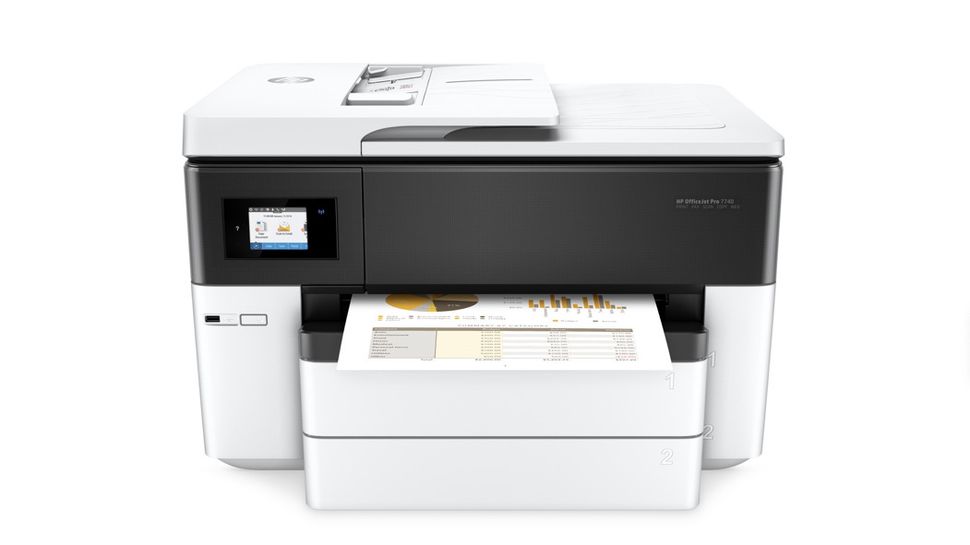 The HP OfficeJet Pro 7740 is a large and well-specified A3 printer with a surprisingly small price tag.
Designed with a small bustling office or tireless home worker in mind, it is large enough to hold 500 sheets of A3 (tabloid) paper in its two deep trays and another 50 sheets of A4 in its automatic document feeder on top. It can print full-color A3 posters quite quickly and turn them over automatically to print the other side (auto duplex), while the ADF is able to scan and copy both sides of the page (duplex scan).
In terms of connectivity, there's an Ethernet port and inbuilt Wi-Fi with AirPrint compatibility for Mac users. It also has a generous touchscreen for easy operation, and the print speeds are sharp. Just make sure you've got enough space for it.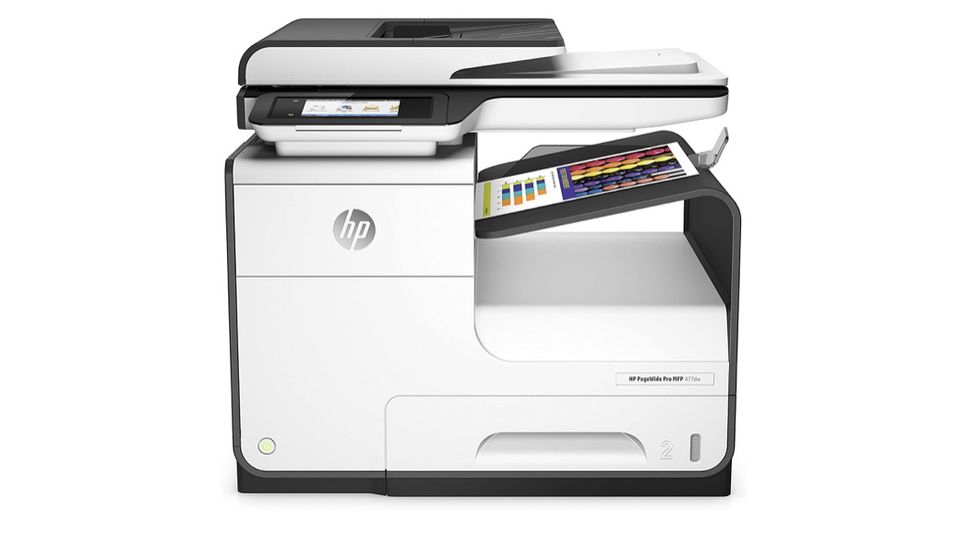 HP's PageWide technology uses inkjets, but because the print head is the full width of the paper, your documents don't need to stop and start like a normal inkjet.
Instead, they glide through more like a laser. Because of this, the quoted print speed of 55 pages per minute is no exaggeration. Being an inkjet, it can print onto coated photo paper and deliver vibrant color images up to A4 size. It can also duplex copy by scanning both sides of the paper automatically.
The paper capacity is a generous 500-sheets with upgrade options available, but even without the extra paper trays, this fast and innovative four-in-one will suit most busy small to medium-sized businesses. On the negative side, you'll be in no doubt as to when it's working, and its price isn't subtle either.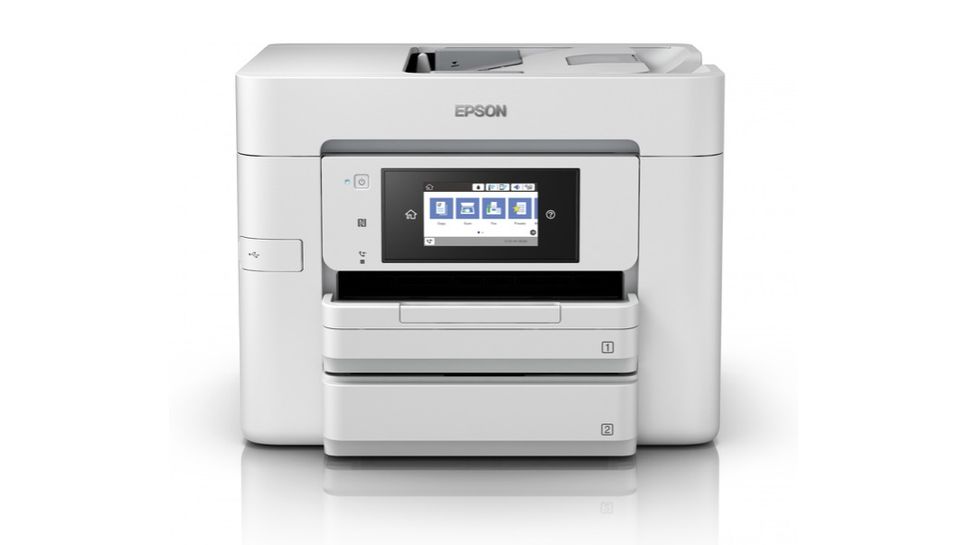 The Epson WorkForce Pro WF-4740 (WF-4745 in the UK) is a Mac-friendly 4-in-1 inkjet printer aimed at the small business and as such, it's kitted out with every office requirement you can think of.
There's plenty of room for paper, with two drawers capable of holding 250 sheets each, a very respectable print speed of 24 monochrome pages per minute and an automatic document feed that can duplex scan.
It's well connected with an Ethernet port, Wi-Fi with AirPrint compatibility for Mac users and NFC for quick tap-to-connect. Download Epson's free iOS/Android companion app and mobile printing for easy mobile printing.
Its output tray is far from the biggest on this list, nor does it come with a multipurpose tray, but with Epson's XL cartridges yielding up to 2,600 color pages, it's as efficient as many laser printers.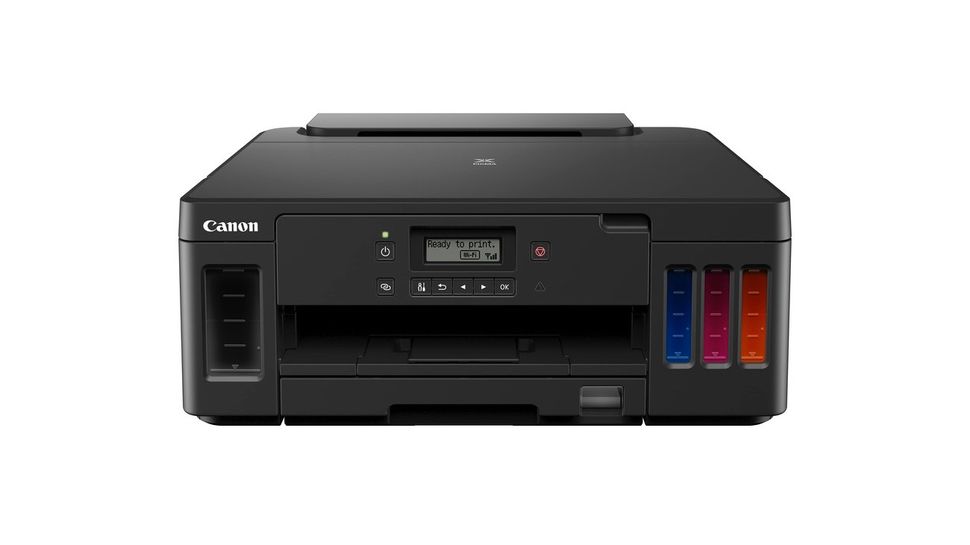 This costly, but cost-effective all-in-one AirPrint device has swapped its cartridges for refillable ink tanks. So while the initial price may ring alarm bells, consider the long-game. For the refillable model slashes your per-page cost considerably, and Canon has included enough ink for 6,000 black and white pages and 7,700 colour – hence the hefty price tag.
It prints quite slowly so don't leave any large documents until the last minute. But with a paper capacity of 350 sheets (250 in the main tray on top of 100 in the rear tray) match with an impressively high ink yield, it can keep on printing reliably in the background while you're busy in meetings or on calls.
It comes equipped with Wi-Fi and auto duplex mode and can be easily controlled by the iOS/Android companion app.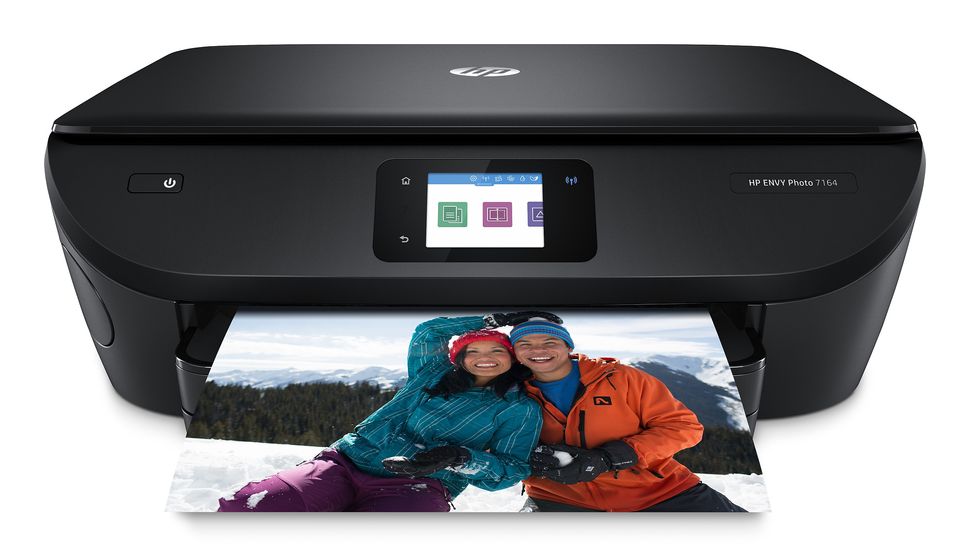 As an Apple device user, you might often find yourself in situations when you need to print directly from your iPhone or iPad, rather than just a Macbook. With the HP Envy Photo 7164 photo printer, you won't have to bother transferring your images to your Mac thanks to its nifty AirPrint feature.
But, this inkjet photo printer offers more than just slick connectivity options. If you're looking for the best printer for Mac, this has a few other features you'll appreciate – from borderless photo printing and a separate photo paper tray to Wireless Direct printing.
Setup is a breeze, while HP's Instant Ink program takes all the hassle out of staying topped up by providing a monthly ink replacement subscription based on your usual page consumption. As soon as your toner levels are low, you'll receive a new cartridge in the post.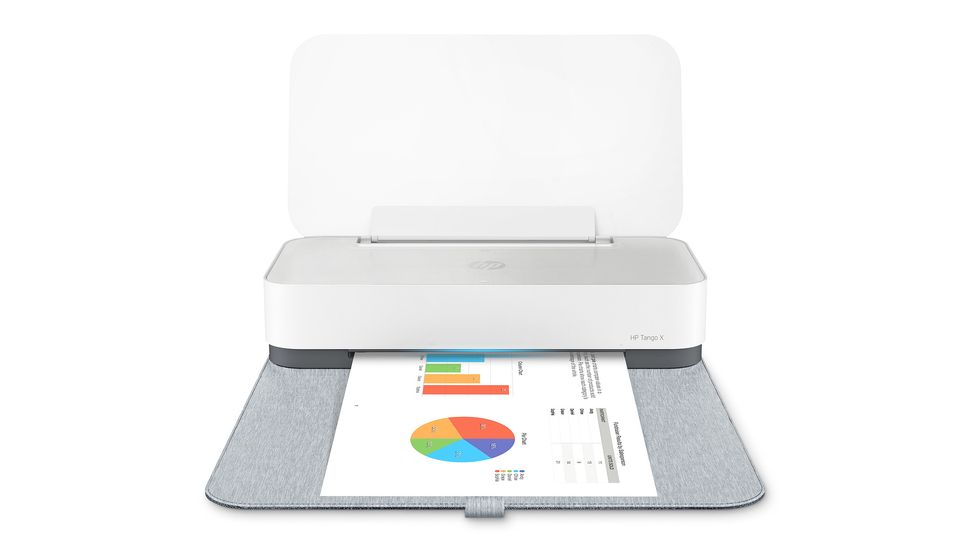 Built specifically for Mac and Apple users, the HP Tango X has all the features you're looking for a portable printer. Beyond its lightweight and compact design, it boasts AirPrint capability, has a nice indigo linen wrap for easy transport, and requires no drivers or USB connections for setup.
All you need is the HP Smart app on your device, and you're ready to print (and even scan and copy) wherever you are. This makes it perfect for digital nomads who are hardcore Apple fans, and among the best printers for Mac if you're looking to save space.
It's also great to look at, with a classy minimalist design featuring muted white and grey tones and a fabric cover, meaning it wouldn't look out of place had it come from the Apple store itself.
Read the full review: HP Tango X
Although this is one of Epson's most affordable EcoTank models, it still comes packed with plenty of features, not to mention plenty of ink in the box. Fill up the four 70ml tanks and you can print up to 14,000 mono and 5,200 color pages using the bundled ink.
It can scan, copy and print automatically on both sides of the page (auto duplex). There's no Ethernet port on this simplified budget model, but who needs one when you have Wi-Fi with Wi-Fi Direct and AirPrint available for connecting your Mac and iPhone.
It may print rather slowly at full resolution, but it is capable of much faster speeds (up to 33ppm) in draft mode. The printer's own display is rather small, so we advise using Epson's excellent iOS companion app for set up and operation.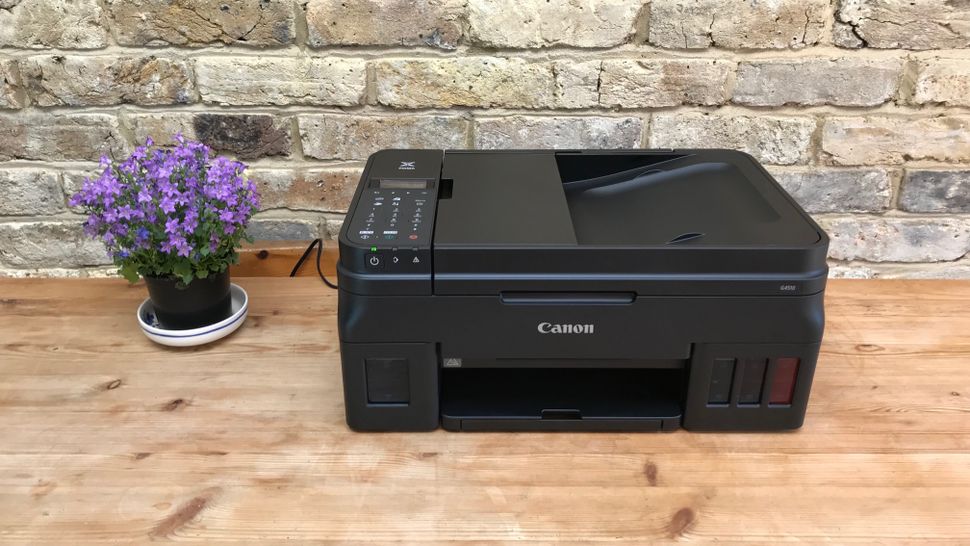 By swapping ink cartridges for bottled ink, this sleek black inkjet printer has a far higher page yield and much lower per page cost. You can clearly see when the ink reservoirs are running low and with Wi-Fi built in and AirPrint compatibility, it's easy to scan and print using your Apple device and the iOS companion app.
It can also auto duplex print and includes an automatic document feed and fax facility. Aswell as printing, scanning, and copying, fax functionality is also included, while it even manages to squeeze in a 100-sheet paper tray (at the rear) and a small display.
Given it is designed for a small or home office, it's impressive that Canon has managed to cram so much functionality into such a compact unit.
Read the full review: Canon Pixma G4510
How to choose the best printer for Mac for you
When it comes to picking the best printers for Mac, you'll need to consider a few key features to ensure they align with your printing requirements. Firstly, consider how often you'll be needing to use the printer. If it is to satisfy many users in an office, you'll need something much more robust than, say, a printer servicing a single user at their home office desk.
By the same token, consider the space you have available to house your new printer, and what other functionality you'll be expecting from it. Most printers these days can also scan, copy, and some even offer fax capabilities, so decide which of these - if any - you intend to make use of. Finally, consider additional touches like look and feel, which may be particularly important for those keen to ensure their printer doesn't stick out like a sore thumb in an otherwise smart home office.
The best printer for Mac: How we test
Printers these days do more than just print onto paper, and so it's only right that we've tested all of the features and functions of the products featured on this list of best printers for Mac.
Having said that, just as smartphones should still be able to make phone calls, we've made sure that the printers on this list can still execute their number one role. That means testing print speeds, paper sizes, and paper capacity.
After that, we've compared other functions like scanning, copying, and even faxing, while additional factors like touchscreen displays, size and weight, and aesthetics have also been analysed.
In the world of business, where the wire is an increasingly unwelcome figure, connectivity is of the utmost importance, so we've also run the rule over the Wi-Fi, AirPrint, and Ethernet options on these printers. Finally, we've also noted the costs of each printer, incorporating both the initial outlay and also the general running costs (.e.g ink) of each.