The best printers for students are still a crucial part of any household, even if most have physically returned to school. Homework and coursework still end up being done at home and you need something that won't quit in the middle of an important print job. But, that printer has to also offer a good deal of value for its performance and features.
Thankfully, the budget printers we've included here are more than up to the task. They're also a great resource for your studies, whether that's printing outsources so you don't have to go to the library or assignments so you can skip the internet café and get right to work, saving you a ton of stress, time, and, possibly, even money.
However, you don't have to grab the most expensive printer out there. Since this is a printer for students, it needs to be reasonably priced. But, it needs to be able to give you a decent number of printouts before replacing the ink, since ink cartridges will be the biggest expense in the long run.
The printer needs to offer good quality printing as well, capable of providing sharp and clear printouts in a range of document types. And, since students will be limited on space, it needs to be compact.
We've compared the best printer for students across various aspects, from their printing speed and pricing to the build quality and size. We also considered the type of connectivity options the printers featured, their interface, and the quality of the prints, among other things.
With our list of the best printers for students, we've put together our top picks that will suit a student's needs, no matter what educational institute they are at. If you're also looking for a laptop, make sure you check out our best laptops for students or our best student Chromebooks guides.
---
The best printers for students in 2022 in full
The HP DeskJet 2755 (known in the UK as the DeskJet 2710) is an affordable color inkjet aimed at the home office and comes with key features such as auto duplex printing and dual-band Wi-Fi built in.
It can print on photo paper, envelopes, and any size of plain paper up to A4. With AirPrint and Google Cloud Print compliance, it's easy to print via your smartphone, and HP's companion app for iOS/Android is particularly strong.
There's not much room for paper in the main tray (just 60 sheets of A4), but the conveniently compact design goes a long way to make up for that. There is a flatbed scanner at the top to convert documents and photos, but the print quality of pictures is not great. Although the ink cartridges are cheap, their yield is fairly low, so the running costs are bound to increase.
(opens in new tab)
Epson's supertank range proved that cartridge-free printing is the way forward for inkjets, though they were somewhat expensive. Thankfully the prices have come down and the Epson EcoTank ET-2720 is both cheap to run and relatively cheap to buy.
It's also well-equipped with scanner bed, a color LCD screen and inbuilt Wi-Fi including Wi-Fi Direct. The main attraction for students will be its low running cost and the generous amount of ink included in the box — enough to keep printing through three years of study (or 4500 color pages).
Since bottled ink is around 80% lower than cartridge ink, you can rest assured knowing that the running costs won't be too high — perfect for students that need to print color photos often. The image resolution is also high, making this printer good for printing on glossy photo paper.
This print-only device is the simplest and cheapest model in Canon's current MegaTank lineup, making it ideal for students who want to print a lot and not worry about ink.
You get enough bottled ink in the box for 6,000 mono A4 pages and 7,700 color, which may well see you through to graduation. It can print crisp coursework on plain paper and high-resolution photos on glossy photo paper.
There's no auto-duplex mode, scanner, display, or Wi-Fi, and the print rate is slow (9 pages per minute), but if you're in no hurry, this simple supertank will deliver high quality prints at the lowest per page cost. Along with regular plain paper, it can print on envelopes, glossy photo paper, and print banners too.
The printer isn't cheap, but by purchasing inexpensive bottled ink instead of cartridges, you can reduce costs by 80 to 90%.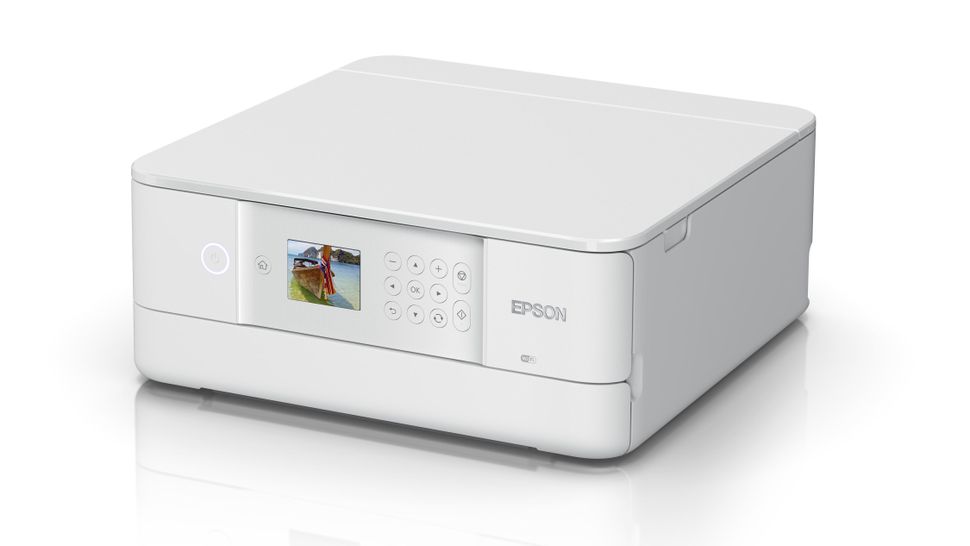 (opens in new tab)
As the smallest member of Epson's Premium range of home printers, the XP-6105 is well suited to student accommodation. Apart from a fax facility, it is fully featured with Wi-Fi, auto duplex printing, USB and SD card slots all built in, and the ability to print on any kind of media from blank CDs up to A4 photo paper.
Along with Wi-Fi, it has Wi-Fi direct and AirPrint to make it hassle-free to connect to Apple devices without the need for Ethernet or USB cables. It lacks a touchscreen display, but there's a large color display (with buttons) that's easy to use, and for the money, the performance is impressive.
It's not the cheapest printer to run because of the ink costs, but the print quality's great and the printing speed is good even over wireless connections.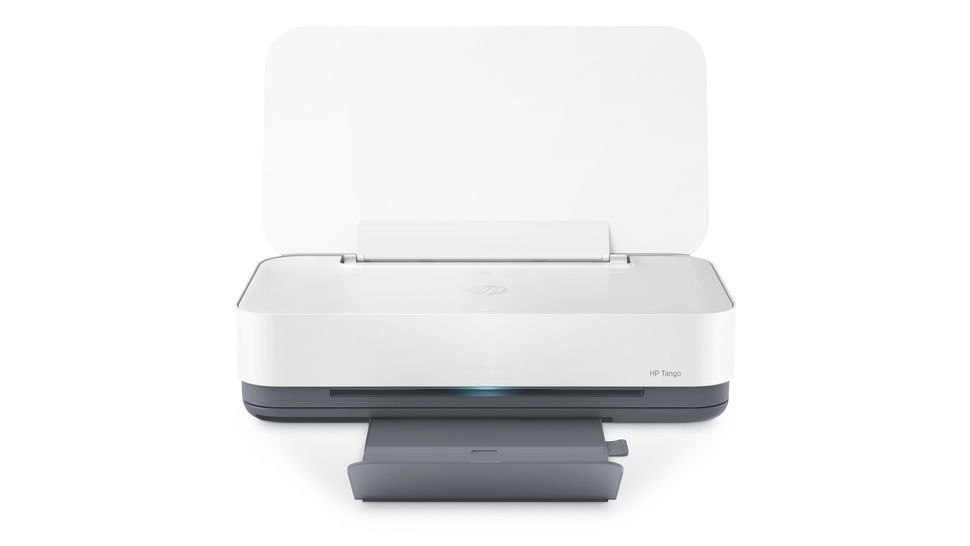 (opens in new tab)
Thanks to its two-way cloud-based network connection, you can operate this 'smart printer' from your mobile device with or without a Wi-Fi network. It has no USB or Ethernet ports and no scanner either.
Instead it relies on wireless connectivity while the Tango companion app harnesses your smartphone's camera to scan and straighten images for printing. All this allows the Tango X to be smaller than other inkjets and cheaper too. It'll print on envelopes or photo paper of any size up to A4 and turn out pages at a reasonable rate of 11ppm.
It is particularly user friendly, thanks to the excellent app, and can even be voice controlled with the assistance of Alexa. Replacement ink cartridges are rather costly, but you can sign up for HP's Instant Ink program to make some saving while having replacements sent in the mail.
Read the full review: HP Tango
Brother is aiming this compact and inexpensive inkjet at the home office and as such, it's kitted out with the features a business user would need, but it would serve students equally well.
There's an A4-sized scanner bed with a flexible lid that's capable of copying thick books and room for 150 sheets of A4 in the paper tray for when you're ready to run off that dissertation. The US model comes with a 20-sheet ADF (automatic document feed), but the nearest equivalent UK model (Brother DCP-J1140DW) lacks an ADF.
There's no front USB port and no Ethernet port, but it has a touchscreen interface and the print quality is good enough for sharing photos on glossy photopaper and it prints quickly for a budget model. The only catch is the usual one – costly replacement cartridges – but that doesn't stop this all-in-one from being a very good all-rounder.
Read our full review: Brother DCP-J1140DW.
The HP OfficeJet Pro 8035 (know as the OfficeJet Pro 8025 in UK) is a smart-looking inkjet that seems to offer everything a student could need from an all-in-one, without breaking the budget.
There's ample room for paper in the main tray, a flatbed scanner and even an ADF (automatic document feed) for photocopying a stack of papers. It prints quickly in color and automatically prints both sides of the page — at the highest quality, it prints at 20 pages per minute.
The print quality is decent, but it's not striking. The built-in self-healing Wi-Fi is useful for maintaining a stable Wi-Fi connection, and the printing process feels convenient thanks to Wi-Fi Direct and compatibility with AirPrint and Google Cloud Print. Replacement cartridges are not cheap, but an Instant Ink subscription will bring the print cost down a little.
Laser printers generally cost more than inkjets to buy, but are cheaper to run. However, the entry-level Ricoh SP 230DNw manages to fall within the financial reach of students.
It's a simple mono print-only device, but it includes essential features such as auto duplex, inbuilt Wi-Fi and compatibility with AirPrint, Mopria, and Google Cloud Print. Connectivity options include USB 2.0 and an Ethernet port.
Being a laser, it is very fast and efficient at printing pages of text. It'll churn out a dissertation at 30 pages per minute, and the print resolution is 1,200 x 1,200 dpi for high-quality prints. There's room for 250 sheets of paper in the main tray, and you can print on plain paper, envelopes, and even bond paper.
The print has enough toner for 700 prints in the box and operates fairly quietly.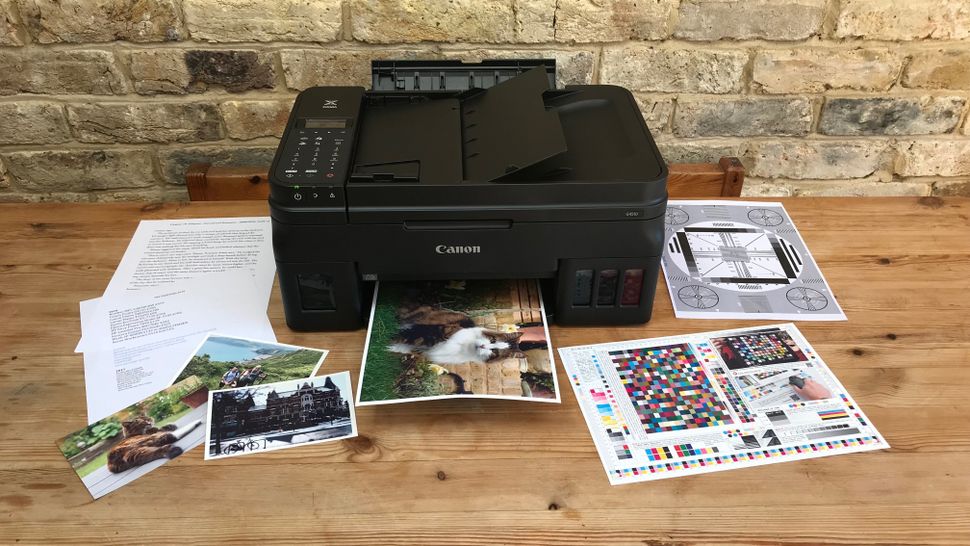 By swapping ink cartridges for bottled ink, this printer has a far higher page yield and much lower per page cost. You can clearly see when the ink reservoirs are running low and with Wi-Fi built in, it's easy to scan and print using your mobile device.
The G4210 has a 10-sheet paper tray at the rear and can auto duplex print. Along with printing and scanning, it includes an automatic document feed and fax facility. The printer features AirPrint compatibility, making it easy to scan and print using your Apple device.
It has a small two-line display that's not the most convenient to use, and the photo prints lack definition and detail. But the Pixma G4210 is pretty compact and comes with enough ink to print 6,000 mono documents and 7,000 color.
Read the full review: Canon Pixma G4210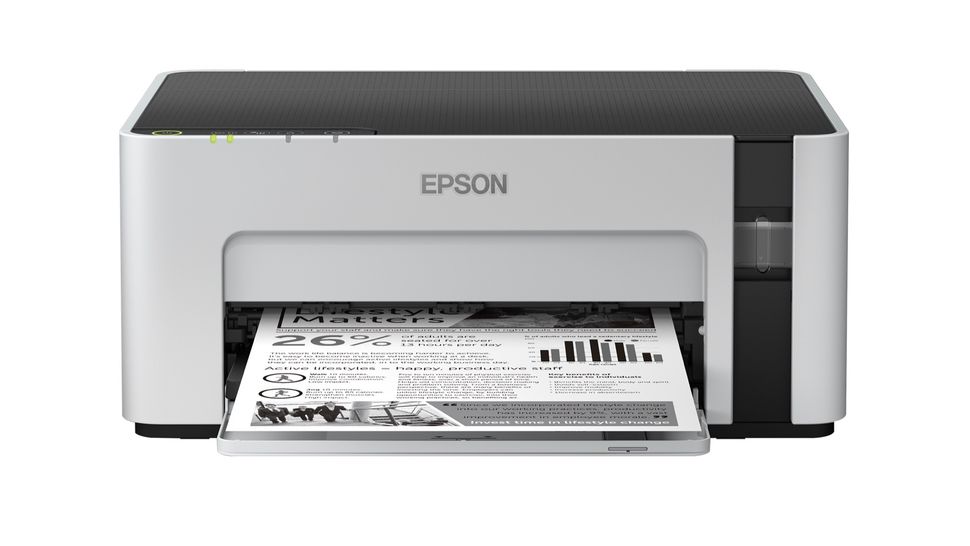 If you need to print a lot of black and white pages and space and money are limiting factors, this compact print only device has the answer. The up-front price might seem daunting, but it includes enough black ink for 6,000 pages. That's because instead of a cartridge, you will be filling up a reservoir from the supplied ink bottle yourself and replacement bottles are far cheaper.
Wi-Fi is built in, and it can turn out duplex pages at a somewhat slow, but steady rate of 15 pages per minute, and there's room in this streamlined machine for 150 sheets of paper.
It lacks a display, but the refillable reservoir for black ink is substantial, and thanks to the bottled ink it comes with, the cost per page comes out to be less than a laser printer.
---
How to choose the best printer for students for you?
The best printers for students have lots to offer to their users, but you'll want to keep some key considerations in mind to select the right printer for your needs.
First, based on your course, you'll want to assess your printing needs. For intensive printing, you'll want to select a heavy-duty printer that can churn out plenty of prints every month.
You'll then want to consider whether your printing is primarily text or image-oriented. If your photo prints need to be detailed and clear, you'll want a high-resolution color printer and one that has low ink costs. Your running costs will be a lot lower if you're primarily printing black and white text.
Make sure to evaluate other aspects of the printer that enhance convenience, like the printer's speed, multi-function capabilities, connectivity options, control panel, and lastly, the pricing.
The best printers for students: How we test
We test all our printers on our test bench and compare the findings against the other printer we've reviewed.
To examine the printer's performance, we use a standard ten-page document. We print the same documents across all the printers to analyze their speed, quality, vibrance, sharpness, color fidelity, and contrast. These test pages have fonts of different sizes and colors, mixed texts and images, and just photos.
We also check the printer's build quality, size, design, connectivity options, interface, and importantly, the running costs and pricing.