Welcome to our pick of the best inkjet printers money can buy in 2023. On this page, you'll find some brilliant inkjet printers that offer a more affordable alternative to laser printers.
Whether you want a new inkjet printer to act as a home or office printer (opens in new tab), we've got some excellent choices for a wide range of needs and budgets.
Inkjet printers are great for home users and small businesses on a budget, as they are often cheaper than laser printers. However, the upfront cost of a printer isn't the only consideration you have to make when it comes to budgets, as you'll also need to buy ink cartridges for them to work, which can sometimes prove costly. So, picking an inkjet printer that's economical to run can save you and your business a lot of money in the long run.
Inkjet printers are particularly good for printing photographs, making great photo printers. They aren't as fast as laser printers, so if you have a busy office needing to print out lots of documents, consider one of the best laser printers.
There's a huge amount of printers out there, so to make picking the best one for your needs as easy as possible, we've listed what we think are the top inkjet printers money can buy in 2023. We don't just look at features and price - we also consider running costs, the upfront cost, print quality, and the speed of the devices.
We've also picked some of the best cheap printers using this technology, and these budget inkjet printers are affordable yet don't skimp too much on the print quality. You'll be seriously impressed by how well these printers handle your printouts.
We've also got some great all-in-one inkjet printers that handle scanning and photocopying.
Check out our pick of the best laser printers.

The best inkjet printers of 2023 in full:
Why you can trust TechRadar Our expert reviewers spend hours testing and comparing products and services so you can choose the best for you. Find out more about how we test.
If the value for money is important to your business, this plain, pale grey box could be the all-in-one printer you are looking for. It has few features to keep the purchase price down, so there's no auto-duplex mode, multipurpose tray, fax, or display of any kind. There's just a scanner bed for copying documents one side at a time and a paper tray that can hold 150 sheets of A4.
What it does have is the ability to accommodate unusually large inkjet cartridges, which is why the bodywork bulges on the right-hand side. Brother calls this an INKvestment Tank printer, which is its answer to rival supertank printers. These high-capacity carts have higher yields, making them more economical to run than most cartridge-based inkjets. It also prints to a consistently high standard on both plain and photo paper.
Read our full Brother DCP-J1200W review.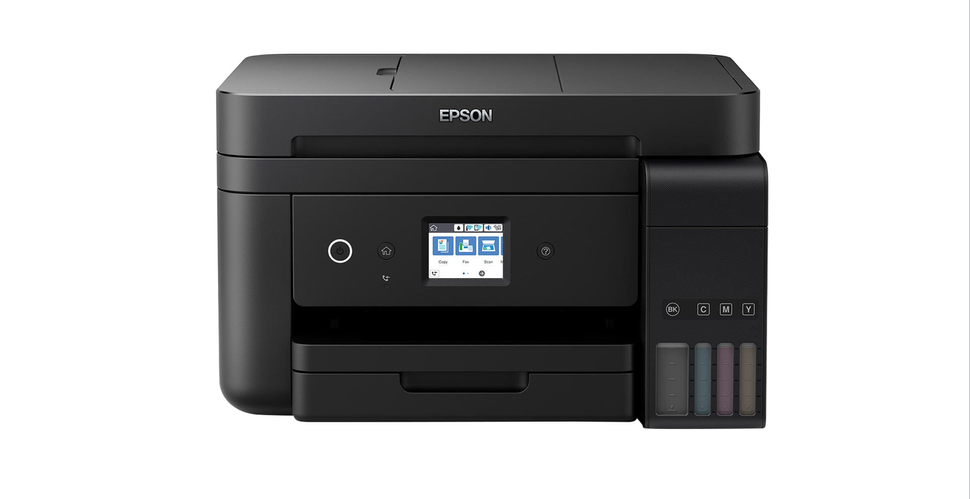 Here we see Epson's refillable EcoTank system refined and integrated into this four-in-one printer. With a fairly deep 250-sheet paper tray, a fax facility, and Wi-Fi with Wi-Fi Direct, this machine would be well suited to a busy home office. It prints reasonably quickly and consistently, and the initial price includes enough ink for up to 14,000 mono and 11,200 color pages.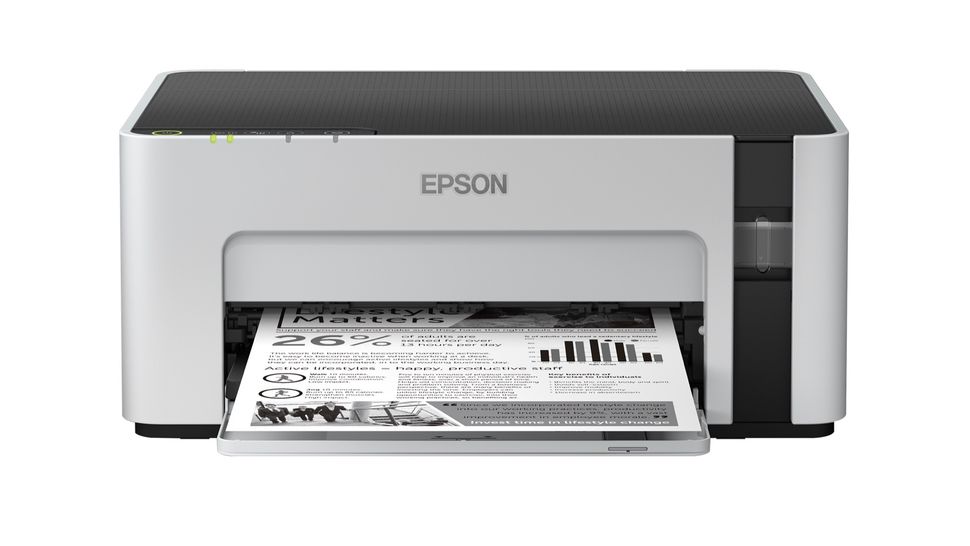 It might seem like a lot to pay for such a basic mono print-only device, but that £266 (around US$350) includes enough ink to print up to 6,000 pages. Epson's EcoTank system allows you to top up with black ink from affordable refill bottles that can be recycled more easily than cartridges. The printer is equipped with Wi-Fi and duplex printing, and it can manage a reasonable speed of 15 crisp and consistent pages per minute.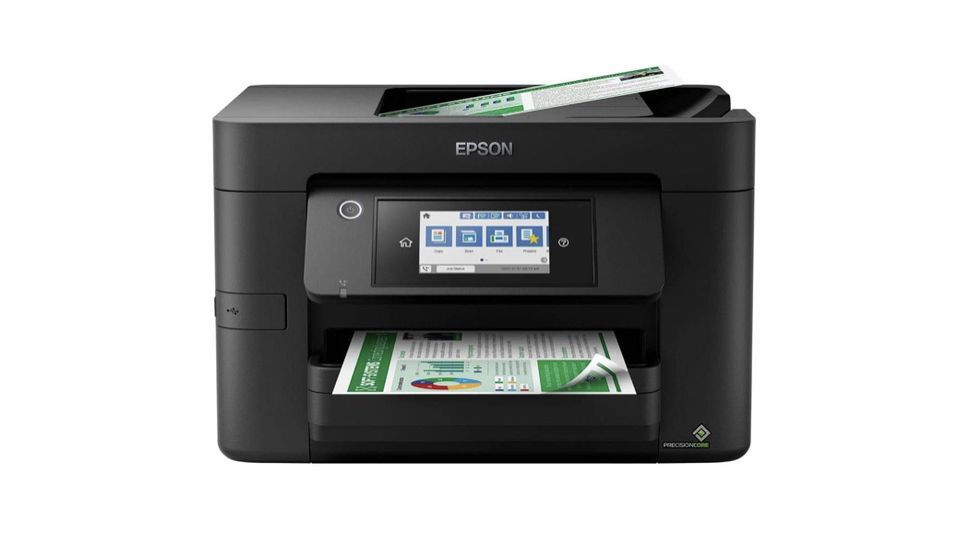 The Epson WorkForce Pro WF-4820DWF is a fine example of how much you can get out of a mid-priced office-oriented inkjet all-in-one these days. This is a full-color printer with an auto duplex, an automatic document feed, a high-res flatbed scanner, and a fax modem. It can print faster than some laser printers in its fastest monochrome mode, but being an inkjet, it can also print decent-quality photos onto glossy paper. The ink cartridges cost should be considered as they are not the cheapest. However, this model is still competitive, especially if you sign up for Epson's ReadyPrint subscription ink service, which mails replacement cartridges to your door.
This talented four-in-one inkjet printer can dual-scan and auto duplex, which makes it a very useful copier. It can do this with wide format A3 paper, as well as A4, which sets it apart from the crowd. It is aimed at the business user, so there's a fax facility and an NFC module to use a smartphone to trigger and pick up your own private print jobs in a shared office. There's an ADF (automatic document feed) for copying a stack of documents and room for plenty of paper in the main paper tray, be that A4 or A3. There's even a handy USB Host port at the front for walk-up printing from a flash memory drive. And all this for a very competitive price.
Read our full review: Epson WorkForce WF-7715DWF.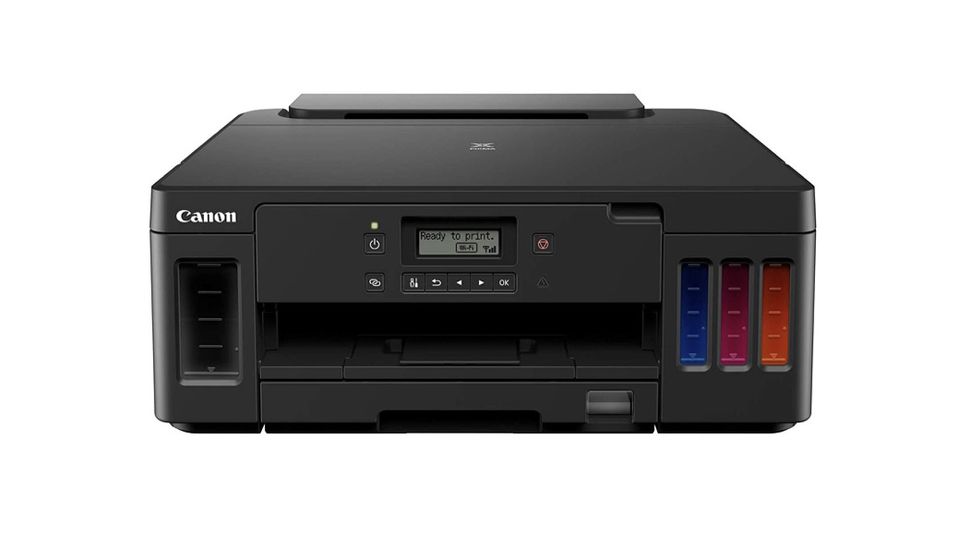 Canon's MegaTank printers go from strength to strength, and this print-only device proves that refillable ink tanks are the future for inkjet printers. The Canon PIXMA G5050 can duplex print color documents, and there's room for half a ream of paper in the main tray. It can also print detailed photos onto coated photo paper, but it can do all this at a much lower cost per page than any cartridge-based inkjet. Moreover, the box includes enough black ink for 18,000 pages and color ink for 7,700 pages.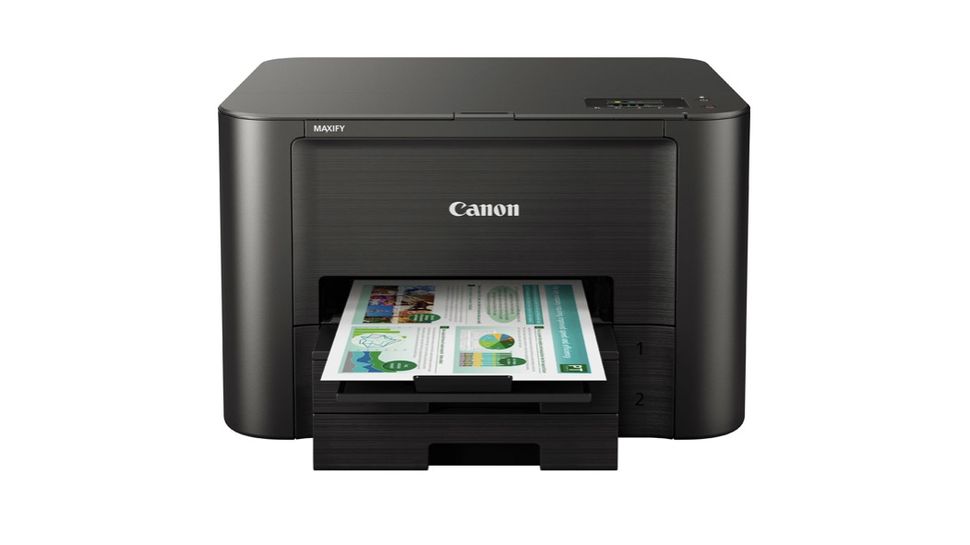 The Canon MAXIFY iB4150 is an inkjet printer for small businesses looking for prompt, reliable color prints with minimal time spent standing beside the printer. With room for a whole ream of paper in its two paper trays and high-yield ink cartridges available capable of delivering up to 2,500 mono, or 1,500 color pages, this printer will take a heavy workload in its stride. It can auto-duplex print and handle envelopes, photo paper, and any size media up to A4. The bundled setup cartridges might not contain much ink, but Canon's XL cartridges work out at a competitive per-page print cost.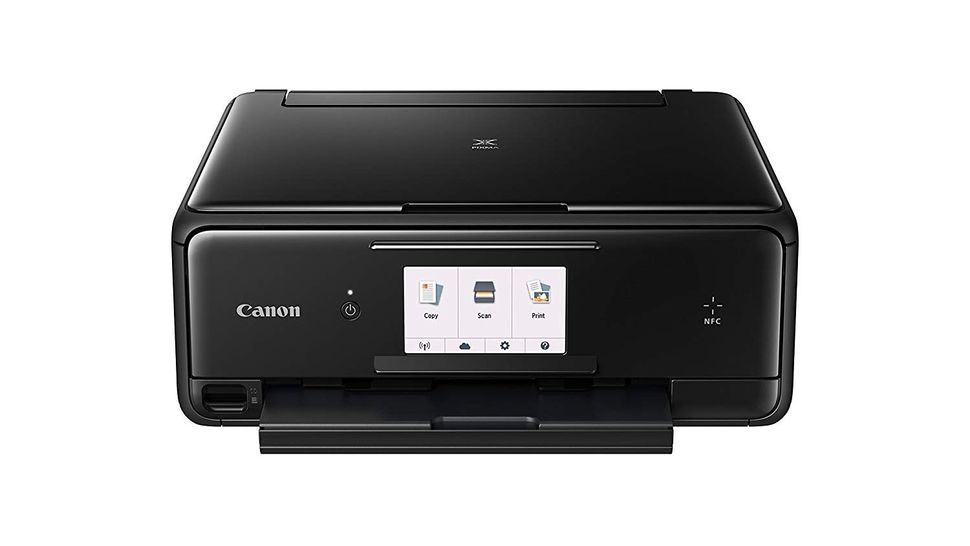 Canon's slick three-in-one printer is user-friendly with its huge touchscreen display and one-touch NFC connectivity for your smartphone. There are convenient slots for an SD card and USB flash drive too. It prints and scans at high resolution, and instead of four, it uses six separate ink cartridges to achieve superior fidelity when printing color photos. It's a somewhat expensive system, but worth it for the more professional finish.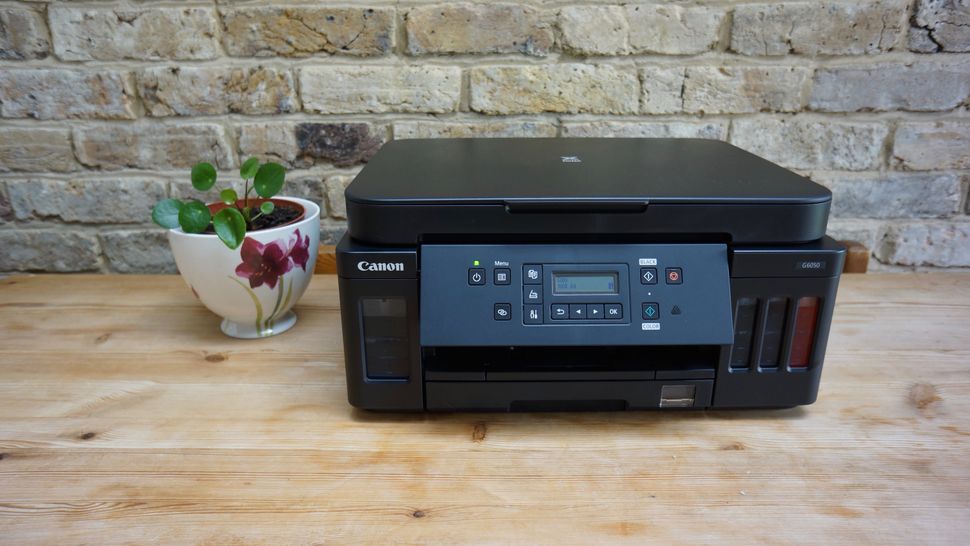 Canon's cartridge-free printers are particularly easy to top up whenever you see the ink in the window getting low, and they come with plenty more ink in the box, enough to print 7,700 full-color images or 18,000 in black and white. It's small enough to sit on a desk without taking over and big enough to hold 250 sheets of paper. Wi-Fi is built in, auto duplex printing is covered, and the print and scan resolutions are good and high. It also prints a beautifully bold photo and crisp text that won't run, thanks to a pigment black ink.
Read our full Canon Pixma G6050 review (opens in new tab).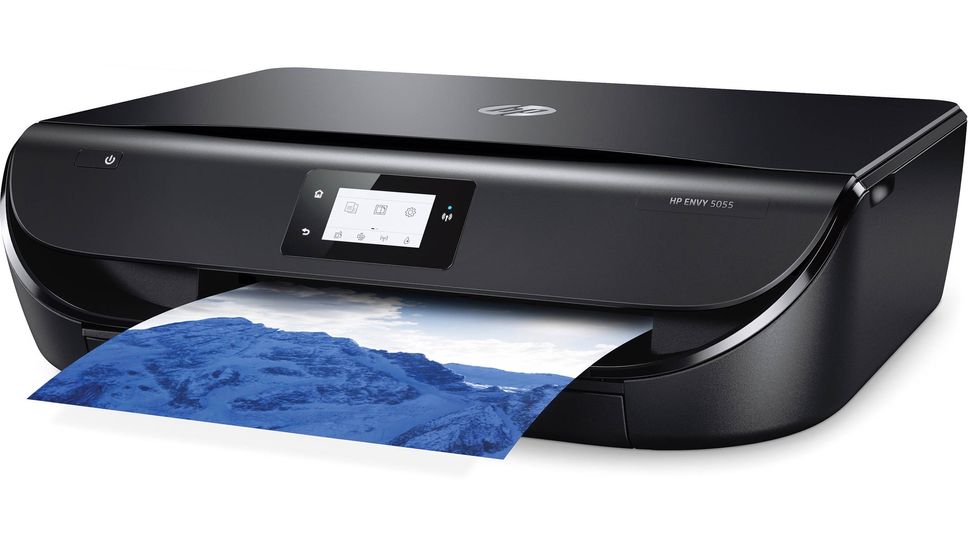 The inexpensive HP Envy 5055 (known as the Envy 5010 in the UK) all-in-one printer looks a little different from inkjet models costing twice the price and lacks features. It will print, scan and copy at high resolution and at a reasonable speed, and dual-band Wi-Fi is built-in. It can be controlled by a decent touchscreen or an excellent companion app for iOS/Android devices. A set of replacement ink cartridges costs more than the machine, but a subscription to HP Instant Ink keeps this cost down.
We've also featured the best 3D printers?
---
Which inkjet printer is best for you?
Whether it's a home printer or a business printer for your office, the best printers on this page can help you quickly and easily print off documents perfectly, all while keeping running costs low. However, when deciding on the particular model of inkjet printer that would be best for you, your main considerations are probably going to be your budget, as well as other factors such as print quality and print speed. Wireless connectivity might be an additional deal-breaker, and for those remote working size and weight might also be important considerations so as to not have the inkjet printer take up too much space in the home office.
How we tested the best inkjet printers
Each inkjet printer we source for testing is measured on our test bench, and the results are critically compared with every other inkjet printer we've reviewed. Rather than relying on the manufacturer's quoted figures, we time the first page out and print speeds in single sheet and duplex mode using a standard ten-page document and a stopwatch app.
To compare print quality, we print out the same set of test documents on every machine. These twelve test pages include text of varying font sizes and colors, mixed image and text pages, a set of photos, and a series of test patterns designed to assess sharpness, color fidelity, contrast, and grey scale.
We also calculate running costs, compare functionality and consider each product's versatility, design, and build quality. The overall score reflects all of these parameters and overall value for money.
Read more on how we test, rate, and review products on TechRadar (opens in new tab).