You'll want the best A3 printers for your budget if you need something that can handle larger documents, such as posters and promotional displays. Most printers handle up to A4, which is fine for standard documents, but only excellent A3 printing solutions are able to handle big formats without compromising on quality. After all, there's no point printing out large documents if they aren't going to look good.
When choosing the best A3 printer that can produce excellent large-scale printouts, be prepared to spend a bit of money. Unfortunately, these printers can be quite costly. However, that doesn't mean you need to spend a fortune – there are a few out there that offer a brilliant price to performance ratio so you get a lot of value for your money.
That's where we come in. Not only did we collect the best A3 printers on this list, but we've also included our price comparison tool that will help you get the cheapest price available for the A3 printer of your choice. If you need to make large printouts, these are the very best choices you should consider.
We've compared these printers across numerous factors, like their printing speed, printing quality, footprint, connectivity features, and running cost. We assessed their duplex printing capabilities, security features, and pricing, among other points.
We've also featured the best workgroup printer.

The best A3 printers of 2023 in full:
Why you can trust TechRadar Our expert reviewers spend hours testing and comparing products and services so you can choose the best for you. Find out more about how we test.
Epson's A3-sized WorkForce color printer is perfect for the small office that needs to print on anything up to 13-in x 19-in paper. Conveniently, it has two 250-sheet paper trays, so you could fill one with A4 and the other with A3. Being an inkjet, you can also load photo paper, not to mention envelopes, labels and thin card.
It prints quite quickly, with a top speed of 25ppm (pages per minute) in black and white, and it can automatically print both sides of an A3 page – quite a feat for such a compact printer. Print resolution and connectivity are also strong suits.
The price is competitive, so don't expect luxuries like a touchscreen interface, or USB Host port on this budget model. And it's not part of Epson's EcoTank line, sadly, so you'll have to buy replacement cartridges. Thankfully, the four DURABrite Ultra inks are available in individual carts and are not especially expensive.

What looks like your typical A4 printer turns out to be the smallest A3 printer on the market with accessories available to make it one of the largest. It can hold 300 sheets of paper in its main paper tray and 100 in its multipurpose tray, but add three more drawers and that expands the capacity to 2,540 sheets.
It comes with four huge pre-installed toner cartridges that can print around 2,500 pages. What's even better is that you can replace these with cartridges that offer a higher yield of up to 10,000 pages.
You can choose the banner tray upgrade for printing on rolls of paper. It can auto duplex print and has Wi-Fi built in as standard. It uses LEDs rather than laser, but with similar effect.
Read our full Oki C844dnw review here.

This high-end laser printer will take big bites out of your office space and your budget, but there's nothing the VersaLink C7000DN can't do exceptionally well. For a start, it can duplex print on A3 paper and do it at a resolution of 1200 x 2400 DPI.
It can also scan, copy, and fax with all that functionality simplified by a sophisticated five-inch colour touchscreen.
Text is exceptionally sharp and colours particularly bold and with plenty of optional modules available for boosting the paper capacity, this is a printer that will suit the demands of any medium-sized office.
But keep in mind that this is a heavy printer that takes up a lot of space — you'll need at least a square meter of floor space because opening the bypass tray adds around 40cm to the width.
Read our full Xerox VersaLink C7000DN review.

Canon's uncompromising photo printer uses no less than eight individual dye inks to achieve an exceptionally smooth and realistic color tone, and it can do this on any size of paper up to A3+.
Whether you are a professional looking for a production printer for the office, or an enthusiast photographer based at home, Canon is aiming this model at you. It prints slowly in order to achieve its high print resolution and the printer itself is quite large and heavy. We should also warn you that your ongoing consumables cost is going to be high, but if you want great photos, it is well worth the expense.
There is no inbuilt scanner as this is a print-only device, so for everyday printing and scanning jobs, we recommend buying a second, more economical all-in-one printer.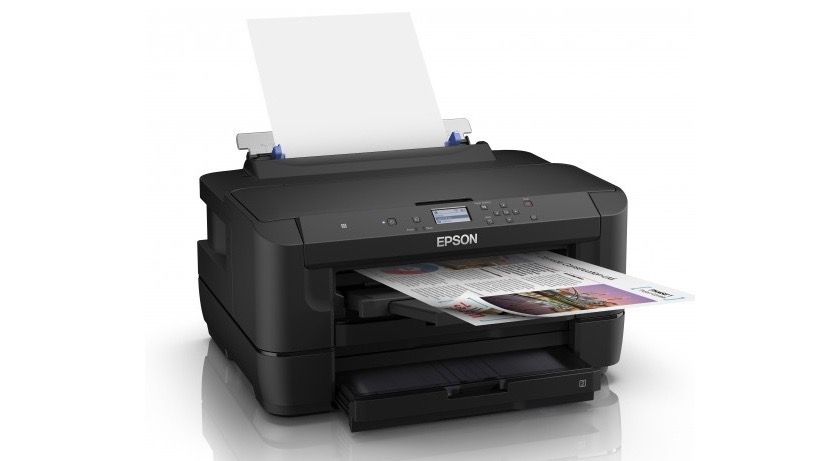 Printers aimed at the home office that can handle A3 paper are not common, but ones that can automatically print on both sides of an A3 page are downright rare. The WorkForce WF-7210DTW is one such beast and it does so quite successfully.
Print quality is impressive, be that monochrome text, or a glossy photo. The long list of features includes both Wi-Fi and NFC connectivity and the two paper trays can hold 500 sheets combined.
You'll need plenty of space for the printer because it's more than 300mm high and at 567 x 424mm, its footprint is more than an A2 sheet's. The printer has an Ethernet port and a USB port, but there are no cables provided. There's also a 56mm non-touchscreen LCD panel that offers basic information about the printing status.
Read our full Epson WorkForce WF-7210DTW review.
Epson has an EcoTank model for every occasion and this is the one to buy if you need to print on 13-in x 19-in (A3) paper and value for money is a factor. It has all the features you could ask of a premium four-in-one office printer.
That includes a 35-sheet ADF (automatic document feed) a fax facility, a touchscreen control panel and Wi-Fi with Wi-Fi Direct connectivity.
There's plenty of room for paper with 250 sheets in the main tray and another twenty in the rear tray and plenty of room for ink. It ships with four bottles that should give you up to 6,200 black and white pages and 5,200 color, so you won't need to worry about buying more for a while.
The Epson EcoTank ET-15000 comes in ice white in the US and black in the UK.

Epson's second generation of EcoTank printers have refined the refillable ink system which is deployed here by a highly capable inkjet MFD. Photo quality is excellent and the ability to print on A3 paper is a real boon.
The interface lacks a touchscreen and printing is slow, but the pages are well worth waiting for. If the price tag appears prohibitive, that's because there are two sets of ink bottles in the box. Enough to print a claimed 3,600 photos!
You'll find a square USB input and an Ethernet port at the rear, and an SD card slot and USB port at the front. Unfortunately, there's no USB data cable included with the package.
There's no NFC support, but there's Wi-Fi Direct and support for Apple AirPrint and Google Cloud Print.
Read our full Epson EcoTank ET-7750 review.

The Brother MFC-J6945DW (known as the MFC-J6945DW in the UK) is an inkjet that's aimed at a role in a busy office more usually filled by a laser printer.
The impressive print speed is only a little slower than the average laser, while offering all the advantages of an inkjet, such as the the ability to print on photo paper at a higher image resolution.
It also comes with an unusually generous amount of ink — enough for a whole year apparently. The most impressive feature, however, is its ability to duplex print and scan not just A4 paper, but A3 as well.
Make sure you have enough space to house the printer because it has a large footprint, especially when the rear and front trays are pulled out to accommodate A3 sheets.
Read our full Brother MFC-J6947DW review.

Canon PIXMA iX6850 looks rather smart for an A3-sized office printer and its specifications are no less impressive. It uses five inks instead of the usual four to achieve superior quality images and each one comes in an individual cartridge for more cost-effective replacement.
It can't print both sides of a page automatically (duplex), but this machine is well connected with an Ethernet port, Wi-Fi, and AirPrint compatibility. If you need to print large spreadsheets, large photos, and high-resolution posters, this printer can handle any size paper up A3+ (329 x 483mm).
The Canon PIXMA iX6850 is excellent at printing text. The print quality's clear, well-defined, and readable, even at lower point sizes. Despite being wide, this printer has a fairly small footprint for an A3 printer, making it suitable for use at home.
Read our full Canon PIXMA iX6850 review.

The Epson EcoTank Pro ET-M16600 is the largest in Epson's expanding line of supertank printers, and it's big enough to handle A3-size paper. It can also hold well over a ream of paper in its two drawers with room for 50 more sheets in the automatic document feed.
The ink tanks are also larger than usual and can hold enough bottled ink for 4,500 monochrome pages and 2,800 color. It also prints quickly with a first-page-out time just over five seconds and a monochrome print speed of 32ppm (pages per minute), or 25ipm (imprints per minute).
The printer comes with Epson's DURABrite Inks (four bottles). These pigment-based inks ensure all your monochrome and color prints are crisp and vibrant and dry instantly. You'll also benefit from the zero cartridge waste and low energy consumption features.
We've also featured the best printers overall.
---
How to choose the best A3 printers for you?
Whether it's a home printer or a business printer for your office, the best printers on this page can help you quickly and easily print off documents perfectly, all while keeping running costs low.
However, when deciding on the particular model of A3 printer that would be best for you, your main considerations are probably going to be your budget, as well as other factors such as print quality and print speed.
Wireless connectivity might be an additional deal-breaker, and for those remote working size and weight might also be important considerations so as to not have the printer take up too much space in the home office.
The best A3 printers: How we test
Each A3 printer we source for testing is measured on our test bench, and the results are critically compared with every other printer we've reviewed. Rather than relying on the manufacturer's quoted figures, we time the first page out and print speeds in single sheet and duplex mode using a standard ten-page document and a stopwatch app.
To compare print quality, we print out the same set of test documents on every machine. These twelve test pages include text of varying font sizes and colors, mixed image and text pages, a set of photos, and a series of test patterns designed to assess sharpness, color fidelity, contrast, and grey scale. We also calculate running costs, compare functionality and consider each product's versatility, design, and build quality.
The overall score reflects all of these parameters and overall value for money.
Read more on how we test, rate, and review products on TechRadar.