30-second review
Printing A3 photos or illustrations with an inkjet printer was always an expensive exercise, given the pitiful amount of ink that typical cartridges held. Running out was never a good option, making the cost per print extremely high.
People found ways of reducing the cost through ink delivery systems, and the printer makers eventually realized their greed had cooked this commercial goose, launching ink replenishment schemes and EcoTank printers.
The Epson ET-18100 is an A3 EcoTank design that has six reservoirs of ink, each with 70ml of capacity that can relatively cheaply be refilled. With six inks alongside the standard black, magenta, cyan and yellow, light magenta and light cyan are added for a much greater subtlety of colour in lighter areas of a print. These are also all dyes, with no use of pigment for black, which is common on four-tank printers.
Printing on A4, a full-page graphic takes around 75 seconds to print once uploaded to the printer, and an A3 borderless print takes about 150 seconds for the whole process at standard quality. That's not blinding fast, but it's quick enough for generating colour proofs or limited photography runs.
The printer can connect via WiFi or USB, although to get WiFi connected needs the use of the Epson Smart Panel software on a phone or tablet.
Our only reservation about this printer is that it has no LCD panel to display errors or instructions, instead relying on software on a computer or phone to relay the status.
Overall, the print quality of the ET-18100 is stunning, the cost of ownership is acceptable, and the ink is affordable.
Epson ET-18100 price and availability
How much does it cost? £699
When is it out? It is available now
Where can you get it? Not available in the USA, but it is in Europe and Asia.
Currently, the ET-18100 isn't a Global design and has been only released in all EMEA markets, but not Canada, US, Australia or New Zealand.
It's also the only printer currently using Epson 107 series inks, though that situation might change.
The cost of around £700 seems steep, but it's the same as the Canon imagePROGRAF PRO-300, a cartridge printer that can output A3+.
In fact, at the time of writing, neither Canon nor HP makes a tank printer for photos that can print bigger than A4/Legal.
Using cartridges makes for an expensive way to produce output on A3+ paper, and it's the critical selling point of tank printers.
Each 70ml ink bottle costs just £9.99 direct from Epson, and these official bottles can be bought slightly cheaper online.
The contents of each bottle represent up to 1500 15x10 cm prints in that specific colour, approximately twelve times as much ink as is in a typical cartridge.
Therefore, the unit cost of printing 15 x 10 cm prints is about 5p, and even an A3 poster is much less than £1, excluding the cost of paper.
Therefore, while the hardware isn't cheap to buy, the cost of using the ET-18100 is remarkably low and is rated for a lifespan of at least 50,000 prints.
Other consumables include a replacement pickup roller for £12.99 and a 'Maintenance Box' that is £22.49. The quoted durability of the roller is 50,000 pages, but no specific life is allocated to the box.
Epson ET-18100 design
A plastic box
Ink reservoir system
No display
I don't think that we're being abusive to call the ET-18100 a plastic box. Because, in whatever way that might be dressed up, it's precisely what this printer is.
Out of the box, except for the CD printing tray, the printer comes fully assembled and can be connected to a computer with a USB cable for quick deployment.
Like the other EcoTank designs we've seen, the ET-18100 uses large bottles of ink that need to be loaded into the reservoir system prior to printing. These use a clever connector design that stops an ink colour from being loaded in the wrong part of the reservoir, and there are six different colours available, but no white or grey ink.
The ink code for this printer is 107, and replacements for each colour can be purchased for around $10 each, making a complete set around $60.
From the tanks, ink is fed to the print head with 180 nozzles allocated to each colour, giving a total of 1080 nozzles, a print resolution of 5,560 x 1,440 DPI and individual ink droplets of just 1.5 Pico litres.
The quoted print speed is eight pages a minute for both mono and colour based on the 5% coverage of ISO/IEC 24734, but realistically that's not remotely the type of printing this machine is designed to do.
The single input chute at the rear can take stock from A3+ (329mm x 483mm) all the way down to 10 x 15 cm, 80 sheets at a time, with stock ranging from thin 64 g/m² to much thicker 300 g/m² paper. It can also print on suitably surfaced CD/DVD disks and ID card blanks.
Even at the largest paper size, printing is borderless, and prints arrive on the output tray dry enough to handle most stock.
One inexplicable aspect of this printer is that while it will print borderless at A3, A4, 20x25cm (10 x 8 in),13x18 cm, 10x15 cm, 9x13 cm and Legal, for reasons that defy logic, it won't at A5, A6, B4, B5, B6 or 5x8 in, or in any of the envelope sizes. This has been an issue with Epson designs before, and it has been possible to circumvent these limits by creating a custom size for A5 as an example and then selecting borderless printing on that. But on this printer, that doesn't appear possible.
It's interesting to compare this design with the Epson ET-8550 model. That model has a colour touch display, faster quoted print speeds, a scanner, an Ethernet port and some extra firmware features, like Apple AirPrint.
In the USA, the ET-8550 is $799.99, and in the UK, it is £729.99, making it only £30 more than the ET-18100. The trade-off is that the ET-8550 only has three coloured inks, two blacks (a dye and a pigment) and a grey. That might make it better at mono photo output but inferior in colour reproduction.
What the ET-18100 needed was the display that the ET-8550 gets, so feedback about any potential errors or setting up WiFi requires external software either on a computer or via a mobile device.
But even with that feature annoying missing, the ET-18100 has the critical functionality to perform the job it was designed to do. Namely, producing A3+ or smaller full-colour output to a reasonable colour accuracy in an acceptable timescale and affordably.
Design score: 4/5
Epson ET-18100 printing costs
Ultra-low cost prints
Easy Ink installation
Specs
The Epson EcoTank ET-18100 that was sent to us for review came with the following hardware:
Functions: print
Media: A3+, A3,A4, A5, A6, B4, B5, B6, No.10 Envelope,DL Envelope, C6 Envelope, C4 Envelope, 10x15cm, 13x18cm, letter, legal
Connection: Hi-Speed USB 2.0 (device), Wi-Fi 802.11b/g/n, Wi-Fi Direct
Print head nozzles: 180 (black), 900 (all colours)
Print Resolution: 5,760 x 1,440 DPI
Tray capacity In/Out: 80 sheets, 100 sheets
Paper Thickness: 64 g/m² - 300 g/m²
Inks: Black, cyan, magenta, yellow, light cyan, light magenta (all are dyes)
Page Yield out of box: 1500 photos black, 1500 photos colour
Quoted ISO print speeds: 8ppm B&W, 8 ppm colour
Borderless print: Yes (all paper sizes)
Duplex: No
Dimensions: 523 x 369 x 150 mm
Weight: 8 kg
Warranty/support: 1 year or 50,000 pages
Printer makers have become masters of diversion when it comes to the cost of ownership in regard to ink supplies.
What helps them in this is that ink won't last a specific number of pages since we've no idea how many colours each page will contain and the balance of the dyes required.
What we can say with some certainty is that cartridges are a much more expensive way to print, and the chance of having a failure due to a cartridge running dry mid-print is significantly higher than with a tank printer.
Printer makers all still make environmentally unfriendly cartridge designs, but the newer EcoTank products (Smart Tank, whatever), like the ET-18100, do make some effort to make the cost less for those that are likely to be printing large full coverage output.
The quoted yield for each 70ml bottle of ink is 1500 pages, irrespective of colour, based on ISO/IEC 29103 pattern with Epson's methodology printing photos in 10x15cm format.
A photo this large is about a quarter the size of A4, reducing that page count down to 375, and A3 would reduce that to about less than 100 pages.
However, at $60 for that number of A3 pages, the unit cost is only around 70 cents, which is very reasonable when compared with cartridge costs.
Depending on what you specifically print, it may be that some inks are more likely to be used, but as you can buy those inks specifically, that's not an issue.
The only flipside to reservoir systems is that the printer has no idea how much or little ink is in each colour tank, and therefore it is up to the operator to make sure that ink levels aren't allowed to get too low, allowing air to get into the supply lines.
The way the ink bottles operate, it isn't possible to overfill, so keeping it filled is easy as long as you have ink on hand.
Without the chip tracking annoyance of cartridges, this printer can also take ink that wasn't made by Epson, which they warn the customer will invalidate their warranty.
Third-party dyes are available that can cut costs further, and these sources also allow this printer to use dye sublimation inks, turning the ET-18100 into an A3 capable production platform for short-run T-shirt design printing.
A limitation of doing this is that once the printer has sublimation inks installed, and it must be done from empty, it is not easy to convert it back to conventional use or vice versa.
These aren't the types of inks that Epson is offering right now on this product, but it is likely that sublimation printing is one of the jobs this printer will be used for.
For those curious, the warranty on this printer is 50,000 pages, or a year, whichever comes first. There doesn't seem to be an option to replace the printhead, which may be a part of this printer that fails first.
However, Epson appears to think it will last longer, as they make a roller wheel replacement that has a life of 50,000 pages, and there would be little point in replacing it if the printhead was destroyed after this much use.
It may be the cost of ownership balance has moved from the ink to having to replace the printer after 2 or 3 years, but only extended use of this machine would reveal that.
Epson ET-18100 performance
8/8 print speeds
2 minutes 45 seconds for A3
Printer makers are infamous for quoting speeds owners don't usually see by using obscure ISO standards where pages have only 5% or less coverage.
That might be relevant for document printing, but for a photo printer, those numbers are largely irrelevant, as photos and designs usually have, or are close to, 100% coverage of the paper.
Epson quotes that the ET-18100 can print a 15 x 10 cm photo (as defined by ISO/IEC 24734) in 12 seconds. That seems implausibly fast to this reviewer.
In our tests, to output to gloss paper at this size took around 72 seconds, although a good portion of that was the sending of the data to the printer prior to actual printing. This is faster over WiFi than USB in most cases.
In a sequential print run where the same print was printed repeatedly, the difference between the end of one print and the end of another was 27 seconds, although this printer probably only spent 18 seconds printing and the rest loading and unloading paper.
As gloss paper was used in our test, this is automatically printed using the better-quality 'standard' setting. The quicker option is draft mode, possibly explaining where Epson came up with 12 seconds.
It's tempting to extrapolate those numbers and assume an A4 or A3 print will take a very long time, but curiously that's not the case.
In our tests, a full A3 graphic at high quality onto glossy paper took around 165 seconds (2 mins 45 seconds) to complete, with at least one minute of those process being the computer preparing our 7424 x 10496 resolution image and sending it to the printer over USB.
The actual print process lasted only around 90 seconds, which seems more than acceptable given that not every print is likely to be at this scale.
What works in favour of the larger prints is that paper handling is effectively a constant, irrespective of size, and therefore a smaller portion of the overall print time.
In conclusion, the quoted speeds of 8 ppm for both black and colour are a little unrealistic, but the performance for a photo printer is more than acceptable. Although, it is worth noting that the Epson ET-8550 is rated at double the speed for mono and 50% faster for colour output.
But, and this is the head-scratcher, Epson quotes 25 seconds per 10 x 15 cm photo on Epson Premium Glossy Photo Paper. An identical time Epson predicts for the ET-18100.
The bottom line is that the ET-18100 isn't the fastest A3 printer in the world, but it's quick enough for a design environment printing, mostly outputting A4 and A3.
For those using colour professionally, it should be possible to calibrate the ET-18100 to sync with the controlled colour metrics of the computer displays used by the designers. With six inks, graduations and colour transitions are largely seamless, and the dyes seem well-balanced for delivering subtle shades and punchy chromatics.
We need to say that while the strength of colour in dyes is superior to pigments, they are conversely less durable, and you might not want to use them to create images for archiving or long-term display.
Many users of these printers will use perceptual colour representation rather than absolute colour metrics because that's fine for their purpose. Those needing more accurate colour representation should expect to pay much more for the printer and the output cost than the ET-18100 and its inks.
We might argue that not having a display was a cost-saving Epson didn't need to make at this price, and it would have made the printer easier to configure. But that point aside, what the Epson ET-18100 does brilliantly is print photos, and even at A3+ they don't take a long time to print.
The other weaknesses of this offering are a missing Ethernet port, and the grey ink reservoir that the ET-8500 and ET-8550 both got. Maybe Epson has a seven or eight-tank variant planned that would be ideal for B&W photos in addition to colour.
For those that print entirely in colour, that difference is less important, though the lack of a screen and Ethernet port might be more relevant.
When we first looked at this printer and its rather cut-down model, it was tempting to think that it was overpriced for what it is. But on further reflection, there isn't an obvious alternative to the ET-18100 in either the HP or Canon ranges that doesn't use cartridges.
And, given how expensive printing on A3+ is with those, those costs could be rapidly recovered by this design, even if it only lasts a few years of service.
While tank printers are now starting to dominate the home and small office space, the ET-18100 might become the breakthrough photo printer that makes EcoTank the norm for the photo enthusiast slice of the market also.
Epson ET-18100 score card
Swipe to scroll horizontally
| Attributes | Notes | Rating |
| --- | --- | --- |
| Value | Expensive printer but the costs are offset by low running expenses. | 4/5 |
| Design | Six colour EcoTank printing up to A3+, 1.5 pl ink droplets and WiFi connectable. | 4/5 |
| Cost pf printing | 70ml ink tanks go much further than 12ml cartridges and create less landfill | 4/5 |
| Performance | Acceptable speed and stunning colours | 5/5 |
| Overall | A practical photo printer with affordable print costs, but lacking in a few areas. | 4/5 |
Should I buy a Epson ET-18100?
Buy it if...
You print A4 or A3 designs on most days
This is perfect for printing large-scale designs or photos on a regular basis, and as photo printers go it's not expensive or costly to run.
You need better colours
The extra inks in this printer provide a much wider gamut, and this is highly noticeable in gradient areas, like skies. There is no comparison between this and a CYMK four-colour printer. However, it's not Pantone accurate out of the box.
Don't buy it if...
You have a tiny office
The ET-18100 is 52.3 x 36.9 x 15 cm, and with the rear paper and output trays deployed it is even larger, and fills a typical office desk front to back. Deploying this printer needs space, and there isn't any easy way around that.
If you only print photos occasionally
The ET-18100 isn't an office printer and isn't ideal for general correspondence and invoicing. There are cheaper and small alternatives for those jobs, and this printer is made for photos. It also can't copy or scan.
You print black and white photos
The ET-18100 doesn't have grey, like the ET-8500 and ET-8550 with the six ink 114 series dye sets. Therefore, if you print lots of images from black and white photos, those printers might be more suitable for you.
Also consider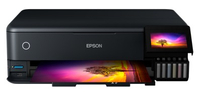 Epson EcoTank ET-8550
Another Epson EcoTank A3 design, but this one has a scanner and copier function, and it uses three colour inks, has two black (pigment and dye) and a grey.
It's ideal for those looking for a large-format small office printer that will occasionally print photos.
Read our Epson EcoTank ET-8550 review for more information.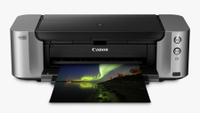 Canon Pixma Pro-100S
For those that only need very occasional photo printing, the Canon Pixma Pro-100S is much cheaper than the ET-18100. Although it's cartridge-based, meaning the costs are backloaded.
What you get for around $500, is a quick A3+ capable printer that can generate good-looking output from its eight 13ml that include grey, light grey and light versions of cyan and magenta. A full set costs around £120, meaning that in two replacements, you could have bought the ET-18100 and have ink to spare.
Read our Canon Pixma Pro-100S review for more information.