Choosing the best Brother printer for your needs isn't going to be easy because there are so many models out there, due to their popularity. Brother is one of the most respected names in printers, and it has a massive inventory encompassing all budgets and needs. This makes the task a bit difficult.
Still, the best Brother printers are worth the effort as they are some of the most brilliant printers on the market. These are some of the most reliable printing solutions out there for personal and business use, being sturdy and well-built while delivering high yields and keeping things affordable.
From some of the best all-in-one printers (opens in new tab) to the best inkjet printers (opens in new tab) and best laser printers (opens in new tab), we rounded up the best Brothers printers out there. If you're after the best printer (opens in new tab), it's likely that Brother will have a device for you, so read on for our picks. Alongside our price comparison too, this guide will help you find the most ideal one for your needs.

This fully-featured inkjet is aimed at the home office, though it would serve an SMB (small and medium-sized busines) equally well thanks to its high capacity for paper and ink. It has two paper trays and is compatible with Brother's larger-than-usual ink cartridges, which could last you a whole year. Brother's marketing blurb calls this big cartridge system INKvestment Tank in the US, or All In Box, in the UK and basically means you're getting enough bundled ink to print up to 3,000 mono and 1,500 pages with the option to buy XL cartridges that can double that yield. It's not as economical as a refillable ink tank, but it is slightly more convenient. Other convenient features include a touchscreen interface, a front USB Host port, a 20-sheet ADF, Wi-Fi and NFC. That's a lot of bells and whistles, not to mention ink, for your buck.
Read the full review: Brother MFC-J4540DW (opens in new tab)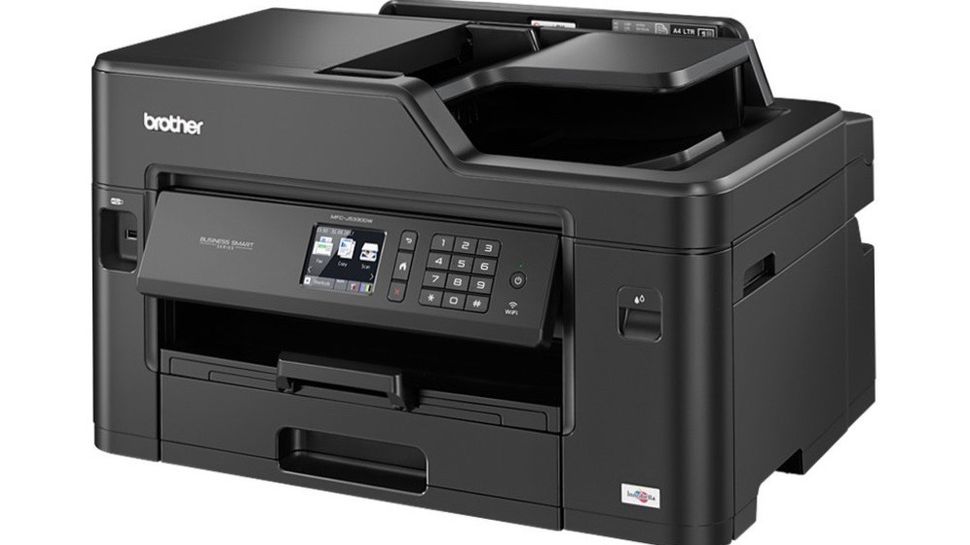 Given its ability to print on A3 paper, this is a surprisingly compact multifunction device, that will happily share a desk with your PC. It prints clearly in monochrome, while colour photos look quite vibrant on photo paper. The touchscreen is rather small and it's not the fastest duplex printer around, but it hits a near perfect balance balance between quality, performance and features.
Read the full review: Brother MFC-J5330DW (opens in new tab)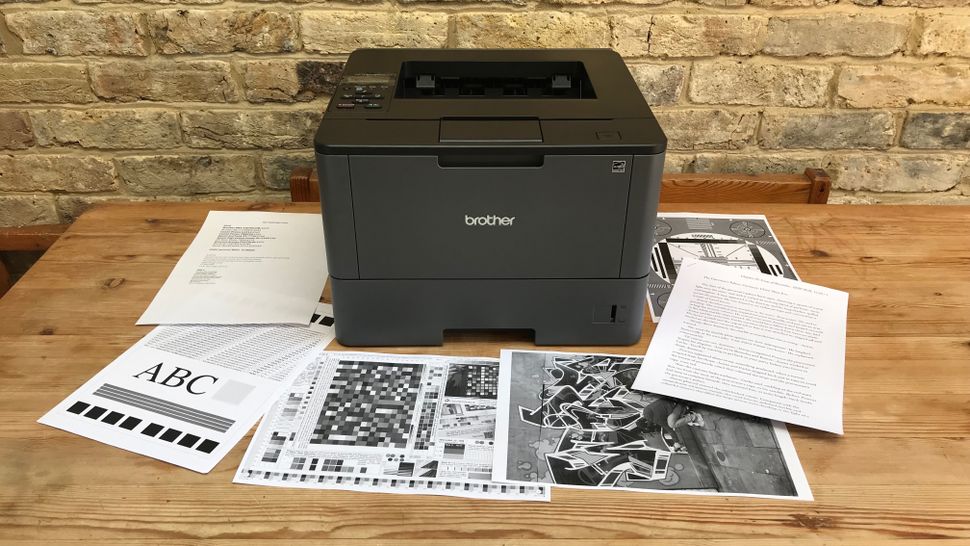 This little grey box can really churn out the pages and despite the size, it will hold a lot of paper too. This makes it ideal for the small office with a high demand for black and white documents. The quality is consistent and the per page print cost is attractive. It's light on features with no Wi-Fi or a front USB port, but what it does, it does very well.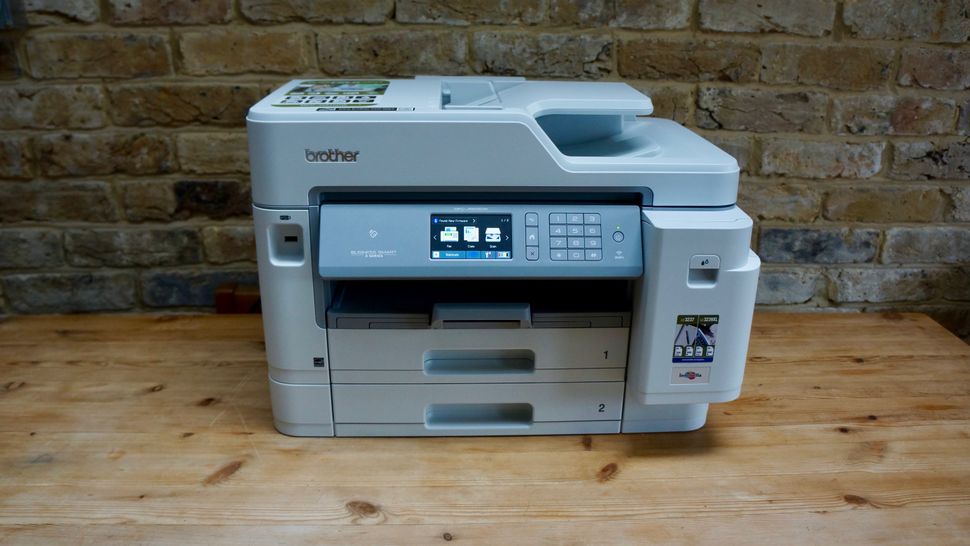 This big Brother blurs the line between home printer and office printer by combining the fast print speed and high capacity of a laser machine with the superior photo finish of an inkjet. We would recommend it for both applications because although it is smaller than the laser equivalent MFC-L8690CDW (opens in new tab), the inkjet MFC-J5945DW can handle A3 paper. There's really nothing that this fully featured 4-in-1 can't do and it carries out all tasks satisfactorily.
Read the full review: Brother MFC-J5945DW
Brother's INKvestment Tank cartridges hold more ink and therefore offer better value and convenience, but the printers are usually more expensive as a result. This is the cheapest INKvestment printer available and while it is rather light on features, it prints very well and makes economic sense. There's no display of any kind, so you will be using your computer or mobile device to set up this stripped-back all-in-one. There's no USB Host port, or Ethernet port and not even an auto duplex mode, but if all you don't mind turning the paper over yourself, you can save a lot of money and still enjoy high print quality. The bundled ink cartridges will give you a modest 720 mono and 480 color pages, but you can upgrade to XL cartridges with a much higher yield.
Read the full review: Brother DCP-J1200W (opens in new tab)
This dedicated print-only device is well built for such a low-cost laser printer and well suited to the home office or SMB (small and medium-sized business). There's ample room for paper (250 sheets) and it ships with enough toner for 1,000 mono pages and 1,000 color. To hit the price point, its functionality is somewhat paired back, so don't expect to find a touchscreen, USB Host port or NFC module. It does, however, tick off all of the key features. It can auto duplex and has dedicated button to pull down private print jobs at the machine. It prints in color as quickly as it does in mono (24 pages per minute) and it does so very well too. The Brother HL-L3230CDW passed all of our tests with flying colors and no paper jams. If you need a simple, but secure color printer, this should be on your list.
Read the full review: Brother HL-L3230CDW (opens in new tab)
It may be compact, but this powerful printer comes with all the bells and whistles and still finds room for 300 sheets of A4 in its paper tray. You can expand on this with a choice of additional paper cassettes and stand options as your business and demands grow, but most will be more than happy with the rapid print rate (31 pages per minute) and high yield toner cartridges. It's armed with all of the security features you might want from a workgroup printer, including NFC connectivity. There's an auto-duplex mode, a front USB Host port and it even offers a small, but very convenient touchscreen control panel.
The Brother MFC-J6945DW (known as the MFC-J6945DW in the UK) is an inkjet that's aimed at a role in a busy office more usually filled by a laser printer. The impressive print speed is only a little slower than the average laser, while offering all the advantages of an inkjet, such as the the ability to print on photo paper at a higher image resolution. It also comes with an unusually generous amount of ink — enough for a whole year apparently. The most impressive feature, however, is its ability to duplex print and scan not just A4 paper, but A3 as well.
Read the full review: Brother MFC-J6947DW (opens in new tab)
The Brother MFC-L9570CDW is a sizeable multifunction printer aimed at enterprise and medium-sized business. It has capacity for 250 sheets of A4 in its main tray and scope to increase that dramatically with extra accessories. It prints quickly at 31 pages per minute and Brother recommends a high print volume of up to 6,000 pages per month. Sitting towards the top of Brother's product tree, the Brother MFC-L9570CDW is loaded with features from single-pass dual scanning to an 80-page automatic document feeder and a large touchscreen control panel. This is a generously-specified printer that can grow to meet the demands of a really big office.
The Brother MFC-L3750CDW is a hefty mid-priced all-in-one that will suit a wide range of small to medium-sized businesses thanks to its broad array of features and high capacity for paper and toner. There's room for 250 sheets of A4 in the main tray and another 50 in the automatic document feeder while a multipurpose tray allows you to load a single envelope or sheet of headed paper. High-yield cartridges are available for this model and the ones in the box are good for 1,000 mono pages and 1,000 color. With inbuilt Wi-Fi and every feature we can think of except NFC and auto duplex scanning, this is a well-rounded office printer.
---
---